Ultimate Callout Challenge 2022: 15 High-Powered Trucks Take On The Chassis Dyno
As the sun rose over Lucas Oil Indianapolis Raceway Park, the Northwest Dyno Circuit's SuperFlow chassis dyno was in position near the west side grand stand, ready to do some truth-telling. Combined horsepower and torque numbers still factored into dyno competition scoring at U.C.C. 2022, but with a select few trucks seemingly capable of making 3,000rwhp there was a certain, heightened anticipation for this year's contest. Derek Rose had already proven his blue third-gen Cummins was applying 3,000 hp to the track, Chris Patterson had previously made 3,089 hp on a different set of rollers and Justin Zeigler had enough fuel, air and nitrous on tap to send his Cummins into orbit. You could say that Day 2 was destined for a few fireworks…
Justin Zeigler: The New Dyno King (3,336 HP/3,642 LB-FT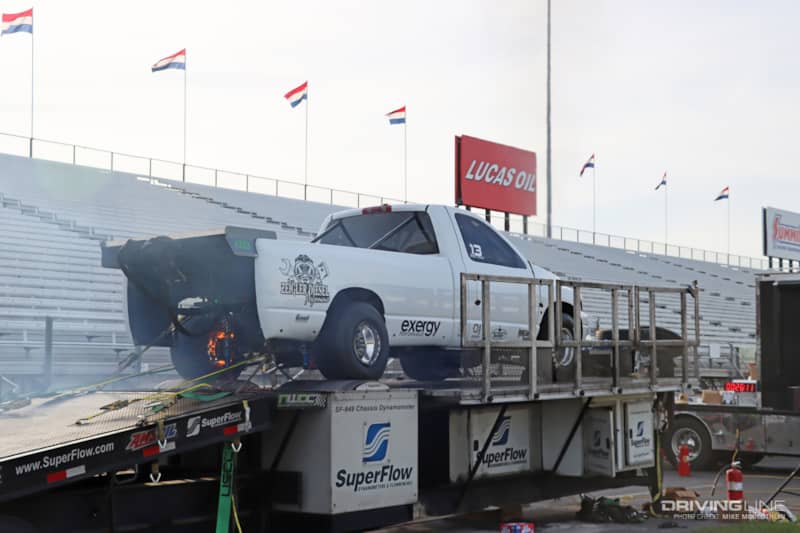 To put this into perspective, Justin Zeigler's was the final truck to hit the dyno on Day 2—but for obvious reasons we're highlighting its performance first. Imagine a day where even the heaviest hitters fell short of making 2,700 hp on the dyno and then someone blows past them with 3,336 hp. For added load beyond what the SuperFlow could provide, the truck was power braked to ensure the Cummins' gigantic turbos lit properly, hence the glowing brake rotor you see here (it's actually on fire). When Zeigler finally turned the truck loose on the rollers the run lasted just 1.19 seconds, but in that time (and per Firepunk Diesel, who helped out with the build) nearly 6 pounds of nitrous was used and an insane 189-psi of boost was made. To our knowledge, this is the most horsepower ever made on a chassis dyno by any vehicle, gas or diesel.
2nd Place: Derek Rose (2,621 HP/3,677 LB-FT)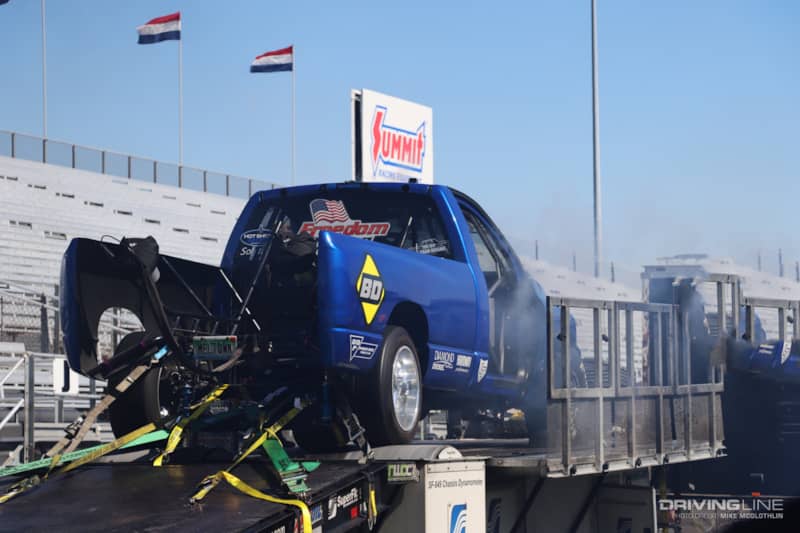 With what was perhaps the most disappointing news of U.C.C. weekend, Derek Rose hurt his billet block Cummins the day before (during one of his 4.7-second eighth-mile passes) and was unable to pursue 3,000rwhp with a healthy engine. Despite that, Rose's lone dyno pull yielded Second Place numbers of 2,621 hp and 3,677 lb-ft of torque—effectively locking him into the runner-up spot heading into Day 3. We'll note here that prior to U.C.C. Rose competed at 4,100 pounds within the Outlaw Diesel Super Series' Pro Mod class and ran a 4.44-second eighth-mile at 171 mph…so the truck can clearly send more than 3,000 hp to the ground when it's operating at 100-percent.
3rd Place: Chris Patterson (2,614 HP/3,611 LB-FT)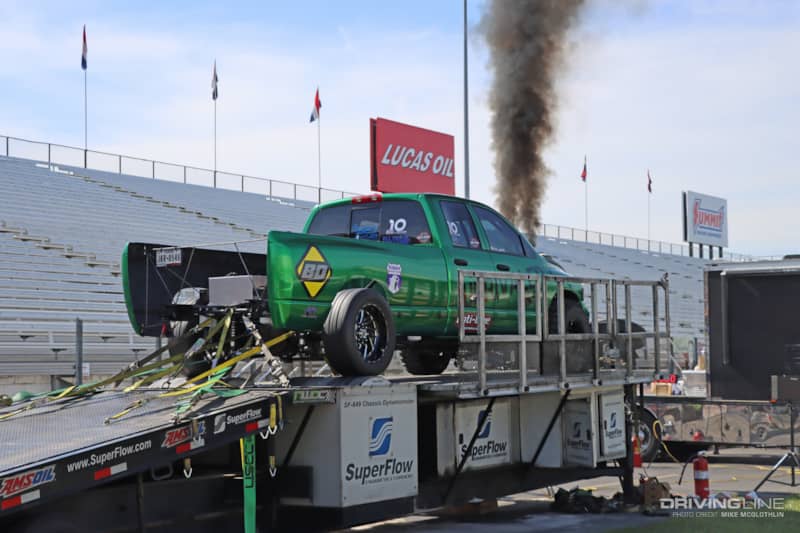 On deck for the dyno, Chris Patterson's crew cab, long bed third-gen Cummins was already sporting Mud Grapplers up front in preparation for the next day's truck pull. Out back however, a pair of Nitto NT555 RII drag radials were tasked with grabbing ahold of the dyno. As for his engine dyno prep, Patterson and his team bolted his triple-turbo arrangement into place, armed all nitrous kits and uploaded the kill tune to the ECM. Unfortunately, as it turned out applying VHT to the tires actually induced tire slippage on the dyno rather than quell it. Despite this struggle, Patterson still managed to put down 2,614 hp and 3,611 lb-ft. He also made six back-to-back full-power pulls on the rollers without even turning the engine off—something we've never seen a truck of this caliber do.
4th Place: Ben Francis (2,389 HP/3,581 LB-FT)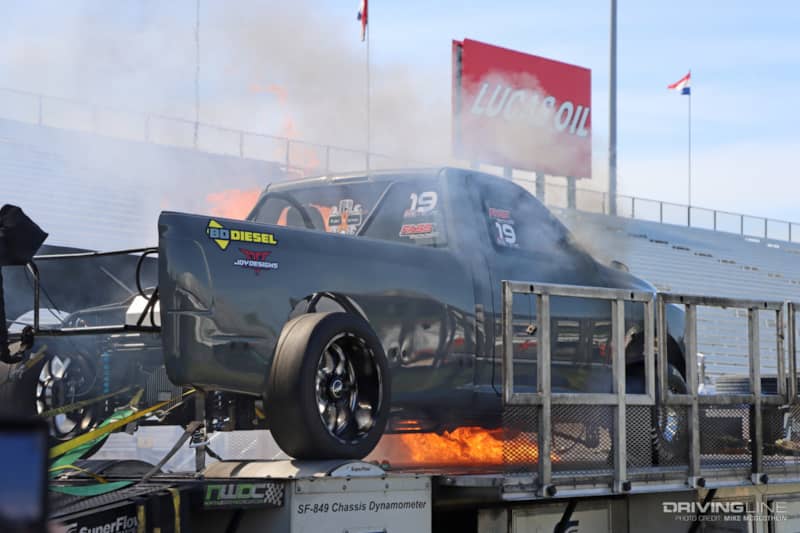 After swapping engines in the pits on the eve of Day 1, Ben Francis's 2022 U.C.C. campaign got off to a rough start. That was followed by torque converter issues at the track, which held him to a 13th Place, 6.51-second pass in the eighth-mile. For dyno day, Francis wanted to make up some ground in the points chase and uploaded his biggest nitrous file. But when everything came to life on the rollers his backup Cummins couldn't stay together, and when the engine let go the fireball that followed made for some dramatic photos. Still, when the rollers finally stopped turning, a very respectable 2,389 hp and 3,581 lb-ft had been produced.
5th Place: Tony Burkhard (2,486 HP/3,076 LB-FT)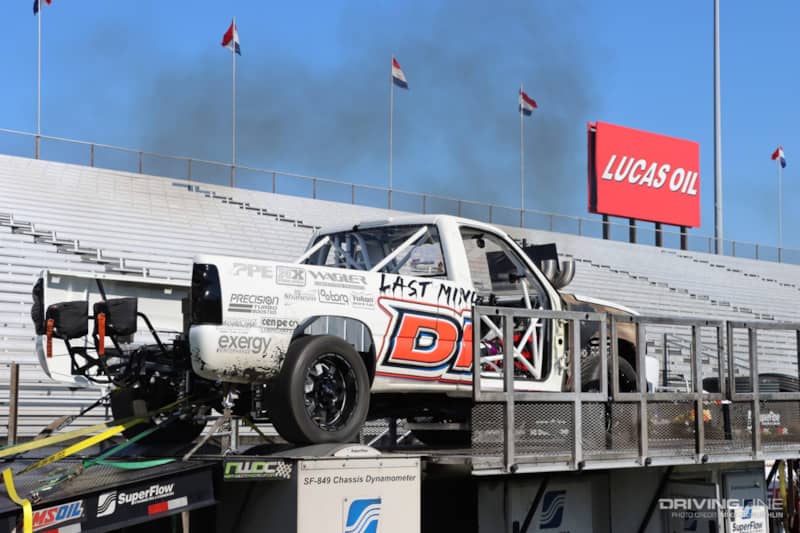 First to hit the rollers on dyno day was Tony Burkhard, the Duramax that posed the greatest threat to a Cummins once again dominating U.C.C. Burkhard's Silverado showed up with a pair of turbos poking out from the hood, which meant triples were feeding his Wagler-built V-8 for the dyno competition. Add in the right amount of nitrous and the perfect tune and you get a big number to start the day. Burkhard's 2,486rwhp is the most ever made on a chassis dyno by a Duramax. Combined with the points earned the previous day in finishing second at the drag strip, team DHD was well within striking distance, points wise, heading into Day 3.
6th Place: Chris Buhidar (2,368 HP/3,146 LB-FT)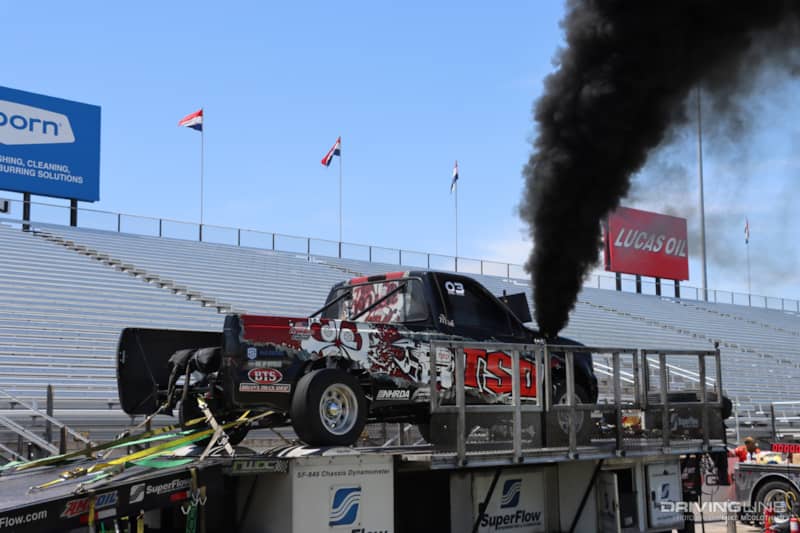 With the likes of Chris Patterson, Wade Minter, Robby Garcia and Chris Buhidar competing, Texas had a strong showing at U.C.C. 2022. Buhidar and his team from Truck Source Diesel are regulars on the U.C.C. scene and always seem to finish in or near the top five. This year would prove no different, with his common-rail, Cummins-powered '00 F-350 running a 5.56-second eighth-mile on track day (Eighth Place) and this Sixth Place effort on the dyno. New for 2022, Buhidar's Super Duty was lighter than it'd ever been before and was also packing a big single turbo under the hood, a 94mm GT55.
7th Place: Josh McCormack (2,342 HP/2,908 LB-FT)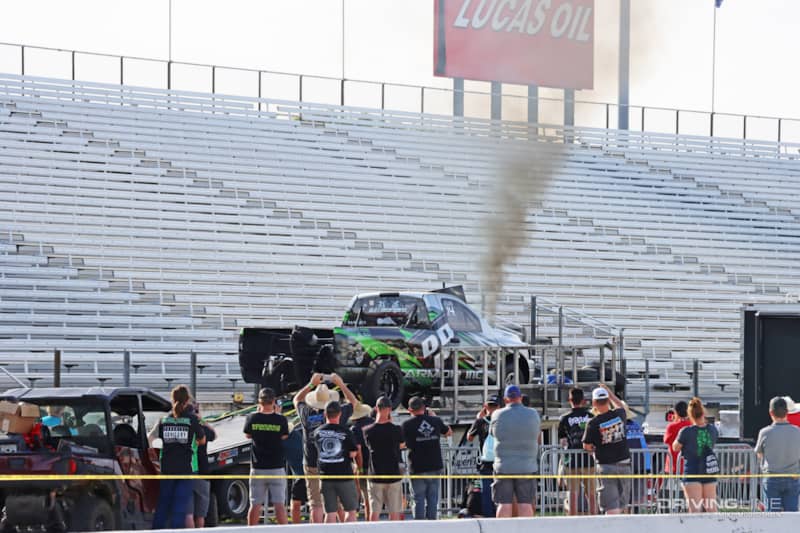 Looking to move up in the points chase during the dyno event, Josh McCormack made several full-power passes on the rollers. On the final pull, the Cummins blew its head gasket in catastrophic fashion (it blew across multiple cylinders), but he was still able to drive the truck back to the pits. His 2,342 hp and 2,908 lb-ft numbers would represent the last of the U.C.C. competitors who cleared 2,000 hp or more on the dyno. Needless to say, McCormack was in great company in the dyno standings and he would go on to finish sixth overall at U.C.C. 2022.
Charlie Fish & Jesse Warren (1,624 HP/1,691 LB-FT)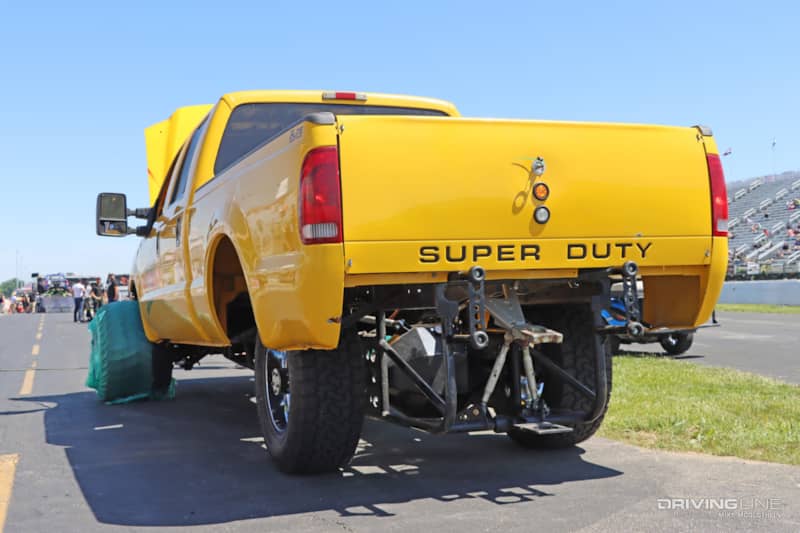 Although things didn't work out for Charlie Fish and his team on the dyno, he gets an "A" for effort and daring to try something different. In place of his drag racing Super Duty, and because two trucks are now permitted to compete per team within U.C.C. rules, Fish enlisted Jesse Warren to handle the dyno portion of the event for him. Warren's Super Stock class 6.0L Power Stroke puller, which sports a billet-aluminum block and heads along with mega-sized compound turbochargers, was fitted with a Gear Vendors overdrive and strapped to the dyno in the hopes that well north of 2,000rwhp would be achieved. Unfortunately, a faulty throttle pedal meant he was limited to half throttle dyno pulls. If this is attempted again next year, look for 2,500-plus hp to be on the table.
More From

Driving Line
Miss what happened on Day 1 at U.C.C. 2022? Check out our Day 1 (Drag Race) recap right 

here

.