Unrivaled: The World's Only 3,000rwhp Street-Driven Diesel Pickup
Diesel heads have been gunning for 3,000hp on the chassis dyno for several years, but last fall Chris Patterson was the first to reach the summit. Since his once-daily-driven (but still completely streetable) '07 Dodge Ram 3500 produced a dyno-verified 3,089hp at the 2021 All Truck Challenge, he's been the talk of the town. Now, Chris is prepping for an encore performance at the 2022 Ultimate Callout Challenge—the annual diesel truck showdown where 2,000rwhp is a prerequisite to even be considered a contender. Two months before UCC kicks off, Chris is all but convinced his third-gen Cummins can send 3,200 hp or better to the wheels.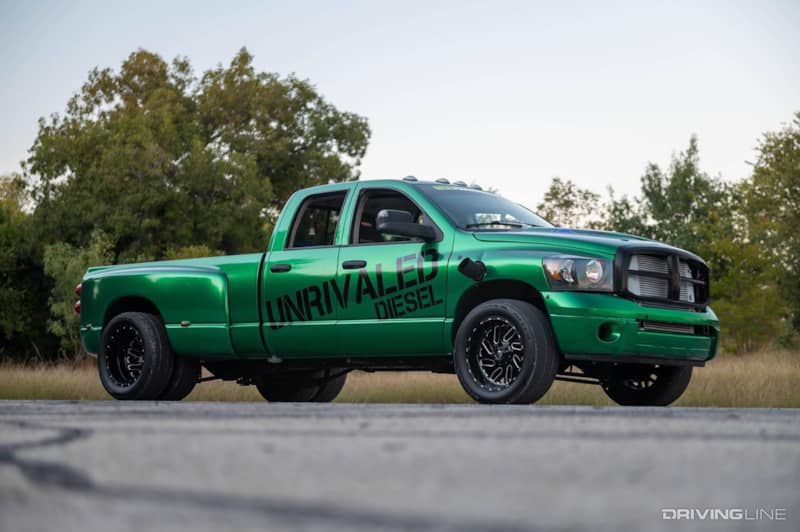 So how did Chris and his fire-breathing dually get to where they are today? It all started with a desire to build a 1,000hp daily driver that could drag race and sled pull yet still be used for everyday chores (including towing). But with an unceasing desire for more and more power, a highly-fueled and compound turbocharged 6.7L Cummins—backed up by a 48RE transmission chock full of the latest and greatest parts—a dyno-melting monstrosity was soon born. On top of his dyno accolades, Chris's 1-ton Ram has rocketed through the quarter-mile in the 8's, blasted through the eighth-mile in just 5.46 seconds and, believe it or not, still gets driven on the street.
The Snowball Effect (Of Horsepower)
It's hard to imagine now, but Chris's Ram was a basket case when he first got his hands on it. Bought as a wholesale truck from the dealership he worked for at the time, the dually had accumulated a very hard-earned 250,000 miles under the care of a general contractor and needed some TLC from head to toe. After making the truck presentable again, Chris then set out to build a versatile daily driver that could tow, drag race, sled pull on occasion and belt out a four-digit horsepower number.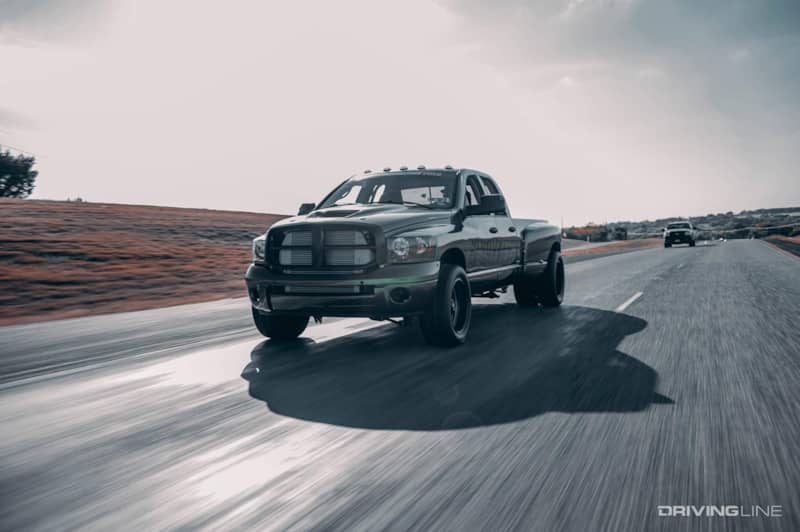 Obviously things snowballed out of control (in a good way) after that. His plans for the truck took a definite turn toward serious after Chris was invited to Diesel Power Challenge 2019. As an alternate, he didn't get the chance to compete—but while there he couldn't help but think he had what it took to outperform the rest of the field. Just two years later he more than doubled the truck's horsepower.
What Lies Beneath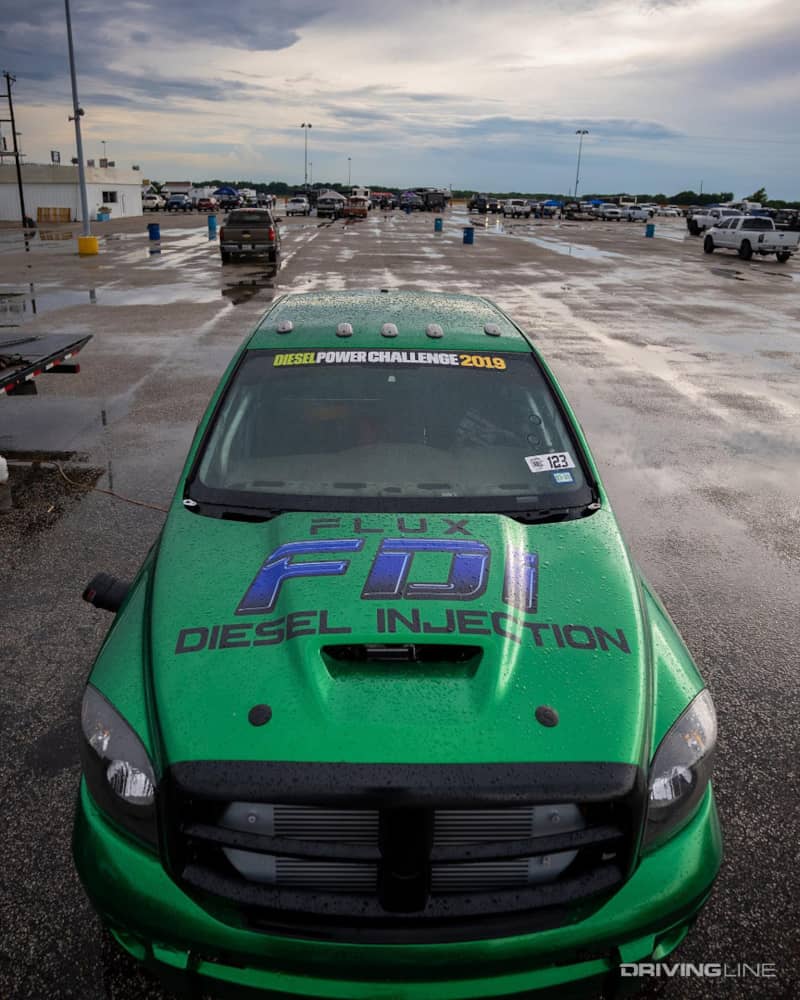 Under the hood, the 6.7L Cummins' high-pressure common-rail fuel system is as serious as a heart attack. A pair of Exergy Performance 14mm (stroker) CP3 pumps—supported by dual 290-gph FASS lift pump systems—ensure that 29,000-psi worth of rail pressure is always on tap for the injectors to use. Those injectors are thicker-bodied (to resist cracking) Comp Hybrid units from Flux Diesel Injection, and Chris believes they can support 3,500 hp. EFI Live tuning software (used in conjunction with a factory CM849 ECM) provides for maximum power to be extracted from the cutting-edge fuel system.
Hi-Test Alloy Block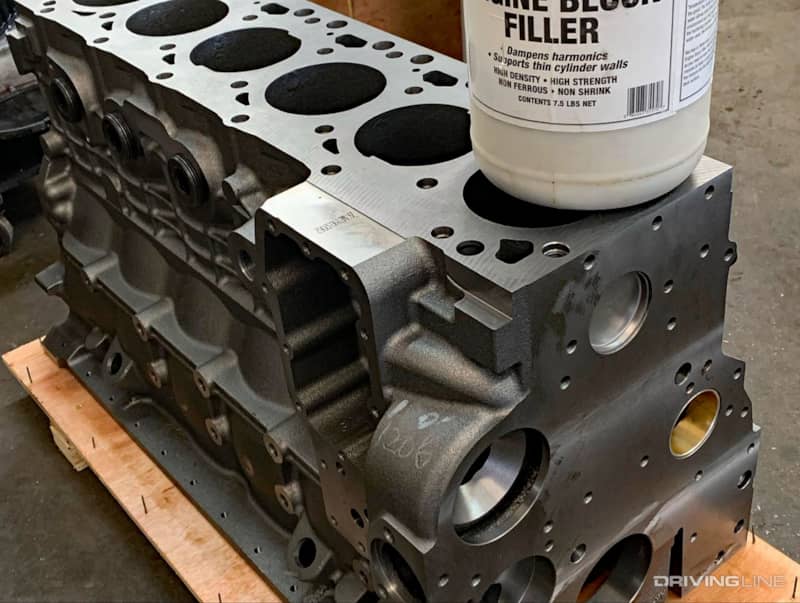 At the heart of Chris's 3,000rwhp recipe sits a 6.7L Cummins with a competition, hi-test alloy block from Hamilton Cams. Its water jackets have been concrete-filled to a level that makes driving on the street possible without overheating and the block (along with the head) was machined for fire-rings. A gridlock girdle with 14mm ARP main studs from Bean Machine anchors the factory crank in place while D&J Precision Machine X-beam rods and proprietary stock compression pistons sum up the rest of the rotating assembly. A D&J stage 3 cylinder head, complete with 5-axis CNC porting, HD valve springs and Titanium retainers, is fastened to the block via 14mm diameter ARP Custom Age 625+ head studs.
Big Compounds, Big Boost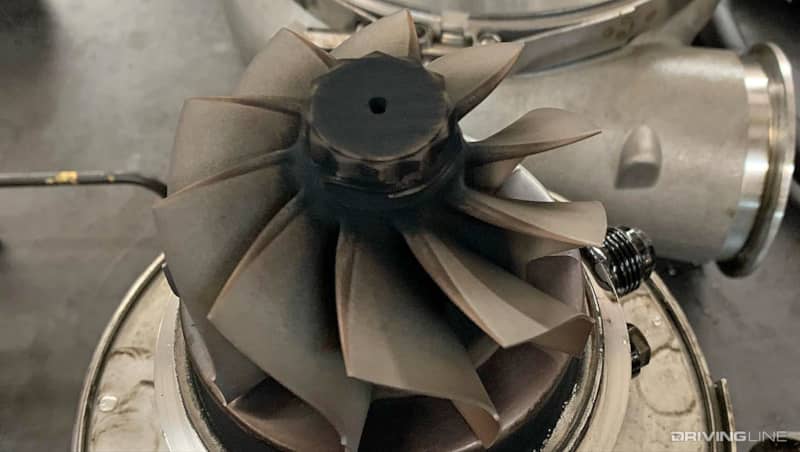 Big fuel calls for big air, and we can tell you that Chris relies on some massive windmills to fill the Cummins' lungs. A T6 flange BorgWarner S400 from VS Racing—which sports a dual ball bearing center section, an 80mm compressor wheel, a 96mm turbine wheel and a 1.15 A/R exhaust housing—gets things started on the exhaust manifold, a three-piece units from BD Diesel. The atmosphere charger, a triple ball bearing unit (and also sourced from VS Racing) boasts a 106mm compressor wheel, a 113mm turbine and a 1.45 A/R exhaust housing. A 45mm TurboSmart external wastegate helps relieve excess drive pressure when all stages of nitrous are online. At the track, Chris tells us his compound arrangement makes 85-90 psi of boost.
Torture-Tested 48RE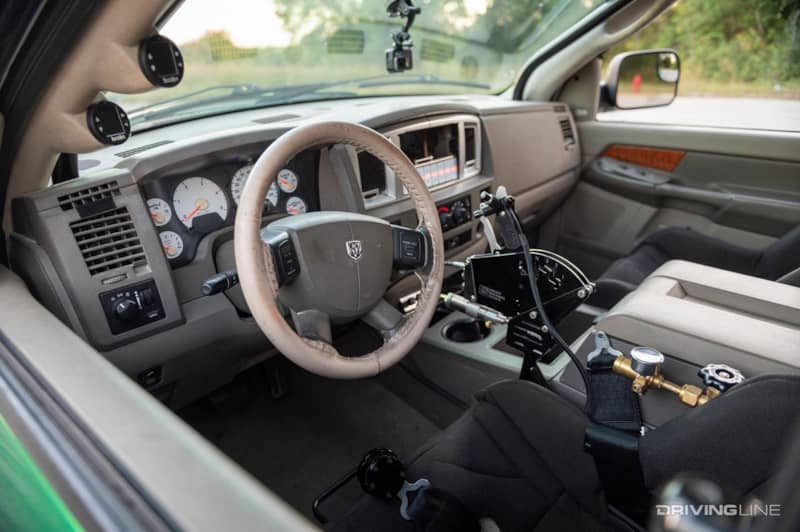 A full manual valve body from Muldoon's Performance Transmission offers Chris complete control over the 48RE automatic behind his 3,000hp Cummins. As for the four-speed transmission itself, it's about as reinforced as it gets. Upgrades include a 12-bolt BD flex plate, a stock stall DPC triple disc torque converter, a Santjer Performance 37-spline solid input shaft, Sonnax extreme duty 300M intermediate shaft, Sonnax's 29-spline output shaft and a TCS billet drum, along with Raybestos GPZ frictions and Kolene steels. Power is eventually sent to the factory AAM 925 and AAM 1150 axles, which have been fitted with Yukon chromoly axleshafts, 4.10 gears and lockers. Like the truck's chassis work, roll cage and engine, all transmissions are built in-house at Chris's place of business, Unrivaled Diesel.
First Diesel Truck To 3,000 HP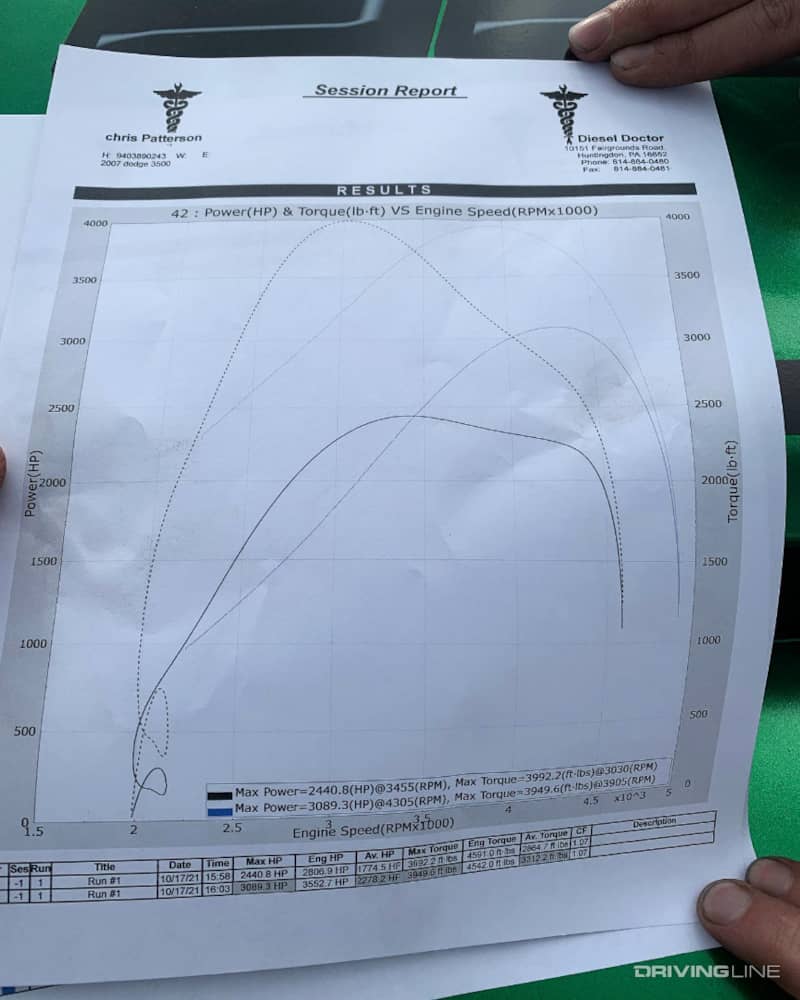 While strapped to the late Robert Pearce's mobile Dynocom chassis dyno at All Truck Challenge 2021, Chris became the first diesel pickup owner to ever crack the 3,000rwhp mark. As all-out dyno pulls tend to go, Chris brought plenty of nitrous to the party. With two additional Nitrous Express solenoids in the mix, his '07 Ram produced the graph and the numbers you see here: 3,089 hp and 3,949 lb-ft of torque. But that's not the end of this story. In the months ahead Chris is setting his sights even higher. "I think we've got 3,200 hp in the bag," he tells us. "We have an injector capable of 3,500 hp."
What Lift Off Is Like In 3-Plus Tons Of Dodge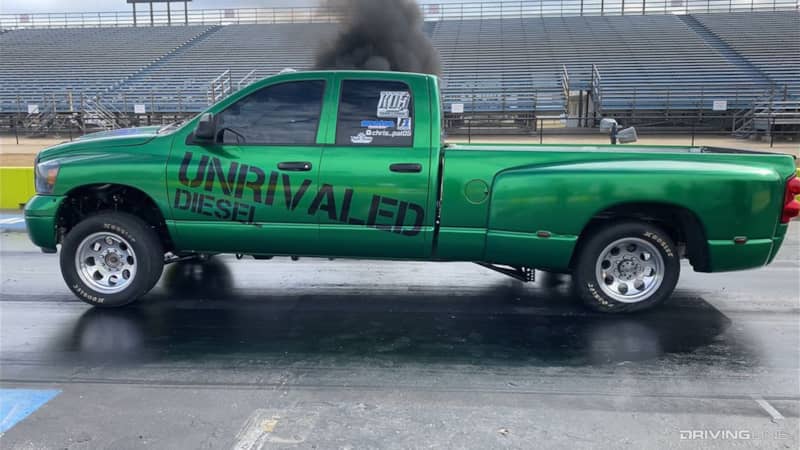 To help bring the big compounds to life during staging, Chris uses a spooling stage of nitrous, followed later by two bigger stages. When the truck launches (under a healthy amount of boost and locked in four-wheel drive, of course), it looks like what you see pictured above. A quick puff of black and then the clean, green, 6,400-pound missile is gone. Chris tells us that low 1.3-second 60-foots are the norm, which means it pulls nearly 2 G's when it leaves the line!
5.40s In The Eighth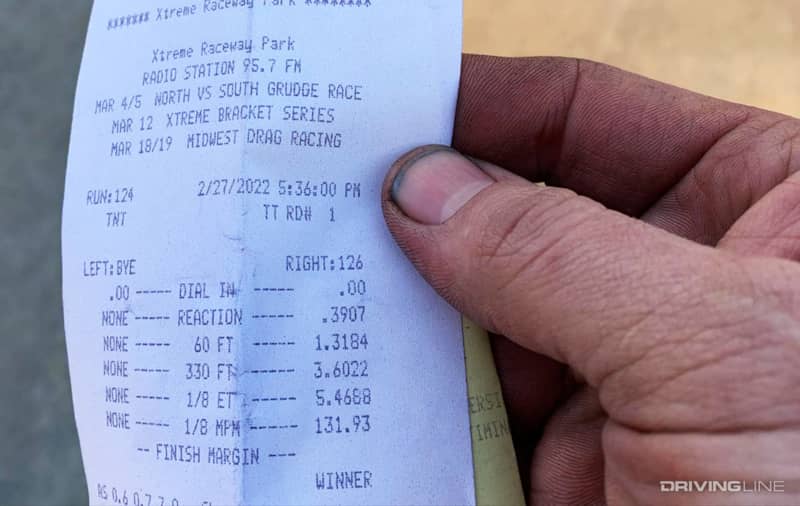 This is what the truck's quickest trip through the eighth-mile looked like on paper: a 1.31-second 60-foot and a 5.46 at 131 mph (and almost 132 mph). At the very least, this is 8.50 territory in the quarter-mile. Regardless of the length of the track, either E.T. is insane for a truck this big. To earn a timeslip like this, and based on the weight of the truck, an average of 2,100rwhp has to be applied to the racing surface. That 2,100 hp number can't be applied at the start for traction purposes (think 1,200 to 1,500-ish hp there), which means that more than 2,100 hp is being applied further on down the track.
Radials On The Street, Slicks At The Track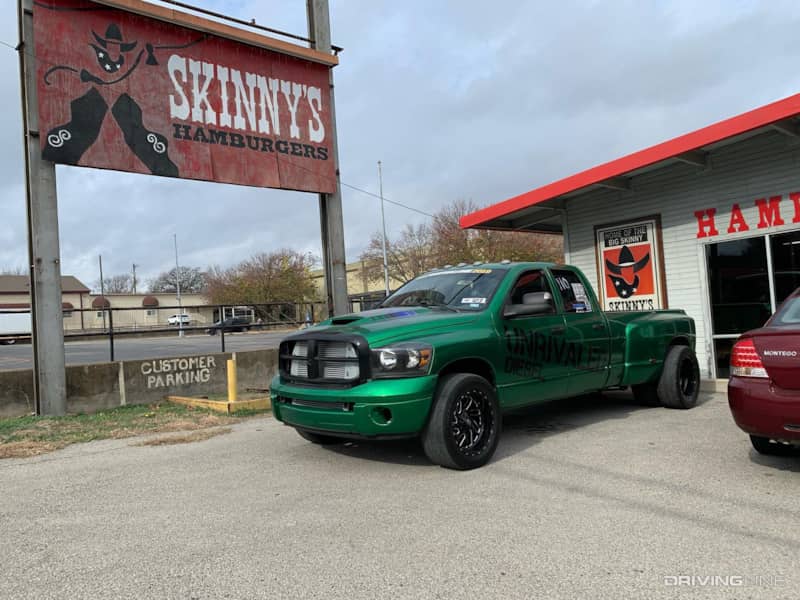 When you spot a 3,000hp truck at the local burger joint, it might still be streetable. At the track, Chris trades in the dual rear wheel setup for four slicks, but here it sits in street—and arguably daily-driver—trim. For a prayer of finding traction on the street, Chris relies on six Nitto NT555 RII street-legal drag radials to get the job done. If it weren't for DOT-compliant radials like the NT555 RII, Chris would have his work cut out for him in keeping the truck tracking straight—and those lunch-hour escapades might not be so common.
More From

Driving Line
To see Chris's unrivaled Cummins in action, make sure you're in the stands at 

U.C.C. 2022

—where record dyno numbers, 5-second eighth-miles and catastrophic carnage are all part of the entertainment.