What To Expect At U.C.C. 2022: Cutting-Edge Tech, New Records And Carnage
For fans of compression-ignition, the Ultimate Callout Challenge (U.C.C.) is fast-becoming the event of the summer. As an all-in-one drag race, dyno, sled pull and truck show spectacle, it's arguably the most exciting thing to hit the diesel performance world since the first show was held in 2016. But when trucks are laying down 2,500rwhp on the chassis dyno, making 5-second eighth-mile passes at the drag strip and attempting to yank the iron sled 300-plus feet through the dirt, you're bound to create a loyal following. You're also likely to see some fireworks… Aside from the feats of speed and might we see these trucks achieve each year, it's sometimes the carnage that we remember most.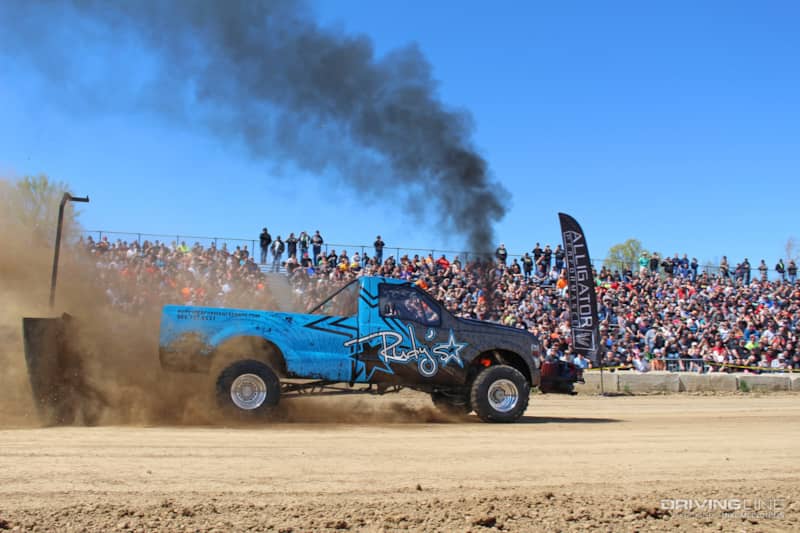 As U.C.C. 2022 approaches, we're taking a quick look back at the biggest moments from years past. Remember the dyno fire of 2019? Or how about the cataclysmic engine explosion that took place last year? And if you forgot about the time a new Pro Street quarter-mile record was set at U.C.C. or when 3,783 lb-ft of torque was forced through a set of street tires, the stories below should help jar your memory. From triumph to agony, and all-night, wrench-flying thrash-fests to strategizing how to survive the 3-day torture test, U.C.C. is a mixed bag of all things diesel motorsports—and it never fails to impress. The event returns to Lucas Oil Indianapolis Raceway Park this June 3-5. Be there!
The Great Runaway Of 2019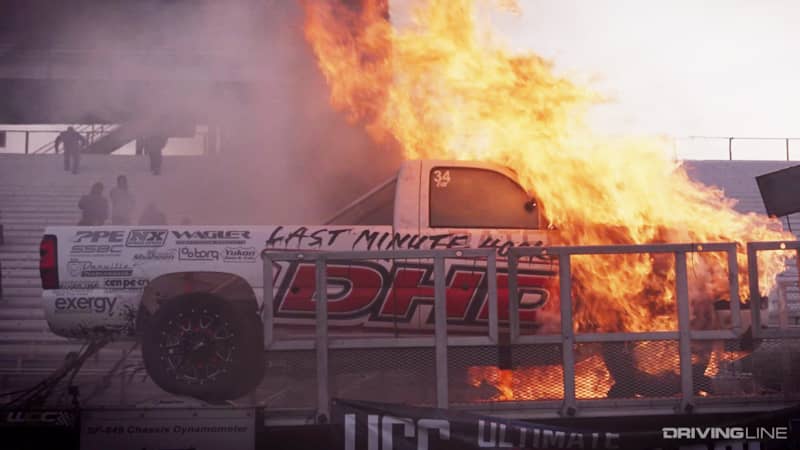 For the dyno portion of U.C.C., the most aggressive ECM files are uploaded, the nitrous bottles are heated up and more than 20 trucks go to war with the SuperFlow. With 2,000rwhp or more all but being a requirement to finish in the top 5, the time competitors spend on the dyno—where exorbitant amounts of fuel and oxygen are thrown at an engine—is arguably the most stressful on the power plant under the hood. In 2019, something not at all out of the realm of possibility happened to DHD's Tony Burkhard and his '06 Silverado.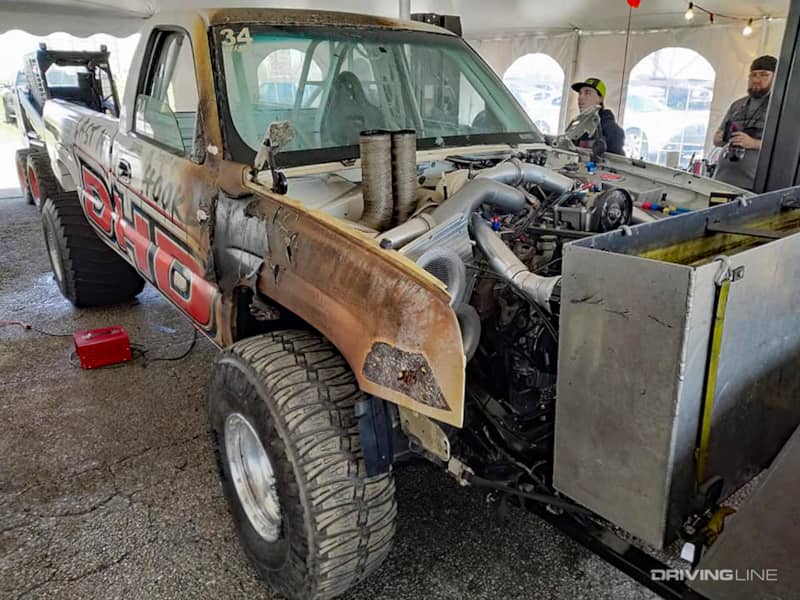 When one of the atmosphere turbos in his Duramax engine's compound arrangement grenaded, flying metal damaged the wiring for a fuel pressure regulator, which in turn led to the CP3 high-pressure fuel pumps running wide open. At the same time, both high-pressure fuel lines as well as the intake manifold cracked, giving the engine an unregulated source of fuel. A ball of fire and an engine that's rumored to have turned 10,000 rpm were the result. Luckily, driver Mark Broviak and the dyno operator escaped the blaze unharmed.
Flying Hard Parts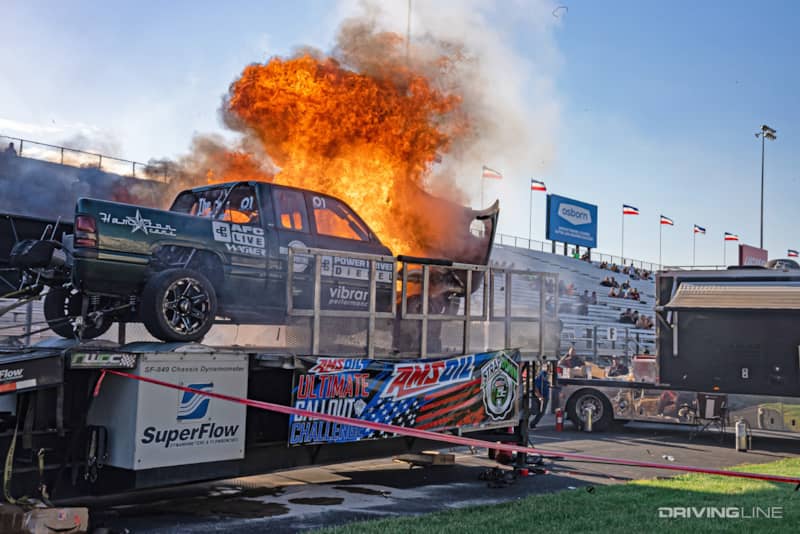 In recent years, making 3,000 horsepower on the chassis dyno has been the goal of many heavy hitters in the diesel world—and a lot of folks have blown up engines trying. But although the once-elusive 3K mark has since been reached (stay tuned for more on that story coming soon), at U.C.C. 2021 it had yet to have been achieved. As the final act on the dyno, Power Driven Diesel decided it would either put on a show or explode an engine trying. Although there was enough fuel, boost and nitrous on tap to crest 3,000rwhp, their P-pumped Cummins' block gave way on the camshaft side near the mains (the weakest section thanks to a lack of meat). Ejected pistons and flying pieces of cast-iron were followed by a giant fireball thanks to the severed fuel lines. We're not sure if it's a new rule for 2022 or not, but this time around U.C.C. officials are requiring that all engines be strapped down (i.e. cabled). Photo provided courtesy of S&S Diesel Motorsport's Christian Mahoney
The 2KHP Club (Grows Every Year)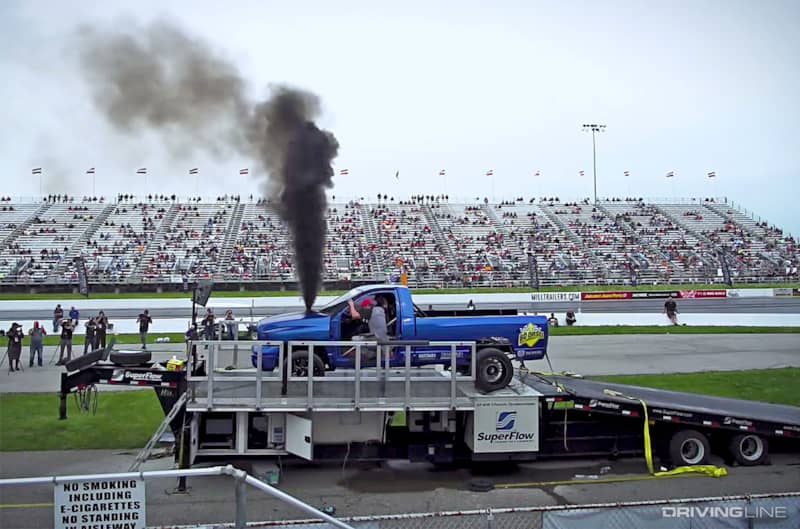 The king of the dyno thus far at U.C.C. is none other than Derek Rose of DNR Customs. In 2019 he and his Cummins-powered Ram laid down an incredible 2,503rwhp and a sidewall-rippling 3,783 lb-ft of torque before going on to win the whole shebang two days later. The best part about the U.C.C. dyno competition is that two more drivers join the 2,000hp club each year, on average. In 2017, just three competitors hit 2,000rwhp or better. In 2018, that number jumped to five. Then in 2019 it increased to seven. Last year, nine out of 19 trucks made 2,000rwhp or better aboard the rollers. Will we see more than half the field eclipse 2,000rwhp on the dyno in 2022? Based on the upward trend from years past, we just might!
Cutting-Edge Turbo, Fuel System And Engine Technology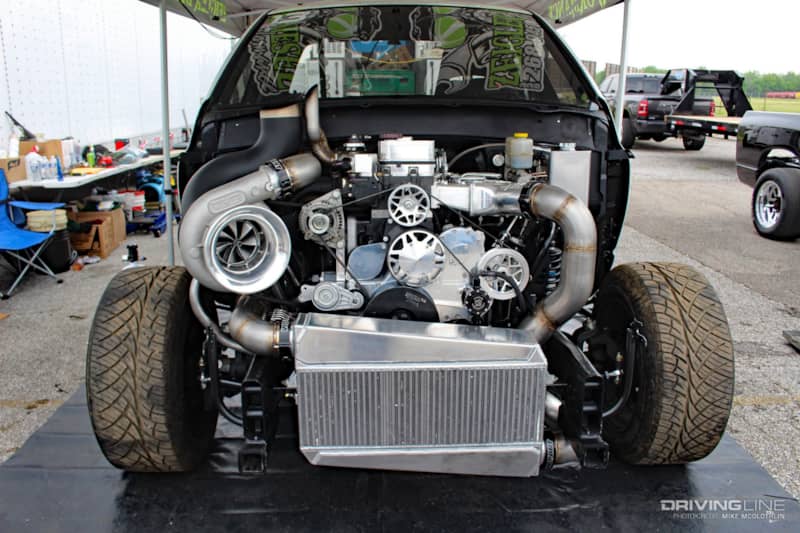 Some of the latest and greatest performance parts in the diesel world are showcased at U.C.C. You're looking at 2021 champion Justin Zeigler of Zeigler Diesel Performance's compound turbocharged common-rail Cummins—and engine that allowed his '06 Ram to turn out 2,443rwhp and 3,282 lb-ft on the dyno. The pumpkin-sized Wimer turbo you see here measures 135mm (5.3-inches) at the compressor inducer. It's paired with a Garrett GT55 on the exhaust manifold. The two-stage combo forces as much as 135 psi of boost into the D&J Precision Machine Enforcer series engine, a sleeved and deck-plated Cummins with billet X-beam rods, FSR pistons, billet main caps and a girdle. The high-pressure, precisely (electronically) controlled fuel system revolves around the use of an Exergy 12mm stroker CP3 paired with a 14mm version, as well as injectors fitted with nozzles 400-percent larger than stock.
Record-Setting E.T.'s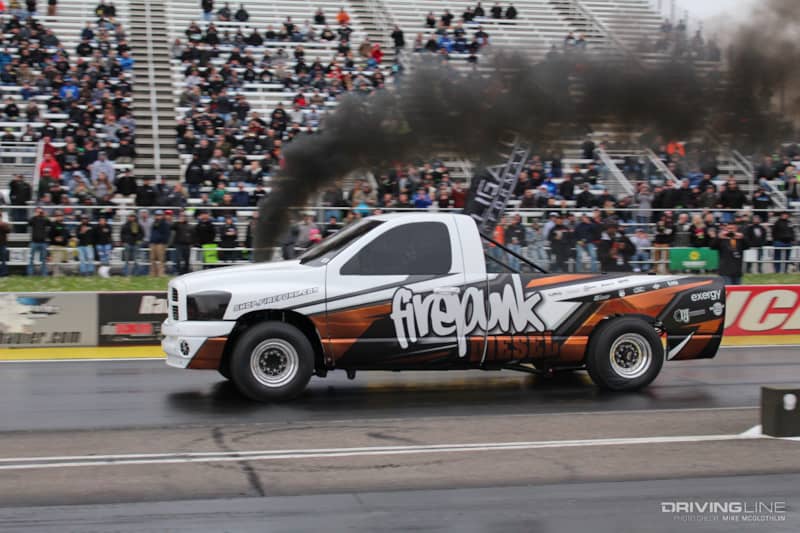 Pretty much every year, the drag race portion of U.C.C. yields a new E.T. record for the event. And sometimes, an industry record is set—or in this case re-set. After having already become the first Pro Street diesel truck to break into the 7's in May of 2017, Firepunk Diesel's Lavon Miller knocked more than a tenth off of his record at U.C.C. 2018. On top of adding an unmistakable sense of euphoria to U.C.C. 2018, Miller's 7.88-second blast at 181 mph lit the entire diesel world on fire at the time. Since then, the event has gone from racing quarter-mile to eighth-mile for safety reasons (more on that below), but all that means is that now the same type of record breaking is occurring through the '660 rather than the '1320.
The Eleventh Hour: The Truck Pull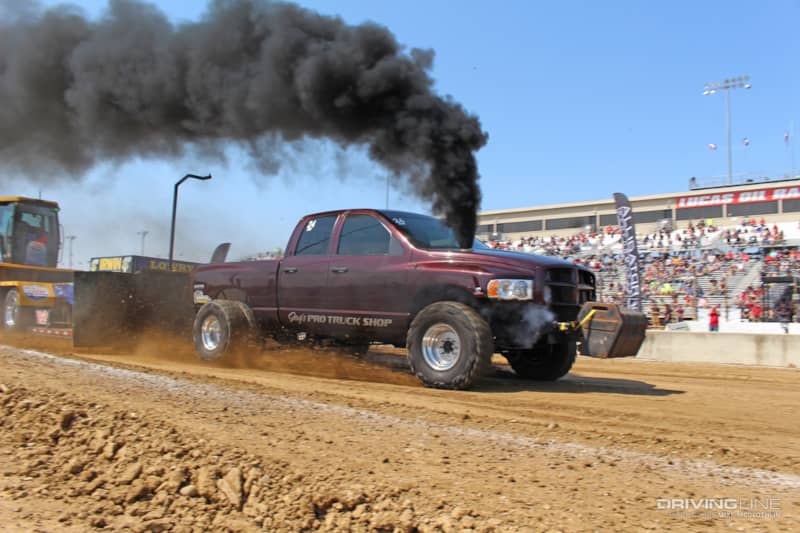 Added weight, axle and chassis changes, aggressive tires and strategic application of horsepower are all in play during the truck pull. This is where past experience in this type of sport pays off the most, but tire choice, gearing, ground speed and ultimately the line you pick can play into the outcome as well. However, no matter what this is the last event at U.C.C., which means if a competitor is within reach of winning it all he or she will lay it all on the line in the dirt. Oil fires, nitrous backfires and engines that check out for good are all par for the course during U.C.C.'s big finale.
Is A 4-Second Eighth-Mile Imminent?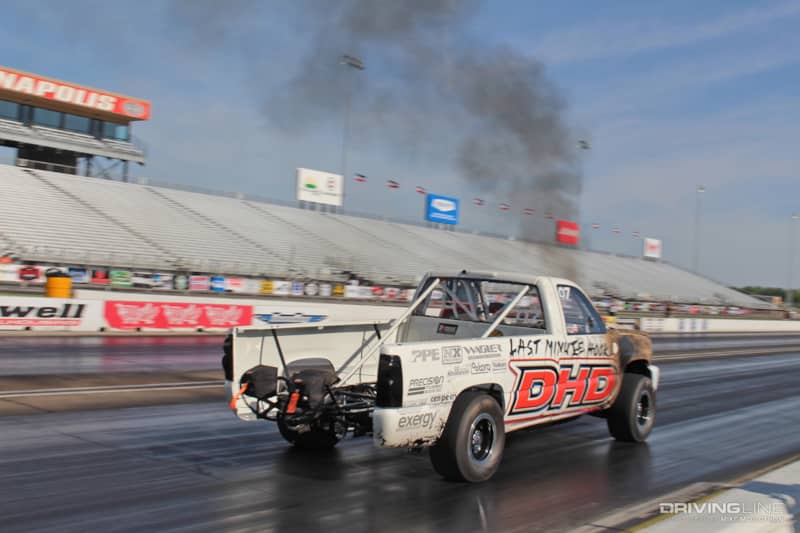 Since switching the drag race to eighth-mile, a mid-5-second blast down the drag strip became a noble goal for most teams. But in 2021, Dirty Hooker Diesel—campaigning the fireball Duramax from 2019, which is now a regular on the Pro Street circuit—put up a 5.11-second pass. Not only was this the quickest pass in U.C.C. history, but it had many wondering when the first pass in the 4's will happen. Just as U.C.C. dyno numbers have increased across the board over the past five years, elapsed times have gotten shorter and short on the track…If we're ever going to see a 4-second eighth-mile at U.C.C., 2022 might be it!
Expect The Unexpected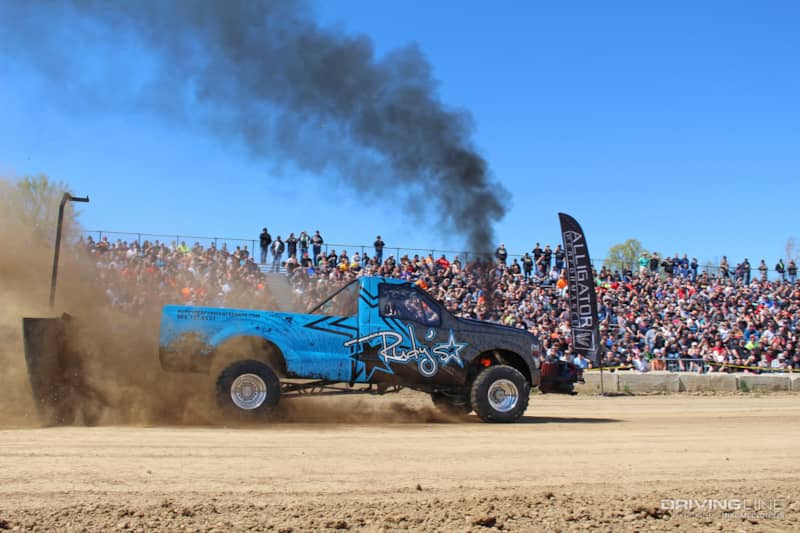 Anything can happen during the U.C.C. truck pull. Broken U-joints, twisted driveshafts, chewed up rear ends, oil fires, run-ins with the sled, you name it and it's probably happened here. Believe it or not, a few seconds after this photo was taken the Ford began to bounce fiercely and the front weight box actually left the vehicle. But despite the latter mishap and the fact that the truck had 9-inch axles under it (for drag racing), the Mud Grappler-equipped 6.4L Power Stroke campaigned by Rudy's Performance Parts still managed a mid-pack finish in the dirt. Check out the glowing orange passenger side exhaust manifold through the fender well!
Mid and low 5-second eighth-miles were rampant at last year's Ultimate Callout Challenge. Click here to see all the drag racing action from U.C.C. 2021.
More From

Driving Line
Mid and low 5-second eighth-miles were rampant at last year's Ultimate Callout Challenge. Click 

here

 

to see all the drag racing action from U.C.C. 2021.