Custom 2014 RAM 2500 Truck: 1,400HP Track Terror
As diesel drag racing continues to grow, new builds continue to sprout up all over the country. For 2022, Karry Iatropoulos wants in on a piece of the action, too. With the help of LinCo Diesel Performance, his '14 Ram 2500 has been prepped to compete ultra-reliably in the Outlaw Diesel Super Series' 6.70 Index class and—with the wick turned up and both stages of nitrous online—5.90 Index on occasion. In quarter-mile speak, that's mid 10's on fuel, low 9's on spray and one wild ride for the driver.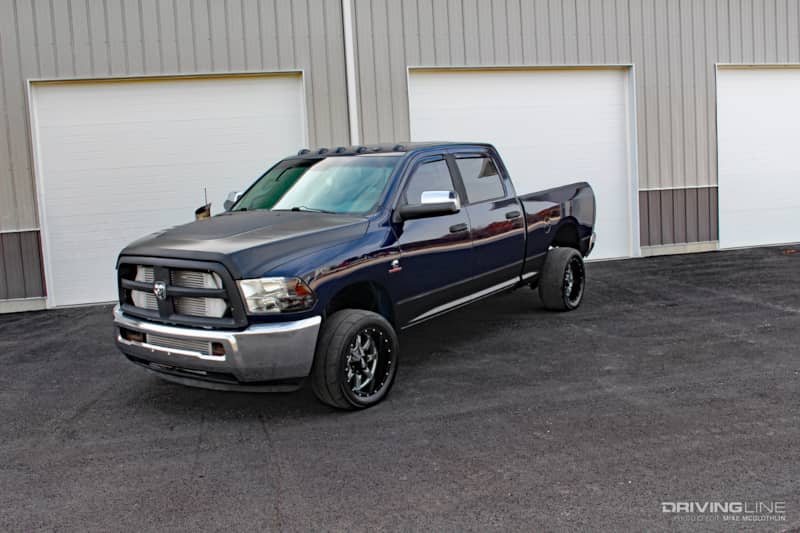 But what recipe is he using to get there? Not surprisingly, a 6.7L common-rail Cummins will propel the four-door, 4x4 beast, but a huge single turbo, a 48RE transmission, big fueling and Nitto street legal DOT compliant drag radials will help the big fourth-gen make the most of its blistering-fast trips through the 660'. Below, we'll take a look at Karry's deep blue Ram from head to toe.
Race-Ready 6.7L Cummins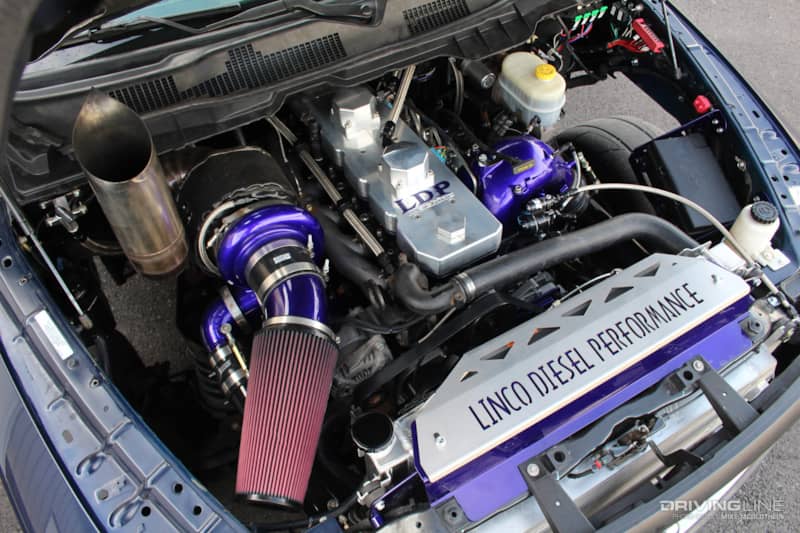 Much more than a pretty engine bay, LDP Machine made sure the 6.7L Cummins was built to perform exactly how it looks. A line-honed block was machined to accommodate 14mm main studs and head studs, and both the block and cylinder head were cut to accept fire-rings. A factory-based, balanced crankshaft is secured via Wagler Competition Products' billet main caps, ARP main studs and a girdle. Weight-matched, Wagler Street Fighter rods, forged-aluminum Mahle pistons and a 188/220 Hamilton camshaft complete the short block mods. Above that, you'll find a Hamilton Street Performance head that's been massaged at LDP Machine and topped off with one of its billet valve covers.
5-Blade Turbo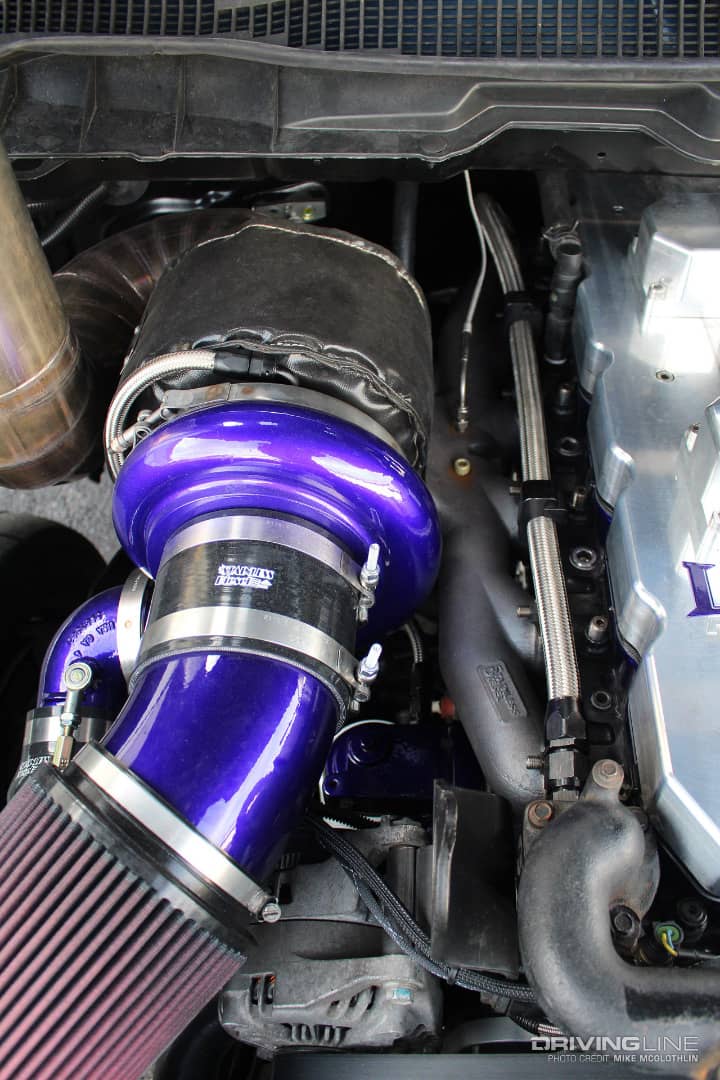 Boost building comes in the form of a 5-blade S485 Godfather turbocharger from Stainless Diesel. Equipped with a billet, 5-blade, 85mm compressor wheel and a high-flow 96mm turbine wheel, the Godfather is one of the largest S400 frame turbos on the market —and it can support the kind of horsepower a GT55 can. The big S485 mounts to a Stainless competition T-6 24-valve exhaust manifold. On the intake side, Stainless silicone couplers and clamps are employed, along with BD boot locks to keep boost contained at all costs.
Major League Fueling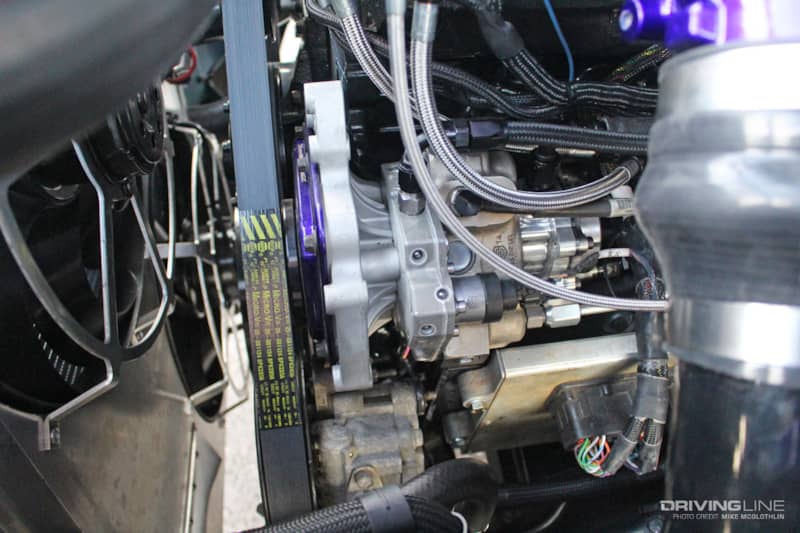 The path to 1,400 hp begins with a fuel system that helps you reach that number. Luckily for Karry, a single 14mm race CP3 from S&S Diesel Motorsport can get him to his horsepower goal on fuel alone. An SP3000 supply pump on the back side of the CP3 (also from S&S) pulls fuel from a G&R sump in the factory tank and works in conjunction with S&S's regulated filter head and 2400 bar relief valve. Under the valve cover, late 5.9L-based common-rail injectors fitted with 350-percent over nozzles take care of in-cylinder fuel delivery.
Insurance In A Bottle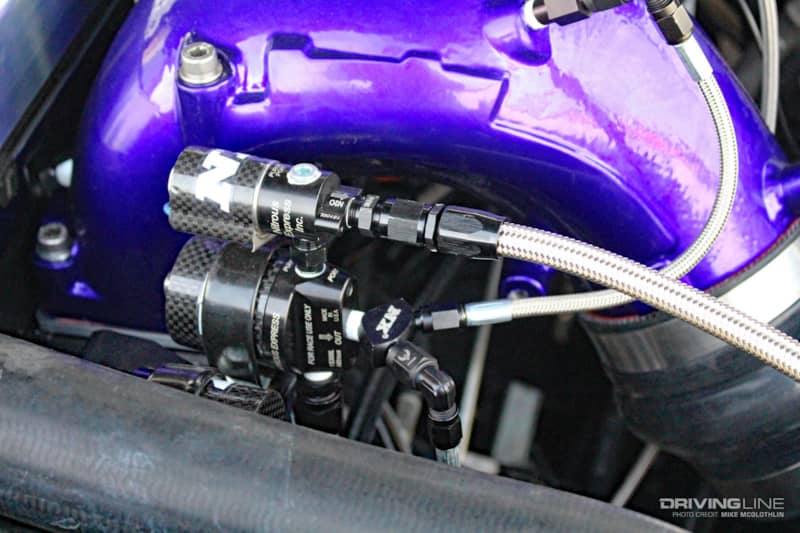 For instances when the truck can't get the job done on fuel alone, an additional 500 hp will be made available thanks to a two-stage nitrous system. The dual stage Nitrous Express kit is plumbed into the intake elbow and both bottles live behind the cab in a mounting bracket fabricated by LDP Machine. Both of the truck's batteries and BD auxiliary transmission cooler can be found in the bed, too.
48RE Swap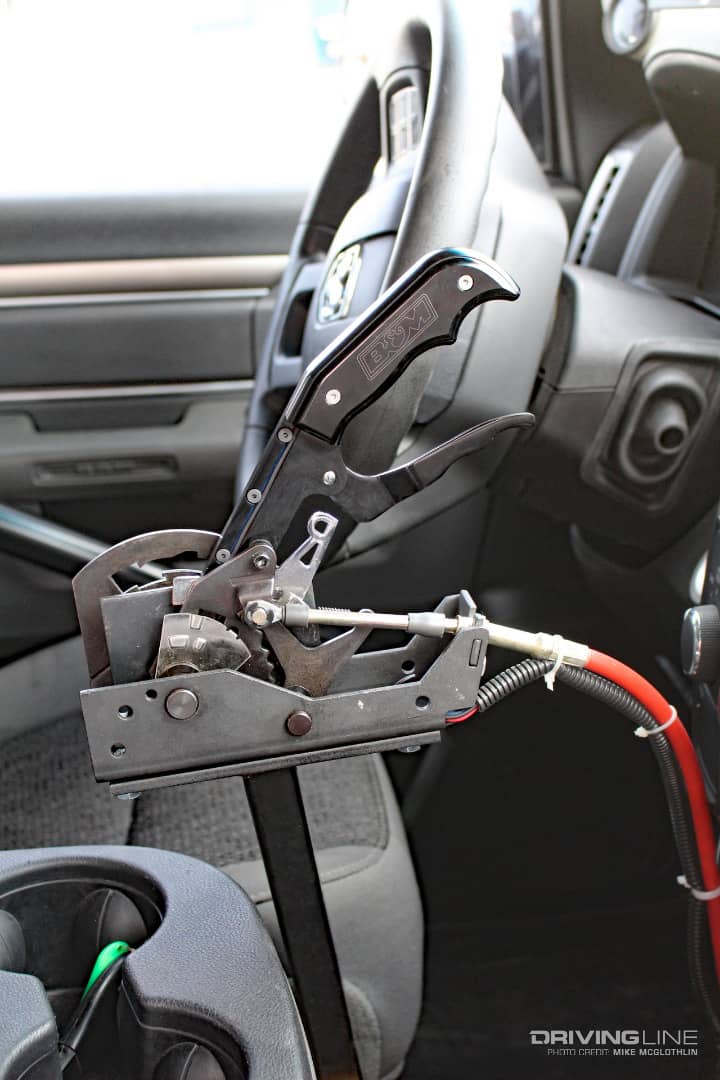 You won't find a 68RFE transmission parked behind the 6.7L Cummins. Instead, a 48RE with a manual valve body handles the shifts. Beneath the B&M shifter in the cab, the Chrysler four-speed has been fortified using a host of Sun Coast parts. A billet stator, triple disc torque converter with a 2,500-rpm stall speed helps light the big S485 turbo during staging and billet shafts exist throughout (including a 35-spline input from Sonnax) to keep the '48 from grenading. A billet direct drum and GPZ clutches also made the list.
Drag Radials And Four-Wheel Drive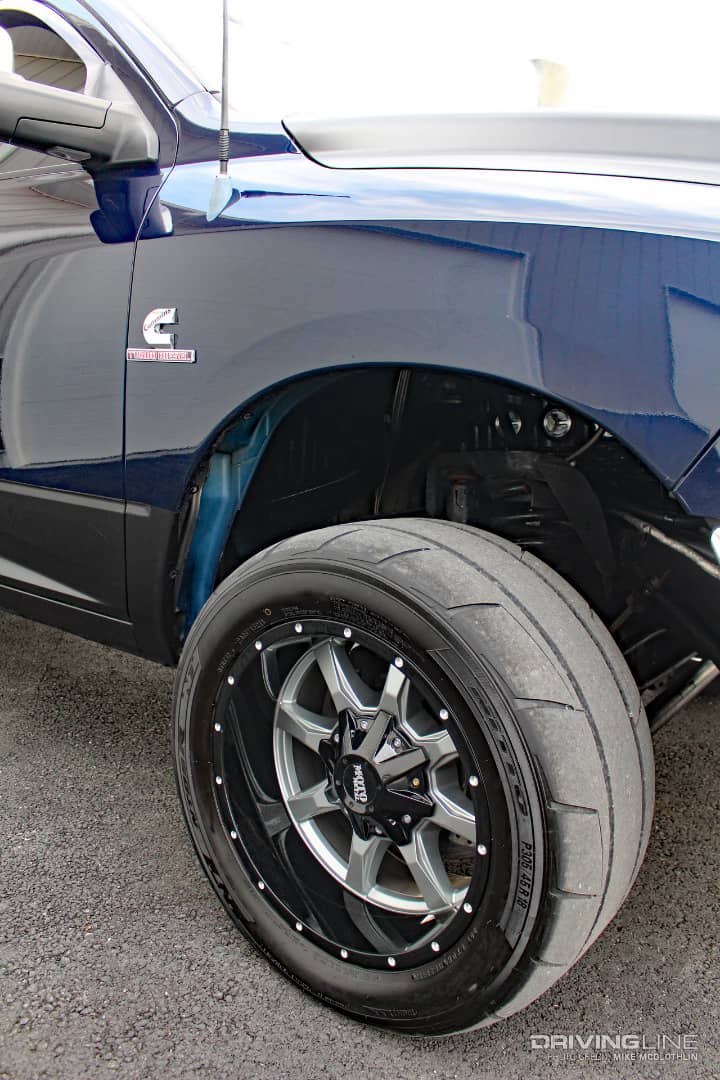 With north of 2,000 lb-ft of torque to tame, not even four-wheel drive guarantees traction on the launch, so Karry has entrusted Nitto NT05R drag radials to get the truck to hook. Each P305/45R18 NT05R measures 28.9 inches in diameter, 12 inches wide and mounts to an 18-inch Moto Metal wheel. The DOT-compliant NT05R is known for its straight line, high-speed stability and should be right at home in Karry's eighth-mile racing efforts.
Certified For Speed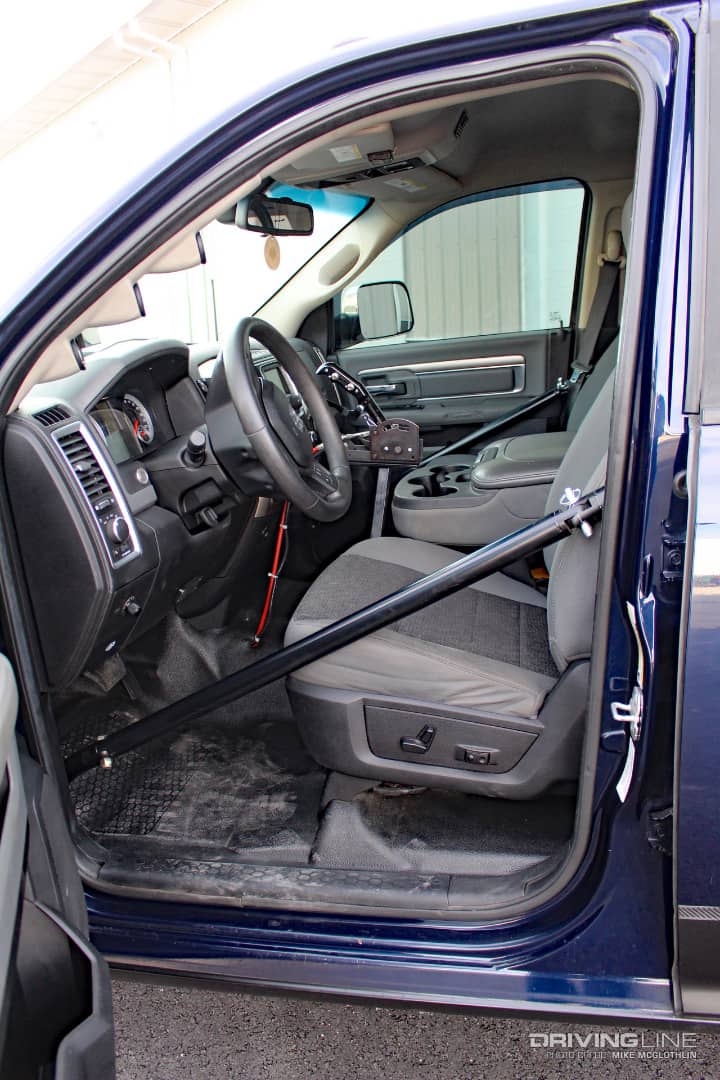 For a lot of diesel owners, building a truck that makes stupid horsepower and copious amounts of torque is the easy part. It's the dread of installing a roll cage in their daily driver that holds them back. In fact, it puts the kibosh on many enthusiasts horsepower plans—especially when they're kicked off the track for going too fast. By building a dedicated race vehicle, Karry will be able to avoid this predicament. And thanks to having Maverick Diesel construct the cage, accessibility was made easy for both the driver and passenger. Now, all bases are covered: safety, legality and interior accessibility.
Rear Four-Link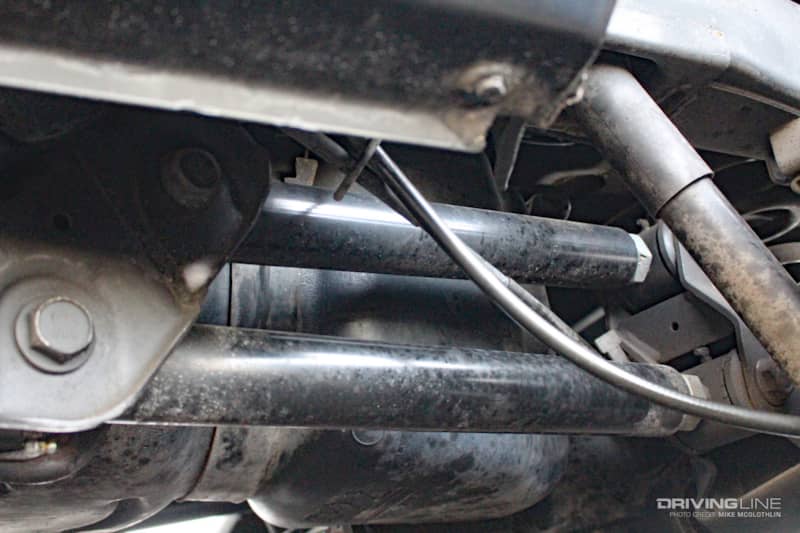 To keep the AAM 1150 settled and the drag radials biting, a four-link suspension is employed in the rear. Overbuilt would be the key word to explain the thick-walled bars and massive bushings used in the system. To help lighten up the four-door ¾-ton, the leaf springs were ditched in favor of coil springs.
More From

Driving Line
Curious what the fastest diesel drag racer is? Check out Firepunk Diesel's 3-second 660' stormer right here.