King Of The Dyno: Chris Patterson's 3,400-RWHP Cummins
The past year has been monumental for diesel performance, especially in the realm of measuring horsepower. Dyno competitions have become a way of life for the industry's heavy hitters, many of which are now shooting for 3,000rwhp or more on the rollers. The first to get there was Chris Patterson, who did it with a 3,089rwhp effort at the 2021 All Truck Challenge. Back in June, Justin Zeigler topped that with an incredible 3,336rwhp at the 2022 Ultimate Callout Challenge. Three months later, Chris catapulted himself to the top of the mountain once again with a 3,401rwhp dyno performance at the annual Weekend On The Edge event in Utah.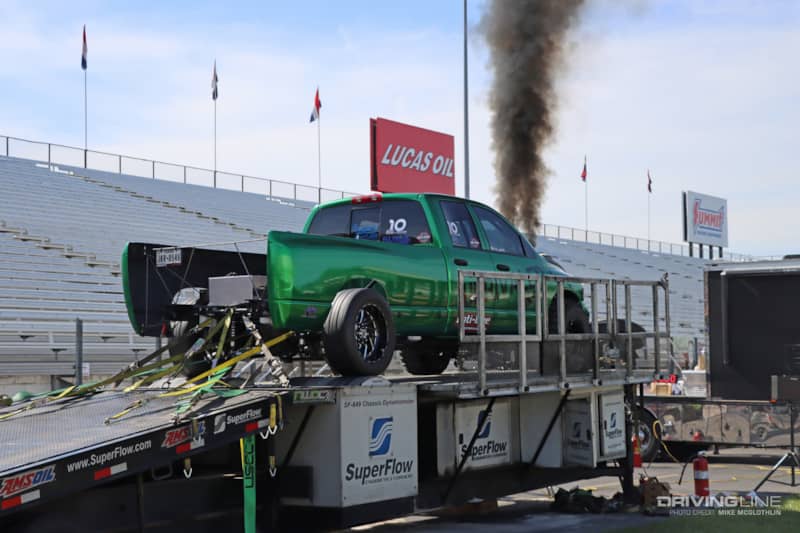 But that's not even half of the story. Prior to reclaiming dyno king honors, Chris entered his 3,400hp Cummins-powered Dodge Ram 3500 in Race Week 2.0, went track-to-track, turned in 5-second eighth-miles and logged more than 1,300 miles on the street. Most recently, Chris and his green beast placed third at the 2022 All Truck Challenge where he set the unofficial front-wheel drive dyno record right before experiencing a catastrophic engine failure. We recently sat down with Chris to get the full scoop on what was a very busy 2022 for him and his team. The trials, tribulations and triumphs that follow are extreme, but each of them go with the territory when you're setting the tone for an entire industry.
3,401RWHP And 4,556 LB-FT Of Torque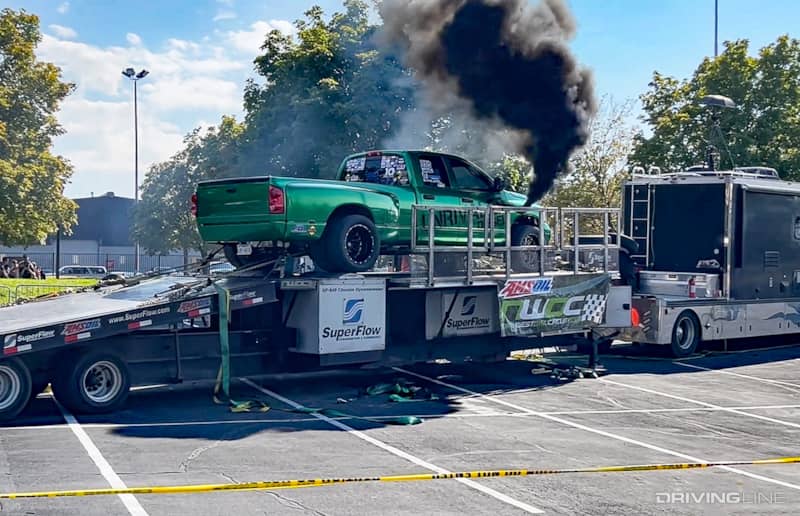 The news from Chris Patterson's dyno performance at Weekend On The Edge hit the diesel world like a ton of bricks. Just three months earlier, Justin Zeigler had set the mark to beat at 3,336rwhp—an incredible number no one thought would be surpassed anytime soon. Yet when the rollers stopped spinning out in Utah, Chris's third-gen Cummins had made an unreal 3,401rwhp and an unworldly 4,556 lb-ft of torque. As far as engine setup, Chris was running a recipe that was similar to what he'd brought to U.C.C., when traction issues limited him to a 2,614rwhp performance. The only difference now was that the triple turbos were gone in favor of a two-charger arrangement with a VS Racing S483 high-pressure unit and a 106mm atmosphere charger.
The Dyno Graph Of All Dyno Graphs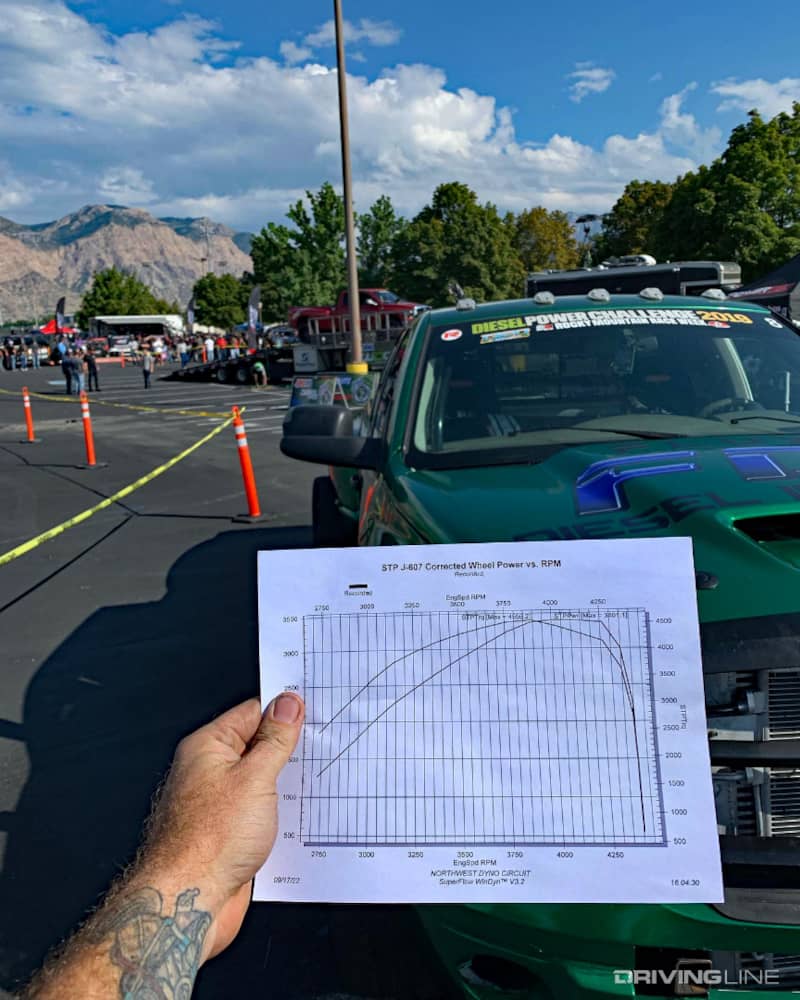 You can't tell it here, but Chris's record-setting, 3,401rwhp dyno pull actually started at 2,300 rpm. At 2,600 rpm, the first of five (yes, 5) nitrous kits is activated. That's followed by subsequent kits kicking on progressively and roughly every 200 rpm, with plenty of overlap occurring between them. All told, 12 pounds of nitrous was consumed during the 3,401 hp feat, along with approximately 150 psi of boost being produced. With everything online (boost, nitrous, fuel, etc.), peak torque checked in at a block-saving 3,800 rpm.
What The 3,401 HP Number Means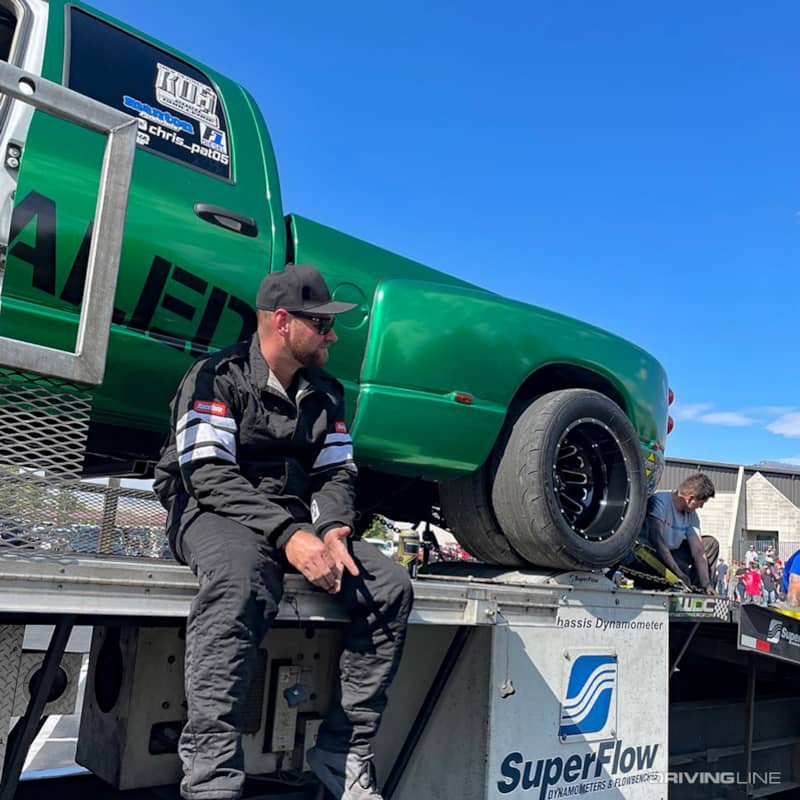 For Chris and his team, the celebration started immediately following the 3,401hp dyno run. It was the culmination of overcoming adversity, redeeming himself following his dyno performance at U.C.C. and ultimately silencing his critics. The Northwest Dyno Circuit's SuperFlow chassis dyno has become the yardstick for measuring horsepower in the diesel industry. If you don't make the number here (Chris made his 3,089rwhp number from 2021 on a different dyno), it doesn't count—at least according to some. For Chris, the 3,401rwhp dyno achievement in Utah proved him to be the legitimate king of the dyno. "We went up there loaded, hot and heavy, with everything we should've done at U.C.C.," Chris told us. "And we pulled it off."
The Path To Putting Down Power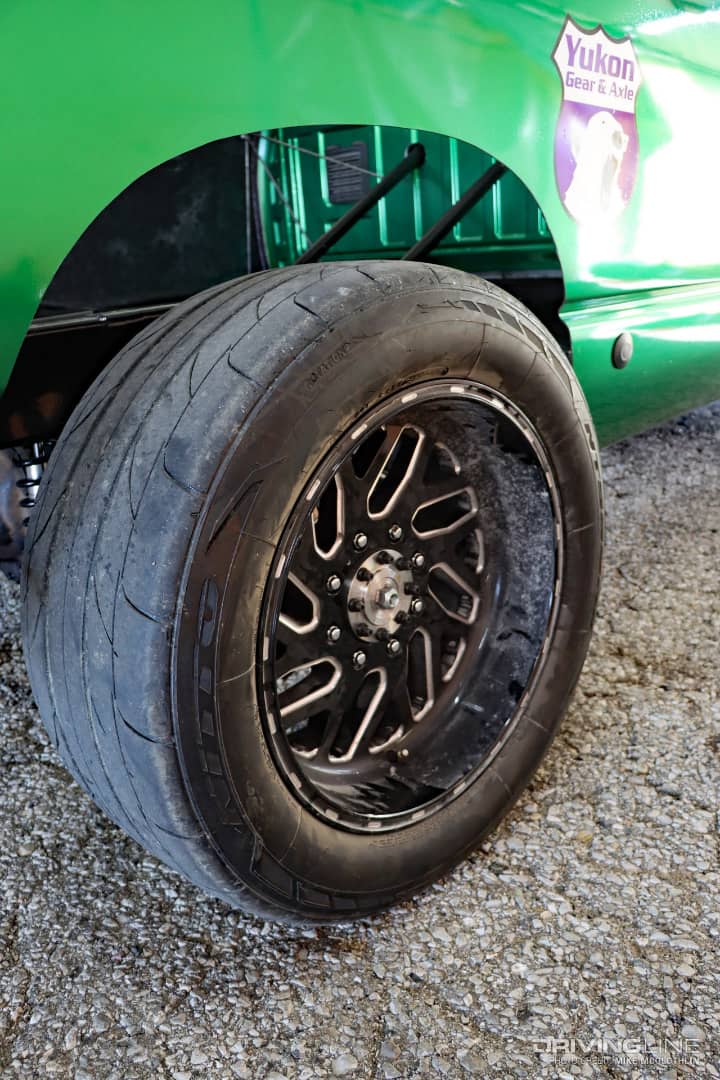 After suffering traction issues on the Northwest Dyno Circuit's SuperFlow rollers at Ultimate Callout Challenge, Chris decided to run Nitto NT555 RII drag radials four-wide this time around. Long story short, it worked. Even though Chris estimates running the duals cost him 250 hp due to the added weight and drag, the tradeoff was worth it as the NT555 RII's never broke traction. Each of the 305/50R20 D.O.T. drag radials measures 32.05 inches in overall diameter and 12.44-inches wide. Obviously the photo above represents a single wheel setup, but it segues perfectly into what happened next…
A Twist At The All Truck Challenge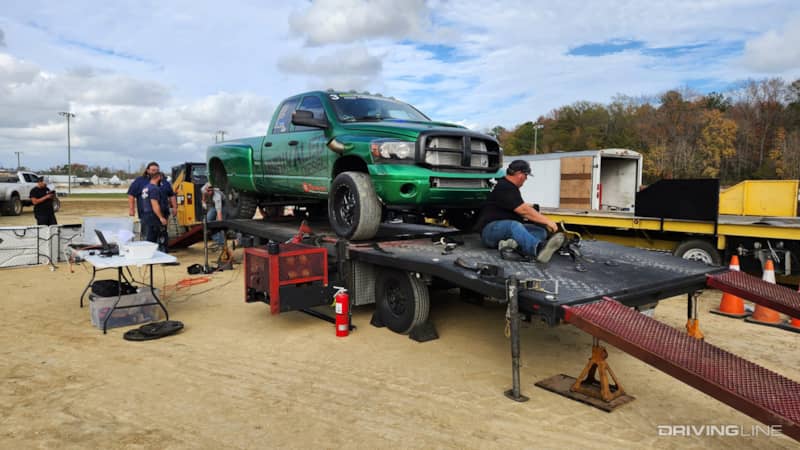 Fast-forward to All Truck Challenge at the beginning of November, where a bit of bad luck forced Chris into an unorthodox method of dynoing his truck. After breaking the rear AAM 1150 axle's case, stripping the teeth off the ring and pinion and wadding up the driveshaft during the sled pull event, Chris all but started loading up for the trip back home to Texas. Then came a crazy idea from the mouth of dear friend, Nathan Williams. "What you ought to do is put the dyno tires on the front and dyno in front wheel drive." By 9 a.m. the following morning (dyno day), the truck was ready to see if the AAM 925 and factory transfer case could hold up to 3,000rwhp.
Fire In The Hole!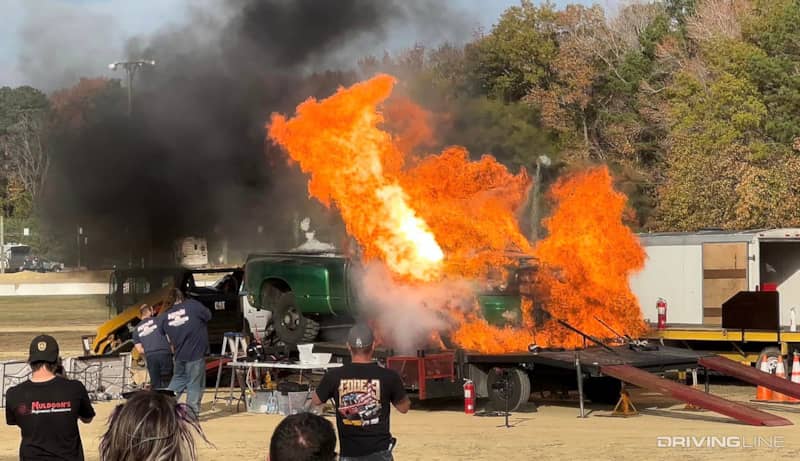 So how did the front-wheel drive dyno experiment go? On the first pull, Chris's Dodge made 1,500-plus hp—good enough for First Place at All Truck Challenge. Then a second pull returned 2,200 hp. Then (of course) Chris loaded the kill tune and brought all five nitrous kits online. And that's when all hell broke loose inside the engine. "I felt a pop mid-way through the fourth kit coming on," Chris told us. "I saw flames under the hood, so at that point I reached over and smacked the fire suppression lever." Chris's 11-nozzle, foam fire-suppression system (an invaluable device with a minimal $400 investment) killed the fire within seconds—no doubt saving his engine, body work and himself from any damage. It was a moment that illustrated just how effective this kind of safety equipment can be when things go south.
The Carnage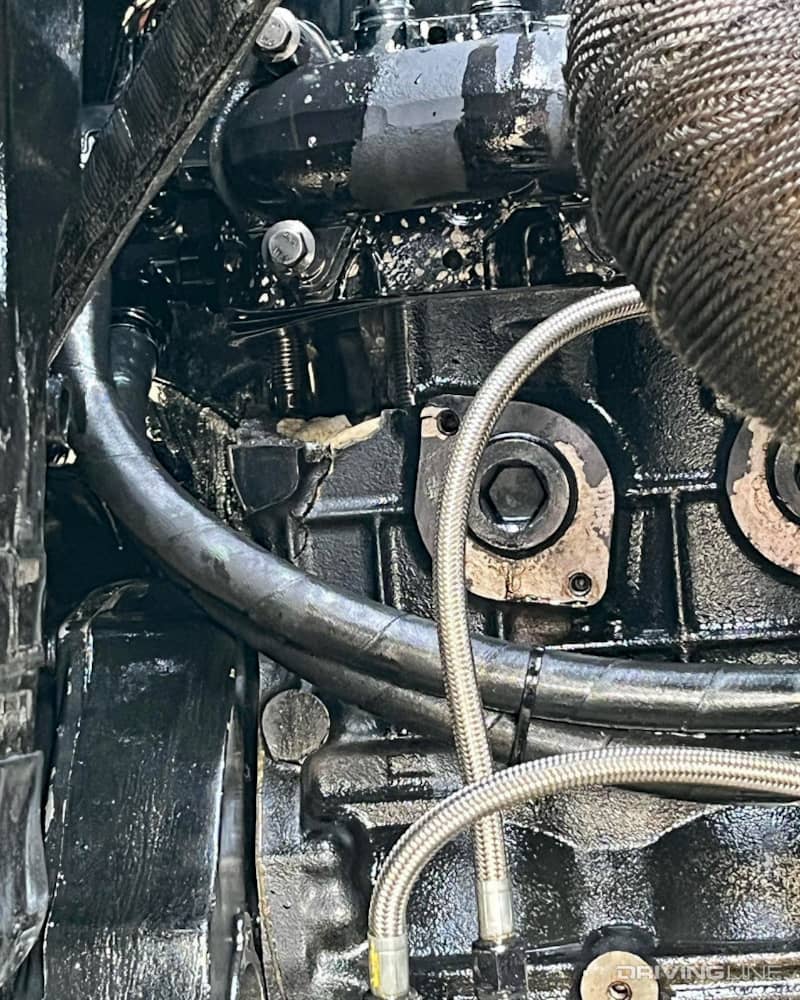 After 30 dyno pulls at more than 2,500 hp, 50 drag strip passes, 10 sled pulls, abuse from the 2021 All Truck Challenge and 5,000 street miles, the competition Cummins in Chris's dually had had enough. The back of the block split roughly two inches below the deck surface at the rear head studs. We've seen this exact failure occur before, and many attribute it to the number 6 cylinder always running hotter than the other five holes. Either way, the engine was a trooper and one that Chris will tell you owed him absolutely nothing.
2023 And Beyond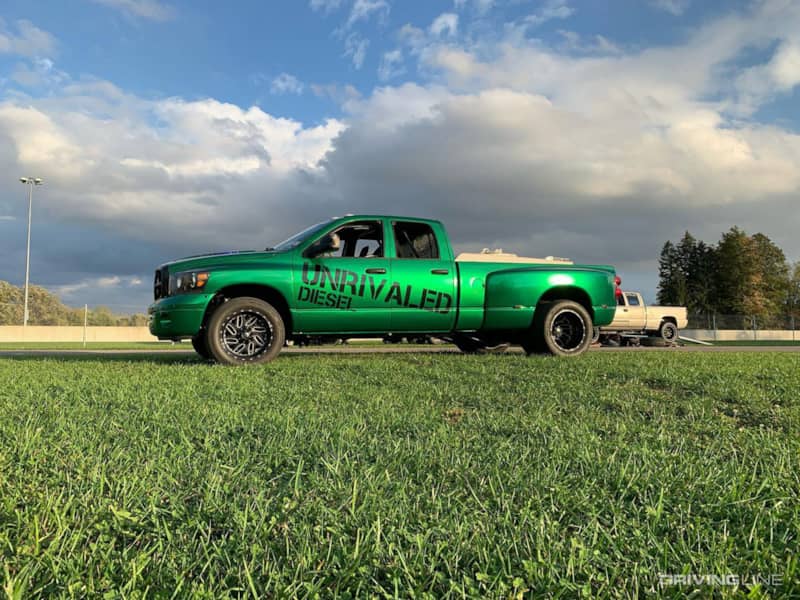 So what's next for Chris and his bright green third-gen? In addition to piecing together another Hamilton Comp block Cummins, he will be returning to U.C.C. in 2023, as well as All Truck Challenge and Race Week. For at least one of those events, expect him to be shooting for 3,500rwhp or more. Following those high-caliber affairs, Chris may return the truck back to full street trim and focus on his customer base at Unrivaled Diesel. Thanks to his high-horsepower exploits, business at his Weatherford, Texas location has exploded in the past 12 months. Look for a host of trucks competing on behalf of the Unrivaled Diesel name in the years ahead.
More From

Driving Line
Ready to read up on the world's first 3,000rwhp street-driven diesel? 

This

 

is where it all started.