Vintage Looks, Diesel Power: 5.9L Cummins-Swapped '76 F-250
High-mile durability, robust all-iron design, a lack of electronics and the coveted P-pump all make the '94-'98 5.9L Cummins one of the most desirable diesel engines for swap projects these days. The simplistic nature of the mechanically controlled, 12-valve inline-six provides just about the easiest and most noncomplex platform for repowering a classic vehicle—and its horsepower can be doubled, even tripled, without breaking the bank. When husband and wife Garret and Danielle Stewart embarked on their '76 F-250 restoration venture, there was no question as to which engine would be placed under the hood. After all, living in rural Illinois—and with Garret being an avid truck puller in addition to a farmer—they'd both already been sold on the power of Cummins long ago.
However, what they weren't sure of was exactly how the project would go. In terms of wrenching, electronics and especially auto body work, both Garret and Danielle were novices, but that didn't stop them from building the truck of their dreams. With progress that was slow yet steady, the determined duo sought out expert advice whenever possible, plucked rust-free parts from salvage yards and donor vehicles and (most importantly) learned as they went. Setbacks became teachable moments, elbow grease and hard work replaced spending money and staying the six-year course yielded stunning results. Their Cummins-powered Ford High-Boy represents one of the more flawless diesel repowers we've come across. We hope you enjoy their homegrown, show-quality masterpiece as much as we do.
12-Valve 5.9L: The Forever Engine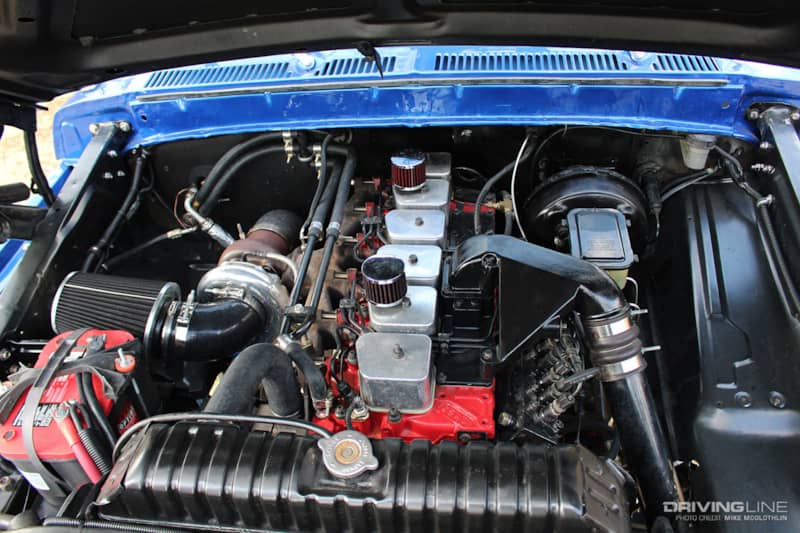 Not trying to reinvent the wheel, Garret and Danielle's approach to sourcing a powertrain for their High-Boy was pragmatic. In obtaining a complete, quarter-million mile '96 Dodge Ram 3500 on the cheap, they also scored the dependable (and often preferred) NV4500 five-speed manual in addition to the 215hp version of the P-pumped 5.9L Cummins (the 215hp P7100 being known for its better fueling and rpm capabilities over earlier versions). To start fresh, Garret overhauled the engine, adding 0.20-inch over, stock compression Mahle pistons while retaining the proven factory forged-steel connecting rods. As for the cylinder head, 110-pound valve springs were added and it was re-anchored to the decked block via ARP studs.
Heart and Soul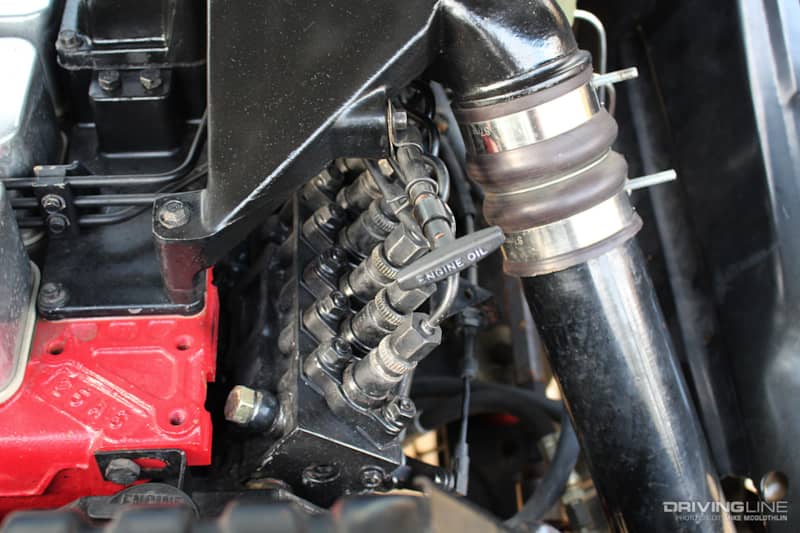 To get even more out of the already-potent 215hp P7100, the fuel plate was pulled and it was treated to a 4,000 rpm governor spring kit, 191 delivery valves, a Mack rack plug and a significant bump in timing (advanced half a dozen degrees). The added fuel volume makes its way from the P-pump to a sizable set of 200hp injectors, which are topped off with 5x16 nozzles (five, 0.016-inch diameter holes per nozzle).
The Silver Bullet
All that fueling gleans a healthy 60-psi worth of boost out of an S300-based turbocharger from Industrial Injection. Coined the Silver Bullet, a 66mm (inducer) compressor wheel sits inside a polished compressor housing, while a 74mm (exducer) turbine wheel resides within a 14cm2 exhaust housing. The T3 flanged turbo bolts to the engine's factory exhaust manifold, while an HX40 downpipe and 4-inch exhaust system help the 5.9L exhale. The intercooler and corresponding hot and cold-side pipes were robbed off of the '96 donor rig.
Electric Lift Pump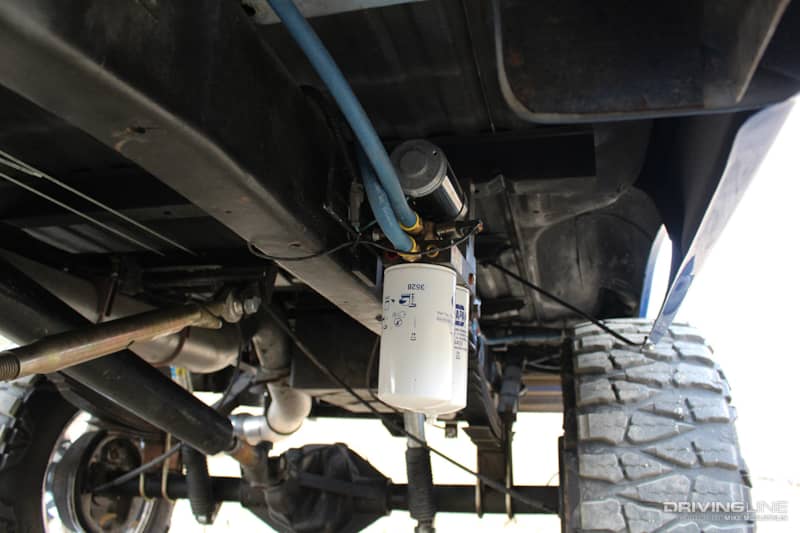 Keeping the P-pump happy with 45-psi worth of steady fuel pressure is a low-pressure fuel supply system from FASS. The all-in-one fuel filter, water separator, lift pump system flows 125 gph and pulls diesel from a 16 gallon fuel cell mounted above the rear axle.
NV4500 & NP205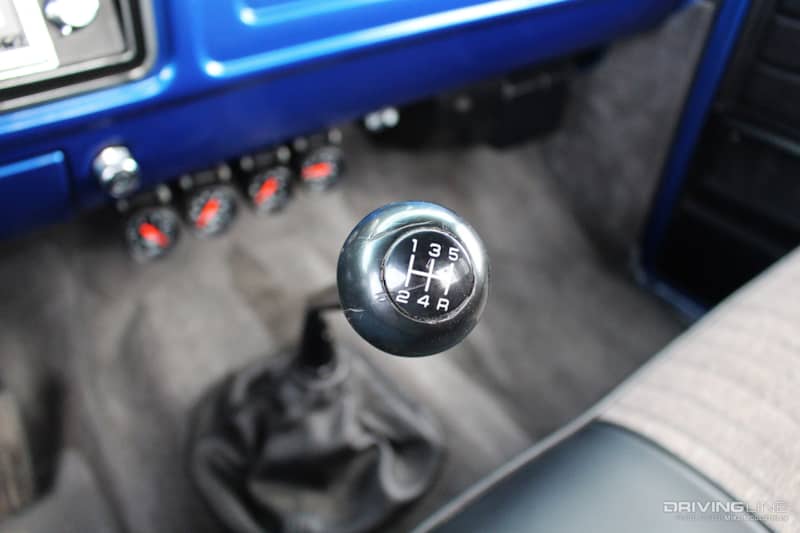 Well-known for its durability, the five-speed NV4500 that came with the '96 Dodge donor was a shoo-in for the project. To hold up to the 5.9L's estimated 1,100 lb-ft of torque, a street dual disc clutch from South Bend sits on the input shaft (which was upsized to the common 1-3/8-inch diameter). However, as the parts truck was a two-wheel drive model, Garret and Danielle had to source their own transfer case to make the truck's 4x4 functional. After picking up an NP205, it was divorce-mounted courtesy of custom length front, intermediate and rear drive shafts.
Rear Dana 60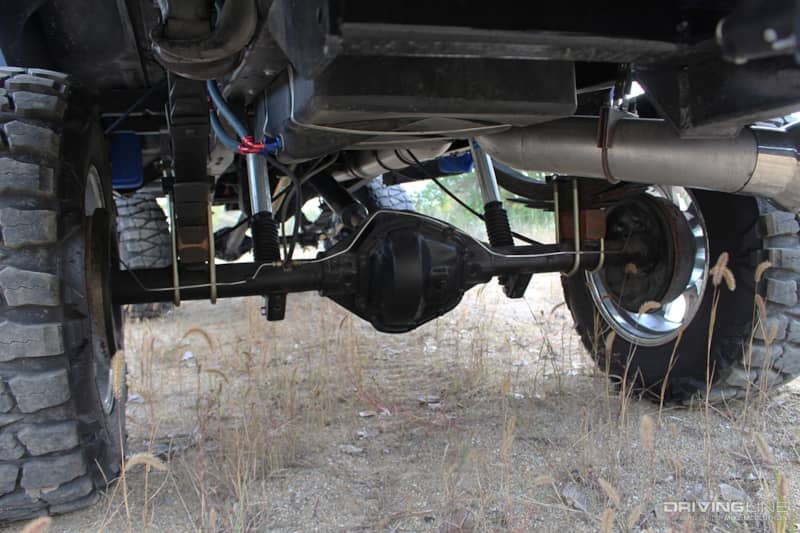 The truck's original, albeit rebuilt rear Dana 60 was retained, although the prospect of eventually upgrading to a beefier axle exists. It makes use of a 4.10 ring and pinion. As for suspension, the leaf springs were re-arched at St. Louis Spring Company and installed above 3-inch lift blocks, with an appropriate length 5100 series Bilstein shock mounted on each side of the differential.
Dana 44 & Power Steering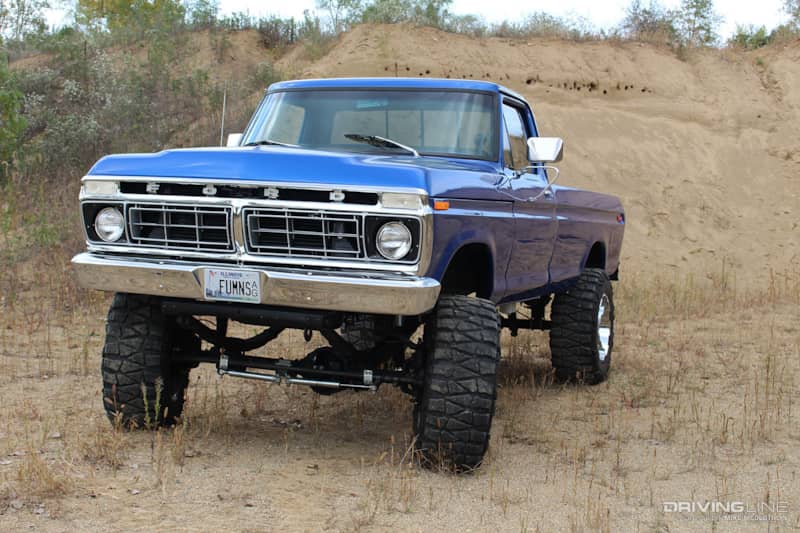 Like the rear suspension, re-arched leaf springs mount above the factory Dana 44 solid axle, but to make driving the truck easier with 37-inch tires in the mix, Garret and Danielle compiled everything needed to convert to a power steering system (rather than the original power ram assist arrangement), which included a '78 Ford gearbox, a 3-inch steering block on the knuckle and a drop drag link from Superlift Suspension. To accommodate the 38-inch tall Cummins, the original engine cross member was lowered significantly, which Garret customized and transformed into a bolt-in component.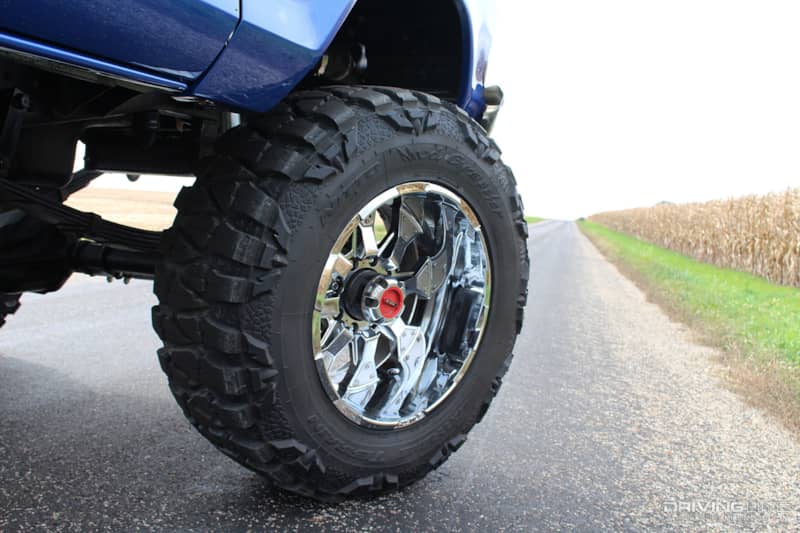 When you've dropped a 5.9L Cummins into one of the toughest-looking trucks ever manufactured, you might as well seal the deal with some of the most aggressive tires on the market. This is exactly what Garret and Danielle did, courtesy of 37x13.50R20 Nitto Mud Grapplers. The large-void, extreme terrain tires mount to 20x12-inch armor-plated H101 Knuckles from Hostile Wheels.
No Stranger to Work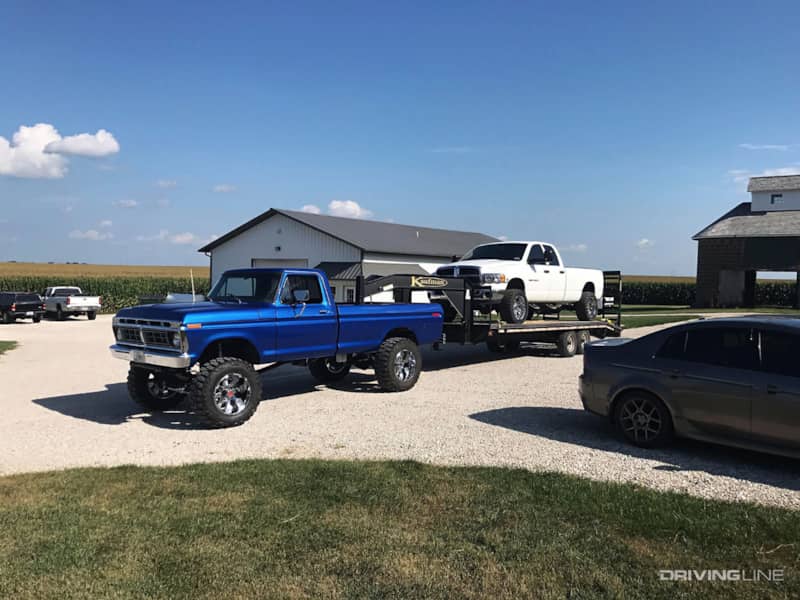 Though it's no modern day Super Duty, the Stewart's High-Boy has zero problem hauling Garret's '04.5 Dodge Ram 2500 to the truck pulls, and does so on occasion. In case you were wanting to know more about the puller, the common-rail Cummins-powered Ram squeezes more than 600rwhp (and 1,260 lb-ft) through a factory turbocharger and usually places near the front of the pack.
Preserved yet Modernized Interior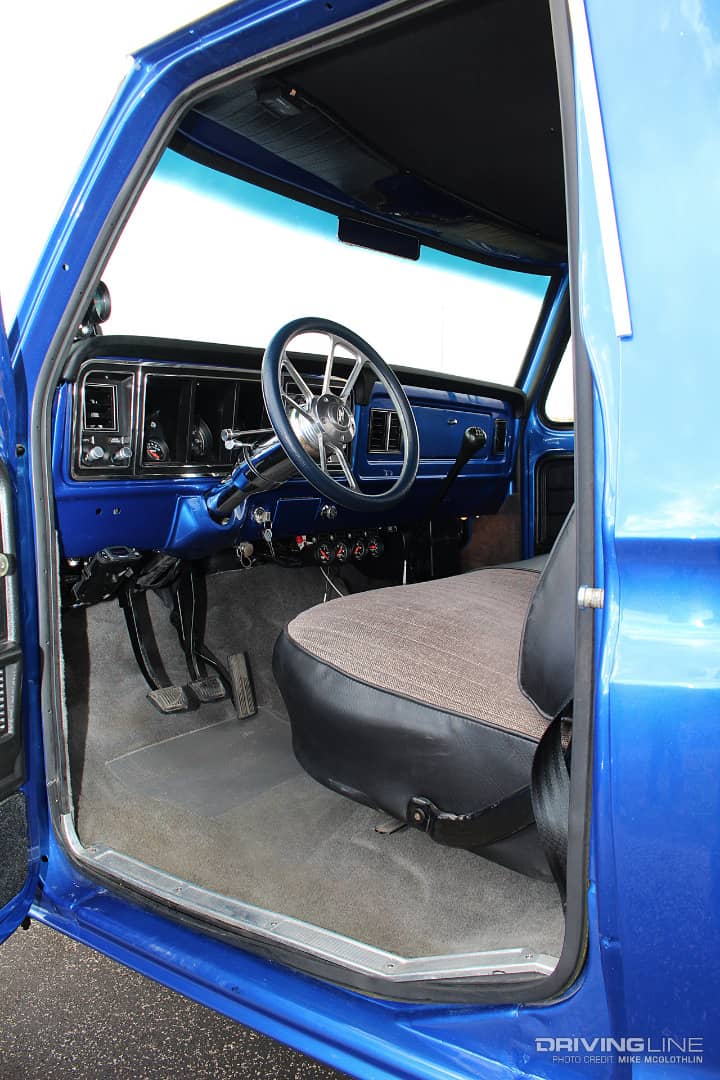 Inside the cab, much of the interior's original charm has been retained thanks to the reupholstered bench seat and same-era dash, steering wheel and door panels. New-age gadgetry comes in the form of a Retro Sound XM radio, Memphis Audio speakers, amplifier and subwoofer, a Vintage Air system and a GPS speedometer from Auto Meter. Additional, analog-type gauges (also from Auto Meter) report on rpm, EGT, boost, fuel pressure, voltage and oil pressure.
Mission Accomplished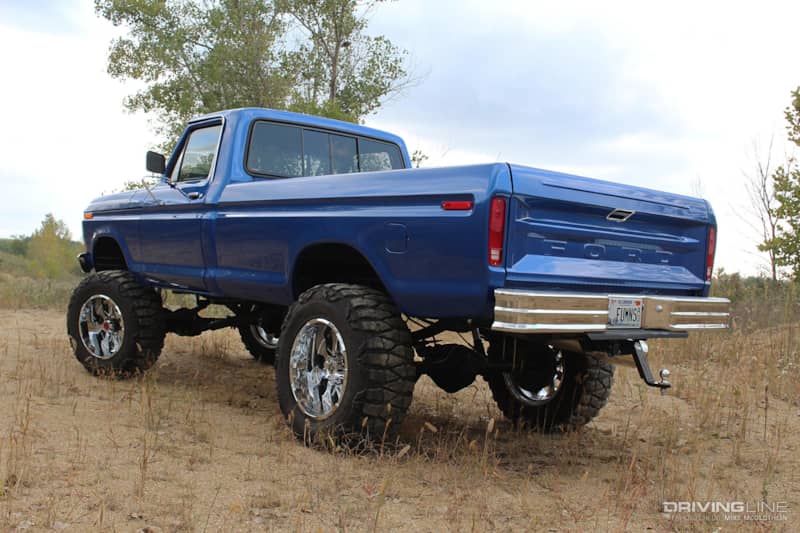 If ever there were a case for uttering the statement "pictures don't do it justice," this story would be it. With extensive body work that included replacing the driver side cab corner, one door and both bed sides, in addition to performing all the rest of the paint prep tasks at their home shop, you would never guess a couple of first-timers carried out the work. Once prepped, the truck was sprayed and cleared at Eureka Collision Center (followed by wet sanding and buffing), the local body shop that'd offered Garret and Danielle so much sound advice throughout the project.
The Ultimate Small-Town Cruiser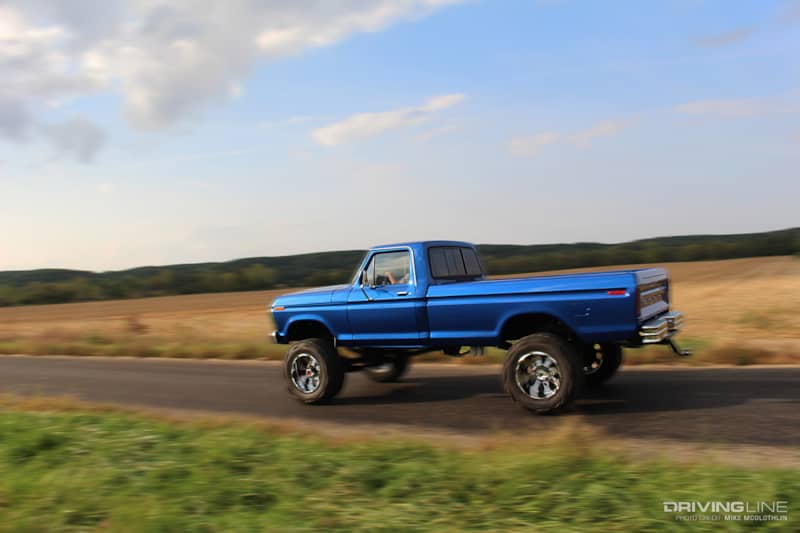 While you definitely won't find Garret and Danielle's High-Boy out and about during Illinois winters, it does see plenty of use during the summer months. In fact, in fairer weather the old Ford is the couple's vehicle of choice for date nights and Sunday drives. Upon completing the build, Garret and Danielle hired a talented local videographer named Micah Hancock to capture the simple, easy-going way they lead their lives, which happens to showcase the truck in its element, cruising the back roads. The resulting music video, used in conjunction with Steve Moakler's "I've Got You to Love," just about says everything that needs to be said about these two and their one-of-kind High-Boy.