What the Pros Drift When They're Not Pro Drifting: PARC ThrashBash
On the Sunday following Formula Drift's Evergreen Speedway round just outside of Seattle, several professional and amateur drifters converged on the Pat's Acres Racing Complex (or PARC for short) in Canby, Oregon. The track, which is 222 miles south of Evergreen Speedway, is a go kart track that also holds drifting events several days a year. Nitto Tire and Ford Mustang RTR driver Chelsea DeNofa resides a few miles away from the track, and now houses his "School of Drift" educational program there. DeNofa called up several of his buddies for Sunday's ThrashBash and invited them to come burn some tires and have fun with several local drivers in a fun, care-free, non-competition environment. Here are seven of the coolest cars we saw sliding at ThrashBash!
1. Chelsea DeNofa's School of Drift Four-Door E36 BMW
Chelsea DeNofa's four-door E36 BMW is a fairly simple build, designed to show students at the school that you don't need a lot of big dollar modifications to have fun drifting.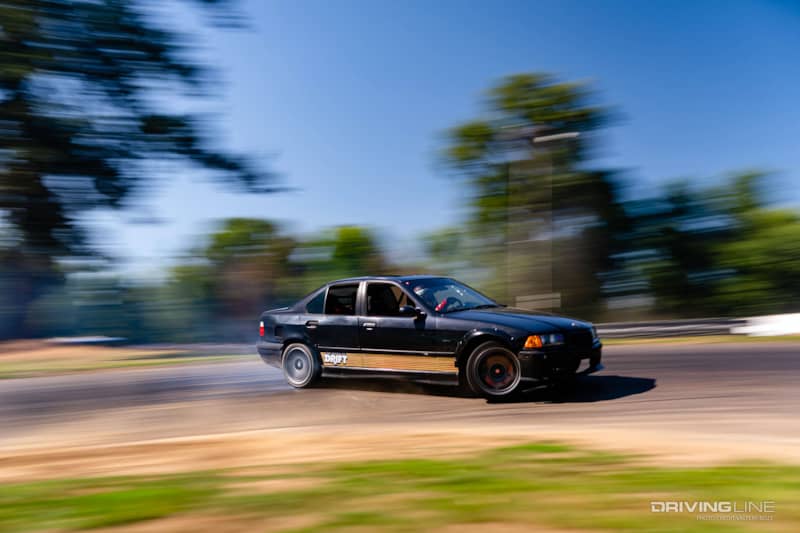 Since DeNofa was busy running around producing the event, fellow Formula Drift driver Pat Goodin was often behind the wheel of this sedan with multiple passengers along for the ride. Why did DeNofa pick the four-door? Clearly because it's easier to pack more passengers into the car! Whether it was Goodin or DeNofa piloting the car on any given lap, (and frankly, we lost track), the BMW is clearly setup to slide with ease! 
2. Vaughn Gittin Jr. Driving the School of Drift Ford Mustang RTR
Chelsea DeNofa built this School of Drift Mustang to use as a demo car when he's not competing at Formula Drift, and for ThrashBash, he let RTR founder Vaughn Gittin Jr. pilot this beast.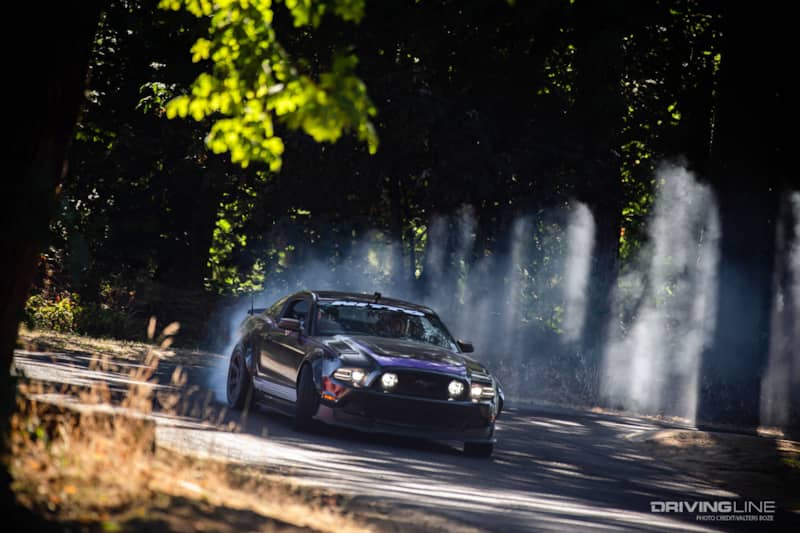 The car shreds tires just as easily as the competition Ford Mustang RTRs that both DeNofa and Gittin Jr. pilot in the Formula Drift series, but can easily be used as a daily driver as well. Vaughn Gittin Jr. and the Ford Mustang RTR team have really perfected the styling on these Mustangs, and DeNofa added a few stylish touches like the purple pinstrip as an homage to his Formula Drift livery. We've heard that the new Ford Mustang RTR Spec 5s will be dropping at local Ford dealers very soon, so be sure to keep an ear out for when that happens so you can pick up your own RTR Mustang!
3. Dalton Gernhart's Supercharged V8 Nissan S15
Local driver Dalton Gernhart lives just a few miles from the Pat's Acres Racing Complex and started drifting just five years earlier at PARC.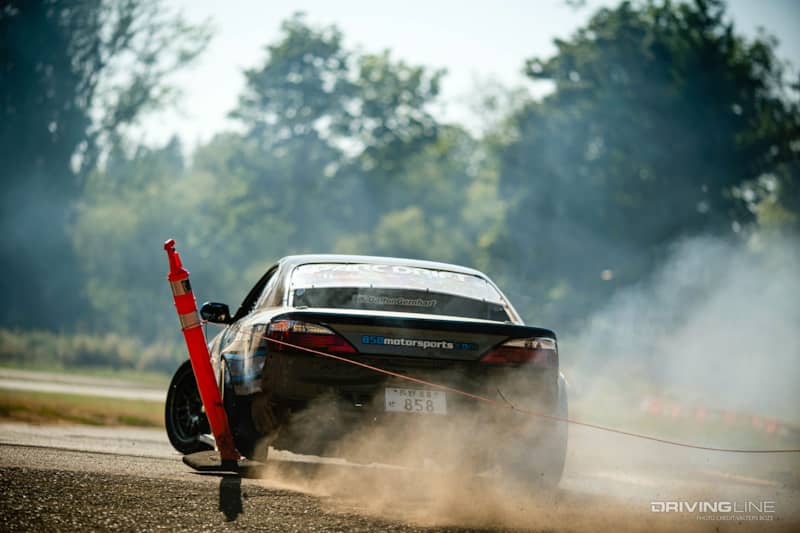 Now, he competes in the Formula Drift Pro 2 class, and he brought his competition V8 S15 out to thrash. While the 600hp that this race car puts out is more than enough for the tiny carting track, we've never heard anyone complain about having too much horsepower.
4. Travis Reeder's E36 BMW Practice Car
When Travis Reeder isn't piloting the Napoleon Motorsports EL1 Electric Camaro or the Nissan S13 that took him to the Formula Drift Pro 2 championship, he drives this "Banana" Yellow BMW E36 drift car.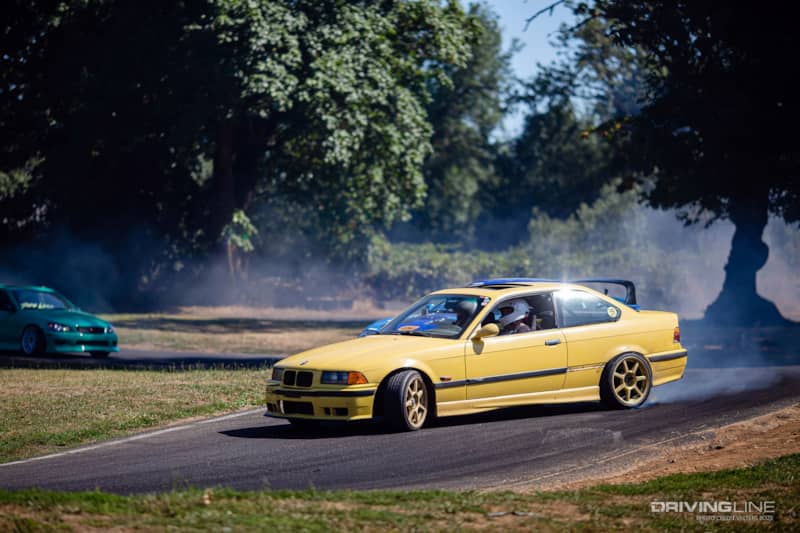 Reeder spends many of his off weekends at PARC, and has even helped out with instructing at the School of Drift on occasion. If you're noticing a trend that several competitive drift drivers enjoy the E36 as a low cost, low maintenance, simple to drive drift car, you're absolutely correct!
5. Y Plate Importers Toyota JZX100 Mark II
Trenton Kropf operates his vehicle importing business, Y Plate Importers, from Milwaukee, Oregon, and uses this Toyota JZX100 Mark II vehicle as a marketing mechanism for his business.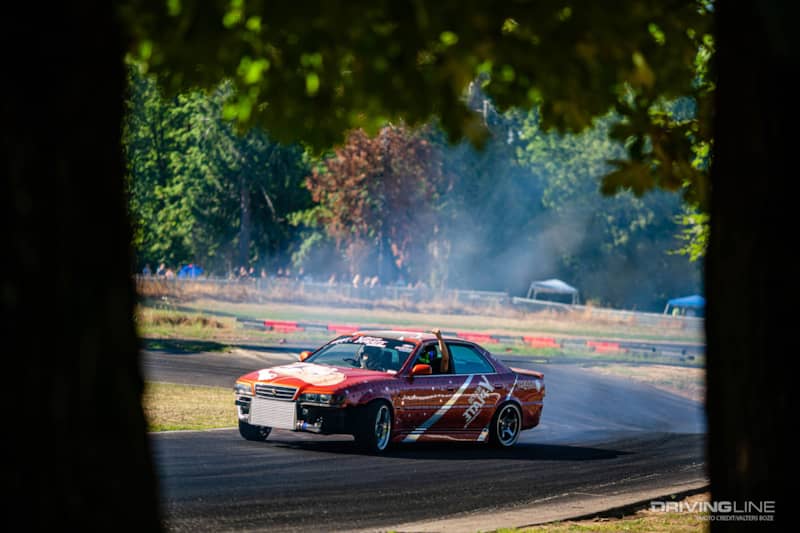 The Toyota Mark II is a favorite among drivers in Japan, known for the turbocharged 1JZ-GTE engine and long, easy to drift wheelbase. Kropf's JZX100 has an upgraded turbo and steering knuckles, and he drives it with a "run what you brung" attitude until the tires are down to the cords. The car was loud both in color and in sound, and was turning plenty of laps at ThrashBash!
6. Brandon Wicknick's Lexus IS300
Brandon Wicknick drove for several seasons in Formula Drift, but now prefers to drive in more laid back environments like ThrashBash. Wicknick has long enjoyed both the 1JZ engine and the teal color, and both are key elements to this IS300 he was driving all weekend.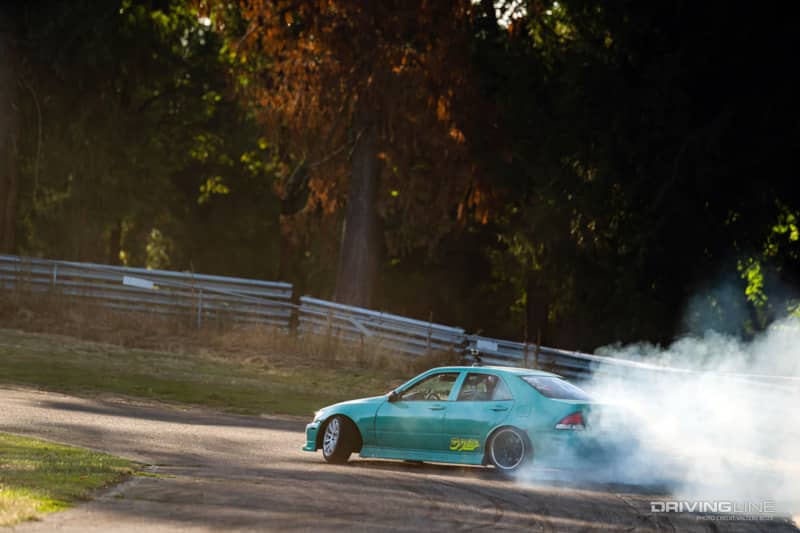 The Lexus IS300 didn't come with a manual transmission stock, but due to the LEGO-like modularity of the Toyota chassis, Wicknick was able to source an R154 transmission to bolt up to the 1JZ block to enable clutch kicks. Similar to the School of Drift E36, this car was often filled with multiple passengers through the weekend, at one point sliding around the corners with four passengers and Wicknick behind the wheel.
7. PARC Go Karts
While not technically a car, DeNofa set up a fun little relay race with several of the drivers and go karts that are often on track at PARC. Drivers were separated into three different teams and had to sprint to the karts, drive a few laps, race back on foot to the starting line, then tag the next driver on their team.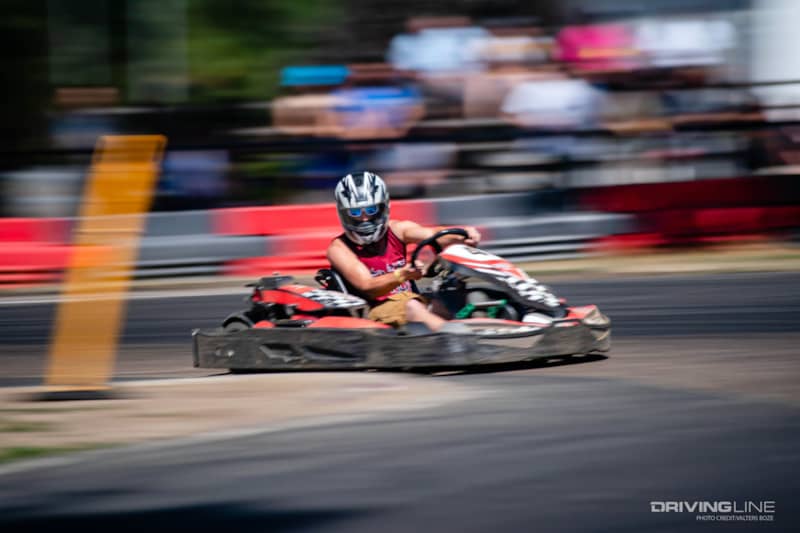 With an aura of fun that ThrashBash and other "Bash" style events like to promote, this type of activity gets the drivers out of their comfort zone while still stimulating their competitive spirit. At the root of it, drivers just want to win any competition that involves four wheels, even if those wheels are a bit smaller than normal. DeNofa's team won the relay competition, but that's probably because he was organizing it and knew all the short cuts to take. Then again, when all of these drivers get together in one place without the stress of the Formula Drift arena, everyone's a winner!
Looking for more fun drifting content away from competition? Check out our 10 Hottest Cars of Hyperfest article from earlier this year!