2016 Formula Drift Rd1 Long Beach Recap [Gallery]
The saying goes, "when it rains, Angelenos forget how to drive." Everyone was slipping and sliding when (the usually sunny) Southern California got drenched by some wet weather, causing a number of crashes in the opening round of the Formula Drift season. Without qualifying on Friday, day one was regulated to only practice runs allowing everyone to get a feel of the conditions of the course and get themselves prepared for the big show on Saturday.
While the playing field only had 32 drivers competing in the first round, there were a few new faces to the game, such as Team Nitto rookie and last year's Formula Drift Pro 2 Champion, Alex Heilbrunn. Heilbrunn and his #MONSTERBMW gave the fans a show in his first-ever run at the Streets of Long Beach, but was narrowly defeated by Odi Bakchis in the Top 32. "Mad" Mike spun out in the Top 16 against Fredric Aasbo after one of the more entertaining runs once the weather started to dry up. But for the spectators that wanted to see more, they stopped by the Driving Line booth to experience a 360 Virtual Reality ride along in his new RADBUL.
Also in a new drift car, Vaughn Gittin Jr. looked to power his way through the competition in his 2016 Mustang RTR. That was until he met Chelsea Denofa in the Nitto Great 8. It was close, but the round went to Denofa, who was having a spectacular day going on to defeat last year's 1st and 2nd place winners Fredric Aasbo and Ken Gushi to win his first-ever victory in Long Beach. Round 1 was wet, wild and completely unpredictable; there's no telling what else is in store for the rest of the Formula Drift season!
(Photos: Luke Munnell, Cory Mader)
Check out the entire Top 32 play-by-play from the wet first round.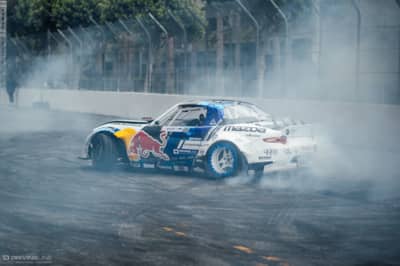 Stay updated on all Formula Drift news and coverage throughout the season at DRIVINGLINE.com/DRIFT.