5 Of The Best Japanese Kei Cars And Why You Should Own One
Government rules and regs have long shaped the auto industry—what gets built, what gets sold and what stays a dream on the drawing board—but there are some places where environmental, taxation and safety stipulations have had much more of an impact than they do here in the USA.
One such country is Japan, a nation whose domestic market has a very different look than the exports that have dominated its global image. Kei cars are the perfect example: pint-size four-wheelers with tiny motors intended to be fit under the most affordable road tax bracket. These vehicles sprang out of the long-ago desire to grow the auto industry in the country while acknowledging that most Japanese couldn't afford much more than a motorcycle during the rebuild of the post-WW2 economy.
Surprisingly, despite their almost-ancient origins in automotive time, the kei car class has continued on strong into the modern day. For the last 20 years or so, the term has come to be applied to cars with a 660 cc engine making no more than 63hp and measuring less than 11.2 feet in length and 4.9 feet in width. A kei car also must be under 6.6 feet in height to qualify for the incentives aimed at their owners—unsurprising, given that the term is short for the Japanese terms "keijidosha," or "light automobile."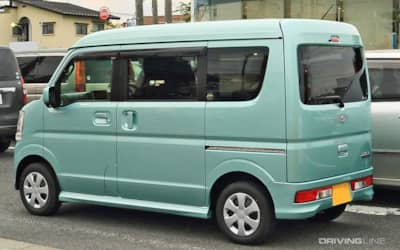 Traditionally, direct-from-Japan exports are of very high quality, due to the unique combination of low mileage driving habits, a fairly mild climate and very strict safety inspections that force owners to upgrade to a new vehicle much sooner than here in the west. This has created an enormous pool of affordable, well-cared for used cars that were typically sold to markets like Africa, India and Australia.
Why does any of this matter on this side of the Pacific? Well, because the most interesting crop of kei cars (those built in the early '90s) are finally legal for import under the 25 year exemption rule. Although not every kei car is worthy of being lusted after, there are a number of intriguing options out there that should appeal to fans of sporty, and unusual, automobiles, all at a price that makes them hard to ignore. Just remember: If you're well over six feet tall, you might want to make sure you can actually fit inside one of these munchkins before placing an order at your local importer.
Check out these five kei cars that are your best bets for combining driving pleasure, style and livability on American roads.
1. Suzuki Cappuccino
Lightweight vehicles are among the most fun to drive, which is why it makes sense that so many kei cars followed the two-seat sports car formula—and took the top off, too. The Suzuki Cappuccino roadster checks in at just a smidge under 1,600 lbs, and features a 657 cc, three-cylinder engine that's been turbocharged to produce the maximum allowable 63hp (while also revving to a motorcycle-like 9,000 rpm). Transmission choices for the eye-catching long hood/short rear deck design include a five-speed manual and a four-seed automatic.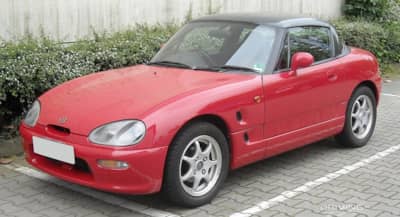 Shop around and you can find versions of the Cappuccino that came with a limited-slip differential and four-wheel ABS, but regardless, this car is a blast to sift down secondary roads and won't cost an arm and a leg to maintain due to its rock-solid Suzuki drivetrain.
2. Honda Beat
The Honda Beat is another kei car roadster with the same three-cylinder (656 cc), rear-wheel drive formula as the Cappuccino, with one important difference: that thermos-sized motor sits directly behind the convertible's cabin, making this a mid-engine ride. It also lacks a turbo, which changes the character of the driving experience—Honda elected to go with something called MRTEC, a system that used three individual throttle bodies to help squeeze out 63hp at 8,100 rpm.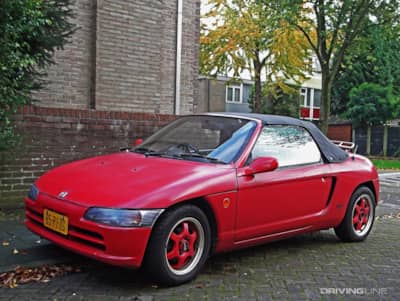 Thirty-three thousand Beats were built by Honda between 1991 and 1996 (all with a five-speed manual gearbox), which means there are plenty out there waiting to find a new home. With a longer wheelbase than the Miata, but a much smaller overall footprint, and no power steering, the Beat delivers a pure sports car driving experience with unique amidships styling.
3. Autozam AZ-1
Rounding out the performance-oriented kei car trio—the "A" in the "A-B(eat)-C(appuccino)" family—is the Autozam AZ-1. Designed by Mazda and sold in Japan under the Autozam nameplate (which was available exclusively to JDM buyers), the AZ-1 has by far the most attention-getting design out of the group thanks to its mini-gullwing doors. Like the Beat, the AZ-1 stuffs its 657 cc, 63hp three-cylinder engine (provided by Suzuki) just in front of the rear wheels, help it provide effortless balance when tossed through a corner. A five-speed manual transmission was also standard with the car.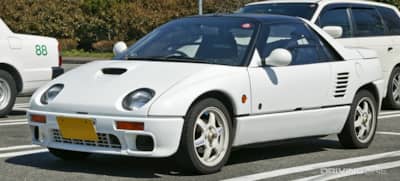 Unfortunately, the AZ-1 had the misfortune of being launched right around the time the Japanese economy took an early-'90s nosedive, which limited sales to under 5,000. You'll have to look harder to snag an Autozam as compared to the Beat or the Cappuccino, and you'll also have to be cool with its fairly tight cabin. An even rarer version of the AZ-1, badged as the Suzuki Cara, sold roughly 10 percent of the Autozam's volume.
4. Suzuki Carry/Every
What's this? Another Suzuki? But of course—the company is regularly the strongest-selling brand in Japan, and much of that volume is based on its kei car prowess. In this case, the Suzuki Carry/Every shifts the focus from sport to utility by offering van and truck buyers a chance to get small.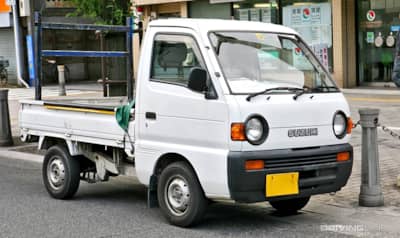 Featuring a 657 cc, 63hp three-cylinder motor, the Carry (open pickup bed) and Every (closed van with sliding door) feature different layouts: front-mounted, rear drive for the trucks, and mid-mounted, rear-drive for the vans. Four-wheel drive was available as an option with each vehicle, and transmissions included a three-speed auto and a five-speed manual. Both the truck and the van are ideal for anyone seeking maximum utility from a tiny, easy-to-park package, and each can be had for very little money on the used market.
5. Suzuki Alto Works
Hot hatch more your style? Once again, Suzuki has your kei car needs covered. The Alto Works is an intriguing two-door hatchback that bears a passing resemblance to the Renault 5, that lovable rally champ of the '80s. The Alto Works was the quickest version of the standard Alto, which meant it gained a 63hp turbo three-cylinder (featuring 657 intercooled cc's fed by that eye-catching hoodscoop) as well as a five-speed manual transmission.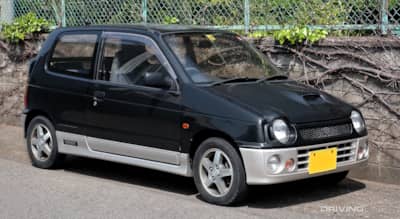 If you look real hard, you might even be able to find an Alto Works R, which tagged in all-wheel drive, erased the rear seats and installed a close-ratio five-speed gearbox. The engine was reworked, too, although the (wink-wink) 63hp rating remained intact. Only a handful of the R's were ever built, with estimates at less than 100 total for the models, which are currently legal for import.