5 of the Fastest Diesels on the Planet
Seeing fullsize trucks run 9-second quarter-mile passes (sometimes even 8's) can be hard for a diesel newbie to wrap his or her head around. But, along with 9-second ¾-ton and 1-ton Dodges, Fords and GMs, there are a handful of blazing fast diesel dragsters running everything from 8's to 6's — along with a few big-rigs capable of running 11's!
Here, we've profiled five of the fastest oil burners we've come across in 2016. From a 2,200-pound rail to a 10,000-pound big rig, read on to see what it takes to get them up and moving in a hurry.
1. WADE MOODY'S DURAMAX RAIL DRAGSTER
6 Seconds of Splendor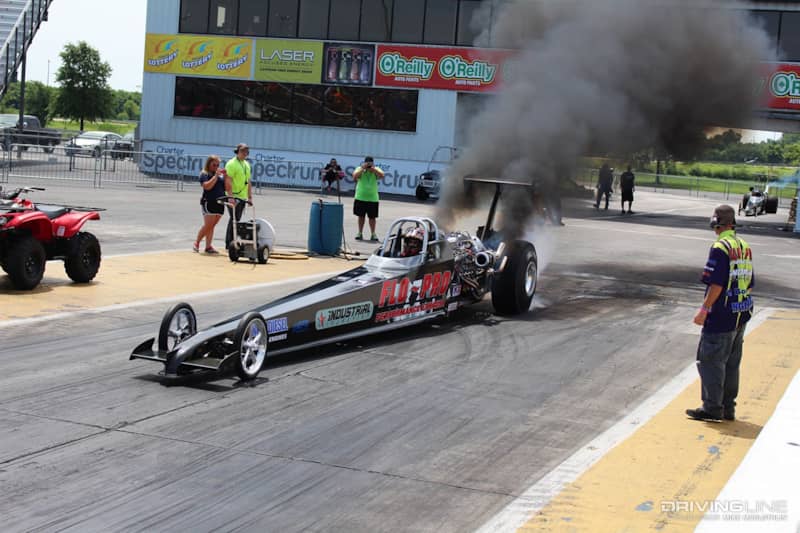 Meet the world's fastest Duramax-powered vehicle: Wade Moody's Flo-Pro sponsored rail. Less than a year after being built, it became the first Duramax (and first electronically controlled diesel, for that matter) to reach the 6-second elapsed time realm in the quarter-mile, going 6.99 at 192 mph. Based on a used '05 Spitzer chassis, a TH400 three-speed automatic from Rossler Transmissions (and modified by David Gates at NGM Diesel) handles shifting duties, while the Duramax engine that had previously propelled Moody's Pro Stock S10 into the 7's resides behind the driver's seat.
Record-Setting Parts Combo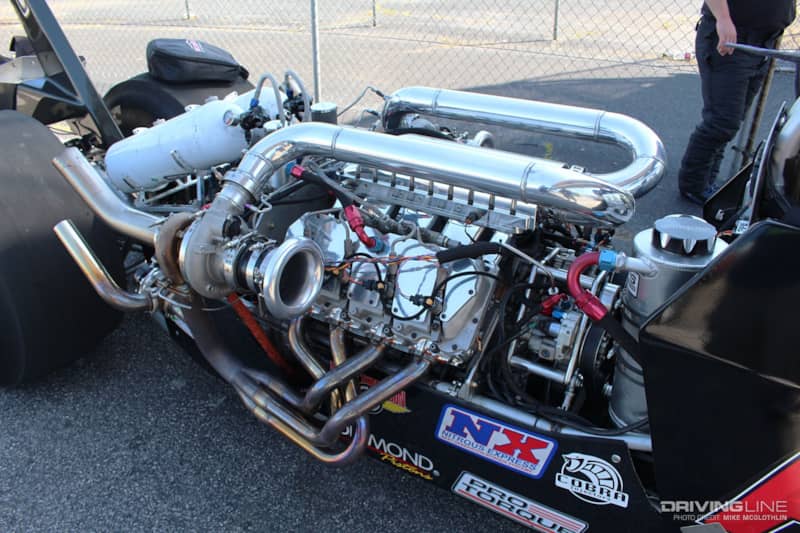 With a penchant for setting records in diesel drag racing, Moody (in conjunction with his company, NGM Diesel) worked with some of the best and brightest minds in the industry to construct the ultimate Duramax. A billet-aluminum block conceals a host of NGM Diesel spec'd parts such as a billet Winberg crankshaft, R&R Racing Products aluminum rods, billet-aluminum Diamond pistons and an NGM designed camshaft. A dry sump oil system maintains adequate oil pressure.
Up top sits a set of NGM spec'd cylinder heads and a custom-machined long runner billet intake manifold from Wagler Competition Products. For fuel, Industrial Injection supplied the injectors and dual 12 mm XP series CP3 injection pumps, which are cog belt driven. For air, parallel and externally wastegated BorgWarner EFR turbos (modified by Industrial Injection) produce 50 psi of boost, while a nitrous system consisting of NX solenoids, fittings and bottles (fabricated by NGM Diesel) provides an extra kick.
Dialing everything in electronically thanks to the EFI Live tuning prowess of both Johnboy Jordan and Kory Willis of Power Performance Enterprises, Inc. (PPEI), the dragster is not only the fastest Duramax in the country, but it's also one of the cleanest diesels you will ever see. The right combination of airflow, piston design and exceptional ECM tuning all being perfectly balanced yields a vehicle that produces virtually zero smoke as it marches down the track.
2. BRETT DEUTSCH'S DURAMAX-POWERED '69 CHEVY C10
11, 10, 9, 8's…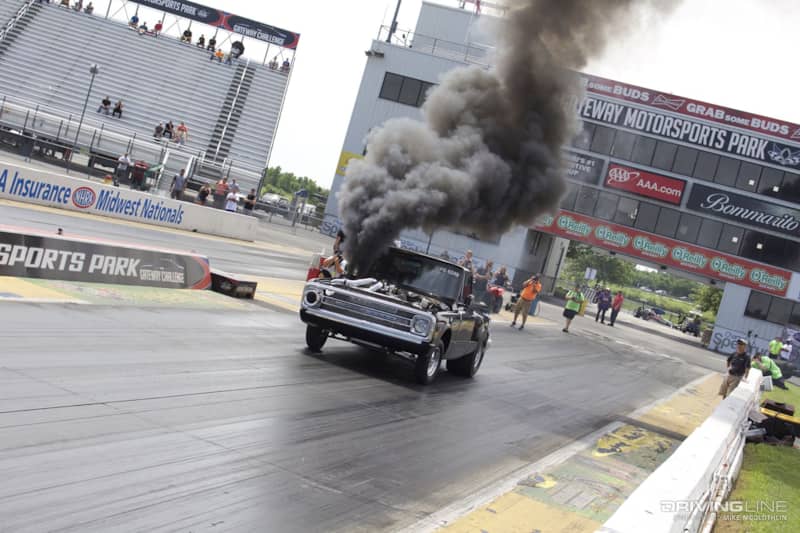 Brett Deutsch's Duramax-powered '69 Chevy C10 is nothing less than a work of art — but it can definitely back up its good looks with some serious go. Brett started out racing the truck locally, traveling to Byron Dragway (his local track in northern Illinois) and impressing spectators with 11, and then 10-second passes. By 2013 he'd found himself in the 9's, attracted some big name sponsors, and began traveling to more and more events. Now, his old school Bow Tie is capable of clicking off 8.50's in the 1320!
Triple Turbo Bling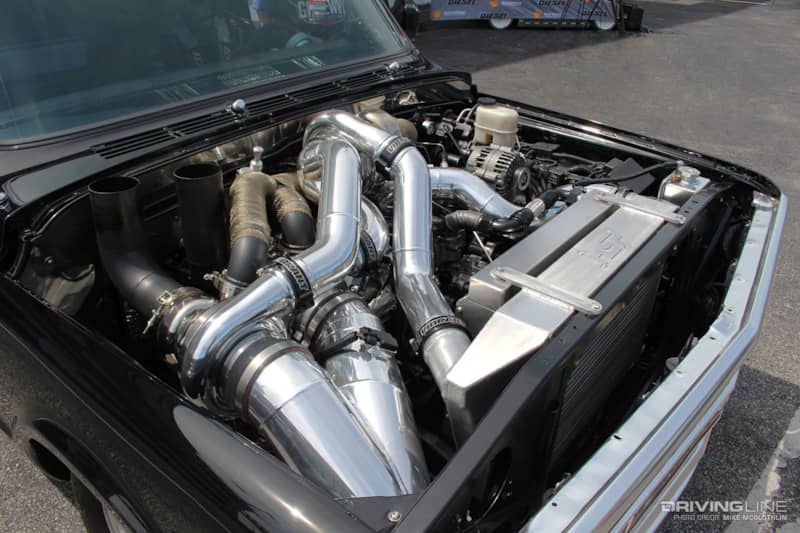 The triple turbo configuration in Deutsch's C10 was fabricated by HSP Diesel and employs chargers from Bullseye Power. The LLY code Duramax was built by Danville Performance, while all machine work was handled by Wagler Competition Products. Exergy Performance is responsible for amplifying the injection system, an AirDog lift pump takes care of fuel supply duties, and Danville Performance makes all components work seamlessly together thanks to spot-on EFI Live calibrating. Beyond that, Mayeda Motorsports supplies Deutsch with all the necessary safety equipment: parachute, window net, seat belts, driving suit, gloves, helmet, neck brace and shoes.
3. MATTHEW MISNER'S CHEVY SILVERADO 2500 HD
Like a Rock-et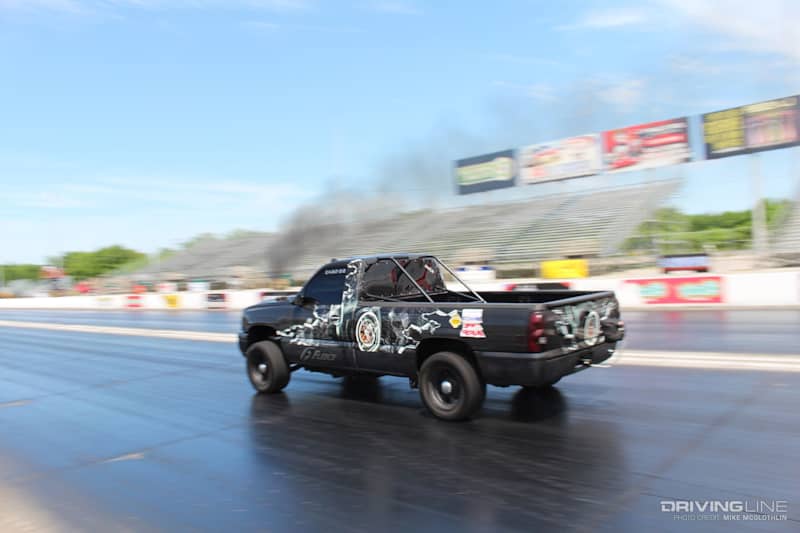 "It wasn't ever really intended to go this fast" is not a line we're used to hearing from drag racers running 9's — but it's exactly what Matthew Misner told us. His standard cab Chevy Silverado 2500 HD spent most of its formative racing years in the 12.0 Index class, but took a turn toward serious in 2014 after he secured a sponsorship from the folks at Fleece Performance Engineering. The truck was soon graced with a set of triple turbos and full rollcage, and was rocketing to high 9-second passes in the quarter-mile.
100 PSI of Boost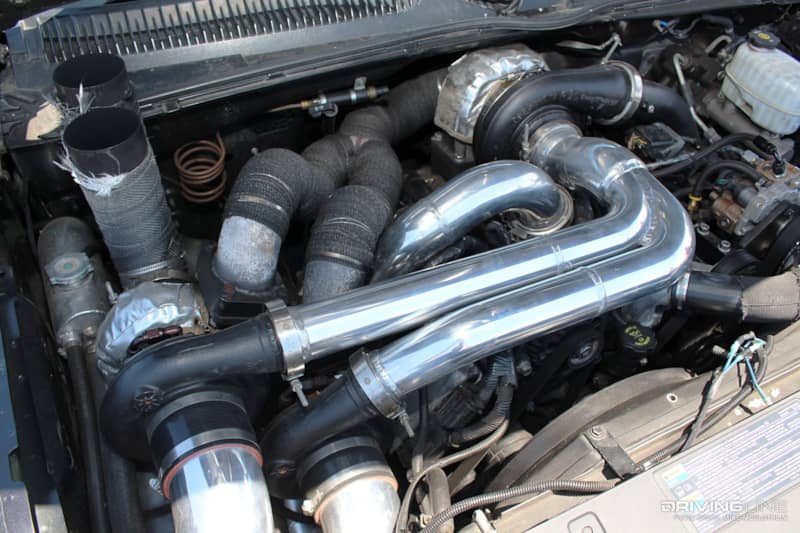 With a two-stage, triple turbo arrangement consisting of two S368 BorgWarner-based Fleece Performance chargers and a single Fleece S468 in the valley, 100 psi of boost would be sent through Misner's engine during each trip down the track. Thanks to being able to leave the line at 20 to 25 psi of boost, Matthew often secured 1.4-second 60-foot times.
The truck's quickest pass would be a 9.65-second effort, but its fastest pass (141 mph) would end up being the engine's last — for now. As it turns out, that 141-mph run cracked a piston, which will sideline the truck for a few weeks. However, Matthew plans to upgrade to forged aluminum Diamond pistons (vs. the aftermarket cast-aluminum pistons he was running), retain the Carrillo connecting rods, upsize the turbo arrangement and be back in action in less than two months' time.
4. CHRIS BUHIDAR'S '00 FORD F-350 SUPER DUTY
The Mick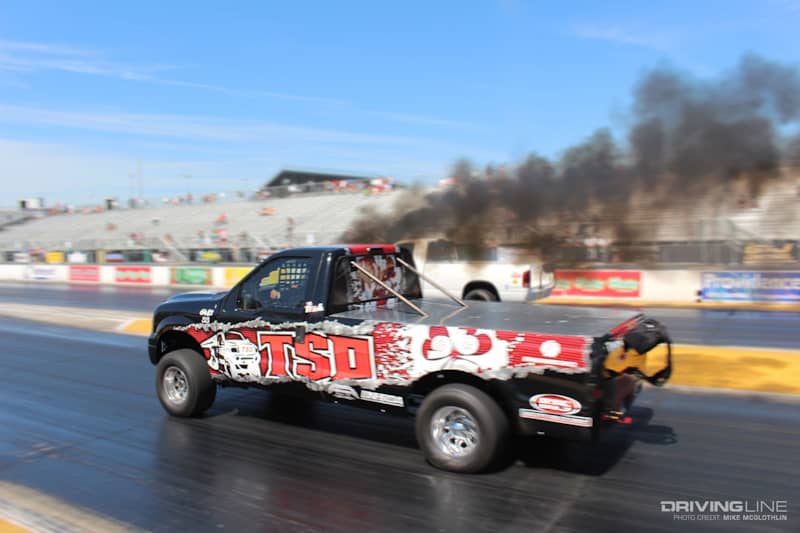 One of the aforementioned 9-second full-size trucks is actually on the verge of becoming an 8-second ride — and it may have already dipped into the 8's by the time you read this. It's a '00 Ford F-350 owned by Chris Buhidar of Truck Source Diesel in San Antonio, Texas. Nicknamed "The Mick", the 6,150-pound Super Duty has been as fast as 9.02 at 152 mph with a whiff of nitrous, which means just shy of 1,500 horsepower is making it to the wheels. So far, the truck has proven to be extremely reliable when running rounds on fuel only (with E.T.s in the 9.40's, and at 148-149 mph).
"I try to make sure the truck can make many rounds," Buhidar told us, "so I don't tend to run it turned all the way up or use nitrous unless it's needed."
Chassis-Twisting Cummins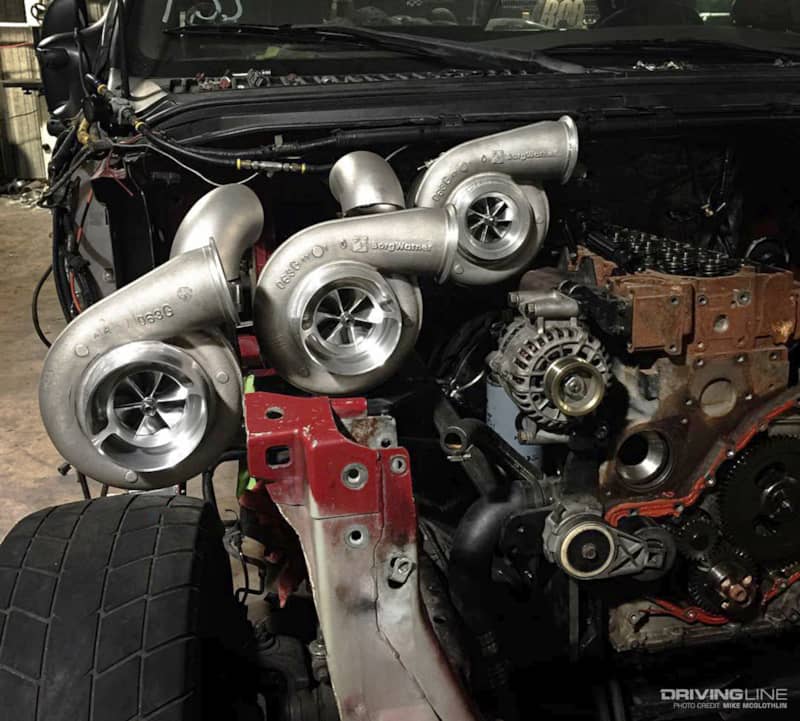 The powertrain behind Buhidar's F-350 entails a 5.9L common-rail Cummins being fed air via three S400 based BorgWarner turbochargers from Engineered Diesel. Chris' shop, Truck Source Diesel, fabricated all piping and the intercooler setup in order to make the turbos work. Nearby Parks Engine Services helped put together a stout short block, and No Limit Manufacturing supplied the cam and valvetrain upgrades.
For fuel, dual CP3 injection pumps are employed, which feed a set of 450-percent-over injectors from S&S Diesel Motorsport. A 4R100 automatic from Brian's Truck Shop (BTS) backs up the potent Cummins and gets dialed in thanks to a PCS stand-alone controller. All tuning of the ECM and PCS is handled by Chris. SoCal Diesel and Calvert Racing had a hand in the truck's suspension and traction bar setup (we'll note that the truck still sports leaf springs at all four corners).
5. WAYNE TALKINGTON'S '63 KENTWORTH 921
Big Hurry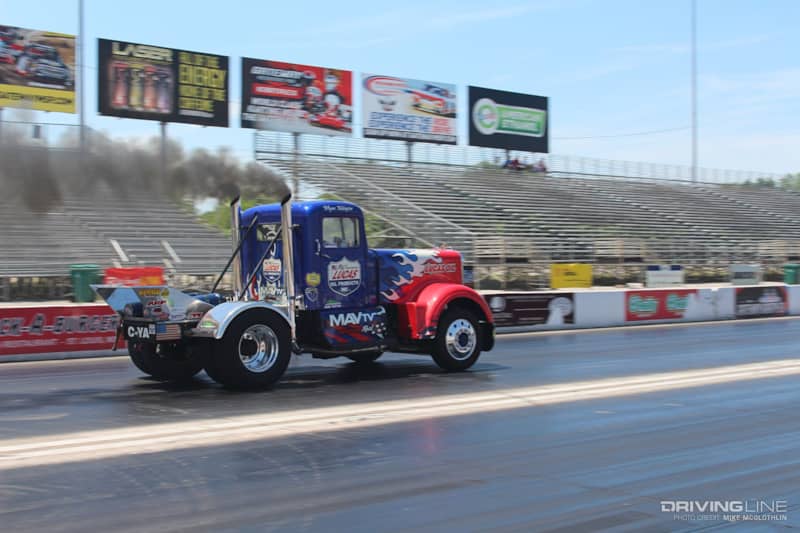 Wayne Talkington's 1963 Kenworth 921 is unlike anything we've ever seen. It weighs 10,000 pounds, sports parallel (twin) turbochargers, is supercharged and huffs nitrous on its way to 11-second quarter-mile passes. And, of course the 8V92 Detroit Diesel V8 under the hood puts out the distinct two-stroke growl that the Detroit line of engines was known for. The big KW has been raced all over the country throughout the last 18 years. It's been coast to coast and everywhere in between, dropping jaws wherever it goes.
8V92 Detroit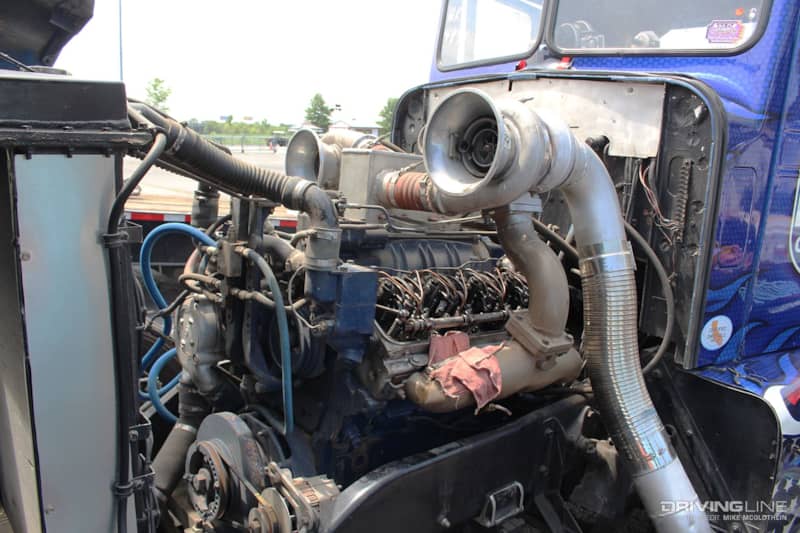 The supercharger, twin-turbos, and steady dose of nitrous oxide all contribute to 100 psi worth of boost being crammed into the Series 92 Detroit V8 in Talkington's Kenworth. It responds by achieving trap speeds as fast as 115 mph at the end of the quarter-mile, which means that Wayne's behemoth is sending more than 1,000 horsepower to the pavement. Harnessing all of that horsepower (and the torque that goes along with it) is a four-speed Allison HT740 automatic that was built for $11,000 but has survived a whopping 14 years' worth of service.