5 YouTubers You Should Already Be Watching if You Love Cars
With more and more people "cutting the cord" and moving away from traditional cable TV, YouTube has become the primary platform for people (particularly millennials) to catch the latest content. Smartphones have given us the ability to access content anywhere at anytime, and people are taking advantage of this increasingly.
If you're into cars, you should definitely be subscribing to the following five YouTubers.
1. JAY LENO
The Car Guy of car guys — Jay Leno's Garage is an excellent channel to watch with its high quality production, solid variety of cars and meaningful information. Each show is well-thought-out and offers a great summary of each vehicle, which includes a ride-along as well as some history and Leno's thoughts. Considering Leno's caliber, it's no surprise that his content is superb, with TV-worthy editing, sound and imaging.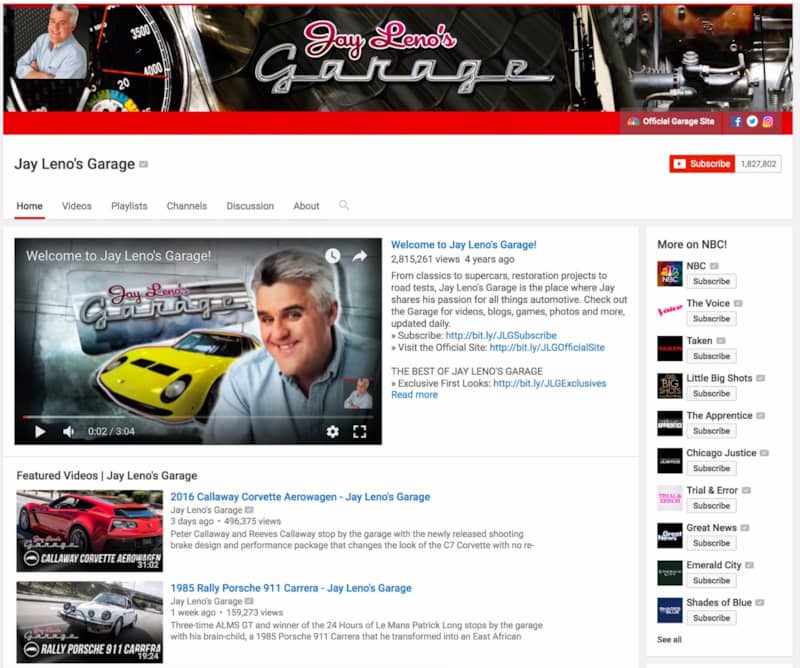 Check out a recent episode of Jay Leno's Garage, featuring social media star Ferrari Collector David Lee below:
2. ROB FERRETTI
Rob Ferretti's channel is a more traditional YouTube channel without all the clean post production of Jay Leno's Garage. As owner of an exotic rental company, Ferretti has access to some great cars and gives an honest "everyday car guy" take on the usual car review. He's self-deprecating and has a what-you-see-is-what-you-get type of attitude. Some of his more entertaining videos are "challenges" in which he'll document the best car he can find for $500 or a few of the ongoing project vehicles he's been working on.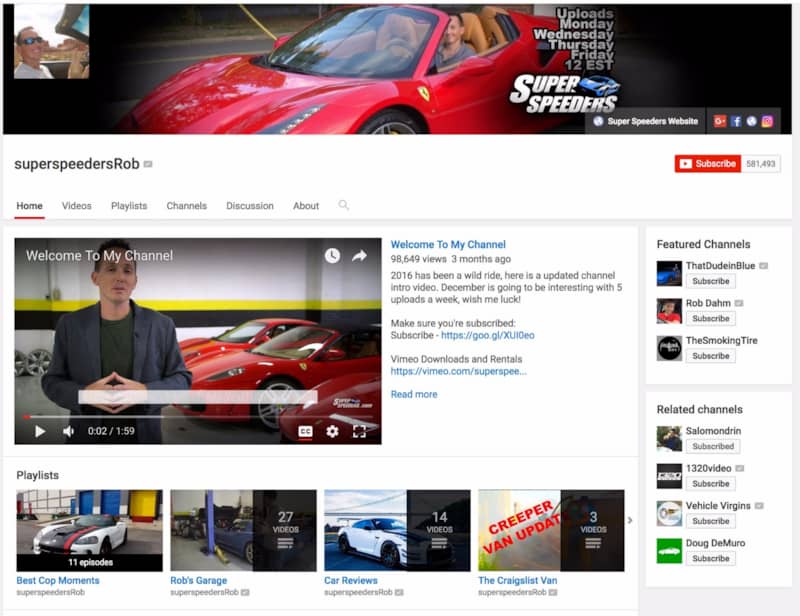 Here's a recent episode of someone trying to sell him a fake Lamborghini:
3. TIM BURTON
Some consider "Shmee" the original YouTube car vlogger, and for the most part I would agree. I first found him on YouTube documenting a McLaren P1 delivery a few years ago. As an owner of several high-end European vehicles, Schmee brings us along on his journey of car purchasing, ownership, rallies and events — but all from the European side of the globe. His content has a very cool perspective that you wouldn't normally see in the U.S.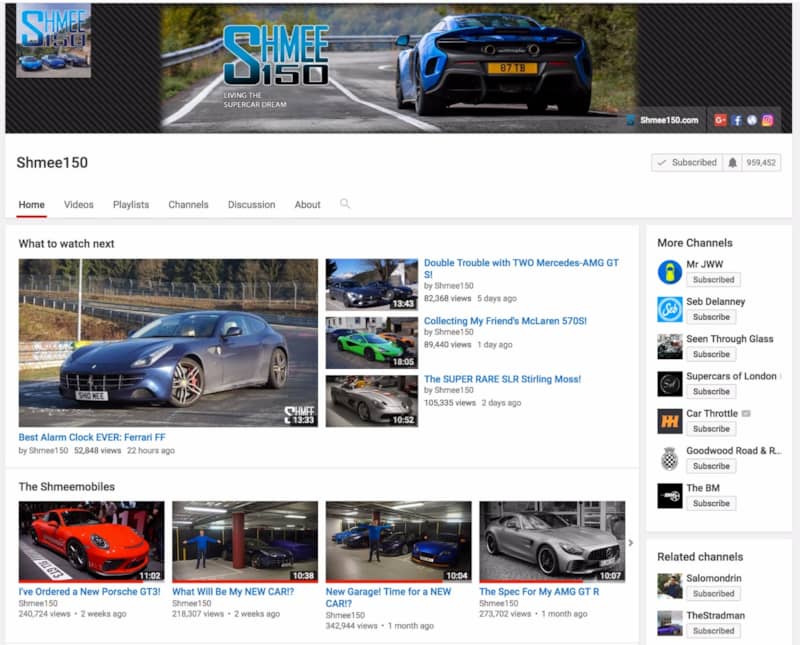 Ever wonder what it's like to drive a LaFerrari? Here's Shmee's first drive:
4. BRIAN ZUK
If you're looking for simply amazing-sounding exhaust clips and clean walk-arounds, Brian Zuk's channel is for you. There is no commentary; Zuk lets the cars speak for themselves, if you will — a straightforward approach that some people prefer. Exclusively filled with high-end performance cars, this channel is the one stop shop for pure supercar bliss, without any opinions.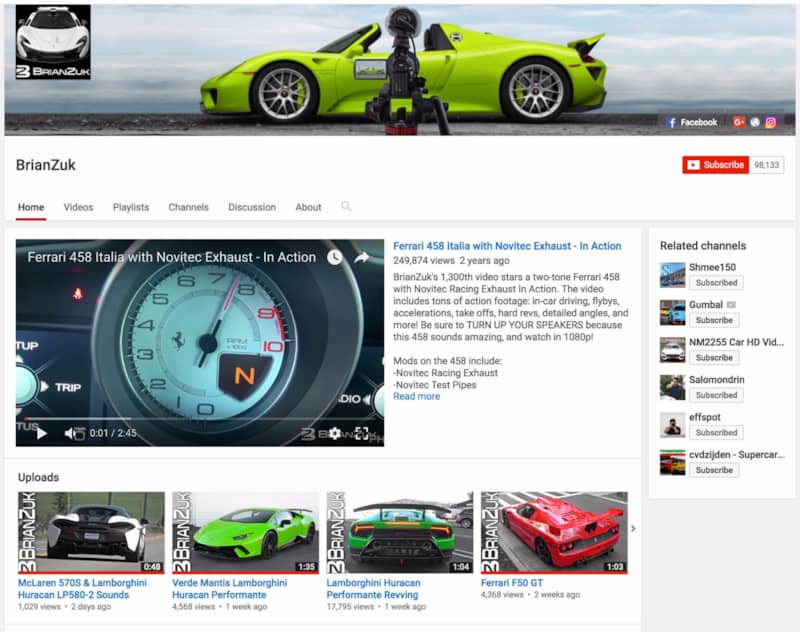 See an example of Zuk's style for yourself:
5. GORDON CHENG
Last but not least, Gordon Cheng takes live action car spotting to the next level. ("Car spotting" is defined as observing or photographing interesting, vintage, rare, modified, and/or exotic supercars on public roads.) Cheng's stuff is raw and authentic to the core, making you feel as if you're right there with him as he visits some of the craziest car collections across the globe. Cheng's unabashed commentary is entertaining and lighthearted — giving us an inside glimpse of what it's like to see these cars firsthand, for the first time. The kind of content covered by this channel isn't accessible to just anyone, so be sure to check it out; it's definitely worthwhile.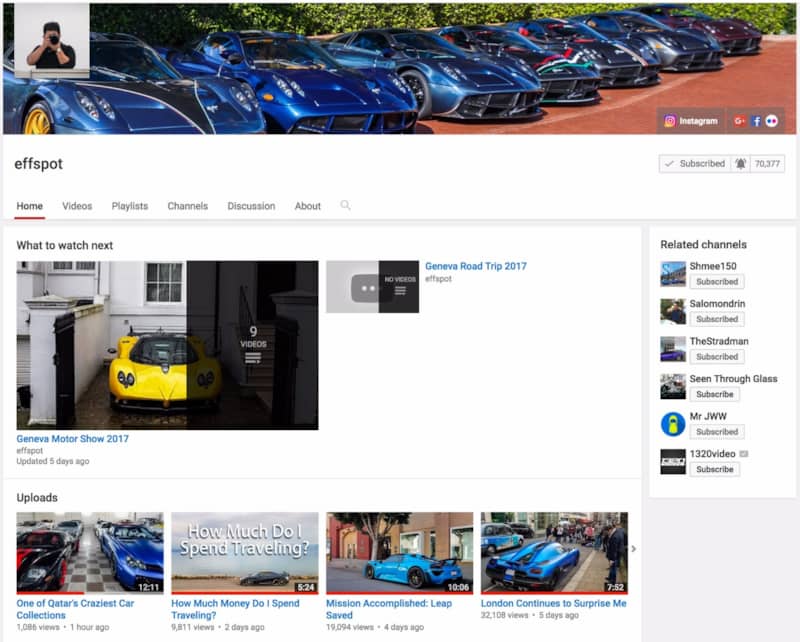 Case in point — in this episode, Cheng takes us through an insane car collection in Qatar:
Each of these YouTubers bring their own unique flavor to the automotive video scene. Who are your favorites? Feel free to drop a comment below; we'd love to check them out!