Apocalypse 6x6 Hellfire: Custom 6WD 707hp Jeep Gladiator Truck
When it comes to crafting an aggressive, off-road truck; going above and beyond the simple lift, wheels and tires can help to make a statement. If you want to go any farther than that; it comes down to crafting a head-turning, all-out custom rig that is also capable off-road. Having the experience to design, build and provide turn-key production trucks to sell, with financing, can be the ultimate level in the truck world…and entering that realm is the Apocalypse 6x6.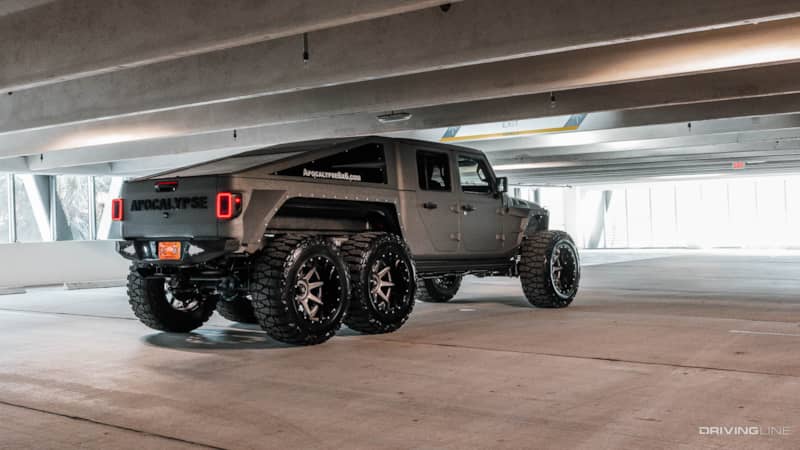 Off-Road Revelations
South Florida Jeeps (So Flo Jeeps) is the mind and production behind the Apocalypse 6x6. They are a shop and dealership firmly planted in Fort Lauderdale, Florida with years of experience in the customized Jeep world. They had seen and worked on a few Mercedes G-Wagons that were extended and outfitted with an extra axle for 6 wheel-drive and thought, "why not do the conversion to a Jeep and craft a true 6x6 beast!"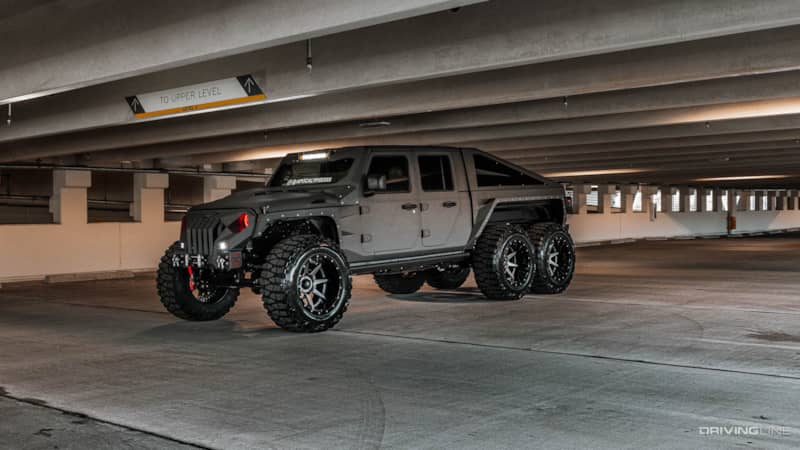 There are currently over 70 Apocalypse 6x6 trucks on the road and Apocalypse Manufacturing is currently crafting a few that will soon see the sand dunes of Dubai. While the Jeep Gladiator was the jumping-off point for the conversion; the only recognizable portion, if even that, is the Jeep's crew cab. Depending on the model, an 8-foot long bed is custom fabricated to accommodate the extra set of wheels; and rather than extending the factory frame, an entirely new chassis is fabricated.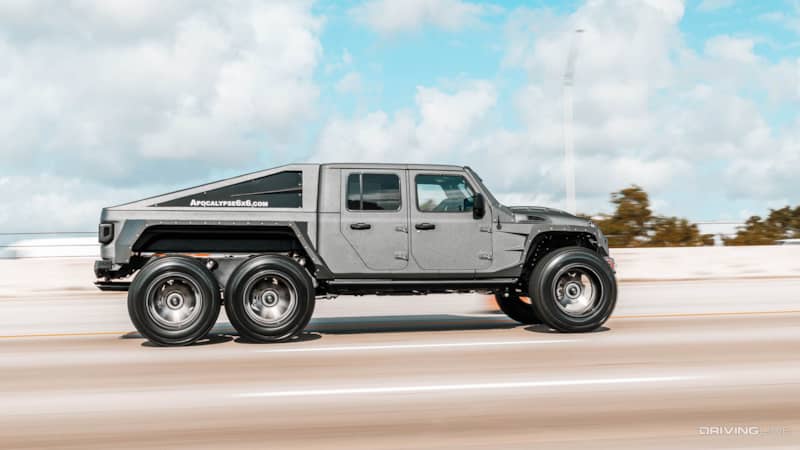 Six Wheels of Power
Naturally, the 6x6 needed some power upgrades to not only handle the added axle and rolling weight but to help push their owners back in their custom marine-grade luxury leather seats. The factory-available 3.0L Turbo-Diesel engine is the base of course, but the Apocalypse 6x6 has multiple engine upgrade options continuing with the tried and true LS3 engine that has been swapped into Jeeps for years. But the option providing the most power to all six Nitto Mud Grappler tires in this vehicle is the 707hp Hellcat 6.2L supercharged engine backed by one of the toughest 8-speed transmissions coming from the RAM 3500 heavy-duty truck.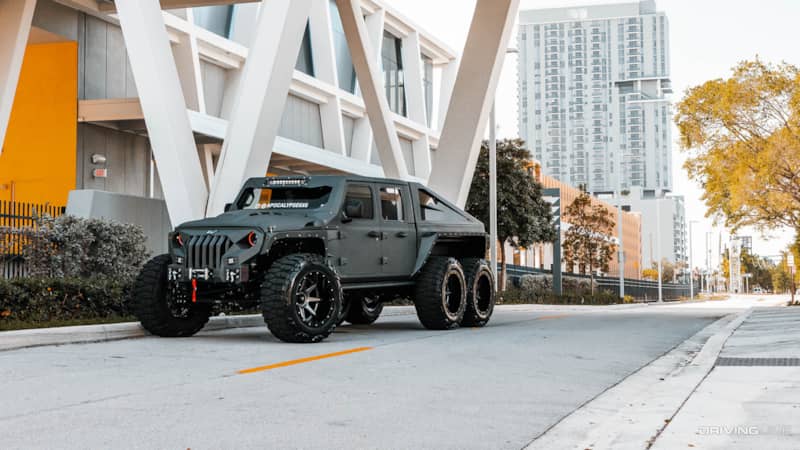 While they could have just gone for attitude and looks by adding with a free-spinning extra axle; their goal was to create a fully functional and selectable 4 or 6 wheel drive truck so a proprietary tandem axle with a 1:1 power transfer ratio was assembled with full lockers to ensure that all of the power gets firmly planted to the pavement. To match the unique 6x6 ride; nothing less than an equally unique set of six wheels would suffice.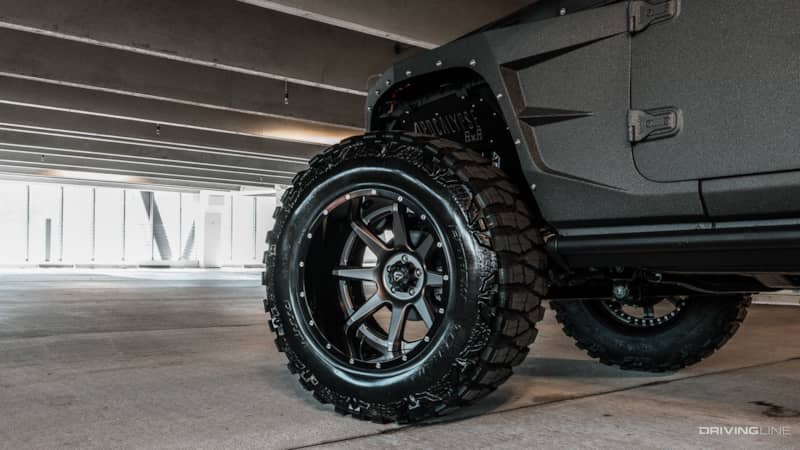 For South Florida Jeep; Fuel created a concave wheel called the SFJ and the 22x14-inch wheels then took advantage of the custom, oversized fenders to fit the huge, aggressive tread 40-inch Nitto Mud Grappler Mud-Terrain tires.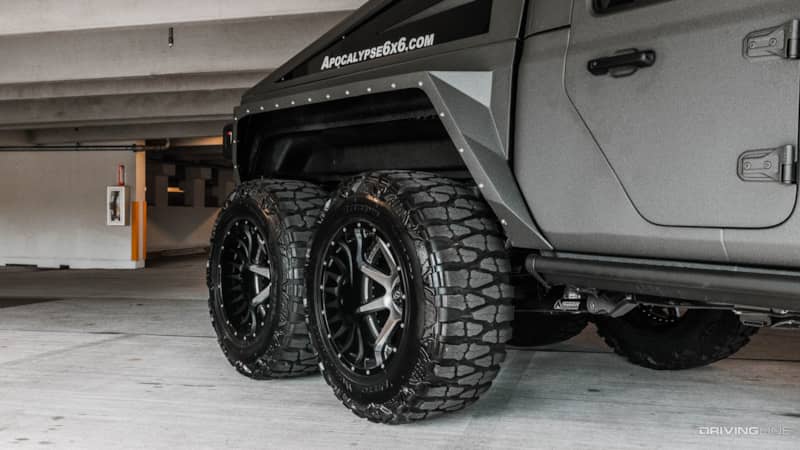 Living Up To Its Name
With model names like Hellfire, Sinister, and Doomsday; an aggressive look would be needed to live up to the title. To accomplish this; custom steel bumpers were fabricated and windshield armor featuring either a flushed in 20-inch LED light bar or LED light pods are added. Providing extra airflow to the upgraded engine and finishing off the front end is a fiberglass molded hood. Ensuring that the custom body is fully protected, a three-part Kevlar coating was sprayed over the entire truck.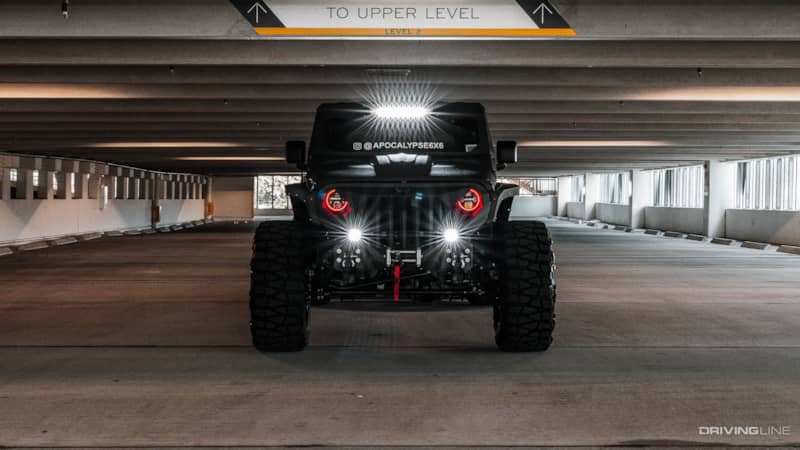 Custom Creations
Customers can select their own exterior hues and audio and interior options as well as the various wheel packages they offer.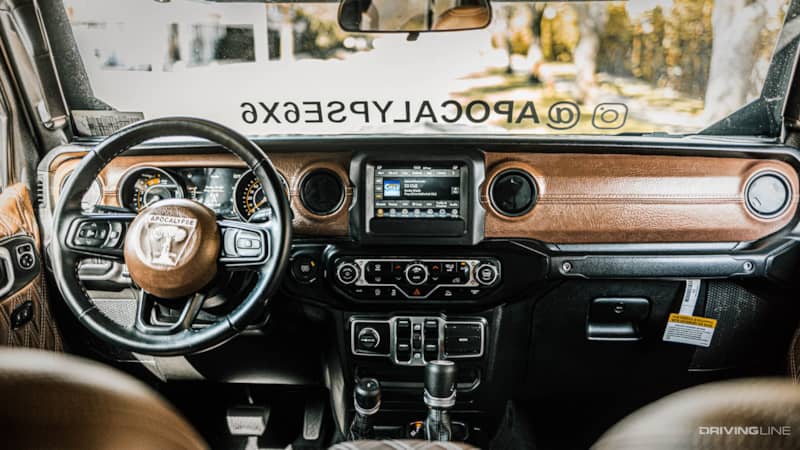 Their most popular version of the massive 6x6 rig is the Hellfire model, and it is easy to see why with a full custom bed cap while the Sinister 6 features an open bed with roll cage and the truly unique Doomsday model features a one-piece body and shortened 4-foot bed combo.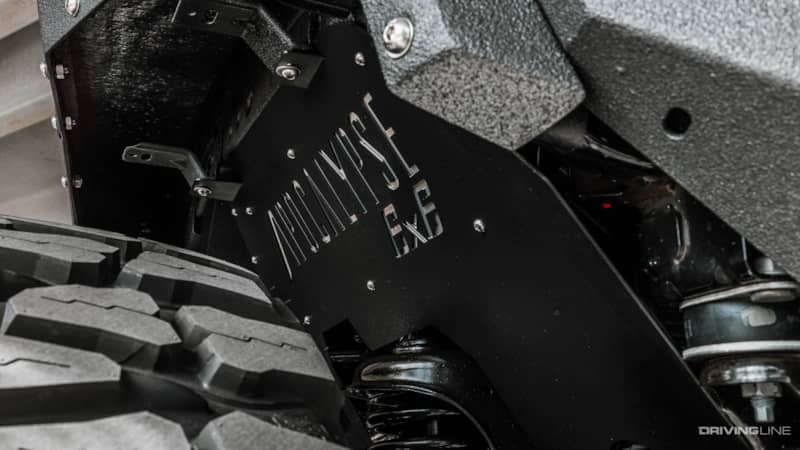 In order to truly make the Apocalypse its own creation; custom badging and lettering for every aspect of the rig was created. But they didn't want the service writers at local Jeep dealerships scratching their heads as little remains of the factory Jeep Gladiator; so a full 5-year warranty is offered on the Apocalypse 6x6.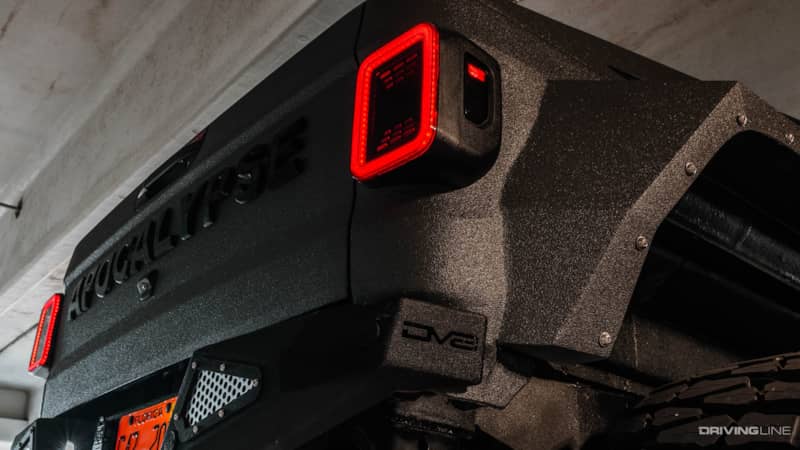 It is not unusual to see an Apocalypse 6x6 pulling up to a high-end restaurant after tearing down A1A, and also 6x6'ing over desert hills and trails throughout the country. And they stand by the off-road capabilities of the truck so much so that they have a standing invitation for any other 6x6 creations looking to challenge them in the sand.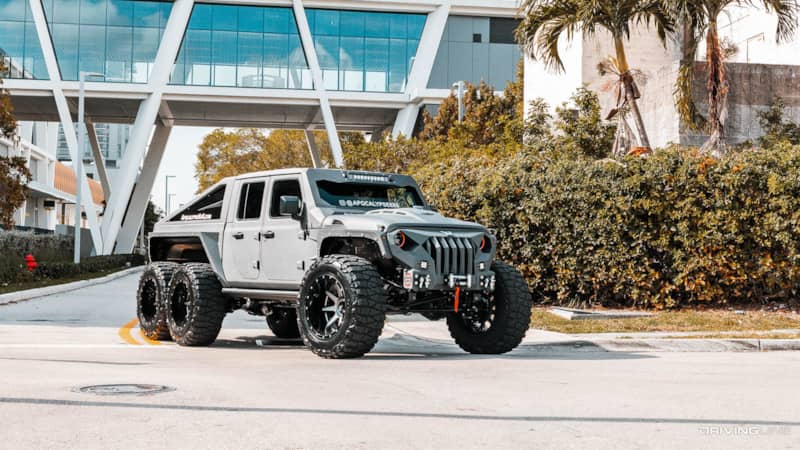 HELLFIRE Specs
| | |
| --- | --- |
| VEHICLE | Apocalypse 6x6 Hellfire |
| BUILDER | Apocalypse Manufacturing/South Florida Jeep |
| ENGINE OPTIONS | 6.2L Supercharged Hellcat, 6.2L LS3 or 4.2L Diesel engines, RAM 3500 8-Speed Transmission |
| CHASSIS | Apocalypse Manufacturing Custom Fabricated Chassis |
| FRONT SUSPENSION | Teraflex Suspension with Falcon Shocks |
| REAR SUSPENSION | Apocalypse Manufacturing Tandem Axle, Lockers with 5.13 Gears, Teraflex Suspension with Falcon Shocks |
| WHEELS | 22x14-inch Fuel SFJ Wheels |
| TIRES | Six 40x15.50R22 Nitto Mud Grappler tires |
| BODY | Apocalypse Manufacturing 8-foot Bed, Fiber Molded Hood, Steel Bumpers, Windshield Armor, Locking Bed Cap, Kevlar Protective Paint Coating |
| ACCESSORIES | Smittybilt 9,500 Lbs. Winch, Tow Hitch, LED Headlights with Multi-Color Halo Ring, 20-Inch LED Lightbar, Power Steps |
| INTERIOR | Marine Grade Leather Interior, 6-Switch Light Controller, Full-time Rearview Camera |