Jeep Gladiator Rubicon 392 6x6 on 40-inch Tires
If you want to build a Jeep Gladiator that stands out, you'll need more than big tires and a bed rack to grab attention. Unlike most new pickup platforms, the aftermarket wasted little time making the Gladiator a priority. Given the Gladiator shares so much DNA with the Wrangler, it was no surprise that its popularity with the aftermarket has been thriving. Based out of Miami, Florida, Roco 4x4 has been customizing off-road vehicles for decades.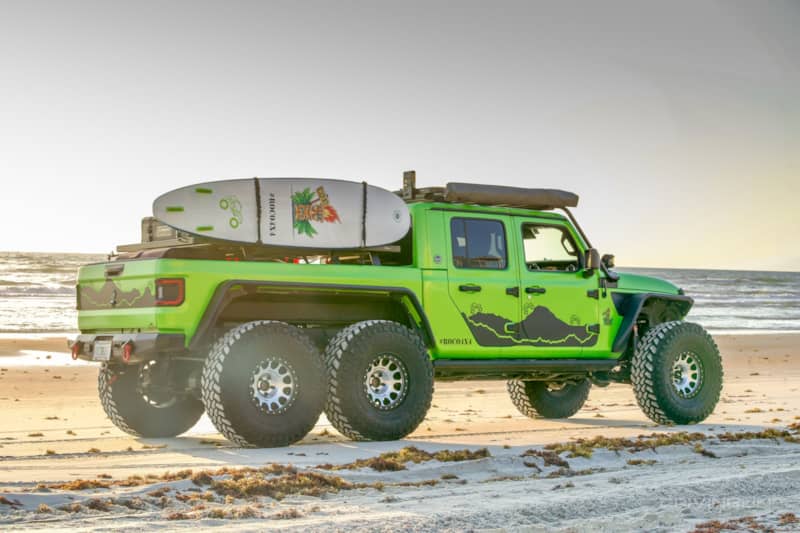 With the popularity of the Gladiator platform very evident, the Roco team decided to invest in one all their own. Starting off with a 2021 Jeep Gladiator Rubicon, Roco 4x4 wasted little time in dismantling the Jeep as soon as it rolled into the shop. Wanting to grab attention and push limits of the new platform, the team devised a build plan that would increase the Gladiator's potential exponentially.
With a 392 V8 engine under the hood, dual 9-inch rear axles, and six 40-inch-tall Nitto Trail Grapplers, this Gladiator is far beyond your run-of-the-mill overland build. While it was partly built to get your attention, this JT was built with a variety of domestic and international off-road destinations in mind. We recently got a chance to check out the build at the 2023 Jeep Beach event in Daytona Beach, Florida.
In House Build
While 6x6 conversions are not something the full-service off-road shop specializes in, Roco 4x4 took this project on from start to finish. This included the monumental task of building the custom stretch conversion to accommodate the extra rear axle.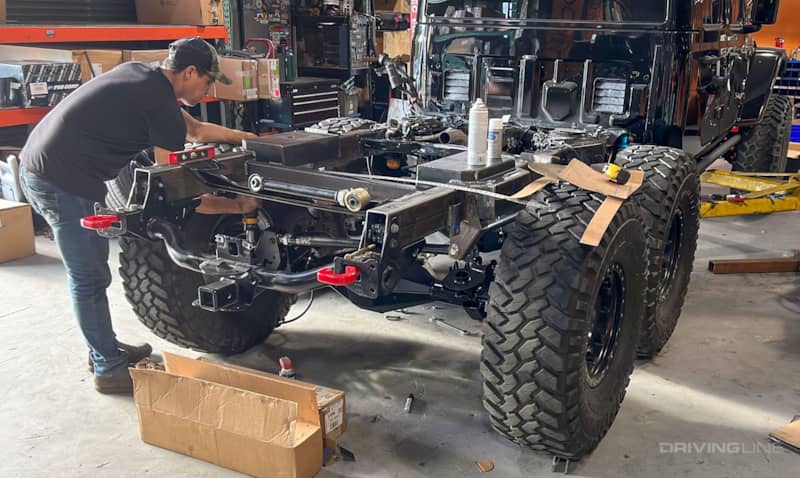 392 V8
Powering six 40-inch-tall tires was a lot to ask from the factory 3.6L V6. So, it was pulled and a 392ci V8 was swapped in along with a stronger 8-speed automatic transmission. Splitting the power between the drivelines is the original 241OR transfer case.
Power to All Wheels
The rear axle assemblies come from Currie. Each is fit with 4.88 differential gears and an ARB Air Locker. The factory-style four-link suspension with track bar is used on both axles.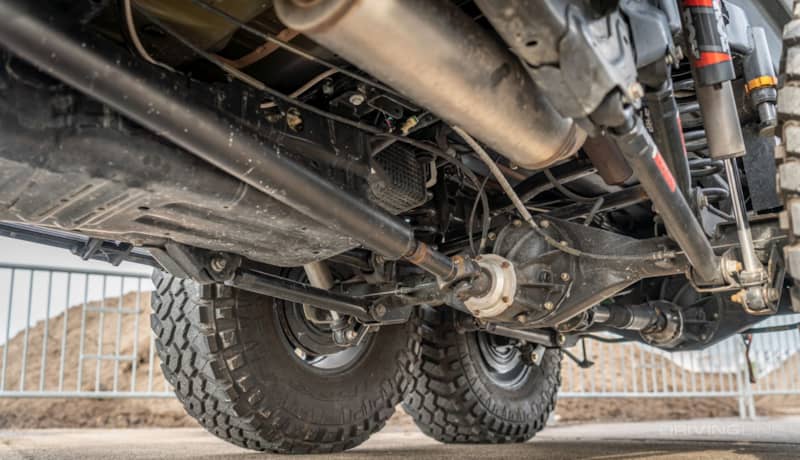 Connected
The first fabricated housing uses a pass-through gear which powers the next driveline. Both axle housings use low-pinion 9-inch third members.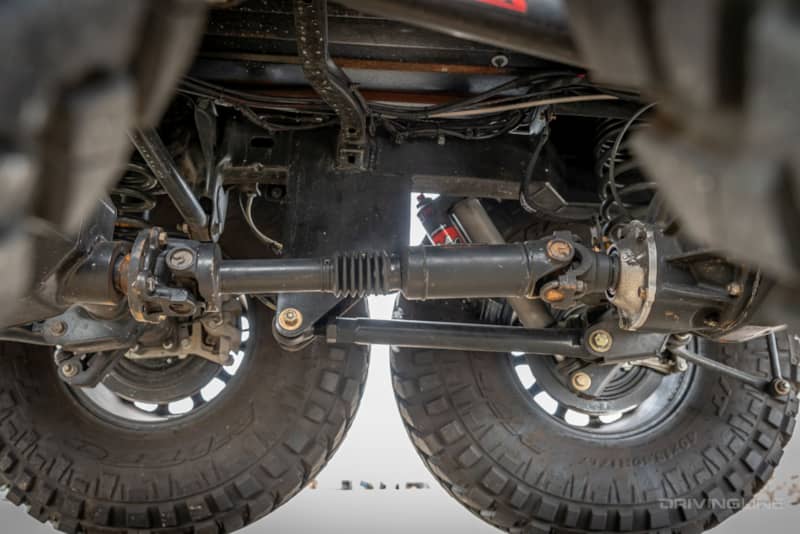 Wrapped Up
Four Fox air bumps, JKS lift coils, and Fox 3.0 shocks make up the rear suspension. The factory rear sway bar was also used to regulate body roll.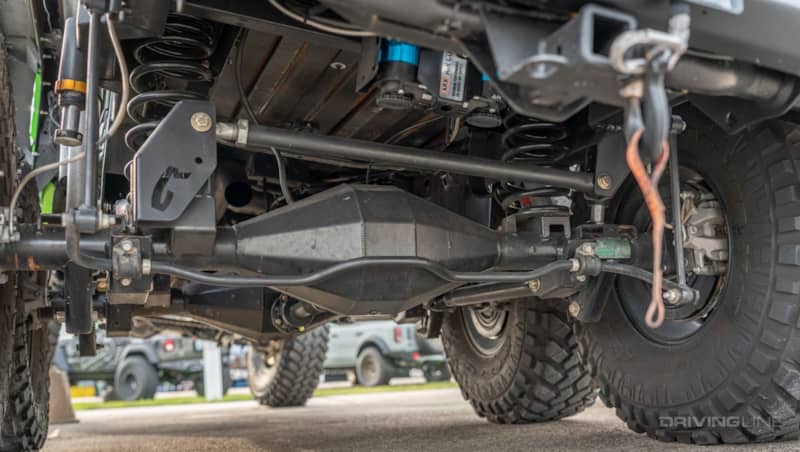 Front For Now
At the time we shot this, the Jeep was still running the factory Dana 44 Rubicon axle. The current plan is to replace this with a Currie fabricated housing to match the rears. A draglink and tie-rod upgrade came via RPM Steering, while a Fox through-shaft stabilizer helps keep the Jeep tracking straight.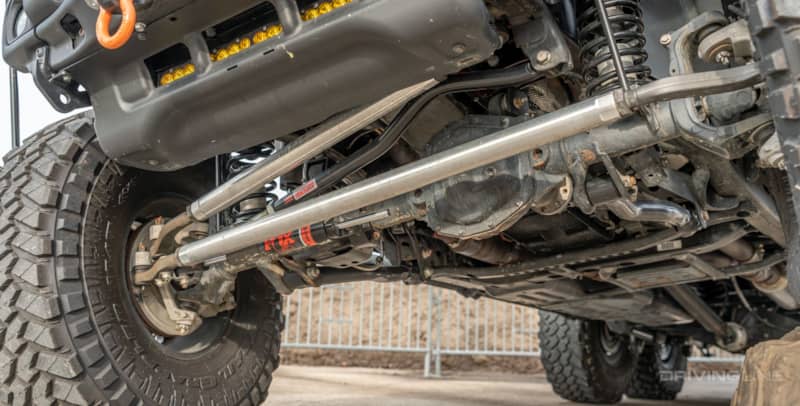 JKS Lift
Acos adjustable coil spacers work with JKS 3-inch lift springs to provide lift up front. Control arm drops work with adjustable JKS arms to improve the suspension geometry and overall strength. As is the case in the rear, Fox 3.0 shocks with DSC adjusters make it easy to dial in the ride on-road and off.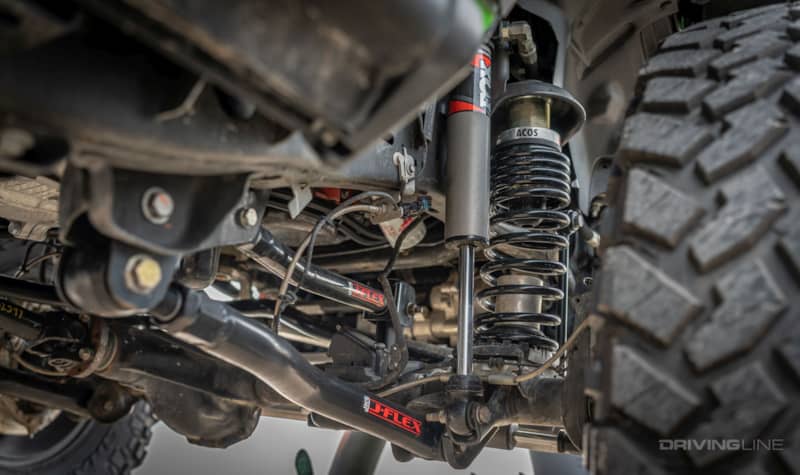 40x6
Roco 4x4 has been a long-time distributer (and user) of Nitto tires. When it came time to put six tires under the Gladiator, the decision wasn't which brand to use, but which Grappler was the best fit for the build. Given the mix of highway and serious trail use this JT is built for, they opted for a 40x13.50R17 Nitto Trail Grappler. These are mounted on 17-inch Method beadlocks.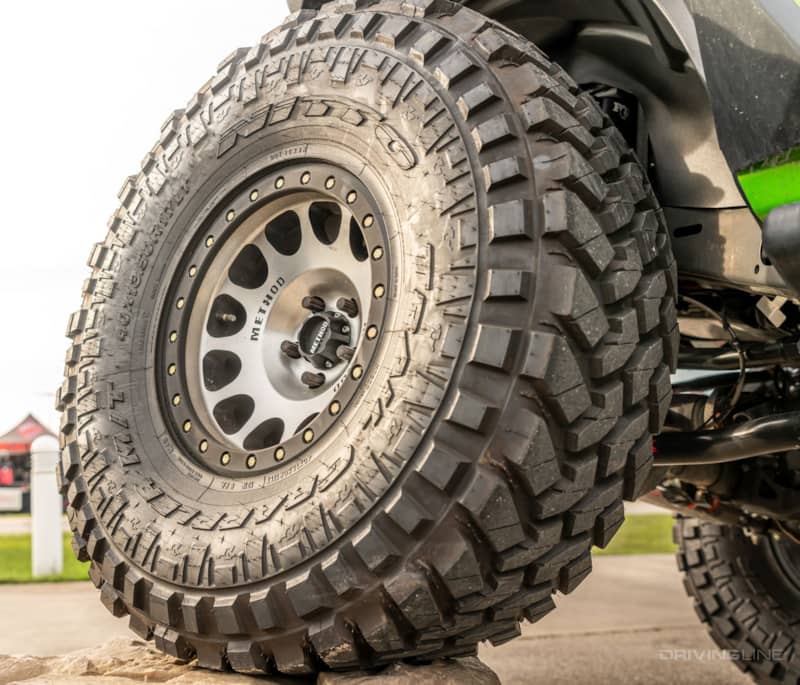 Expedition Ready
Giving the Trail Grapplers some added breathing room is an AEV stubby series front bumper. It's outfitted with a Mile Marker 9,000lb winch, Baja Designs lightbar, and AEV 7000 series off-road lights.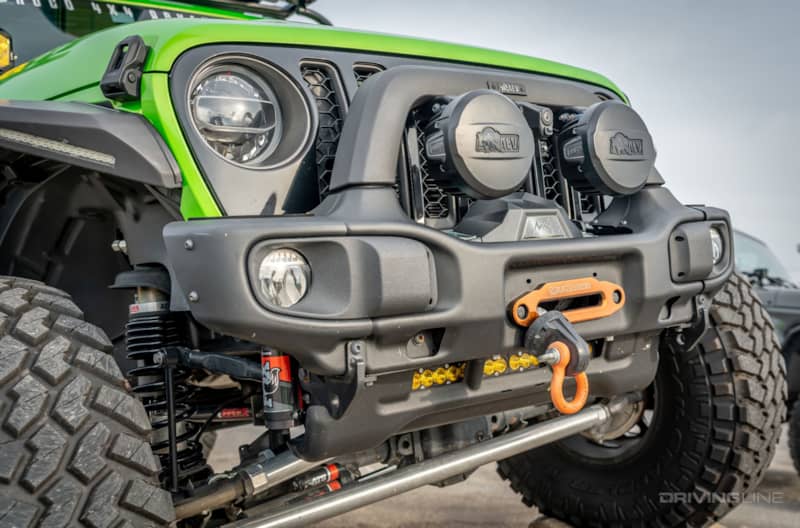 Accessory Runner
With a massive bed stretch, there's plenty of room for gear. The bed rack and cargo slider come from Front Runner. When the Roco crew gets done hanging ten, they can grab a beverage from the Dometic fridge. For cargo that you need to keep out of the elements, there are two large Pelican cases.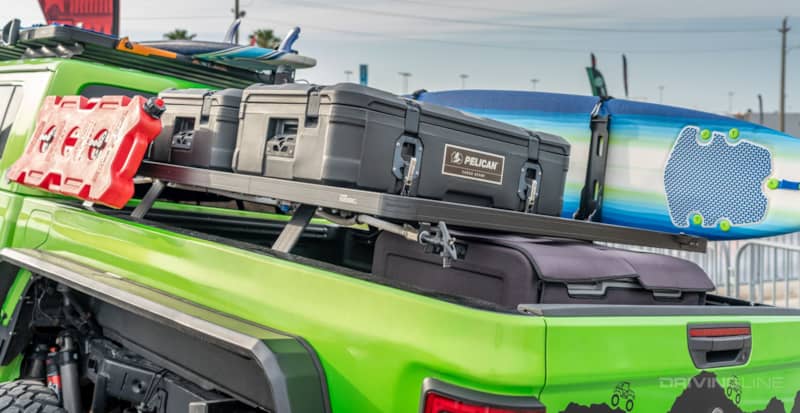 Rack It Up
A Front Runner roof rack provides additional space for hauling gear, while LP4 LED lights from Baja Designs increase nighttime visibility. Note the air deflector mounted on the bottom of the rack which cuts down on wind nose.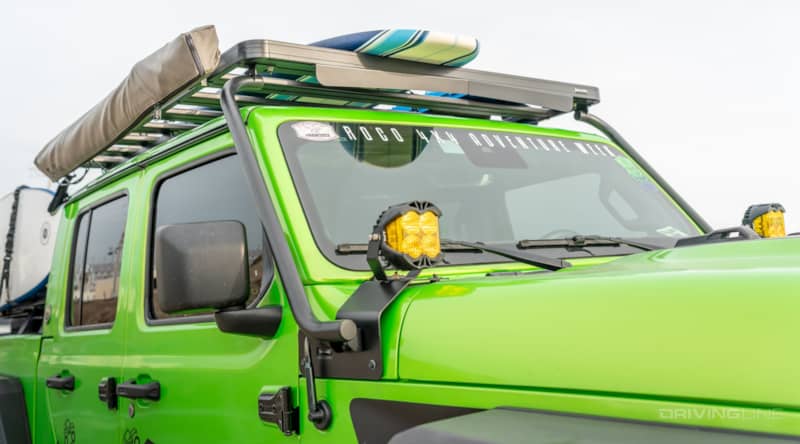 Interior Upgrades
The Gladiator received two main interior upgrades. The first was an entire sound system and head unit boost from Alpine. They next were the custom leather seats.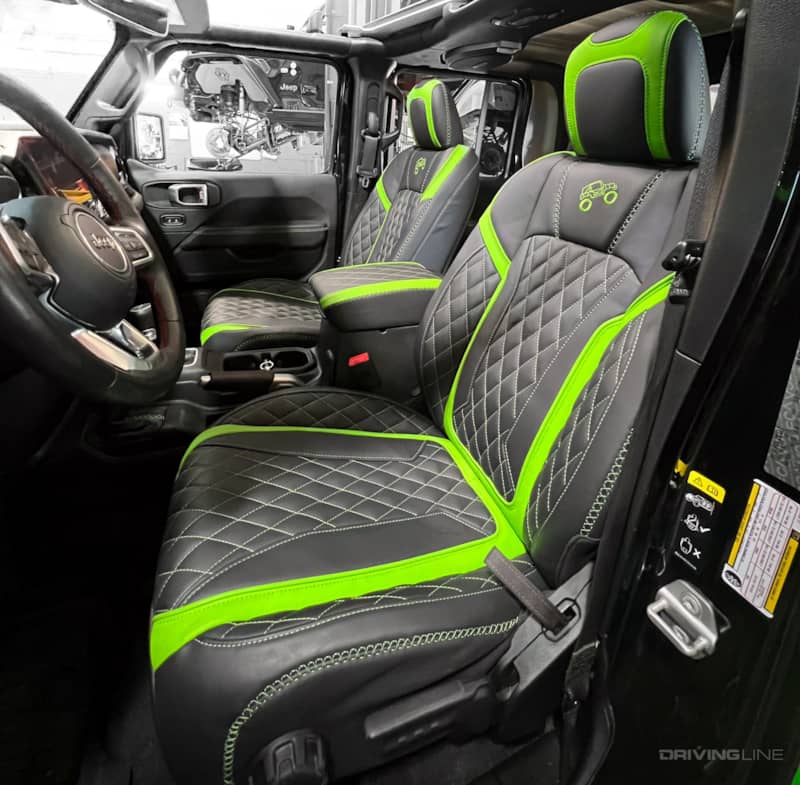 Custom Cues
Wrapping up the exterior mods is a steel hood from a Mojave Gladiator. The rear fenders of the Jeep are a one-off upgrade, that match with the overall high-arch style of the front.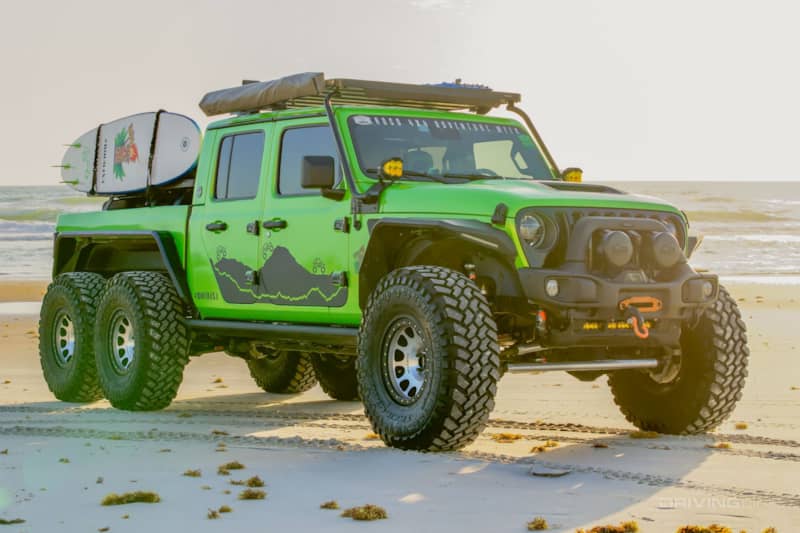 Going The Distance
Making it easier to climb in and out of are a set of retractable steps from AMP Research. In the event that six-wheels isn't enough to get the job done (or the vehicle behind needs a little assistance), there's a 16,000lb Mile Marker rear winch out back.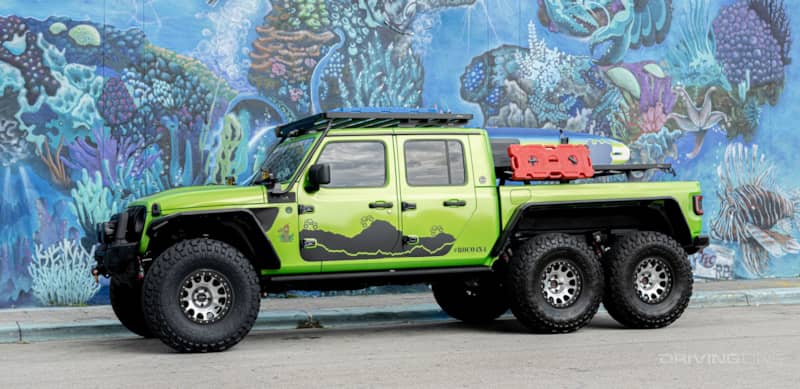 More From

Driving Line
Looking for a more conventional approach to a Jeep Gladiator build? Check out this one HERE.