A Legend Reborn: G-Rodz's Built 1974 Ford Bronco
There's never been a hotter time in the market than now for the Ford Bronco. When Ford announced the resurgence of the iconic namesake in 2020, 4x4 and vintage truck enthusiasts both took notice, speculating about what the revival of one of Ford's original off-road machines would mean. But the enthusiasm for the model didn't stop there.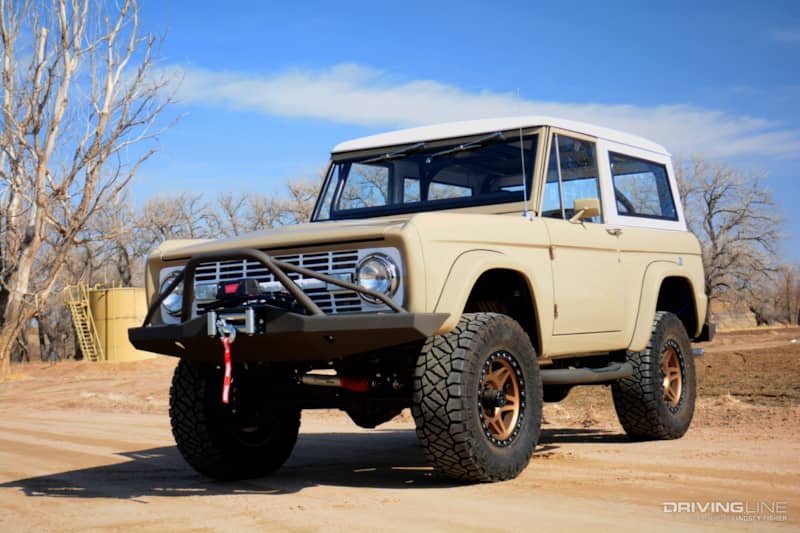 With the rebirth of the iconic truck came a renewed enthusiasm for its vintage form — not that it ever went away for some of us. Ever since, we've seen an influx of amazing vintage Bronco builds like this one here just recently finished by Greg Gonzales and his crew — brothers Jason, Jesse and Trevor Hight — at G-Rodz and Kustom Fab of Hudson, Colorado.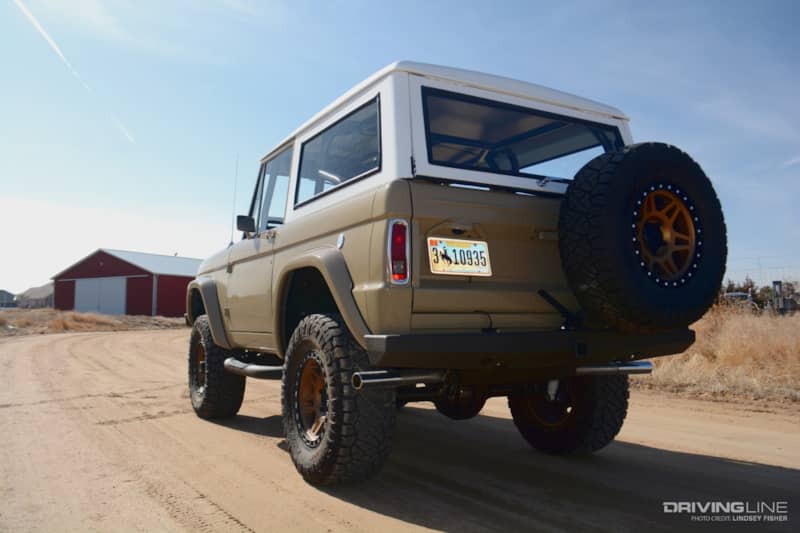 Owned by Jared Stiver of Sheridan, Wyoming, this beautiful Bronco was manufactured for the 1974 production year as part of the favored first-generation of Ford Broncos to hit the market. But just because it's nearly 50 years old doesn't mean it's anything to scoff at when it comes to competing with the style and performance of the new Broncos.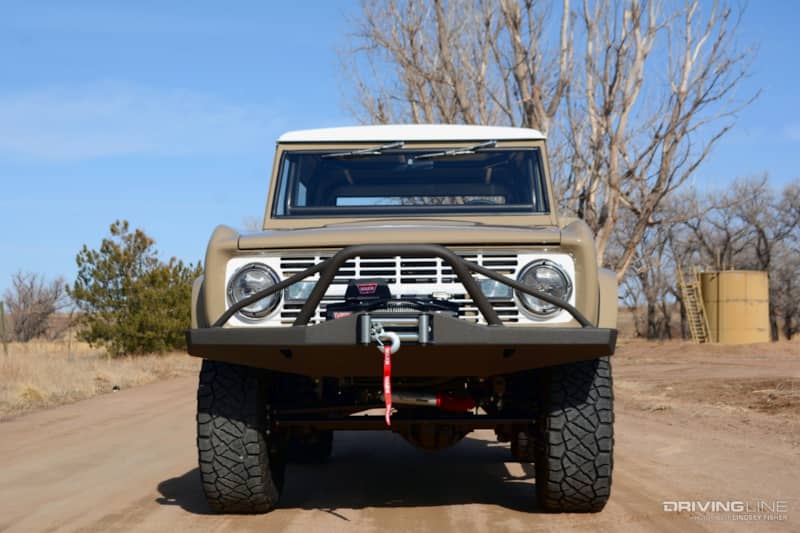 Beginnings of a Legend
What started out a little over a year ago as a simple engine refresh and basic aesthetic makeover for this '74 quickly turned into a full-fledged build utilizing some of the top performance options the industry has to offer. One such upgrade is the 3-inch suspension lift from Rough Country, which is paired with vintage-style leaf springs, as well as Rancho RS5000 gas shocks in the rear and coilovers in the front for the perfect ride.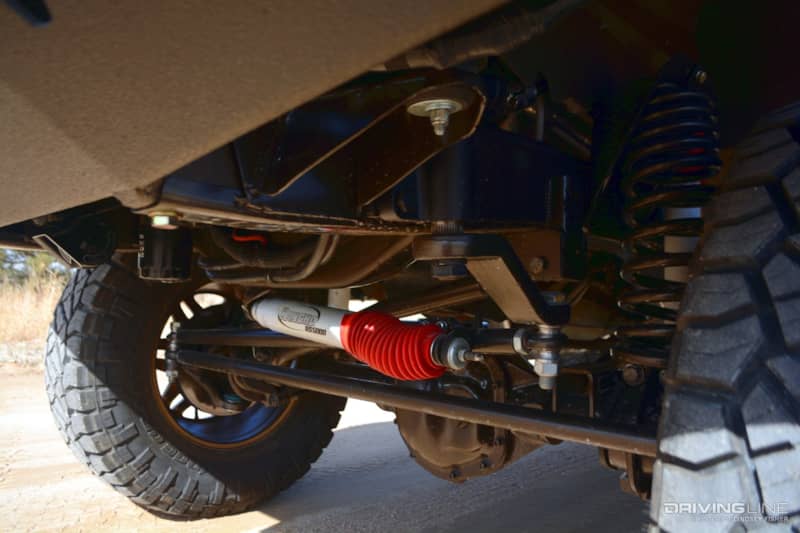 Rebuilt differentials make sure the Bronco tracks with ease, while modern FoMoCo disc brakes up front and rear drums upgraded to power brakes out back provide ample stopping power. Bolstered with a 2-inch body lift, this combination makes for smooth driving as well as an upgraded stance.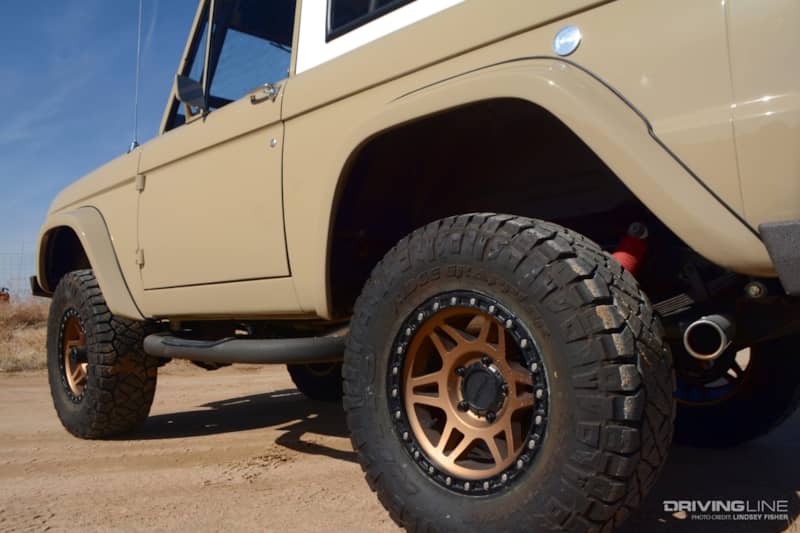 Sticking It to the Pavement (Or Dirt)
Supporting the lifted Bronco are a set of 17x8.5 MR312 Method Race Wheels finished in the company's iconic bronze and black motif, paired with 33x12.50R17LT Nitto Ridge Grapplers. With this wheel and tire combination, the Bronco is equipped to handle anything the road (or off-road) puts in front of it.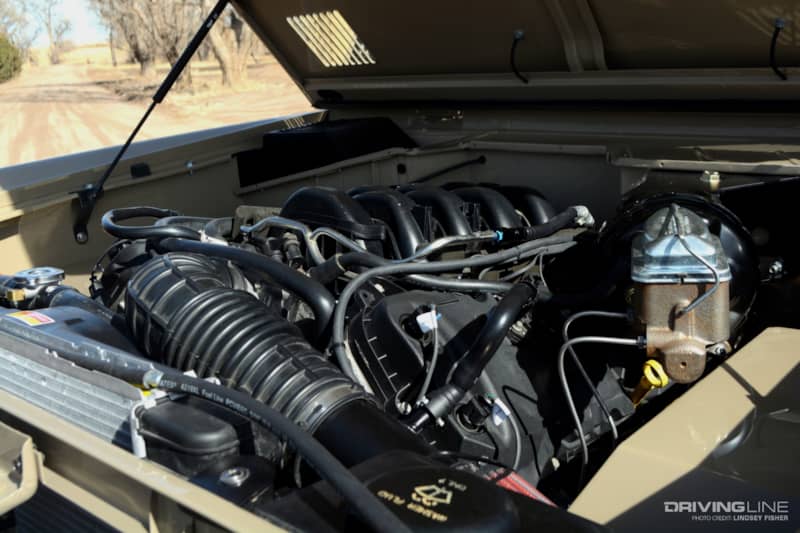 Modern Power
Planting the Bronco to the pavement is key, especially since the truck now features a 5.0L Ford Coyote engine pulled from a 2015 Ford F150 under the hood. With the modern engine comes plenty of wiring, which is all channeled through an American Autowire harness tied to a Hotwire Auto engine management system — all discretely concealed under vintage metal and custom panels.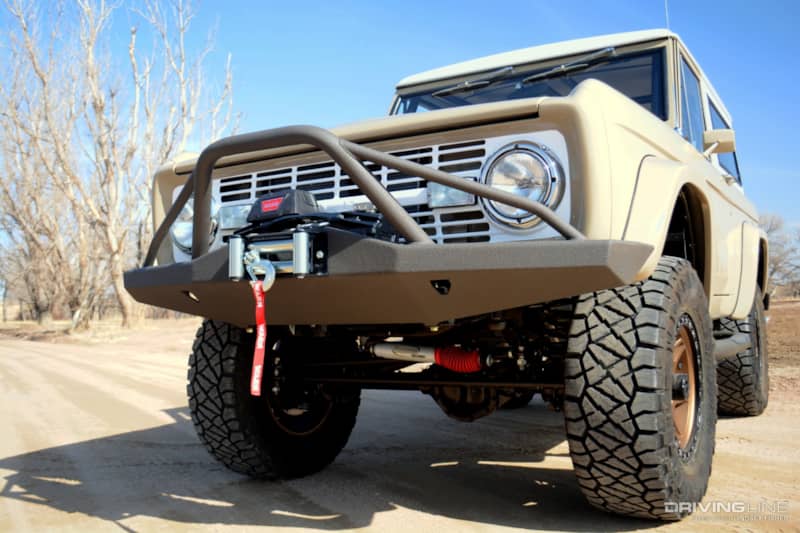 The modern Ford block may be the preferred power plant for a project like this, but it was no easy task setting the massive 5.0 in place — a feat accomplished with just ½-inch of clearance to spare. Backing the modern Coyote is a 6-speed automatic 6R80 transmission.
Once the powertrain was bolted in, Automotive Performance of Loveland, CO was entrusted with the performance tune that makes this Bronco sing!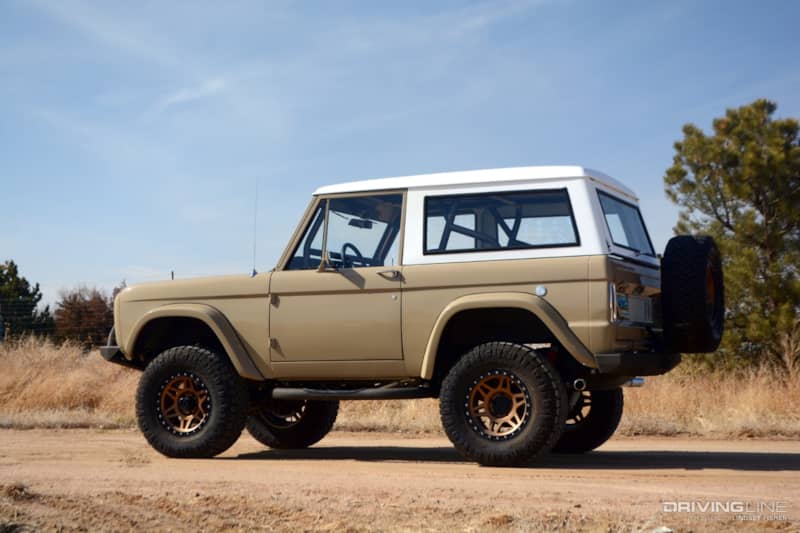 Beauty of the Beast
No matter what your personal taste in vehicle builds, there always seems to be something lacking when a build is all go but no show. Luckily, this Bronco has the perfect combination of both. Working with a fully blasted chassis and body compliments of Jeff Irthum of Accublast, G-Rodz put in the work to make this Bronco shine.
The exterior of the Bronco features Kindig-It Design flares, as well as hefty, Matrix Grey Brown-finished bumpers from Tom's Bronco Parts, bolstering the truck's enhanced off-road aesthetic.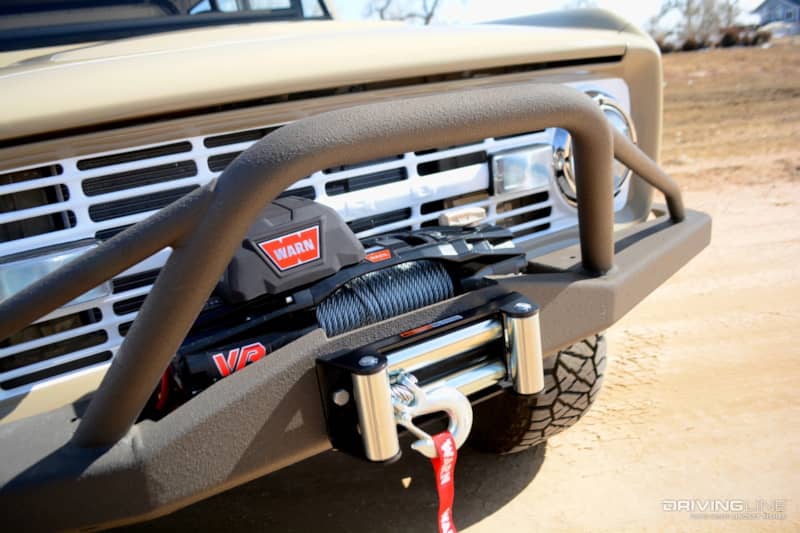 The smoothed metal of the Bronco's body was painted in Toyota Quicksand by G-Rodz's own Jason Hight, and then finished off with a Classic White top and grille shell. Of course, no off-road rig, vintage or new, is complete without a winch, which the Bronco features front and center in the form of a WARN Evo 8K unit.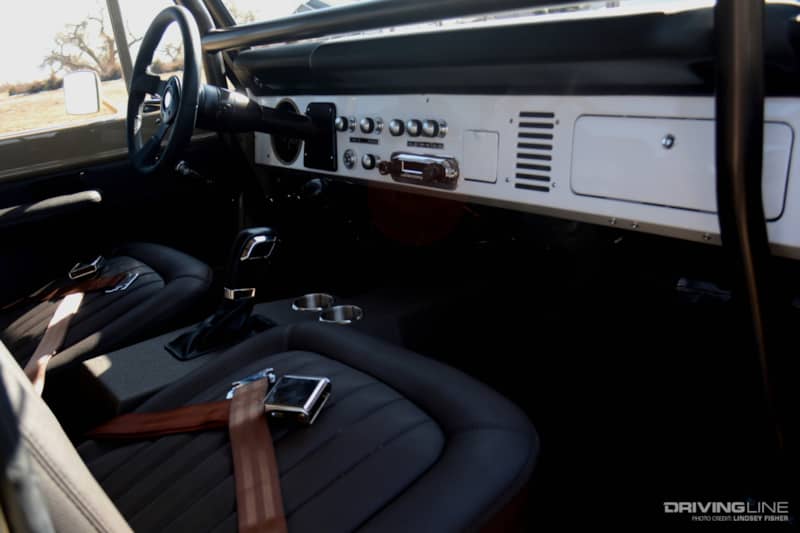 Stylized Creature Comforts
The natural color pallet of the Brono's exterior is carried through to its interior with custom brown marine vinyl split front bench seats, a full rear bench and matching door panels by Randy DiGesualdo of Randy's Upholstery in Brighton, CO.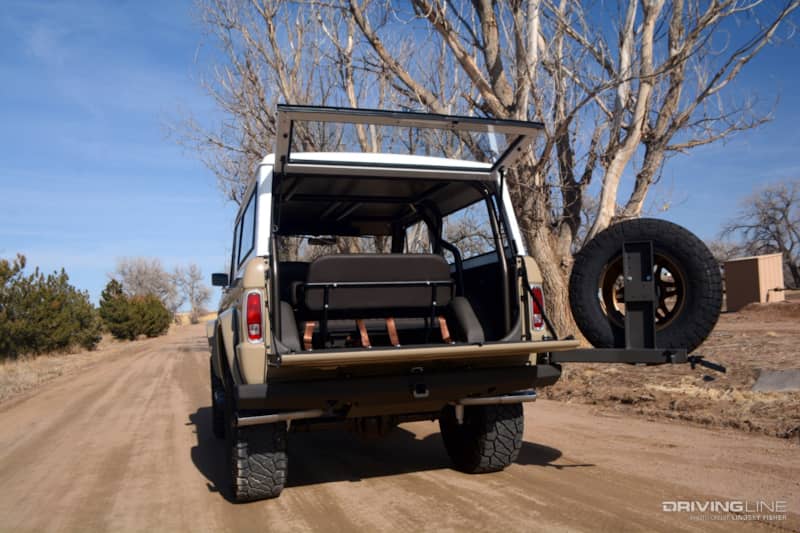 The truck's Quicksand color covers all metal interior panels while the top's Classic White is brought in to the interior through the classic-looking dash. Final touches like Dakota Digital gauges and a Retro Sound Audio system with a vintage-style head unit finish off the classic, yet modern-enhanced interior.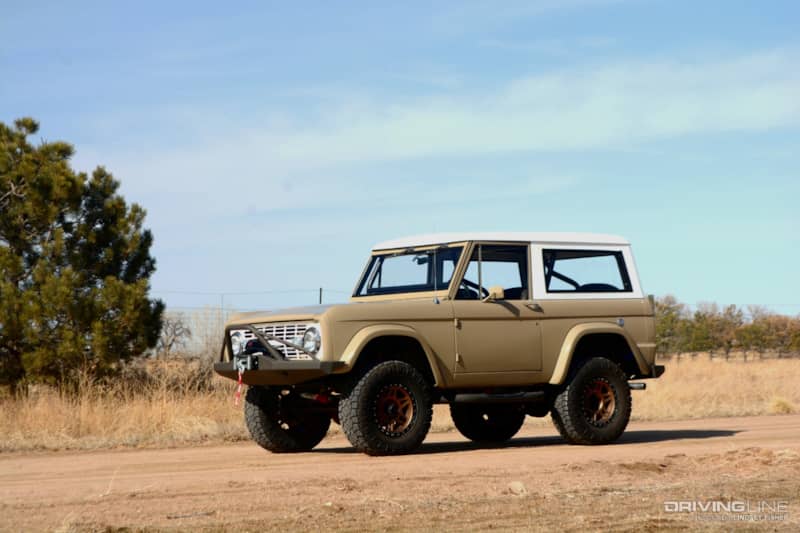 Resurrecting classic vehicles has always had its place in the automotive world. Thanks to the reintroduction of the Ford Bronco, more and more classic versions of the iconic off-road machine are making their way into the spotlight. And with finished products like this fine example from G-Rodz and Kustom Fab, we can certainly get behind the growing trend!