Back in Time, Part 5: 6.0L Power Stroke Vs. Common-Rail Cummins
The year was 2002 and the next emissions crunch was fast-approaching. This time, lower NOx standards had to be met by January 1, 2004. For Ford, that meant the end of the 7.3L Power Stroke that'd been the backbone of its Super Duty trucks and the release of the all-new 6.0L Power Stroke. The smaller displacement yet more powerful Navistar-built V8 was loaded with technology that included four valves per cylinder, a variable geometry turbocharger (VGT), a higher-pressure HEUI injection system and met the most stringent NOx emission standards through the use of an exhaust gas recirculation system (EGR). Though it was originally set to debut with 325 hp and 550 lb-ft of torque, the release of the 555 lb-ft 5.9L Cummins prompted Ford to squeeze 10 more lb-ft out of the 6.0L right before it hit dealership lots.
Keeping up with the Joneses (remember, the Duramax changed the game in 2000) and meeting tighter emission regulations, Cummins developed a 24-valve version of the 5.9L Cummins with a high-pressure common-rail injection system. Similar to the arrangement employed on the LB7 Duramax, the Bosch-sourced fuel system included solenoid valve style, multiple injection event injectors, a high-pressure storage rail and a CP3 high-pressure fuel pump. Unlike Ford's 6.0L Power Stroke, Dodge was able to forgo adding EGR or a VGT to the 5.9L Cummins in order to meet the ever-tightening NOx emission standards. However, different pistons, injectors, updated ECM calibrating and a new turbo had to be included on '04.5 Rams.
Rest assured, while the 6.0L Power Stroke officially made more horsepower and torque than the 5.9L common-rail Cummins in '03, Dodge would swell the I6's torque output to 600 lb-ft by '04.5 and 610 lb-ft shortly after that. Stay tuned for Part 6, where the Duramax strikes back in '06 and tops the charts for four years.
| Specs | '03 6.0L Power Stroke | '03 5.9L Cummins H.O. |
| --- | --- | --- |
| Configuration | V8 | I6 |
| Displacement | 365ci | 359ci |
| Bore | 3.74-inches | 4.02-inches |
| Stroke | 4.13-inches | 4.72-inches |
| Compression Ratio | 18.0:1 | 17.2:1 |
| Block | Cast-iron | Cast-iron |
| Rods | Powdered-metal | Forged-steel, cracked cap |
| Pistons | Cast-aluminum | Cast-aluminum |
| Heads | Cast-iron with four 14mm head bolts per cylinder | Cast-iron with six head bolts per cylinder |
| Valvetrain | OHV, four valves per cylinder, single cam | OHV, four valves per cylinder, single cam |
| Injection System | Siemens high-pressure HEUI, direct injection | Bosch high-pressure common-rail, direct injection |
| Turbocharger | Garrett GT3782VA variable geometry | Holset HE341CW fixed geometry with wastegate |
| Intercooler | Air-to-air | Air-to-air |
| Emissions | Exhaust Gas Recirculation (EGR), Diesel Oxidation Catalyst (DOC) | N/A |
| Horsepower | 325hp @ 3,300rpm | 305hp @ 2,900rpm |
| Torque | 560 lb-ft @ 2,000rpm | 555 lb-ft at 1,400rp  |

Less Cubes, More Power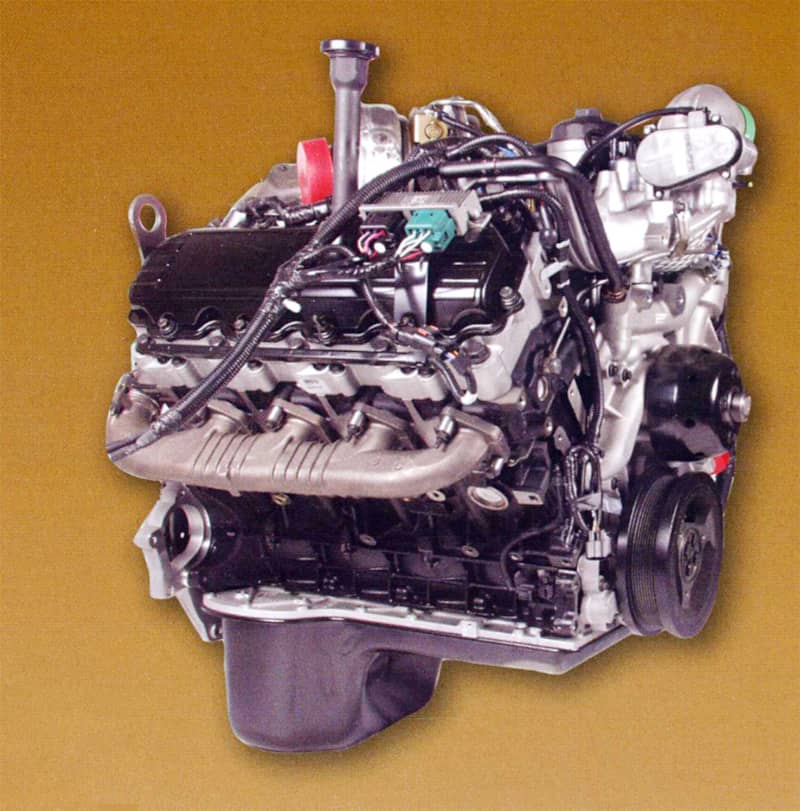 Though it sacrificed 1.3 liters of displacement to the outgoing 7.3L, the 6.0L Power Stroke produced considerably more horsepower and torque than even the highest output version of its predecessor did. But despite being smaller, displacement-wise, the 6.0L actually outweighed the 7.3L (966 lbs with oil vs. 920 lbs dry). Chock full of technological advancements, the cast-iron 6.0L Power Stroke featured four-valve per cylinder heads, variable geometry turbocharging, a lower voltage yet higher efficiency high-pressure oil injection system and an internal oil cooler packaged inside the crankcase at the front of the block. The crankshaft was also secured by a bed plate. After Dodge revealed its hand with the 555 lb-ft common-rail 5.9L Cummins, Ford settled on its 560 lb-ft number upon release of the 6.0L Power Stroke. Two years later, torque would be increased to 570 lb-ft.
More Airflow, Better Drivability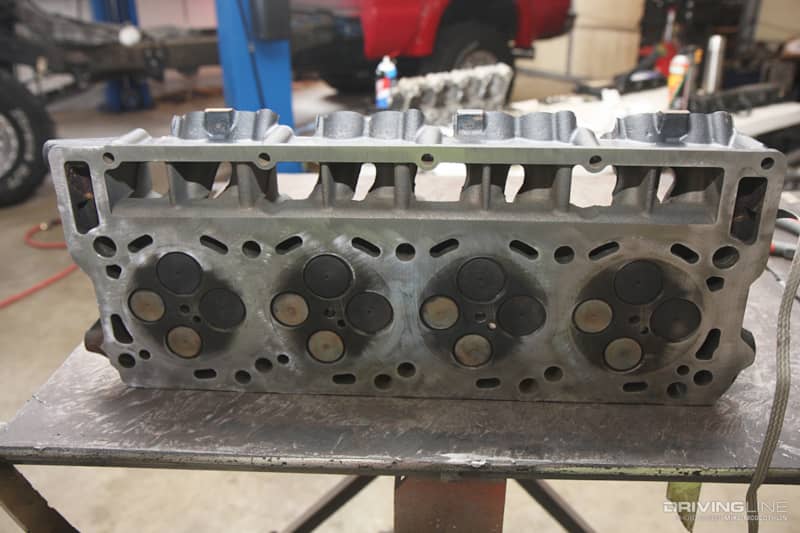 Helping get the most out of the smaller displacement V8, the 6.0L was given four-valve cylinder heads for vastly improved breathing. Thanks to the extra valves, the 6.0L's heads flow roughly 150 cfm per cylinder (intake side), much better than the 7.3L heads' flow numbers of 110 to 115 cfm. The cast-iron heads are topped off with aluminum rocker boxes, which allow the four-pin connectors (and their corresponding wiring) for the injectors to pass through them.
Siemens-Sourced of HEUI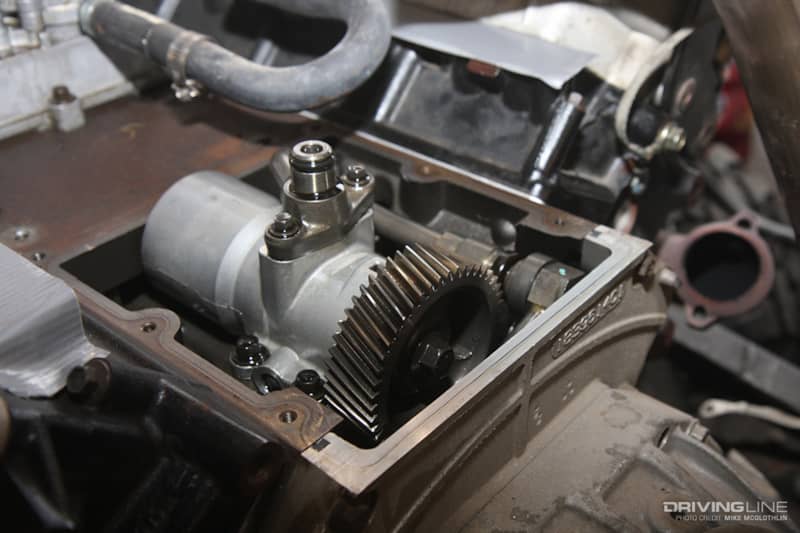 Ditching the CAT-sourced version of HEUI, Navistar turned to Siemens for the hydraulically actuated injection system employed on the 6.0L Power Stroke. Called the Generation II fuel system (and electro-hydraulic by Navistar), 3,600 psi worth of oil pressure could be produced, which when multiplied inside the injector culminated in 25,200 psi at the fuel injector nozzle (vs. 3,000 psi and 21,000 psi on the 7.3L). The higher in-cylinder injection pressure and resulting improved atomization meant that particulate matter emissions were reduced while efficiency (along with horsepower and torque) went up. A high-pressure oil pump still made up the heart of the system, but was located at the rear of the engine, within the block (pictured above). The 6.0L was designed with all high-pressure oil lines being internal as well, though the oil rails within the heads were removable.
Faster-Firing Injectors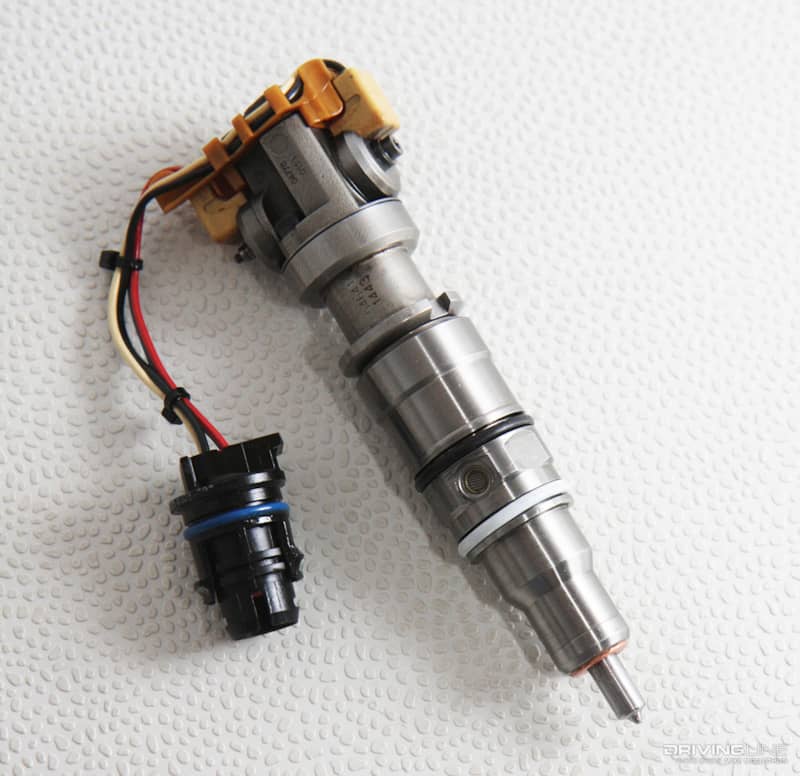 Like the 7.3L, the 6.0L's HEUI injectors were located under the valve covers, but they were quicker-reacting thanks to the use of Sturman Industries' digital valve technology. Instead of utilizing one giant solenoid on top of the injector body and an internal poppet valve to allow high-pressure oil into it, the 6.0L units used a coil on each side, one for opening the spool valve (the poppet valve's replacement) and one for closing it. The coils were activated via a 48-volt, 20-amp pulse, which was determined by the fuel injection control module (FICM) and shut off after 800 microseconds (0.000008 of a second).
Meeting Tougher NOx Standards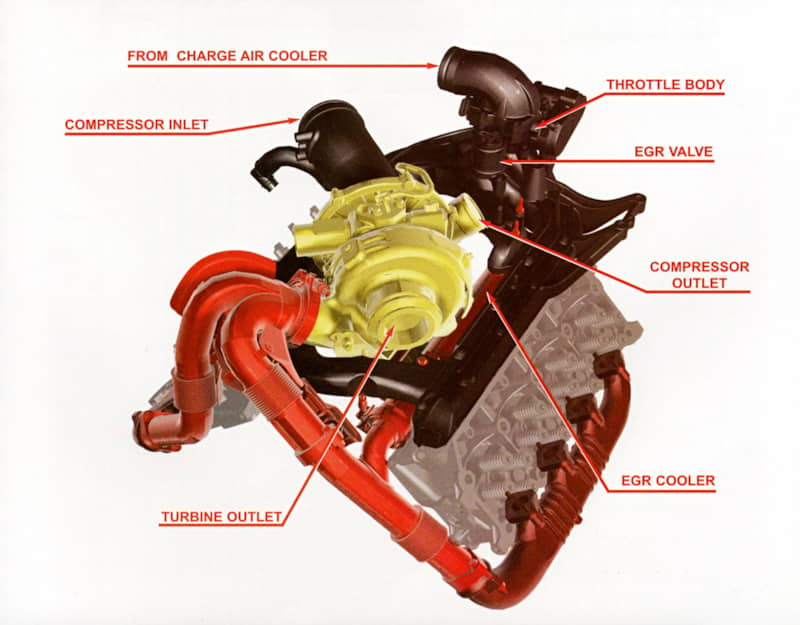 While the advanced version of HEUI injection lowered particulate matter pollutants, the side-effect was more nitrogen oxide production (NOx). To combat this unwanted byproduct and meet the EPA's new NOx limit of 2.0 g/bhp-hr, Navistar saddled the 6.0L Power Stroke with an exhaust gas recirculation system (EGR). The system's EGR valve was incorporated into the cast-aluminum intake manifold while a coolant-to-air EGR cooler was located on the passenger side of the valley and tasked with reducing exhaust gas temperatures by as much as 700 degrees F.
Smart Turbo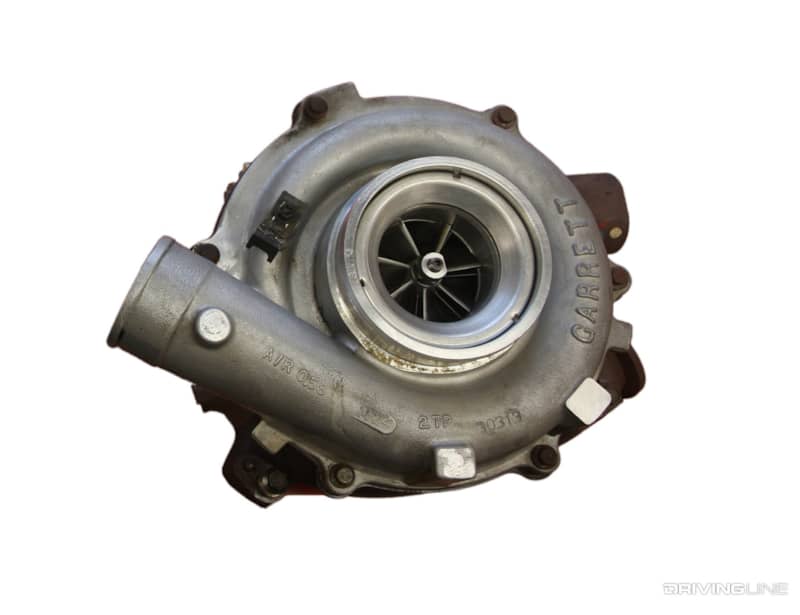 Also helping to meet emission standards, but with the added benefit of instant throttle response was the variable geometry turbocharger packaged in the lifter valley. Produced by Garrett, the GT3782VA made use of a PCM-commanded VGT control valve and variable vane technology on the turbine side of the turbo to control exhaust flow. During low engine rpm operation, the vanes close to increase back pressure (also increasing exhaust gas energy) and the turbo performs like a much smaller turbocharger. During high throttle demand and higher engine speeds, the vanes open, thereby allowing the turbo to act like a much larger unit.
The Perfect Companion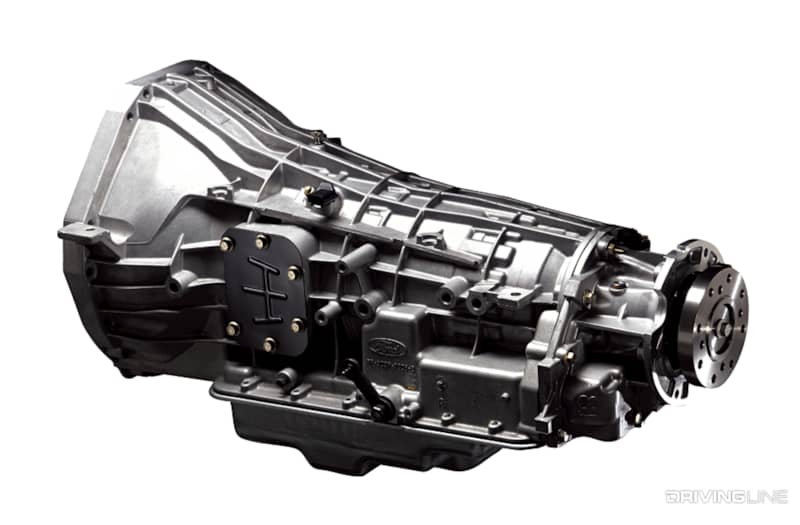 One of the biggest highlights to grace Ford trucks in '03 was the five-speed 5R110W automatic that was optional and extremely well matched to the revy 6.0L engine. Coined the TorqShift, the transmission featured adaptive shift schedule technology, an integrated Tow/Haul function and a torque input capacity of 1,100 lb-ft. Though it was technically a six-speed, the fourth gear ratio was only used during cold weather warmup.
The New H.O. Cummins Option: the 5.9L Common-Rail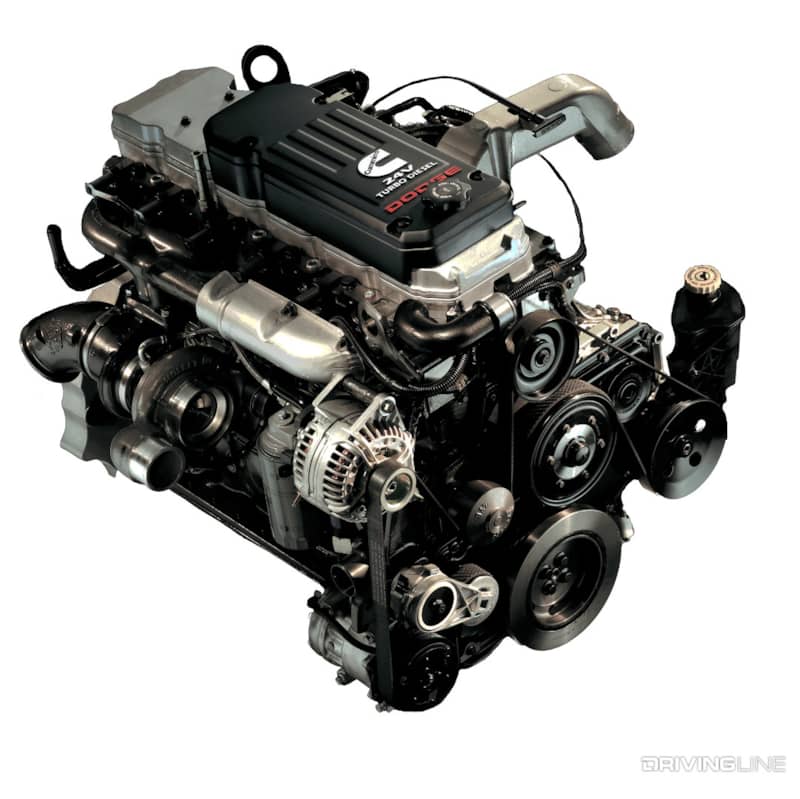 Cast with a stronger iron block and a revised head, the common-rail version of the 24-valve 5.9L Cummins was a winner right out of the gate. And although it was billed as Dodge's high output version when it debuted in '03, by '04 its 305 hp and 555 lb-ft rating would become the standard engine option. Looking at the '03 model year numbers on paper, the 5.9L came up short when compared to the 6.0L Power Stroke, but out in the real world having 555 lb-ft of torque available at just 1,400 rpm was undeniably more usable. The 555 lb-ft rating was likely more transmission-limited than Cummins' throttling things back. After all, low-end torque is what shreds torque converters and clutches—and the common-rail 5.9L had plenty of it.
21st
 

Century Injection System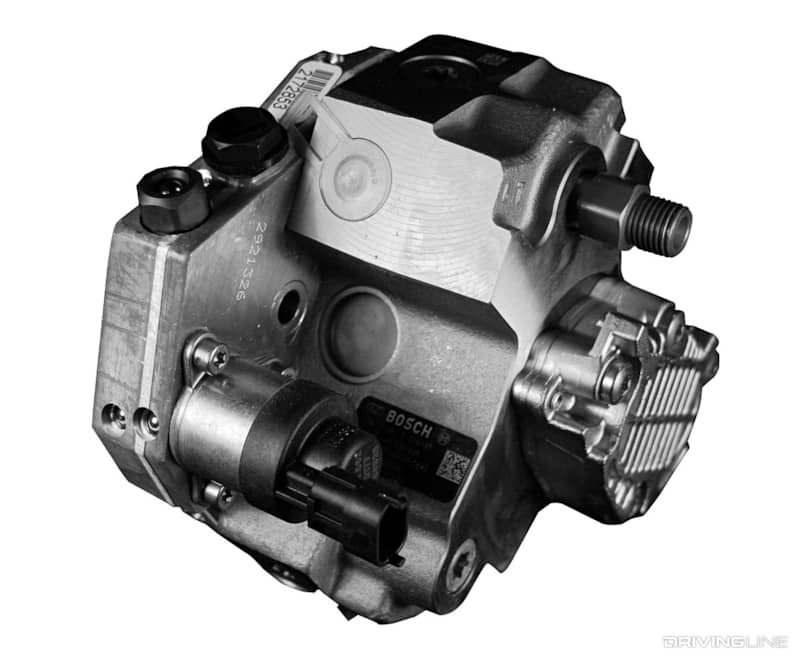 Tapping into the same technology being used on the newly-arrived 6.6L Duramax, Cummins sourced the 5.9L I6's high-pressure common-rail fuel system from Bosch. Among the cutting-edge components was a CP3 injection pump capable of pressurizing fuel from 10-psi to more than 23,000 psi before sending it off to be stored in the fuel rail. When called upon, six solenoid valve style injectors sent fuel through their 8-hole, 143-degree spray angle nozzles and onto the piston beneath them. As with the system employed on the Duramax, the Cummins benefitted from a pilot injection event in addition to the main event during each combustion cycle. As a result, the 5.9L common-rail was the quietest Cummins to date.
Subtle Changes After Its Debut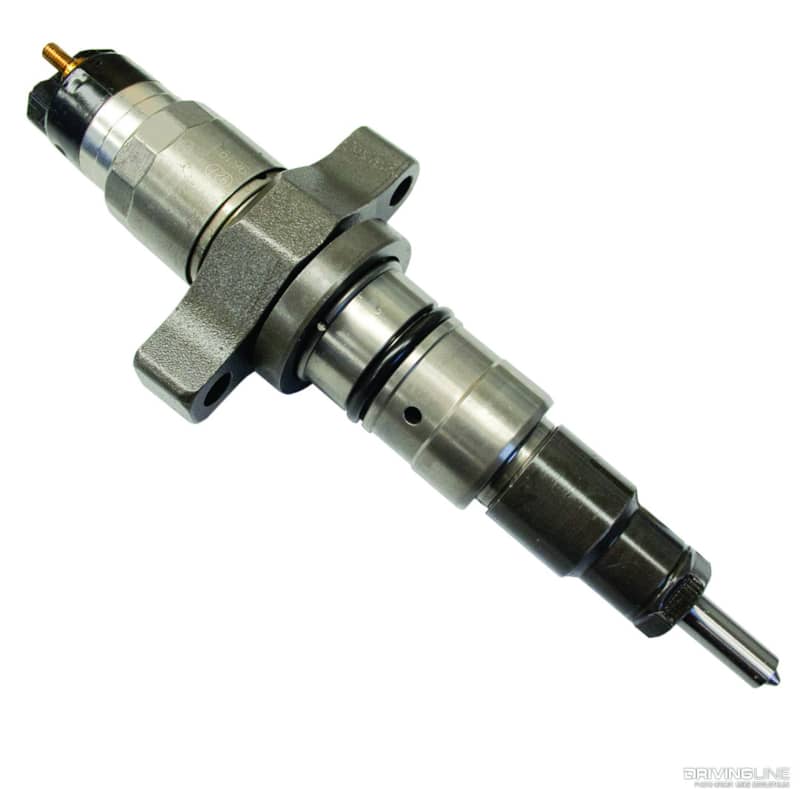 Even though federal emissions versions of the 5.9L Cummins would never see EGR throughout the engine's entire production run ('89 to '07), Cummins had to make several changes on '04.5 model year engines in order to meet new emissions regulations. Among them was a tighter, 124-degree spray angle from the injectors, which called for revised pistons. The fixed geometry Holset HE341CW turbocharger also had to be scrapped in favor of the Holset HE351CW, which with its electronic wastegate could more precisely control the boost-to-drive pressure ratio the engine needed to see. During this period, the 5.9L was also treated to a higher horsepower rating and 600 lb-ft of torque. More on that next time.
Now that two out of three manufacturers had turned to common-rail injection in their diesel engines, the potential for future growth was endless. Join us next time, as we continue to track diesel's progress toward 1,000 lb-ft.
Until then, enjoy some light-reading on where this series is headed here.