Blank Slate: 740hp in a Blown S550 Mustang
Modifying a new car model can be a bit of an undertaking for the unaccustomed. Traditionally, the first thing an enthusiast will do with a new-to-him/her car is to the check the forums for the latest parts, identify what parts fit well, make good power and allow for a trouble-free installation. When the car is only weeks old however, that level of convenience just isn't possible. The community requires pioneers that are willing to step out on a limb and act as a test bed for tuners.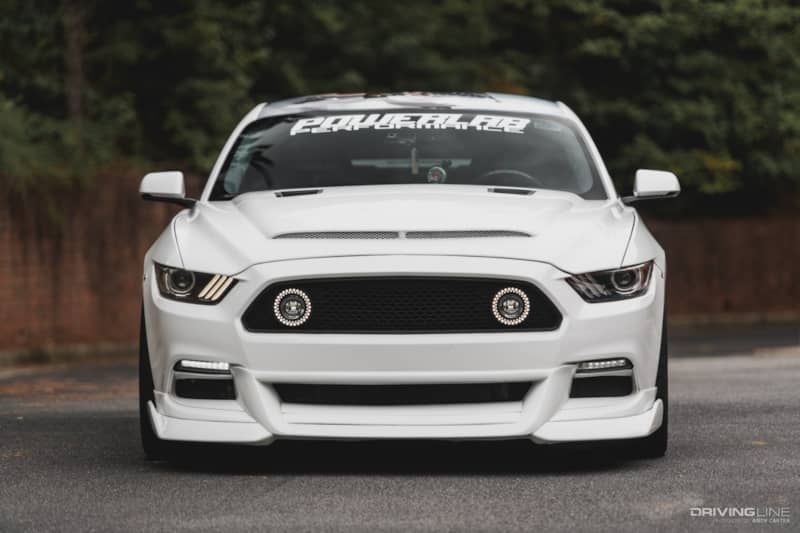 Not His First Mustang
George Atchison was no stranger to the Mustang, having previously owned and modified a 2005 GT. As rumors started to swirl about the latest redesign of the classic pony car, however, the temptation to upgrade set in. After a visit to the dealership for a test drive, he was sold on a 2015 model. All of the updates to the S550 (the chassis name for the sixth generation Mustang), including the independent rear suspension, interior and ICE tech bits, made the jump an easy decision. The carryover Coyote V8 was already a proven performer, so engine reliability would not be a concern, and tuners also wouldn't be completely starting from scratch as they developed products for the new generation.
Power Adders
The first big modification to his new Mustang was the installation of a Whipple 2.9 Supercharger. George asserts, "The Whipple supercharger has been an absolute blast to own. The power and torque is a joy to have on the street compared to other boosted applications I've owned." The entire package was installed by Atlanta-based Powerlab Performance and has been tuned to make a healthy 741 horsepower and 575 ft-lbs of torque. The supercharger's performance is bolstered by a 3.5" pulley, custom-painted Whipple fuel rails, and ID1000 injectors. Long tube headers and a MBRP Race catback exhaust the spent gases, popping and crackling in the absolute best way. A Competition Clutch insures that all of that power makes it through to the factory six-speed transmission.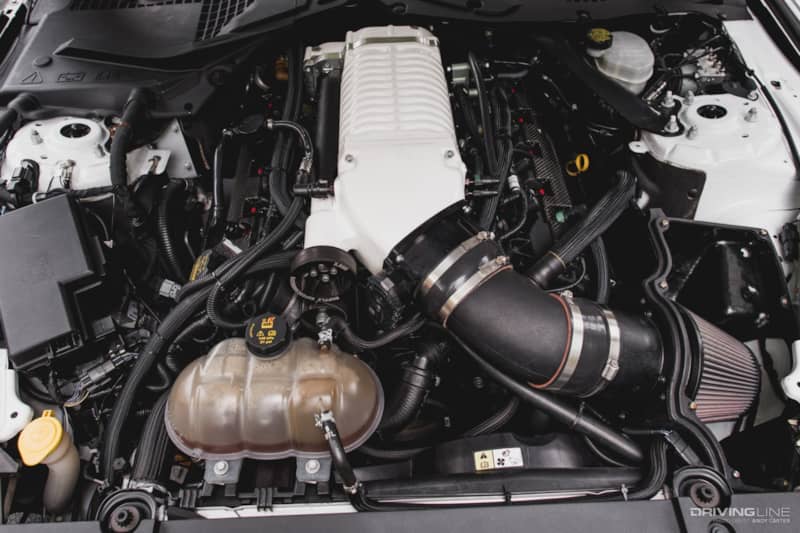 Wheels and Tires
Already through seven sets of wheels since purchasing the Mustang, George finally landed on a set of American Racing Crossfire AR924 flow-formed wheels, 20x10.5 in the back, and 20x9 up front. This design represents the latest move from the classic brand, American Racing, and shows they are paying attention to the modern domestic enthusiast. A set of Nitto NT555 G2s (295/35/20 | 275/35/20) make sure all of that power makes it to the ground, while providing a stable, comfortable and quiet daily drive.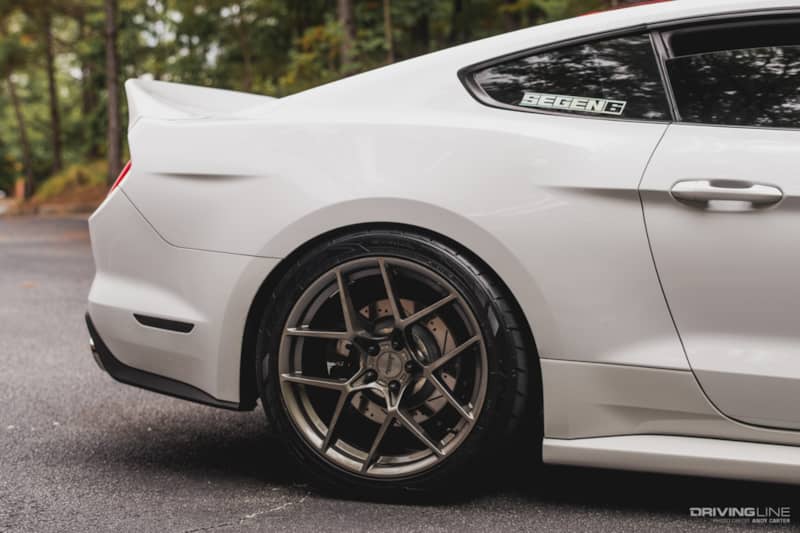 Exterior Mods
George knew that the exterior of his car had the match the aggressive transformation in performance. All sides of the car have been attended to, with a BMC Extreme Mamba hood, Cervinis Stalker front lip, MMD side skirts, and an Ikon duckbill wing. An undeniably 'Merican roof wrap keeps things about as fun as George Washington with a machine gun can be.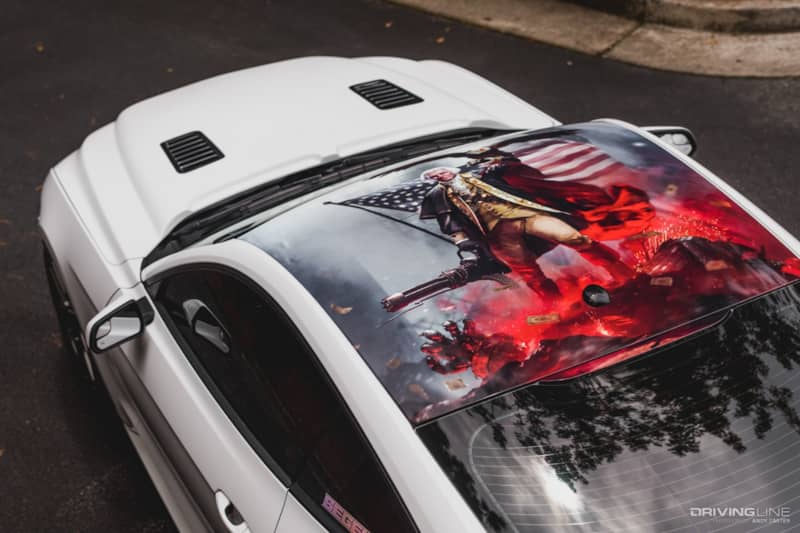 Interior Transformation
One of the largest transformations however, can be found inside. With the modernization of car interiors including various airbags, sensors, and other electronics, many tuners will defer modifications, settling for a couple of easy add-ons to personalize things without causing too much trouble. This Mustang, however, was destined for something greater. Working with JPM Coachworks, a now defunct Atlanta auto upholstery shop, the entire interior has been recovered in OEM-grade Alcantara and double-diamond stitching. The result is breathtaking, and gives this pony-car an aesthetic that shoots way above its pay-grade. A set of Corbeau FX1 PRO seats blend right in, adding more function to the transformed cockpit.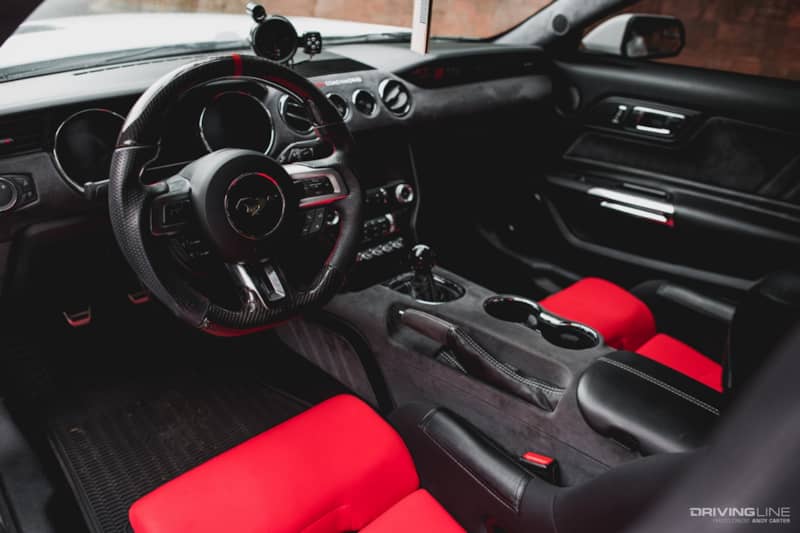 Looking forward to the future, George admits that the temptation for more power is always there. With a tune for E85, the car could make power well into the mid-800s, but that could prove problematic for a stock transmission. He admits, "Finding that balance of power and enjoyment has been a fun challenge as I've never dreamed of having a car that felt like this." Whether that boost happens or not, one can safely assume that George isn't anywhere close to being done with this car. He has enjoyed chronicling this project on Instagram as @nemesis5.0, and has also established two local online communities for Southeast S550 owners. And that's one of the great things about starting with a new platform. A blank slate might be harder, but the rewards from both the formation of a community, and the joy of seeing something that previously didn't exist come together is unmatched.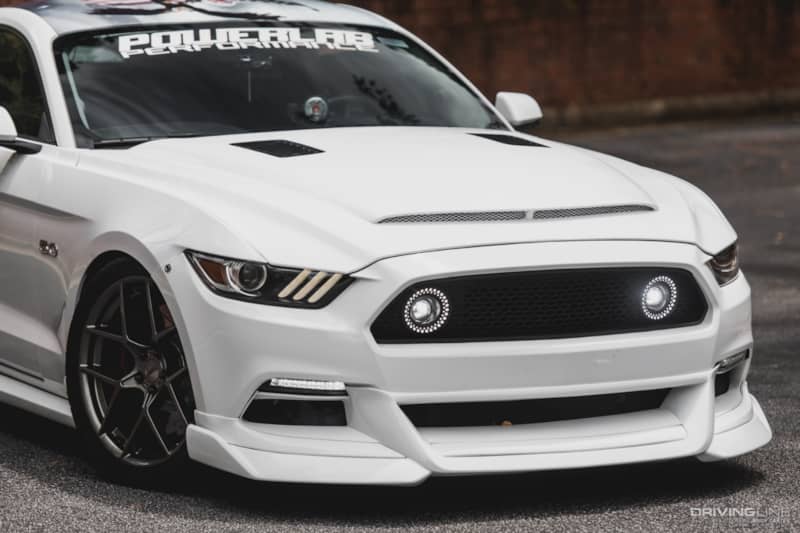 For more shots of George's Mustang, don't forgot to check out the gallery below.
If you need another dose of S550, don't miss Jeremy Lopeman's wide-body Mustang!