Budget Diesel Mods: 6.4L Power Stroke
The 6.4L Power Stroke brought a whole new meaning to the words "plug-and-play." Thanks to being equipped with quick-firing piezoelectric injectors, a high-volume injection pump and compound turbochargers from the factory, the 6.4L has arguably the best out-of-the-box potential of any diesel to ever grace the pickup segment. With custom-tailored tuning, the average '08-'10 Super Duty can be taken from a measly 280rwhp to a Camaro-killing 580rwhp (along with an earth-rotating 1,200 lb-ft of torque). Granted, at $1,500 the 6.4L is a little more expensive to unlock than its predecessors (the 7.3L and 6.0L), but you get a lot more for the money. Take it from us, it's pretty cool watching a tune-only, standard cab F-250 run mid-12's in the quarter-mile.
Beyond the initial $1,500 hit, small tweaks in airflow (intercooler piping, intake elbow) and fueling (ported fuel rails) can help you creep past 600rwhp on the OEM turbochargers and injection system. Not bad, eh? Perhaps the best part is that—in most trucks—the factory 5R110 TorqShift automatic handles the added power quite well. However, and as you'll find out below, pressing beyond this point requires you to spend some pretty big bucks. If 600hp simply won't suffice, fear not, as we'll clue you into what you need to do to keep your 6.4L reliable as you pursue even loftier goals.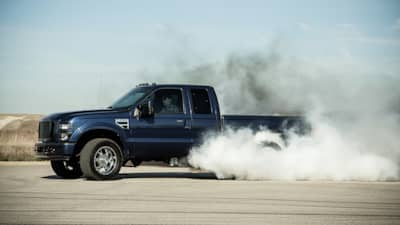 Stick around to find out what the cutting-edge 6.7L Power Stroke is capable of next!
Things to Keep in Mind:
These horsepower recipes assume the truck you're working with is in good overall health (injectors, lift pump, turbos, up-pipes, transmission).
Without head studs, blown head gaskets can result with a hot programmer in the mix.
Each budget assumes you're starting new, with a bone-stock truck.
The labor to have these parts installed has purposely been excluded.
Warning: Things get expensive, fast, once you begin to venture past 600rwhp.
$1,500 Budget (550–580rwhp)
Custom Tuning: $789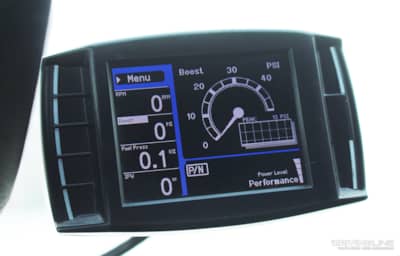 Similar to the 7.3L and 6.0L Power Stroke, custom tuning allows you to get the most out of your injectors. In the 6.4L's case however, an incredible 550 to 580rwhp can be made with custom tuning in the mix. This is because the 6.4L Power Stroke makes use of a common-rail fuel system that employs lightning-quick, piezoelectric injectors and a Siemens K16 high-pressure fuel pump that outflows a comparable Bosch CP3 by 20 percent. On top of that, the engine benefits from compound turbocharging right out of the box. All of the above is a perfect recipe for making big power. (For reference, most '08-'10 6.4L-powered Super Dutys make 280 to 290rwhp in bone-stock trim).
Race Exhaust: $430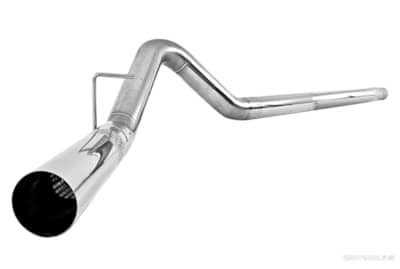 An aluminized, 4-inch diameter, turbo-back exhaust system is the most affordable path to opening up flow on a 6.4L Power Stroke. While aluminized exhaust systems don't hold up as long as their stainless steel counterparts, those living in the rust belt can still expect to get a solid, 5-6 years out of them.
S&B Cold Air Intake: $299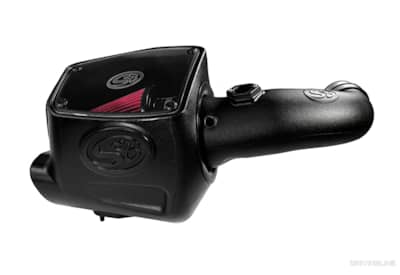 This is one of the most popular cold air intakes for the 6.4L. For the price alone, you simply can't beat it. With a gain of 10 to 20hp, you won't feel it in the driver seat, but this system eases serviceability, matches or exceeds the factory filtration standard and offers an oiled air filter option, which means it's reusable.
$2,300 Budget (600rwhp)
Cold Side CAC Pipe and Intake Elbow: $439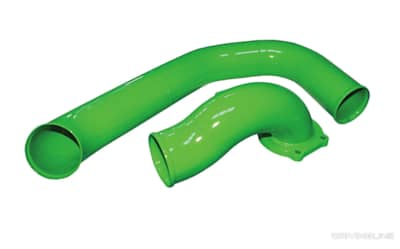 The 6.4L responds extremely well to subtle airflow mods. Pusher Intakes' intake system for the '08-'10 Fords replaces the restrictive factory cold-side intercooler pipe (passenger side) with an unobstructed, 3-inch diameter pipe and a smooth-transitioning intake elbow. During testing, Pusher's components provided a 42 percent increase in airflow over the OEM pieces.
Stage 2 Ported Fuel Rails: $300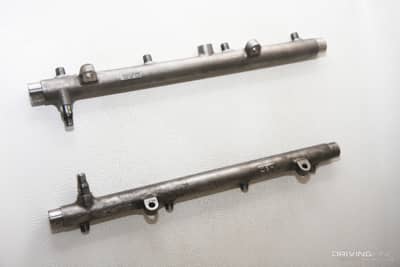 Once a big horsepower tune is introduced, the 6.4L's fuel rails are on the verge of being completely drained during prolonged instances of wide-open throttle. For a 25 percent increase in rail capacity, Elite Diesel Engineering offers Stage 2 rails, which adds a few more ponies to the mix and also helps improve responsiveness. When used in conjunction with the freer flowing cold-side intercooler pipe and intake elbow mentioned above, an extra 25 to 30hp and 80 lb-ft of torque can be gained (at the wheels).
Custom Tuning (Mentioned Above): $789
Competition Exhaust (Mentioned Above): $430
S&B Cold Air Intake (Mentioned Above): $299
$3,800 Budget (600rwhp)
Head Studs & New Head Gaskets: $829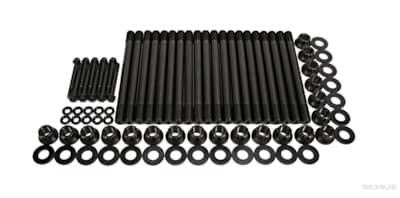 At 600 rwhp, you've played with fire long enough… Stud your engine! Just make sure you have the heads inspected and resurfaced by a reputable machine shop during this process—and don't forget to make sure that your block's deck surface is still within spec. Sinister Diesel offers one of the more affordable kits on the market, which includes ARP head studs and OEM Ford head gaskets.
Fuel Supply System: $721.05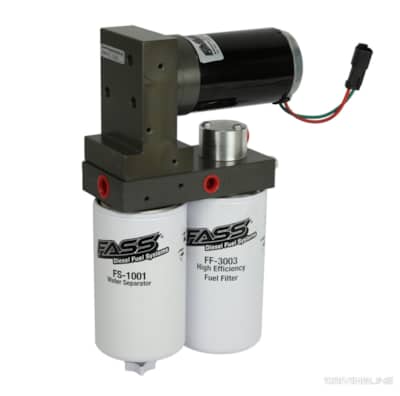 While the factory lift pump can support the high horsepower tunes that allow a 6.4L to clear 600rwhp, there is no denying it's on the ragged edge when doing it. On some trucks, we've seen lift pump supply pressure fall to 0 psi by the end of a run. If left unaddressed, this will eventually kill both the lift pump and the expensive high-pressure fuel pump. Better safe than sorry here. With stock injectors, a 165 gph Titanium series FASS system will have no problem maintaining 10-12 psi of supply pressure under any circumstance.
Cold Side CAC Pipe and Intake Elbow (Mentioned Above): $439
Stage 2 Ported Fuel Rails (Mentioned Above): $300
Custom Tuning (Mentioned Above): $789
Competition Exhaust (Mentioned Above): $430
S&B Cold Air Intake (Mentioned Above): $299
$13,000+ Budget (650–675rwhp)
Drop-in Atmosphere Turbo Upgrade: $1,249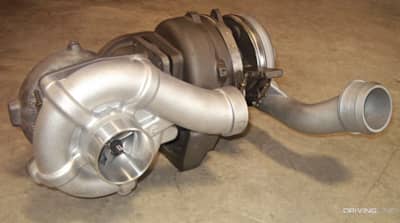 With the right fueling and tuning, River City Diesel's 72mm drop-in atmosphere turbo can support more than 700rwhp. Built using the OEM-based, low-pressure BorgWarner charger employed in the 6.4L's factory setup, it features a billet, 7-blade compressor wheel with a 72mm inducer (vs. 65mm stock). In addition to yielding a considerable power gain, peak operating EGT will be reduced as well.
Drop-in High-Pressure Turbo Upgrade: $1,499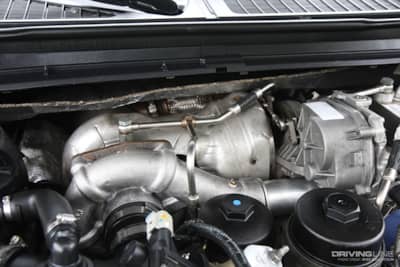 Like its atmosphere unit, River City Diesel's high-pressure drop-in turbo replacement is based on the OEM BorgWarner charger and sports a larger compressor wheel. In this case, a billet, 7-blade wheel with a 59mm inducer is used (vs. 52mm stock). Being factory-based, this turbo also retains variable geometry functionality for instant transient response.
Built Transmission: $6,500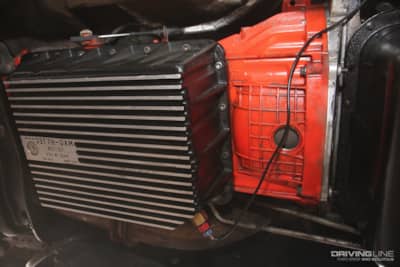 Both Elite Diesel Engineering and Midwest Diesel & Auto offer built versions of the factory 5R110 TorqShift automatic in this price range. Either one will handle 700rwhp and regular tow duties without breaking a sweat.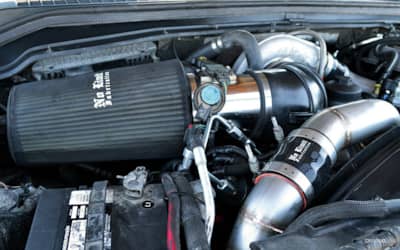 With larger drop-in turbo options capable of outflowing most cold air intakes on the market, it pays to upgrade to a cold air intake that's better suited for supporting higher flowing turbochargers. In testing, No Limit's intake has proven capable of supporting 30 more hp than competitive aftermarket intakes.
Head Studs & New Head Gaskets (Mentioned Above): $829
Fuel Supply System (Mentioned Above): $721.05
Cold Side CAC Pipe and Intake Elbow (Mentioned Above): $439
Stage 2 Ported Fuel Rails (Mentioned Above): $300
Custom Tuning (Mentioned Above): $789
Competition Exhaust (Mentioned Above): $430