Custom Track-Ready, 650hp 2019 Corvette C7 Z06
A few weeks ago Christian Hudnell brought his 2019 Corvette Z06 to Willow Springs and duked it out with Paul Aquino's Evo X in an episode of Driver Battles Time Attack. At day's end he emerged victorious, but since he was so new to the track (and still learning his car), we thought there was more to learn about both of them. Hence why you're reading this custom car story right now.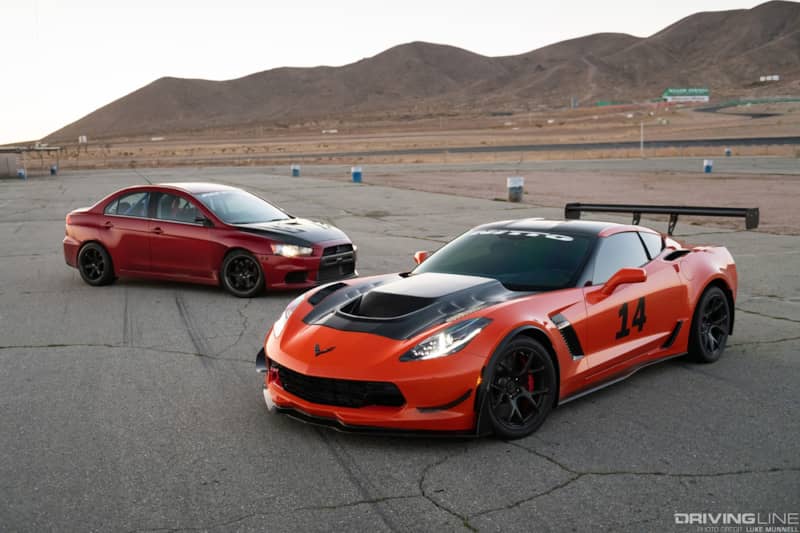 Need for Speed
Christian's love for go-fast fun goes all the way back to when he was a playing Need for Speed as a kid around age seven. Who says nothing ever came out of playing video games? "So many things drew me to motorsports," he says. "I was a big fan of Formula 1 as a kid and circuit racing, too. Then the first Fast and Furious movie came out. I always wanted to drive as kid." All of that gaming and TV-watching in the early 2000s laid the foundation for the car you see before you. From there, Christian entered into this thing called "adulthood" and started working. That gained him this other thing called "money" which allowed him to start building cars, driving them, and then track racing. Now, track time is a big passion for him.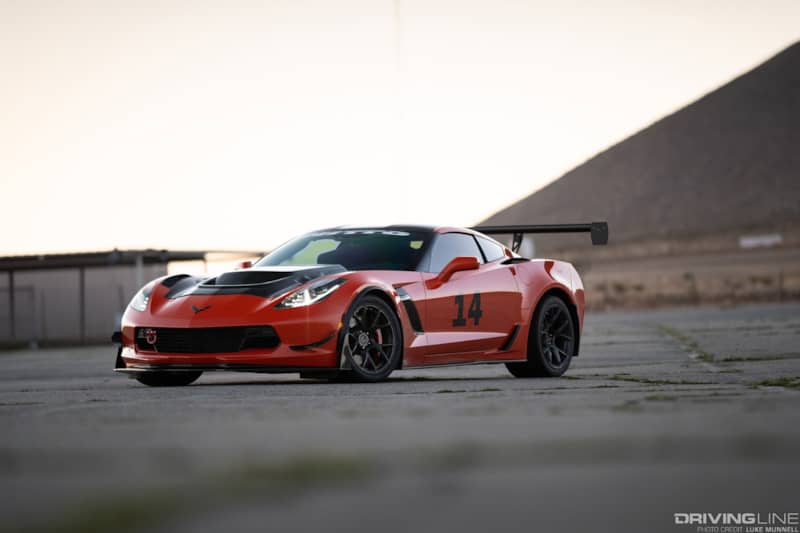 American Beauty
One of the cooler cars from Christian's childhood was, of course, the Corvette: "My neighbor had an '03 Corvette. I always thought that they looked cool, like an RX-7 to me. When the C4 came out in the '90s, I was big into Japanese cars, then I saw the Vette and thought, 'It's like the RX, only American.'" Moreover, he loved the Corvette and Camaro body styles. In his twenties, Christian got his own C6 corvette for a few years. That is, until he met the C7 at the LA Auto Show and made it his mission to get the racing version. " I'm a really big Corvette guy," he tells us. "All of my sports cars are Corvettes now."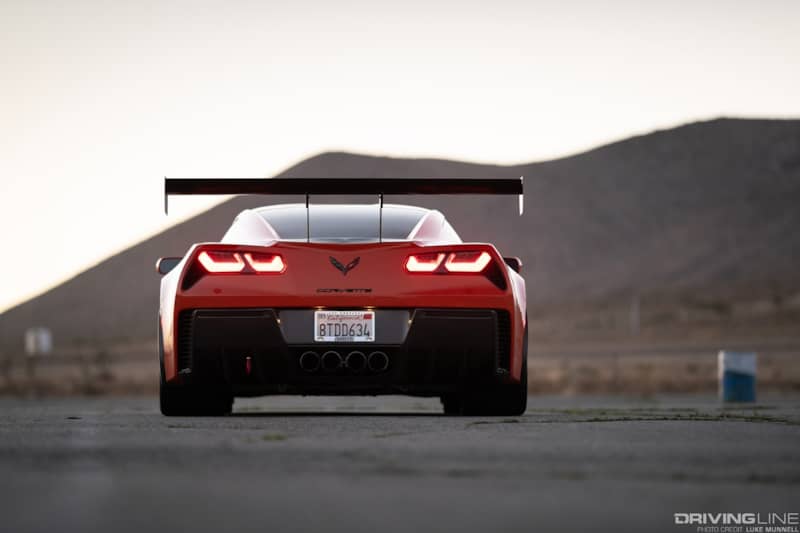 Need for Speed II
When Christian got his hands on the 2019 Corvette Z06 (aka Top Gun, as he named it), he wanted to make it as fast as he could get it to go while still being safe to drive in Global Attack and Grid Life events. It was already a solid platform but he found himself asking, "How can I improve lap times and make it the best competitive track car I can?" Everything that's been done to it in the short time he's owned the car was changed with that question in mind. PK Auto Design and Excelsior Motorsports figured very prominently in making it all happen.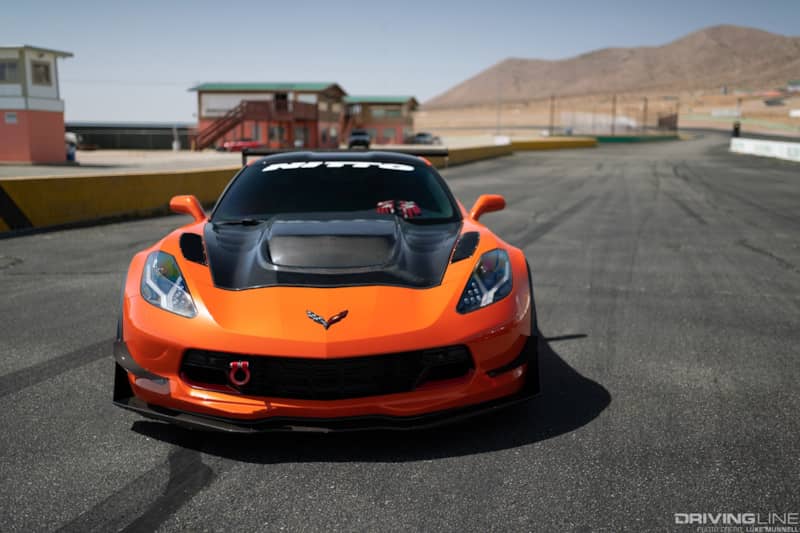 Tune In
We should say, consistently better lap times. Reliable handling on the track gives you greater control, which means more consistent racing, which means better lap times overall. Christian changed out the suspension and tires with just that in mind. "I went with DSC for the suspension," he told us. "They aren't the most well known company but the owner used to do tuning with Porsche's motorsports team. He has all this knowledge about their adaptive suspension and thought, 'So what if we took that tuning and technology and sold it for other vehicles?' That's what went into his business, and now, my car. The suspension is all tuned off of his programming, so it's adaptive to .0001 seconds. It's never stagnant like a traditional shock setup. From there I have the LG sway bars because I wanted the chassis to be stiffer to keep it tight together.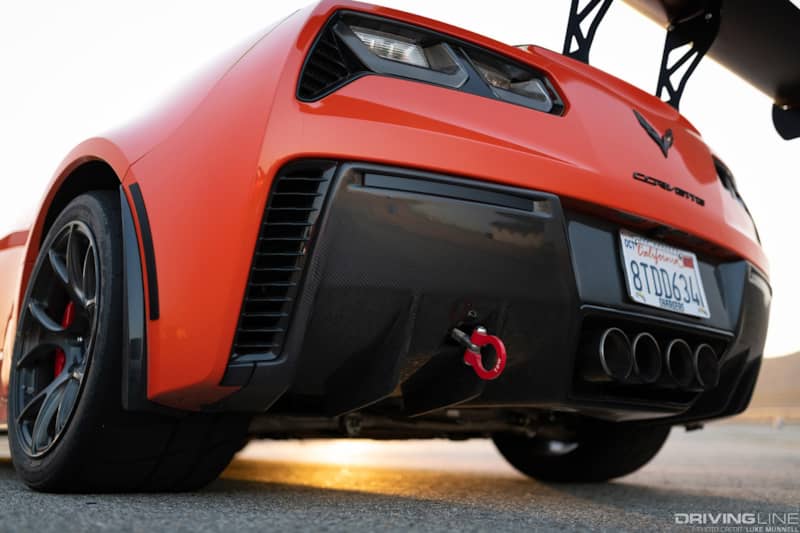 Other than that, he still runs the same for the arms. "The fully the adaptive suspension is probably number one for me. I also love that the Corvette has active Revmatch. In a track situation I think it's the best of both worlds between an automatic and a manual. There's situations where it saves you split seconds. The seats would be number two."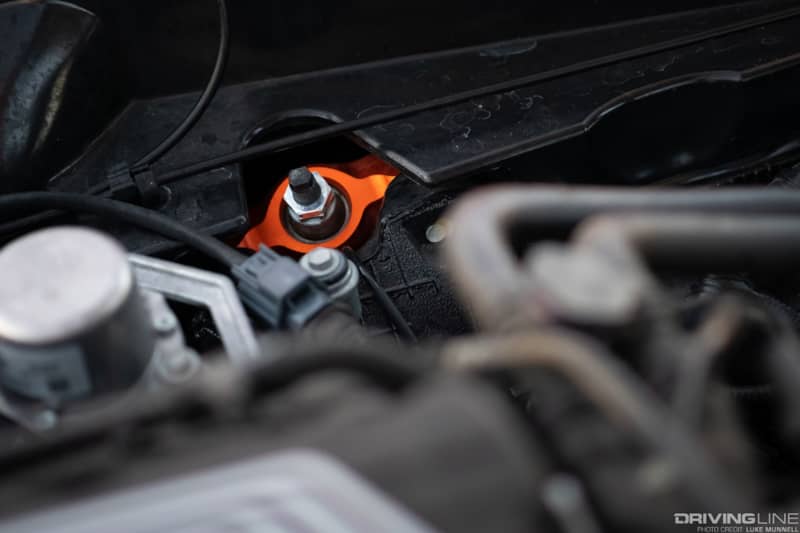 Feelin' It
But another major player in Christian's better and better lap times would be the Nitto Nt01 tires. He tells us, "I love the consistency. I've had others but there's something about the NT01s that makes them feel very consistent. If I do ten laps, they give me the exact same feedback on all of them. If I do hot laps from 2 to 10, they're consistent all the way through. As a track racer, I value that because it lets me know what I need to work on at all parts of a track. Second would be the tread level. It lasts a good amount of time. I've done two track days on them and there's still a lot of tread left. When you can find consistent tries that keep a lot of tread, get them. I feel safe on these tires. The performance is awesome." His Corvette packs 350/30/18's up front with 335/30/18's in the rear. All four ride on BC Forged wheels.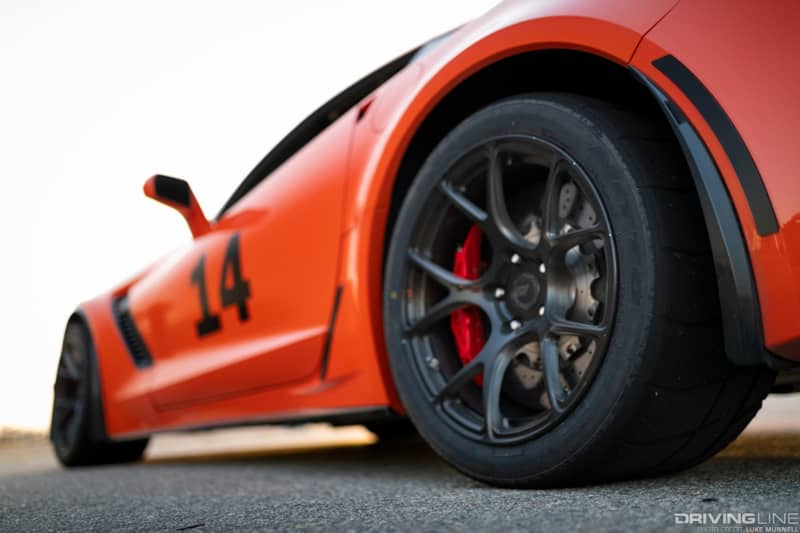 With some performance customs the interior is almost an afterthought. Not so much, here. Christian Hudnell realized the importance of a control center tailored to the driver. And when he first started pushing his 'vette at the track, the stock cockpit had him slipping and sliding in the seat. That's good at a strip club. Not so much fun when you're running car jockey at a racetrack. He solved the problem with a Teamtech seven-point harness and Racetech Halo seat. He says that they really hug you and keep you planted,akes the ride which makes the ride feel better. For him, it no longer feels like a seesaw and feels stable like a rollercoaster. Which makes sense; both are thrill rides...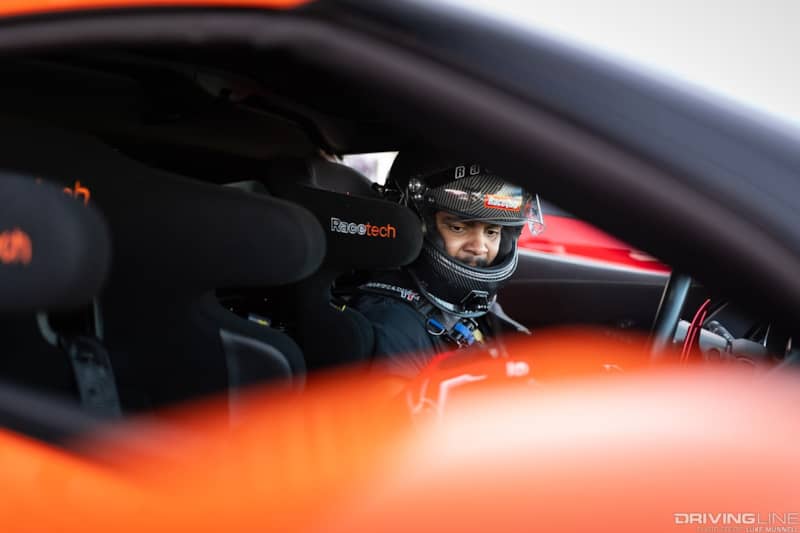 Big Power, Low Weight
Corvettes being Corvettes, they make gobs of horsepower straight out of the box. However, there's always room to tweak any car toward more purposeful driving versus just general running around. Seeing as Christian's Corvette is almost entirely dedicated to track circuit racing and driving, he made some key changes to the power equation to reflect that: "I shed weight with things like the carpeting and so on. From there I was like, 'Okay, let me add some more cooling because it's running hot. So I put in a new oil cooler; you can never have too much cooling in these cars.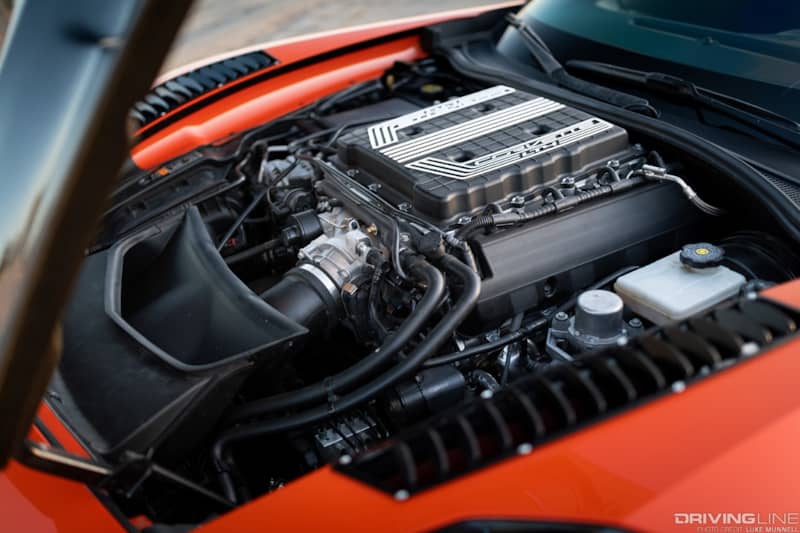 Now I'm working on a new front bumper/splitter for better flow and aerodynamics." Other changes include a Ron Davis Racing Radiator, AFE Catback exhaust, and Excelsior Motorsports distributor. Another way Christian shed weight (and probably cash) was through a healthy fiber diet. This would be of the carbon fiber variety in the form of a 72-inch Excelsior Motorsports Dry Carbon Chassis Wing, APR canards, and a diffuser from Anderson Composites.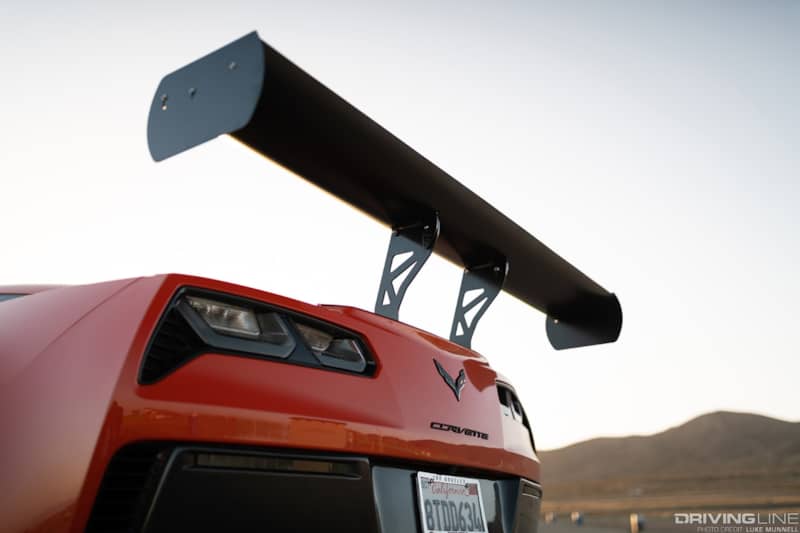 In the end, all of these changes added up to a really hot rocket of a car. It took him a second to narrow down what Christian Hudnell likes most about his Corvette. But only a second: "The feel. I think Corvettes' most underrated aspect is that you really feel the road itself. I just love the feel of the car, the road, smoothness, turning in. It's very easy to see over it, too. You have to love the way its center of gravity feels. Second for sure would be the distinctive Corvette sound that makes it. The third thing would be the looks. It's a very distinguishable car."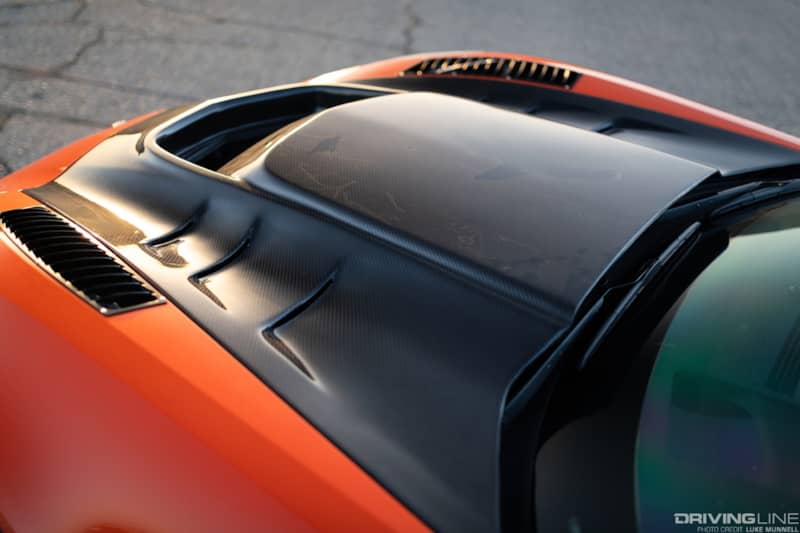 With such a powerful setup and such tuned-in control for the driver, you'd better believe Christian learned a few things from that track day at Willow Springs. "I picked up so many things. I learned just about how different cars have different lines regarding entrance and exit speeds. I now look through the turn and into the next one. Talking to the expert drivers there helped me. With the brakes, I used to have a hover point where I wouldn't gas or brake. To be faster, it has to be one or the other. Don't hesitate. Learning to analyze things like different brake zones was another, as was learning about tire pressures for the conditions."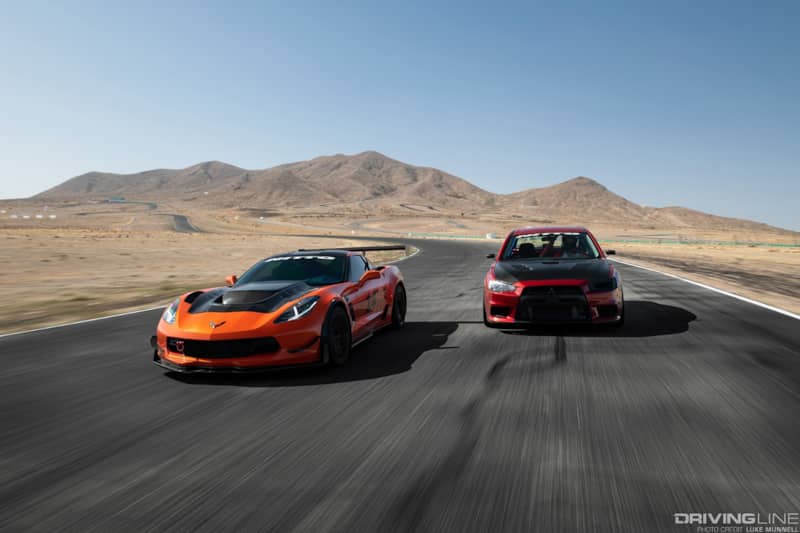 Will there be another Corvette in Christian's future? Probably but not just yet. He's having too much fun learning the Z06 he has now. And who can blame him? He waited his entire childhood to play with the big kid toys. There's no rush. Unless he's at the track.