The Best of Driver Battles 2021: Racing New Supras, a McLaren, an Evo X, a Corvette and S2000s and More
Last year was ugly for a lot of things but Driver Battles wasn't one of them. Both at the drag strip and the race track, we pitted some pretty cool cars against each other in fun and different ways. Or rather, you did. Driver Battles' heads up race-offs are by enthusiasts, for enthusiasts, who all get out from behind a keyboard and run what they brung where it counts: the real world. If you'd like to get in on the action, take a trip over to our entry form and fill it out. But before you do that, here's a breakdown of our favorite Driver Battles of 2021.
While we really enjoyed all of last year's Driver Battles a great deal, these first three stood out as some of our favorites because of how close they were or how much we enjoyed hosting them.
3. Honda S2000 vs McLaren 720S
Three tenths of a second. That's how close this duel of Driver Battles: Drag Edition was back in January.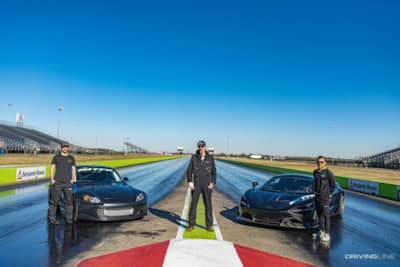 Or, as it was described at the time, "Of all the quarter mile drag racing we've had at the Texas Motorplex, this by far the most intense." Kenny Tran's daily driver is a 2018 McLaren 720S that faced off against Stuart Leiby's very heavily modified 2001 Honda S2000. Relive the excitement here.
2. BMW E46 M3 vs Nissan 370Z
Allison Leung's and Michael Hillo's Driver Battle at Willow Springs was so close that the two best times were less than a second apart.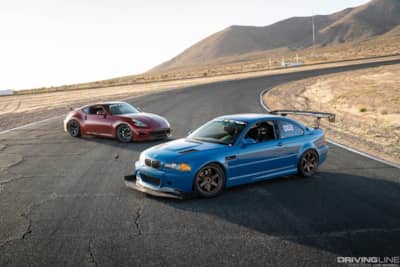 Both drivers had some seat time at this track, both vehicles were pretty evenly matched. Allison piloted a 2001 BMX E46 M3 against Michael's 2015 Nissan 370Z. Oh, and did we mention that the competitors were also in a relationship, with the loser picking up dinner? Watch this lovers' tiff-on-asphalt on YouTube and see who got fed.
1. Honda S2000 vs Toyota Supra
Nimbleness and experience faced off with higher power in this Time Attack at Willow Springs. 
It was 2020 Toyota Supra driver Hana Burton's first time at the track with her slightly modified ride (primarily aero gear and shock springs) and she didn't disappoint. For her first time, she really impressed both us and competitor Matt Rojana. Her heavier car packed more power than his Honda S2000 but with many track sessions under his (and his car's) belt and the advantages a lighter car brings to bear, this edition of Driver Battles was surprisingly close.
Honorable Mentions
While the duels below didn't make the top three for various reasons, they were a ton of fun just the same. 
BMW E36 M3 vs NC Mazda Miata
Y'all talk up a good game in the comments, then Driver Battles get you to play out that game where it counts: at the track. Just like in this Time Attack clash at Chuckwalla Valley Raceway between Frankie Ho's NC Mazda Miata and Bailey Woods' BMW E36 M3.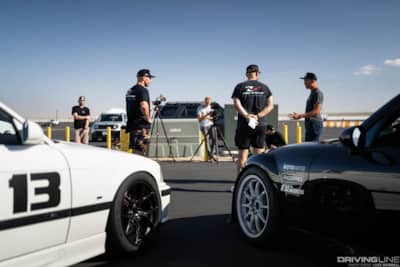 While that sounds like a lop-sided duel, factors like power to weight ratio, tire size, aero vs non-aero, and the drivers themselves make for a much more level playing field, as you'll see in the results when you watch the video.
650hp Corvette Z06 vs 400hp Mitsubishi Evo X
This duel was both fast AND furious. Christian Hudnell pitted his 2019 Corvette Z06 against Paul Aquino's far-from-stock 2008 Mitsubishi Lancer Evo X. Both drivers loved their Nitto NT01 tires and you can read Christian's review of them here.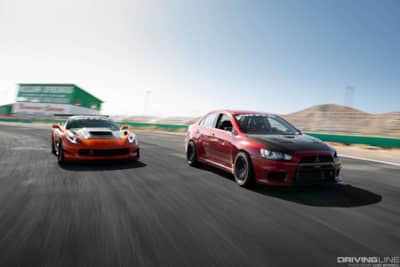 The two cars are separated by a 250 horsepower deficit but Aquino's greater familiarity with Willow Springs racetrack definitely made a difference, but was it enough to overcome Hudnell's American missile on wheels? Watch and see.
2020 Supra Supremacy Face-Off
More often than not we pit two very different cars against each other for Driver Battles but what makes this race-off different is that we had two of the same model but with different modifications battling it out.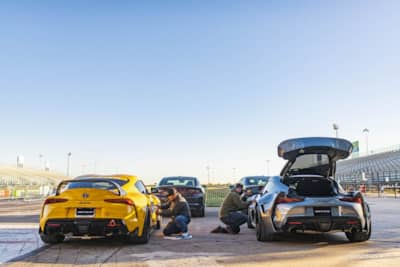 Owners Vinh Trieu and Trevon Messina both raced 2020 Toyota Supras back in February, with a 70 horsepower difference between them. The bigger difference came down to operator error, though as you'll see in the video.
For as great as the 2021 Driver Battles were, we're really looking forward to bringing you more of them here in 2022. So get over to that form and get it filled out!