Diesel Sleepers, Vol. 3: 5 More High-Powered Oil-Burners Hiding in Plain Sight
It's time for another round of diesel sleepers. That's right, one more in-depth case study shining a light on just how common it is for oil-burning, four-ton pickups to make big power. Yet again, each truck profiled below is 100-percent streetable, with several serving as daily drivers or tow rigs. They can eat muscle cars on Sunday and be right back at work come Monday—and do it all under the guise of appearing stock. The Power Stroke-equipped Fords and Duramax-powered Chevy's on this list can dupe, deceive and then demolish the unsuspecting competition as well as any group of sleeper's we've seen.
By intentionally forgoing attention-grabbing cosmetic changes like flashy wheels, high-dollar paint and exhaust stacks, the owners of these vehicles focused instead on making sure they never see taillights. And, judging by the fuel, air and hard-part upgrades they've made (which we've spelled out below), they likely never will. Their intentions were deliberate—their trucks mean business and this is their story.
1. 850-RWHP 7.3L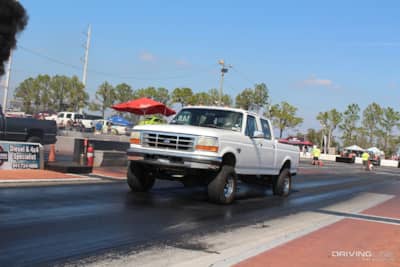 Matt Maier's lightning-quick '97 F-250 sits at the top of our list for several reasons. First, it's the fastest—having gone 7.0 in the eighth-mile and made countless low-11-second passes in the quarter. Second, it can normally be found wearing all-terrain tires mounted on the truck's original 16x7-inch Alcoa wheels. Finally, it's the ultimate underdog in that it's powered by a 7.3L Power Stroke—an engine that left the assembly line making 225 hp at the crank. Thanks to having all the right parts in all the right places, Matt's OBS Ford has become one of the top diesel index racers in the country (namely competing in the 12.0 Index category). And even though it belts out 650-rwhp on fuel and 850-rwhp on nitrous (huge power for a 7.3L), it's still daily driven.
The Parts List
Matt's parts combination isn't as exotic or high-end as you might think. A set of Full Force Diesel 350/200 hybrid injectors and dual high-pressure oil pumps take care of the HEUI system's performance needs, while an Irate Diesel Performance T4 turbo mounting kit allows a proven BorgWarner S467.7 turbo to be utilized. A Dorsey Diesel Stage 4 E4OD transmission handles the shifts and Gearhead Automotive Performance tuning ties everything together. While the 7.3L in Matt's F-250 sports a built bottom end at the present time, he did run a stock forged-rod bottom end at the same power level for years—including when he set the current 7.3L horsepower record of 1,226-rwhp while aboard the chassis dyno (in which roughly 600 hp worth of N2O was used).
2. Duramax-Powered C10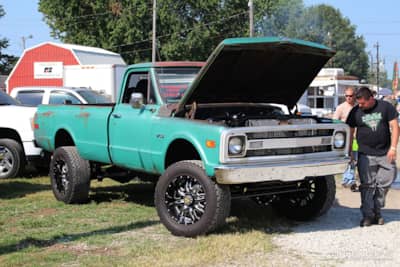 From afar, no one would ever guess this unrestored classic Chevy is Duramax-powered—or that it sends 750 horsepower to the pavement. Yet that's exactly what Ryan Wehrli's '70 C10 does. Built 100-percent in-house at Wehrli Custom Fabrication, the C10 body sits on top of a shortened, stripped, modified and painted '06 Chevy Silverado 2500HD chassis. A built LBZ Duramax sits between the framerails, with a beefed up six-speed Allison 1000 automatic and NP261 transfer case backing it up. A rebuilt and powder coated Dana 60 resides up front, along with a four-link suspension. An AAM 1150 axle takes care of business in the rear and also benefits from a four-link arrangement.
The Parts List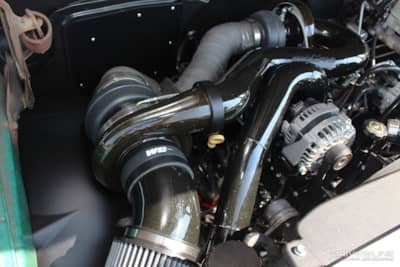 Carrillo connecting rods, Mahle pistons and a SoCal Diesel alternate firing order camshaft reside in the block, while a set of factory heads equipped with Wehrli billet valve covers are clamped down via ARP head studs. A pair of dual CP3 injection pumps (one of which is an Exergy Performance 10mm stroker unit that sits in place of the A/C compressor) feed pressurized diesel to a set of flow-tested Exergy Performance injectors fitted with 60-percent over nozzles. A Wehrli Custom Fabrication "Sideways" twin-turbo kit provides plenty of airflow by employing a BorgWarner S480 atmosphere charger and an S364 in the valley. ECM and TCM tuning is supplied by the EFI Live masterminds at DuramaxTuner.com.
3. The Plow Truck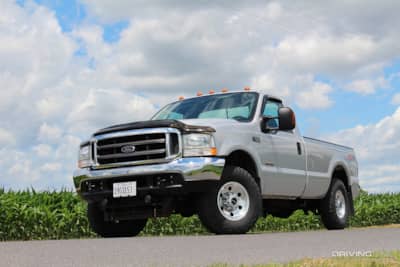 While Josh Todd's '04 F-250 no longer plows snow, it could still get the job done if he needed it to. However, for the time being he's content to have his factory-looking Super Duty only "appear" to be a work truck. You could even argue that, aside from being one of those 'notoriously unreliable' 6.0L Power Strokes, the snow plow mount remains onboard in order to lure in potential victims. You see, instead of bolting on an exhaust, adding a programmer and calling it a day, Josh took things much, much further. After years of trial and error (and a persistent desire to prove the 6.0L naysayers wrong), he's landed on a setup that's good for somewhere between 700 and 750-rwhp.
The Parts List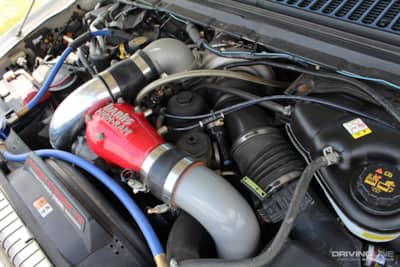 Contrary to popular belief, Josh's modifications list isn't as extensive as one might think. Added fueling comes by way of a set of 215cc injectors with 75-percent over nozzles. The heads, while removed for the inevitable head gasket replacement and ARP head stud install, were ported. An Irate Diesel Performance T4 turbo mounting kit positions a High Tech Turbo S467 in the lifter valley in place of the factory VGT. The 5R110 automatic was rebuilt locally and treated to a 2,400-rpm stall, triple-disc torque converter. And finally, Gearhead Automotive Performance makes the truck both extremely drivable and powerful. Cummins and Duramax owners beware: this one will hurt your feelings.
4. Dura-Burb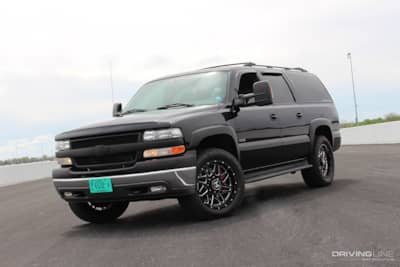 DuramaxTuner.com's Nitto Terra Grappler G2-equipped, 1,050-rwhp '04 Suburban 2500 exists because it can. In today's high-powered diesel world, you can have it all—good drivability, fuel efficiency, towing ability and immense power—all in the same vehicle. On this project, led by DuramaxTuner.com owner Nick Priegnitz, the goal was to show the industry that 700 to 800-rwhp was no longer the stopping point for streetable, daily driven diesels. His finished product proves that you can still have reliability, even with a four-digit power figure on tap. We're told the extra seating of the 'Burb makes for some interesting work-related road trips, too.
The Parts List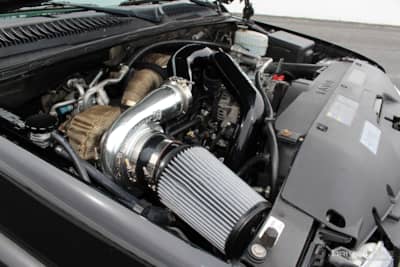 Based on an LBZ Duramax, the short-block consists of a main cap girdle, ARP main studs, Carrillo rods, Mahle Motorsport pistons and an alternate firing order camshaft. The only changes made to the factory cylinder heads were the addition of beehive valve springs and ARP studs. Big fuel checks in with 150-percent over injectors and a Street Series 14mm single CP3, both of which were sourced from Exergy Performance. Thanks to help from Wehrli Custom Fabrication, a BorgWarner S488 SX-E and DuramaxTuner Stealth 64 VVT combine for 75 psi of boost, while an Allison 1000 graced with billet shafts, Sun Coast internals and a Goerend Transmission triple-disc converter harnesses everything the LBZ dishes out. This kind of 'company' vehicle makes us wonder if these guys are hiring…
5. A Plain-Jane, 678-RWHP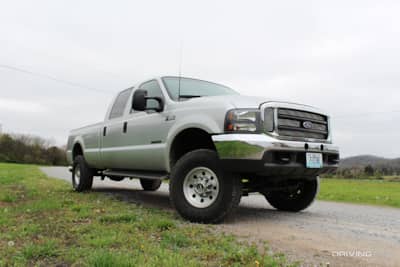 Chuck Dorsey is just a good 'ol boy. A very smart good 'ol boy. He's been playing with 7.3L Power Strokes for two decades and at this point he knows them inside and out. This includes knowing how to tune them and rebuild the transmissions bolted behind them. That said, he's an old-school hot-rodder, too. He'd rather triple the power of a vehicle than put flashy wheels on it and he also prefers to retain the full functionality of any vehicle he's modifying. All of this figures into the '00 F-350 pictured above. It utilizes a stock forged-rod bottom end, makes 655-rwhp on fuel, regularly tows 13,000 pounds and sports the same, 18-year-old Alcoa wheels it left the factory with.
The Parts List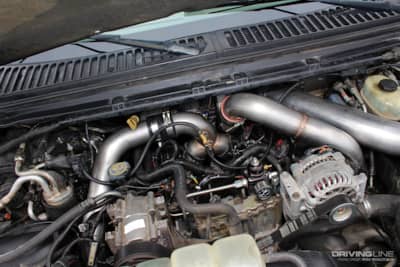 With a small shot of nitrous in the mix during his last visit to the chassis dyno, Chuck's Super Duty laid down 678-rwhp and 1,259 lb-ft of torque. At this power level, his long bed limo is capable of running mid-12's in the quarter-mile. Even more surprising is the fact that, by performing his own custom PCM tuning, he was able to glean nearly 700-rwhp out of a set of relatively small hybrid injectors from Unlimited Diesel Performance (250cc units fitted with 100-percent over nozzles). The hybrids are complemented by a DieselSite Adrenaline high-pressure oil pump and thanks to a T4 turbo mounting system from Irate Diesel Performance a BorgWarner S369 SX-E builds 60 psi of boost for the 7.3L to ingest.