Double Trouble: Super Clean 1966 Mustang 347ci V8
We all remember our first car—whether it was the way the bench seat up front squeaked when you sat on it, how many times you had to pump the gas pedal to get it to start in the winter time, or the smell of the tires when you'd step on the gas around that infamous corner just to put a grin on your face. Regardless of if you liked your first car or despised that "Maroon Beast," like I did—at the time, that vehicle will forever hold a special place in your heart.
For Chad Schneider, his first car is more than just in his heart, it's in his garage; still around, although a bit more modified and powerful than the original rendition. And man, she's a beaut!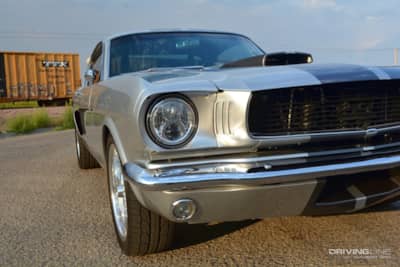 Like so many of us, Schneider grew up with a prevalent gearhead mentality in his family. From two different uncles who had a 1968 Olds 442 and a 1967 427 Corvette, to his dad's vehicles over the years which included a 1964 Chevelle and a 1966 Mustang Fastback, the automotive influence for Schneider was there from an early age. 
"I can vividly remember sleeping in the back window of the Chevelle as we drove across the country," Schneider told us of growing up with cool classic cars. "[That] and riding in the front seat of the Mustang with no seat belt and smacking my head on the glove box several times when my dad came to a sudden stop. That probably explains a lot about me!"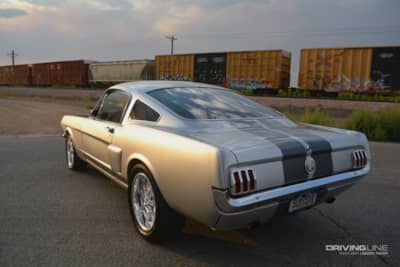 The Beginning of Trouble
When Schneider was 17, he bought is first car, a 1966 Mustang Fastback, which he drove through college and into early adulthood. After college, he put together a list of things he wanted to accomplish, one of them being to restore the old Midwest rusted Mustang.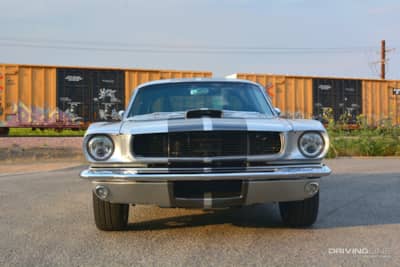 After spending many years perusing car shows and watching builds on TV, Schneider came up with a theme and a plan for his Mustang build. After gathering the funds for what he wanted, he started the build process in 2007.
Two Donor Cars = Double Trouble
A full rotisserie build, the Mustang quickly earned its nickname "Double Trouble" with the melding of two Mustang bodies to get a perfectly straight car.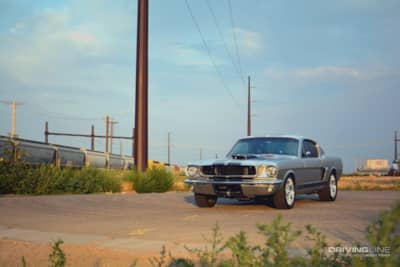 "We joked that if the body was too bad, that we could always cut the top half off the car and build another one under it," Schneider told us. "That's pretty much what we did."
Two cars spliced together to make one, Double Trouble then underwent her first powertrain transplant. Unfortunately, upon nearing the end of the powertrain build, Schneider's funds were reaching the bottom of the barrel and he had to downgrade things like the interior and brakes that he originally wanted. Eight years after the build was "finished," Schneider went back to the drawing board for version 2.0.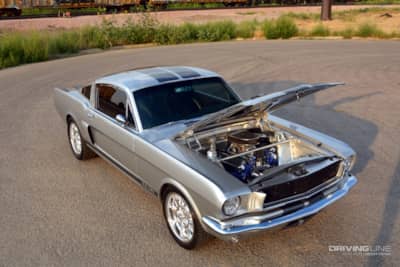 Foundation is Key
When it comes to a pro-touring style car, the foundation of the build is everything. To make sure his Mustang had the best infrastructure while maintaining many of those old-school cues he fell in love with back in the day, Chad had the car outfitted with a classic 5 leaf-spring rear suspension system, Global West control arms up front, and two-way adjustable shocks on all four corners tied to a full subframe. For added stability, the car has also been fitted with subframe connectors and a four-point roll cage that is tied directly to said subframe. The car also features Unisteer rack and pinion steering.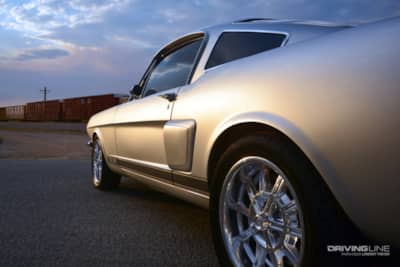 All That Power
Wanting something a little different than the stock Ford small block under the hood, Schneider commissioned a 347ci stroker V8 built from a 1969 Ford 302ci block. This bad boy features a roller camshaft, Scat crank, a Victor Junior and Edelbrock Performer heads. Ridding the engine of spent fuel are Hooker COMP headers with Borla mufflers and electric cutouts to boot.
Putting It To the Pavement
Backing Double Trouble's mighty V8 is a World Class close-ratio T5 transmission. Out back, you'll find a 1978 Lincoln Versaille 9-inch rearend with stout 4.10 gears. Keeping the car planted to the pavement (even in high acceleration circumstances—wink, wink) are sticky 225/40/17 (front) and 275/45/17 (rear) Nitto NT555 G2 tires wrapped around custom Curtis Speed 17x7-inch and 17x8-inch wheels respectively. Brakes on the car have been upgraded to 6-piston Baer brakes.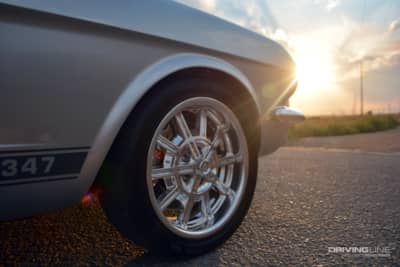 Double Take 
Designed to be a bit different from all the other classic first-generation Mustangs out there, Double Trouble features many unique details, including a perfectly smooth body, a one-off custom billet hood scoop, and functional side vents, to name a few. The car is painted in PPG Silver Toner with "tons of flake," and is capped off with Gun Metal race stripes and copious amounts of clear coat.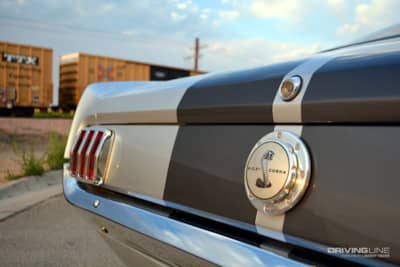 Riding In Style
Inside, there are even more sleek details. Custom leather TMI bucket seats with suede inserts and grommet details set the scene for the classic interior, which includes matching door panels, a two-tone dash featuring a JME aluminum bezel and Classic Instruments gauges, and a matching custom aluminum center console. Modern tech like bluetooth, touchscreen navigation, hands-free calling, a full Rockford Fosgate stereo system to use with the satellite radio, and even a concealed radar detector and jammer bring this classic into the modern performance world. And finite details like the classic Cobra shift knob and steering wheel center, Carol Shelby's signature on the glove box, and 4-point harnesses are the perfect cherry on top of a gorgeous build.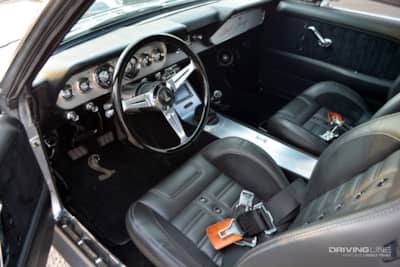 The name Double Trouble doesn't just come from the two classic Mustang bodies that went into the making of this car, there is quite the "double" theme with this car. Not only is it a double 6, as in 1966, it's also had two of just about everything: two paint jobs, two different engines, two transmissions, two sets of brakes, and two different interiors over the build process. And finally, it's the car Schneider has always wanted, well, for now. Who knows, there may be an independent rear suspension or a built Coyote engine in the future for Double Trouble. "I feel very fortunate to have my first car and to be able to share it with my twin boys (the real double trouble)," Chad Schneider said.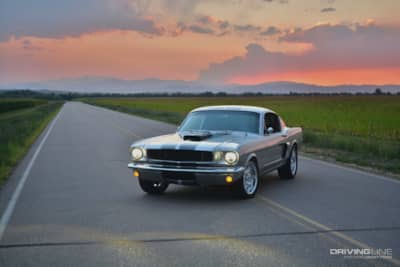 Double Trouble '66 Mustang Specs: 
| | |
| --- | --- |
| Owner: | Chad Schneider |
| Location: | Fort Collins, Colorado |
| Vehicle: | '66 Mustang |
| Engine: | 347ci stroker V8 with a '69 302 block; roller cam; Scat crank; Edelbrock Performance heads; Hooker COMP heads; Borla mufflers; electric exhaust cutouts |
| Transmission: | World Class T5 |
| Suspension: | Subframe; 5 leaf-spring rear suspension; Global West control arms; two-way adjustable shocks; subframe connectors with integrated roll cage; Unisteer rack & pinion steering |
| Rearend: | 1978 Lincoln Versaille 9-inch with 4.10 gears |
| Wheels & Tires: | 17x7" and 17x8" custom Curtis Speed wheels; Nitto NT555 G2 225/40/17s (front) and NT555 G2 275/45/17s (rear) |
| Brakes: | Baer 6-piston with nickle plated calipers |
| Exterior: | Two cars made into one; one-off billet hood scoop; functional side vents |
| Interior: | TMI leather bucket seats with suede and grommet details; Kenwood touch-screen head unit; Rockford Fosgate stereo system; 4-point harnesses; JME aluminum dash bezel; Classic Instruments gauges; custom center console |
| Thanks: | Schneider would like to thank the following people for all their hard work on this classic Mustang: Randy Curtis, Jason Curtis, Mike Curtis, Jim Poole, Adam Lucier, and the full crew at Goodding Performance "who brought it all together." |