Driver Battles Time Attack: 2022 Subaru BRZ vs 2008 Honda S2000 CR
"This is gonna be the internet debate battle of the century." That's how host Mike Sabounchi describes this duel between Subaru BRZ and Honda S2000 CR. Which, considering the state of the world right now, is a very bold statement. Then again, this edition of Driver Battles saw some equally bold driving in two seriously fast cars. Jump ahead to the video.
Going BRZ-erk
Right now the BRZ is the hot new ticket. Straight out of the box, it's already wicked fast. You don't have to do much to it in order to squeeze gobs of power out of it. And driver Will Wattanawongkiri says this one's no exception to that.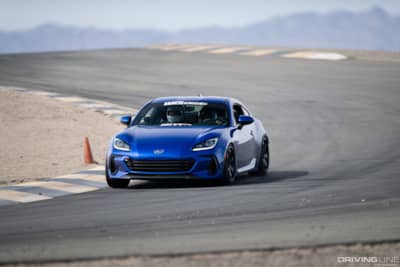 All that's really been done to it is some suspension tweaking, wheels, and tire swaps. The idea being to hone the car to the finest possible edge in handling. To that end, it runs a set of SPL/WRT control arms, WRT coilovers, and Volk Racing TE37 wheels with Nitto NT01 tires. Will switched between 17- and 18-inch rubber over the course of the day in order to get good feel for both and see which ones he preferred, as he's still learning the car.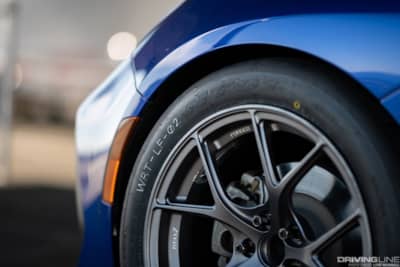 What puzzled us a bit was why he'd bring a mostly stock BRZ to a track fight. "My friend Jay came to me with 'Hey, I'm building this BRZ for SEMA. I've got a show car but do you want to check it out and have some fun with it?' I'm like, 'Sure' and then I got called for Driver Battles and figured, 'Why not? Let's see what happens.'" And when he heard he was going against Son Vo, the "god-master of S2000's," it got even more competitive and Will couldn't wait to race. 
The Wrath of God-Master
Speaking of whom, Son was only too happy to oblige. The S2000 is also one of the most popular kids on the track today. Son Vo brought his 2008 version to Chuckwalla to duke it out against the BRZ and it's a touch more customized for the track than its Subaru opponent.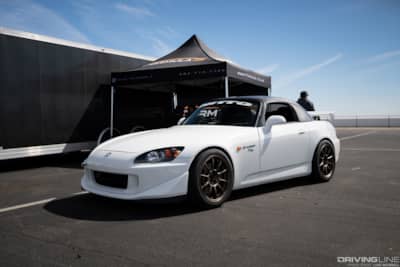 The F22C 2-liter engine makes 220 horsepower, putting it extremely close to the 228 ponies kicked out by Will's BRZ and its 2.4-liter Flat Four powerplant. So also added a Spoon LSD differential into the mix for improved cornering and acceleration. The S2000's Ohlins DFV 14KG coilovers up the handling another notch beyond that as well but like with Will's car, Son's also runs on Volk Racing wheels and Nitto NT01 tires (of the 255/40ZR17 persuasion). The coilovers were a new addition to the overall package and gave Son a little trouble in setting them up at first but he worked it out. "I oversprung it a little bit for these tires," he said. "I think these tires like just a little bit softer spring rate and I think we can fix that for next time."
We run our Driver Battles in Time Attack fashion. The drivers have all day to run the track and make the fastest possible time that they can while not directly competing against each other on the same run. It minimizes the chances of a mishap. It's just your lap time versus your opponent's. 
Close Call
Both drivers knew the competition would be close and intense, which it really was. By day's end both of our drivers turned in some seriously fast runs on the track.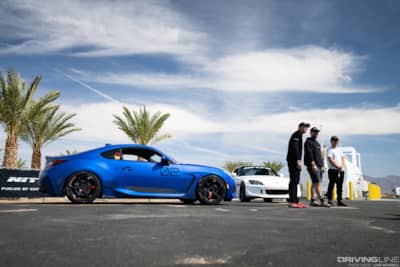 We thought they'd be pretty close but we were pleasantly surprised at just how close they actually were. All throughout, the Nitto NT01's held up really well, from morning into the afternoon desert heat. To see just how close today's Driver Battle ran, you'll have to watch the video on our YouTube channel.