Farm Truck Approved: Nitto Exo Grappler Tire Review
Over the years, Nitto has effectively expanded its arsenal to a point where the perfect tire now exists for literally any application. From the giant-lug Mud Grappler to the hybrid-terrain Ridge Grappler to the all-new Recon Grappler, the Nitto lineup has the right tire for your purpose-built, all-purpose or pavement-pounding machine. But there is one tire in the Nitto stable you might've forgotten about: the Exo Grappler. It's the all-weather tire intended for light truck and commercial-grade tasks that often slips under the radar these days. However, it didn't go unnoticed by Chris Ohl, an eastern Illinois farmer who needed a tough, tow-ready tire for his show-worthy, Cummins-swapped '82 Dodge D350 dually.
Attracted due to the available, sub-33-inch overall diameter sizing, sold on the affordable price and convinced by the tire's high-strength sidewall and reputation for durability, Nitto's Exo Grappler was Chris's first choice for his first-gen Cummins. After the first 4,000 miles, he reports that the commercial-grade AWT over-achieves on the farm, handles well with the gooseneck trailer attached and provides solid on-road manners in terms of tire noise, ride comfort and braking. For a closer look at the tire you might've overlooked in the ever-expanding Nitto lineup, we'll let his story do the talking.
Selling Point: Sizing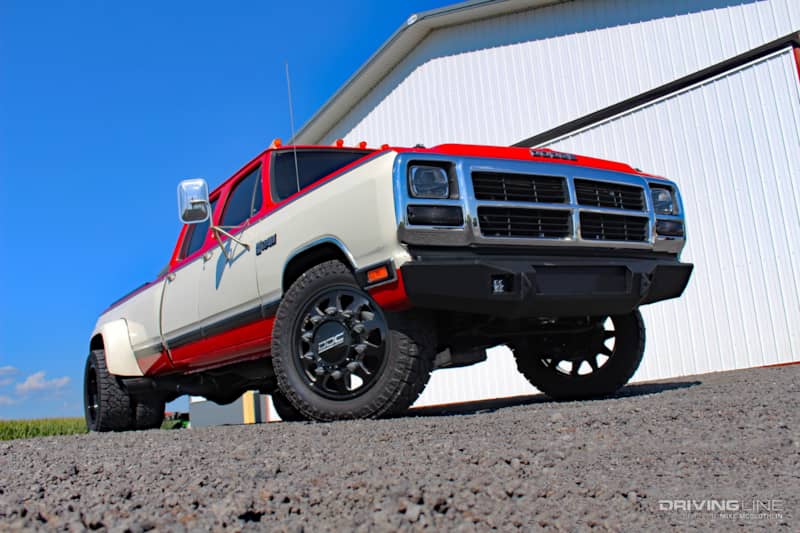 When you're already familiar with the Nitto product line, you tend to start with that catalog. At least that was the thinking behind Chris Ohl's decision to run Nitto tread. "I've always liked the Nitto brand for truck tires," he told us. What he didn't know at the beginning of his hunt for tires was the exact Nitto he'd be mounting to his 20-inch DDC The Ten wheels. "I was trying to find a heavy tire that also had good grip, but I was limited," he went on. "I couldn't run a full 33-inch tire up front (with it being a two-wheel drive truck) so I needed something just short of it." He settled on a set of LT275/55R20 Exo Grapplers, which boast a 32.13-inch overall diameter.
Additional Points of Persuasion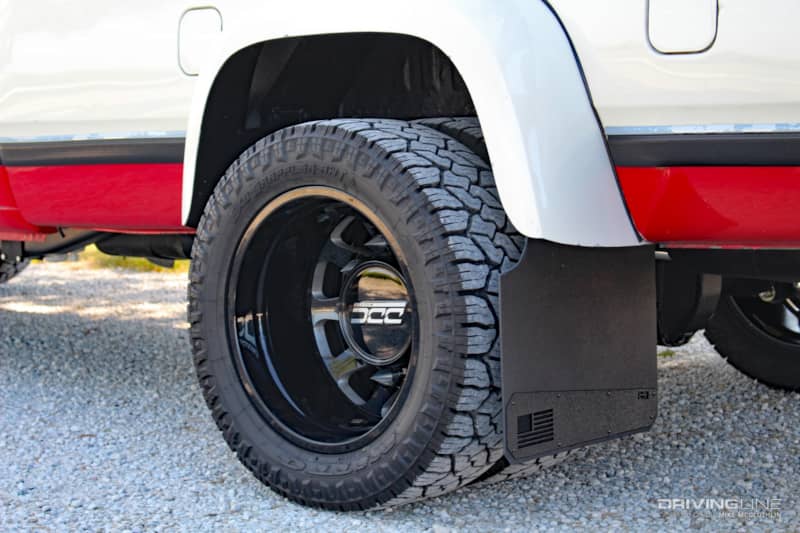 In addition to being limited on diameter on the front of the old Dodge, Chris also had to watch his width in the rear being that the truck is a dually. The 11.18-inch overall width of the LT275/55R20 Exo Grappler tires fit the bill perfectly. Throw in the fact that the Exo Grappler—which combines a commercial grade, 3-ply sidewall with a natural rubber and high-strength polymer compound—features one of the most rigid sidewalls available for a truck tire and Chris' mind was made up.
A Multi-tasking Sidewall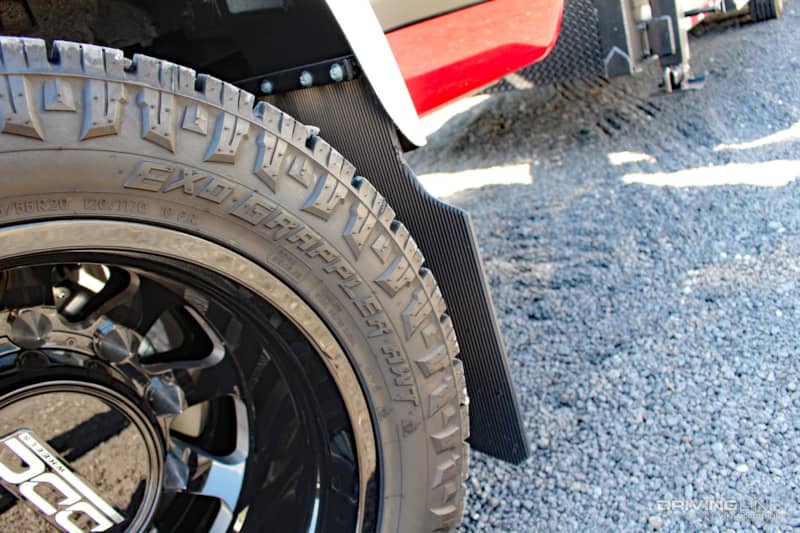 Further benefits of the Exo Grappler's sidewall exist in its employment of staggered shoulder blocks, which provide biting edges for increased traction off road, but that also shine in loose dirt. Added sidewall strength is on the table thanks to its large sidewall lugs, which also offer puncture resistance. Then you get to Nitto's distinct, dual sidewall design. For the Exo Grappler, that means you can either showcase the tire's chisel-shaped lugs (shown) or the Y-shaped lugs on the other side.
Tow-Friendly Load Index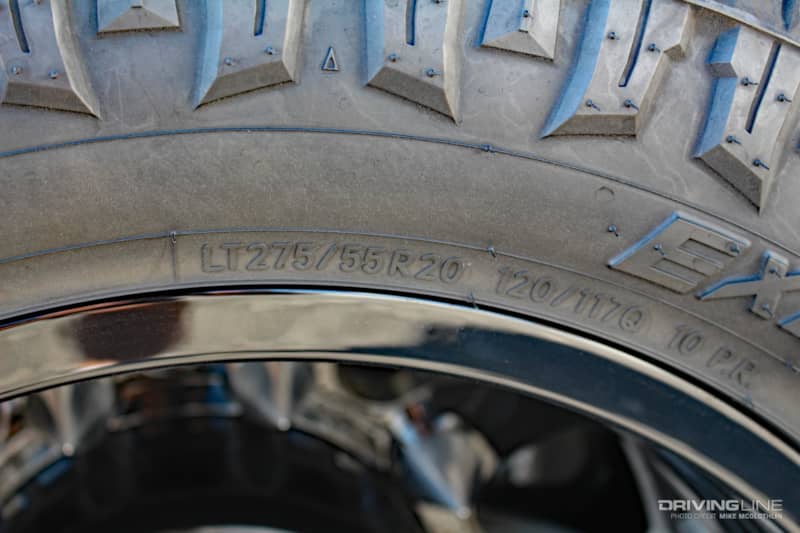 A load range E tire, the LT275/55R20 Exo Grapplers Chris elected to run carry a load index of 120 and 117. This means that in single wheel applications (120) each tire has a maximum load carrying capacity of 3,085 pounds when inflated to 80-psi. The second load index figure (117) represents the maximum load carrying capacity for dual rear wheel applications, which in this instance is 2,833 pounds. Just for reference, the "Q" after 117 means these particular Exo Grapplers are rated for 100 mph.
Uniform (And Slow) Tread Wear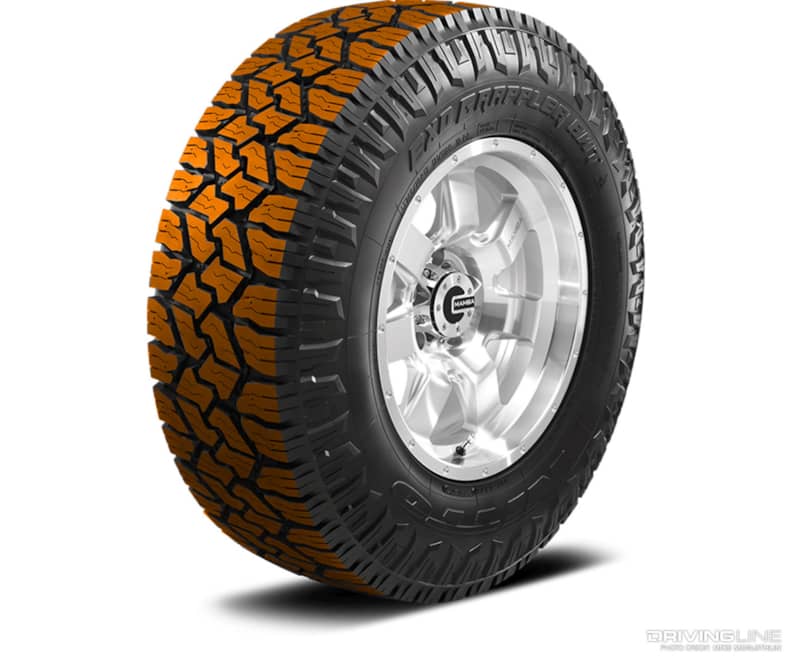 The Exo Grappler is known to wear uniformly and slowly if properly maintained (i.e. proper inflation pressure, rotation intervals and balancing), which wasn't lost on Chris. In fact, with adequate care many truck owners that tow heavy report getting 50,000 miles or more out of them. Better yet, they're known to last longer than competitive brands when frequently exposed to gravel roads, traversing timber and navigating rocky terrain. Upon delivery, Chris's LT275/55R20 tread depth checked in at 18.4/32".
Surprising Ride Quality & Low Road Noise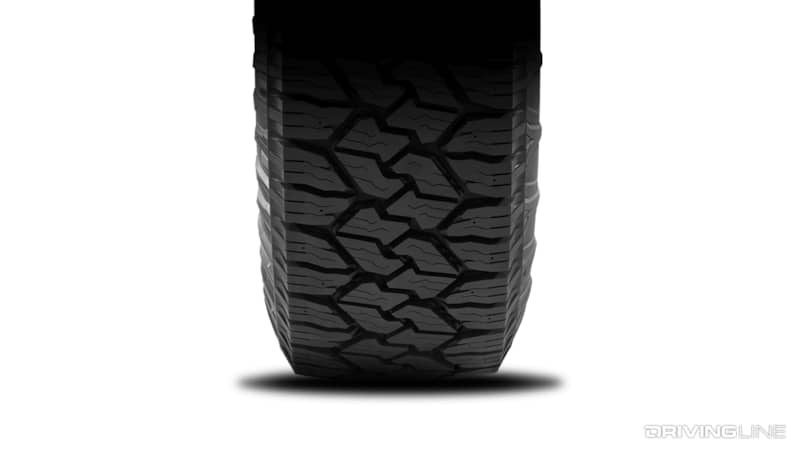 Even though the D350 is bagged in the rear, Chris is still campaigning a 1-ton truck originally built in the 1980s. Needless to say, ride quality wasn't his main concern—especially with the truck being a tow mule, thus requiring him to buy a tire with a rigid sidewall. However, with that said he has been pleasantly surprised with the Exo Grappler so far, even giving it a 9 out of 10 in comfort level. As for road noise, the Exo Grappler features a variable pitch tread block design, which Nitto specifically developed to reduce tire noise at highway speeds. "They are pretty tame, audibly," Chris confirmed.
Stable & Sure-Footed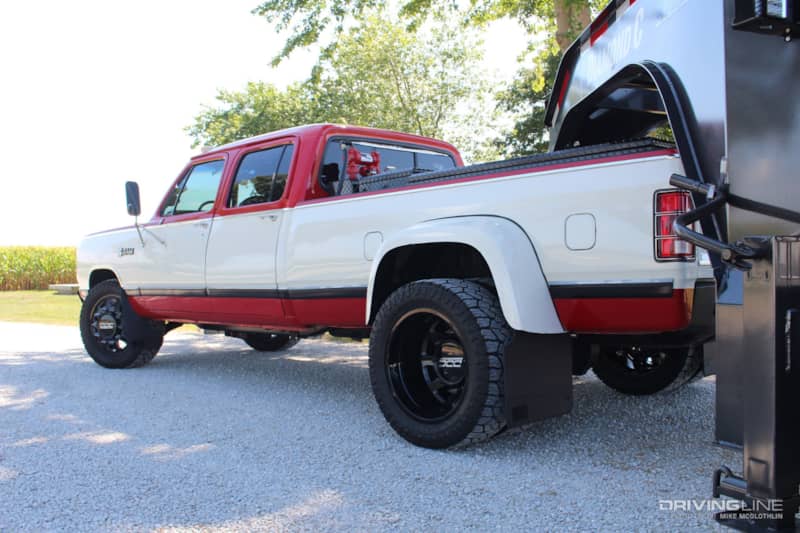 Whether his Dodge is lugging a load in bone-dry conditions or wet weather, Chris has no complaints with the Exo Grappler AWT's so far. Though they've not yet been exposed to snow, the Exo Grapplers have given the truck a stable, sure-footed feel in the rain. "Even with a loaded trailer, they stick well," he said. "Plus, even with no ABS on the truck and it cruising around empty I haven't had any braking issues in wet weather."
The Verdict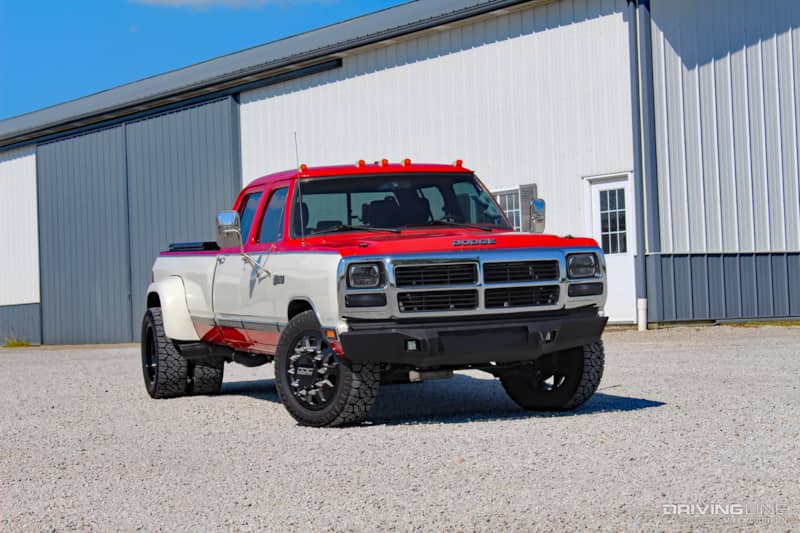 Although the six AWT tires aboard Chris's old-school, Cummins-powered Dodge won't be living an easy life, he still believes the Exo Grapplers will be around for the long haul. From hitting the backroads to the cornfields and towing everything from gooseneck trailers to farm implements, his crew cab D350 will see a bit of everything as the seasons change along with the conditions. "They've met and then exceeded my expectations so far," he told us. "I would have no issue buying them again."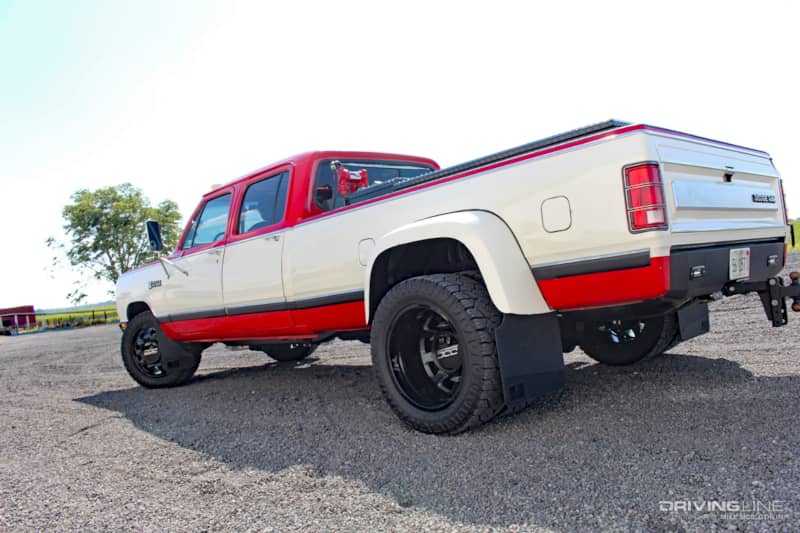 More From

Driving Line
Curious which Nitto tire would best suit your towing needs? We compare the highway terrain Dura Grappler with the popular Terra Grappler G2 all-terrain 

here

.