Ford vs RAM vs GM Diesel Truck Wars: Why Does Ford Care So Much About Performance at Elevation?
If we know anything about the diesel pickups produced by the Big Three, it's that loyalists emotions run high any time one brand outperforms the other two. When Chevrolet and GMC HD's are running the show, Ram and Ford owners sneer. When Ram makes it to the top, GM and Ford lovers have a lot to complain about. And when Blue Ovals beat out the Bow Ties and Rams it's more of the same. But something very interesting is afoot with Ford's 2020-and-newer Super Dutys—and it has dyed-in-the-wool GM and Ram fans up in arms. No matter what chassis dyno Ford's late-model trucks are strapped to, they make more power than advertised. In fact, some of them are spitting out rear-wheel numbers larger than Ford's crankshaft figures of 475 hp and 1,050 lb-ft.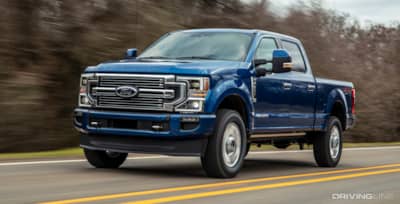 How is that even possible? We think it stems from Ford's desire to not only build an all-around incredibly efficient diesel powertrain, but one that makes even more power at high altitude than it does on the flat—and we'll explain why we think that below. By ensuring its 6.7L Power Stroke not only performs, but over performs in elevation is a big reason why FoMoCo's latest trucks are way out ahead of the current crop of competition. Superior performance in elevation is one of the most logical ways to explain the dyno graph that broke the Internet, which you'll also find below.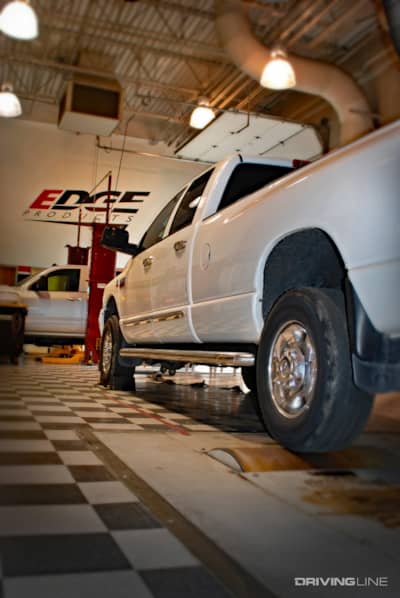 This is where it happened. A 2020 Super Duty laid down 498 hp and 1,086 lb-ft of torque on these rollers—effectively leaving the Duramax-powered '20 GM and Cummins-equipped '21 Ram that were also tested here at the same time in the dust. It's an in-ground, load cell, SuperFlow chassis dyno located at Edge Products in Ogden, Utah, and this particular brand and type of dyno—often chosen for its accuracy, repeatability and the ability to properly load a diesel vehicle —is considered by many to be the standard horsepower measuring tool in the diesel industry. A SuperFlow is an ideal asset for a company like Edge, because if you're going to manufacture plug-in power-adders for diesels you need to be able to back up your advertised horsepower gains. With its dyno located at 4,500 feet of elevation, the in-house correction factor used at Edge has come under scrutiny. However, with top-level credibility in the diesel industry on the line, we highly doubt the company would intentionally skew its data to make Ford look better.
Ford Vs. Ram Vs. GM: Round 1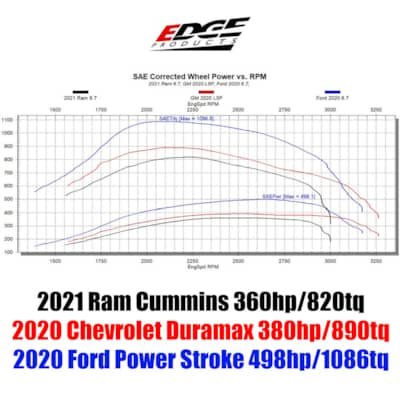 You're looking at the Big Three dyno shootout numbers that ruffled more than a few feathers back in January. Each truck was tested with its automatic transmission in direct (1:1), which for the 10-speeds in the Ford and GM meant seventh gear was used, while fourth gear was utilized on the six-speed-equipped Ram. The Ram, which was graced with a standard output 6.7L Cummins (385 hp, 850 lb-ft) put down 360 hp and 820 lb-ft. The GM, equipped with the 445 hp and 910 lb-ft L5P Duramax, produced 380 hp and 890 lb-ft at the rear wheels. Then the 6.7L Power Stroke Super Duty, rated at 475 hp and 1,050 lb-ft at the crank, made an incredible 498 hp and 1,086 lb-ft at the tires—118 hp more and nearly 200 lb-ft more than the L5P Duramax.
Ford Vs. Ram Vs. GM: Round 2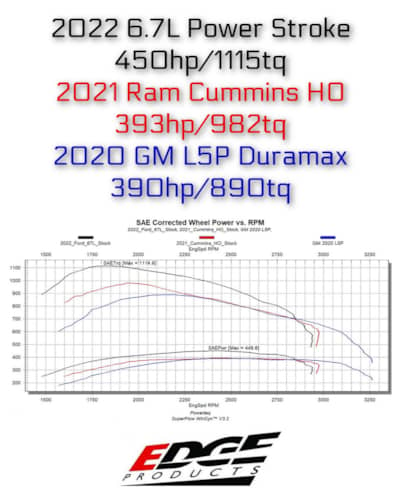 Subsequent testing between a '22 Super Duty, a '21 Ram 3500 with the high output Cummins option (1,075 lb-ft) provided by Randy's Transmissions and a second '20 L5P Duramax GM was conducted at Edge's facility, and on the same dyno. Long story short, while the Ram's numbers improved over the 360 hp and 820 lb-ft numbers shown above to 393 hp and 982 lb-ft, the Ford still dominated the field, making 450 hp and 1,115 lb-ft. Accounting for a 12 to 13-percent drivetrain loss on the GM, its 445 hp at the crank coming out to 390 hp at the wheels seems more than legit. However, factoring a 12-to-13-percent drivetrain loss into the Ford puts its crankshaft horsepower over 500…
Possible Explanations
The VGT Advantage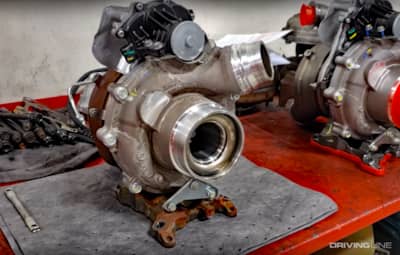 Thanks to their ability to act as a smaller turbo at low rpm and a much larger turbo at higher engine speed, variable geometry turbochargers provide the best of both worlds for modern day diesel engines. Their quick responsiveness at low engine speed equates to big torque being made available down low. Needless to say, when a VGT-equipped diesel is loaded hard on a chassis dyno a big torque number can be produced. Beyond that, subsequent increases in dyno load often yield bigger torque and even horsepower numbers. Until an engine becomes heat-soaked, added load can bring another 20 to 30 hp and 40 to 100 lb-ft of torque into the picture. We've seen this play out on a SuperFlow dyno in the past and it happened on a bone-stock '12 Ford F-350, a truck equipped with a VGT turbo'd 6.7L Power Stroke.
Key Changes For 2020: Turbo & Transmission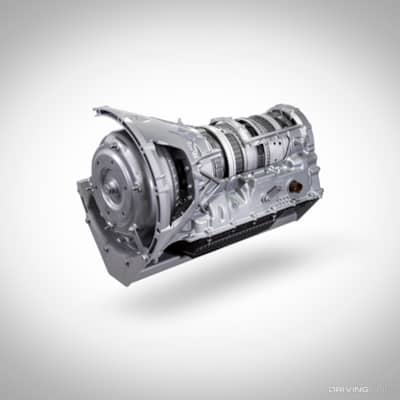 A host of changes accompanied the '20 model diesel-powered Super Duty's. Among them was a 6.7L Power Stroke that sported steel pistons rather than cast-aluminum versions (along with a 15.8:1 compression ratio vs. 16.2:1 previously), a common-rail injection system capable of operating at 36,000-psi and a smaller yet state-of-the-art, electronically controlled and actuated variable geometry turbocharger. The smaller turbo explains the monster torque numbers that can be extracted from the '20-newer Super Duty's. Along with the updated engine, Ford debuted the 10-speed TorqShift automatic transmission (i.e. the 10R140), which is said to be more efficient than the six-speed auto it replaced.
Increased Power In Elevation?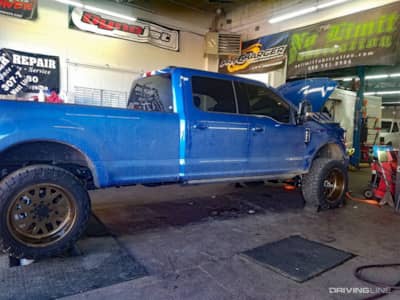 Ford has made performance at altitude a major focus since all the way back in '93, when they released the Navistar-built 7.3L turbo IDI. And despite the GT32 SST turbo (found on '11-'14 6.7L Power Strokes) performing dismally in elevation, in recent years its engineers have once again made a concerted effort to ensure power and boost don't fall off in elevation. In fact, and as is evident from chassis dyno data collected in facilities located at elevation, Ford may even be up-rating power as the air gets thinner… The 2020 F-350 shown above dyno'd 400 hp and 1,001 lb-ft of torque without a correction factor at 6,000 feet of elevation. The corrected numbers put the truck over 480hp at the wheels.
Other Testing Has Yielded Similar Results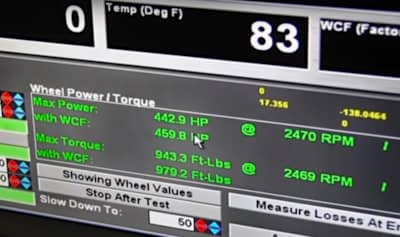 It's not just Edge who's found '20-newer Super Duty's to be under-rated, over-achievers on the dyno. Motor 1 tested a '20 model that produced 469 hp and 972 lb-ft and Thoroughbred Diesel (a popular aftermarket company with a Mustang dynamometer at its disposal) made 459 hp and 979 lb-ft (corrected) with its own '20 F-350 Platinum. The former dyno mule was brand-new at the time it was strapped to the rollers, but there is a rumor circulating that Ford derates the 6.7L Power Stroke's horsepower during an initial break-in period. So who knows, maybe that workhorse will make even more power with a few thousand miles on the clock… Then, once again, there is the fact that many believe the new 10R140 transmission is more efficient than the previous 6R140, with some even saying only a 10-percent driveline loss is present in '20-newer Super Duty's. Prior to '20, driveline losses are believed have been roughly 15-percent.
Why The Dyno Isn't The End-All, Be-All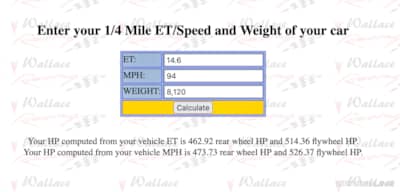 Dynos are best used as tuning tools, which is exactly how Edge and many other companies use them. Measuring before and after results leads to successful product development. However, the way the dyno is calibrated, the location of the dyno and especially correction factors (which are very commonly used in elevation) can puff up (or dare we say "inflate") horsepower and torque figures. However, on the other side of the coin—using no correction factor—can cause an uproar at a dyno event or dyno competition. But while removing the correction factor can disappoint truck owners, it's the most honest method of determining how much horsepower a vehicle puts out on that specific day and in those specific conditions. What is the end-all, be-all for determining horsepower is going to the drag strip, making a clean pass, getting a race weight on the truck at the scales and then putting the data into a reputable online horsepower calculator, such as the one offered by Wallace Racing. The information shown here is from a quarter-mile pass turned in by a bone-stock 2020 Super Duty.
More From

Driving Line
Curious where diesel's sports car-like horsepower numbers and mountain-moving torque came from? It's all documented in our "

Back In Time

" series, the ultimate Cummins vs. Power Stroke vs. Duramax history lesson.