Why We Think the 2020 Super Duty Will Break the 1000 LB-FT Barrier
After Ram rocked the diesel pickup world with its 1,000 lb-ft H.O. Cummins revelation in January, not even GM's new (segment-leading) towing capacity could compete with the kind of headlines Ram was getting. Since then, truck fans have been anxiously awaiting Ford's next move. After all, if history is any sort of indicator Ford has answered the call nearly every time Ram has upped its power ratings—and with the 2020 Super Duty slated to begin showing up this fall, it's not very far-fetched to believe Ford has its sights set on topping the 1,000 lb-ft mark with its third generation 6.7L Power Stroke.
While Ford has predictably kept quiet thus far in terms of potential horsepower and torque figures for its refreshed engine, don't mistake the automaker's silence for weakness. Right now, somewhere in Dearborn, a 6.7L Power Stroke is in a test cell humming away on an engine dyno. The following analysis is mostly speculative but, based on the 30-year numbers battle between Ford, Ram and GM, and the fact that the new 6.7L Power Stroke appears to have been built to handle even more abuse, don't count on Ford settling for second place in the torque war. A 1,000-plus lb-ft Super Duty is likely coming to a dealership near you this fall.
The Ford vs. Ram Saga Is Hot, but It's Still a Three-Horse Race

Ford has one-upped Ram in the torque game six times over the past 25 years ('94.5, '96, '99, '03, '15, '18), and to be fair Dodge/Ram has returned the favor each time. Ever since the Power Stroke nameplate first came onto the scene to challenge the B-series Cummins, this battle has been raging. Of course, GM has kept pace and even surpassed both Ford and Ram with its 6.6L Duramax on three occasions.
Third-Generation 6.7L PSD: Bottom End Prepped for More Twist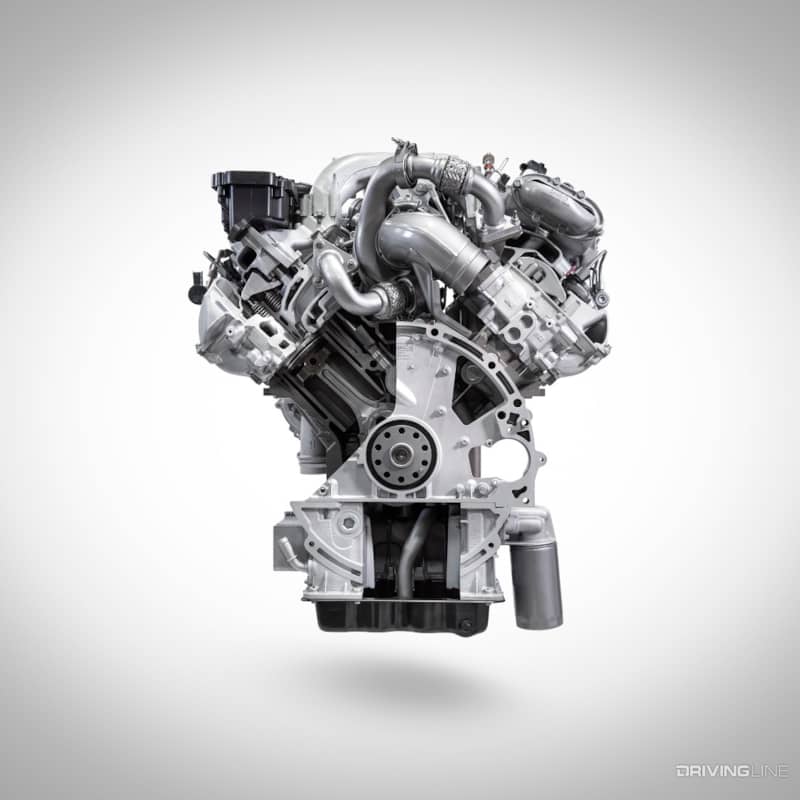 Despite limited public details on the new, third-generation 6.7L Power Stroke, all signs point toward significantly improved torque numbers. Still based on a compacted graphite iron (CGI) block, the new crankcase is said to be even stronger than the original. Beefier connecting rods, upgraded bearings, new pistons and revised aluminum cylinder heads also made the list in FoMoCo's February 5 press release. Any time an engine is about to see a substantial torque increase, connecting rod and piston upgrades go hand-in-hand. This is so these vital components can withstand the added cylinder pressure required to achieve a bigger torque rating. Additionally, producing peak torque at a higher rpm is another way of relieving the rotating assembly of some of the stress it will see. Ford did this in '17 when torque jumped from 860 lb-ft at 1,600 rpm to 925 lb-ft at a higher engine speed of 1,800 rpm.
Higher Injection Pressure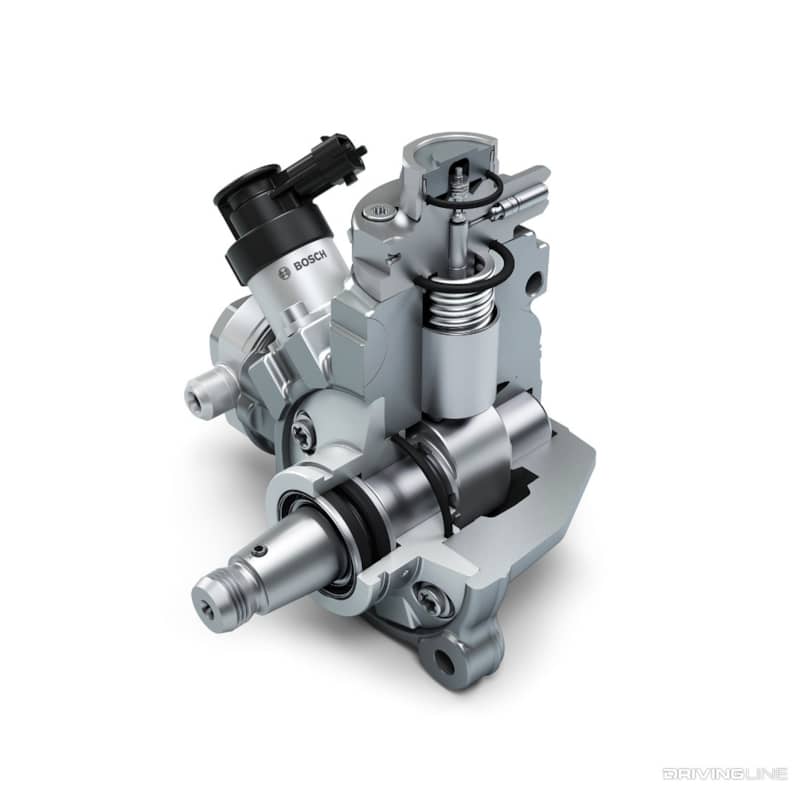 One way to glean more horsepower and torque out of a modern diesel engine is to crank up the rail pressure. Instead of peak injection pressure checking in near the 30,000 psi mark ('11-'19 engines), working with its fuel system supplier, which is still Bosch, Ford has upped the 6.7L Power Stroke's high-pressure common-rail system to produce (and handle) 36,000 psi from the factory. Not only will higher injection pressure facilitate more horsepower and torque, but it will also improve in-cylinder atomization of fuel, which will yield cleaner emissions. In the diesel aftermarket, some of the most powerful common-rail engines are running pressures in this range.
Stroked CP4.2?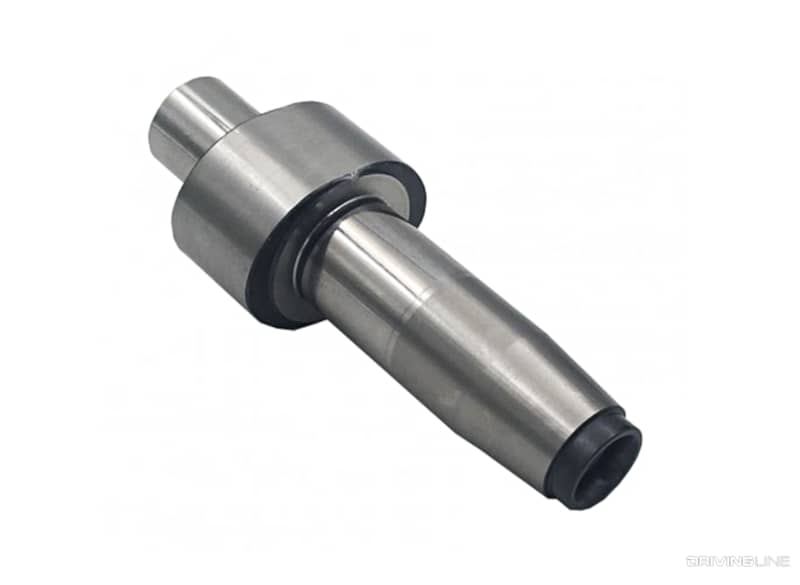 In '15, a Bosch CP4.2 high-pressure fuel pump with nine-percent more flow than the '11-'14 version helped produce a 60 lb-ft gain (along with 40 more horsepower) for the 6.7L Power Stroke. For the '20 engine, we suspect Bosch may have treated the CP4.2 to a camshaft with more stroke, along with corresponding (and presumably higher-flowing) injectors. In the aftermarket, the CP4.2 has been pushed to 10.3mm of stroke with zero effect on longevity. But a 10.3mm pump will support more than 800hp. With Bosch not likely to require anything that aggressive but in knowing the pump can live with a more radical cam, we suspect a stroker camshaft of some sort is what they've provided Ford. As a side note, the CP4.2 has always been rated to handle up to 39,000 psi, so don't let the aforementioned 36,000 psi number scare you.
The Quietest Power Stroke Yet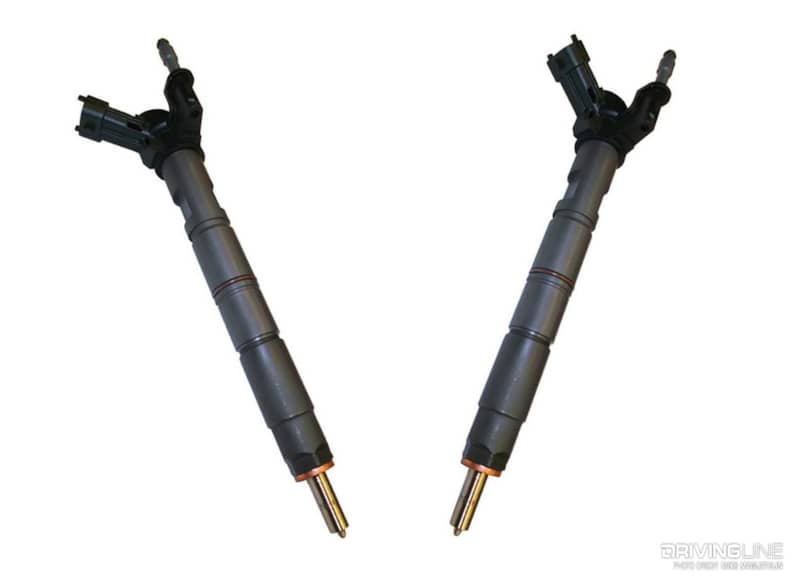 Quick-firing Bosch injectors will make use of the highly pressurized diesel stored in the rails, delivering as many as eight partial injections per power stroke (combustion) event. At least two pilot injections (possibly even three) will take place prior to the main injection. As pilot (or pre) injections are solely utilized for the purpose of quelling combustion noise, the third generation 6.7L will likely be the quietest Power Stroke ever built. To be sure, at least two post events will occur after the main, post events typically being used to reduce particulate matter left over in the cylinder or to increase in-cylinder exhaust gas temperature.
Electronically Actuated VGT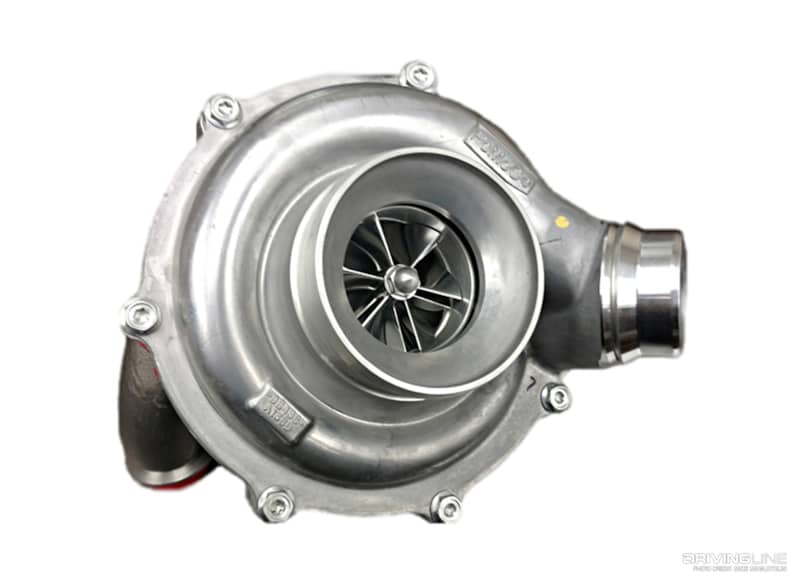 For years, variable geometry turbochargers have been a means to meet emission standards while also providing great drivability for the end-user. By varying exhaust flow across the turbine wheel in the exhaust side of the turbo, the turbo can act like a small, restrictive charger at low rpm, or a much larger turbo at high rpm. A VGT's ability to provide quick response (i.e. spool up) at low rpm means modern diesel engines can create even more torque. Though it's been equipped with a single, electronically controlled VGT since its inception, the turbocharger aboard the 2020 6.7L Power Stroke will benefit from electronic actuation for the first time (up until this point, it's been done according to oil pressure). This route seems logical for both improved responsiveness and emission purposes, as GM went all electronic with the BorgWarner unit on the L5P Duramax back in 2017.
10-Speed TorqShift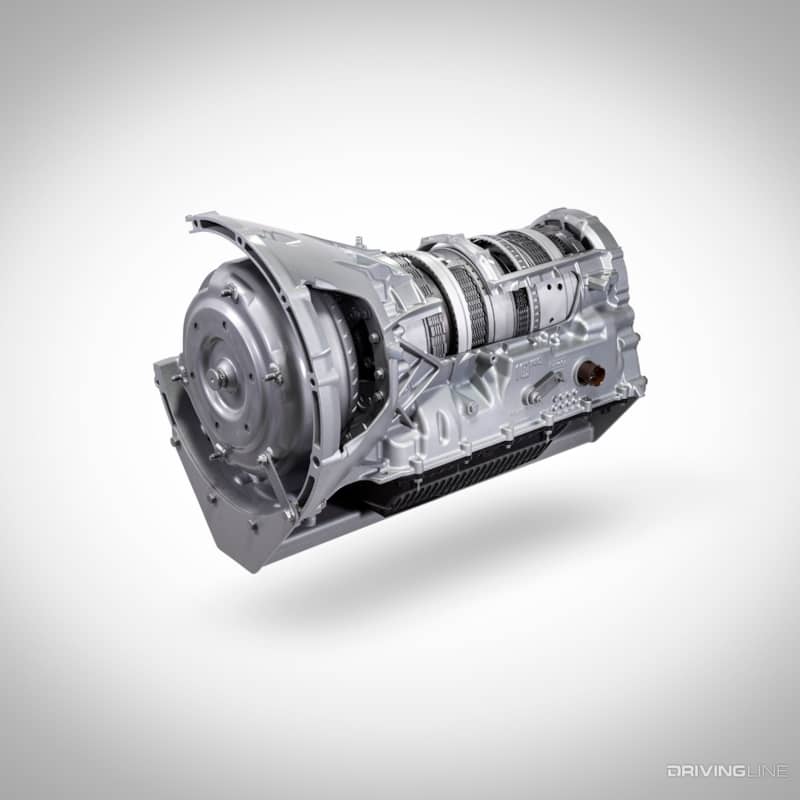 Not that the outgoing 6R140 six-speed TorqShift automatic did a bad job, but Ford's new 10-speed TorqShift will offer a wider gear ratio span and five different drive modes (including Normal, Tow/Haul, Eco, Slippery and Deep Sand and Snow). Physically, the 10R140 slushbox takes up no more room than the 6R140 and weighs just 3.5 pounds more. Believe it or not, transmission selection and operation has more to do with emissions than you think. Always being in the right gear (i.e. optimizing the engine's power band) is one part of the overall picture to make newer diesels run as cleanly and efficiently as possible.
19 Million Miles of Testing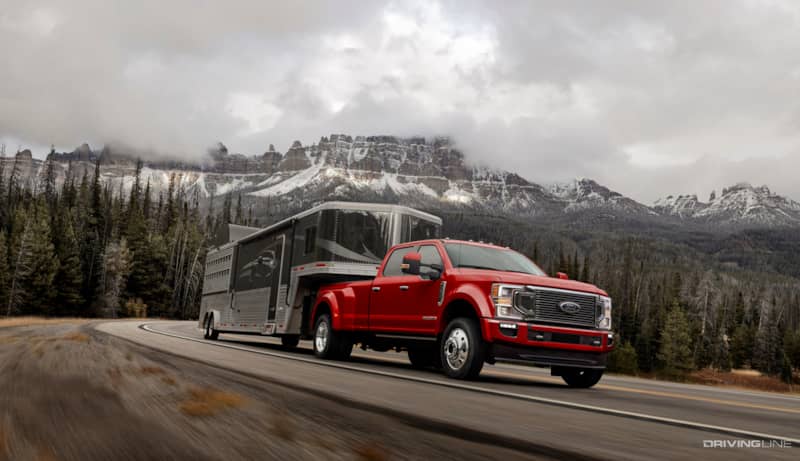 When Ford divulged that its '17 model year trucks had undergone 12 million miles of durability testing prior to their release, we were impressed. Now, we're floored. So far, Ford has racked up some 19 million miles of testing on its 2020 trucks. When they debut this fall, we expect the new 6.7L Power Stroke to turn out more than 1,000 lb-ft of torque and somewhere between 450-475hp, and that dual rear wheel models will surpass GM's best-in-class tow rating.
L5P Duramax Stays the Course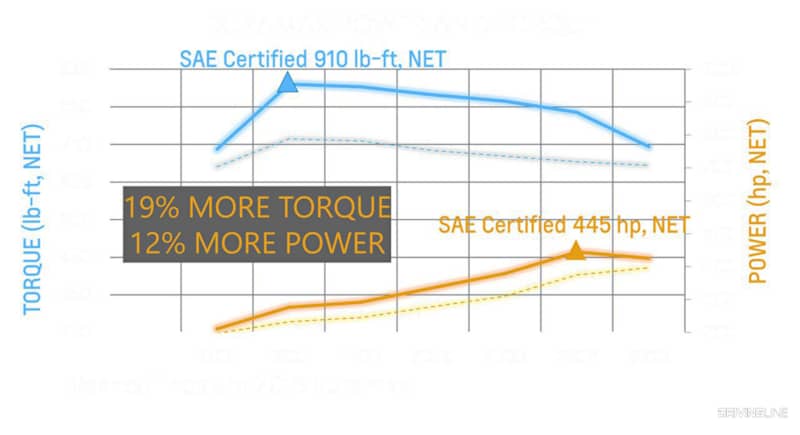 As has been the case in the past, GM has chosen to sit out the torque war for the time being. Its L5P Duramax, redesigned for 2017 and punching out 445hp at 2,800 rpm and 910 lb-ft at 1,600 rpm, will remain formidable even if it goes completely untouched for 2020. For most Chevy and GMC fans, the momentary hiatus from participating in Ram and Ford's perpetual lb-ft skirmish is OK. After all, GM is currently winning a different numbers game, and one that many truck owners believe is of far greater value: maximum towing capacity.
The Current Tow King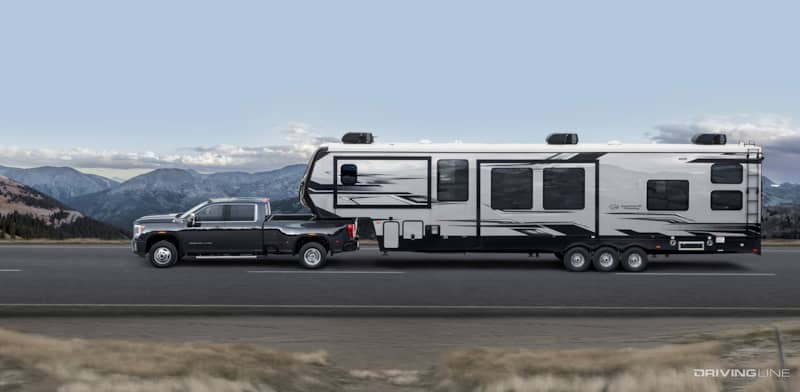 While the torque war heats up between Ram and Ford, GM has pulled ahead in terms of towing capacity thanks to its new, fully-boxed ladder-style frame, 12-inch ring gear rear axle (on 3500 models), 30-percent bigger driveshafts and larger engine fan. As things sit right now, GM's dual rear wheel model 3500 HD is capable of lugging 35,500 pounds when properly equipped—vs. Ram 3500's 35,100-pound rating. Without a doubt, this is the tow target to beat for Ford, but GM has a history of outperforming the other two truck makers during real-world testing at GCWR, regardless how the spec sheet reads. With the addition of what appears to be a highly vetted, all-new 10-speed Allison automatic (the 10L1000) behind the L5P for 2020, don't expect the General's new HD to be the second truck to the top of the mountain.
Curious as to which engine kick-started the 30-year torque war? Look no further than the B-series 5.9L Cummins.