GMC Hummer EV an "Off-Road Beast"— Exclusive Info From a Hummer EV Engineer
The new Hummer EV was revealed today! In fact, at the time of publishing, the reveal will have taken place across the interwebs for all to see (you can check out the reveal video HERE!). But we wanted more than just your standard reveal story. After all, we're all avid off-roaders around here and know many of you are as well, and we wanted to know just what the new Hummer EV had in store for those looking for more adventure than taking the kids to school and driving to the grocery store.
So we contacted GMC and were offered an exclusive opportunity to chat with someone on the Hummer EV team who's also an avid off-roader—someone who gets the appeal and the requirements of a vehicle that can take on the trails just as well as it can take on the streets. That individual is Mike Colville, Senior Manager, EV Complex Feature Integration. In layman's terms, he's responsible for coming up with and implementing control features for GM, and making sure they work well with other features GM is implementing in its new vehicles, including the Hummer EV.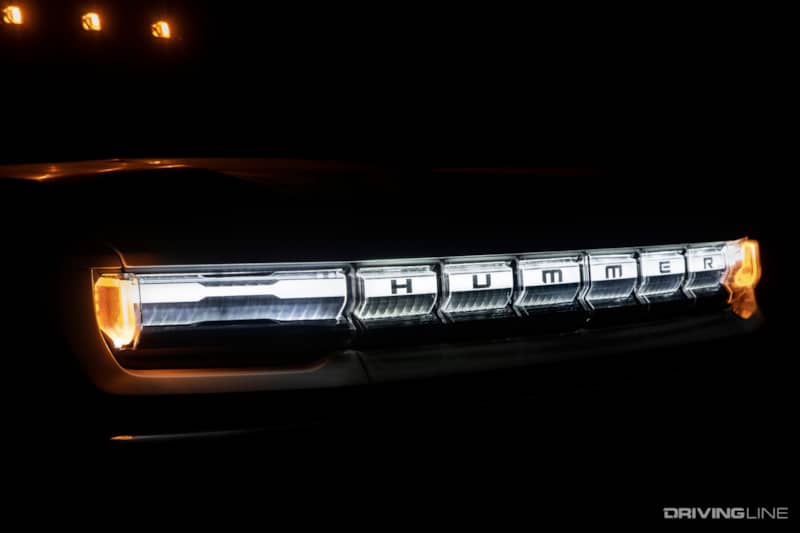 If Colville's name sounds familiar, you'd be spot on. He's raced King of the Hammers more than a handful of times, all in vehicles he built from the ground up, had Nitto 4500 Modified driver Cassie Gilbert as his co-driver, and has been an avid off-road enthusiast since he was very young. Who better to walk us through the ins and outs of the new Hummer EV and its off-road capabilities? Let's dive in!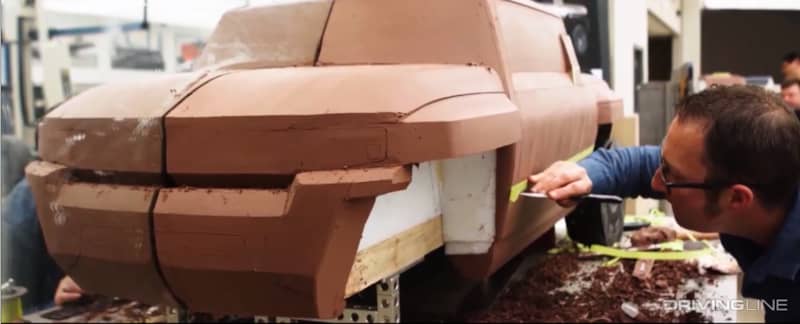 The Basics
We've gleaned a bit of information about the new Hummer EV over the last few months thanks to teaser videos, photos, and press information released by GMC leading up to the official reveal. We've also read between the lines and speculated other information regarding the new EV. But, we know more now!
The new Hummer EV is in the pickup truck sector, so it will have a standard 5-foot bed upon release. Though GMC has teased an SUV version of the Hummer EV, the date of its release has yet to be confirmed, according to Tara Kuhnen, Communications, GMC Hummer EV. The truck will debut in an "Edition 1 trim" with all the bells and whistles standard, while starting tonight, you can also reserve your Hummer EV with various price and performance options.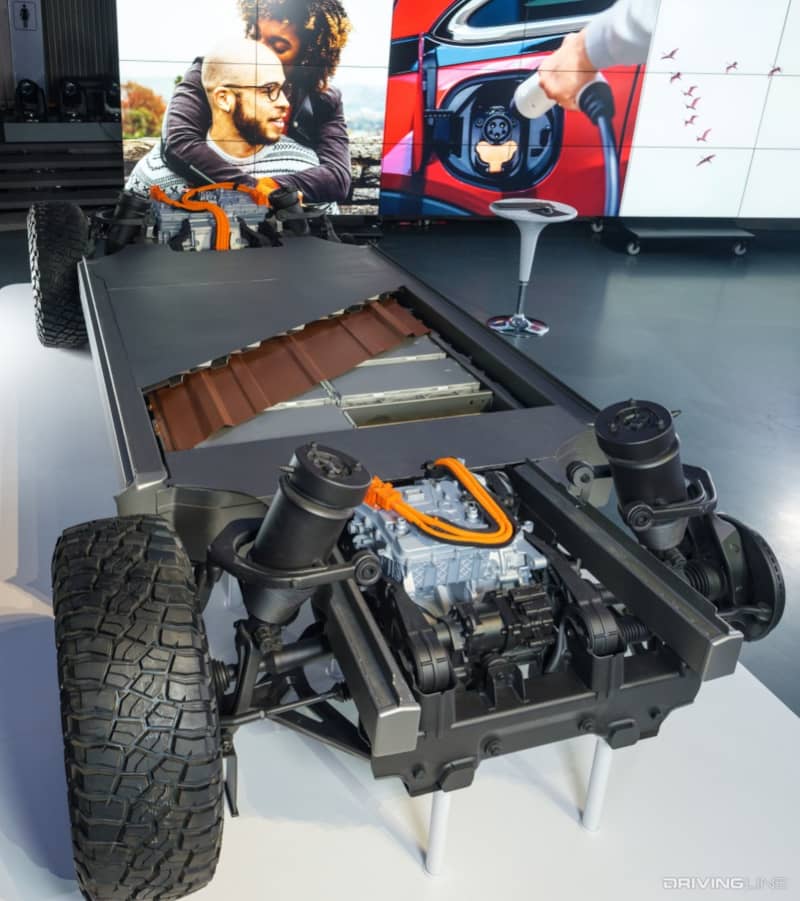 The new Hummer EV is a true "supertruck," meaning it is capable of going zero to 60mph in just 3 seconds. This is made possible thanks to three electric motors, one in the front and two in the rear, which combined, produce 1,000hp and 11,500ft-lbs of torque to the axles. Not too shabby for a pickup truck that can also go 350+ miles on a full charge!
The truck will feature UltraVision, which offers up to 18 camera views, including two under-body views—one of the front and one of the rear. Because it's an EV and doesn't have a traditional engine, the truck will also feature a power "frunk" or front trunk, with programmable height controls, which has enough room to store all of the truck's removable tops. It will also feature a MultiPro tailgate with six functional positions.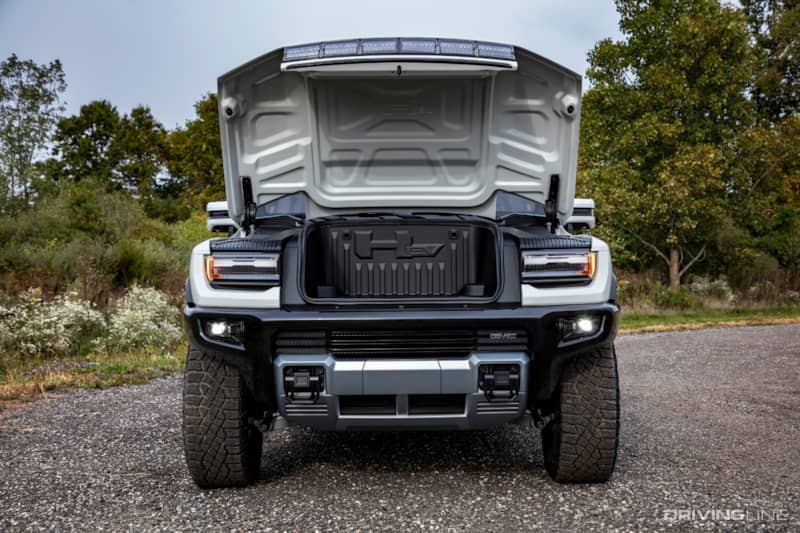 As mentioned in our previous article about the Hummer EV, the truck will also feature an open-air driving experience with a standard Infinity Roof featuring a removable T-bar and transparent Sky Panels that can be stowed safely in the frunk. It will also have power drop glass in the rear and a power tonneau cover. 
Another cool feature is the 13.4-inch infotainment system that sits mid-dash and features digital gauges, or "widgets," such as a G-Force gauge, Drift gauge, torque output and torque vectoring gauges, a pitch and roll gauge, tire pressure gauge, locker status, and wheel travel and ride height gauges. There are also six customizable auxiliary switches with over 40 different icons that can be programed for just about any added feature you'd like. Which brings us to the fun stuff...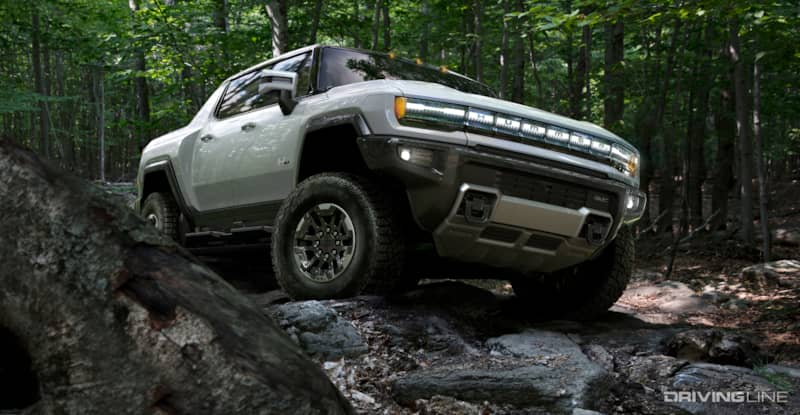 Off-Road Goodies
Call us skeptics, but when we think of off-road adventures, we would have never thought a factory EV would make the cut. That is until we really started delving into the Hummer EV, and let us tell you, this truck is about to take the off-road world by storm!
And let's face it—the Hummer name tag has never been synonymous with great gas mileage and environmental friendliness. And a factory Hummer on the trail? Eh, maybe on something fairly tame, or only for those most daring. But that's all changing with the new Hummer EV.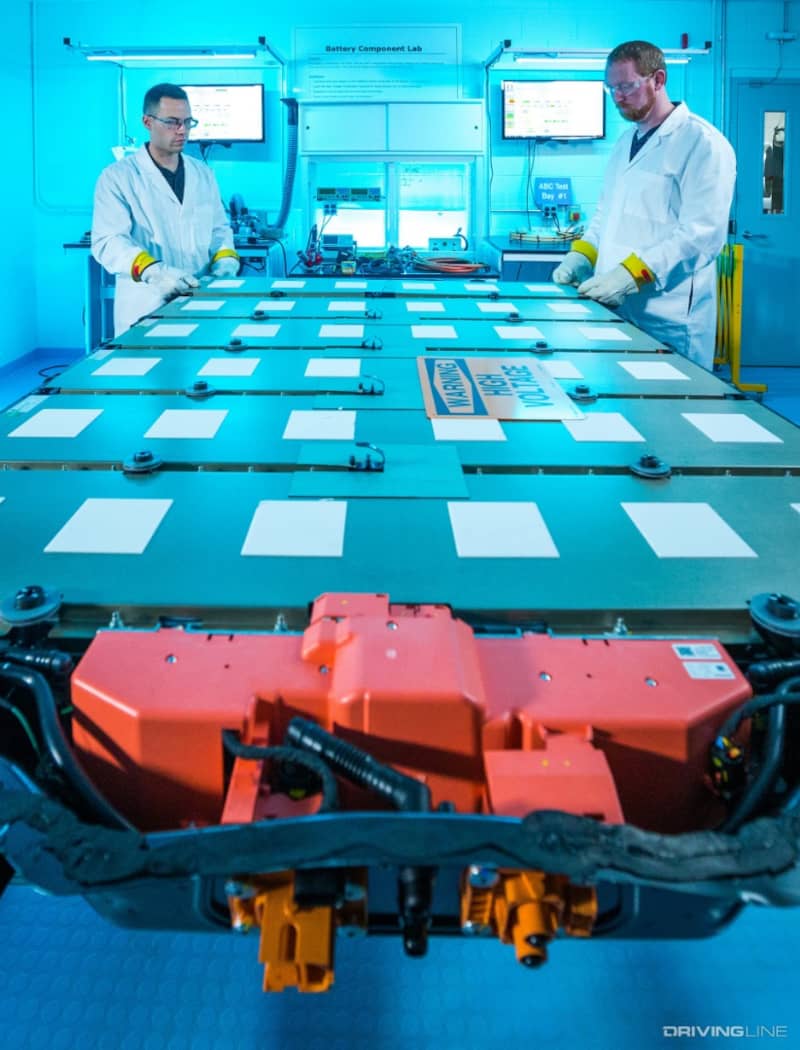 "We're very forward minded," Colville explained when asked why GM decided to bring back the Hummer moniker for the new EV truck. "It's part of our 'Zero Crashes, Zero Emissions, Zero Congestion' initiative."
With this initiative, GM is on a mission to create a safer, cleaner and more efficient way of traveling in the future, be it just driving to the store, commuting to work, or driving cross-country. But that doesn't mean dialing back the performance. In fact, there are more innovative features on the new Hummer EV than any vehicle in the current GM lineup, and many of those are right up the off-roader's alley.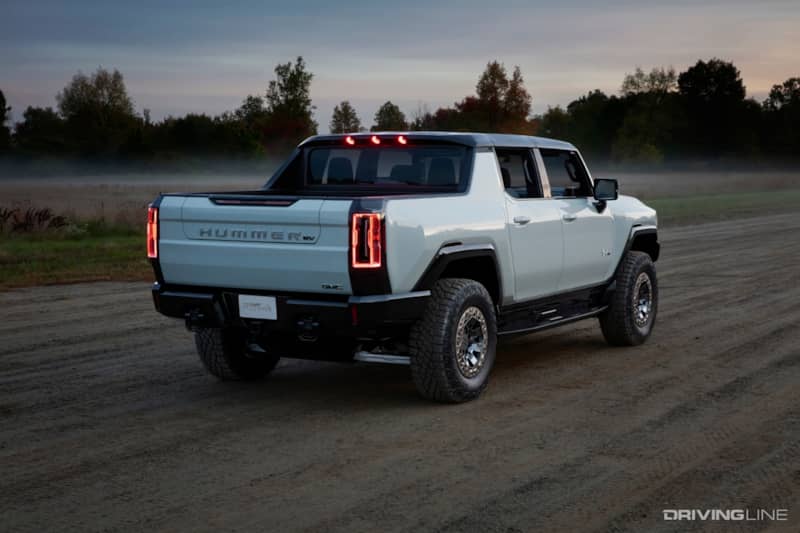 Drive Modes
The Hummer EV features a number of different drive modes, including two off-road modes. Touring mode is for normal driving; Tow Haul mode is for towing, obviously, and keeps the truck at a consistent ride height vs. the varying ride height feature integrated into the other driving modes; Off-Road mode, which is for faster off-road driving; and Terrain mode, which is for lower-speed, more technical off-road driving. Each of these modes comes with unique accelerator/pedal maps, suspension settings, ride height adjustments and even sound characteristics. Oh, and various degrees of how much rear steer is present, which we'll get to shortly!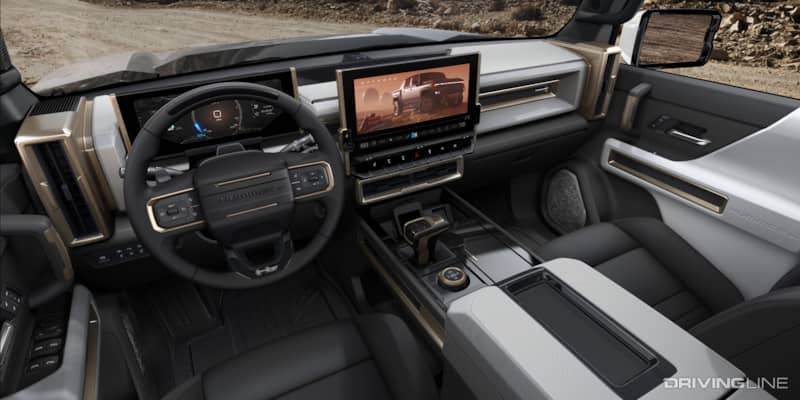 Another mode the Hummer EV has is My Mode, which will allow you to "pick your own recipe" of features and capabilities like ride height, suspension settings, etc. for a truly customized mode that will be retained over key cycles, according to Colville. Last but certainly not least, there is the Watts to Freedom mode, which is the mode you want to be in to get that acceleration of zero to 60mph in just three seconds. This mode turns everything up to optimal output, lowers the truck as much as possible for increased aerodynamics and an optimal center of gravity, gives you a unique set of displays that goes with the mode, and even uses the seat vibration warning feature to give you that added power feeling. In this mode, "it's all about the best launch," Colville explained.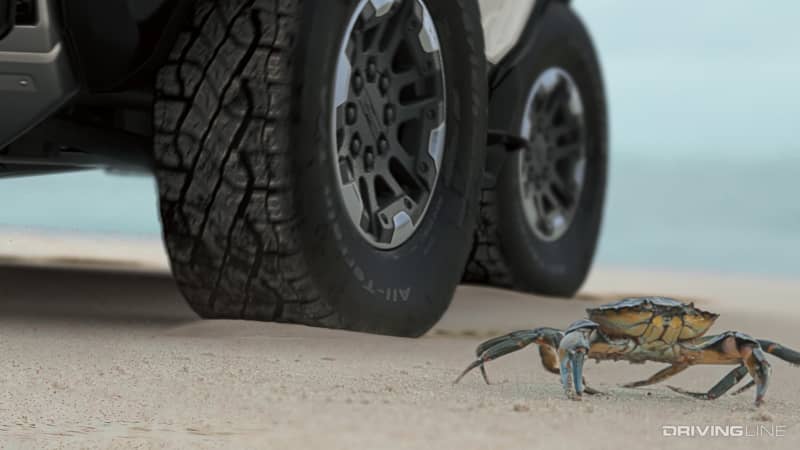 Suspension and Steering 
As speculated after GMC teased CrabWalk Mode in a recent video, the new Hummer EV will have rear steer—more specifically, the truck has 4-wheel steering. The suspension on the Hummer EV is air-driven with electronically controlled shocks for optimal compression, rebound, etc. based on what drive mode the vehicle is in. In a mode called Extract Mode, the truck can be raised an additional 6 inches from standard ride height (hello rockier terrain!) to clear just about anything in your path. Along with that, the truck can also be lowered an additional couple of inches, which will better the loading and unloading process considerably.
The Hummer EV features approximately 13 inches of wheel travel. We'll let that sink in for a moment.
And though it will come with standard 18-inch wheels and 35-inch tires from the factory, it is capable of taking a 37-inch tire without any modifications. Now we'll let that sink in for a moment.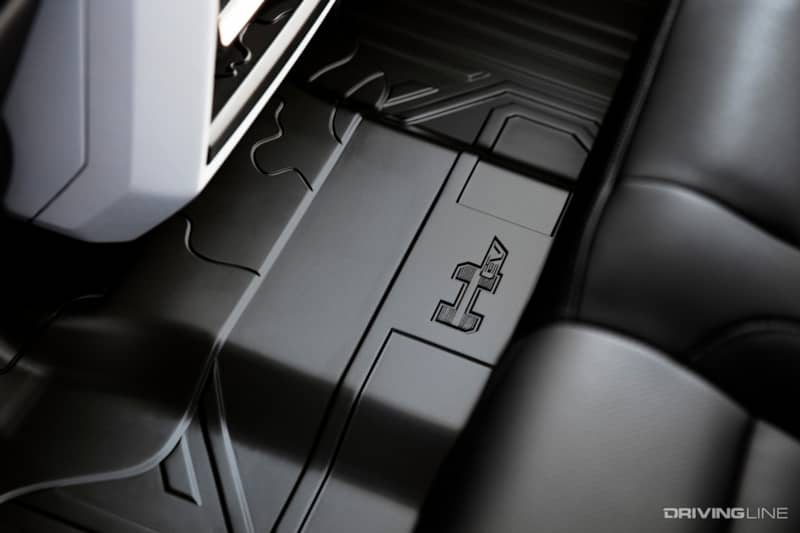 What does every off-road vehicle need to take on more serious trails? A locking differential. And the Hummer EV offers that as well. Because the front of the truck is controlled by a single motor, the front differential is a mechanically locking unit. In the rear with the two motors in control, it will be an electronically locking unit with the truck's computer creating a locking rear differential. 
Torque vectoring is another cool feature the Hummer EV has. That gauge in the infotainment system? Ya, that's to show you just how much torque is going to each wheel, which will vary based on the driving situation. On the ground, torque to each wheel will vary based on things like trajectory of the truck, angle of the wheels, driving mode and grip of each tire.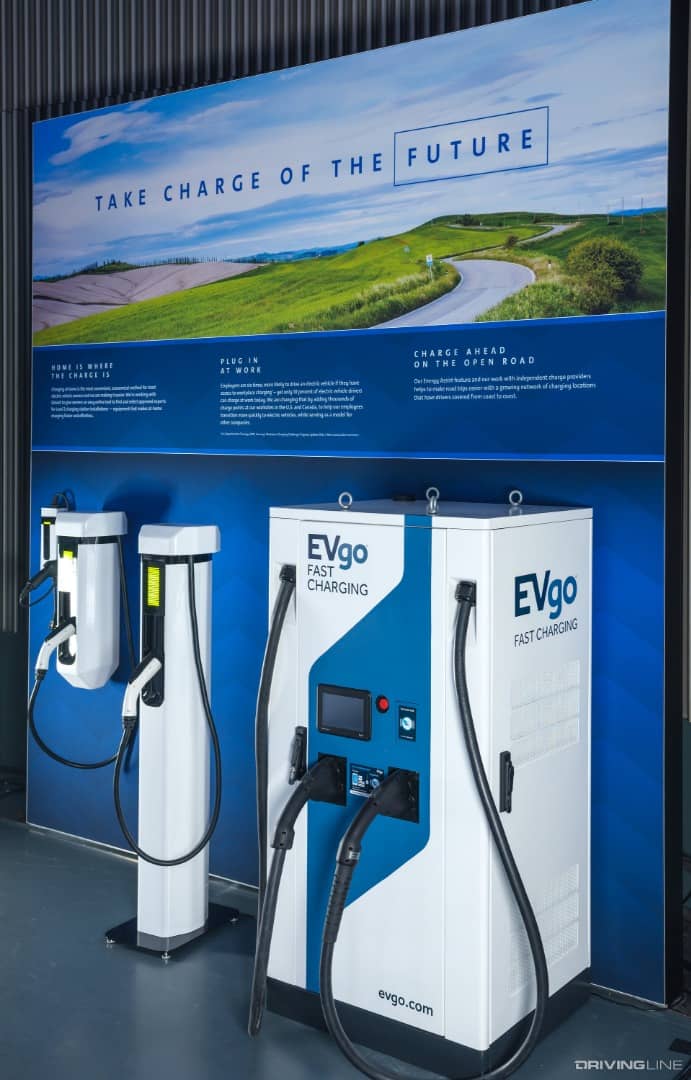 Charging and How Far You Can Go
As we teased earlier, the Hummer EV will be able to go 350+ miles on a full charge (depending on driving conditions, driving mode, etc.) using a 24-module, double-stacked Ultium battery propulsion system. It's also fast-charging, having the ability to charge 350kWh in 10 minutes, which is a range of about 100 miles. This is thanks to industry-first series mode charging capabilities. 
To accommodate the Hummer EV (and other upcoming GM EV models), GM is committed to putting in more than 2,700 fast-charging stations across the country over the next five years. The idea is that there will be charging stations available where people congregate for eating, shopping, and running errands, making it easier and less time consuming to charge EV vehicles for normal day-to-day use.
But what does this mean for those wanting to go out on the trail with their Hummer EV, or even on a weekend excursion or a few days playing in the desert? Well, GM thought of that too!
Hummer EV owners will be able to access an off-road savvy app on the My GMC App that will compile your trip's data, from start point, end point, days on the trail, etc., and help map out a route that shows you the closest charging station to your destination, as well as charging stations along the way. Not only that, but it will also monitor the truck's charge and notify you when it's at a certain level, so that you don't get stuck out on a trail without being able to get back to a charging station with a little room to spare.
The app is also designed to collect data from your trip so that future adventurers can get an accurate idea of charge levels, charge drain, etc. at the tip of their fingers if they are heading to the same locale. Talk about GPS on overload!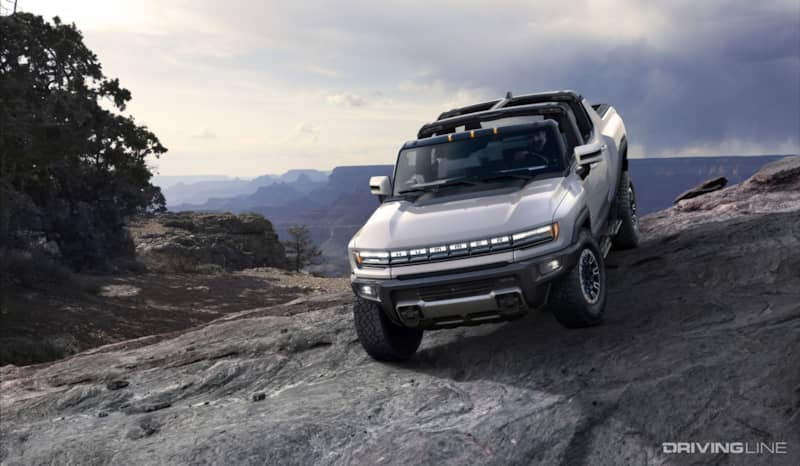 More Cool Stuff – Like You Aren't Already Hooked
Yes, there's more! Once the Hummer EV is released, which should be late 2021, over 200 accessories will be available for the truck through GMC dealers and third-party companies. This is going to be a truck you can fully customize from the get-go, right down to the built-in compass.
That's right—GMC has reinvented the on-board vehicle compass for the Hummer EV, not only pointing to your traditional directional quadrants but also pointing to the direction of your intended destination. Colville explained it like this: "When racing, all you want to know is which direction are the pits. I don't care if I'm facing North or South, I want to know if the pits are to my left or to my right. This gives you that kind of ability."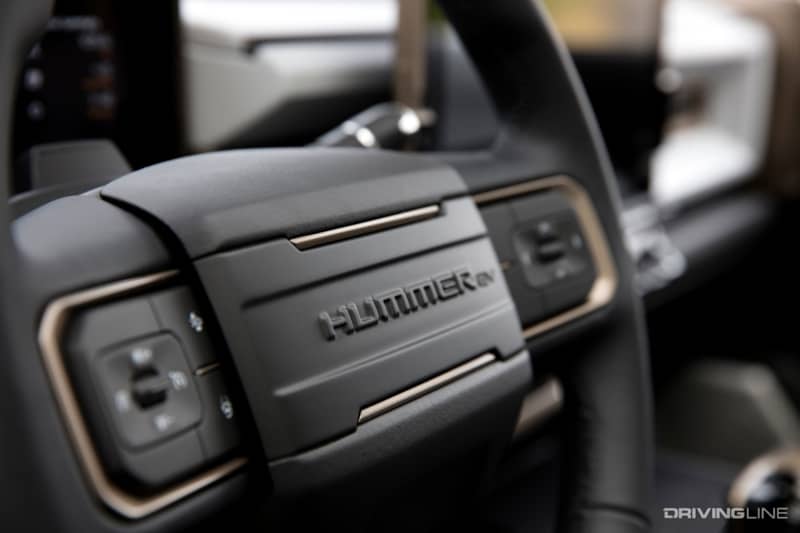 For added durability, the Hummer EV will be equipped with steel underbody armor and rock sliders. This will not only strategically protect the batteries powering the truck, but also various places on the undercarriage. This is definitely a nice addition, considering the Hummer EV's "unprecedented off-road capability, including scaling 18-inch verticals and driving through water that is more than 2 feet deep," according to GMC's latest press release on the vehicle.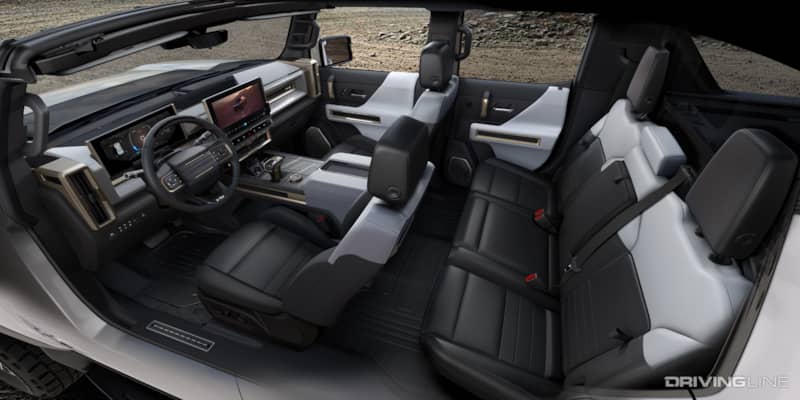 Another cool little feature is the truck's setup for one-pedal driving, where based on configurations and the amount of pressure on the gas pedal, you can essentially control speed, acceleration and deceleration without ever touching the brake pedal. There's also a Regen On Demand paddle on the steering column (think just like a paddle shifter placement) that allows you to even greater control your deceleration rate without using the brake pedal. This feature can be set any range from off to super aggressive. Of course, we have to mention that the Hummer EV will also have SuperCruise, which is essentially an autonomous driver-assist mode that can be activated on over 200,000 miles of of enabled roads.
Even features like tire inflation/deflation assistance have been thought of. In the new Hummer EV, you can set your desired tire pressure, and then thanks to sensors and the latest technology, the truck's horn will honk when the tires reach that pressure as you're filling them. "It's a beast of an off-road vehicle," Colville told us. "Everything was thought of." 

Edition 1
When the Hummer EV hits dealership floors as a 2022 model, it will be available in one trim level, known as Edition 1. All Edition 1 vehicles will be "identically appointed and fully equipped," according to GMC's latest press release on the trim level. The Hummer EV Edition 1 has an MSRP of $112,595, including destination.
All Edition 1s will have a white exterior with a "Lunar Horizon" interior, and feature special Edition 1 badging. Standard features on the Edition 1 include everything discussed above, from the 35-inch tires, underbody armor, and UltraVision camera system, to the adaptive air suspension, 4-wheel steer, and that ever important 1,000hp and 11,500ft-lbs of torque.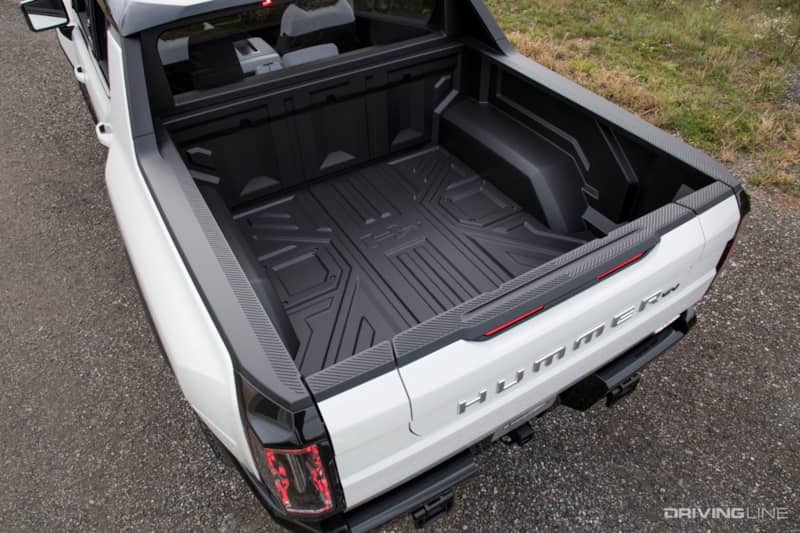 "The GMC HUMMER EV is revolutionary, defying what the industry thinks of as a pickup truck," Duncan Aldred, vice president of Global Buick and GMC stated in a recent press release about the new Hummer EV. "The Edition 1's tailored off-road content will make HUMMER EV's unprecedented capability and zero-emissions a very special proposition for customers."
Future trim levels will be available starting in Fall 2022, starting with the Hummer EV 3X with an MSRP of $99,995, followed by the Hummer EV 2X in Spring 2023 and the Hummer EV 2 in Spring 2024, with MSRPs of $89,995 and $79,995 respectively. Edition 1s will be the top-of-the-line trim level, followed by the 3X, 2X and then the 2, with the 2 being the base model with just a 2-motor drive system and not nearly as many bells and whistles.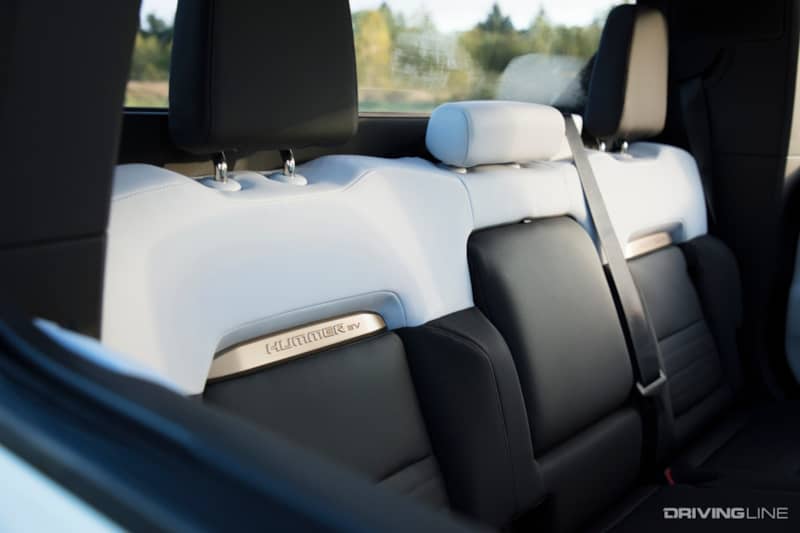 The features on the new Hummer EV seem to be endless, and that's by design. It's meant to "fit" everywhere, Colville explained, from off-road to in front of a nice house. And it's the immense amount of features and technology this truck has to offer that will have it fitting in various environments.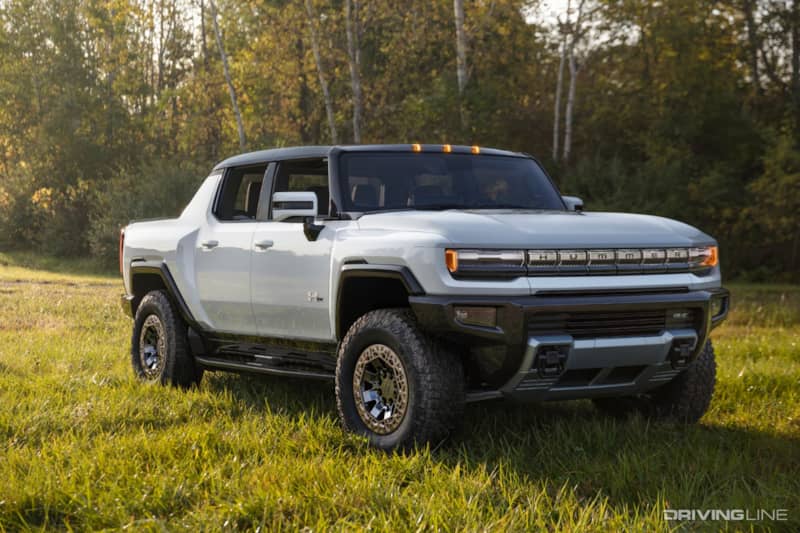 Can you see why we're so excited about the new Hummer EV? It's obvious that GM threw a ton of technology at this truck and really considered the off-road world when integrating many of its features. Thanks to avid off-road enthusiasts and experienced off-road racers working on the project like Colville, the Hummer EV is primed to be able to take on some rugged terrain straight from the factory and give the driver innovative controls to create the best experience behind the wheel.
Now if only we knew when we might see the Hummer EV take on an extreme off-road race like King of the Hammers or the Baja 1000....
We were told that's yet to be revealed but don't worry, we were assured GM has some plans in store we can look forward to!