GMC Hummer EV: More In-Depth Info On the 1,000hp 11,500lbs-ft. Supertruck
It hasn't even been 24 hours since the 2022 GMC Hummer EV was officially revealed to the world, yet we've learned even more about this impressive truck we just had to share. So let's get to it!
Off-Road Capabilities Beyond Expectation
There's no doubt about it—the new Hummer EV is truly a capable machine on and off the pavement, but to make the truck truly an "off-road beast" as many of GM's engineers have called it, there had to be more than just a large tire size, skid plates and decent ground clearance. It needed durability beyond what you'd expect from a normal street vehicle, as well as some exclusive features offered just in off-road driving environments.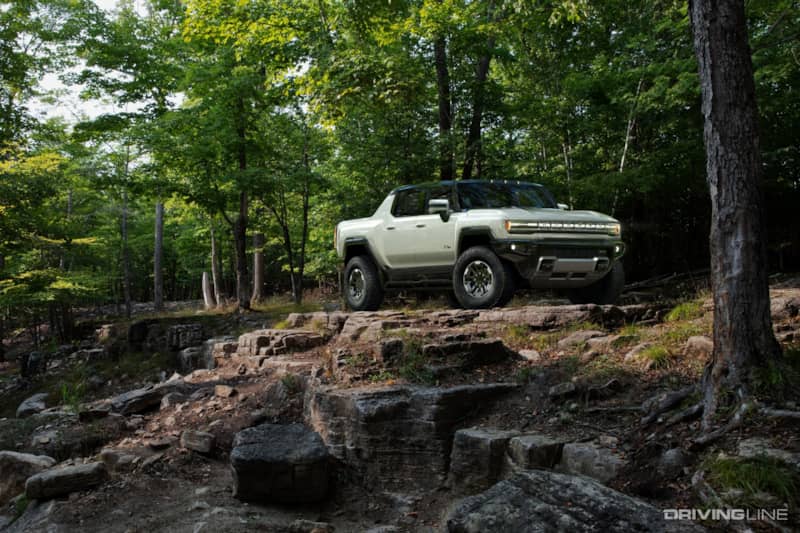 "GMC has long been a leader in professional-grade trucks and the all-new GMC HUMMER EV will help to establish new standards in capability, maneuverability and driver control," said Al Oppenheiser, HUMMER EV chief engineer, in a recent press release. "Our goal was to develop the most capable, factory off-road pickup on the market. We're excited to show the world what 100-plus years of truck know-how can do when applied to EV power."
So did GM accomplish what they were out to do? Well, we'll let you decide.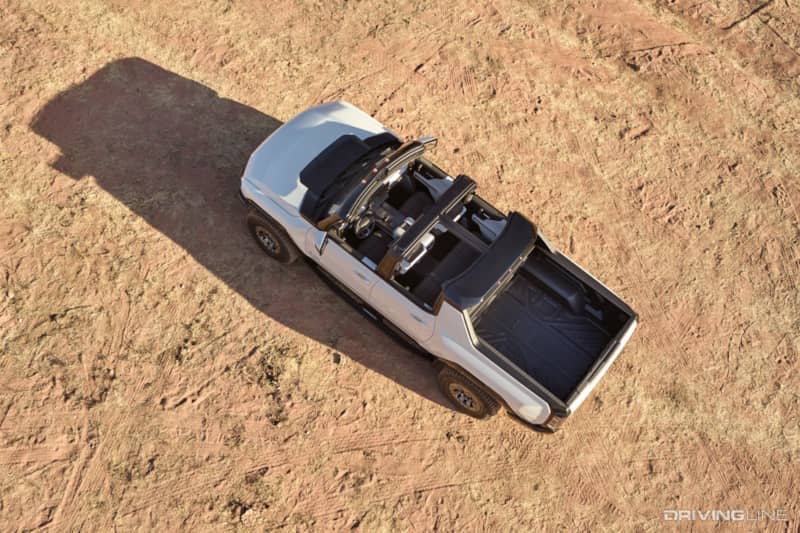 The Breakdown
The new Hummer EV is said to fit within the same profile dimensions length and height wise as a GMC Sierra AT4 Light Duty pickup truck, and have a width similar to the Ford Raptor. So there's nothing new there. But what is different about the Hummer EV is the maneuverability and capabilities it has within that same basic size and shape.
Impressively, the Hummer EV has a turning radius of just 11.3 meters, or just a hair over 37 feet. It can also climb (both forward and backward) up to 60-percent grades, scale 18-inch verticals and ford water up to 32 inches deep.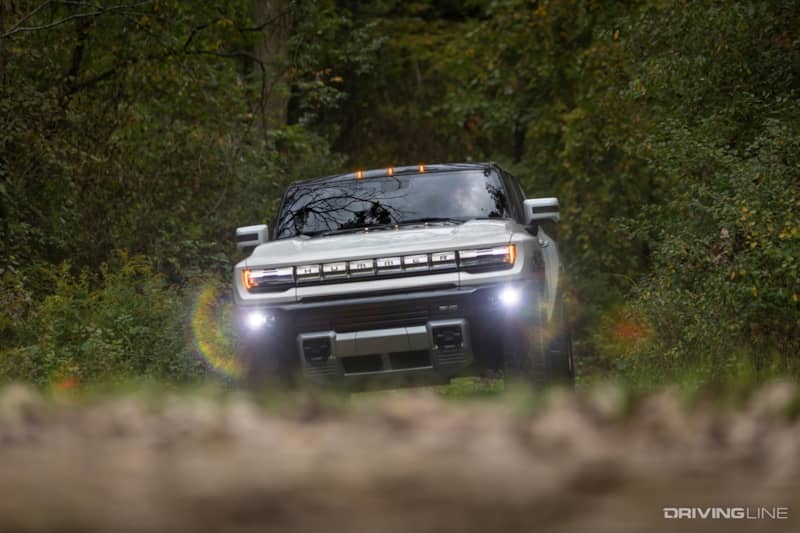 Taking On All Terrain
In standard drive modes, the Hummer has 9.9 inches of ground clearance with an extra 2 inches in Terrain mode, which is also available in Off-Road mode. Get a Hummer EV with Extract mode, an additional add-on feature for those looking for even more off-road prowess, and you'll get an additional 6 inches of ground clearance, topping out at 15.9 inches. Without your traditional powertrain and the components that go with it, there's a lot of ground clearance to be had! This goes hand-in-hand with nearly 13 inches of suspension travel in select modes.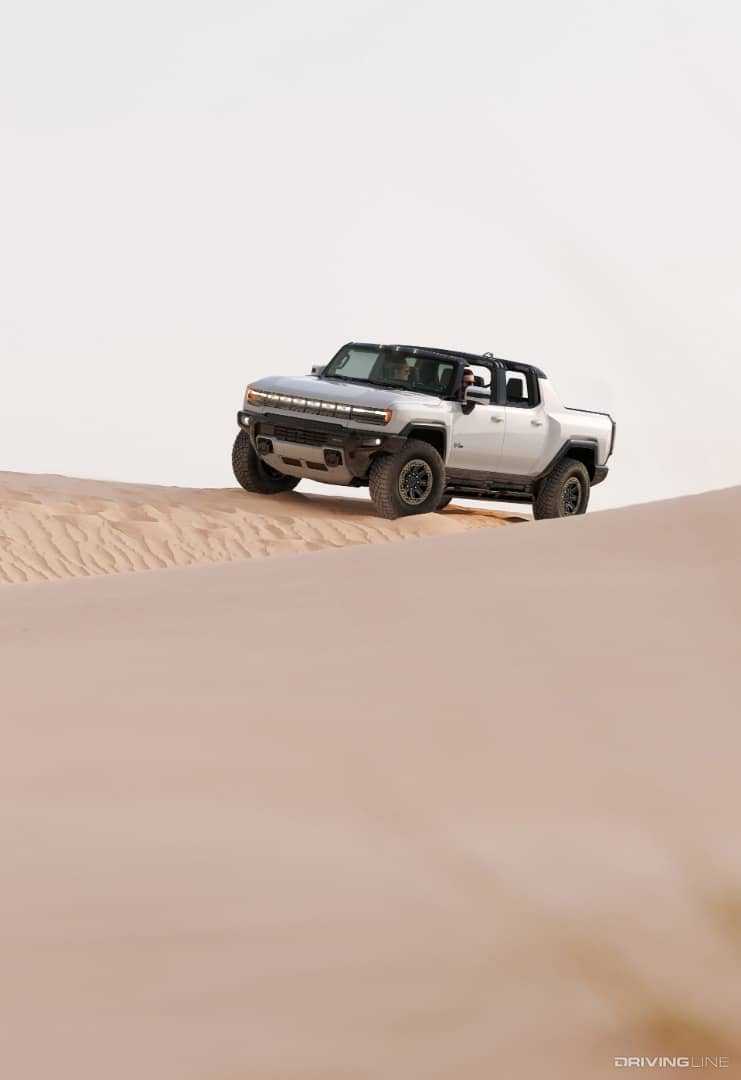 Now, with that much ground clearance, you may be asking yourself how stable the truck will be. Well, thanks to things like a reworked frame system that did away with components like conventional frame rails, instead using the battery system as a "fundamental structural element of the chassis," the Hummer EV team was able to keep the center of gravity lower in the truck, giving it overall more stability. Added to that are extremely rigid floor panels above the battery system, which helps keep the truck from twisting even in extreme off-road situations, as well as without the truck's removable Sky Panels in place.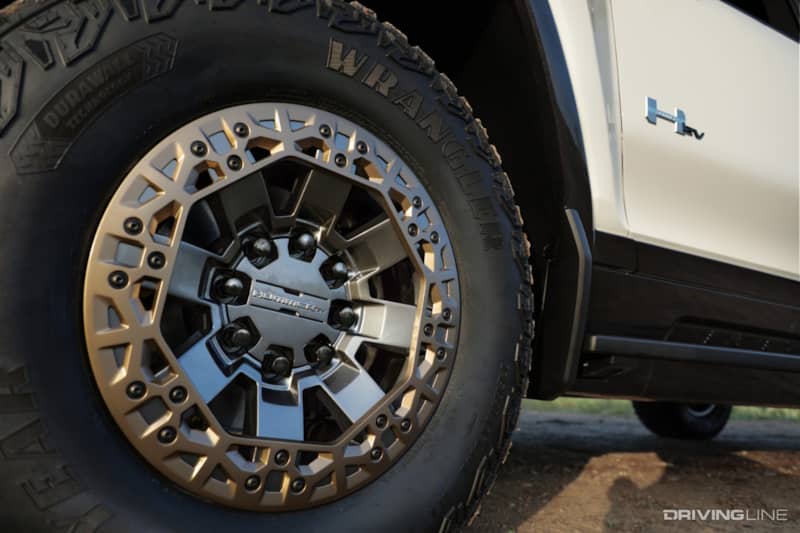 "The GMC HUMMER EV's all-new EV platform was a blank slate that was filled out by a dedicated team of engineers who are hardcore off-road enthusiasts," said Aaron Pfau, HUMMER EV lead development engineer, in a recent press release. "The result is an absolute off-road beast that will take you to new places."
Off-Road Motorsports Meets Production Truck
Other key off-road factors (in addition to the ones we already mentioned in our previous article) are independent front and rear suspension systems with 4-wheel steer, a front electronically-controlled locker and rear virtual locker, heavy-duty ball-spline half-shafts for maximum articulation and maneuverability, 18-view UltraVision camera system that's like having a built-in spotter on board to help you navigate over tougher terrain, and adaptive ride control with upgrades to GM's Continuous Dampening Control system, which "'reads' the road every 2 milliseconds to enable continual damping adjustments in order to optimize comfort.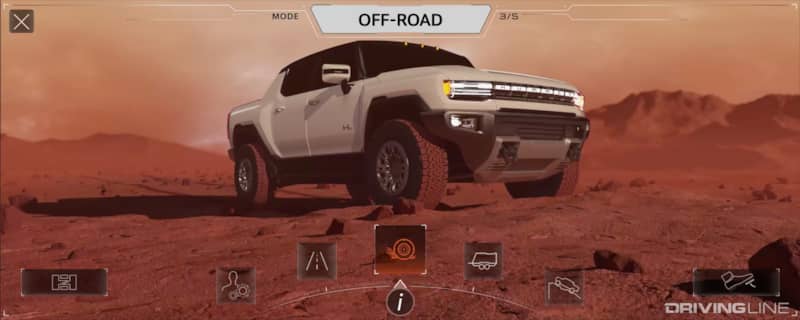 "Everything that you'd want in an ultimate, forge-any-path off-roader or overlander is what we've tried to build into the HUMMER EV," said Pfau. "All of it is enabled by the all-new, electric propulsion system, which unlocked tremendous potential that simply couldn't have been achieved in a conventional truck."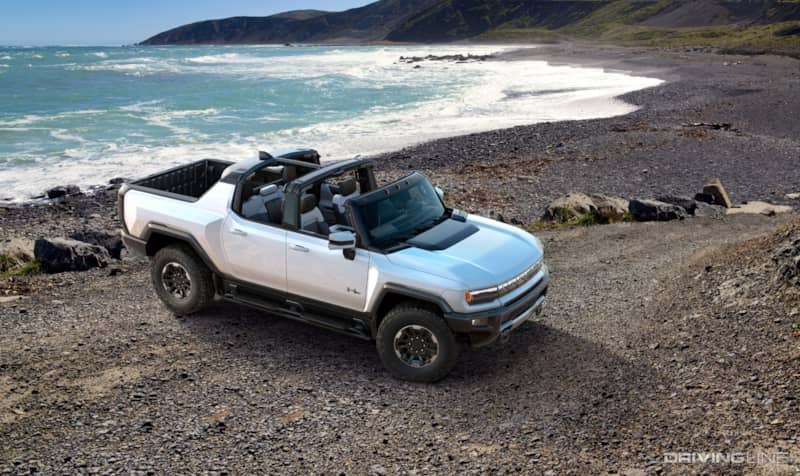 Power and Drive Units
The Hummer EV Edition 1 will be powered by a 24-module Ultium battery system, which not only has fast-charge capabilities of 350kWh, which will give you about 100 miles worth of charge in 10 minutes, but also a more compact and streamlined power source compared to tradition gasoline and diesel vehicles.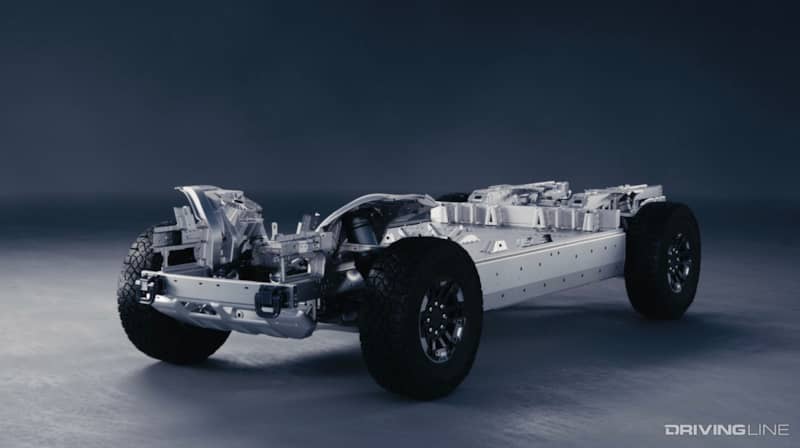 The Ultium battery system will power three motors, one in the front and two in the rear. The single-motor drive unit up front will have a fixed gear ratio of 13.3:1, be capable of pushing up to 100-percent of the single motor's torque to a single wheel, and offer an available locking differential. In the rear, there are two motors tied together for a single drive unit with a 10.5:1 fixed gear ratio, torque vectoring capabilities, and the ability to simulate a rear locking differential.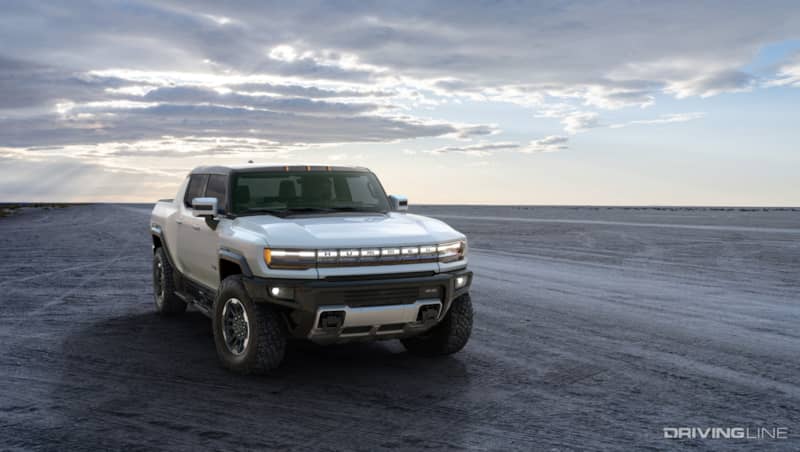 Bold Design and Tech Features
Right from the get-go, we were teased with impressive numbers like 1,000hp, 11,500ft-lbs of torque, and zero to 60 in approximately 3 seconds. And it turns out that GMC is going against the grain a bit and offering all of that in its Edition 1 trim, which will be the first of the Hummer EVs to hit the streets. And all that off-road stuff? Ya, that comes with it too!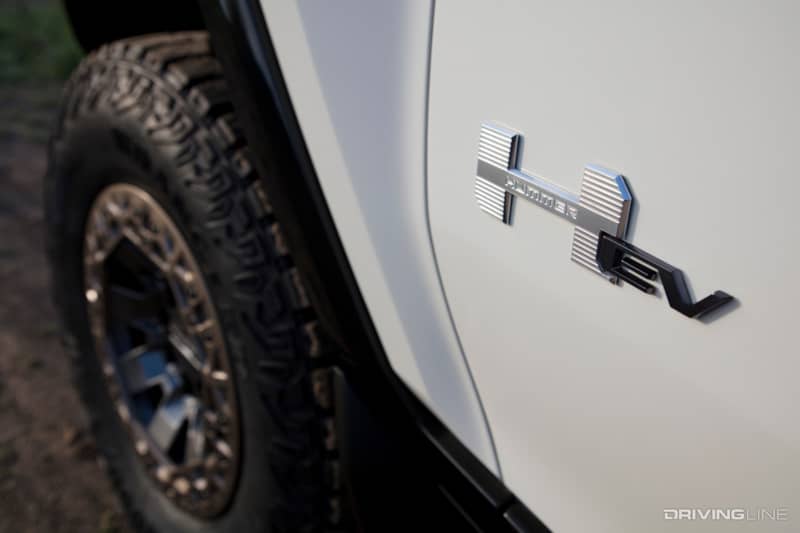 Unlike the traditional process of releasing a standard (and most often, the cheapest) model first to be followed by bigger and badder versions of the same vehicle, GMC wanted to make a splash and release their "halo" Hummer EV first. When asked, Oppenheiser told us this decision was made to show everyone they are here to play, and here to stay, showing what they're capable of in both over-the-top off-road performance and innovative EV technology.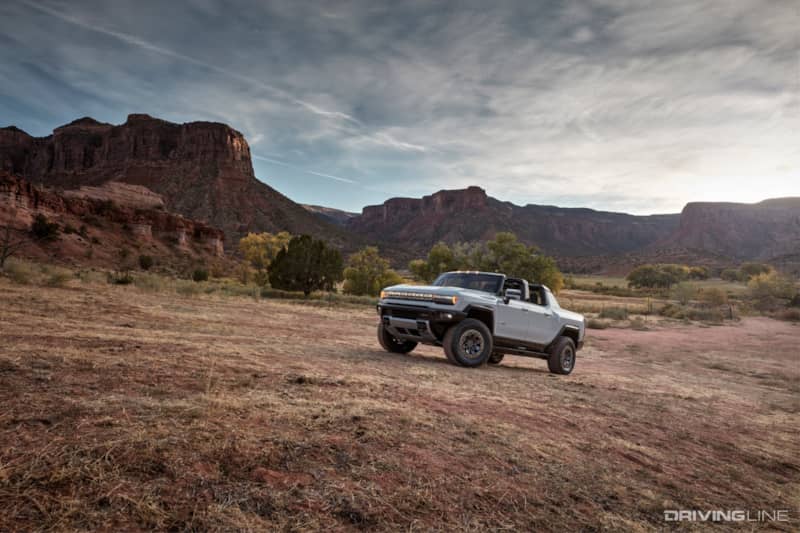 Watts to Freedom Mode
This can definitely be seen in the Edition 1's design and tech features, including the truck's launch control mode dubbed "Watts to Freedom" mode. Like previously discussed, this mode is all about that perfect launch, which means everything from lowering the truck and walking the driver through launch timing, to cranking the sound effects and music through the truck's 14-speaker Bose audio system and changing up the truck's overall infotainment look and feel. More than just going fast, it's meant to be an immersion experience.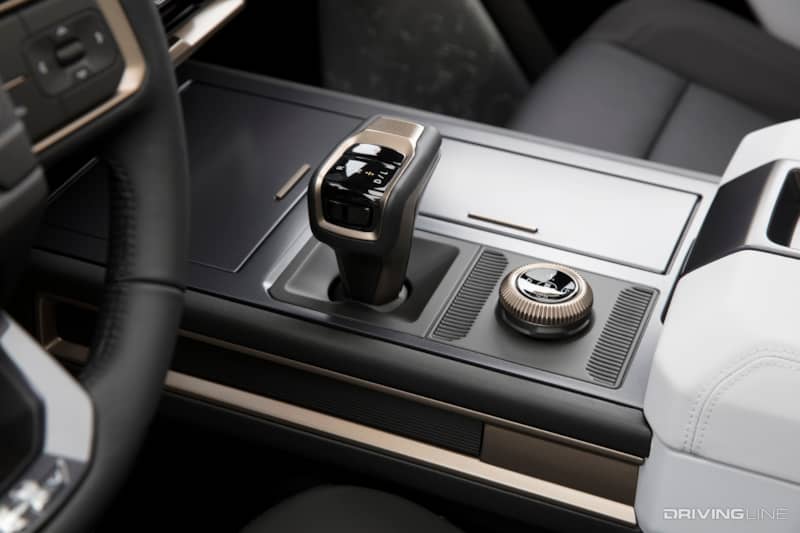 "It's an amazing demonstration of just how fast 1,000 horsepower and 11,500 lb-ft of electric propulsion can move you—regardless of the vehicle's size," Oppenheiser stated in a recent press release. "It'll put a smile on your face every single time."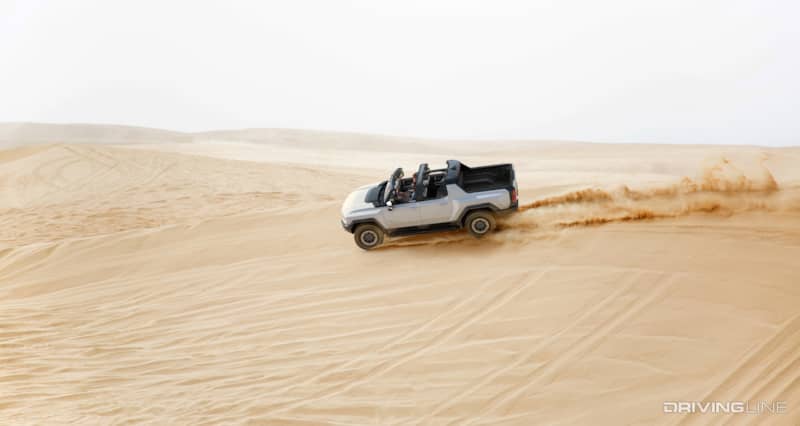 All About The Tech
Watts to Freedom mode isn't the only immersive experience GMC wants customers to have in the new Hummer EV. In fact, everything from the overall look of the new truck and the Edition 1 interior color "Lunar Horizon" scheme, to the 12.3-inch digital instrument cluster and 13.4-inch infotainment center (and all the widgets and graphics that go with them), were all designed with a futuristic sense in mind. You'll also see a ton of lunar and space-age references throughout the truck, because as the GM engineers maintain, creating the new Hummer EV in just 19 months was their "moon shot."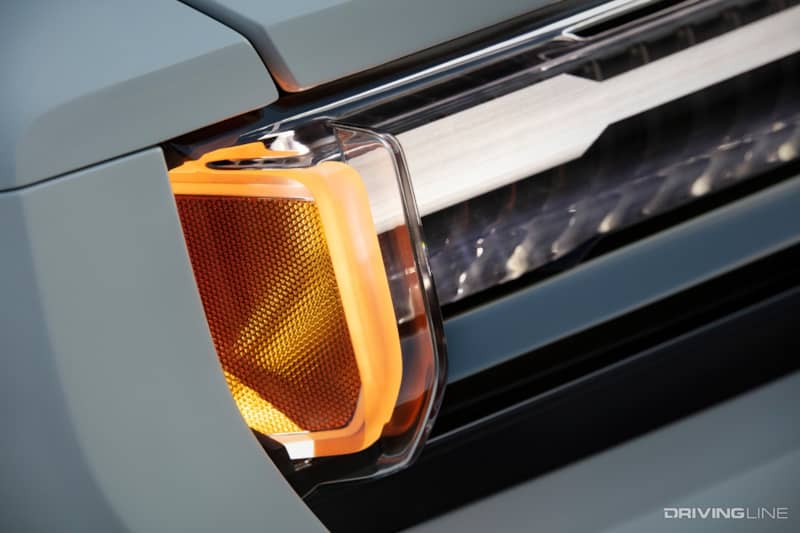 Take the traditional-looking Hummer grille for example. Not only is this a futuristic-looking version of the iconic grille, it also helps give the truck personality—the digital grille lights up when the driver approaches thanks to digital key options, and the headlights act as a battery charging gauge with charging confirmation and status expressed through the headlight bars.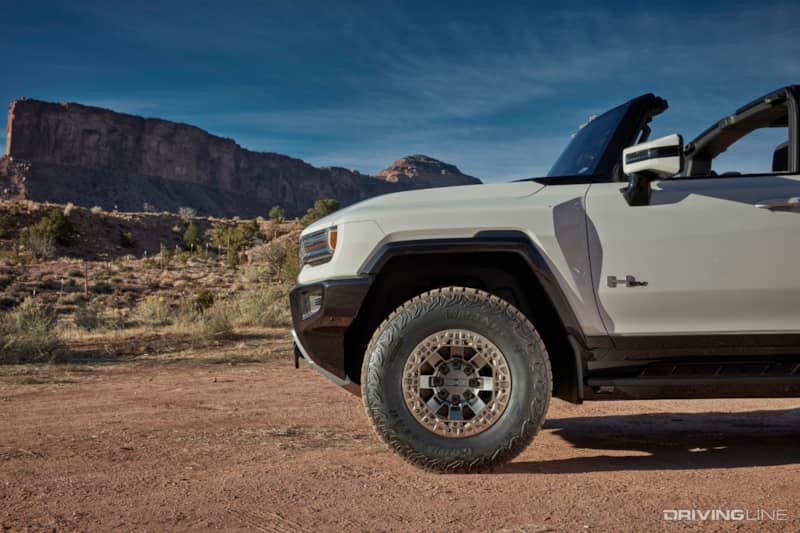 Inside the high-contrast interior, you'll find even more high-tech highlights. The truck's digital displays are powered by Epic's Unreal Gaming Engine, giving the driver real-time 3D graphics of the truck with widgets like the torque vectoring widget or the widget for the truck's pitch and roll status. The navigation system is Android-backed, allowing for future updates using things like Google Maps. There's also Energy Assist, which monitors energy use, helps set up a charging schedule and even works to help temperature condition the truck's batteries.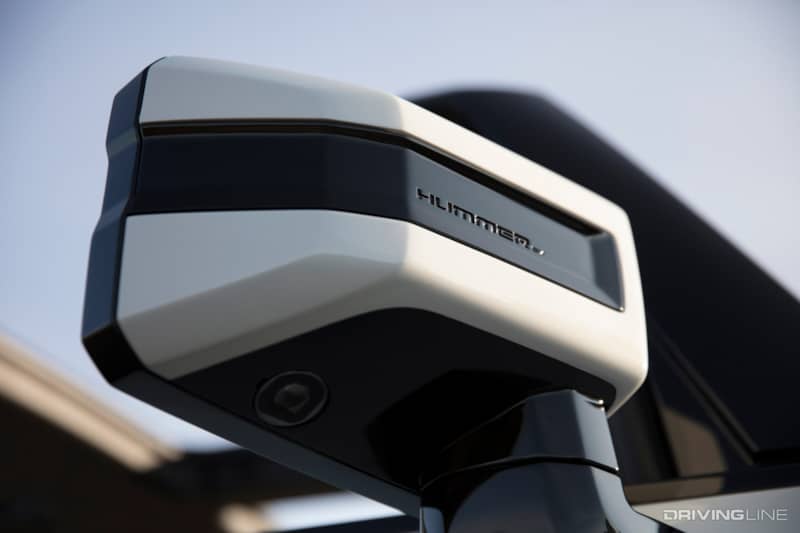 "The HUMMER EV comes alive when you interact with it," Scott Martin, HUMMER EV creative director, UX, stated in a recent press release. "It involves and rewards you, enhancing the experience by making you a bigger part of it."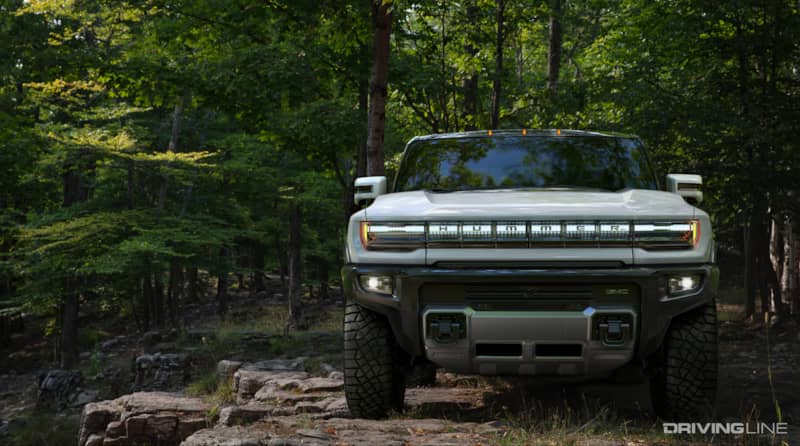 Aesthetics and Functionality 
This isn't any ordinary truck, so it didn't get any ordinary design. The exterior of the Hummer EV is very reminiscent of the previous Hummer models, but re-imagined in a "grown up" and modernized way. It's profile won't make you think twice about what kind of truck it is, but it will definitely make you want to take a second look. And features like the MultiPro Tailgate, robust armor and industry-first Infinity Roof will have it working and playing just the same.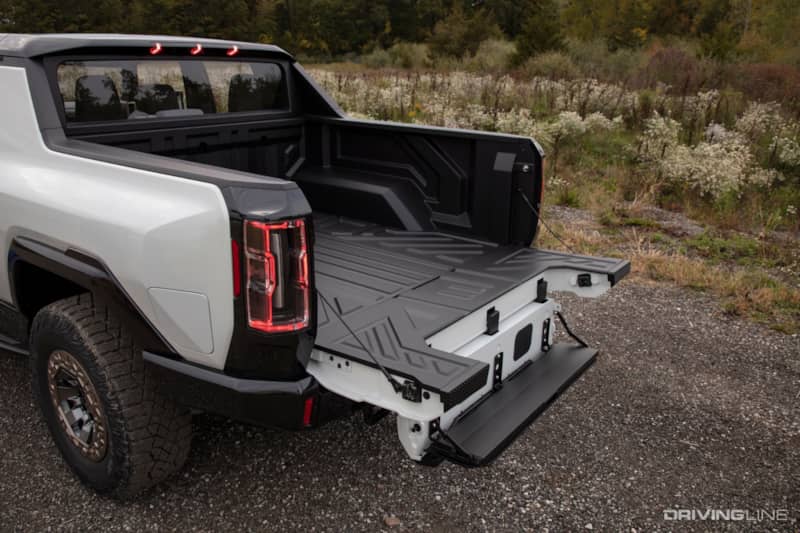 Other awesome features include an easy-to-clean vinyl floor throughout, copious amounts of storage stashes (including the "frunk," which will hold all those removable Sky Panels), massive surround system, and perfectly-positioned seating for the optimal driving experience.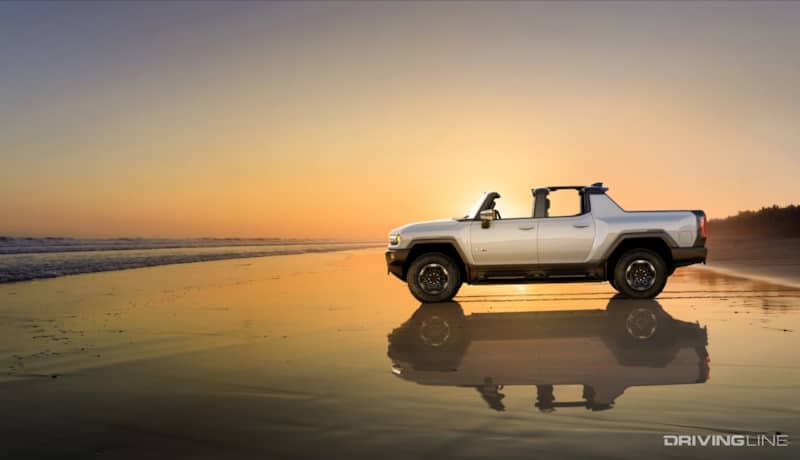 "We had a unique opportunity: Create something people will instantly recognize while challenging perceptions by creating a zero-emissions, zero-limits electric truck," said Phil Zak, HUMMER EV design executive director, in a recent press release. "The HUMMER EV is a bold design statement combined with a truly capable chassis that visually conveys an eagerness to forge a new path."