HUMMER EV SUV vs RIVIAN R1S: Who Will Be the King of Electric Off-Roading?
GMC has just followed up their HUMMER EV truck and revealed the HUMMER EV SUV. The HUMMER promises to live up to the original, in terms of go-anywhere capability. While there are nearly a dozen EV SUVs currently on the market or soon to be available, most of them are focused on range and practicality. Aside from GMC, there is only one other EV SUV coming to the market that touts off-road capability—upstart Rivian's R1S electric SUV.
Let's see which of these upcoming EV SUVs will be king of the hill.
Comparing the Numbers
Both the Rivian and the Hummer have similar performance figures. The top trim HUMMER EV3x and Edition 1 come equipped with 3 electric motors generating 830 horsepower. The trio of motors is good for bringing the HUMMER from 0-60 in 3.5 seconds, 300+ miles of range and an astronomical torque claim for their HUMMER EV SUV.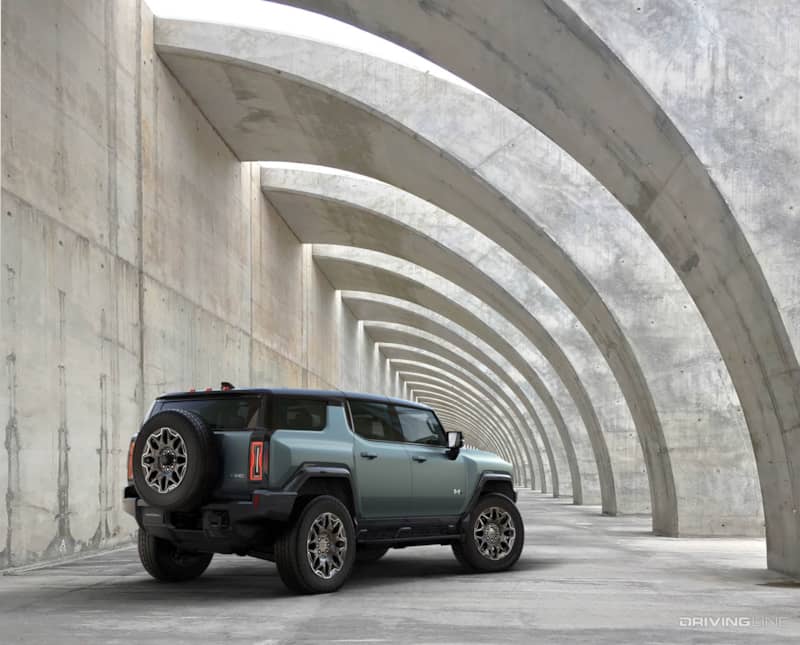 Rivian one ups the HUMMER by packing 4 electric motors, which will allow the R1S to do 0-60 in 3 seconds, tow 7,700 lbs and an estimated 300+ mile range.
Based on claims, both are about even. We'll have to wait until the official numbers to see how they stack up in real life.
Rock Crawler or Mall Crawler 
The HUMMER EV SUV promises a whole slew of off-road focused functions. It will feature a dynamic air suspension that can lower the HUMMER 2 inches for ease of entry/exit and optimize on-road handling. When the road gets rough, you can choose from various trail modes and an air suspension that raises up to 6 inches on demand.
GMC says their SUV will come equipped on 35s and can be had with an available front locker and "virtual rear locker," heavy-duty ball spline half shafts to optimize articulation, as well as an Extract Mode, but offers no details on this feature.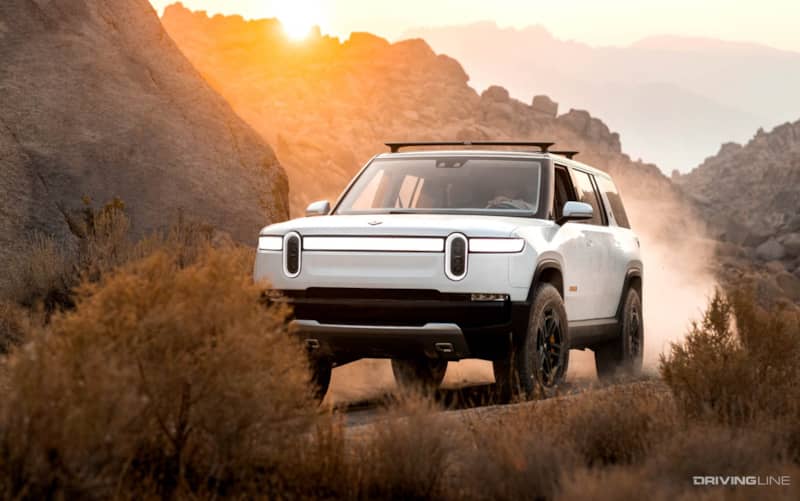 Rivian hasn't mentioned much about the R1S suspension set up but they have teased that it can be lowered to a minimum ground clearance of 8.1 inches. The Rivian R&D team has been hard at work taking the R1S on trail.
Tech
Both vehicles offer autonomous driving, multiple screens in the interior and off-road features. The HUMMER EV SUV features a 4-wheel steering "Crab Walk" mode which allows the vehicle to travel around an obstacle diagonally. It also features 4-wheel steer which will turn the rear wheels opposite of the front wheels for more nimble maneuvering and better handling. The HUMMER SUV EV will handle like no other HUMMER.
Underneath the HUMMER SUV, you will find full armor to protect the batteries, along with a total of 17 cameras around, above and below the vehicle so you have an eye on your surroundings.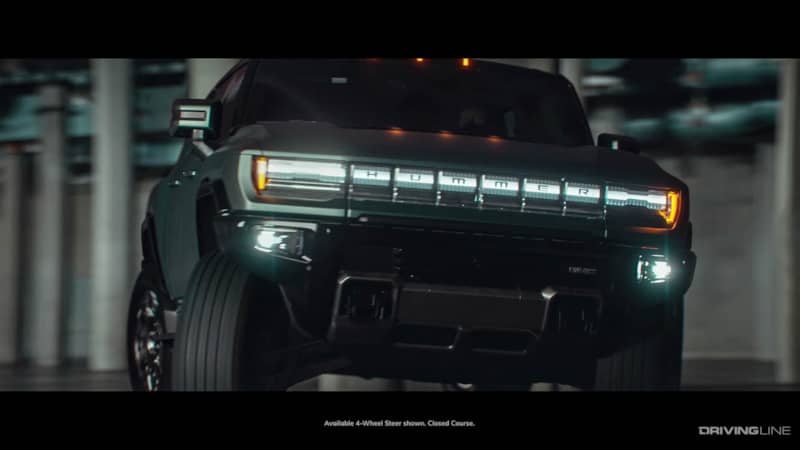 Rivian R1S has its own magic tricks too. Rivian mounted the electric motors closer to the center of the vehicle instead of at the hubs to optimize articulation. Similar to the GMC's 4 wheel steer, Rivian features a tank turn mode which will turn the rear wheels opposite of the front wheels and allow the R1S to spin on a center axis, eliminating the need to make a 3-point turn.
The Rivian features 11 cameras as part of their Driver+ autonomous driving suite but no mention of their location or if they can be used to show ground clearance. 
Range
What makes an electric car useful is how far it can go on a full charge. How are you going to get off the grid if you're limited to the electric grid?
The HUMMER SUV EV promises over 300 miles of range. It will feature GM's new Ultium batteries which will allow the vehicle to charge on a 800 volt system, adding 100 miles in 10 minutes. The current crop of Level 2 chargers, charge at about 1/3 of the speed that the 800 volt charger promises. At this time, the United States doesn't have a 800 volt charging network but by the time the HUMMER becomes available, that may become common place.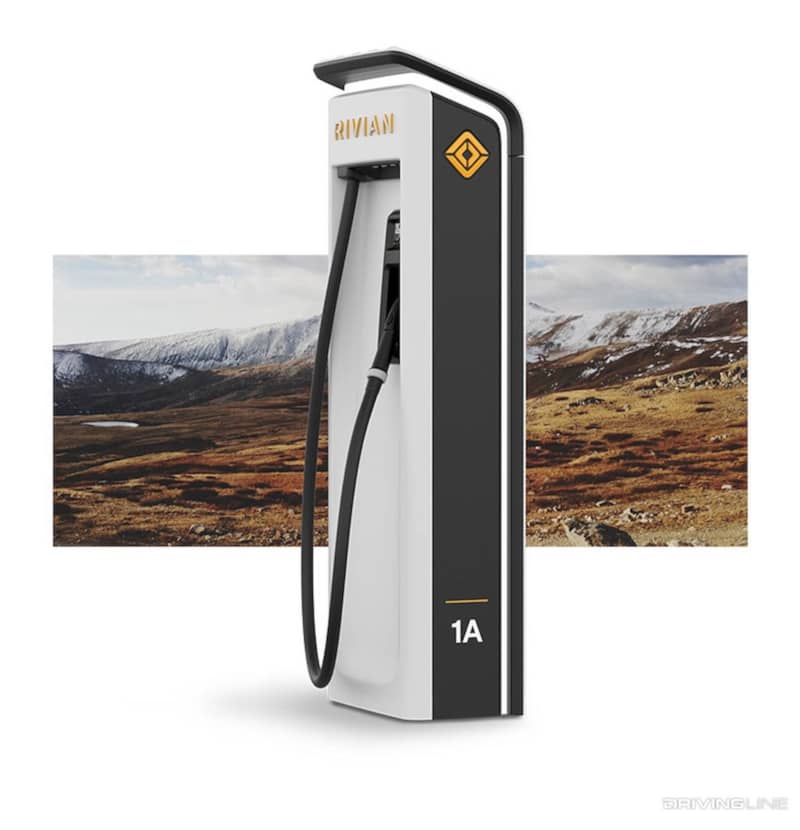 Rivian recently announced their own charging network called the Rivian Adventure Network—a nationwide network of DC fast chargers capable of adding 140 miles of range in 20 minutes. In addition, Rivian plans to install Waypoint Chargers—adding 25 miles of range in 1 hour and will be placed at camp sites, parks and other popular destinations. Among the first locations include all 42 of Colorado's state parks.
Bottom Line
Both have their advantages and well thought out features. It may depend on the types of adventures you're looking to go on. Both vehicles are available to reserve now. Rivian deliveries are expected begin late Summer 2021. When it does, it will be the only fully electric SUV until the HUMMER SUV EV hits the trail in 2024.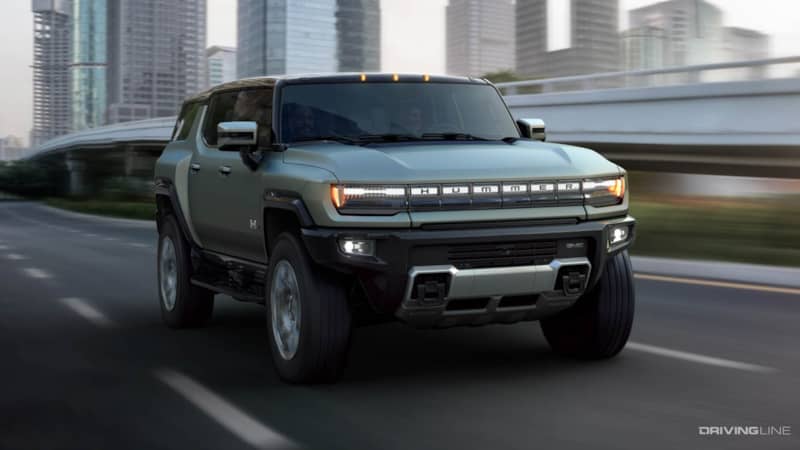 Only then will we find out who is the king of electric adventure vehicles.