Is the Electric Atlis XT a Threat to the Diesel Pickup's Dominance?
Love it or hate, more electric vehicles are coming. The Compact EV car market has been emerging for several years and now manufacturers are even putting some eggs into the electric pickup basket. After partnering with Rivian in the form of a $500 million investment, Ford Motor Company announced that it would soon be building an electric vehicle based on Rivian's truck platform. Most recently, GM revealed its intentions to release an electric truck of its own, along with an electric Cadillac SUV by 2022. As for pre-production electric pickups, Atlis Motor Vehicles garnered a boatload of attention with the unveiling of its XT model over the winter—the only all-electric player in the heavy-duty field so far. The Atlis XT is an electric truck made to compete with Ford, Chevy and Ram's diesel-powered heavy-duty trucks. It will have a maximum fifth-wheel tow rating of 35,000 pounds, payload of 5,000 pounds, 0-60 mph time of five seconds and choice between a 300, 400 or 500-mile range.
On paper, the Atlis XT appears formidable at its worst and dominant at its best when compared to the current crop of diesel pickups on the market—which is saying something. With an optional maximum fifth-wheel tow rating of 35,000 pounds, a payload of 5,000 pounds, 0-60 mph blasts of five seconds flat and a choice between a 300, 400 or 500-mile range, the Atlis certainly appears to compete in most areas while pulling ahead in others. But how will all of this play out in reality? After taking a microscope to the buzz-worthy Atlis XT, we've discovered a plethora of things we like (i.e. things we think will work) and a host of items we don't. Is this pre-production, electric juggernaut ready to slay the one-ton diesel competition? In some ways yes, in several other ways no. Read on to find out where the Atlis shines and where it comes up short.
Believable Claims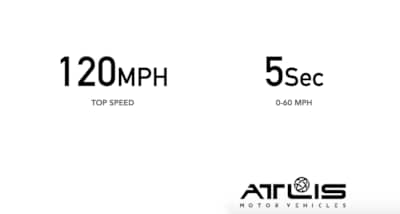 First and foremost, Atlis Motor Vehicles is the only company attempting to push electric power into the diesel-dominated ¾-ton and larger truck scene right now—a highly ambitious yet commendable move. For getting loads up and moving quickly, electric makes a lot of sense in that instant torque is available. Atlis claims an empty XT can sprint from a standstill to 60 mph in five seconds, a feat that would require a diesel-powered truck to be making more than 600hp to achieve, and we believe it. One of the key benefits of electric motors is immediate acceleration. There is no waiting around for rpm to climb or the turbo to come to life.
Acceleration at Max GCWR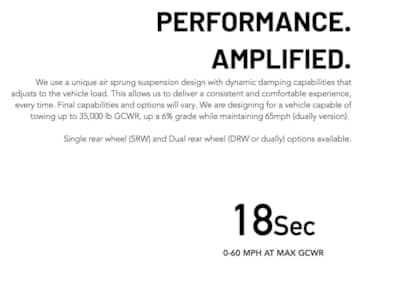 On the other hand, we have a harder time buying into Atlis' claim that the XT can accelerate from 0-60 mph in 18 seconds at maximum gross combined weight rating (GCWR). If that statistic is to be possible at Atlis' claimed 35,000-pound maximum towing capacity (in dual rear wheel configurations), we can see torque delivery—namely at the wheels—being a concern. Of course, with an independent traction motor stationed at each wheel (and AMV's self-acclaimed best traction control on the market) and an advanced torque management strategy implemented, it isn't out of the question. But by comparison, it takes a late-model diesel-powered Ram, Ford or GM approximately 18 seconds to go from 0 to 45 mph at max GCWR. We'll have to believe this one when we see it.
Recharging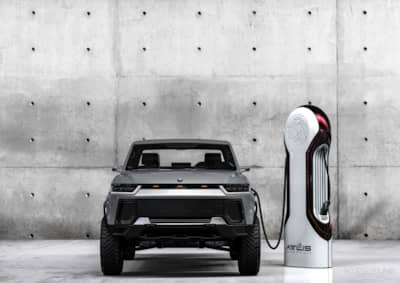 Although it's been met with some skepticism, Atlis has maintained that the XT can be recharged in 15 minutes or less if plugged into one of the company's advanced charging stations. The problem with this is similar to Tesla's debacle in that a network of rapid charging stations will have to be established in order for these fast charge times to be realized. As for the truck's onboard charger system, it will support up to 19.2 kW, which is the maximum allowed by the SAE J1772 protocol. For recharging at home, Atlis recommends you have an electrician install the largest circuit breaker your home can support (up to 100 amps) to power the electric vehicle supply equipment present on the XT.
Range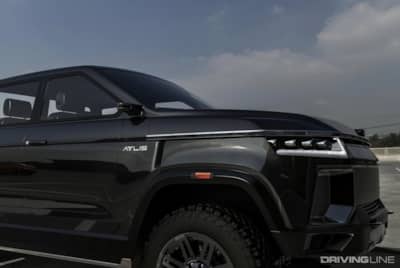 While EVs are right at home on short commutes, long hauls haven't exactly been their forte to date. But this is exactly what many heavy-duty pickups are used for. Though Atlis claims a 15 minute recharge time for the XT, what happens to that 300, 400 or 500-mile range with a gargantuan 35,000 pounds' worth of load in tow? So far, the company has only stated that it is working to ensure the XT's available range when towing a trailer are "competitive" with existing (internal combustion engine) pickup trucks. Will the XT require 3,000 to 4,000 pounds' worth of onboard batteries to pull this off, and if so what will the curb weight of the truck be? Sprinkle in a few six-percent grades, freezing cold or extreme heat conditions with that 35,000-pound load and you could be looking at a 40-percent reduction in available range—a number that is yet to be established.
Boxed Frame and Regenerative Braking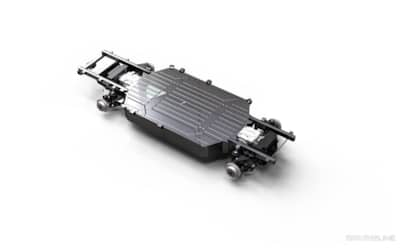 Foundationally, the Atlis XT sports a fully boxed frame that will support a centrally located battery pack. For a truck that will debut with a curb weight of 7,500 to 10,000 pounds and be expected to tow up to 35,000, this is not only a welcomed sight but likely a necessity. While we don't know a lot about the hardware Atlis plans to use for stopping power, we do know that regenerative braking will be employed. Depending on how efficient this system is, you might be buying a truck that will seldom need the brakes replaced.
Air Ride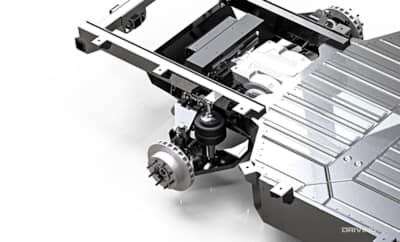 No leaf springs or coil springs here. The Atlis XT relies soley on air suspension at every corner. Similar to the Active-Level technology used in Ram 1500s, the system is self-adjusting to ensure a level ride with or without payload in the bed or a trailer hooked behind you. While air spring suspension systems have proven to offer superior ride quality, they have more failure points than the simple leaf spring systems (and even coil spring systems) of yesteryear, and the aforementioned air suspension system on Ram half-tons has been known to have a few gremlins in cold climates. A full-on air suspension will be a hard sell to some die-hard truck owners who know that there are very few failure points on the age-old leaf spring and coil spring systems.
Four-Wheel Independent Suspension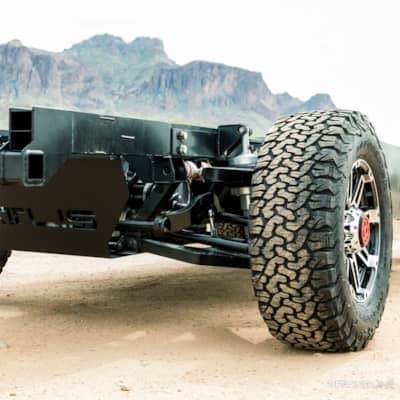 We would love to know more specifics on the Atlis XT's axles, but thus far that information has been unavailable. What we do know is that for the types of capacities the company is shooting for, they better be pretty beefy. We also know the XT makes use of independent front suspension (IFS) and independent rear suspension (IRS). General Motors has made IFS successfully work on its HD trucks for years (both Ford and Ram utilize a solid front axle), so it can definitely be done. However, IRS is something that has not yet been tried in the heavy-duty pickup segment.
Added Utility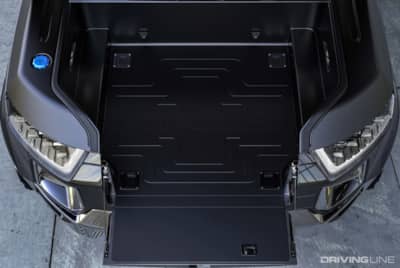 Even though it might be hard for a truck guy to admit, the front trunk space on the Atlis XT is appealing. After all, this space usually houses an 800 to 1,100-pound engine on traditional heavy-duty pickups, so there's a good deal of additional cargo storage available here. And, you still have your bed in addition to the trunk. This aspect of the Atlis XT is a win-win in our eyes.
No Side-View Mirrors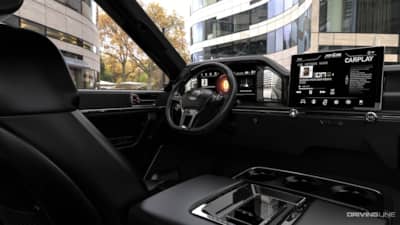 If you're one to trust newfangled technology, you won't mind the fact that the Atlis XT has no side-view wing mirrors—at least not in the traditional sense. In their stead, side-view cameras are employed, with corresponding driver and passenger side viewing screens on either side of the steering wheel within the dash. While we love the integration of cameras virtually everywhere on modern pickups, and this is an absolute ingenious and convenient way to keep tabs on who's beside you, we're not sold on giving up our conventional side-view mirrors just yet. What do you do when the side-view cameras fail or the screens on the gauge cluster stop functioning? What do you do when these items fail with 35,000 pounds behind you and you need to perform an emergency lane change? In our opinion, conventional side-view mirrors wouldn't be a bad optional item. After all, mirrors don't quit working. Still, this is one of many innovative ideas that made it into the pre-production vehicle. Just an FYI on cameras: The Atlis has a backup, receiver hitch trailer hookup, fifth-wheel and gooseneck trailer hookup and forward-facing camera onboard also.
To Be Continued...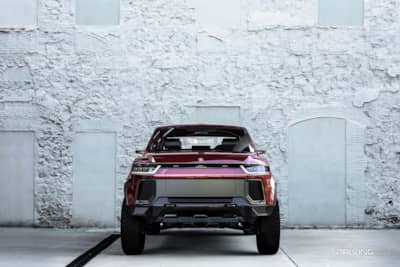 On its website, Atlis Motor Vehicles states its mission is to revolutionize the way we configure and purchase pickup trucks. They weren't kidding. The Atlas XT has near-endless potential as well as configuration options. From instant acceleration to rivaling the Big Three's heaviest hitters in terms of overall payload and tow ratings, it's an automotive juggernaut. The only problem is that all of that is on paper. As for overtaking the modern diesel pickup in terms of every day use, range, capability, price and longevity, there are still way too many unknowns. In addition, the lack of infrastructure to support electric vehicles at the present time is ongoing. The concept of the Atlis XT is cutting-edge to be sure, but it's yet to be tested (and validated) under real world conditions. However, we eagerly await the moment when it can be.
Want to know more about the Atlis XT? Check out the initial overview here.