Kicking Off Moab's 2015 Easter Jeep Safari on Wipe-Out Hill
For the past 49 years, each Easter the little town of Moab, Utah, comes to life for the Easter Jeep Safari. An event that started as a way for the Moab Chamber of commerce to build tourism in the small mining town in eastern Utah, it has turned into one of the largest-attended off-roading events in North America. The week-long event brings in both consumers and companies from all around the world — giving everyone in the industry a chance to meet up, shake hands and enjoy some much needed time off-roading. There could be no better place to do this then on the beautiful and inspiring red rocks of Moab.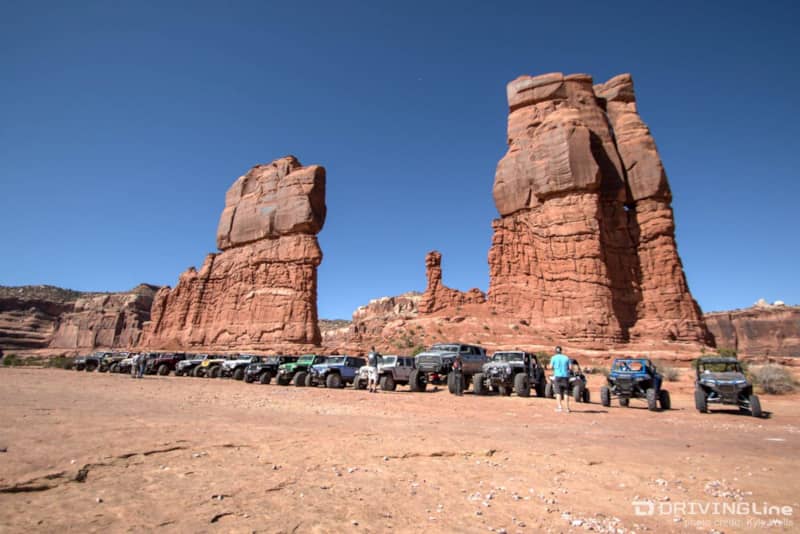 For the general public, Red Rock 4-Wheelers provides 38 guided trail runs throughout the week, including both scenic 4x4 trails as well as more advanced and technical trails for those looking for a challenge. In all the years I've been attending Easter Jeep Safari, my favorite part is seeing all the people and different vehicles — everyone has their own taste and way of doing things, resulting in a lot of unique rigs and ideas.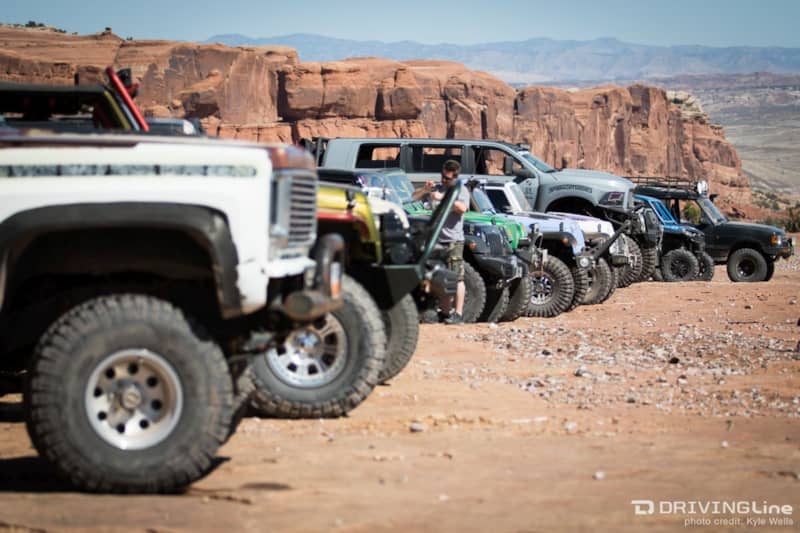 Starting this year off right, I pulled onto the dusty washboard road just south of town and pitched my tent in a meadow just past an area known as the "Playground for Pros" area BFE. Wasting no time, I met up with neighbors for a night ride through "Green Day" and "Britney Spears," two trails within the park. The next morning I was up at the crack of dawn to join in on some industry trail runs.
The many industry folks and race drivers attending designate the first few days of the week to do trail runs — getting a chance to spend time together outside the office and race track, enjoying what we're all about, wheeling. After they've fit in some fun and games, they end the week with an Off Road Expo Show at the Old Spanish Arena. But let's get to the good stuff: the trail rides and beautiful Moab scenery!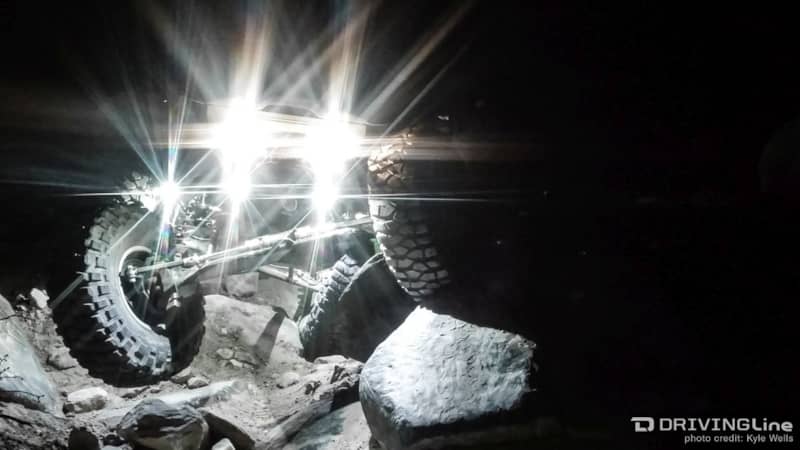 Joining Chris Corbett of Nitto Tire, I jumped in shotgun for the SkyJacker Suspension trail run through "Wipe-Out Hill" trail. We were chosen as tailgunner for the trail ride, so we lined up in back and started our way through town and over to the trailhead where we would stop to air down tires and discuss the route. Wipe-Out Hill is a fairly mild trail that winds through washes and sand hills and offers a lot of classic Moab scenery.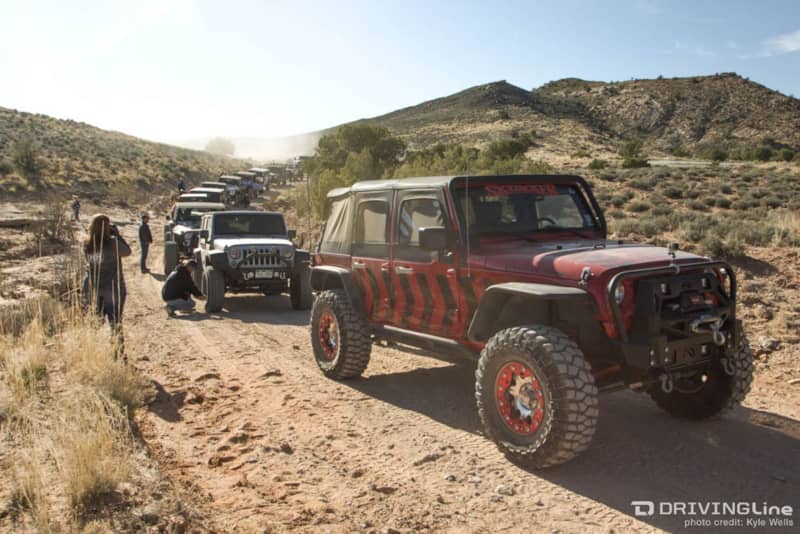 Stopping for lunch under gorgeous red rock towers, we mingled and shared stories while we enjoyed our packed meal.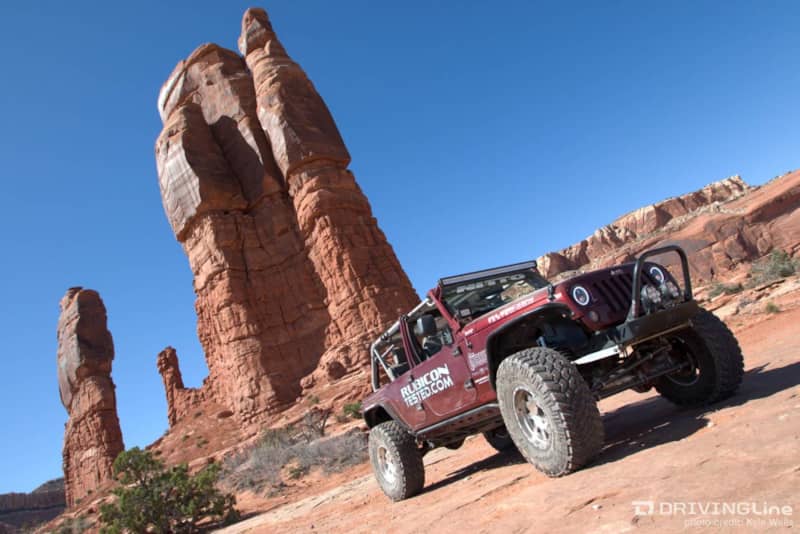 After lunch, we made our way to the obstacle that gives the trail its name Wipe-Out Hill.
Our group made easy work of the obstacle, but we all especially enjoyed watching the six-door Mega Ram work its way up and down.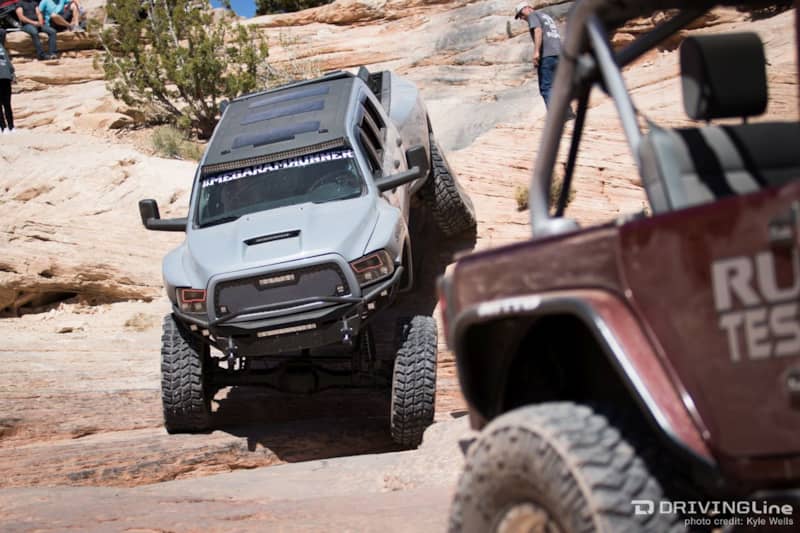 After cruising through the rest of the wash and back out to the dirt road leading back to the highway, we said our goodbyes.
But the night wasn't over yet; Loren Healy had just pulled into town, so we met up and headed up the canyon to Castle Creek Winery for a great Motive Gear dinner. Still not ready to call it a night, we gathered at the Moab hangout, Blue Pig, for a nightcap — being careful not to stay out too late as tomorrow held another early-morning trail ride at Top of the World.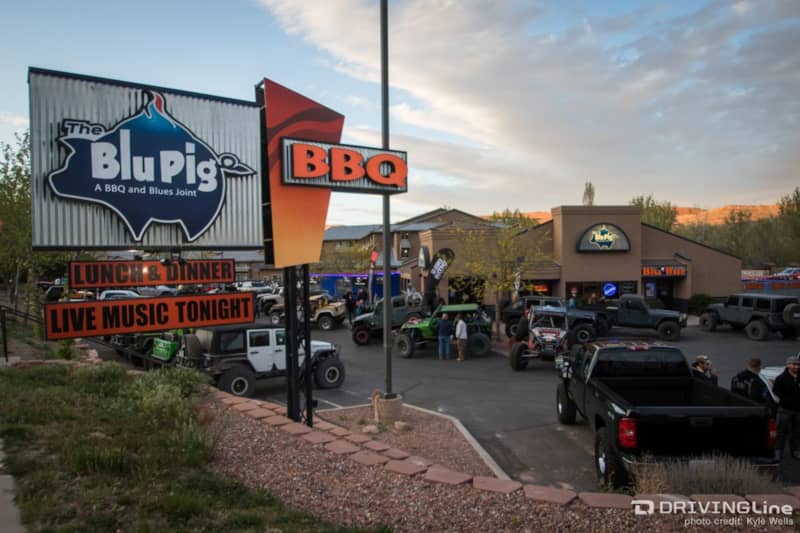 See more photos from the trail ride in the gallery below.