More Than Just A Diesel: A Do-Everything Dodge Ram 3500 That Commutes, Tows And Catches Air
Diesel owners are a passionate bunch. For them, it's diesel or nothing. And for many, there is a favorite engine or even a specific model of truck involved. Enter Andrew Villablanca, a man whose 83,000-subscriber, "Just Diesels" Youtube channel regularly proves just how deep his affinity for oil-burners is. About two years ago, Andrew obtained his dream third-gen Cummins: a single rear wheel '06 Dodge Ram 3500 crew cab, short bed with four-wheel drive and a six-speed manual transmission. Better yet, the truck had an incredibly low, 42,000 miles on the clock and the original Mineral Gray Metallic paint was in perfect condition.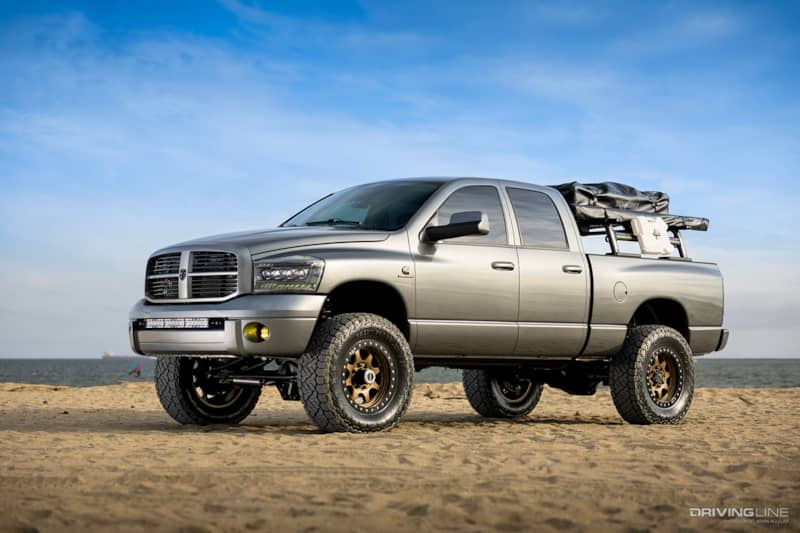 Building on the truck's inherent versatility (a torquey, unkillable engine, 20-mpg empty, exceptional hauling and towing capacities), Andrew decided to enhance the overall driving experience with a few upgrades. The 5.9L Cummins was treated to a considerable increase in horsepower—without sacrificing reliability—thanks to proper fuel, air and hard-part upgrades, while a stronger clutch was installed to harness the newfound power. Then with a host of Carli Suspension parts and 37-inch Nitto Recon Grapplers onboard, Andrew effectively transformed the big, heavy Ram into a formidable off-roader. Inside and out, his third-gen is as flawless as an '06 model year truck gets.
Why Diesel?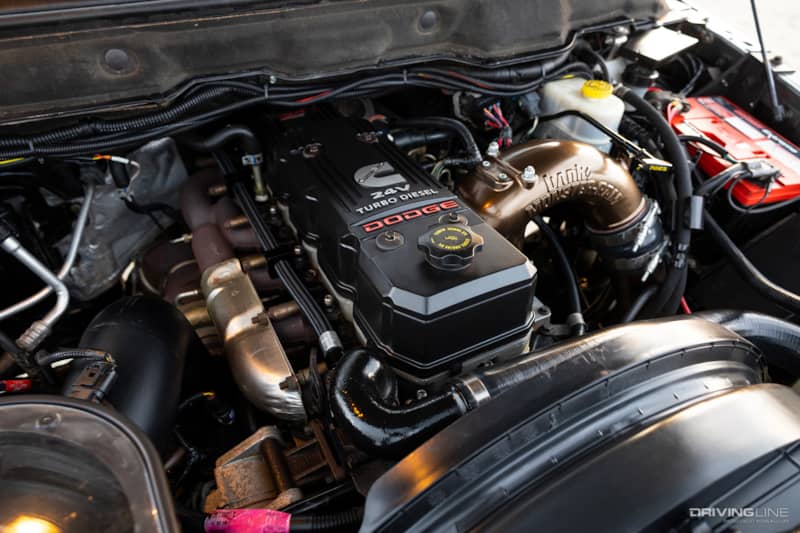 When we asked Andrew why he's so hooked on diesels, his response was concise: "They do everything better. You get more power, better fuel economy and they last longer." But that's not all. Within the diesel pickup segment, arguably no other engine performs at the level a Cummins does. And thanks to this pre-emissions era 5.9L common-rail power plant, Andrew's Ram is capable of turning out 500 hp at the tires, achieving 20-mpg, affords him the ability to tow or haul virtually anything he needs to and last half a million miles (if not more) while doing it.
Subtle, Well-Placed Mods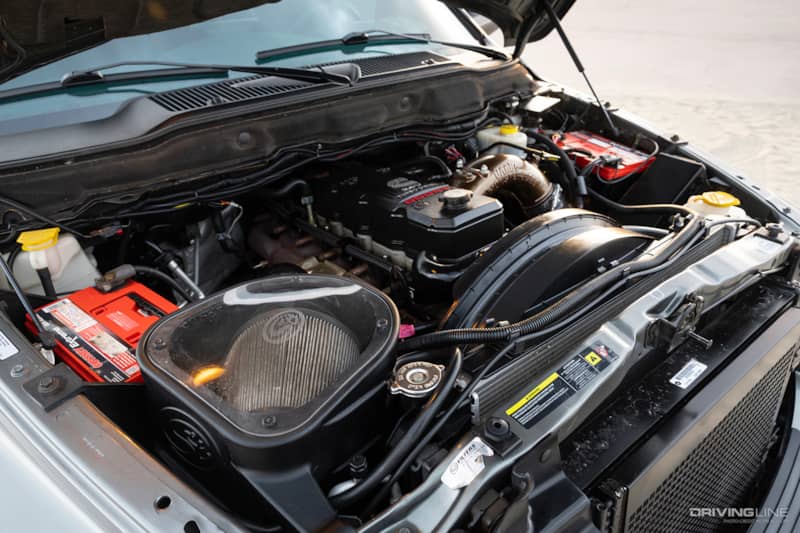 Andrew's horsepower recipe begins with an S&B cold air intake system feeding fresh, filtered air into the factory Holset HE351CW turbocharger. On the cold-side of the intercooler, a Monster Ram intake elbow from Banks provides boosted air a restriction-free path into the head. The 24-valve cylinder head itself has been fitted with stiffer, Hamilton Cams 103-lb valve springs and anchors to the block by way of ARP Custom Age 625+ head studs. Andrew also upgraded the valvetrain with extreme duty pushrods sourced from Hamilton Cams. A 100-gph FASS system improves low-pressure fuel supply (and filtration) to the stock high-pressure fuel pump (CP3). Both the CP3 and fuel injectors are stock.
Six Gears, Five Horsepower Levels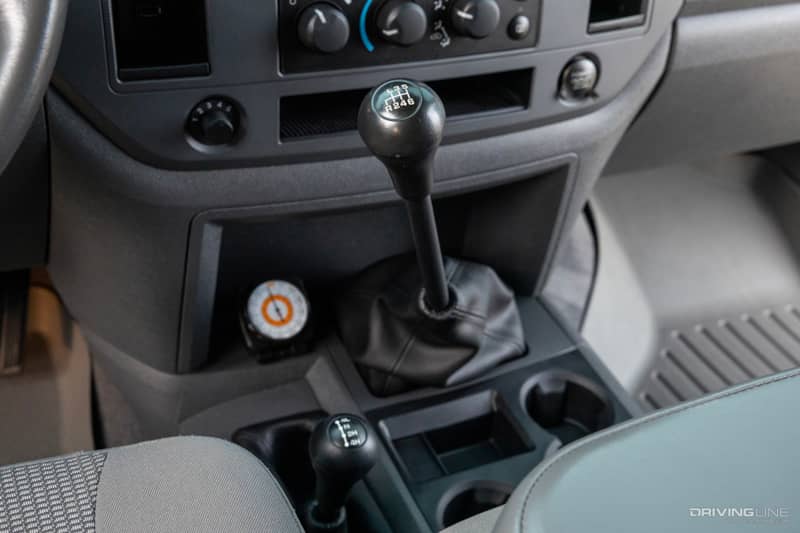 This shift pattern is instantly recognizable to Cummins fans who prefer the shift-friendly G56 six-speed to its predecessor, the NV5600. And because the factory clutch would never even think about holding up to the 1,000-plus lb-ft of torque kicked out by this 5.9L diesel, it was upgraded to an organic, dual disc unit from Valair. To the left of the shift knob you can see the CSP5 switch which indicates the ECM has been recalibrated using custom EFI Live tuning. It's also how the truck can go from roughly 270rwhp to 500rwhp on the fly.
Front Suspension, Axle & Steering Upgrades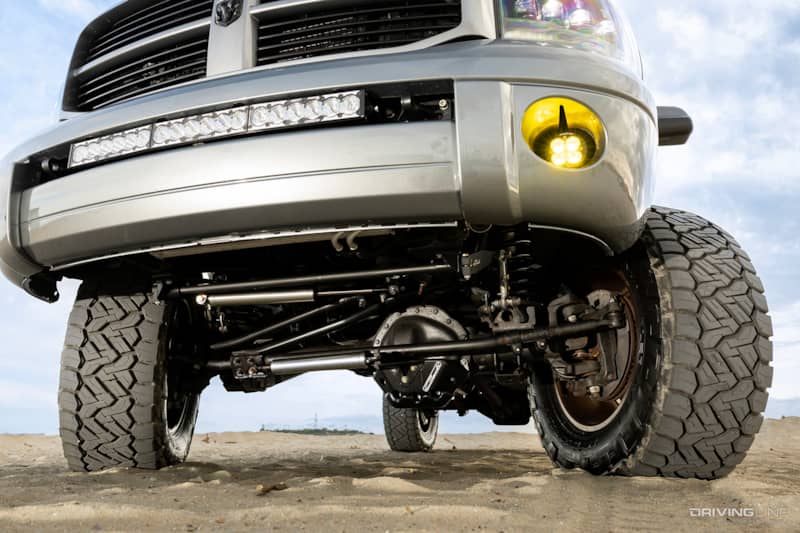 The Ram's coil sprung front-end has been graced with a 3-inch Dominator system from Carli Suspension. The system's coil springs raised the front ride height 3-inches and the opposing steering stabilizer configuration (shown) mounts one Carli stabilizer on the tie rod, and the other on the drag link. For added reliability, the AAM 925 axle was equipped with a free-spin heavy duty hub conversion from Dynatrac, which allows Andrew to manually engage four-wheel drive and does away with the weak, non-serviceable factory unit bearings. We'll note that Andrew also added a Carli front axle truss after these photos were taken.
Versatile, On AND Off-Road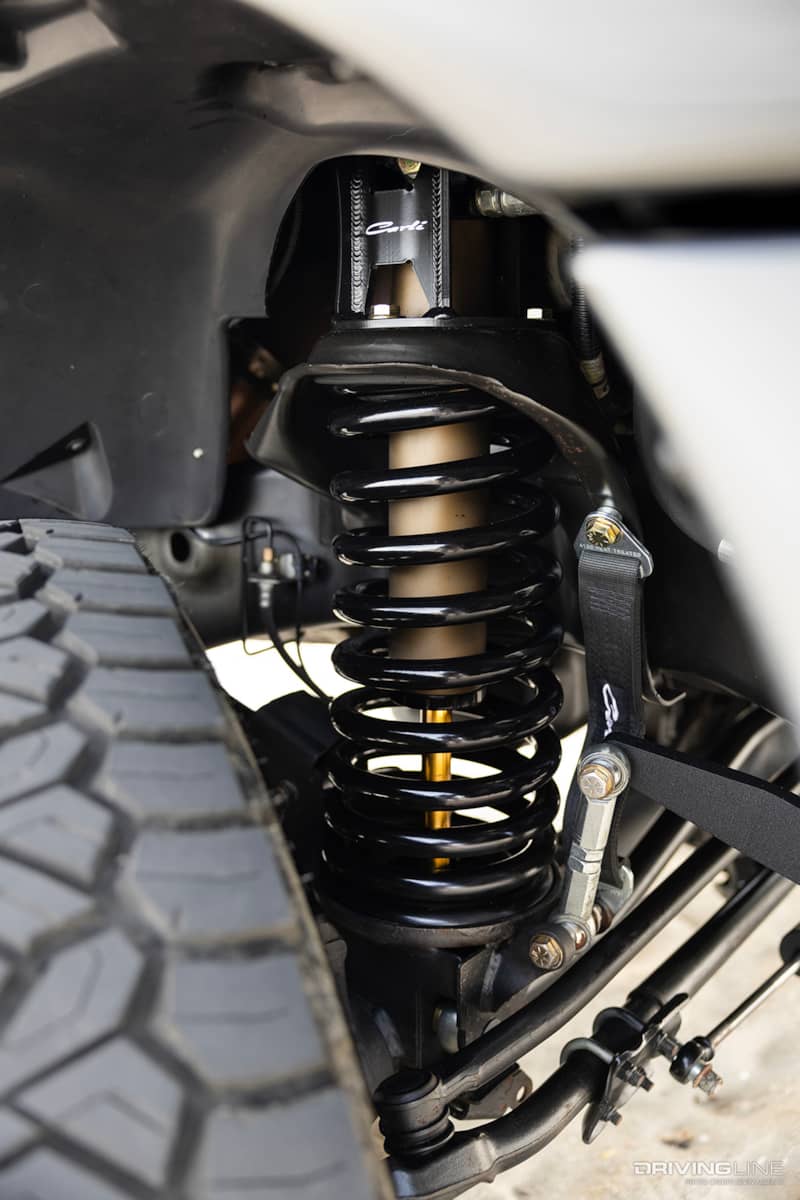 Here, you get a closer look at the multi-rate coil springs in the Carli Suspension Dominator system installed at CJC Off Road, custom 3-inch diameter King shocks and fabricated shock towers. Also notice the nylon limiting strap, in place to stop full or over-extension. In case you were wondering, the straps aren't just for show. Andrew is adamant that the truck catches air on occasion, often when blasting across the desert at 60 mph. Fitting a diesel-powered Ram's all-around work ethic to a T, Carli's 3-inch Dominator system lives up to its intended purpose: a jack-of-all-trades suspension arrangement that provides exceptional on-road comfort and off-road performance that makes a truck feel half its size.
Rear Suspension, Axle & Exhaust Upgrades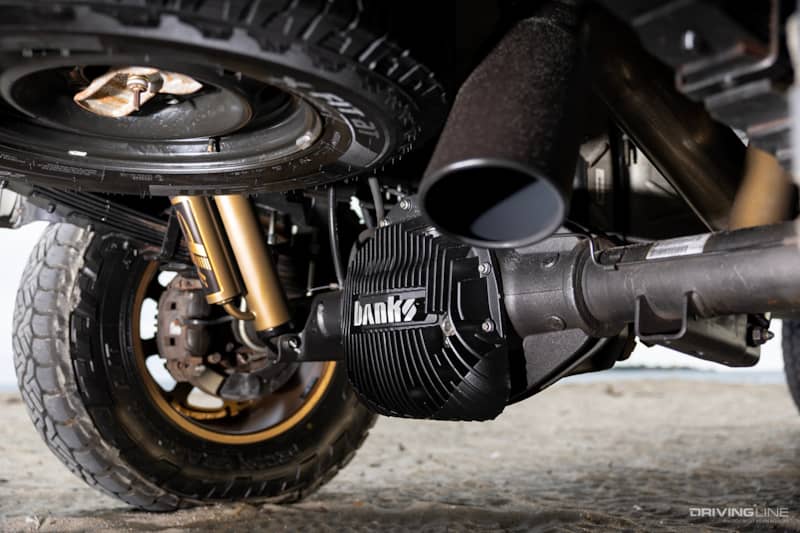 Out back, the factory AAM 1150 has gone untouched aside from the addition of a Banks Ram-Air differential cover. Behind the heat-rejecting cover, the factory 3.73 ring and pinion is still in place which, thanks to the Cummins' appreciation for being loaded and the low gearing of the G56 transmission, works perfectly with 37-inch tires in the mix. Carli's full progressive leaf spring packs reside in the rear as well, providing an inch of lift and offering the best possible ride quality. You can also spot the custom-tuned, 3-inch diameter King remote reservoir shocks and the 6-inch polished tip that completes the truck's 5-inch axle dump exhaust system.
Traction, Comfort And Looks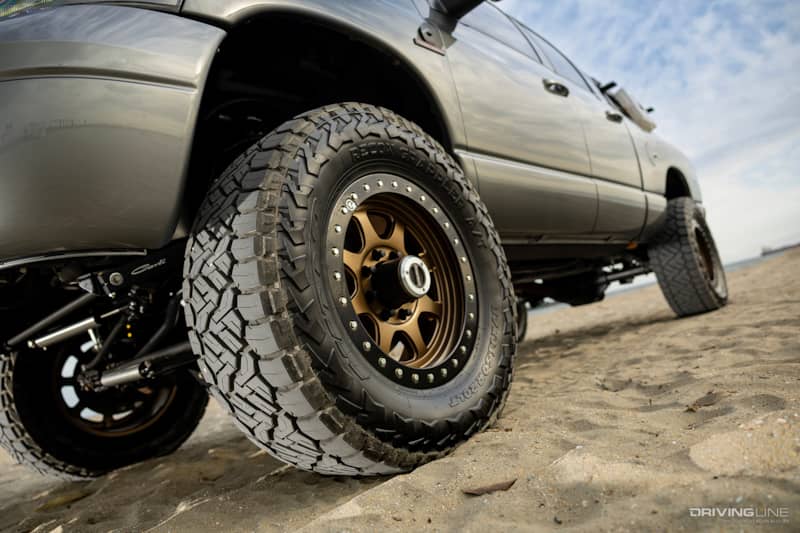 Completing both the look and the performance of Andrew's ride comes from the wheel and tire package he runs. The 20x9.5-inch CJC Off Road Edition simulated beadlock wheels feature 5.5-inches of backspacing and provide ample clearance for a set of 37x13.50R20LT Nitto Recon Grapplers. After putting 10,000 miles on the all terrains, Andrew has nothing but love for the Recon Grappler. "They don't pull to one side or the other, are super grippy and silent—a tire that does it all. I've had them in ice and snow and thanks to the heavy siping they performed very well. They also do great in the desert, which is where the truck spends most of its time when it isn't driving to an adventure or pulling a trailer on the highway."
An Interior Trapped In Time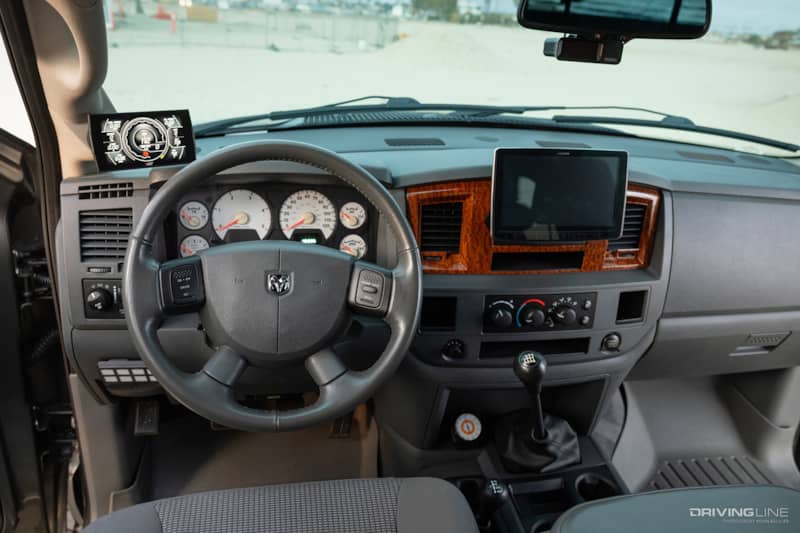 We challenge you to find a cleaner third-gen interior than this! Purchased with just 42,000 miles on the odometer, it stands to reason why the 2006's interior has the appearance of barely being lived in. However, as a truck enthusiast not even the inside of the cab is off limits in terms of upgradeability. Andrew's future goals include a leather interior swap, along with onboard air. Up on the dash near the A-pillar, a CTS3 Insight monitor from Edge Products provides Andrew all the vital powertrain vitals he needs to see: EGT, coolant temp, fuel rail pressure and boost, the latter parameter often maxing out the factory MAP sensor…
The Ultimate Multi-Tasker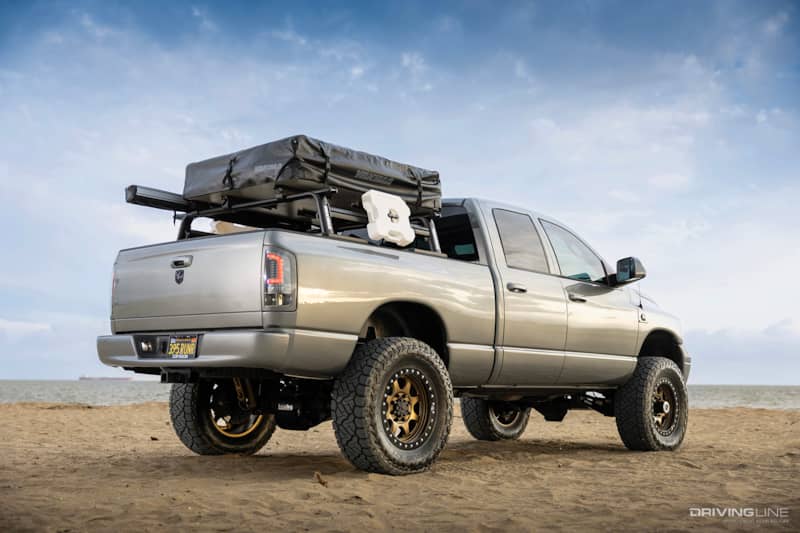 Because the truck is no stranger to off-road excursions (hence the Yakima rooftop tent), Andrew made sure the factory paint remained in flawless condition. It's seen both ceramic coating and been treated to Xpel protective film—an invisible polyurethane film that effectively makes the paint resistant to scratching while optimizing the paint's visual clarity. We'd call this the final touch on a truck that was built to do everything—and do all of it well. Andrew's commuting, tow-ready, off-roader is as well-rounded as it gets for a diesel truck. The right mods in all the right places have practically transformed this third-gen into the Swiss Army knife of trucks.
More From

Driving Line
Curious how the common-rail 5.9L Cummins stacks up against the 6.7L that followed it? We pit both inline-six diesels against each other right here.