Not Your Everyday RAV4: 3SGTE Engine Swapped and Papadakis-Built CUV
It was a cool December morning in LA while I waited in front of my downtown studio on a ride from the legendary Stephan Papadakis. LA is a great place for carspotting, and this morning was no different. Within about 10 minutes I saw a W213 Mercedes E63 AMG, G82 BMW M4, 991 Porsche 911 GT3 RS, and no shortage of modified enthusiasts' cars of every manner, mild and obnoxiously wild. And then the feature car arrived.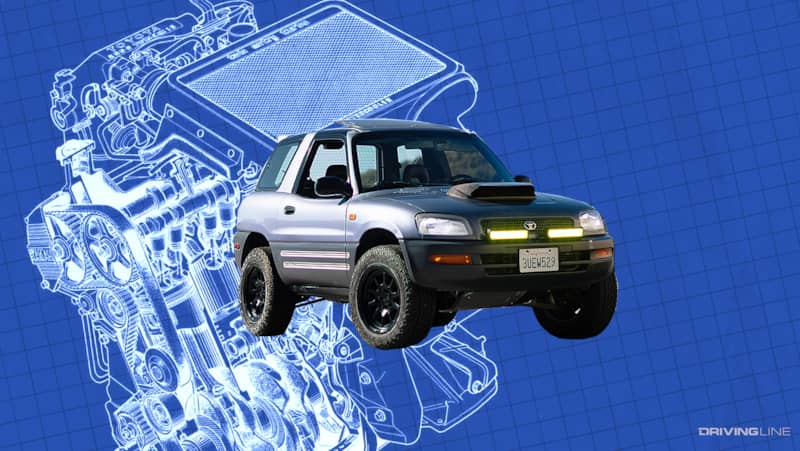 Was it one of Steph's historical AEM Honda drag cars that broke every trap speed and E.T. benchmark imaginable during sport-compact drag racing's heyday? Was it one of the thousand-horsepower drift machines he'd built for the likes of Frederic Aasbo, Ryan Tuerck or Tanner Foust?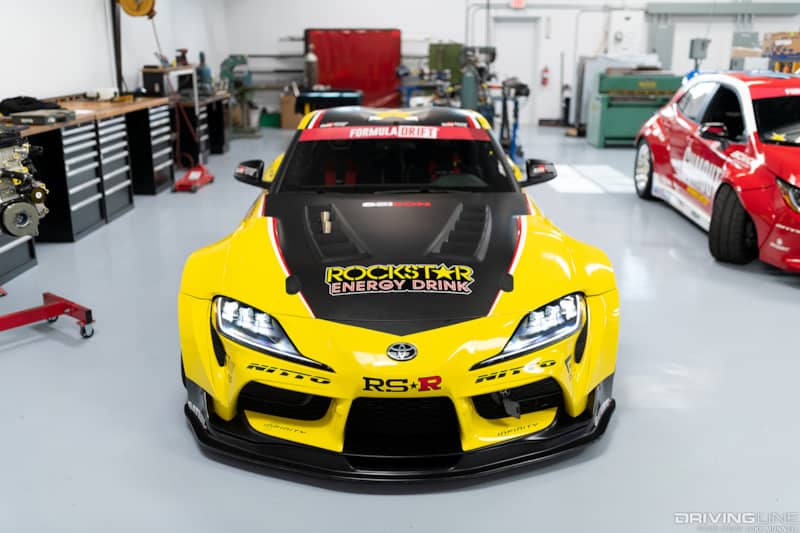 Or as head of the winningest team in Formula Drift history, could Steph have bought himself his own E63, M4 or GT3 RS? Nope, it was none of those. Nothing like them at all. 
Rounding the corner with a muted growl from its four-cylinder engine and a rushing tide of compressed air from its attached turbocharger, Steph arrived in his new favorite personal vehicle: a 1996 Toyota RAV4.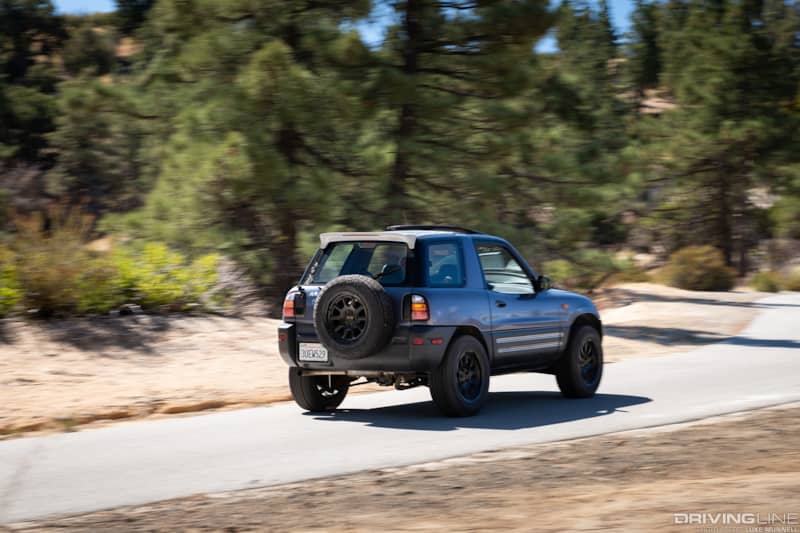 With an original $14K starting MSRP, the RAV4 was once called "the cupcake of utility vehicles" upon its debut, and taking note of its diminutive, rounded lines and faded lavender metallic hue, it was easy to see why. But I kept an open mind. This is the Steph Papadakis, I thought. He must have some reason for wanting to build … this.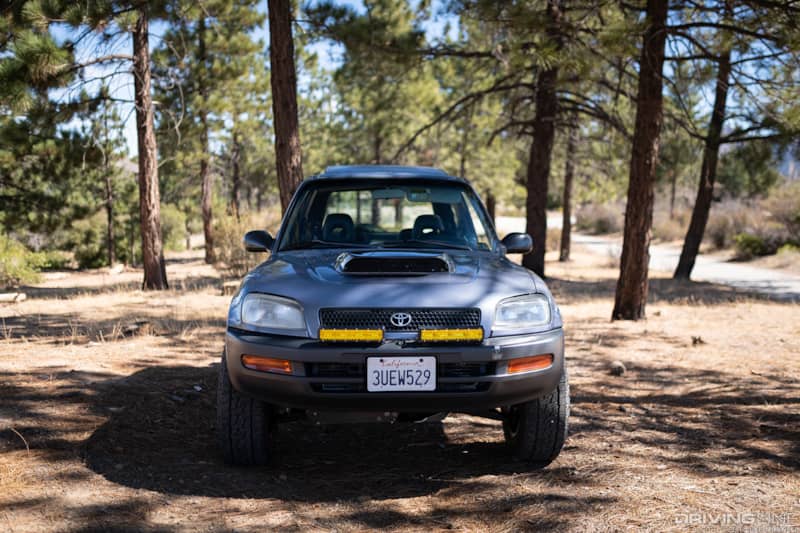 Once we were on the road I began to realize why he loves this thing. As a clapped out, limo-tinted E46 attempted to cut us off in every downtown driver's race from side streets to the 110 freeway, Steph dropped a gear, punched it, and with a much larger growl from the engine and instantaneous spool of the turbo, we pulled two car lengths ahead. My look of perplexity turned into a wide grin; the first of many I'd soon experience throughout the day.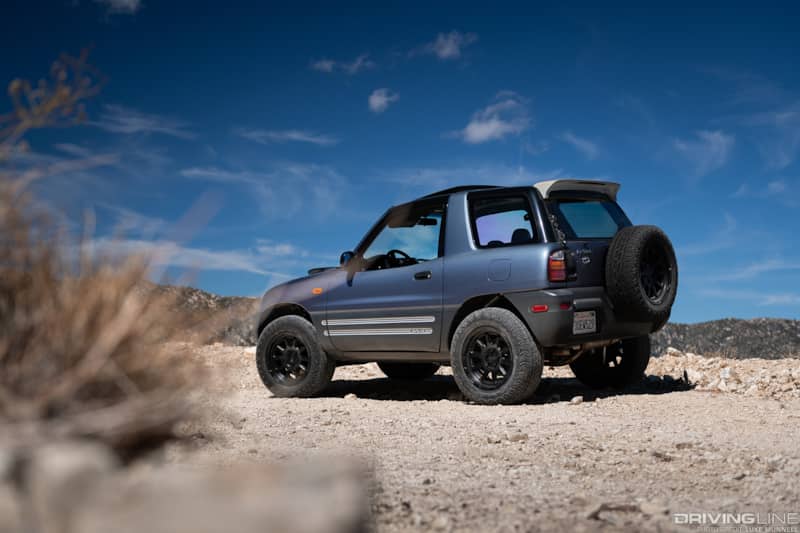 Steph explained that while the stock RAV4 came equipped with a naturally aspirated, 2.0L inline-four outputting about 120hp to the flywheel (less than 100 to its wheels), he'd swapped his for a 260hp, turbocharged 3SGTE from a JDM Toyota Caldina. And though that vehicle was only offered with an automatic trans, its engine bolted right up to the RAV4's AWD transmission perfectly — engine mounts, power steering, A/C, alternator, and even its top-mount intercooler. Steph had to do little more than implement an MR2 clutch and flywheel, modify its engine harness slightly, add in an MSD tachometer adapter, and fab up some custom plumbing.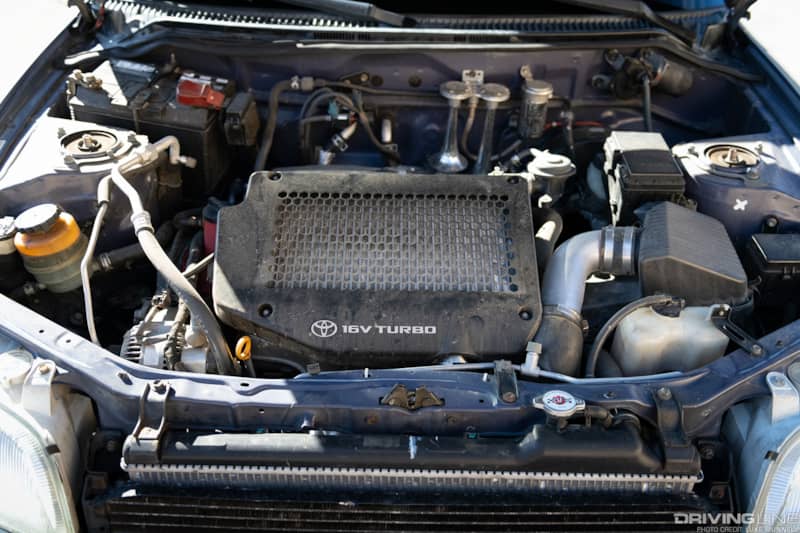 On the freeway the surplus torque and effortless horsepower further made the case for the unassuming two-door. Heading into LA's notorious mountain roads confirmed that handling was reassuringly firm, with its Nitto Nomad Grapplers carving the canyons with confidence I wouldn't expect from any other all-terrain tire. But the question remained: Why a RAV4? Why not a Celica All-Trac, MR2, or even an imported Caldina?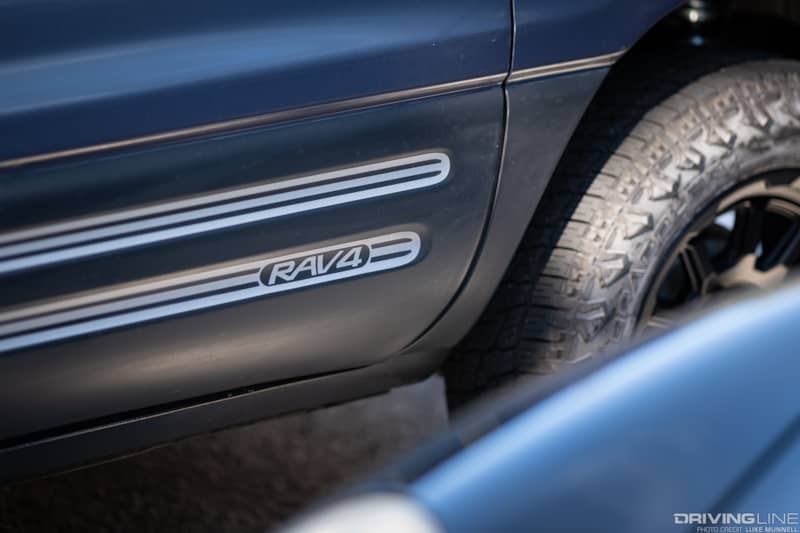 The other guys from his shop were getting into off-roading in their free time, and Steph wanted something unique that could hang with them while still remaining practical on city streets. The RAV4 was smaller, more nimble and less popular than the larger, run-of-the-mill FJ Cruiser or Tundra, and even as a mid-90s offering was much more sophisticated than cab-over-frame alternatives from the popular domestic manufacturers.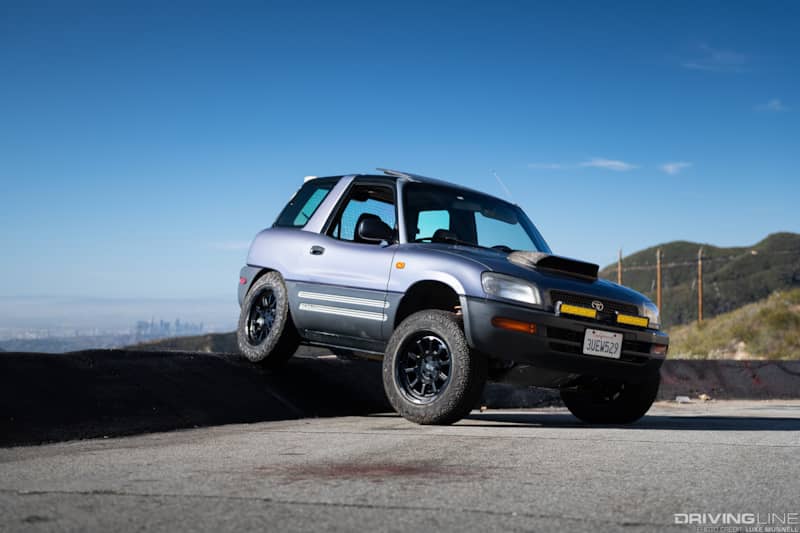 Steph pointed out the SUV's four-wheel, independent suspension, long rear control arm links, and suspension geometry that accommodated lifts in ride height with no drastic camber changes or scrubbing. Its McPherson front suspension has a much better approach angle than comparable vehicles of today, and the RAV4 also boasts a higher radiator support, and a short wheelbase with less front and rear overhang from its body — a big advantage to clearance when going off roads, and handling when staying on them.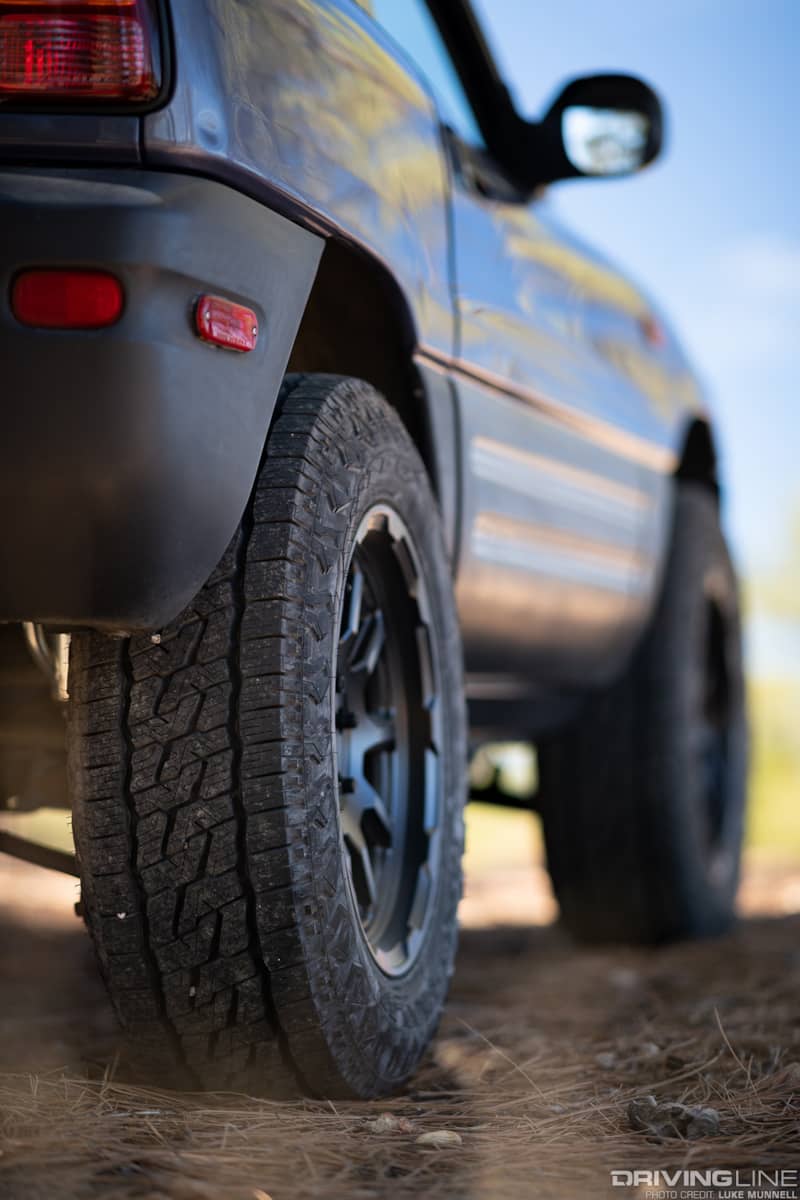 If the underpinnings of the RAV4 are starting to sound a little reminiscent of the famed Celica All-Trac, you're onto something. Toyota basically raided the All-Trac parts bin when designing the RAV4, meaning it took advantage of all the R&D that came from the brand's iconic rally heritage and included loads of its own off-road potential.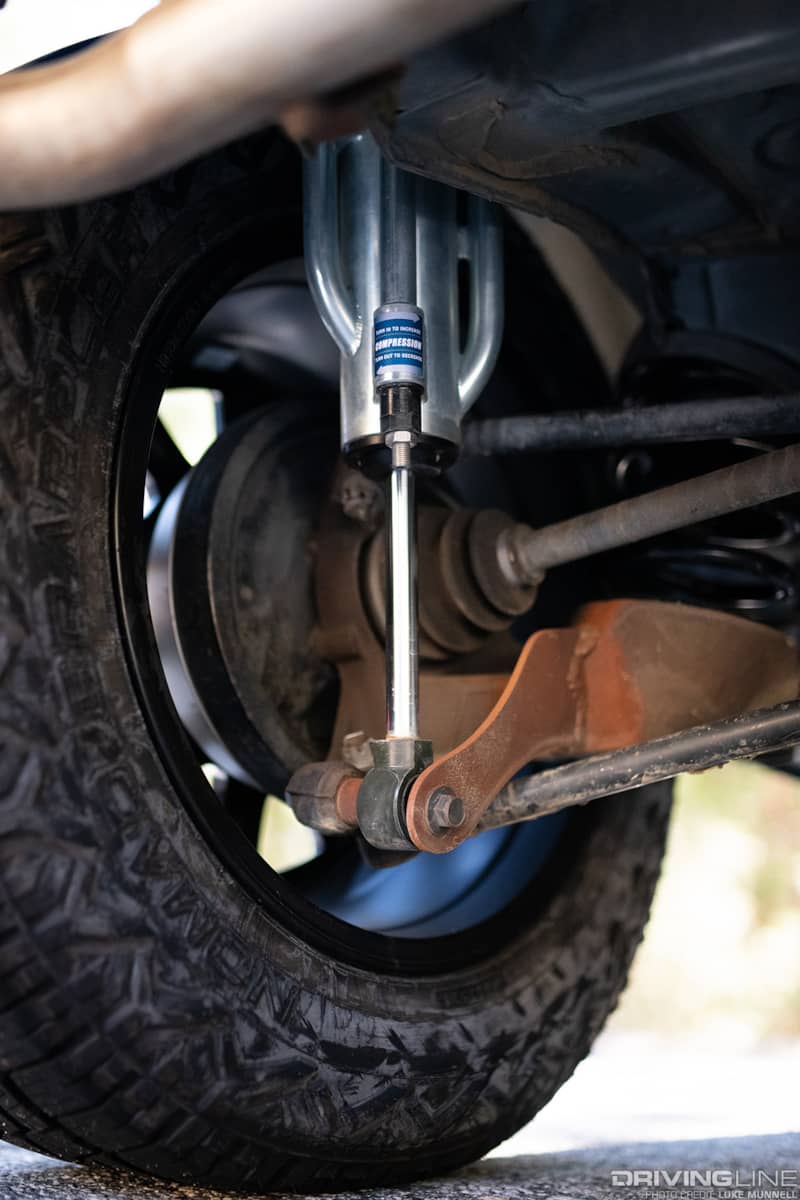 Exchanging smooth, twisty two-lanes for dirt trails near the Chilao Campgrounds in Angeles National Forest, the RAV acted like a completely different animal. With no adjustments made to the suspension or the Nitto Nomad Grappler tires, the sporty CUV navigated several miles of dirt and rocks typical of Santa Monica Mountain fire roads.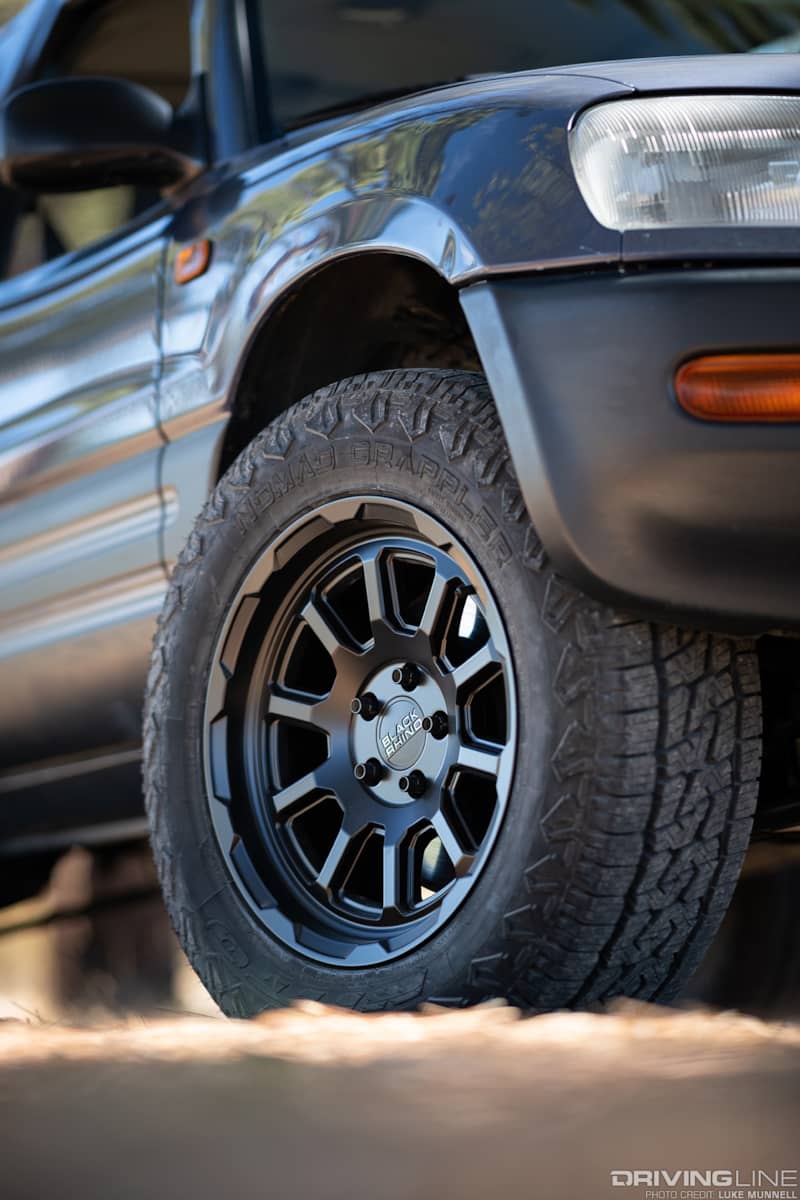 There were moments of clawing through loose sand, crawling over boulder-esque rocks, and a few higher-speed blasts down dusty straightaways. All the while, the little RAV4 kept its composure and seemed hungry for more.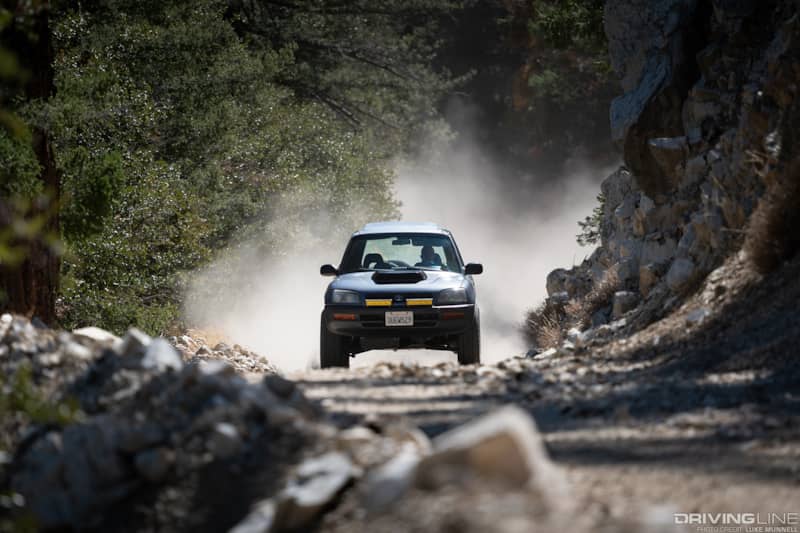 I asked Steph just what sort of suspension setup he chose for that perfect balance of road handling and off-road capability. He knew he wanted the dual nature and heat-managing capability of true bypass shocks, and decided on off-the-shelf Bilsteins originally intended for a Toyota Tundra. Rally tuners Streetwise Motorsports custom built and valved a set of universal inverted dampers for the front, and Steph and his team modified mounting points all around to accommodate the new gear, while adding a bit of extra rigidity. 
Selecting the right springs was largely trial-and-error. Steph learned that most rally drivers use around a 225lb-in spring on cars with comparable weight and suspension, but wanting things to be a little more comfortable and accommodating of larger obstacles, he settled on 175lb-in Swift alternatives in the front, and factory rear springs. The RAV4's factory sway bars also remained in place to keep its signature maneuverability on the street.
Despite its unassuming physique — and maybe because of it — Steph's RAV4 just proved its versatility to me beyond doubt. He calls it "Rally Plus" (a play on the ever-popular "OEM Plus"), but however this sort of build becomes known, would other car guys understand? Would it translate to LA's diverse landscape of automotive connoisseurs as well as it does to pavement and dirt? To find out, we ventured onto our last stop of this December morning: the Good Vibes car meet just a little further up Angeles Crest Highway, at the shuttered Newcomb's Ranch bar and grill.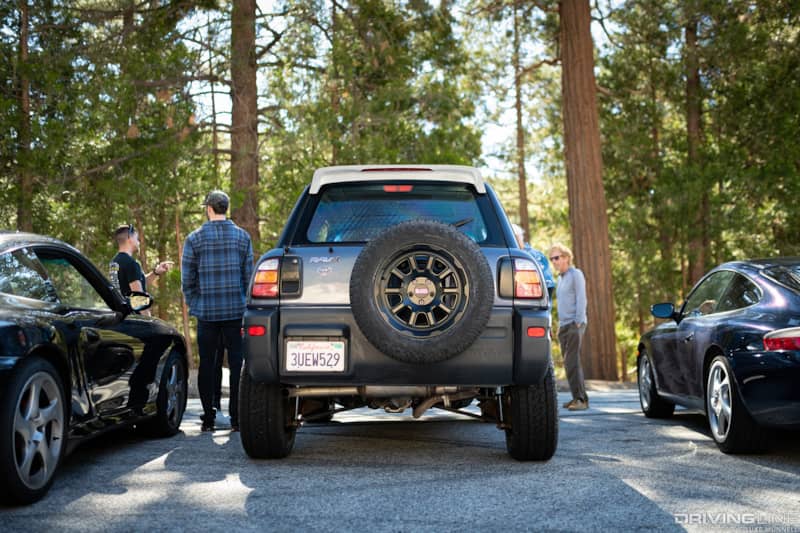 This was perhaps its ultimate test. The bar was set noticeably high, with a Porsche Carrera GT and an authentic Shelby Cobra commanding the bulk of attention as we rolled in, among dozens of other rare and high-dollar models. But gradually, the right people began to notice. Then everyone else joined in. "Is this a Suzuki Swift?" "Is that an MR2 swap?" "Wow, you have bypass shocks on this thing!" "Hey, aren't you Steph Papadakis?!"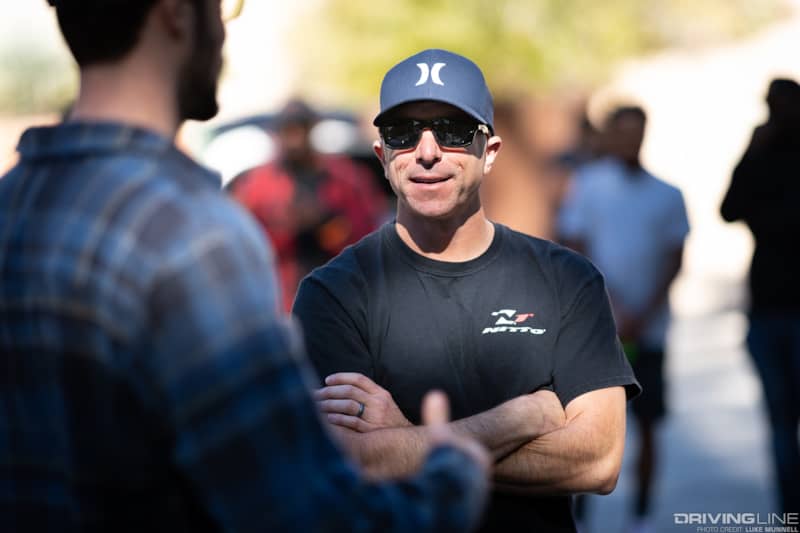 As we headed back down the mountain, I settled on one word to sum up the build, and our day in the wild: Success. Steph's RAV4 checks all the boxes. Different? Check. Comfortable and fast on the street? Check. Off-road capable? Check. Respected by the purists? Big check.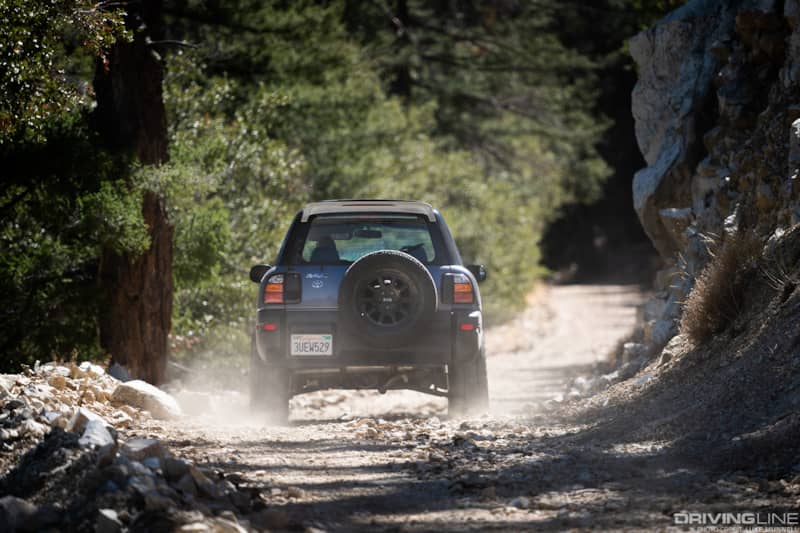 After dropping me back off at my studio, Steph's RAV4 got one more compliment as he drove off into the midday sun. 
"Hey, what is that thing?" asked the owner of a Tesla Model S Plaid who had just parked. 
"It's a 3SGTE-swapped RAV4 built for highway driving and off-road," I replied. 
"Hm. Legit."