On the Trail Explores Eliot Mine Trail on 2 Broncos and a Jeep Wrangler
How do you not tackle an off-road trail with both an old mine and anything named Smuggler's Cave attached to it? You'd have to find something named Whisky Casino Flamethrower Range Trail to be cooler than that.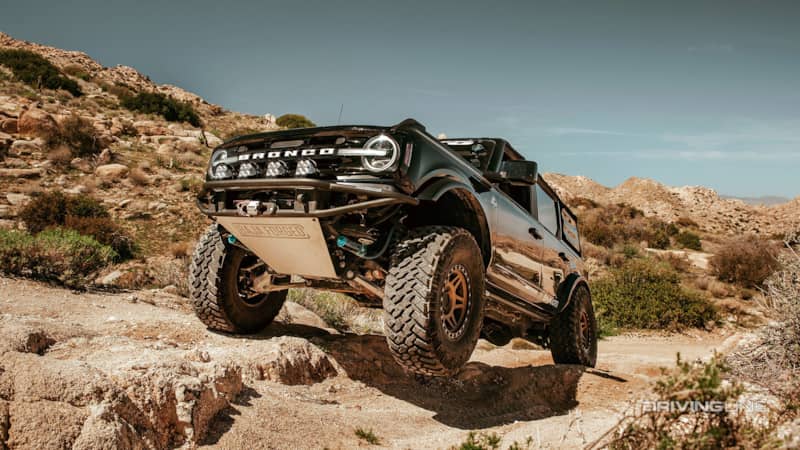 In the unlikely event that you do, please tell us. But for now, let's stick to the real world. This edition of On the Trail tackles San Diego's Eliot Mine Trail and Smugglers Cave via Jeep Wrangler and Ford Bronco (click here to jump to the video).
Heading Out to the Highway
Eliot Mine Trail rests in San Diego County's Jacumba Wilderness, off of Highway 8. It lies just a mile north of the US/Mexico border.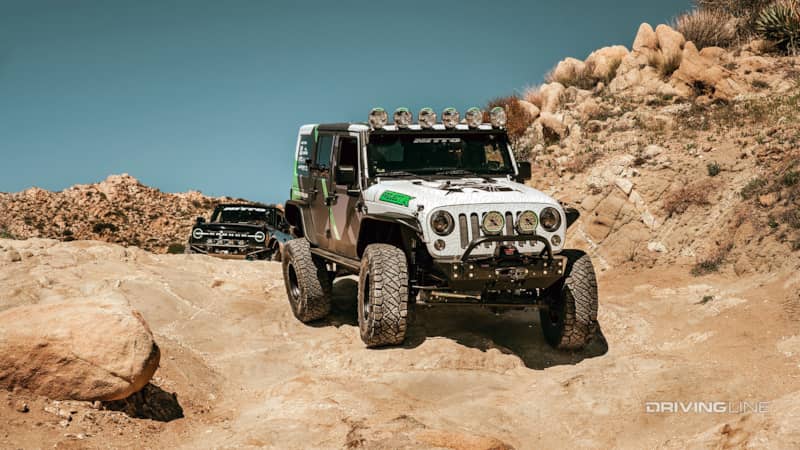 It's a rockfest in the boulder sense of the term, as opposed to the '80s hair band one. You'll want high clearance, excellent traction, and plenty of off-roading experience with you before taking on the challenges this trail has to offer. Narrow paths, drop offs, and switchbacks can also make it challenging for wider vehicles as well. Since it's so close to the border, there's also a chance of running into undocumented people making the crossing from one country to the other. If you're into camping, Valley of the Moon camping area lies just north of this trail. Just bear in mind that you'll have to pack in your own firewood and please clean up after yourself when you're done.
Meet and Greet
We turned to Matt Moghaddam to host the day's festivities. Accompanying him on this fantastic voyage are Sara Morosan of Baja Forged and Baja Kits' Chuck Dempsey.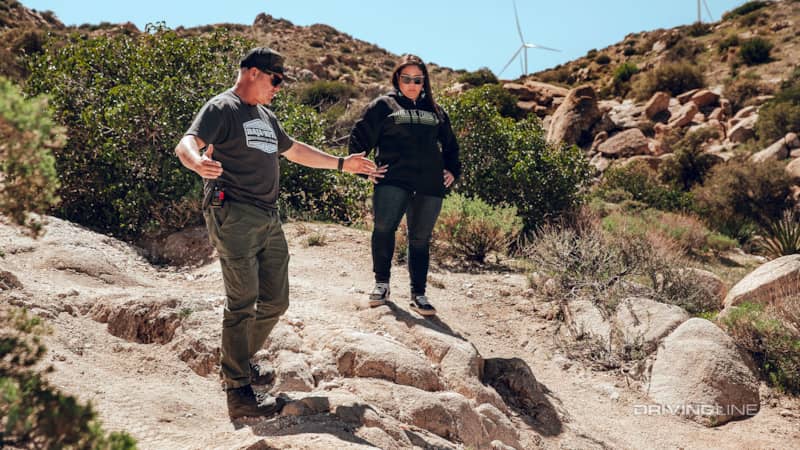 Sara brought out a 2021 Ford Bronco on 37x12.50R17LT Nitto Recon Grapplers built out by her company, Baja Forged. Chuck also ran a 2021 Ford Bronco. His rolls with 37x12.50R17LT Trail Grapplers and was built by LGCTS Baja Forged too. Matt's rig is a 2014 Jeep Wrangler Rubicon with 35x12.50R17LT Ridge Grapplers drawing traction duty.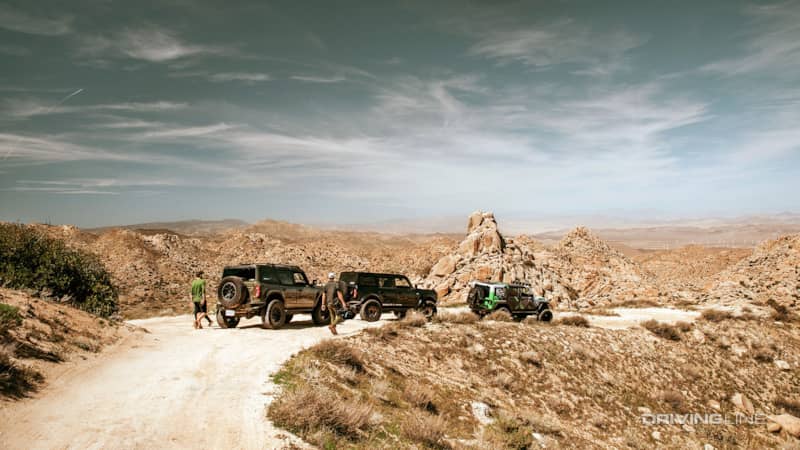 This was Matt's first time at Eliot Mine Trail and while he's no newbie to playing in the dirt, Chuck Dempsey brought a world of experience to this excursion himself. He started out on motorcycles as a wee lad and by age 15 he'd run his first Baja 500. After racing in 34 Baja 1000s, he moved into the truck side of off-roading. Sara Morosan grew up with off-roading as a family affair. When her parents would go, her mom brought her along. The off-road bug bit her early and she got into the sport at a very young age too. Between the three of them, they're practically oozing off-road experience and bleeding sand. No, we didn't cut them to check and see.
And We're Off to Smuggler's Cave
As Sara notes in the video, the trailhead starts off as a pretty simple path. However, the trail itself carries a five to eight rating, most likely dependent on how well the weather is cooperating that day.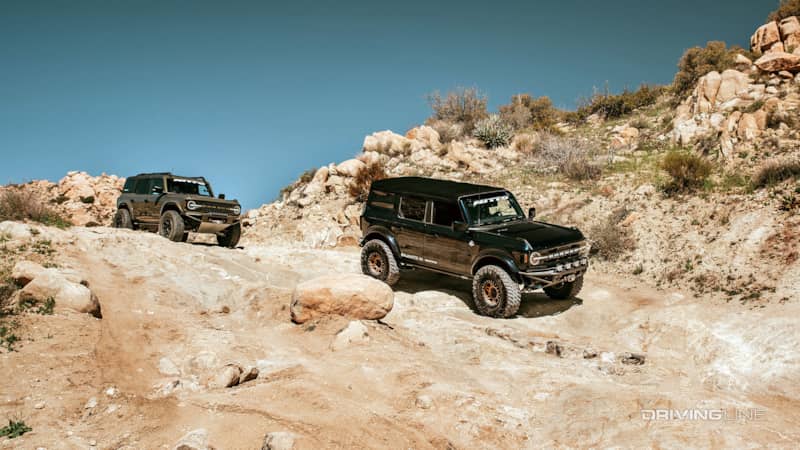 After the initial start our group took a break for a hike to Smuggler's Cave. Like with many good legends in the Old West, no one knows exactly how it really got its nickname. The oldest reference that we know of dates to the 1875 holdup of the local Campo Store. According to the tale, one of the perpetrators was wounded and chased to the cave by a posse. After they flushed him out, they gave him a big ol' healthy heapin' of frontier justice (or to put it another way, an all-you-can-eat ticket to the bullet buffet). Other stories tell of the cave as a hideaway for contraband and Chinese immigrants being smuggled across the border at the turn of the Twentieth Century.
Here's Where the Fun Begins
Moving onward, the trail started to get hairier. This is where knowing what you're doing is a big help. As Matt points out, spacial awareness, a valuable asset anywhere, really comes in handy when navigating the obstacles offered in rocky terrain like that found on this trail. Knowing what's going on around you, why it's happening, and how to react to the input the trail and your vehicle are giving you is vital here. Switchbacks, steep drop offs, and narrow paths aren't known for their forgiving natures. And of course, walking a path to formulate a plan of attack is always a good idea when the course looks squirrelly.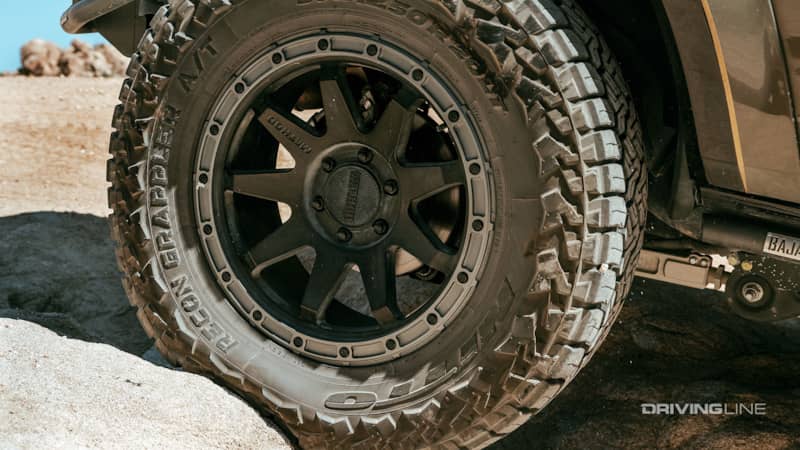 This is also where our Nitto tires really went to work and made the day easier on our crew. Good gear makes everything we just talked about easier for the driver to work with and great tires are a big part of that. Chuck notes in the video that the beefy sidewall construction of all three Nitto tire models protects the rest of the tire as it goes over big rocks and other obstacles, even during climbing. You can't always see the side of your tire but knowing where it is and where you need it to go while driving is vital in this environment.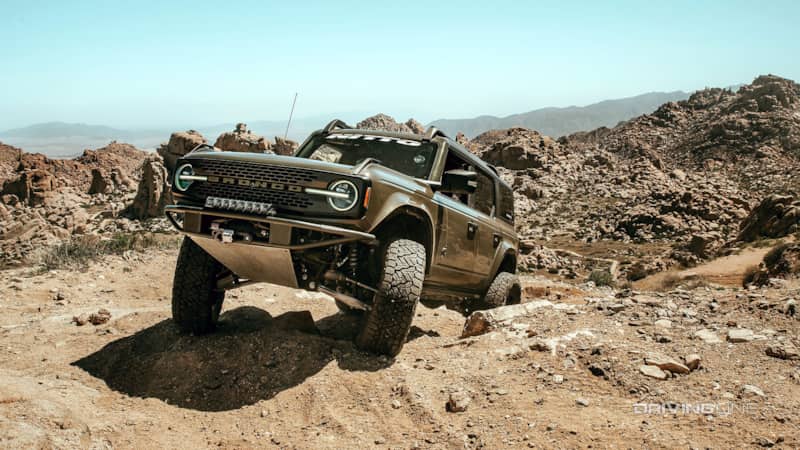 Eliot Mine Proper
After some initial climbing and little trail running, our team fought the toughest monster in the area: the traversing switchback leading uphill to Eliot Mine itself. It's a super-sized combo meal of rocks, drop offs, and hairpin turns comprising the final leg to the top. Matt took point, both in his Jeep and on foot, leading Sara and Chuck up and up. The pucker factor got a little high at one point (which you'll have to watch and see for yourself- click here to watch the video).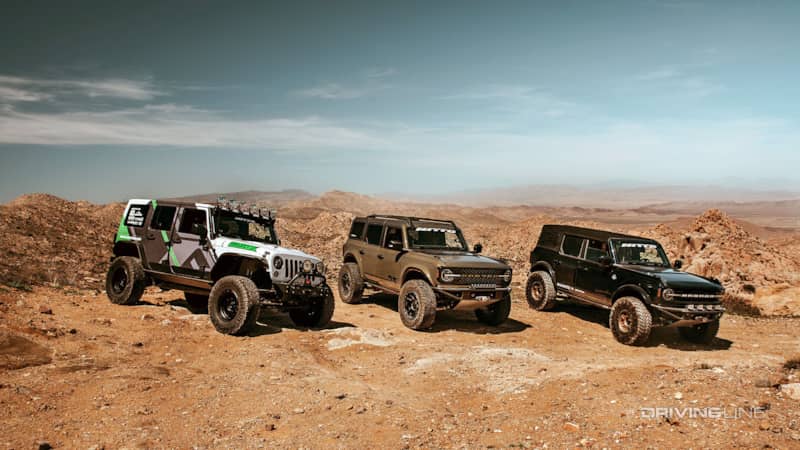 Once they made it to the top, the trio ventured into Eliot Mine itself. The Tahe Peak mine started out as a gold claim but later proved valuable for a nice vein of tungsten running through it. All told the day was a rewarding success and although it tested their abilities, the group had an excellent time. See On the Trail's Eliot Mine adventure in its entirety on our YouTube channel.