Rainmakers: 10 Bangin' Trucks That Brought the Storm to Lone Star Throwdown 2022
Every year we head to Conroe, TX in late February to witness the largest gathering of custom trucks at Lone Star Throwdown (LST). During that time of the year, there always tends to be a threat of cold or even wet weather that could potentially prevent the festivities. Most times we get lucky and are able to enjoy the crop of groundbreaking trucks brought in from all over the nation.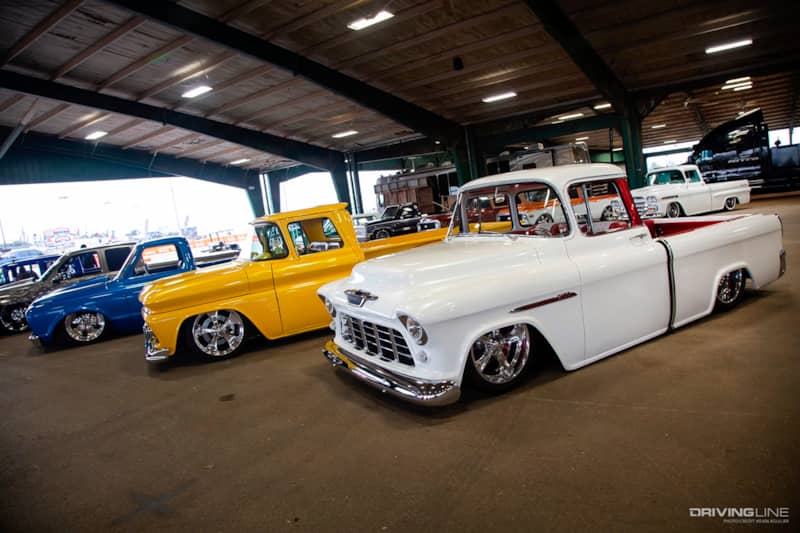 This time around, mother nature tried to put a damper on the Saturday of this three-day event, which is usually the biggest day of the weekend. However, over the course of the show held on 2/25-27/2022, the group of diehard truck enthusiasts carried on bringing over 1,300 jaw-dropping vehicles to flood the Montgomery County Fairgrounds. All while a sea of spectators made their way out to catch a glimpse of it all.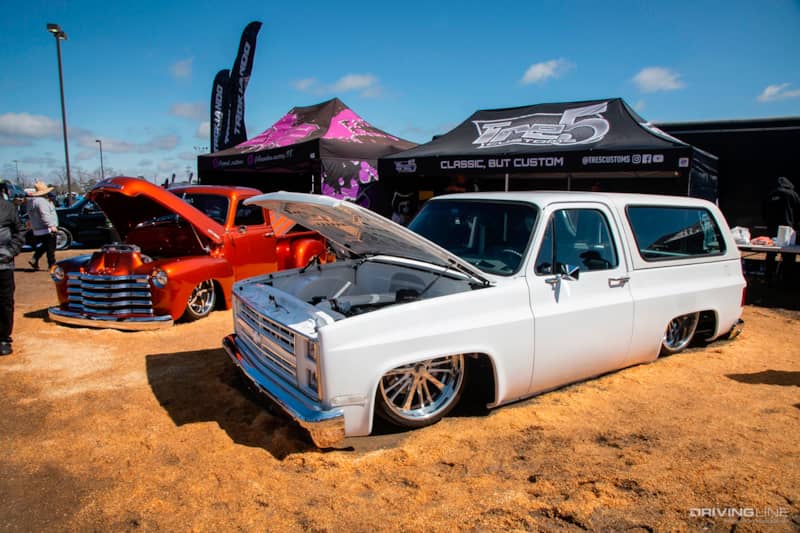 The level of customization and detail on these vehicles consistently gets elevated with every passing year of the event. Just when we thought builders have reached the ceiling of modification, someone always brings something that raises the bar even further up. As we made our way through the show, we saw a number of trucks that we thought stood out from the rest.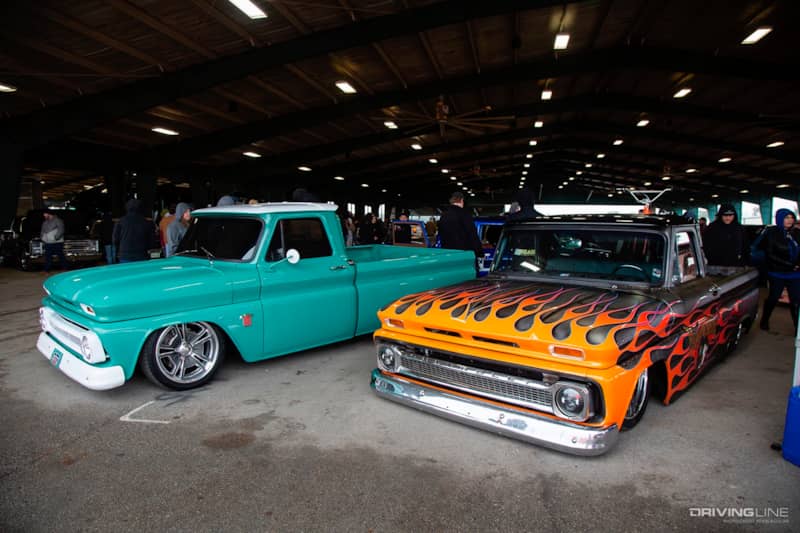 10. Houston Haskin's F-250
Though this event started 11-years ago when a Todd "Radar" Hendrex and Lonnie Ford) wanted to create a fun new show for fellow minitruck enthusiasts to enjoy, there has been and overwhelming number of sky-high pickups joining the party during the last few years.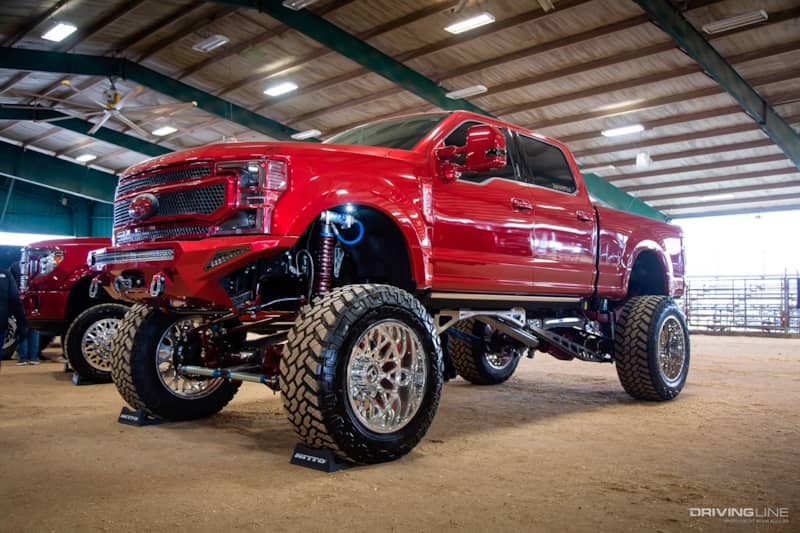 Houston Haskins brought his 2020 Ford F-250 all the way from the state of Oregon. Built by his shop, Superior Auto Pros, this truck sits on a set of 42x15.50R24LT Nitto Trail Grappler M/T tires with 24x14-inch Hostile Maniac wheels made to fit with the Precision Metal Fab 14-inch lifted suspension.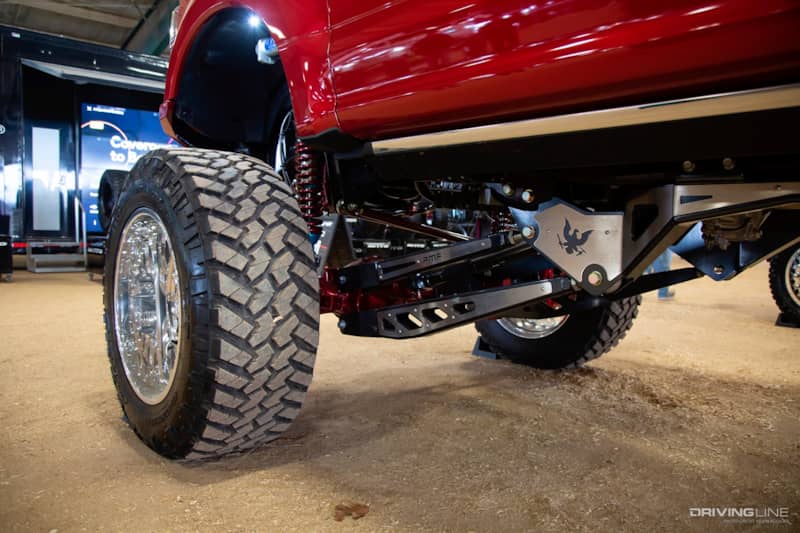 9. Yancy Busby's '64 Chevy C10
Super clean restomod trucks have also slowly invaded the event with over the years. This is mostly due to the growing interest of classic Chevy C10 trucks. In fact, the majority of Best of Show Awards past winners have been highly detailed vintage trucks.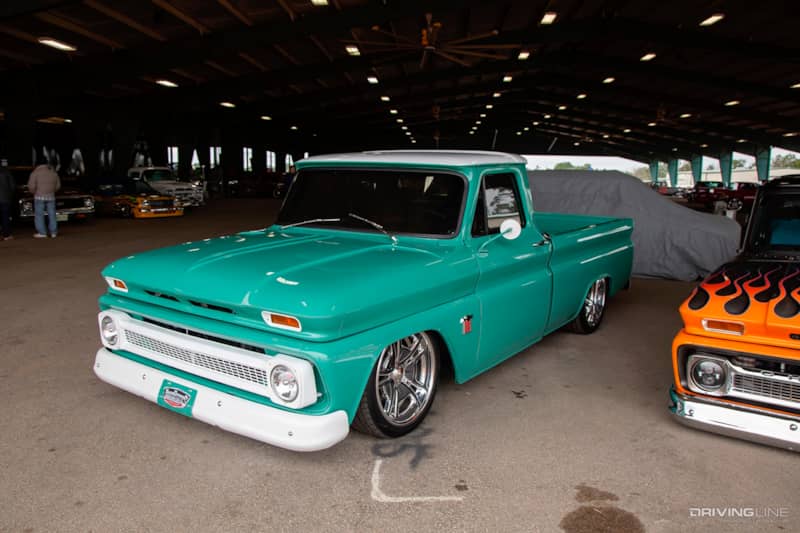 Built by Twin States Rod Shop, this truck is a perfect example of what is popular with the lowered classic truck trends. It's equipped with a modern LS engine, and an air ride suspension to help it tuck a set of 20-inch Schott billet wheels with 245/40ZR20 Nitto NT555 G2 tires.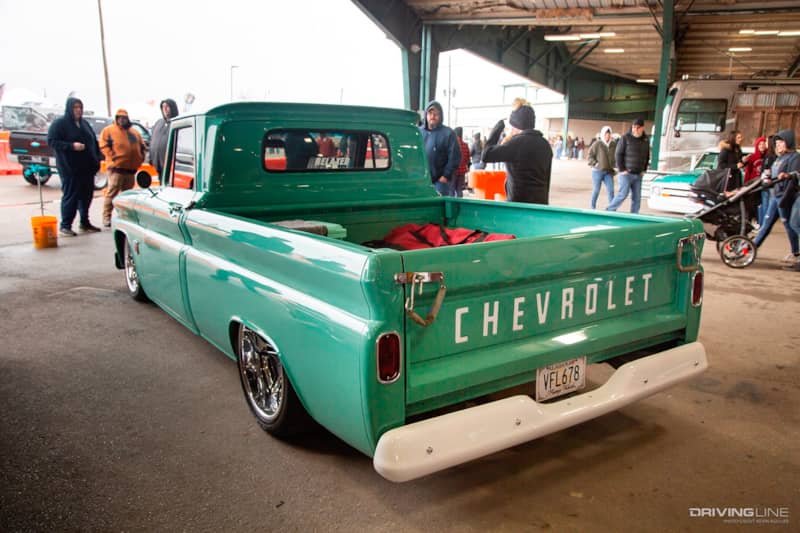 8. Randy Pierson's '72 Ford F-100 Ranger
The boys with the Blue Ovals have been firing back by shining up their old pickups as well and they have no doubt broadened the horizons for many others. A California native, Randy got the itch to build one of these trucks several years ago and tracked this one down in North Carolina when it was still in stock form.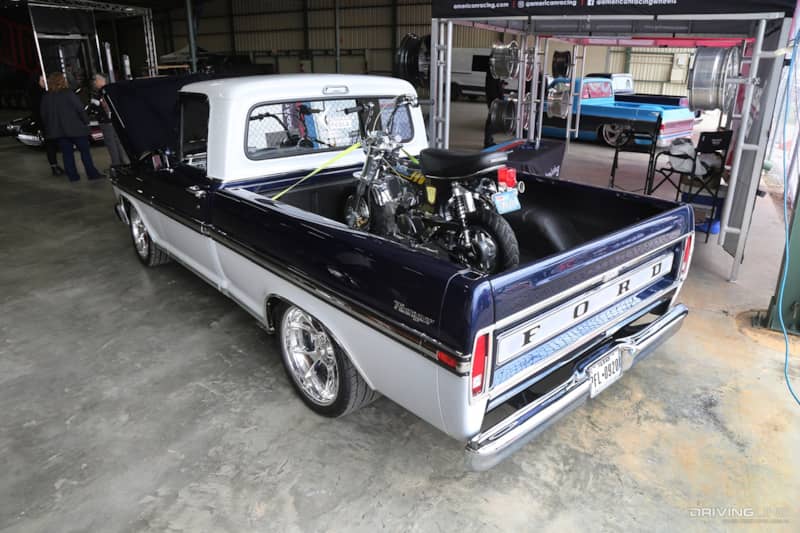 It was given new life with a Ford racing 460ci big block engine that pushes out 565 horses with use of a Holley Sniper EFI system. Helping to lay down the power is a QA1 coil-over suspension system that also lets it sit closer to the ground. The new blue and white painted exterior is accented with a set of American Racing VN474 wheels with 265/35ZR20 and 315/30ZR20 Nitto NT555 G2 tires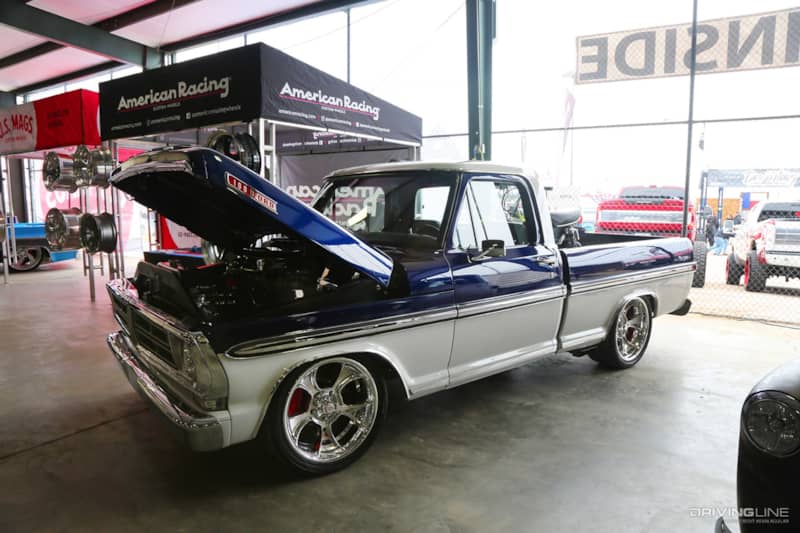 7. Cory Scott's Squarebody Chevy C10
No newcomer to the classic Chevys, Cory Scott, owner of Kustom Werx Autobody has been polishing up these vehicles way before they were so popular. A short while ago, he got a deal on this '75 C10 as he was looking to make it a simple daily driver. Well, like most of these trucks, the build snowballed, and it became a rather clean cruiser.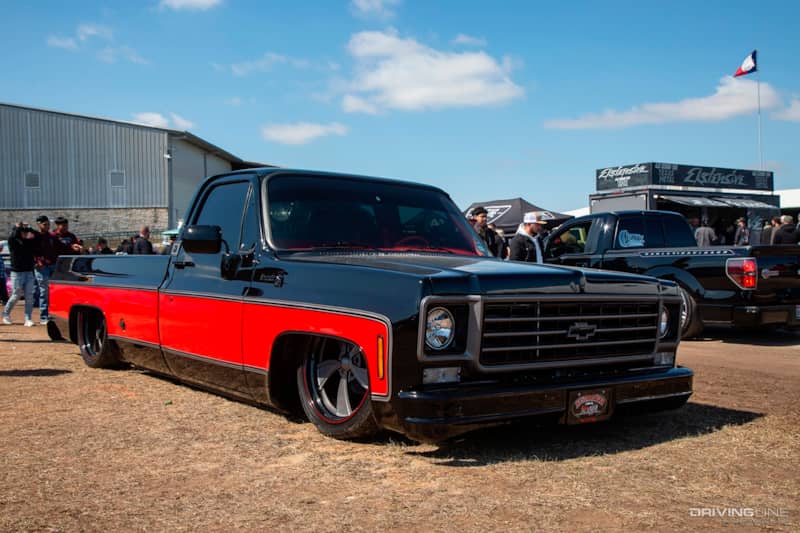 Since paint is his game, Cory laid down a wicked black and red two tone that really sets the truck apart from the rest. It has a Chevy LS engine and sits low thanks to an airbagged suspension. It tucks a set of repurposed 22-inch Intro wheels that feature 265/35ZR22 Nitto NT555 G2 tires.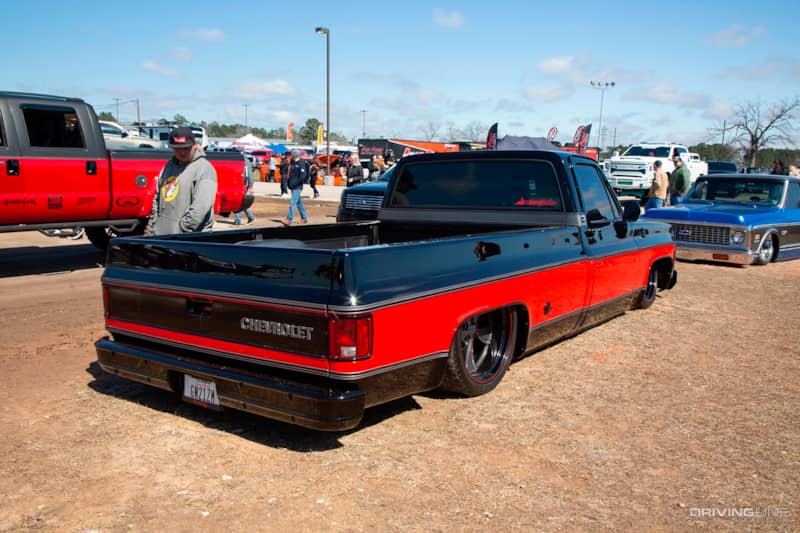 6. Daryle Courtney's '55 Chevy Cameo
Not all builds go to plan and Daryle's pickup took 21-years to complete. Well as they say, good things come to those that wait, and this one is looking slick these days.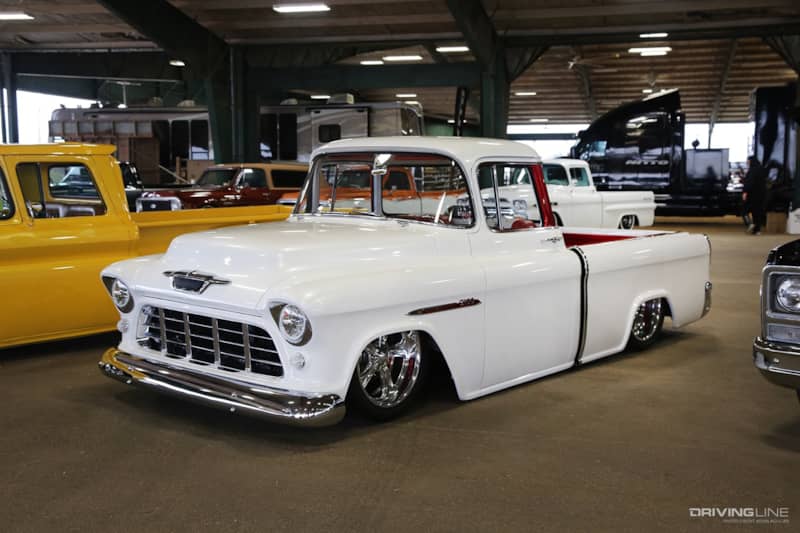 Underneath the hood is a big block engine that was salvaged from a '96 Chevy dually pickup to give this truck some extra pep in its step. Bringing some extra flavor to this old truck is a set of 20-inch Billet Specialties wheels with Nitto NT555 G2 tires for maximum grip.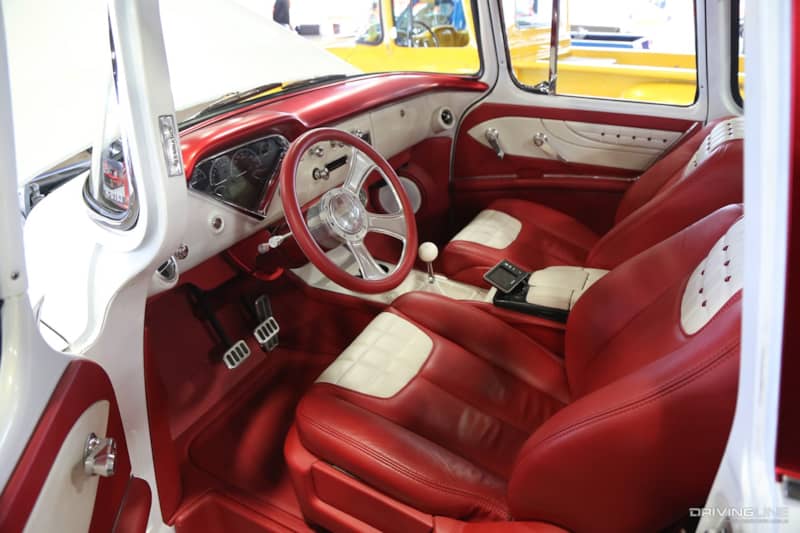 5. LUVzilla
Taking a different spin on this classic minitruck, Carl Pegnatori commissioned KATG Motorsports to create this completely one-off creation inspired by a '74 Chevy LUV. Though it has some resemblance of the original form, it has a complete tube chassis with hand-made all-aluminum reimagined body.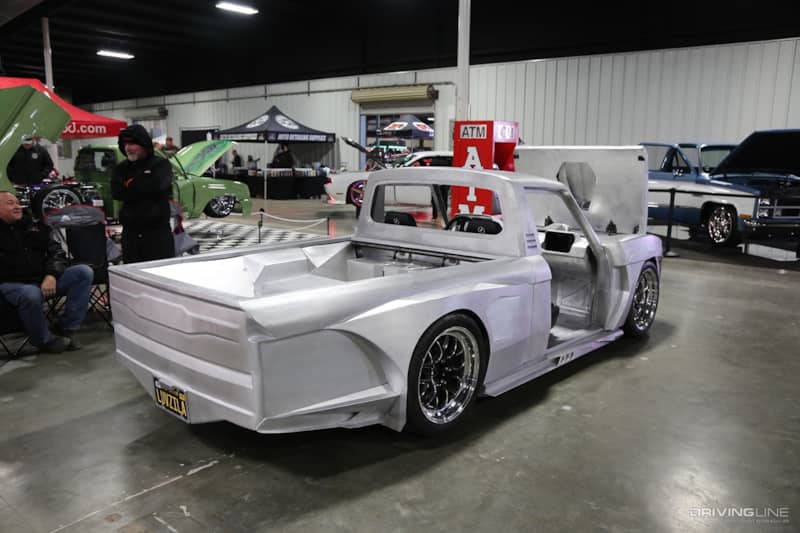 Up front is a rebuilt Chevy 4.3L V6 that is in the process of getting a set of twin turbochargers to maximize power. Carl insists on running nothing but Nitto tires as he claims the gripping capabilities saved his life in a questionable situation. Hence, this truck has a set of 335/30ZR18 Nitto NT01 tires on 18-inch Weld wheels.
4. Robert Tucker's '69 Chevy C10
Amazingly enough, this truck was originally purchased new by Robert's grandfather and spent the majority of its life on construction sites. This is a common story as these trucks were built to be put to the test by hauling on a regular basis.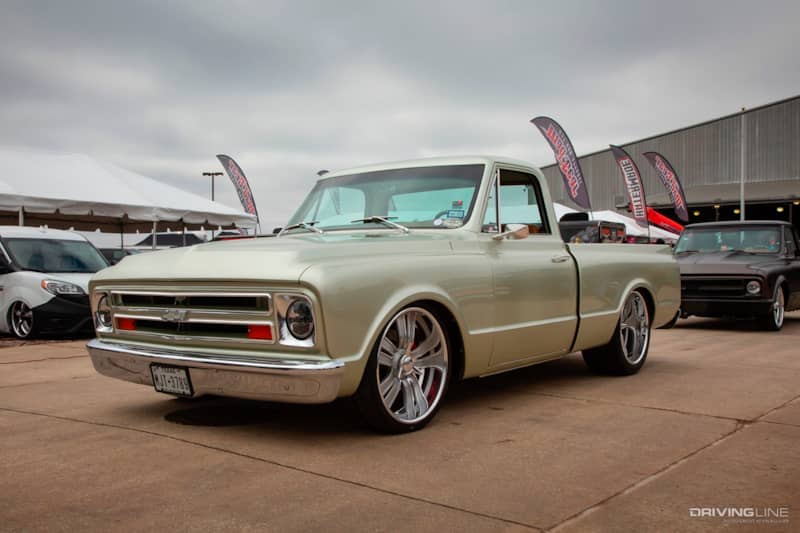 Bringing this truck back to life, Robert completely overhauled it— starting with a Scott's Hotrod's coil-over suspension system. It also has a 6.0L Chevy LS, which is surrounded by a flawless engine compartment. It sits on a set of 22-inch Raceline wheels with Nitto 255/30R22 Invo and 325/35R22 NT420V tires. Topping it off is a custom metallic green paintjob by Alamo Customs.
3. Lunch Wagon Dodge Dually
Classic Dodge trucks are among some of the most difficult pickups to build as replacement parts are scarce and custom products are all but nonexistent. Against all odds, House of Hot Rods and Classics built this wild creation by starting with a '64 Dodge Powerwagon.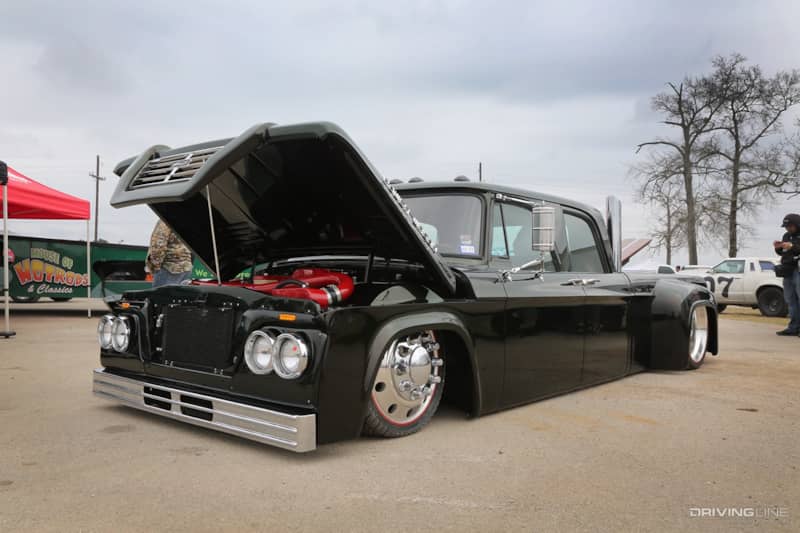 The airbagged suspension lets it sit over a set of 22-inch semi-truck wheels that give it a bold appearance. It also has a host of body mods that are equaled to none other. Under the hood is a 12-valve Cummins engine to give this truck some serious pulling power.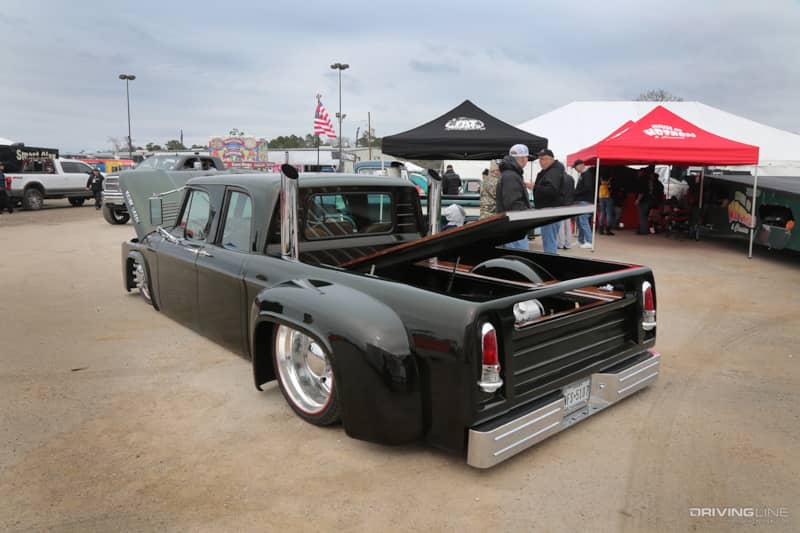 2. Andy Rubio's '72 Chevy C10
When you own a custom truck for a number of years, sometimes you get the itch to try something new with it. Andy had this truck finished off in a different style a while back and he was tired of seeing it get lost in the crowd of other vehicles like it.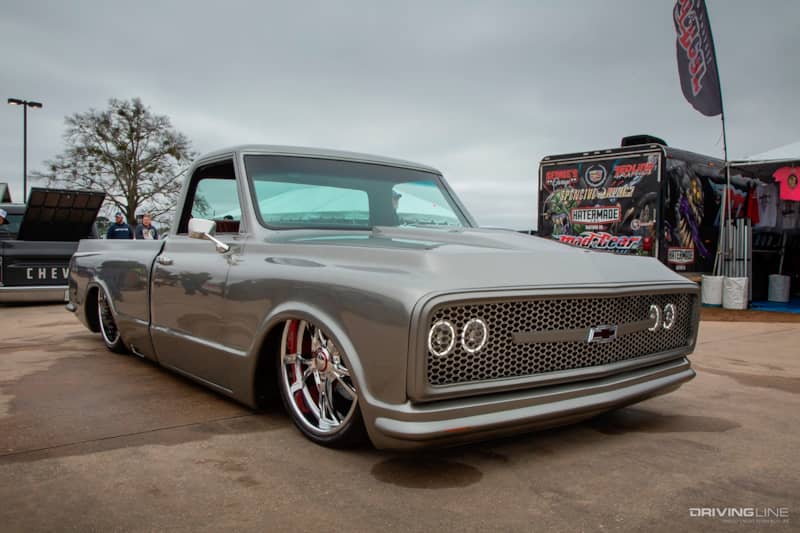 Wanting to make it really stand out, he got with Adrian Lopez and Kahlen Koch to create a truck that has a truly unique style. Everything from the airbagged chassis to the body with all its super-smooth modifications were fabricated by hand. Sublime Heights stepped in to transform the interior with a slew of red leather. One of the most distinctive features of the exterior is the "phantom" style grilled that sits in front of the one-piece front clip that was molded to the cab.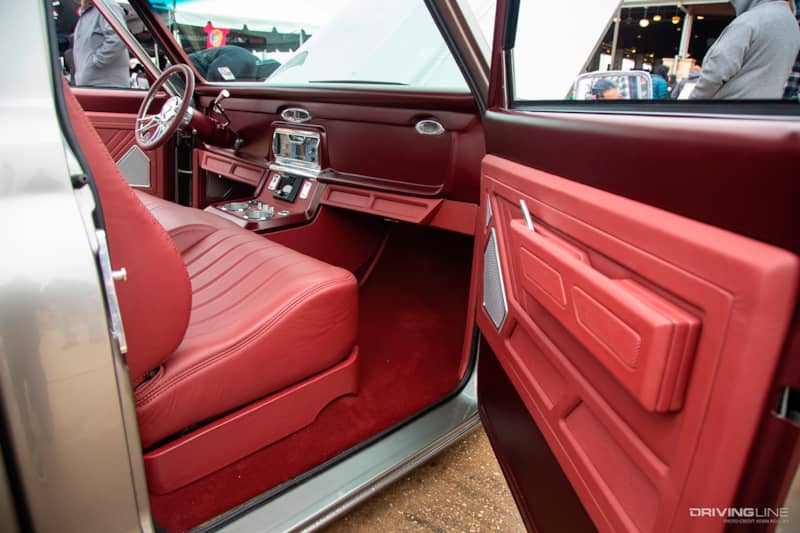 1. Thomas Kirven's "Georgia" '59 Chevy Apache
As we said before, the level of customization for vehicles at this show is at an all-time high and this no expenses spared build is unlike anything we have never seen before. Thomas was on a quest to have one of the baddest custom pickups on the planet and he really accomplished the goal.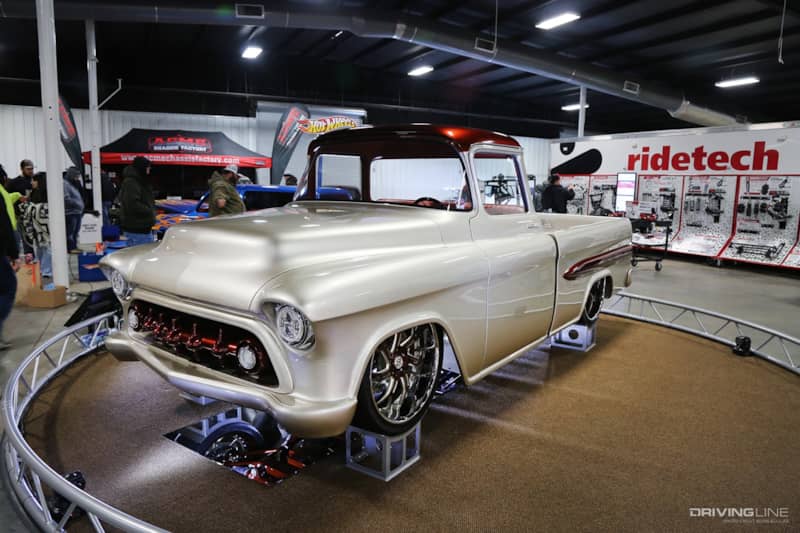 The build was spearheaded by Chris Pate of Mobile Toys Inc and featured help from Drops R Us, to equip this truck with a No Limit Engineering air ride chassis and supercharged LT4 engine to spin the 24-inch Savini wheels.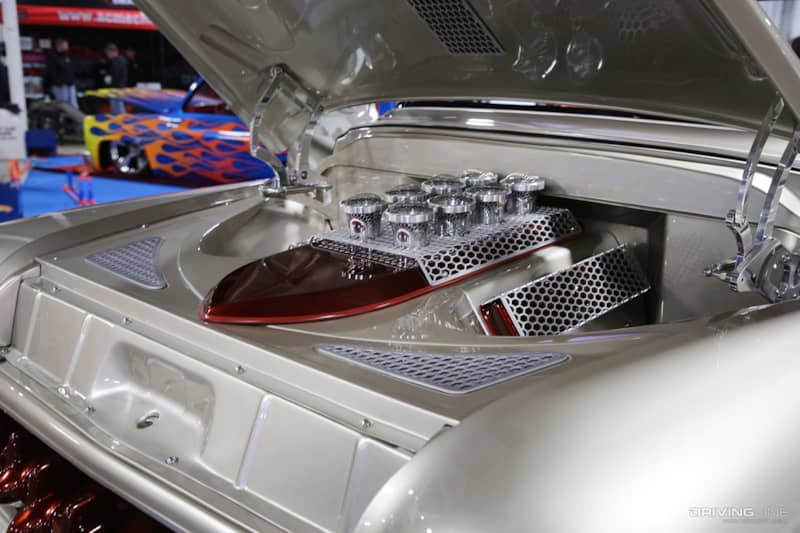 Giving this truck a revamped look is the '56 Chevy front sheet metal, '53 Chevy car grille, '56 Chevy Belair bumper and '59 Cadillac taillights that were frenched in. Alamo Custom stepped it up with the killer bodywork, engine cover and clean paint.
This truck by far out-shined the rest at the show and it paid off by fetching the Best of Show award. This truck was in its own league and we can't wait to see what tops it next year.