Rousing Racing at 2016 Nitto NMRA All Ford World Finals [Gallery]
The Ford faithful were out in full force for the 18th Annual Nitto NMRA All Ford World Finals, September 29 to October 2, 2016, at Beech Bend Raceway in Bowling Green, Kentucky. As the last race on the series' six-race 2016 schedule, the event featured cars and trucks traversing the track with naturally aspirated, turbo, blower and nitrous combinations and showcasing some of the tightest chases to season championships in the series' history.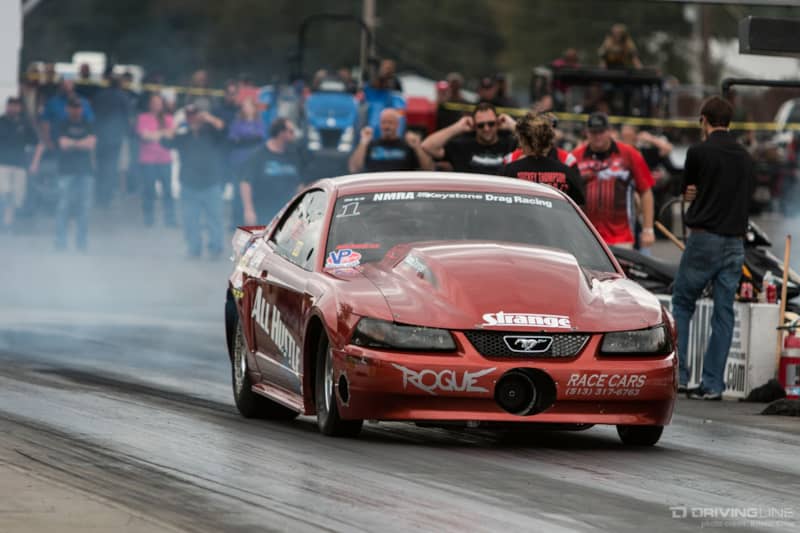 In addition to points and prizes, the ever-enticing Aerospace Components Winner's Circle awaited winners.
"Despite some challenges from Mother Nature, the racers and fans came out in record numbers to witness some of the tightest and most competitive drag racing that we've seen all year," said Rollie Miller, General Manager and National Event Director for ProMedia, which includes NMRA, NMCA and NMCA WEST. "From QA1 True Street, with a near-record number of 140 entries, to our championship categories and car show, the participation levels were the highest of the year. It was a great finish to one of the best seasons of the NMRA Keystone Drag Racing Series."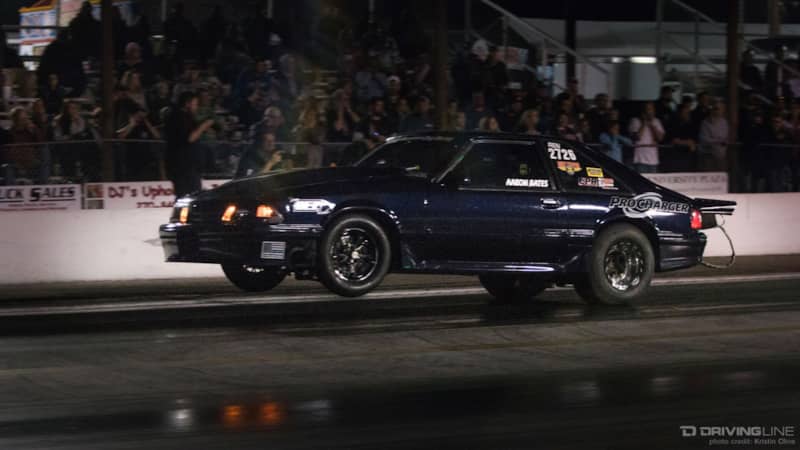 In VP Racing Fuels Street Outlaw, Joel Greathouse glided to a 4.34 in Charles Hull's '92 Mustang, which features a KBX Performance-tuned and Bennett-built small-block Ford and 98mm Precision turbo, and that elapsed-time is the quickest in the history of the category. He had his hands full through several rounds of eliminations, however, as he came across very capable drivers with very competitive combinations, including Phil Hines and his loud and proud ProCharger-packing '01 Mustang. When the tree dropped, Greathouse had issues at the hit and never recovered, and Hines sailed to a 6.62 for the win.
Aaron Bates was a man on a mission in Edelbrock Renegade and proved it by powering to a 7.44 to lead qualifying in his Fox body Mustang powered by a ProCharger-fronted and Steve LaPointe-built small-block Ford tuned by Dez Racing. As consistent as he is quick, he laid down another 7.44 in the final round to earn the win over Adam Arndt, who was 7.51 in his formidable Fox body Mustang.
"I'm still trying to digest the amazing weekend," said Bates. "NMRA is such a great place to compete and I'm so happy with my team's performance over the weekend as well as throughout the season. We're looking forward to racing with the NMRA again next year."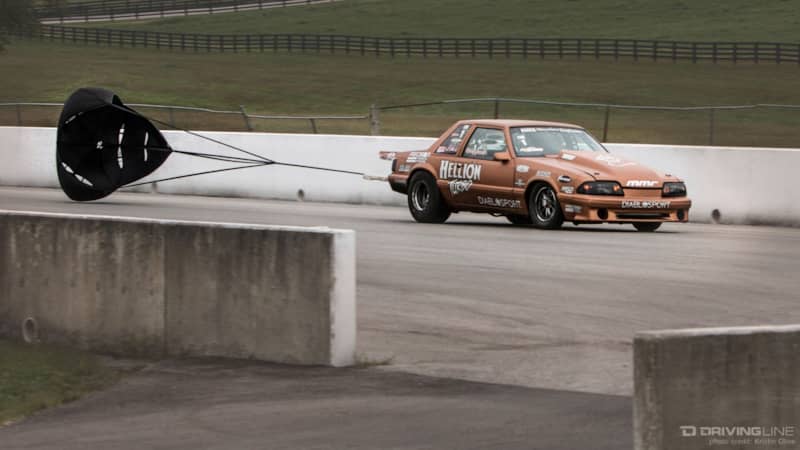 In his lean green '14 Cobra Jet, John Kauderer cruised to a 7.81 to lead qualifying in ProCharger Coyote Modified, but holding on for the final round were Haley James and Joe Guertin. James jammed to the win after taking her Mustang through the traps in 7.85 seconds, while Guertin got there right after with a 7.87.
In G-Force Transmissions Pure Street, Teddy Weaver wheeled—and wheelied—his '01 Mustang to a 9.64 to lead qualifying, and claimed the victory in the final round with a 9.65 after Shawn Johnson ran into issues in his '03 Cobra and was forced to lift.
"The track had so much traction that my car wanted to go into a wheelstand, and in the first round of eliminations, it actually stayed in a wheelstand for 200 feet," said Weaver, who relies on a Roush-built 312 cubic-inch pushrod engine and G-Force Transmissions-built G101A transmission to propel his UPR-suspended Mustang. "We settled the car down by making shock and strut adjustments."
Darin Hendricks sailed to a 10.21 in his '93 Cobra to lead qualifying in Race Pages Coyote Stock, and in the final round, he met up with class standout Shane Stymiest, who had just recorded a personal best of 10.21 in his semifinal single in his '90 Mustang. Stymiest got to the finish line first with a 10.23 to win over Hendricks, who had slowed over a tenth of a second from his qualifying effort and turned in an 10.34 for the runner-up.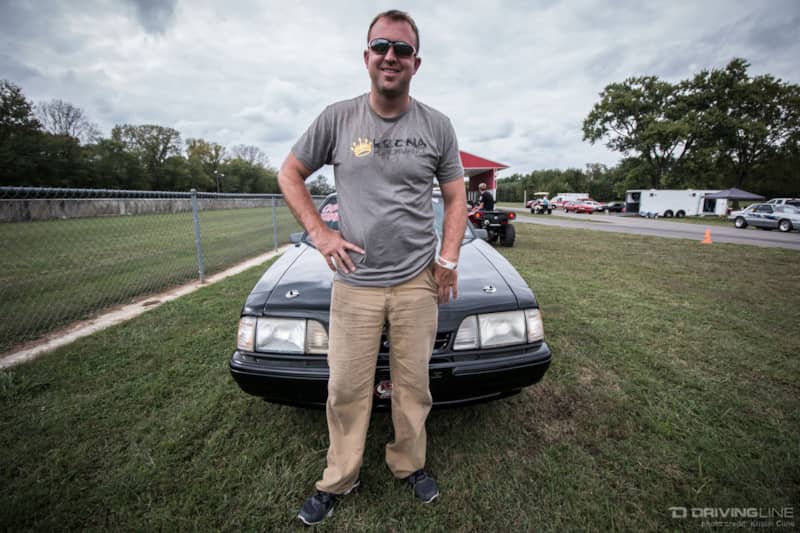 "We worked our butts off to earn to that," said Stymiest, who added that he wasn't overly concerned about facing top qualifier Hendricks in the final as he had seen his off-pace 10.31 semifinal run. "I knew that if my car worked like it had the last couple rounds, I would be in pretty good shape."
In American Racing Headers Factory Stock, James Meredith moved his '03 Mach 1 to a 10.46 to lead qualifying, and began eliminations with a solo trip down the lanes when Michael Washington required an ill-timed push-back in his Fox body Mustang. From there, Meredith motored through the rounds and to the final, where he defeated the always-tough Matt Amrine and his '98 Mustang, 10.68 to 10.72.
In index action, Exedy Racing Clutch Modular Muscle saw Shane Williams and his '99 Mustang motor to the win over Donnie Bowles and his '05 Mustang, 11.78 to 9.97, and in Flex-A-Lite Open Comp, where the cars are always finely-tuned, Dennis Corn catapulted to a win in his '88 Thunderbird over Tim Hamilton, 9.54 to 10.68. In Detroit Locker Truck and Lightning, Randy Conway cruised his '84 Ranger to victory over Gerry Van Veen and his '94 Ranger, 10.56 to 11.10.
Chris Parisi muscled his Mustang to a 14.27 and the win over Dave Liechty, who posted an 11.27 in his Mustang in Roush Super Stang, and in Race Pages Ford Muscle, Tom Osterkamp piloted his '12 Mustang to victory over Danny Towe and his '70 Mustang after a 10.04 and 12.12 race.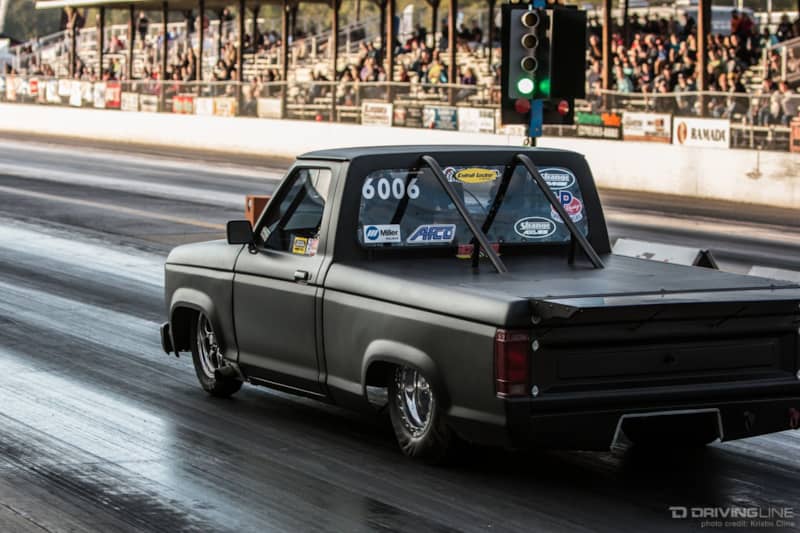 In the VMP Performance Terminator/GT500 Shootout, Brian Devilbiss blasted to a 7.46 and the win over Harold Horton and his 9.10, and in Livernois Motorsports EcoBoost, Brad Gusler gave it everything he had in his '15 Mustang and uncorked a 10.55, and it worked, as he defeated Alexis Fruggiero, who was 27.18 at the stripe in a '15 Mustang.
In Henchmen Racing Turbo Coyote Shootout, Justin Jordan, in a '14 Mustang, ousted Bret Stabler, in an '11 Mustang, after a close 4.99 to 5.00 race. The entertaining Tremec Stickshift Shootout put the spotlight on Nicholas Shortridge, who posted a 9.35 in his '03 Mustang to find victory over Mike Niehaus, who went through the traps at 9.93 in his '86 Mustang.
Troy Messamore was the overall winner with an 8.05 average in QA1 True Street, while Jeramiah McGreevy raced to an 8.41 average to runner-up and Nicholas Shortridge shot to the 9-second win. Chad Evans was the 10-second winner, Tim Bradshaw was the 11-second winner, Randy Rosner was the 12-second winner, Jason Epstein was the 13-second winner, Kristen Kelly was the 14-second winner and Belinda Moore was the 15-second winner.
Saturday Bracket action saw Adrian Way win over Brian Barnard in Bracket 1; Ray Sears win on a single in Bracket 2 and Richard Doyle defeat Michael Crass in Bracket 3. In Sunday Bracket racing, Derrick Cornish cruised to the win over Jeff Whitaker in Bracket 1; Gary Parker pounded out a win over Don Oglesbee in Bracket 2 and Clifford Moore mustered up a win over Danny Caudell in Bracket 3.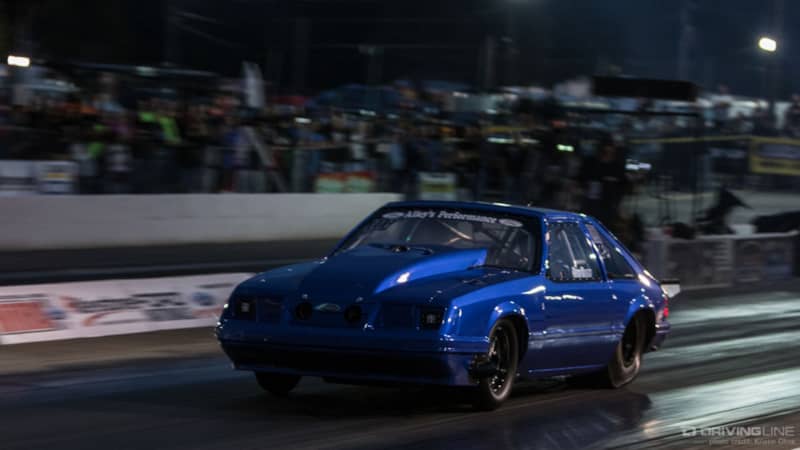 The highly hyped event also included a Grudge Night featuring Chris "BoostedGT" Hamilton from Discovery Channel's "Street Outlaws," multi-time champion and NMRA and NMCA racer Mike Murillo from "House of Grudge" and other drivers who were looking to lay down a number street race-style. It also boasted ididit Outlaw True Street and the UPR Car Show.
Points are now being carefully counted in categories, and season champions will be named October 14, 2016. Then, they'll be celebrated—and receive carefully and cleverly crafted Nitto Tire Diamond Tree Rings—during the NMRA Awards Ceremony presented by Aerospace Components, Dec. 9, at the Indiana Convention Center.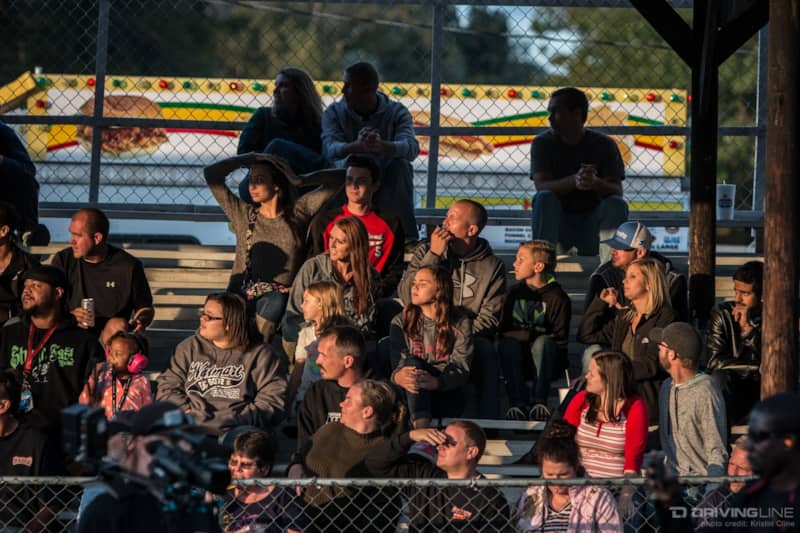 (Photos: Kristin Cline)
Detroit-based Mary Lendzion is a writer for NMCA and NMRA in Santa Ana, California, and the Director of Media and Public Relations for Summit Motorsports Park in Norwalk, Ohio.
Racing revs up again with the 23rd Annual Nitto NMRA Spring Break Shootout, March 2-5, 2017, at Bradenton Motorsports Park in Florida. In the meantime, see our coverage from this year's Spring Break Shootout and make sure to check out the gallery above for more All Ford World Finals action!