The Big Short: A Lifted, Custom '89 GMC Crew Cab Behemoth
Guys like Jack Martin got their start in the truck scene very early on. The vehicles he first played with were not full scale, as they were Hot Wheels, and the road they rolled on was actually the floor of his parent's house in Colorado. When he was finally old enough to get his license, he and his dad found a squarebody GMC 4X4 and it that kicked everything off for him. Of course, it didn't stay stock long and he customized the truck to better suit his personality.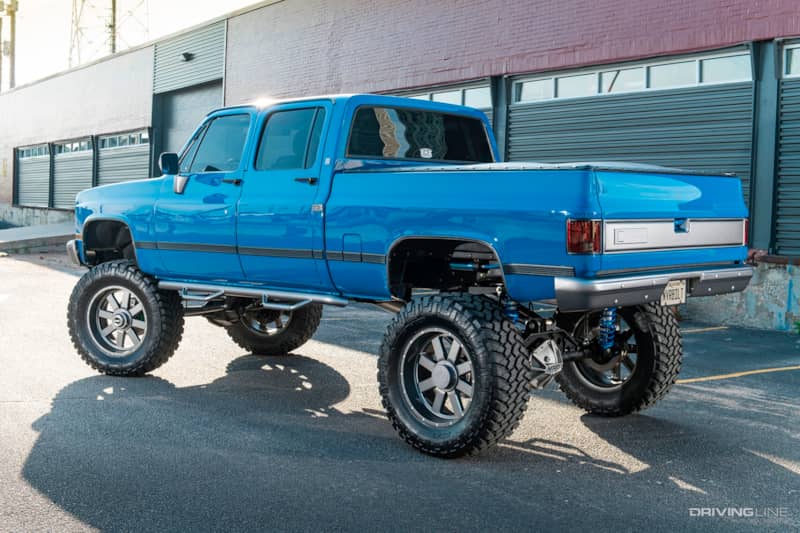 Moving On
After a few years and quite a few rides later, Jack relocated to Georgia and found out there was less need for a 4X4 to drive in snow. At the time, Jack was more attracted to sport trucks and the next trucks he would build would be a bit closer to the ground. That progressed into obtaining a few trucks that were slammed on the ground with airbags. Jack's taste for trucks changed by living in a new part of the country, but such is the way of life.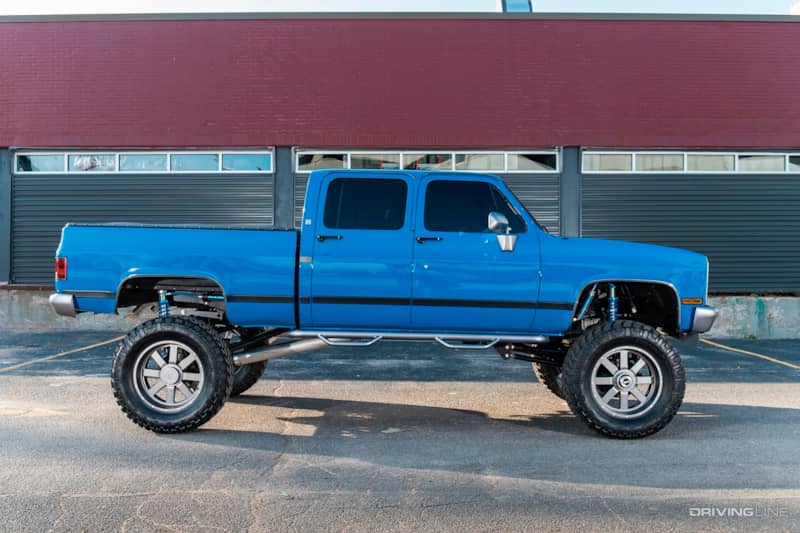 From Long to Short
After getting married, he and his wife decided they wanted a more laidback lifestyle and moved to Tulsa, OK. There, he made new friends in the truck scene and his passion grew even bigger. While hanging with the bros, he came up with the idea to have a lifted crew cab squarebody pickup with a short bed on the back. This was a combination that was never offered originally, and it seemed like the perfect new project for him. Luckily, he found this '89 GMC, which was a good starting point.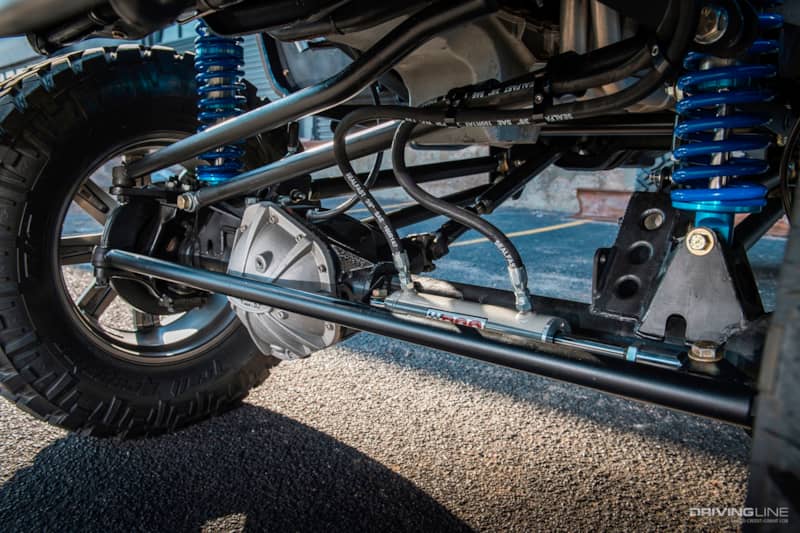 Built Tough
To make the vision a reality, the frame was shortened to accept a short bed. Then all the stock suspension was stripped off to make room to beef it up. Underneath went a Dana 60 front axle and a rear GM 14-bolt with 4.10 gears. Then, an Off-Road Design front parallel four-link and a rear triangulated four-link was attached to hold it all in place. The suspension was then topped off with a set of King 2 ½-inch coil-overs and a rear disc brake conversion with PSC Motorsports hydroboost braking assistance.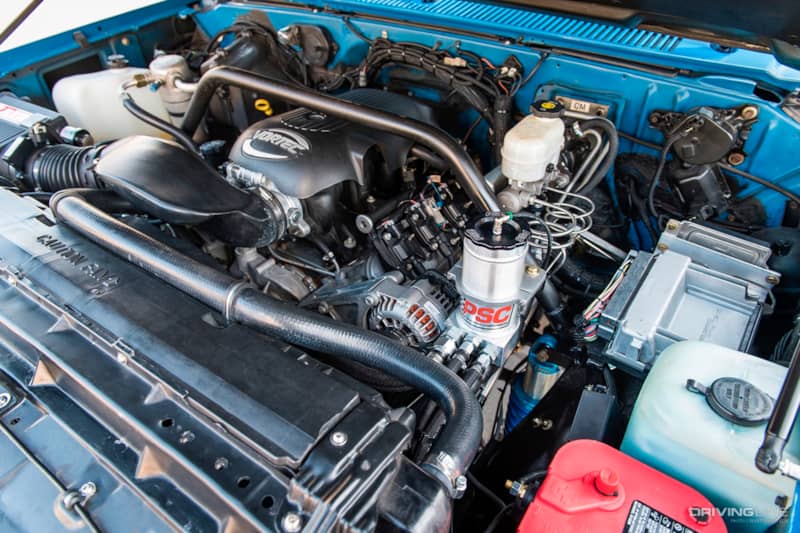 Modern Performance
Powering this big beast is a 6.0L LS engine with 4L60e transmission salvaged from an '05 Chevy pickup. The engine is held in place using Dirty Dingo mounts and is cooled with an aluminum radiator with electrics fans. Adding some performance and sound, a custom 3-inch exhaust was made that has a set of Flowmaster Super 44 mufflers. Keeping a lid on the engine bay is the stock hood with Wam Rods hood strut kit.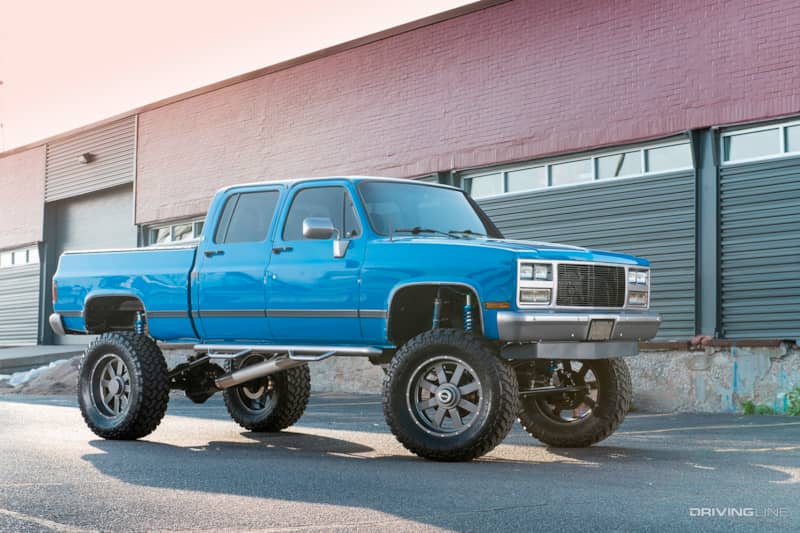 Style for Miles
For the rest of the exterior, the body panels were painted in GM Bright Blue (paint code 42). For added contrast, things like the grille and bumpers were painted in a dark silver. A black billet grill sits up front and the sides feature GSI Machine and Fab door handles along with N-Fab steps. The body has also been accented with custom billet badges made by Jason Hancock of Billet Accessories Direct (B.A.D.). Literally topping off the exterior is a Blackmax soft tonneau that covers the short bed.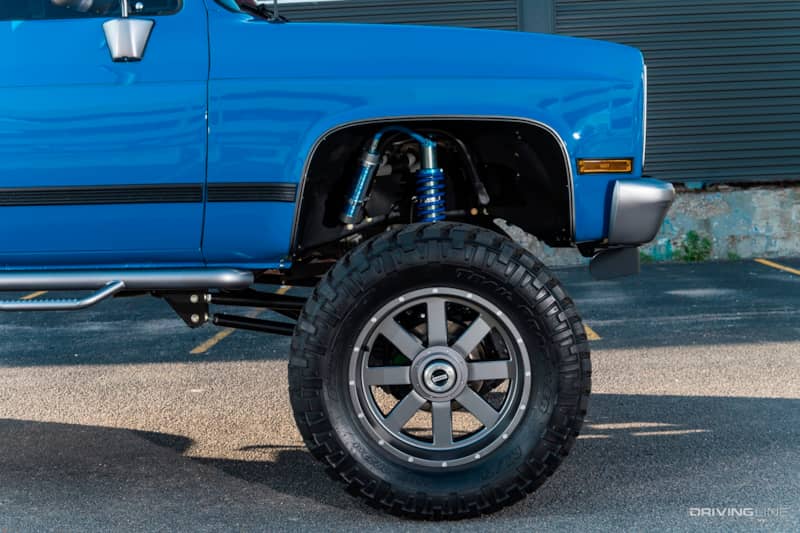 Rolling Art
Part of this squarebody's more aggressive look is due to the wheel and tire combo it rolls on. The 22x10 Moto Metal wheels have custom machined centers by B.A.D. and are painted to match the trim of the truck. These mean looking wheels are complimented with a set of huge 40x15.5R22LT Nitto Trail Grappler M/T tires, which look stout and add some major height to this beast. These tires are the best of both worlds with great off-road performance while being comfortably quiet (for a M/T tire) when driven on paved roads.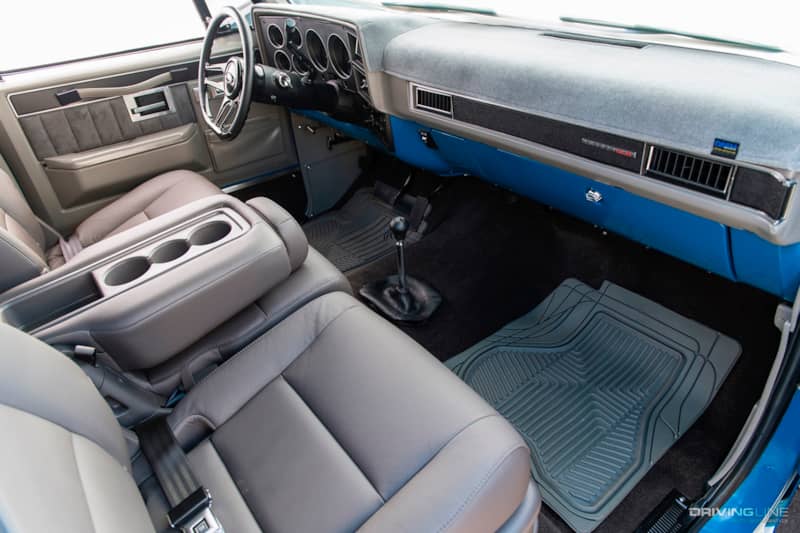 Seating and More
Speaking of comfort, the interior was upgraded to make long drives easier, too. The most obvious change is the addition of two 2nd row Honda Odyssey seats that are upholstered in gray leather by King Cover in Tulsa. To match the rest of the interior, many pieces were dyed gray or covered in suede. Adding to rider comfort is a Retrosound Newport head unit and stereo for vintage appearance and modern function. On the driver's side, a Dakota Digital gauge cluster and Billet Specialties steering wheel were installed.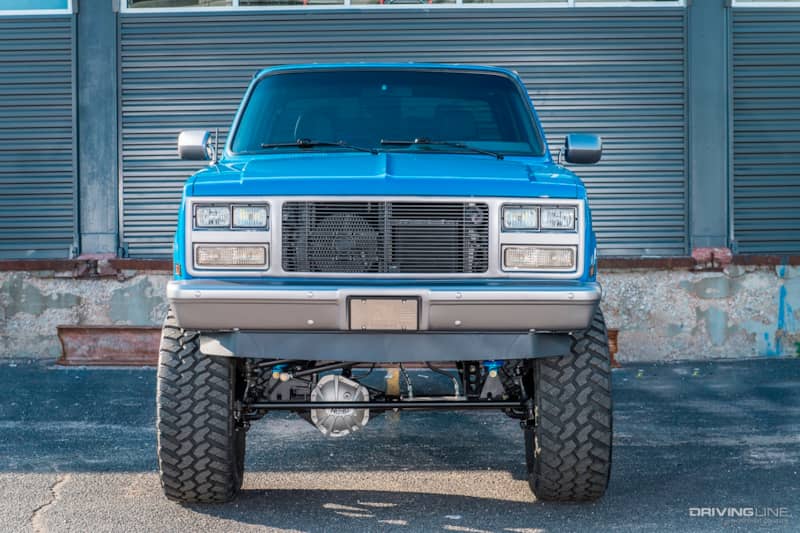 A True Custom
With everything said and done, this truck looks like no other. The short bed conversion might have involved some major work but really makes this truck stand out from the crowd. The addition of a modern power train and interior really makes this classic pickup drive like a modern vehicle. With all these details coming together in unison, you can tell that Jack has been around and knows what he is doing when it comes to building custom trucks.
Love lifted trucks? Check out this hand-engraved, skyjacked F250.