The Growth Of Domestic ¾-Ton And Larger Diesels
Over the past 25 years, diesel-powered ¾-ton and larger pickup trucks have been wildly successful for The Big Three. And throughout the last decade, the diesel option has become all but mandatory for truck buyers that want to realize the peak potential of their heavy-duty Ram, GM HD or Ford Super Duty. In an age where pickup trucks are capable of towing more than 30,000 pounds, it's important to remember that this kind of weight can only be transported with a diesel engine under the hood. Their ability to deliver 1,000 lb-ft of torque or more at very low rpm makes them the tow monsters they are.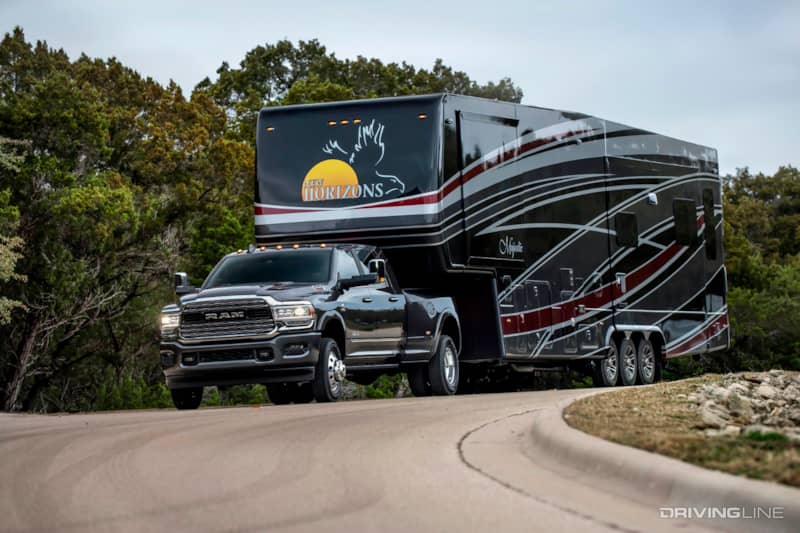 Today, with the popularity of diesels no secret in the heavy-duty pickup segment, manufacturers have expanded the diesel option to virtually every trim level. Whether you want a base model workhorse, a high-end dually or something in between, Ford, Ram and GM can accommodate the end user. To help shed some light on the allure of compression ignition pickups and why they'll survive long after EV trucks show up in mass, we're covering the growth of domestic ¾-ton and larger diesels this time.
1,000 LB-FT Diesels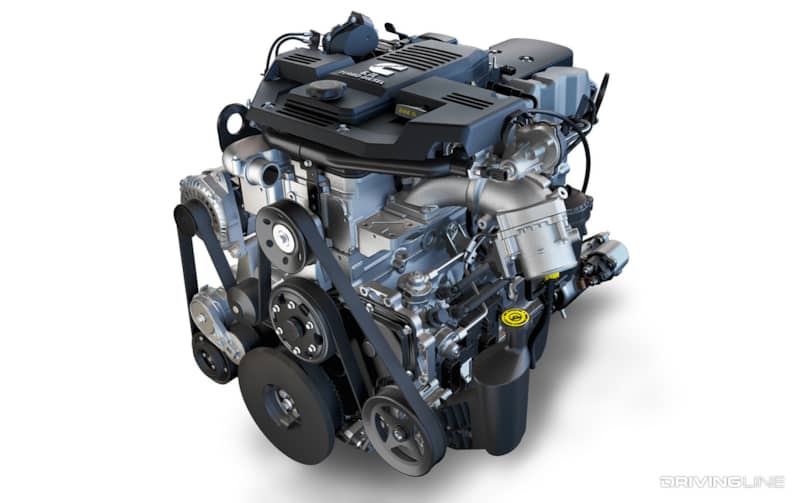 It's not just the sales figures for diesel-powered pickups that've exploded in recent years, it's the power output of the engines themselves. In January of 2019 Ram released its new, high output 6.7L Cummins, which at the time was capable of producing 1,000 lb-ft of torque. Just two decades prior, 500 lb-ft was the number to beat. So yes, you could say compression ignition has come a long way. Prior to Ram becoming the first one to the 1,000 lb-ft mark, Ford, GM and Ram had been battling back and forth for highest torque rating honors for years. In 2011, Ford's 6.7L Power Stroke became the first diesel in the segment to reach 800 lb-ft (besting GM's 765 lb-ft LML Duramax option). In 2016, Ram's 6.7L Cummins broke the 900 lb-ft barrier. Then after Ford bumped its V-8 Power Stroke up to 935 lb-ft in 2018 Ram responded with the release of the aforementioned (and completely revamped) 1,000 lb-ft 6.7L Cummins.
Clean, Quiet And Powerful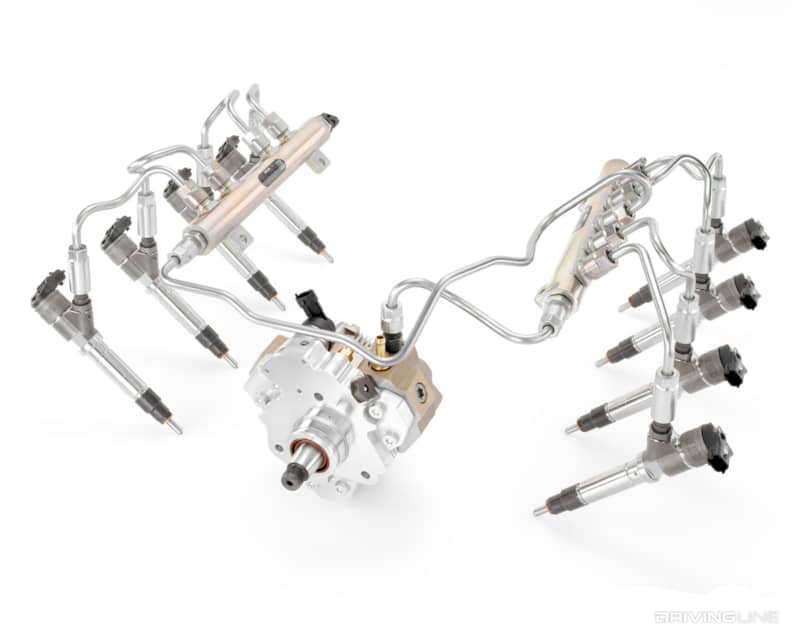 In addition to becoming ever more powerful, diesels are constantly burning cleaner and cleaner. Granted, their exhaust aftertreatment systems are still nowhere near perfect or maintenance-free, but they are more durable than they were in the early days of diesel particulate filter (DPF), exhaust gas recirculation (EGR) and selective catalytic reduction (SCR) systems. The biggest catalyst for improved power, cleaner emissions and quieter operation was the introduction of the common-rail injection system. Extremely high-pressure coupled with precise-firing, multiple-event injectors made the modern diesel efficient in nearly every way. The high-tech, variable geometry turbochargers and commercial-grade automatic transmissions that come with them are merely icing on the cake.
Perpetually Pushing The Envelope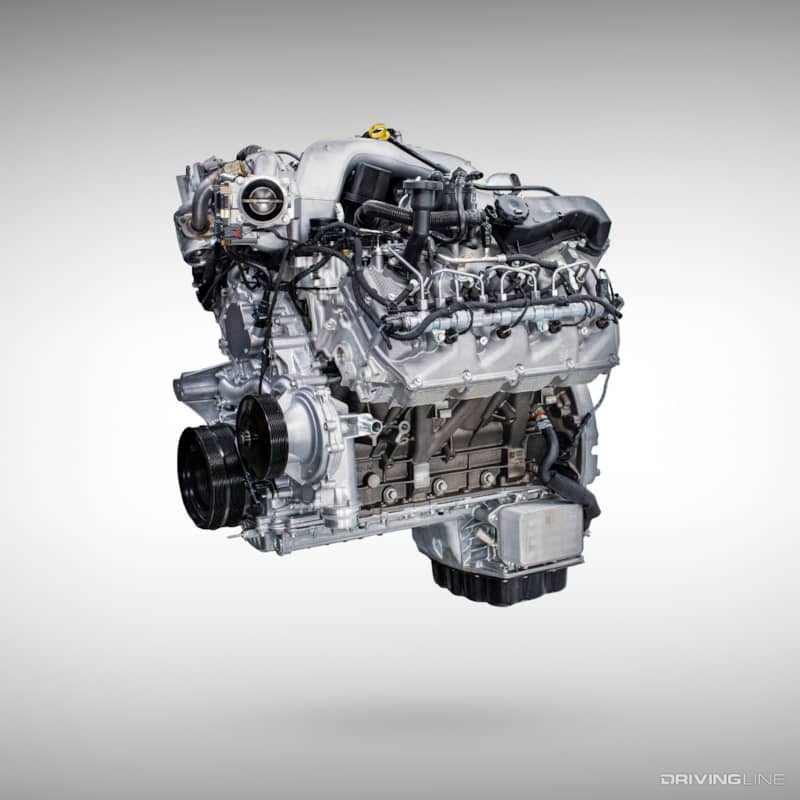 Looking for sports car-chasing horsepower and medium-duty torque levels? Ford's coming high output 6.7L Power Stroke fits the bill. Projected to produce a class-leading 500 hp and an earth-rotating 1,200 lb-ft of torque, it's no wonder Ford received more than 50,000 orders within the first five days of opening its order bank for the '23 Super Duty. The gargantuan torque number tops the 1,075 lb-ft torque figure produced by the high output 6.7L Cummins, which used to lead the 1-ton segment. But like Ram (where a standard output Cummins option remains), Ford will retain its 475 hp, 1,050 lb-ft 6.7L Power Stroke as the standard diesel engine option.
Super-Sized Towing Capacities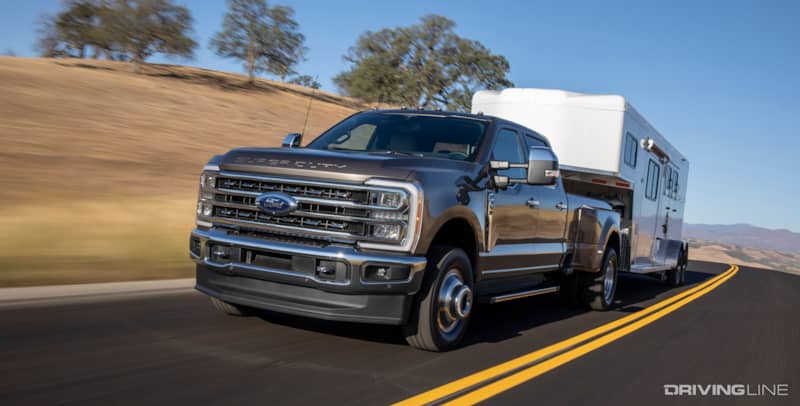 Owning the most powerful, capable truck on the market has long-been a major selling point in the ¾-ton and larger realm. Perhaps no other manufacturer understands this better than Ford, as its '23 model Super Duty's are poised to lay claim to six best-in-class towing accolades. At the top of the heap, a properly-equipped F-450 will boast a gooseneck tow rating of 40,000 pounds, while also offering the highest available fifth-wheel towing capacity of 35,000 pounds. In the F-350/3500 subsegment, Ford's new dual rear wheel F-350 will feature the highest available gooseneck towing figure of 38,000 pounds. The new Super Duty dominates the conventional towing category, too, with an F-450 capable of bumper towing 30,000 pounds, a dual rear wheel F-350 capable of moving 28,000 pounds and a single rear wheel F-350 capable of towing up to 25,000 pounds.
A Three-Horse Race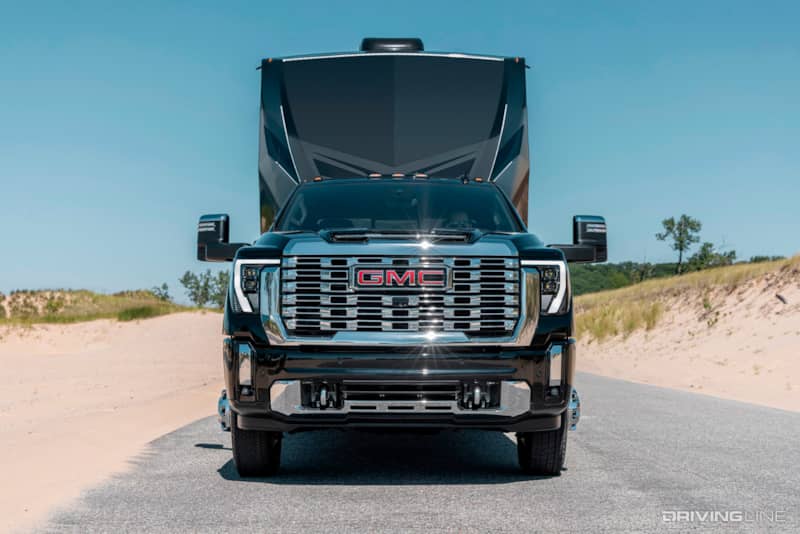 Ford and Ram may be going toe-to-toe in the torque war, but GM is constantly refining its product. The General's latest HD steeds, its fresh-faced '24 models, are set to begin production in early 2023 and bring a host of new technologies—technologies that will make towing 36,000 pounds as safe as it's ever been—to market. In the 2500/F-250 subsegment, the General's '24 Duramax-powered Silverado and Sierra HD's equipped with its Max Trailering package will be capable of best-in-class gooseneck towing, which checks in at 21,900 pounds. The Duramax V-8 itself has been treated to injection system and cylinder head changes, and now belts out 470 hp at 2,800 rpm and 975 lb-ft of torque at 1,600 rpm.
Incredible Towing Tech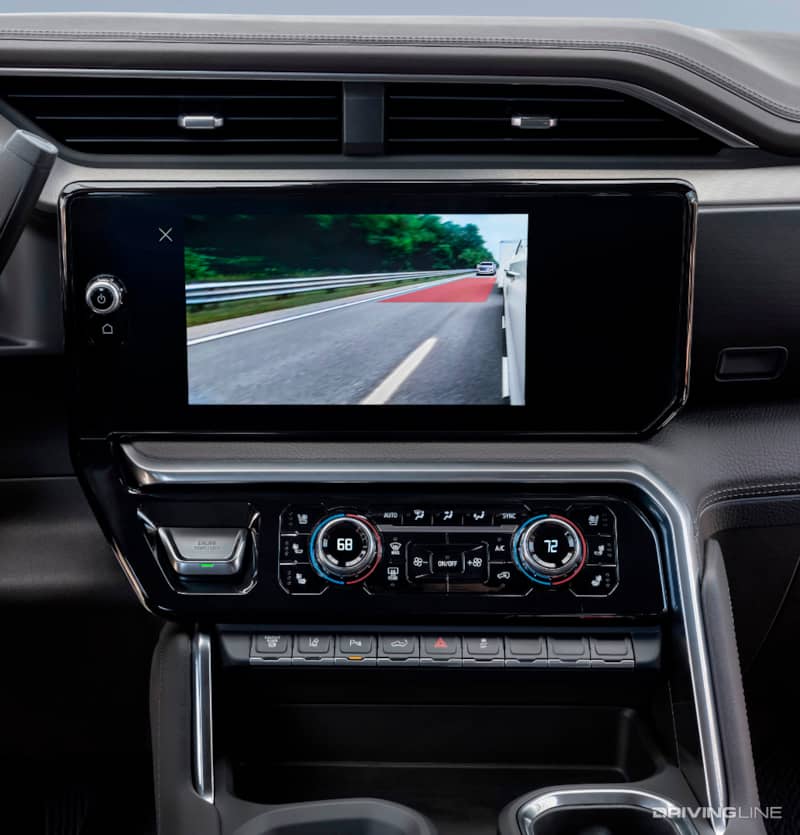 Accompanying the physical ability to tow 30,000-plus pounds, The Big Three offer state-of-the-art trailering-assist features. Adaptive cruise control while towing, transparent trailer, hitch guidance and trailer side blind zone alert (shown) are all geared toward making the towing experience as uneventful as possible. Ford's latest Trailer Navigation driver assist technology is even designed to take your trailer's specific dimensions and weight into consideration before displaying the most trailer-friendly driving route for you. This means no low bridges, dead-end streets or tight turns to contend with.
2023 Ram 2500 Rebel (With A Cummins)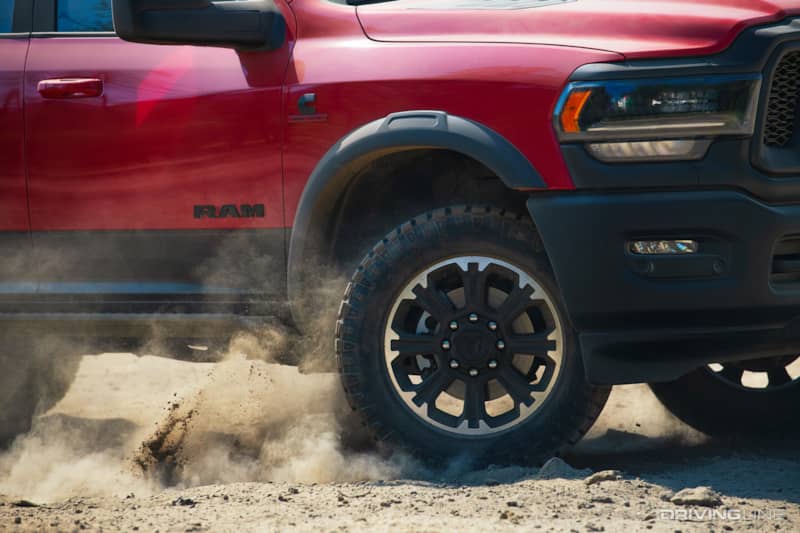 With demand for the diesel option so high on ¾-ton and larger trucks, OEM's have increasingly expanded diesel's availability across nearly all truck configurations. Case in point, for its '23 model year trucks Ram is making the 2500 Rebel package available with a Cummins for the first time. Granted it will only be available with the standard output 6.7L Cummins (370 hp and 850 lb-ft) mated to the 68RFE automatic transmission, but the diesel powertrain will make it a Power Wagon-like performer on the trail while providing superb towing capability. For those unfamiliar with Rebel trim, the package brings an electronic rear locker, limited slip rear differential, 12,000-pound Warn winch and skid plates into the mix.
Why Diesel Will Continue To Dominate The ¾-Ton And Larger Market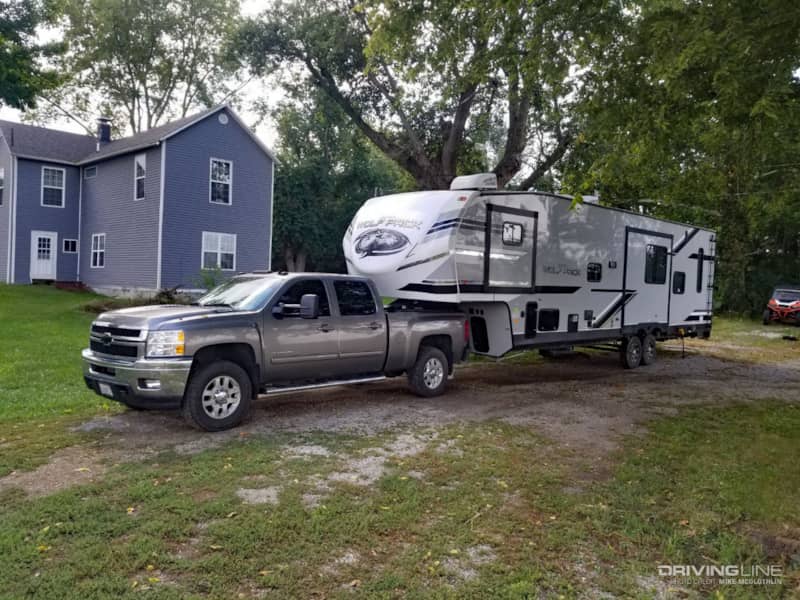 The Swiss Army knife-like nature of the diesel option is what has made them so popular in the ¾-ton and larger segment, and also why they will survive the rush of electric trucks. Their ability to get huge loads moving and keep them moving efficiently is perhaps their biggest selling point. More specifically, at worst a diesel's range is cut in half when towing at the truck's GCWR. By comparison, a BEV version's range can be reduced as much as 70-percent, if not more. Pitted against the gasoline option(s) each manufacturer offers, diesel dominates in horsepower, torque, fuel efficiency and powertrain longevity. For truck owners that tow heavy, day-in and day-out, there is no alternative to a diesel power plant.
More From

Driving Line
While ¾-ton and larger diesels are seemingly here to stay, the same can't be said for half-ton oil-burners. In fact, you can read up on the causes of death for the EcoDiesel Ram and 3.0L Power Stroke right 

here

.