The Meanest Jeep Wrangler 392: A V8 Jeep Built For The Toughest Terrain
Story By Collin Coates
Photos By
The Jeep Wrangler Rubicon 392 is impressive from the factory, boasting a 6.4L 392-cubic-inch V8 with 470hp and 470 lb-ft of torque. Equipped with Dana 44 axles, locking differentials, and an electronic disconnecting sway bar, the 392 has all of the best-in-class off-road capability as the standard Rubicon, but with the power Jeep enthusiasts like myself have been longing for. Like every Wrangler that came before it, we knew there were plenty of areas that could use some improvement, and couldn't wait to get our hands on one to give it the full Built2Wander treatment. With the help of Matt Thompson and 3D Off-Road, we built the meanest Wrangler 392 in existence from the ground up!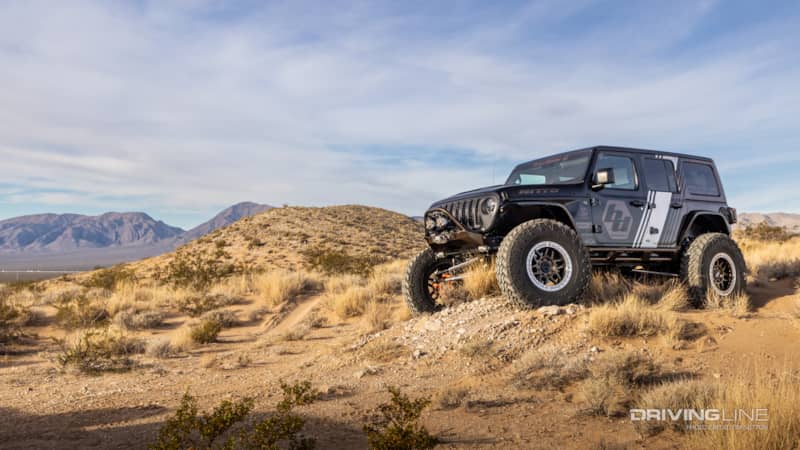 Big Time Tires: 42" Nitto Trail Grapplers
Nitto released the 42" tall variant of the Trail Grappler M/T tire shortly after Jeep released the 392 in the fall of 2020. Prior to this, the largest tire we had ever run on one of our 4x4 builds was the 40" Trail Grappler, but always looked forward to pushing the envelope. True beauty happens when two worlds collide, so we made the obvious choice: build our new Wrangler Rubicon 392 around the 42" Nitto Trail Grappler. At the time our build took place, there was no such thing as a 20x9 beadlock wheel, but we wanted to a 9" wide wheel so that when airing down the sidewall of the 42"x13.50" Trail Grappler would flex properly, allowing us to take advantage of even more grip in extreme off-road conditions. We decided on a set of 20x9 KMC MESA wheels and sent them off to OMF Performance to have them turned into functional beadlocks. Problem solved. The result is a stunning set of wheels that allow us to truly use the 42" Trail Grappler as intended.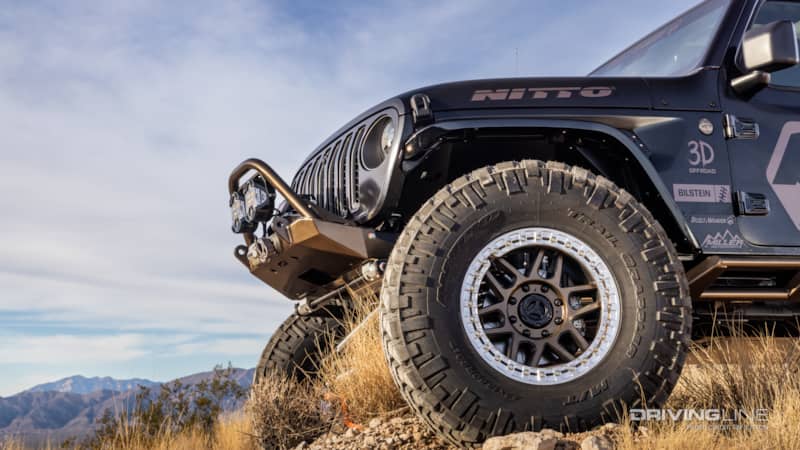 9-Inch Spidertrax Axle Housings Designed and Spec'd by Miller Motorsports
Erik Miller. Ever heard of him? He's a two-time Ultra4 Off-Road Racing King of the Hammers champion and Miller Motorsports off-road race team owner and chassis builder. He knows a thing or two about building quality components that are up to the task of taking on the harshest off-road environments. That's why we turned to him to help us build out a set of axles that could handle a 42" tire and 470HP. Erik developed a nearly identical set of axles as to what you would find under his 4400 Ultra 4 race car. We started with a set of Spidertrax Pro-Series Fabricated 9" Axle Housings. In the rear we added a low-pinion 10" cross-tie billet third member from TubeWorks along with a 40 spline competition ARB air locker and 300M Spidertrax axle shafts. Up front we opted for TubeWork's high-pinion variant of their 10" cross-tie billet third member, a 35 spline competition ARB air locker, and 300M RCV axle shafts. Connecting the custom axles to the factory dual-range transfer case are a set of 1440 Adams Driveshafts. We added 6-piston Wilwood Disc Brakes on all four corners to ensure there would be plenty of stopping power to handle the aforementioned 42" Nittos.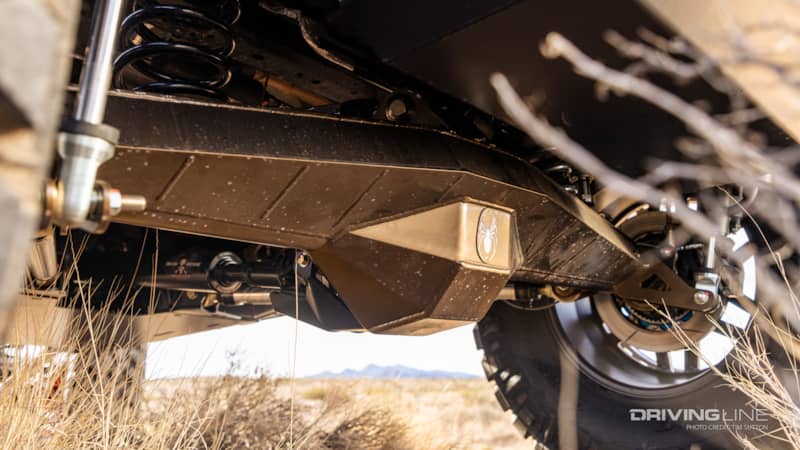 Plush, Race-Ready Suspension
Much of the inspiration of our 392 came from the Ultra 4 off-road racing series. The goal was to equip a full bodied Jeep with the ability to crawl technical sections of rocks and boulders while also being able to cover ground quickly in the desert. To achieve our goal, we teamed up with Motobilt and installed their 4-Link double triangulated suspension in the rear and 3-link suspension system up front. Their kit includes a full flat belly skid system, which maximizes ground clearance underneath and provides plenty of protection in the rocks. In order to make way for the rear 4-link, we had to ditch the factory gas tank and replaced it with a 20-gallon Motobilt fuel tank mounted behind the rear axle. RockJock 4x4 machined a set of aluminum control arms with Johnny Joints and Rock Nuts. A set of Antirock Sway Bars in both the front and rear help to keep the body roll at a minimum while also allowing the 392 to maximize suspension travel. Speaking of travel, Bilstein's 60mm 9200 series triple bypass shocks were installed at all four corners with 12" of travel. Matt Thompson of 3D Off-Road designed and built custom shock mounts in both the front and rear to strike the right balance of ride height and up-travel. We frenched a set of Bilstein 9100 series hydraulic bump stops in the rear frame and added a set of RockJock adjustable bump stops up front to ensure that hard hits at high speeds were manageable. Rock Krawler provided their 392 specific springs that provide 4.5" of lift, which was just the right amount to clear our 42" Trail Grapplers and fully cycle the suspension. The result is a plush, race ready suspension that feels well-mannered on-road and poised for aggressive terrain off-road.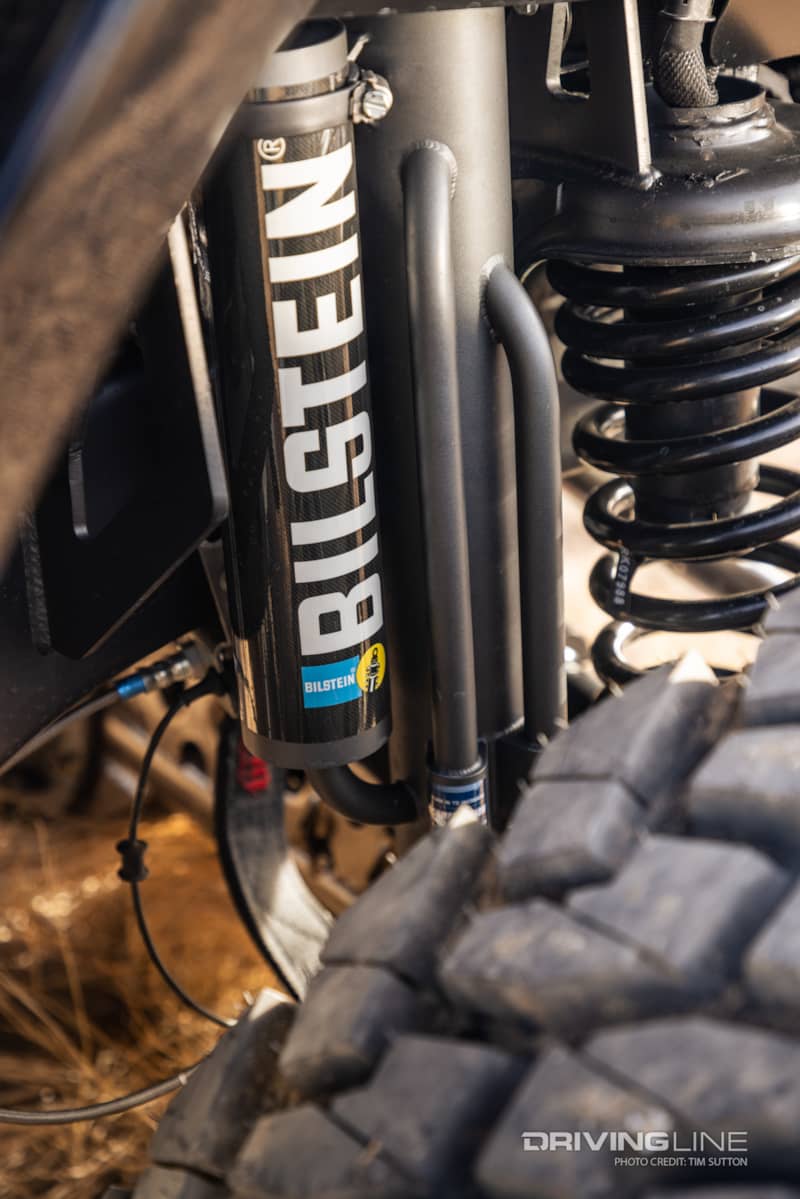 Hardcore Motobilt Armor
A hardcore Jeep build requires hardcore protection. Motobilt has designed and developed armor that is up to the task. Up front you will find their Tomohawk Frame Chop Bumper, which maximizes approach angle and allowed for us to mount a winch and accessory lighting. We installed a set of Motobilt steel fenders on all four corners and paired them with aluminum inner fender liners to keep things clean in the wheel-wells. Motobilt's frame mounted rocker guards and rocker armor was added to keep the tub protected from any and all obstacles. Out back is Motobilt's Crusher Series rear bumper and their spare tire delete kit. The full suite of Motobilt's armor fits the theme of the build nicely with a clean aesthetic and the ability to protect the Jeep no matter what we decided to throw at it.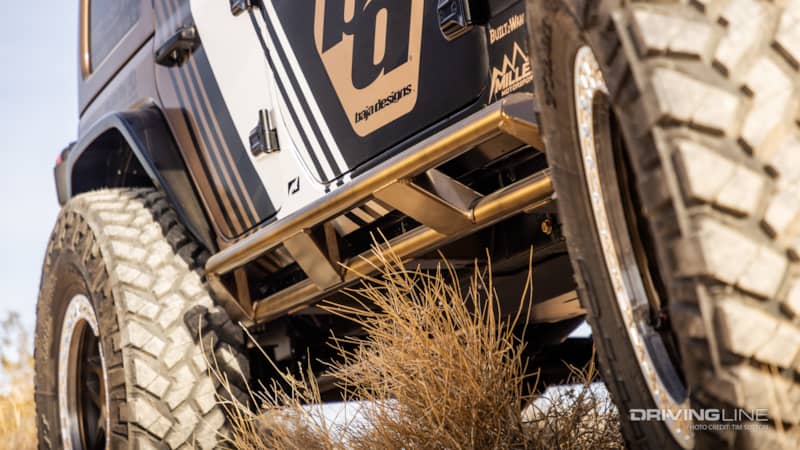 Extreme Steering
Forty-two-inch tires and 20" beadlock wheels are significantly heavier than the factory wheel and tire combo. Consider all of the abuse we plan to put them through and suddenly steering ability and functionality becomes just as critical as any other aspect of the build. That's why we meticulously selected the strongest steering components the industry has to offer. We ditched the factory steering box and pump and replaced it with PSC Motorsports' 392 specific Hydraulic Ram Assist Kit. This allows us to turn the tires with ease in the rocks and erases any doubt of failure. Steer Smarts provided their extreme Yeti XD Steering Ends for an aluminum tie rod and drag link from Artec Industries. We also removed the factory front track bar, replacing it with a Steer Smarts Yeti XD Adjustable Track Bar. Lastly, we added Artec Industries' Super Duty High Steer Arm to a set of Reid Racing Ford Superduty High Steer Knuckles, allowing us to keep the tie rod and drag link relatively parallel and ensure a smooth feel in the steering from lock to lock.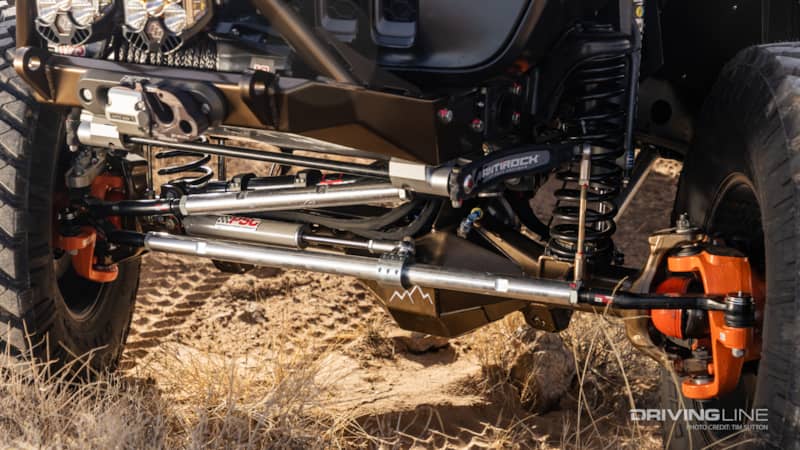 Functional Accessories
It's easy to get carried away with accessories but important to strike a balance between form and function. Our approach was to add everything we needed and nothing we don't. A Warn VR EVO 10-S winch couple with a Factor 55 Hawse Fairlead and Ultrahook are on standby for recovery. We mounted a 15 lbs Powertank in the cargo area to handle the hefty task of airing up our 42" Trail Grapplers after a long day on the trail. An ARB Dual Air Compressor and Manifold Kit are tucked inside underneath the driver's seat utilizing American Adventure Lab's mounting kit and ensure the air-lockers have plenty of air to work properly while also acting as a secondary source for on-board air. A set of Baja Designs LP6 Pros are nestled inside the Motobilt front bumper and provide plenty of auxiliary lighting when needed. We also added a set of Baja Designs Rock Lights inside the wheel wells to allow us to see where all four tires are during off-road adventures at night. Controlling the Baja Designs lighting and ARB Air Lockers is a SPOD BantamX HD. Inside you will find a custom set of PRP seat covers embroidered with the Built2Wander logo and stitched to perfection. Finally, underneath the vehicle is a Magnaflow Rock Krawler exhaust system customized with just enough clearance to get by the drivetrain and control arms.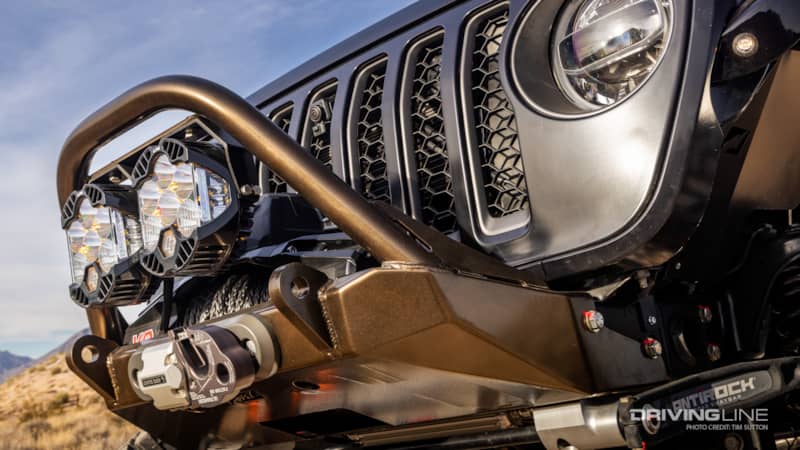 Best In Show Wrangler 392
We finished the Built2Wander Wrangler 392 just in time to display it at the 2022 SEMA Show, where it received the TORA Feature Vehicle Best In Show Award. We can't claim that it's the best in the dirt just yet, though—we haven't had a chance to truly test it out. Given the quality components in the build, we are confident it will do great, and will find out soon enough on the trails of Moab, Utah for the annual Easter Jeep Safari.