The Ultimate Ford E-350 4x4 Family Adventure Van | Inside Line
Over the past two decades, we've seen an explosion in off-road capable Ford E-Series vans. Converted into everything from compact RVs to trail-ready machines, the combination of mass availability with a growing aftermarket continues to make the Econoline van a wildly popular outdoor enthusiast vehicle. Our latest Inline Line feature focuses on Chris Steuber's 2013 Ford E-350. Starting off with a used 12-passenger van, Steuber was able to transform an otherwise mundane van into his version of the ultimate family adventure rig.
As the owner of Ujoint Offroad in Fletcher, North Carolina, Steuber spends most of his time building 4x4 Ford vans and parts for customers across the globe. So, when it was time for him to build a new family adventure rig and shop demo vehicle, there would be no shortage of upgrades. From the 35-inch Nitto Recon Grappler A/Ts to the ultra-light aluminum armor, this van showcases just how multipurpose the fourth generation Econoline vans can be when paired with the right parts.
To see his latest build in action, we took a trip to Uwharrie National Forest, where he was giving his E-350 a workout on the trail.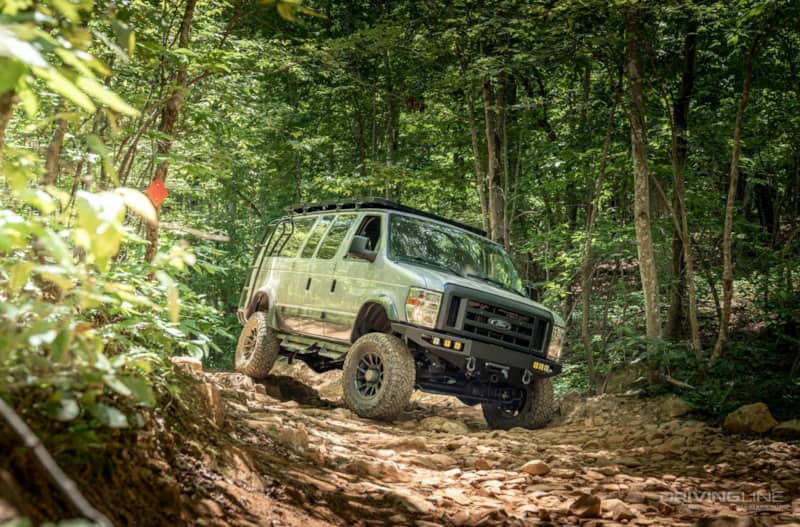 Starting Point
The 4th Generation E-Series van has the most aftermarket support, so that's what Steuber was on the hunt for. He found this 12-passenger van local to him on Facebook Marketplace. While it needed a little paintwork and the roof repaired, he got it for a good price. Though he would have preferred a V10 under the hood, this one has the far more common 5.4L V8.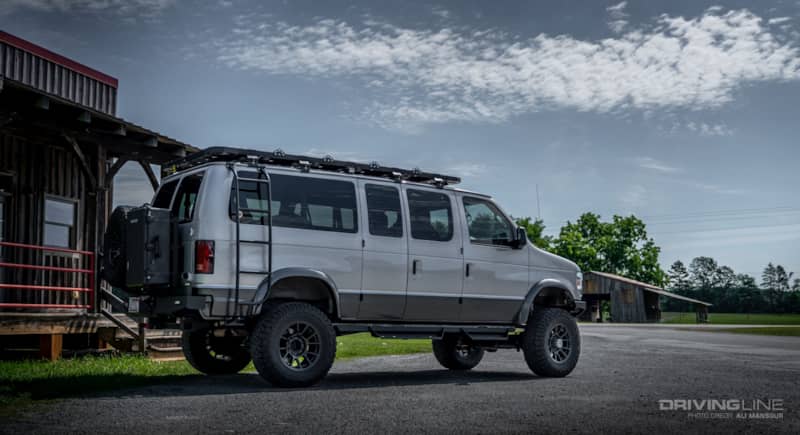 That's The Case
While the original 4R75 automatic transmission still resides, the tail housing was converted to accept the NV271 transfer case. This is all supported by the new Ujoint HD crossmember. Attached to the chain-driven T-case you'll find a pair of custom drivelines sporting 1350 series joints.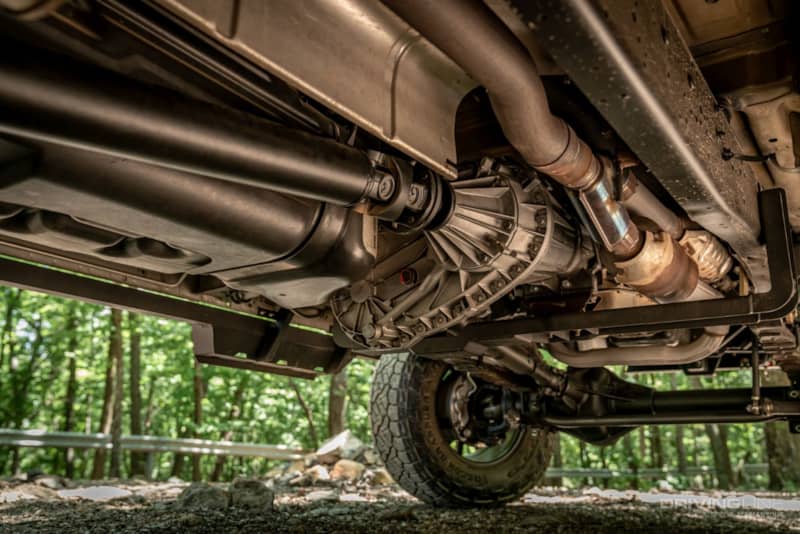 4x4 Conversion
The van is using a six-inch 4x4 conversion kit from Ujoint Offroad. This bolt-on system uses progressive-rate leaf springs to provide ample travel, ride quality, and most importantly, reliability. A Hellwig front sway bar was added on to increase on-road handling, while Fox 2.0 (remote reservoir front, smooth body rear) shocks dial in the suspension.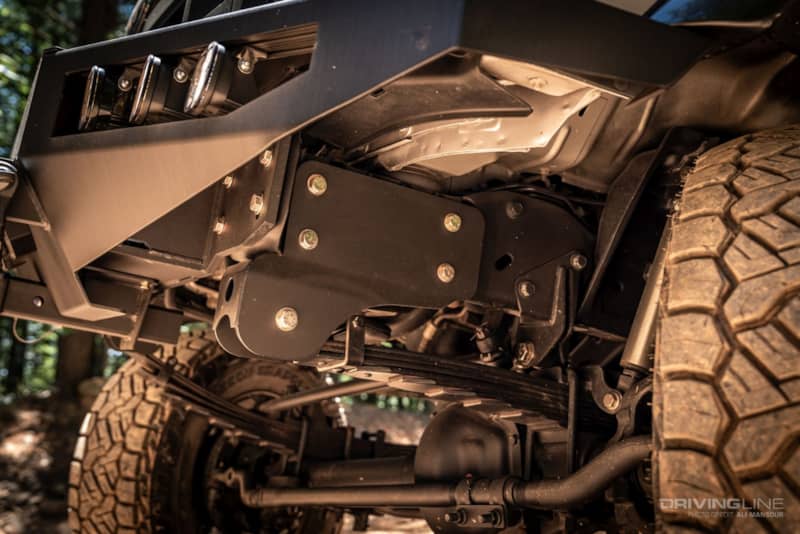 Dana 60
The front axle housing was taken from a 2002 Ford Super Duty, which allows Steuber to have easily accessible parts and a reliable front end. This high-pinion Dana 60 has been upgraded with a SpynTec hub conversion, 8-pistion SSBC calipers, slotted rotors, Detroit Truetrac and 4.88 gears. Steering duties are handled via the Ujoint crossover steering system, while a track bar ensures the front end remains in check.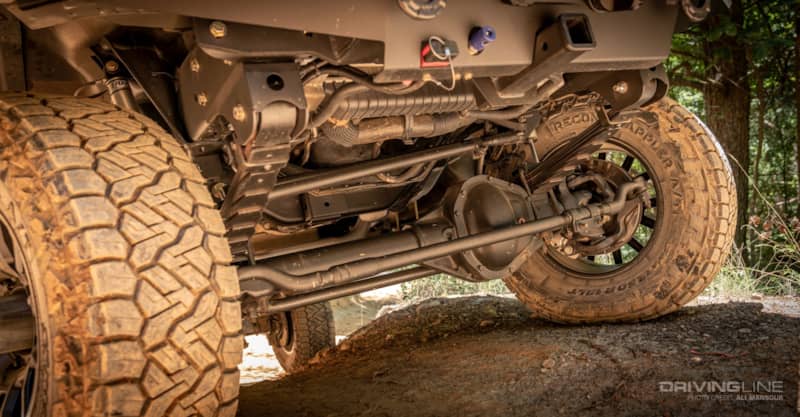 Semi 60
Attached to the four-inch-lift rear springs is the stock semi-float Dana 60. While 4.88 gears help get it down the line, a limited-slip differential keeps the Recon Grapplers on the attack. Just in case the massive diff does come in contact with the ground below, there is a heavy-duty cover from Dynatrac to protect the vitals.

Recon Grappler A/T
Given his experience with Nitto Tires in the past, he jumped at the chance to get the Recon Grappler A/T under his new build. Using a 35x12.50R18, the diverse tire has proven to not only perform well on the street but has exceed expectations off-road. While great looks and lack of road noise were high on Steuber's Recon like list, he also appreciates that they are properly load rated for the van.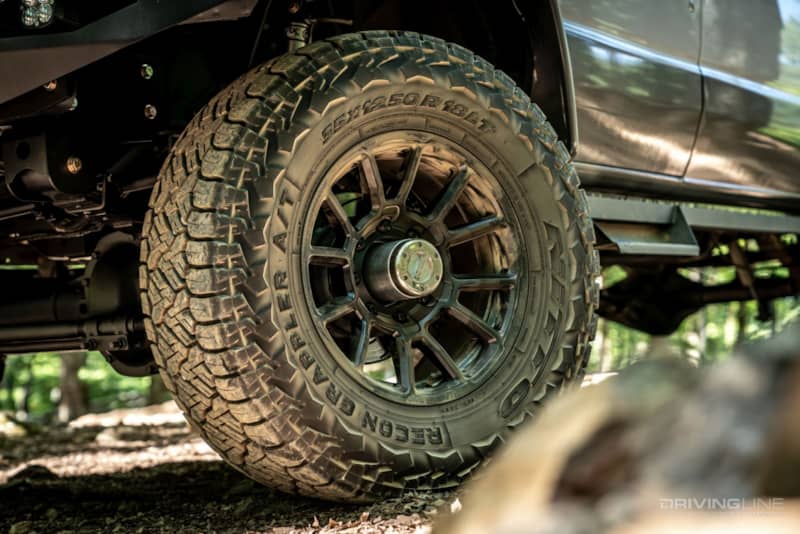 Spaced Out
Ford never intended for the 4th Gen E-Series van to be a 4x4, nor run a meaty 35-inch tire. While the Ujoint 4x4 conversion pushes the wheelbase forward to allow for more room for the tire, he's found backspacing also plays a critical role in the overall picture. The 18x9 Raceline wheels he's running are fit with 4.5 inches of backspacing, which is ideal to prevent rubbing and help create a stable stance for the van.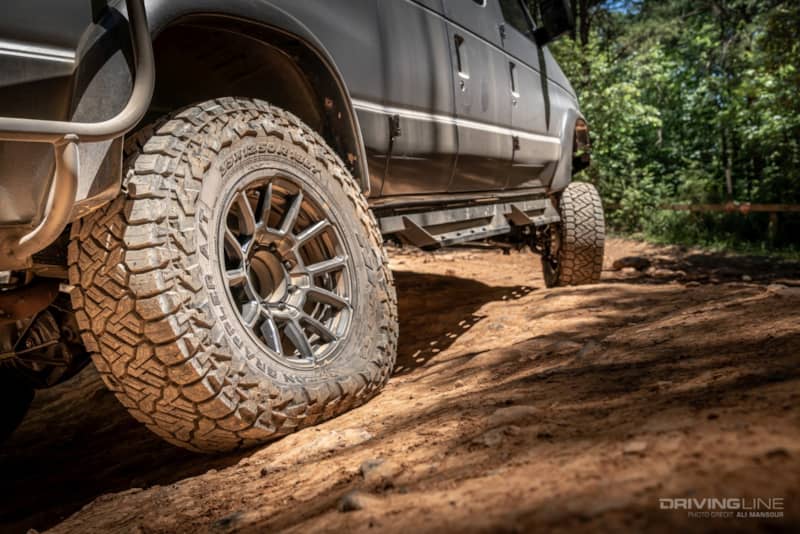 Front Bumper
Most of the aftermarket products you see on this van are comprised of aluminum. This is done for a variety of benefits and reasons, none more important than weight. At just 65 pounds (without the winch), the FB002 Ujoint front bumper is wildly lightweight for its size. Housing a Warn VR12-S winch, Baja Designs LED lights, Anderson plug kit, and OBA port, the bumper is a nice balance of function, style, and of course, frontend protection.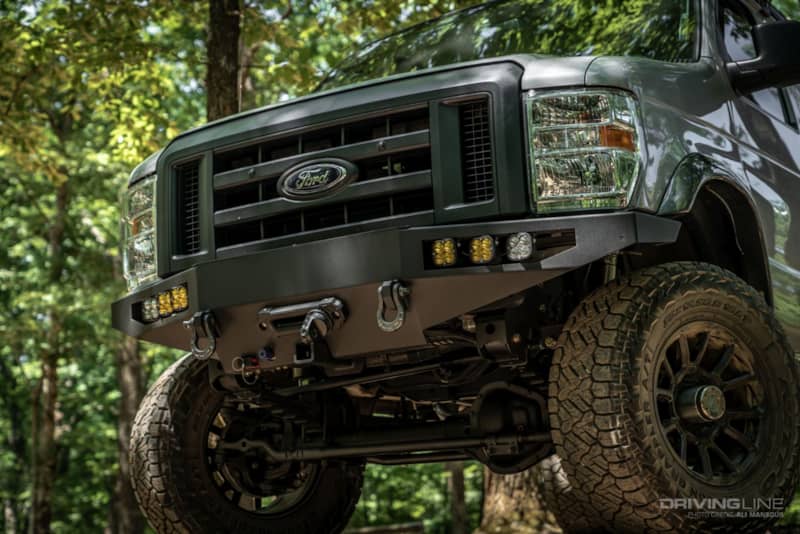 Carried Away
Out back, you'll find a full-size Recon Grappler A/T spare resting alongside an equally large Pelican case full of gear for the trail. This is all courtesy of Ujoint's new dual swingout carrier. Using an aluminum outer layer and steel substructure, Ujoint was able to build the bumper strong enough to support oversized tires and gear, but not be unnecessarily heavy.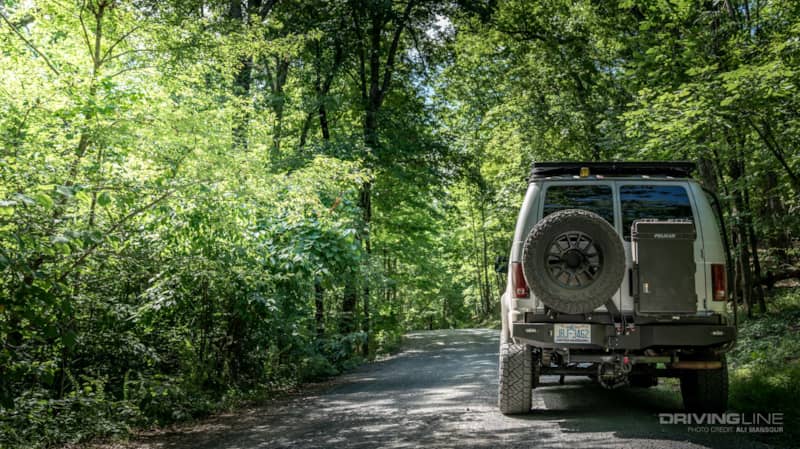 Rack It
To ensure he wouldn't run out of places to add cargo, a Ujoint roof rack was installed. This rack was complete with dimple die aluminum floor panels and an assortment of tie-down points. To access the rack, a ladder was installed from Aluminess.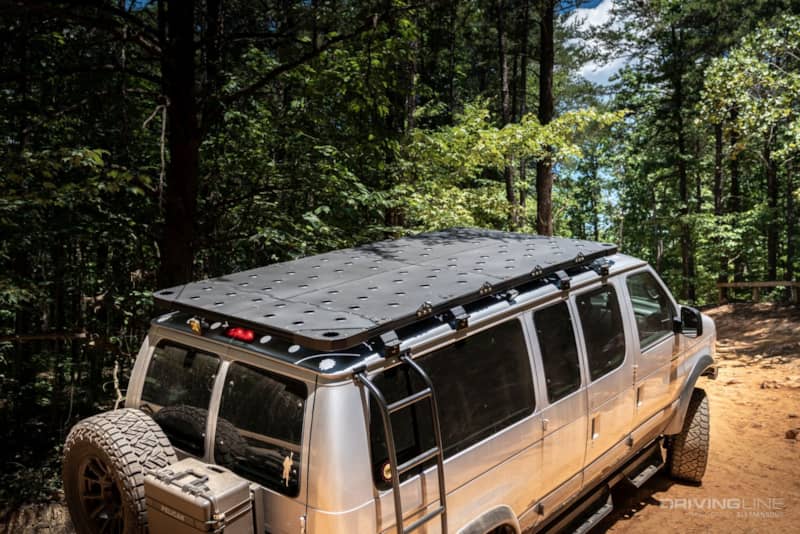 Step Up
Adding six inches of lift, plus a 35-inch-tall tire definitely makes the van a bit more challenging to step in and out of. To ensure his family could make the climb a little more manageable, he installed a set of Ujoint's bolt-on steps.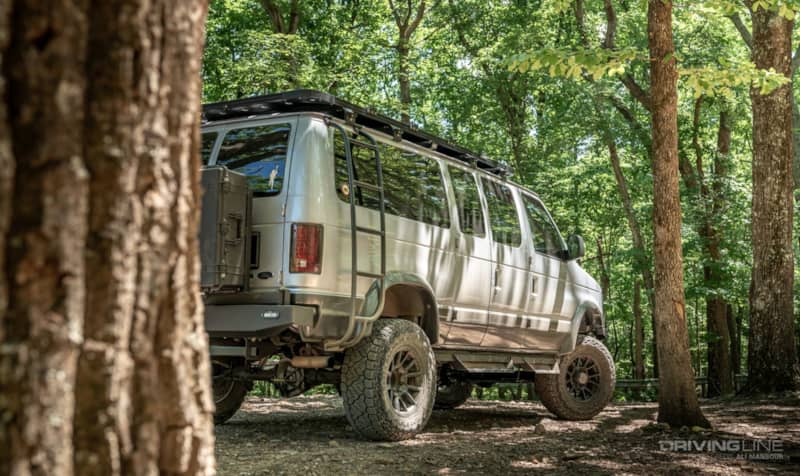 Adventure Ready
While the overland trend is wildly popular for the E-Series, this particular Blue Oval's inside is designed more for human hauling than overland adventure. Though he does have one of the three rows of bench seating pulled out, most of the interior is just as it was from the dealership. To provide easy control for the assortment of bumper and roof lighting, an sPOD switch panel was installed just above the radio head unit.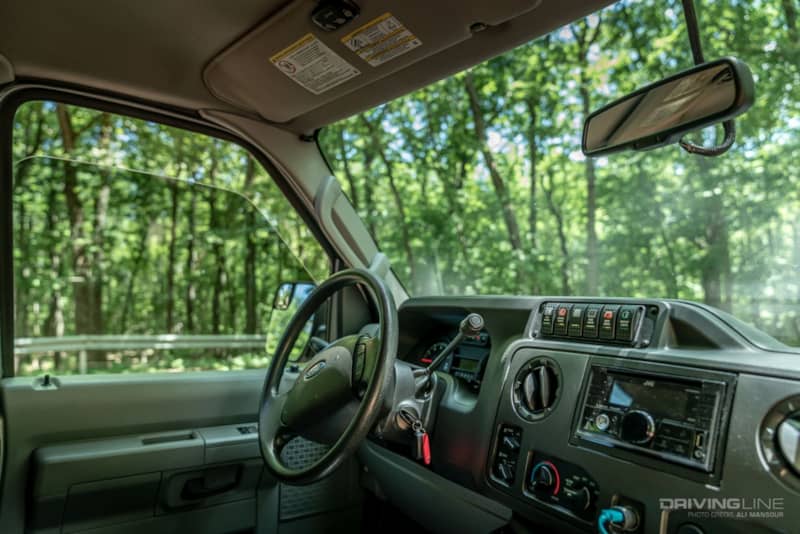 Cost and Comparisons
To recreate the van just as you see it here, you can expect to spend around 60K. While that's no small change, it's a bargain when you look at your comparable options. Though the vehicle looks massive, the wheelbase is just a few inches longer than that of a Jeep Gladiator, making it surprisingly agile on the trail. Sure, a van's not for everybody. However, for married man with three children and a dog, this provides Steuber plenty of room to haul around everything he holds dear, plus gear!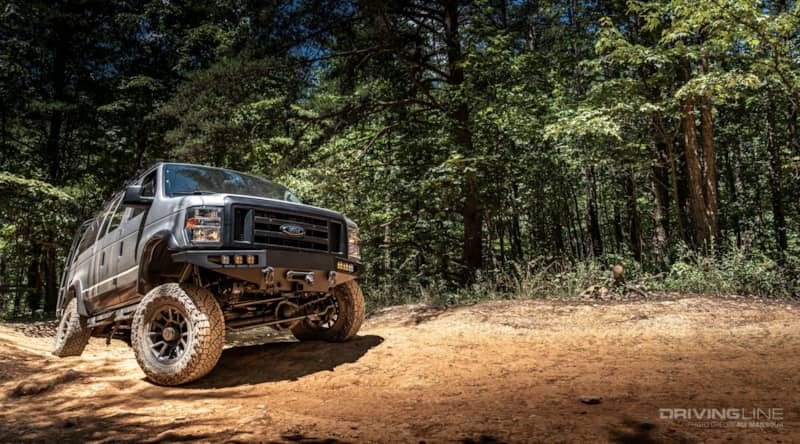 Click here to watch the full video.
More From

Driving Line
Think this E-350 is awesome? Then you'll definitely want to check out Alpha Van.