Unique Diesel Swaps, Volume 4
It's been a minute since we brought you a diesel conversion special, but we haven't given up on this one-of-a-kind series. Rather, we've been rounding up new candidates and fresh stories to share. From Missouri to Florida, we've come across some truly unique diesel re-powers this time, and we think you'll enjoy them just as much as we do. How about a Cummins-powered '52 Ford tow-rig, a sky-high '72 Suburban packing a Duramax/Allison combo and a '72 F100 drag racer with a Duramax under the hood? One was homemade on a tight budget, one was pieced together with few expenses spared and the other regularly dominates index classes at the drag strip. Read on to find out which is which.
1. Part '52 Ford, Part '97 Dodge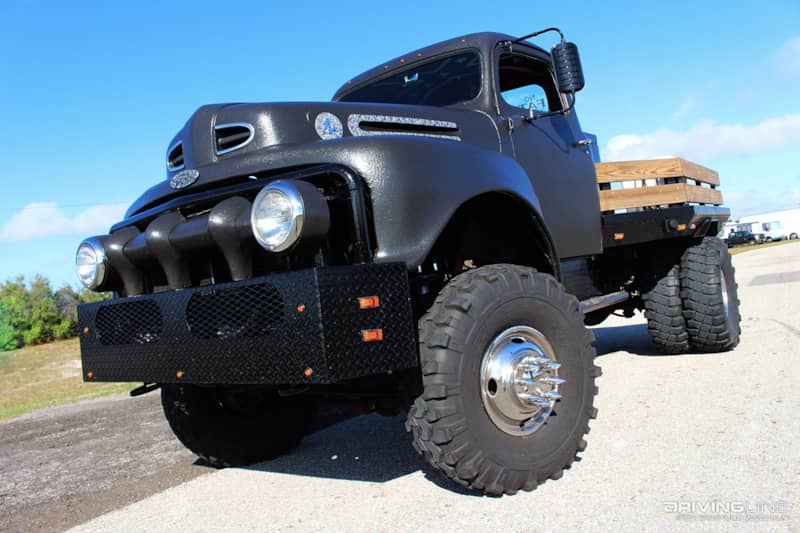 Welder/fabricator and inland Florida good ol' boy Tim Galas spent two years building this conversation starter. It consists of a '52 Ford Bonus-Built cab placed atop a '97 Dodge Ram 3500 frame, suspension and axles. The two-year project put most of Tim's metal-working skills to good use as he built the front and rear bumpers, steps, flat bed and even the hinge system for the hood (it tilts forward). When Tim isn't driving the '52 Fummins back and forth to work, it's either pulling his 38-foot camper to the weekend getaway spot or a swamp buggy to the local mud hole.
The 200,000-Mile, Take-Out Engine
Like a lot of diesel enthusiasts, Tim hates a Dodge but loves himself a Cummins. Since the highly sought after 12-valve version of the 5.9L I6 was already present in his '97 Dodge Ram 3500 donor he was picking parts off of, it just made sense to swap the engine over to the '52. Tim has yet to break the seal on the 200,000-mile B-series and the 359 ci Cummins purrs like a kitten. Breathing through a big honkin' air filter (BHAF), a slightly-modded, factory Holset HX35 (fitted with a larger, 14 cm2 exhaust housing and adjustable boost elbow) crams 35 to 40 psi worth of boost through the '97 Dodge intercooler and ultimately into the head. Fueling is provided courtesy of 100hp injectors and the stock P7100 injection pump, albeit with a #0 fuel plate, 3,200-rpm governor springs, bigger delivery valves and a timing bump, all installed and tuned at Accurate Diesel Injection in Orlando. A four-speed 48RE automatic handles power transfer to the wheels.
Ready for Work (or Abuse)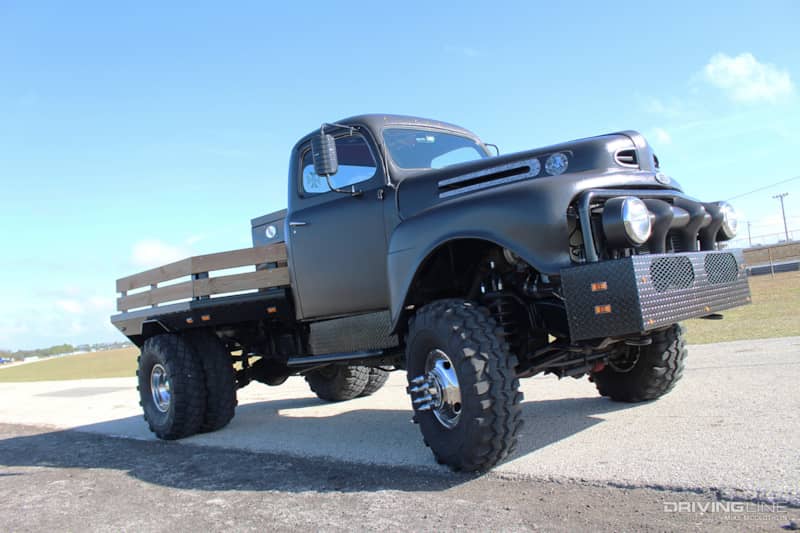 Tim has plenty of things to tow and based everything on the one-ton Dodge chassis, which proved to be the right move. Up front, the factory Dodge Dana 60 sports a 4.10 ring and pinion, an open differential and the stock coil spring suspension. Out back, the Dana 80 was treated to a Detroit Truetrac, with the factory 3500 model leaf springs and hangers being repurposed above it. The flat bed was constructed using heavy-duty, 3/8-inch wall tubing and 2x2 gusseted tubes to mount it to the frame.
2. The High-Roller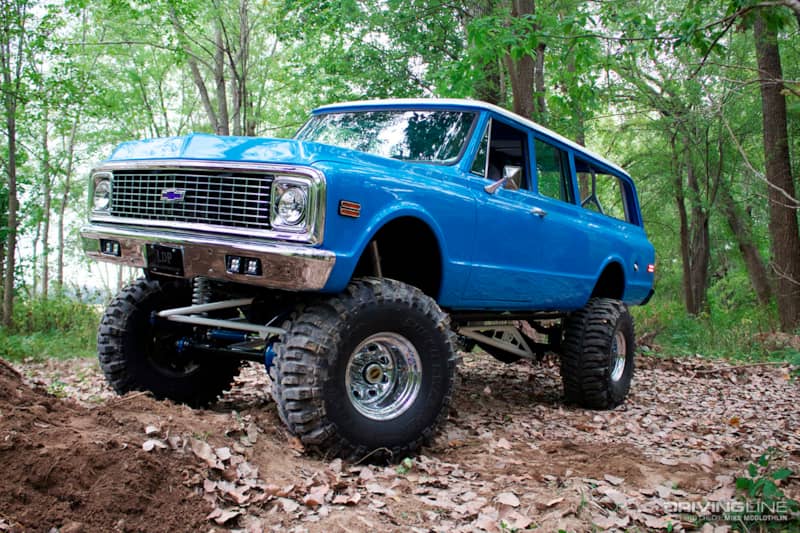 If you've got a 300-acre playground at your disposal, you need the perfect vehicle for entertaining all of your guests. At least, that's what John Eilermann thought. But when the Missouri native looked into full-blown safari vehicles, he was a bit put off by the steep price of spec'ing one out to his liking—especially given the amount of people he wanted to bring with him. So, with the help of nearby LinCo Diesel Performance, he decided to build the ultimate expedition vehicle from the ground up: a '72 three-door Chevrolet Suburban. While the budget for the build grew as the project progressed, Eilermann ended up with one of the most unique diesels in the country. V8 diesel propulsion, commercial-duty transmission, solid axles (front Ford King Pin Dana 60, rear GM AAM 1150) and a coil over, four-link front suspension make for one heck of a backcountry cruiser.
Duramax Power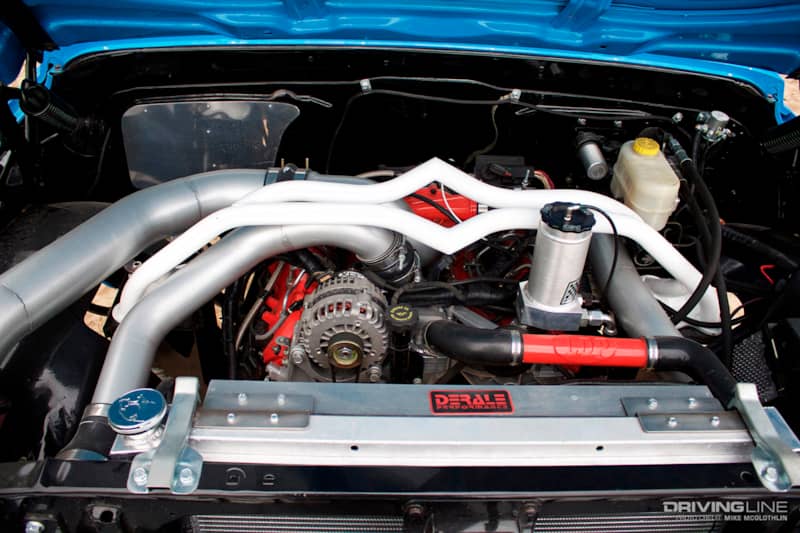 Rather than keep the small-block V8 gas job the SUV came with, Eilermann opted for diesel power. The low-mile LBZ Duramax was sourced by LinCo Diesel Performance and came out of an '07 GMC Sierra three-quarter-ton. Integrating the engine called for widening and boxing part of the original frame, a one-off engine cross member and a stripped/bare-essential factory wiring harness. The factory ECM is tuned via EFI Live from PPEI and, in conjunction with a LinCo Stage 1 Billet 64/66 variable geometry turbocharger, the big SUV produces an estimated 550rwhp.
Upgraded A1000 & NP261XHD
Along with the LBZ engine, the Allison 1000 transmission and corresponding NP261XHD transfer case were pulled from the '07 donor GMC as well. The burly, six-speed automatic was rebuilt at LinCo with upgraded clutches and a 2,300-rpm stall Sun Coast torque converter, while the T-case became the beneficiary of a Merchant Automotive pump upgrade kit.
All Aboard!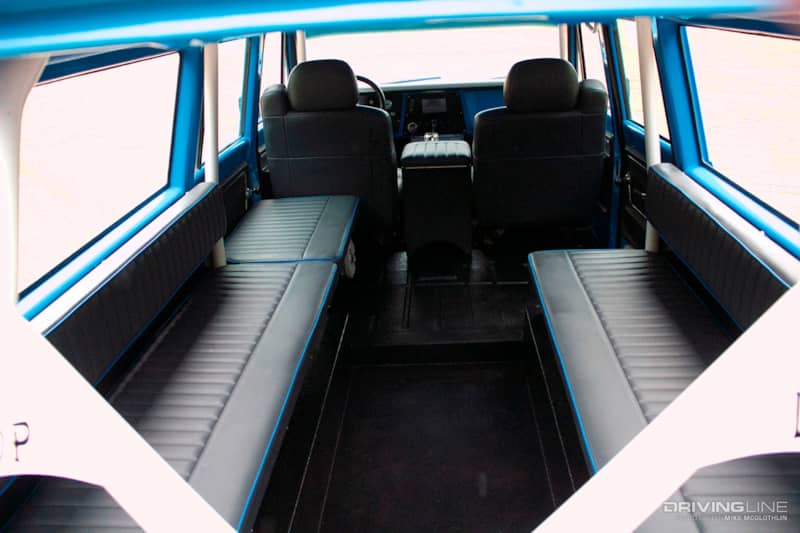 Thanks to limousine seating, 10 people can kick back in the rear of the 'Burban. While it's licensed and perfectly street-legal, the old-school monstrosity spends very little time on paved passageways. The moon roof and lack of rear window glass (above) further drive the point home that this vehicle was indeed built for sightseeing and exploring nature, first and foremost.
3. '72 F-100 Body, GM HD Underneath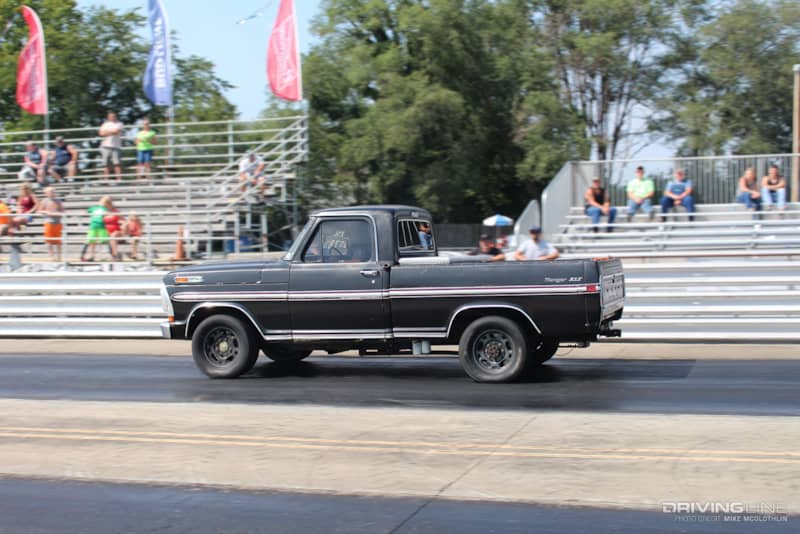 A fifth-generation Ford body on top of a GMT800 chassis? You bet! While a Duramax-powered Ford is a no-no in some circles, this impressive creation has been allowed to slide among diesel enthusiasts. In the drag racing community, Eugene Ogle's 6.6L-equipped Ford F-100 has been downright dominant. Along the diesel drag racing circuits, the truck has arguably been more successful in the ET Bracket and 7.70 Index classes than any other vehicle. Year after year, the F-100 bodied, shortened Chevy HD framed, lightweight standard cab can almost always be found racing in the final round of eliminations.
Two Turbos & Multi-Class Versatility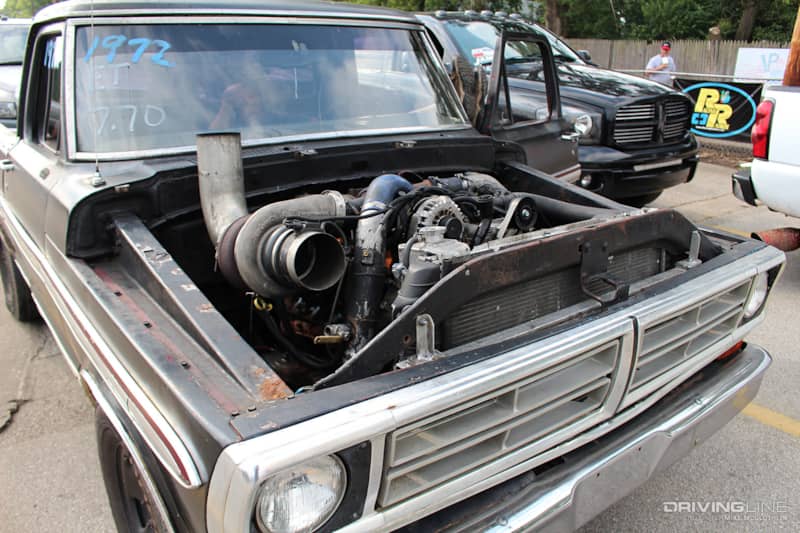 With plenty of wins under his belt, Ogle earned a major championship in 2017 by taking home the Outlaw Diesel Super Series' 7.70 Index trophy. On top of that, he finished runner-up in the ET Bracket category that same year (against 169 other competitors). For 2018, Ogle ended up seventh overall in a hotly-contested 7.70 Index field. Thanks to the Duramax's sporting of an S400 over Garrett VVT compound turbo arrangement and in conjunction with modern day electronic controls, Ogle can simply change tunes, adjust his driving style and run everything from ET Bracket to 6.70 Index at the present time.
Want more crazy Diesel swaps? See Volume 2, here.