Battling for the Crown: 2018 King of the Hammers Recap [Part 2]
The battle raged on in the third lap. There were still quite a few surprises in store, including terrible heartbreak for one of the lead competitors. Follow along as our race recap continues, or start with Part 1 here.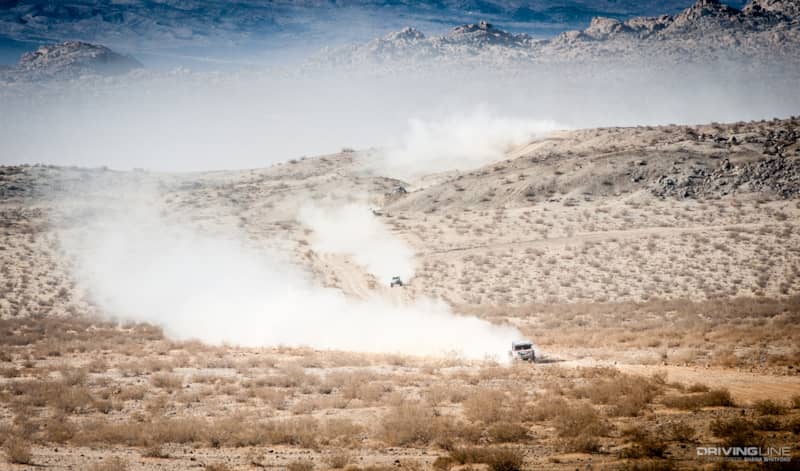 Lap 3: same as lap 2, minus Outer Limits and Spooners. Rock trails with lapped traffic now in play.
12:38 p.m.
Scherer crosses the line for lap 2, quickly heading out for lap 3.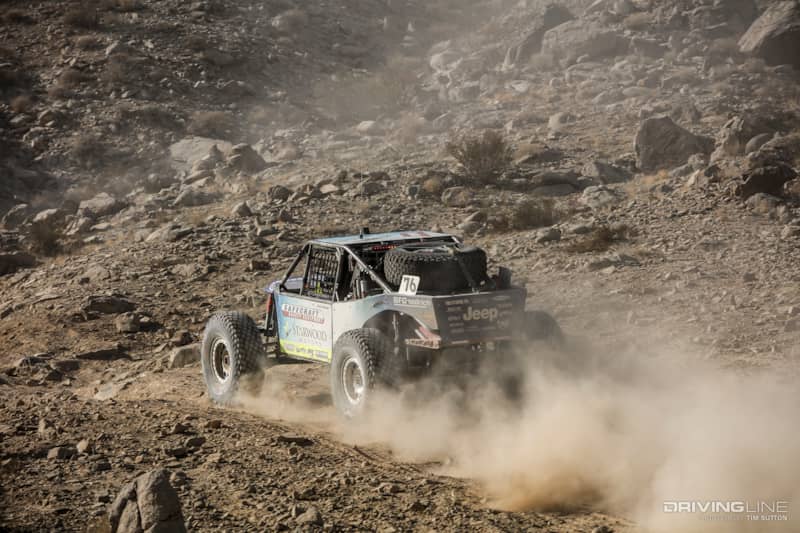 12:40 p.m.
Both Scherer and Slawson head out from their pit stops, nearly identical on adjusted time, setting up a battle in the rocks for the crown.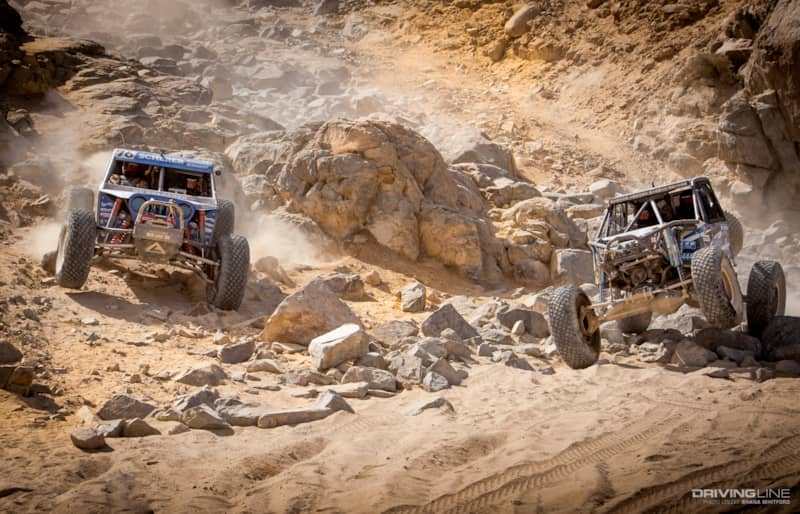 12:51
 

p.m.

Erik Miller enters the pits in physical third. Quick refuel, checked the lug nuts and he's out in less than a minute, chasing down his third crown.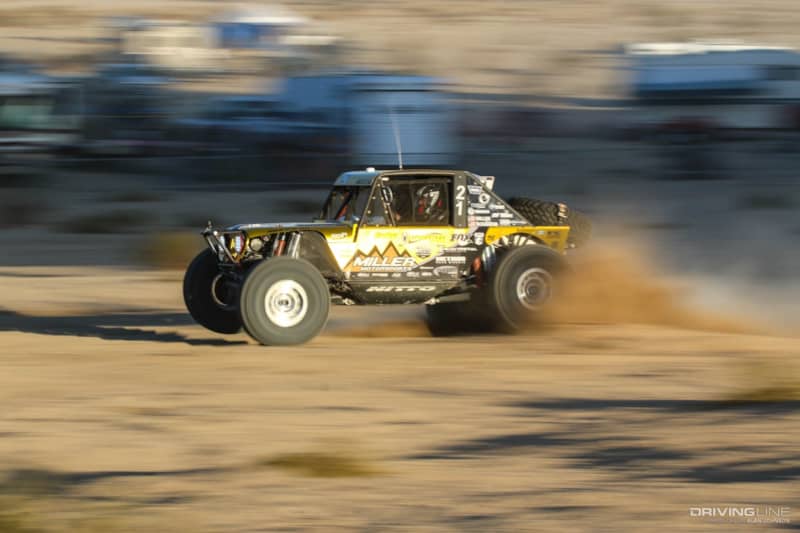 12:54
 

p.m.

Charging into lap 3 without a pit stop, Wayland Campbell seeks to better his fourth place standing.
12:58
 

p.m.

Josh Blyler is in to pit before the last lap apparently with power steering issues. They are attempting to cool everything off in order to switch out the pump. They have their work cut out for them to swap that pump. "It wasn't a lot of fun" driving without any steering. "We're thankful that it happened here, but would have preferred it not happened at all," said Josh in a quick interview.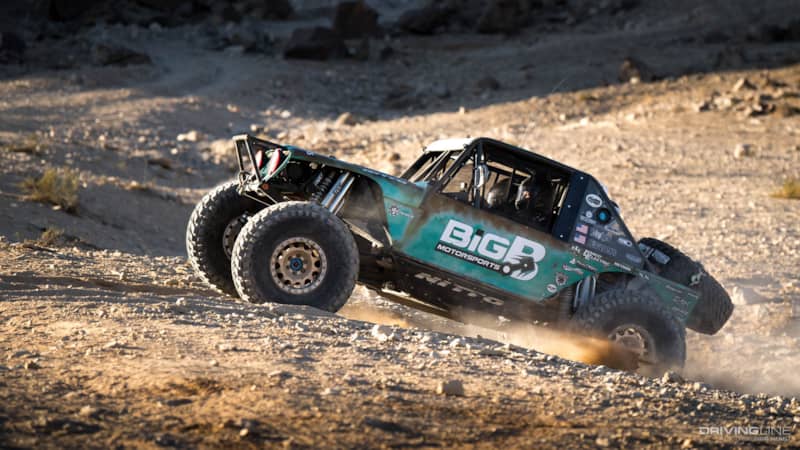 Top 4 Lap 2 Finishers
Randy Slawson 4:37:30
Jason Scherer 4:38:34
Erik Miller 4:50:57
Wayland Campbell 4:51:30
1:08
 

p.m.

Loren Healy is the fifth car physically through Hammertown, 5:07:40. Loren has lost 4 high, so he will be working only with 2 high and 4 low as he seeks to hold his position.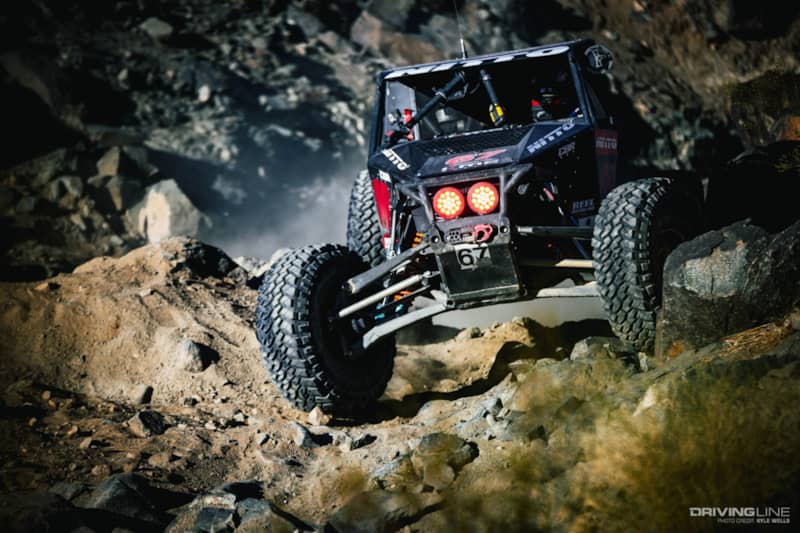 1:08
 

p.m.

Levi Shirley rolled coming down into the pit area. He is attempting to self-recover.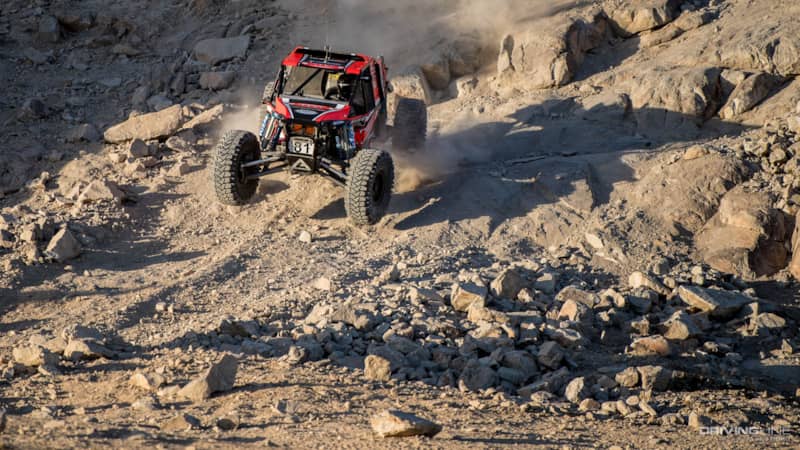 1:14
 

p.m.

Shirley has arrived in the pits under "two-foot power" from his wife and teammates. His team needs to do massive repairs to get Levi going again as the front differential is shot and the entire unit has to be replaced.
1:16
 

p.m.

Josh Blyler is back in the game with a new power steering pump, through the start/finish and now on to lap 3.  He is across the line at 5:13:04.
1:34
 

p.m.

Scherer has built up a small lead on Miller and Slawson, with quite a few stopped cars in between them.With lapped traffic becoming an issue, 2nd and 3rd places have a lot of work to do if they hope to overtake 1st.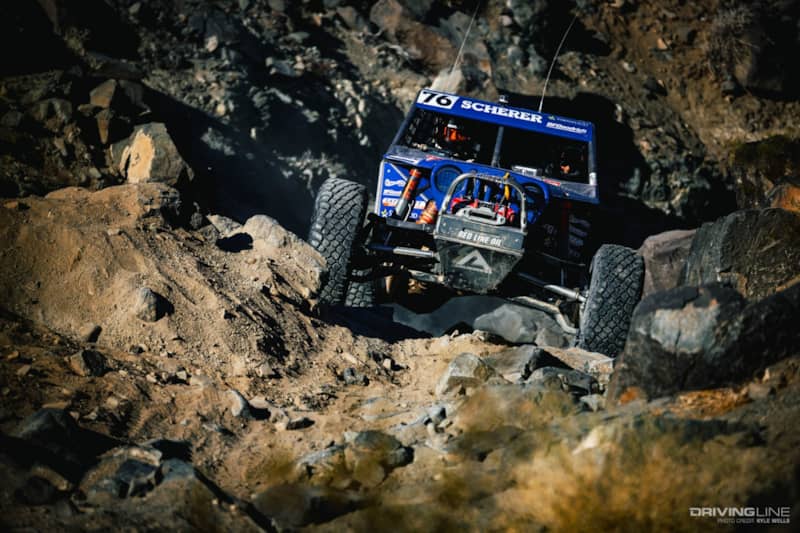 1:44
 

p.m.

Scherer is in Chocolate Thunder while Slawson is in Sledgehammer.
1:52
 

p.m.

Miller is hitting lapped traffic with Wayland right behind him.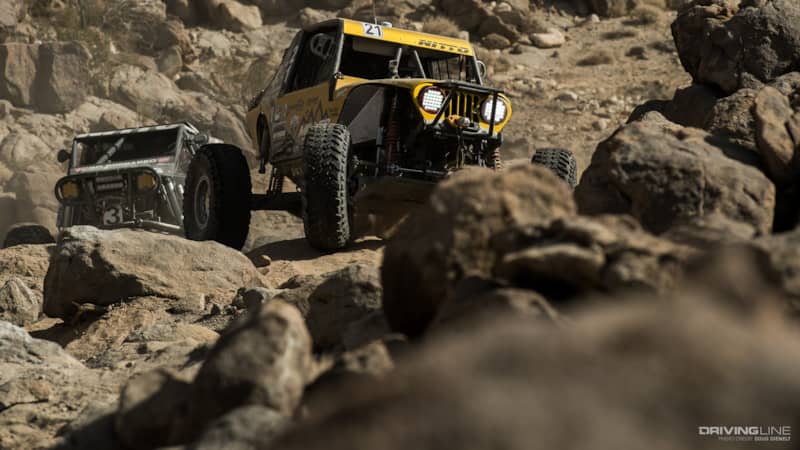 1:55
 

p.m.

Clay Gilstrap is 10th to start his second lap: 5:52:54 and trying to catch the breakaway pack.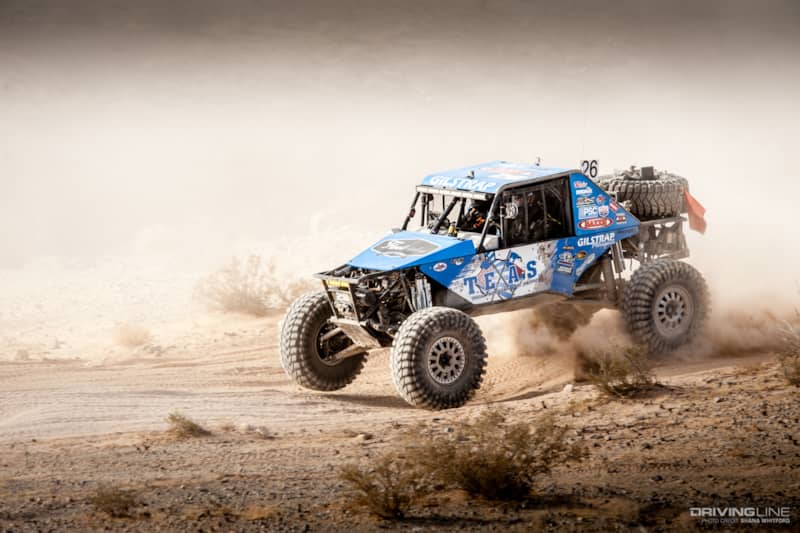 2:02
 

p.m.

Baily Campbell is in for a quick driver change. Terry Madden is at the wheel, despite having back surgery just a few months ago.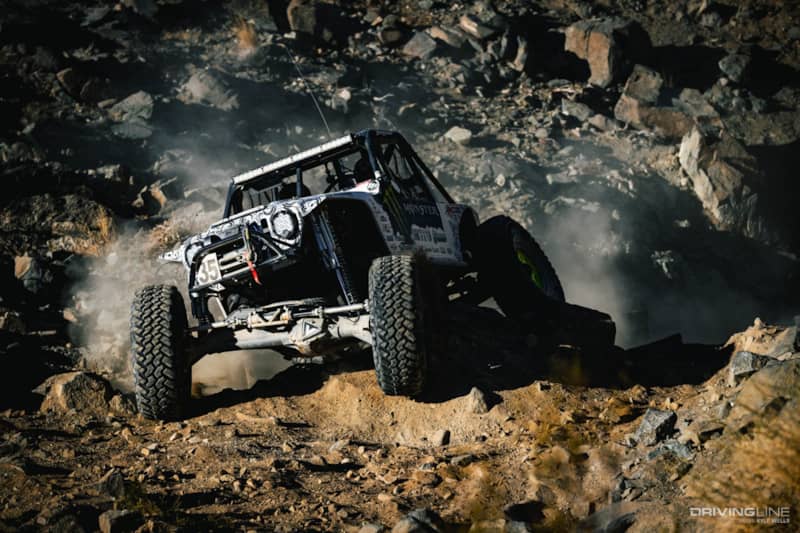 2:07
 

p.m.

Miller has been overtaken by Wayland in Jack North, but they're still right next to each other and pushing hard. Solid axle vs IFS in the rocks again. It's going to be a great battle for the rest of lap 3.
2:21
 

p.m.

Jason Scherer is maintaining a commanding lead out front and also is the only one-time King in play. It's clear that he's hungry for that second title and wants to join the "two-time" club.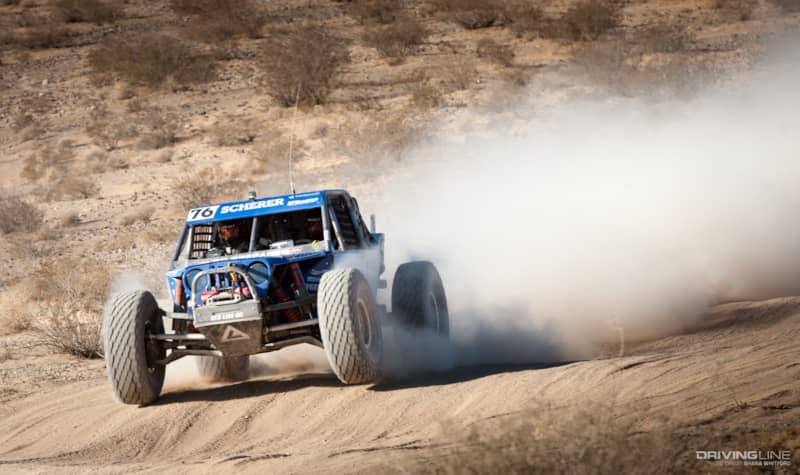 2:25
 

p.m.

Randy Slawson needs to make up about six minutes on corrected time to steal first from Jason Scherer.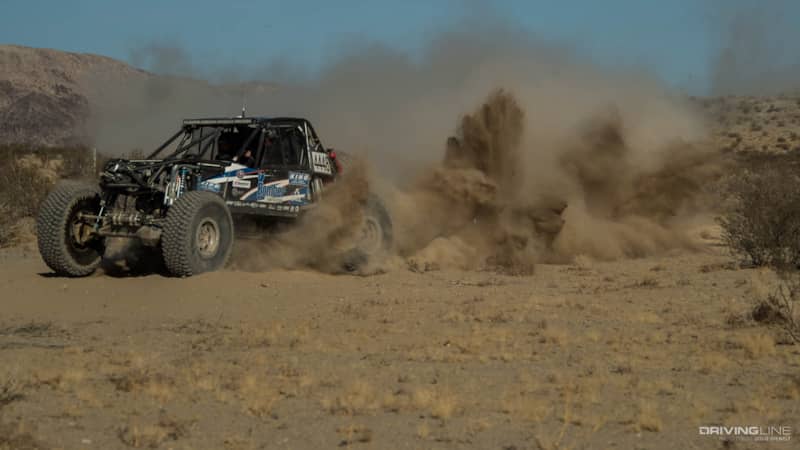 2:37
 

p.m.

Outer Limits is absolutely littered with broken and stopped cars. Prior to the race, Dave Cole decided to cut OL and Spooners from lap 3 and that foresight is paying off.
2:42
 

p.m.

Randy Slawson has up made ground on Scherer. Can he steal the win? Miller has passed Wayland for third as the usual suspects work their way to the front.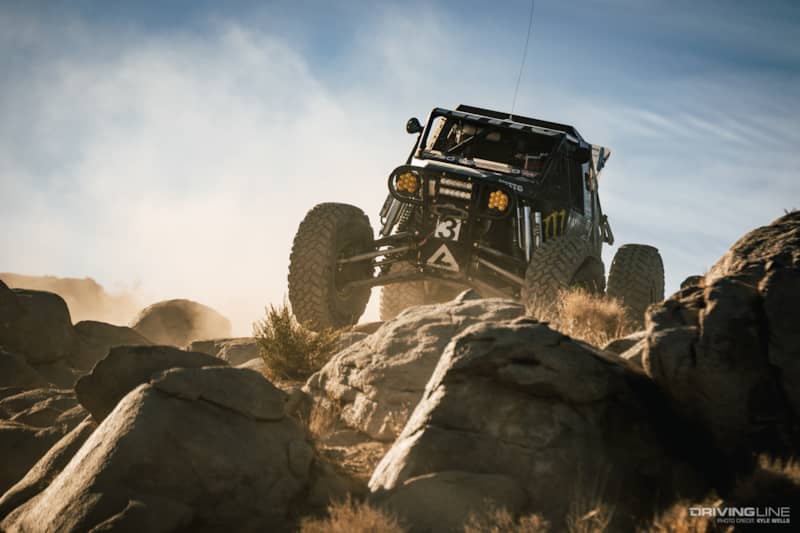 2:56
 

p.m.

Scherer has made it to the desert and is headed toward Hammertown with the gas pedal pinned to the floor and a trail of dust a mile long behind him. He can smell victory, especially after being so close last year. Corrected time with Randy will be a factor. All eyes are on the clock.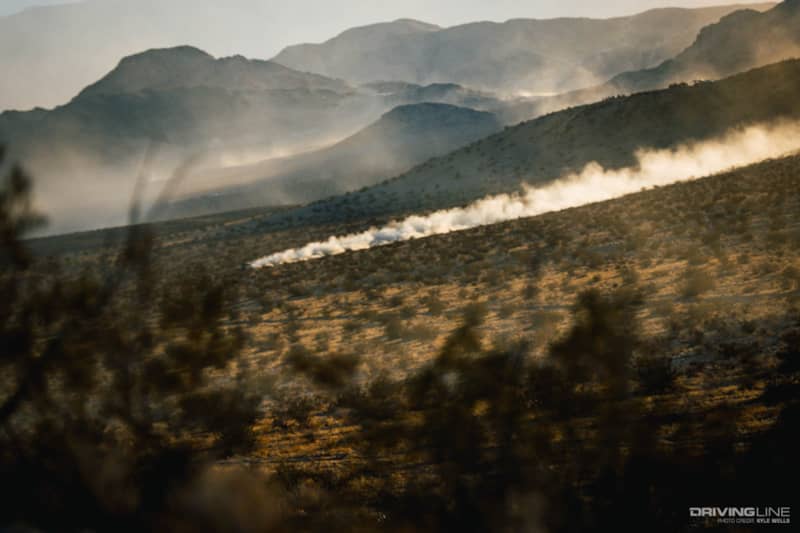 3:09
 

p.m.

KOH first overall finisher! Jason Scherer comes through the line with a total ET of 7:08:25. He started 90 seconds ahead of Randy Slawson. Will Slawson make it through the line with time on his side?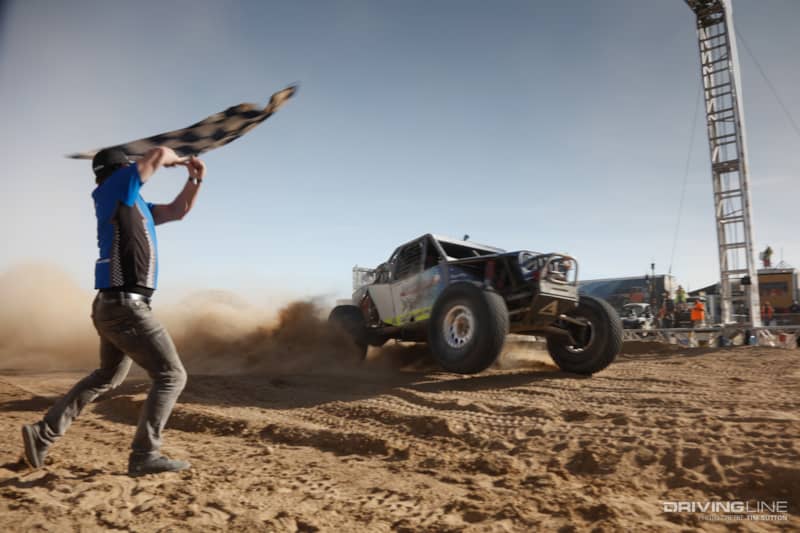 3:11
 

p.m.

Randy Slawson appears to be stopped two miles outside of Hammertown at the end of the desert!
3:15 p.m.
"What a race," exclaims Jason. "I used to think you could just survive and not have any problems and you'd win the race—but that's not the case any more. We were battling out there!" After the past two years of podium places at KOH, it appears that Scherer has finally fully dialed-in his car, The Gavel.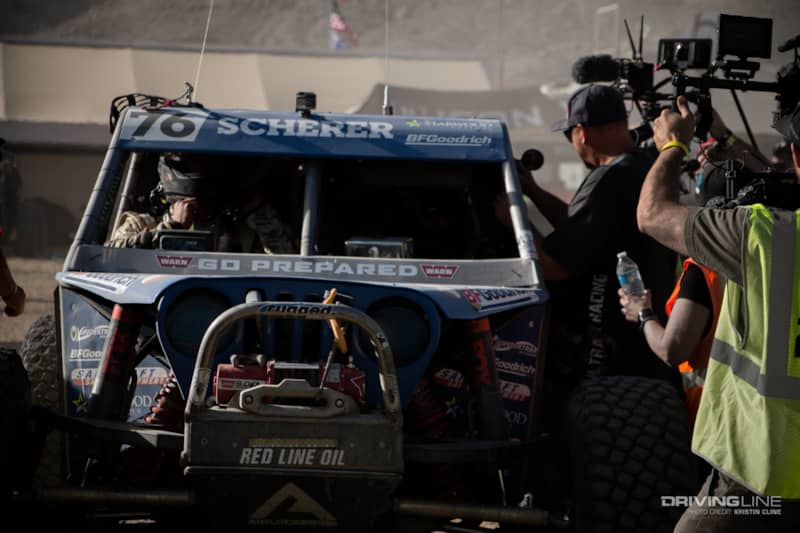 3:18
 

p.m.

Erik Miller has overtaken Slawson just before Backdoor.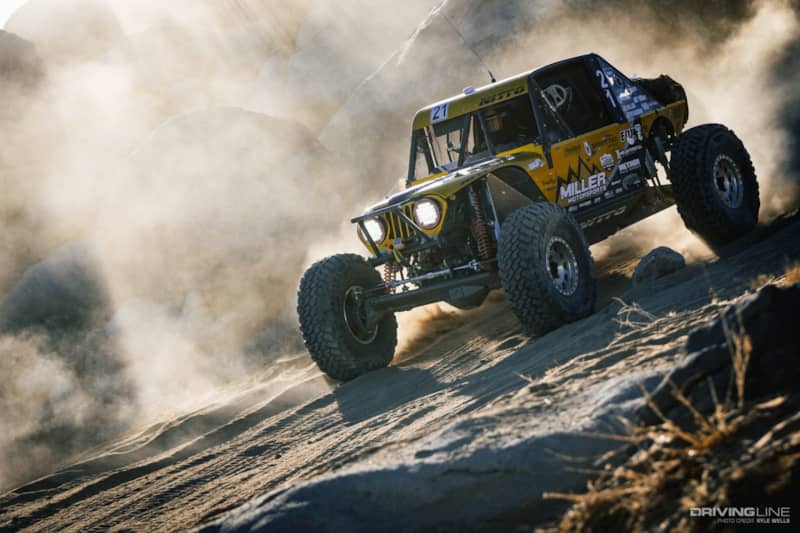 3:22
 

p.m.

Erik Miller comes through the line, second overall with an ET of 7:20:12.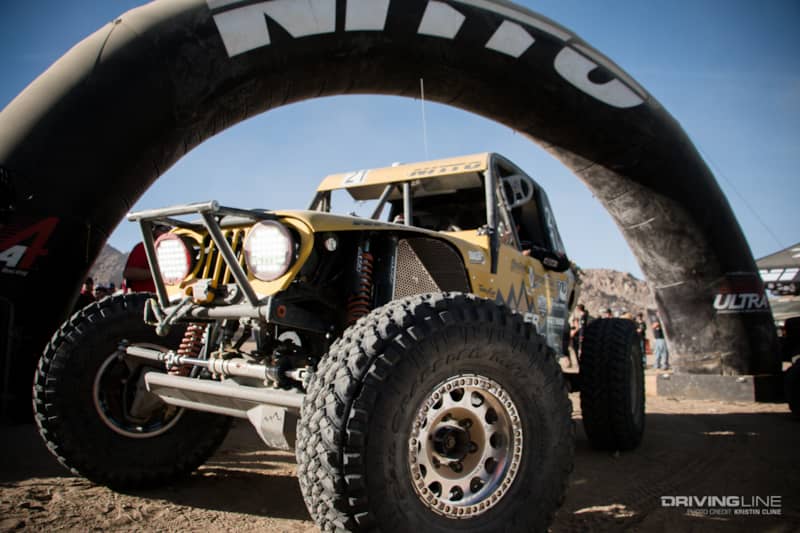 3:24
 

p.m.

Wayland Campbell crosses third, 7:21:55.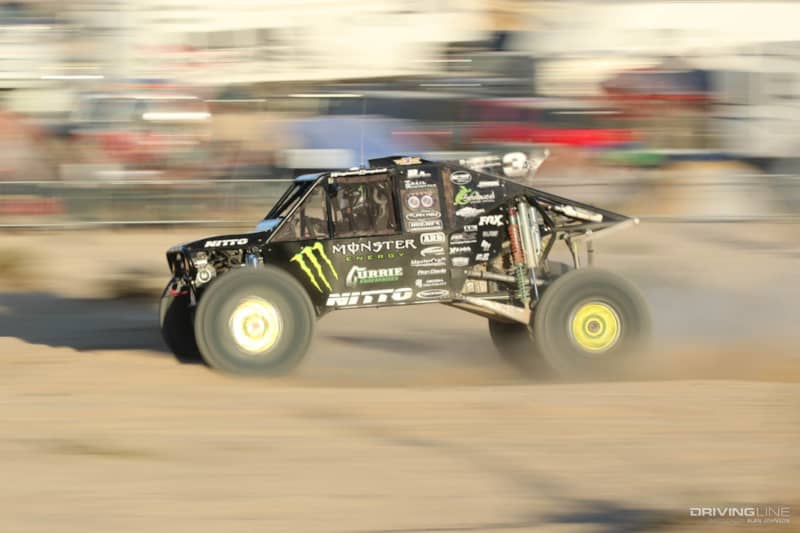 3:27
 

p.m.

It is very close on unofficial time for second between Wayland and Miller. Still waiting for Ultra4 to crunch the numbers.
3:28
 

p.m.

Miller was a minute faster than Wayland for second!
3:32
 

p.m.

"I pushed it for everything we had. I left it all out there. We had some pretty good battles with Wayland," said Miller.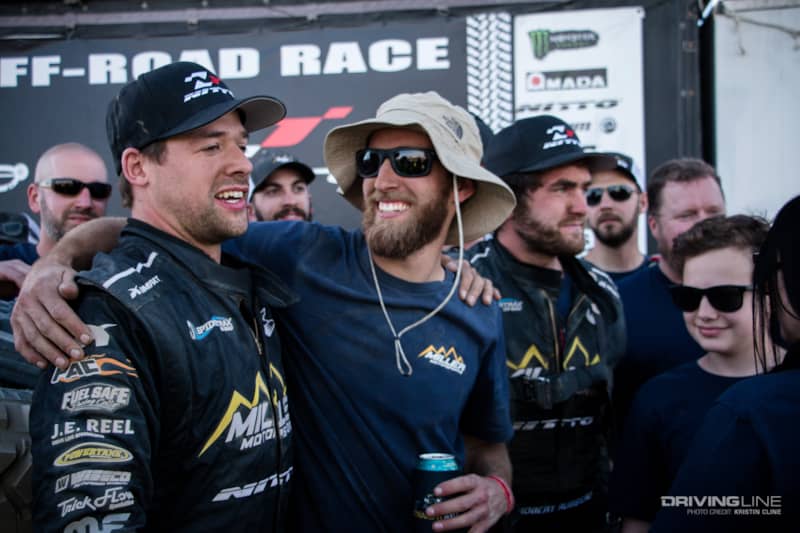 3:35 p.m.
"I'm just wondering what's taking my dad so long," laughs Wayland. No one will soon forget the neck-in-neck battle they had at last year's KOH.

3:39
 

p.m.

Word comes in that Slawson lost his transmission. Tough break right at the end.
3:41
 

p.m.

Josh Blyler is headed for fourth and recorded at an insane 132 mph on the lakebed.
3:52
 

p.m.

Lapped traffic drivers are still working their way through Outer Limits on their second lap.
3:59
 

p.m.

Josh Blyler finishes fourth with a time of 7:55:45.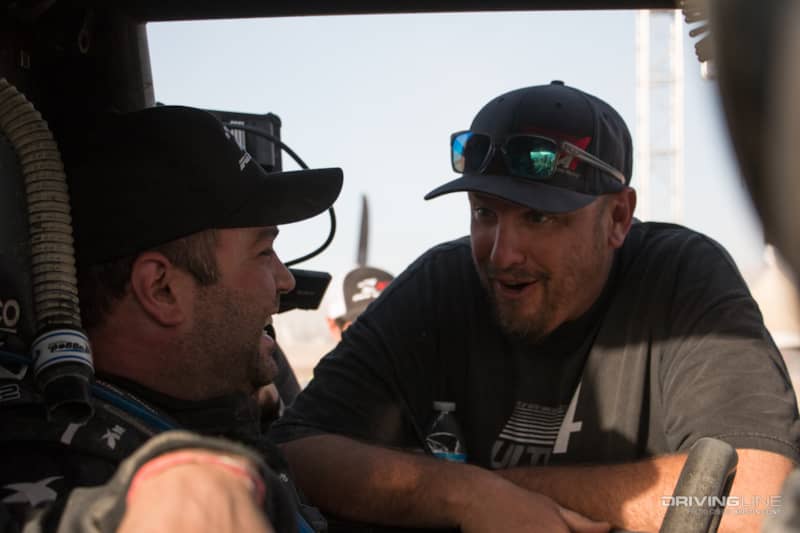 4:16
 

p.m.

Raul Gomez crosses the line in fifth place with a time of 8:12:08.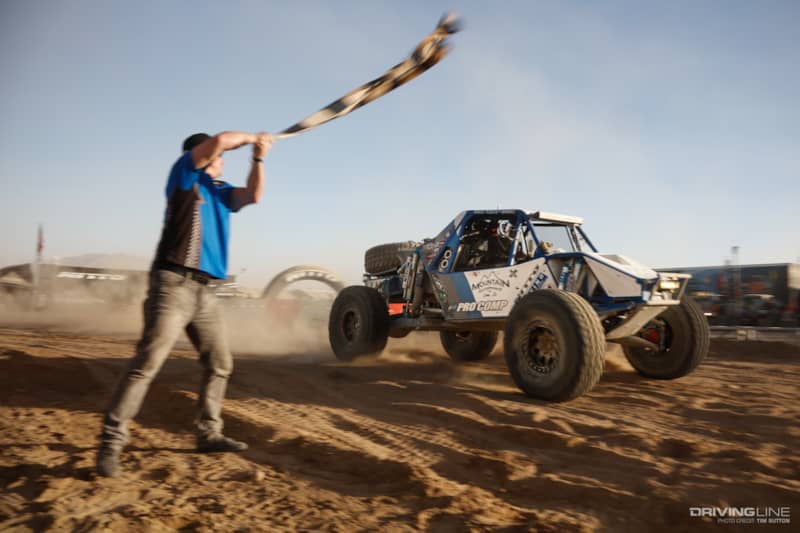 4:20
 

p.m.

The Red Dragon finally finishes KOH! Crossing sixth, seventh on ET with 8:20:16. The past two years have eluded Healy, although overall the Red Dragon remains the most winningest 4400 car in Ultra4.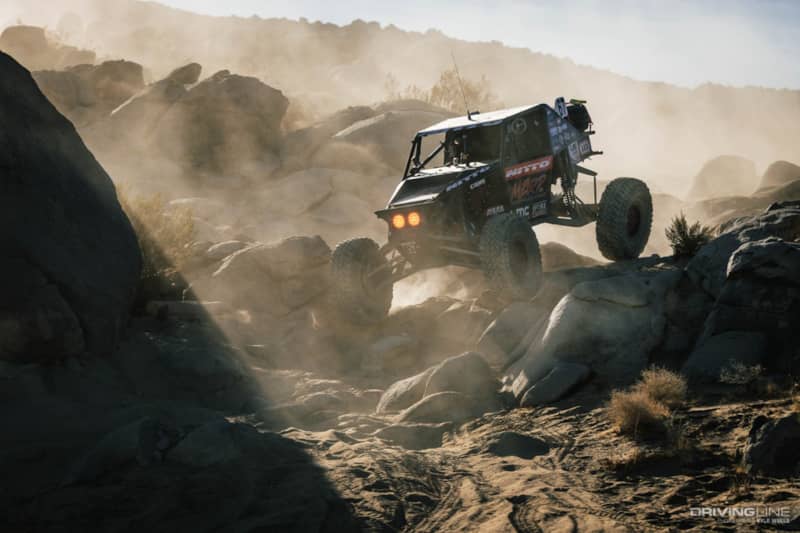 4:22
 

p.m.

Shannon Campbell crosses the line seventh, just after Healy, with an ET of 8:20:02.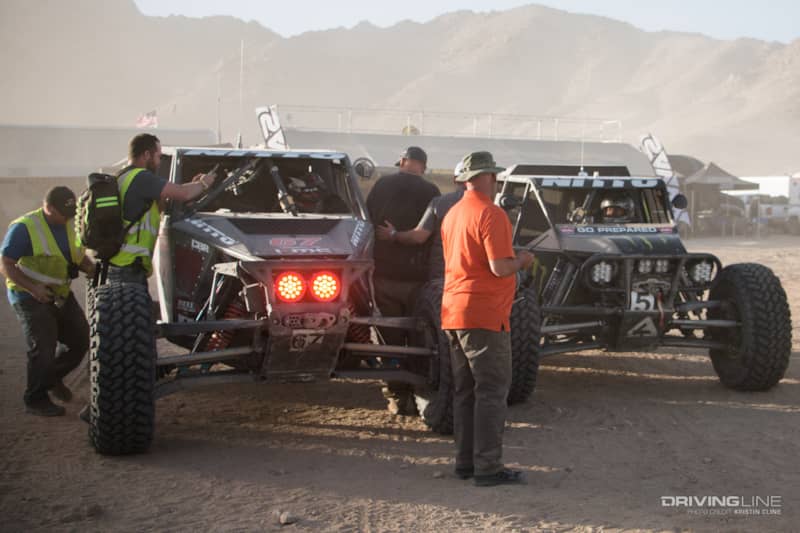 4:28
 

p.m.

Healy on Outer Limits: "I didn't get out a winch all day. I'm not going to say it was easy, but the car worked well all day."
4:31
 

p.m.

Only 14 seconds separates Healy and Campbell—with Campbell taking the edge on corrected time.
4:33
 

p.m.

John Caprara rolls it on the short course! He went turtle with his wheels up right before the finish line! Just another reminder that it isn't over until it's over. They flipped him upright, though, and he crosses the line eighth with 8:30:26.
4:43
 

p.m.

Shannon confirms that his radio was broken, which led to the non-pit on lap 2.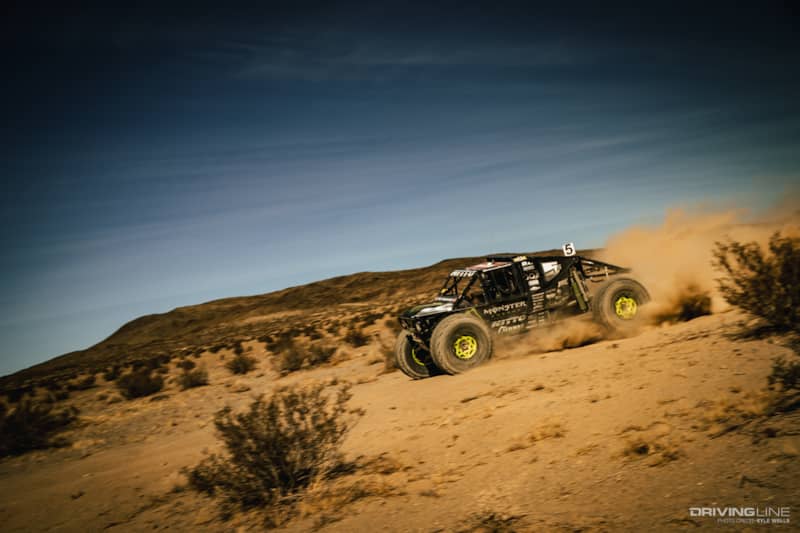 5:00
 

p.m.

Derek West and JP Gomez are still working hard in Chocolate Thunder.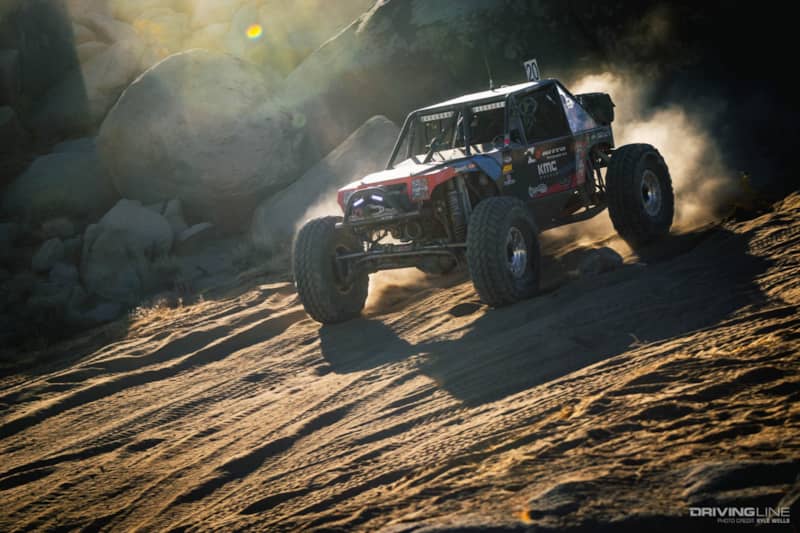 5:03
 

p.m.

Levi Shirley and Clay Gilstrap cut across the desert, headed for home.
5:08
 

p.m.

The sun is going down. The whole lakebed is in shadow now and the dust continues to play a significant factor in speeds and safety for the drivers.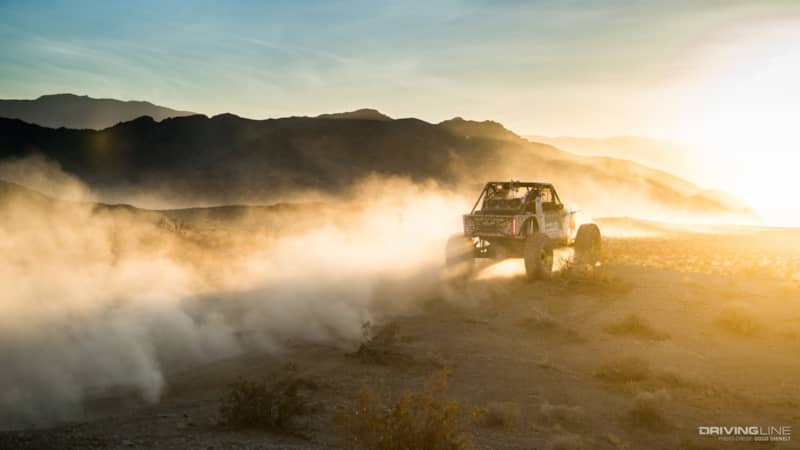 5:10
 

p.m.

Levi comes flying down backdoor, charging for a top 10 finish.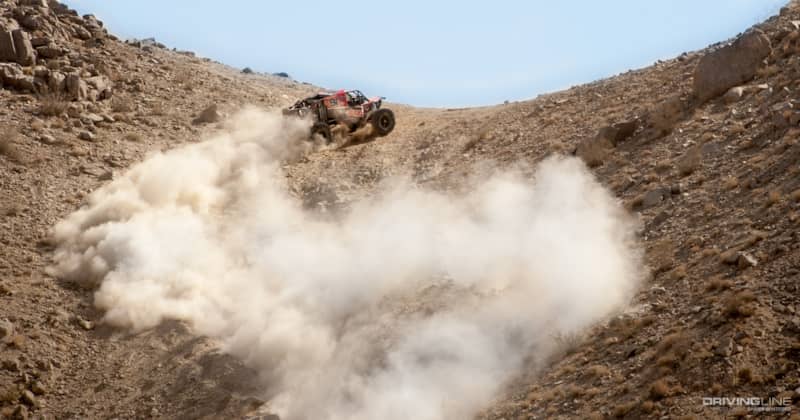 5:13
 

p.m.

Levi finishes ninth. 9:12:51
5:19
 

p.m.

Clay Gilstrap finishes, rounding out our top 10. 9:18:00
5:29
 

p.m.

Bailey Campbell/Terry Madden finish 11th.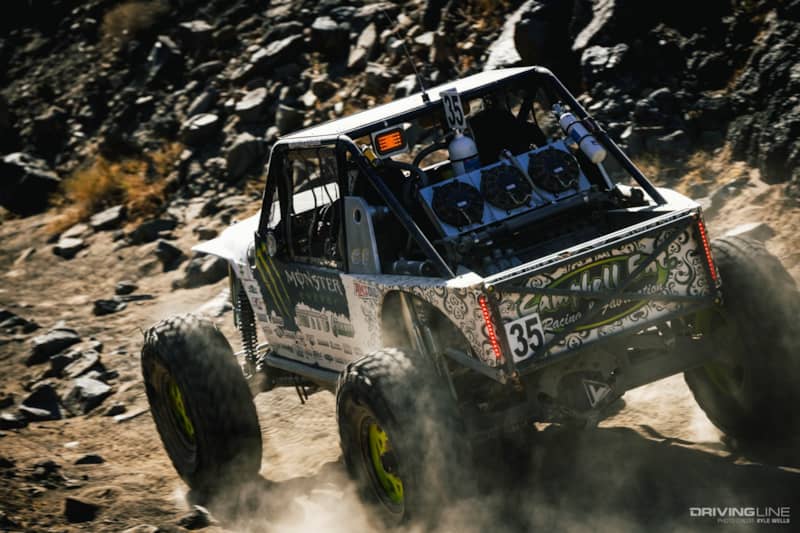 5:36
 

p.m.

"She was hurting after the second lap, so I got in the car," said Terry about Bailey.
5:40
 

p.m.

The sun is fully down now. Lights are on.
5:45
 

p.m.

Rusty Blyler finishes in 12th, eight spots behind his son, Josh. 9:21:59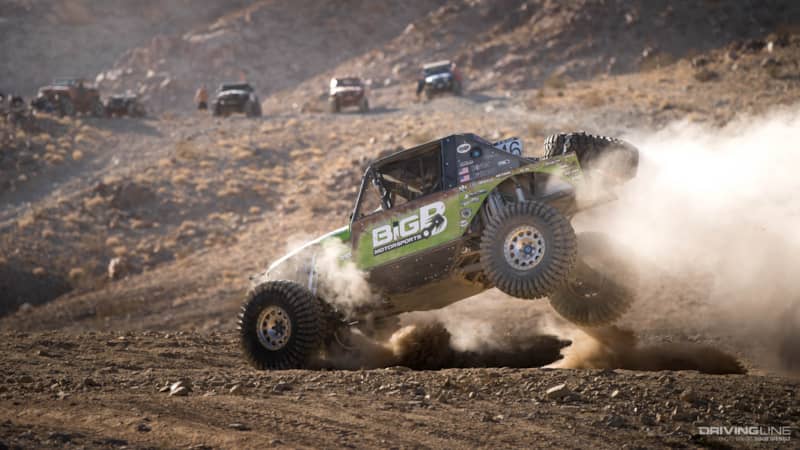 5:52
 

p.m.

Paul Horschel finishes 13th, after taking the pole and leading the first lap. 9:53:08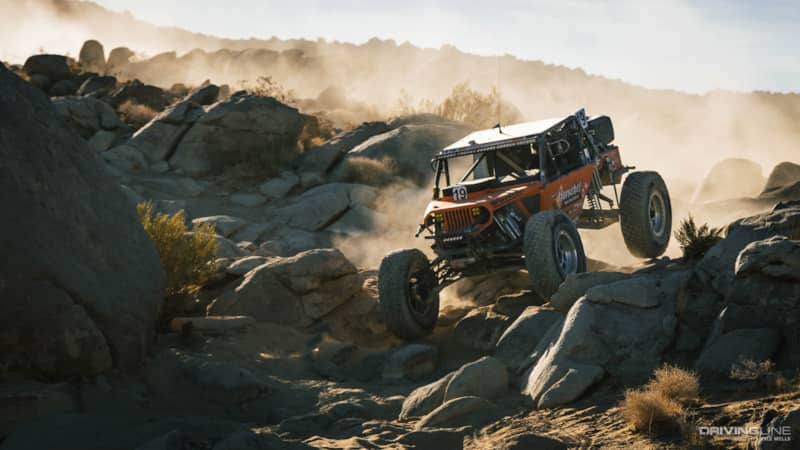 6:05
 

p.m.

Randy Slawson comes on stage for an interview after being unable to get his car across the finish.
6:15
 

p.m.

Bailey Cole finishes 14th with a time of 10:07:01 and celebrates with family and friends.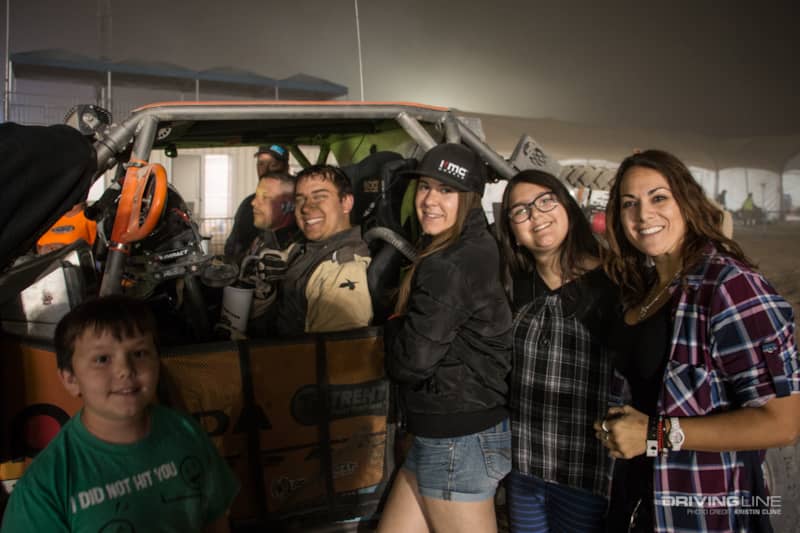 6:29
 

p.m.

Mike Bergman finishes 15th. Had one flat while out there. 10:24:34.
6:39
 

p.m.

JP Gomez finishes 16th. 10:32:30.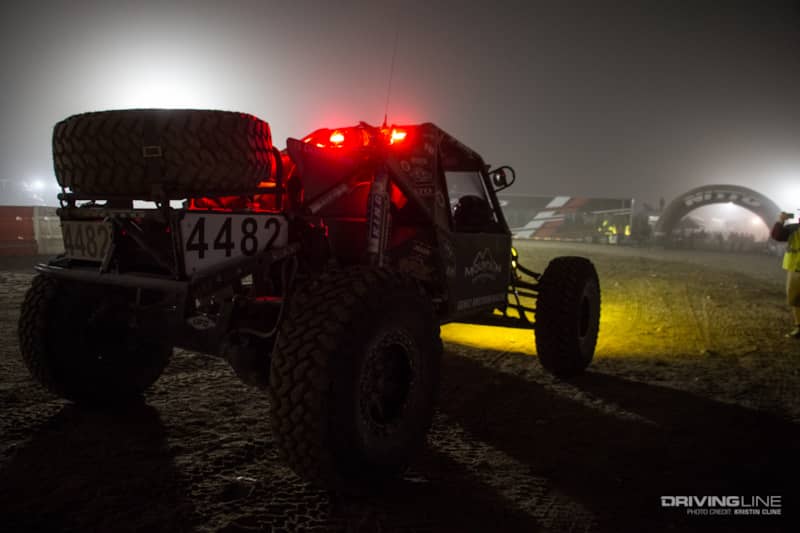 6:50
 

p.m.

Dustin Isenhour finishes 17th. 10:39:14.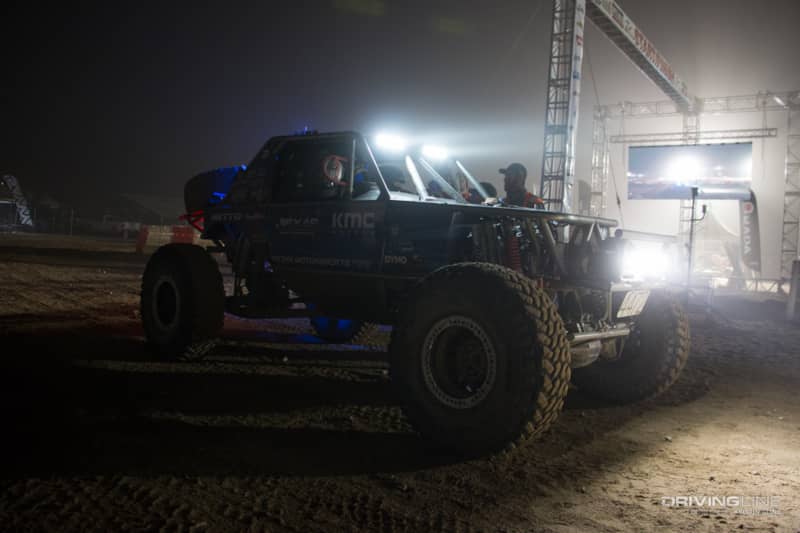 7:03
 

p.m.

Derek West finishes 18th. 10:53:16.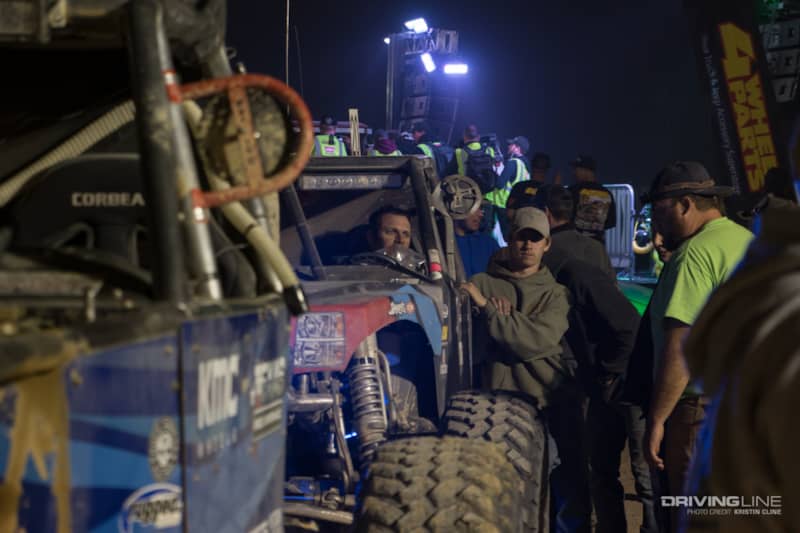 7:04
 

p.m.

Greg Adler finishes 19th. 11:04:00.
7:16
 

p.m.

Jordan Townsend finishes 20th. 11:03:05.
7:19
 

p.m.

Kenneth Goodall finishes 21st across the line, 19th on corrected time. 11:03:00.
7:30
 

p.m.

Jeff Brown finishes 22nd across the line. 11:14:33.
7:34
 

p.m.

George Pronesti finishes 23rd. 11:21:21.
8:10
 

p.m.

Ben Swain finishes 24th. 12:02:51.
8:14
 

p.m.

BLM confirms 5 year permit for KOH!
8:17
 

p.m.

Darren Henke finishes 25th. 12:14:01
8:35
 

p.m.

Jordan Pellegrino finishes 26th. 12:27:23
8:54
 

p.m.

Jason Blanton finishes 27th. 12:48:26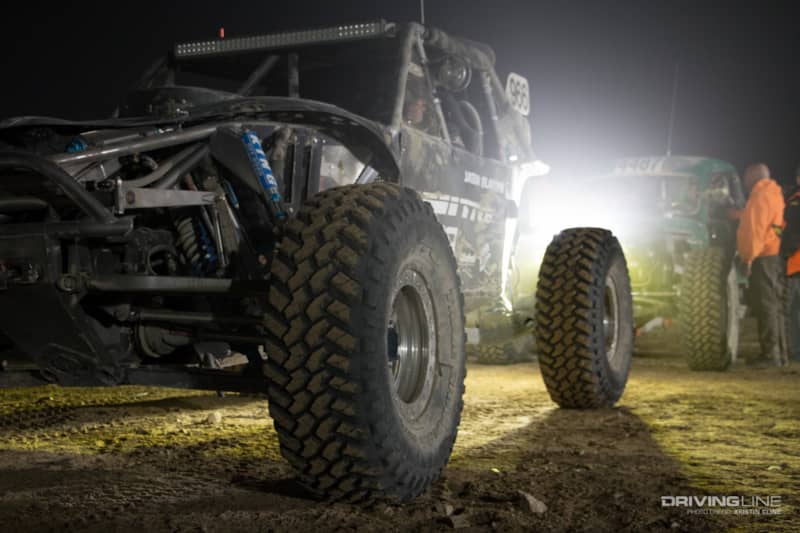 9:05
 

p.m.

Jon Cagliero finishes 28th. 12:29:15
9:49
 

p.m.

Eston Simms finishes 29th. 13:34:14
9:57
 

p.m.

Chad Hundt made a wrong turn, going back down Outer Limits a second time, but he may be able to make it in.
10:09
 

p.m.

The number of drivers out on course is down to a handful, as the course has closed but a few are technically still in on time. It seems, though, like none of them will be able to make it back in time.
10:11
 

p.m.

Chad Hundt is only a few miles out, but he still has to traverse Backdoor in the dark in four minutes. No easy feat.
10:15
 

p.m.

Chad Hundt times out. His official day is done, but he still needs to come in. 
10:19
 

p.m.

Hundt comes home, after over 14 hours of racing.

Congratulations to Jason Scherer for winning his second crown, he joins two-time Kings Loren Healy, Randy Slawson and Erik Miller and three-time King Shannon Campbell. This makes back-to-back victories for Jason, as he also won the final race of the 2017 season in Reno—is this the start of a longer streak? 2018 promises to be another exciting year of racing in Ultra4!
Look for continued King of the Hammers coverage and more in-depth race stories right here on Driving Line. Official Ultra4 results below: