3-Row SUV Comparison: Explorer ST Vs. Grand Cherokee L
There's no question that mid-size, three-row SUV's are hot right now. Their price point, performance capability, fuel economy, comfort and overall practicality have made them some of the most popular vehicles in North America. Some three-row SUV options even go beyond the norm, offering sports car-like acceleration or Wrangler-like off-road capability—which brings us to our latest shootout. While pitting a Ford Explorer ST against a Jeep Grand Cherokee L might seem like an apples to oranges comparison, both SUV's are extremely popular at the moment. And although each one attracts a different buyer, both vehicles meet in the middle in more areas than you think.

This time, it's twin-turbo EcoBoost meets Hemi V-8 in a test of performance (on and off-road), work ethic, comfort and affordability. Where the Explorer ST excels, the Grand Cherokee L puts up a valiant fight. And where the Explorer falls short, the Cherokee tends to shine. It's an unlikely comparison no other publication is making—but they should be. After all, Jeep sells roughly a quarter-million Grand Cherokees every year, with Ford moving more than 200,000 Explorers annually. Without further ado, it's time to pit this odd couple against each other.
Ford EcoBoost (Advantage Explorer)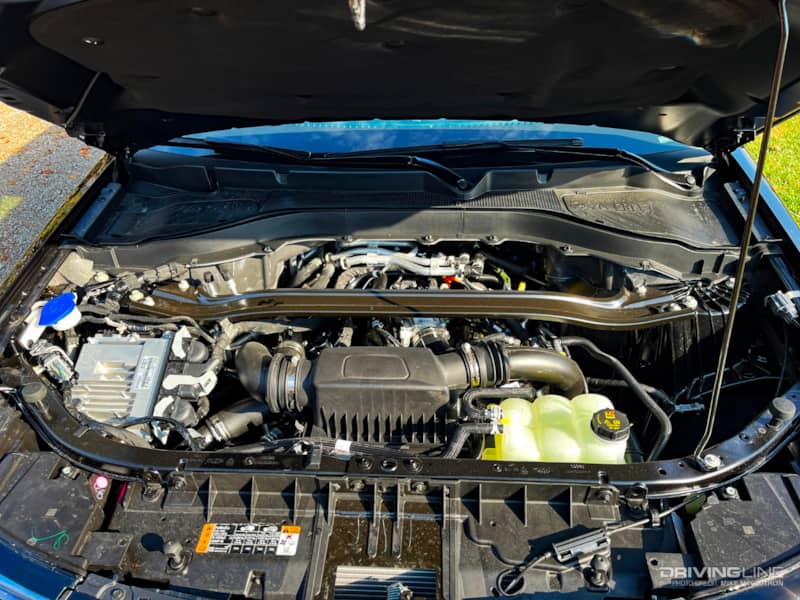 With a goal of offering a performance SUV, Ford didn't have any other choice but to deliver with its Explorer ST—and a winning recipe starts with a potent engine. The Explorer ST's 3.0L EcoBoost V-6 is twin turbocharged (one turbo feeds each bank), intercooled, direct injected and produces 400 hp at 5,500 and 415 lb-ft of torque at 3,500 rpm. At a curb weight below 4,800 pounds, this makes for a highly advantageous horsepower-to-weight ratio and the ST not only blows the 5.7L Hemi out of the water here, but also every competitor engine in the same price range. The 3.0L EcoBoost is mated to Ford's 10-speed 10R60 automatic transmission, which always seems to be in the right gear.
5.7L Hemi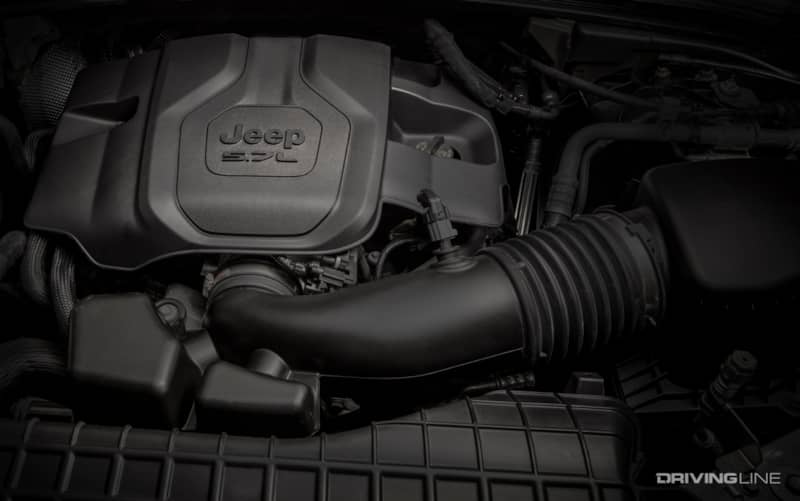 Simpler in design than Ford's EcoBoost, the proven 5.7L Hemi retains its overhead valve, pushrod V-8 status, as well as natural aspiration. It also manages to belt out a respectable 357 hp at 5,150 rpm and 390 lb-ft of torque at 4,250 rpm in this application—plenty of zoom to propel the Grand Cherokee L. Tethered to the Hemi, you get the ZF 8HP75 eight-speed automatic transmission, which is smooth as silk and practically bulletproof. The only unfortunate part of opting for a Hemi-powered L is that you have to foot the bill for an upper trim, Overland model, which starts at more than $61,000. The Hemi option tacks on an additional $3,995 beyond that.
Towing (Advantage Cherokee)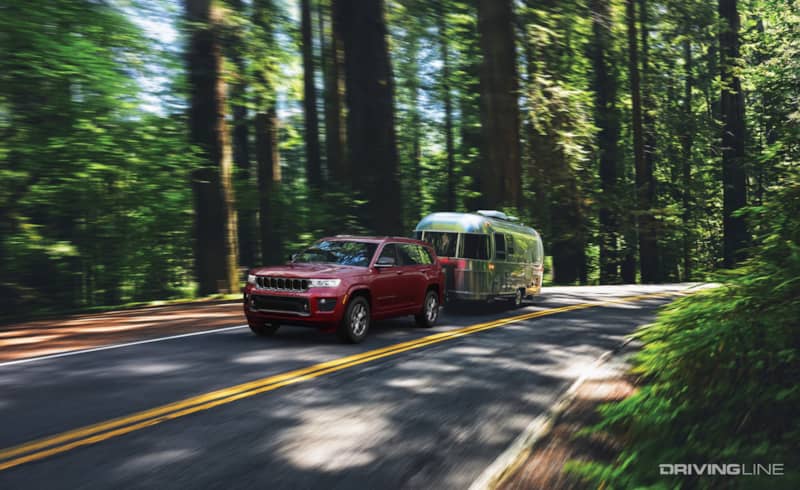 Ordered with the Hemi under the hood, the Grand Cherokee L can tow up to 7,200 pounds in conjunction with Jeep's available Trailer Tow package, which comes with a Class IV receiver hitch and a 7-and-4-pin wiring harness. By comparison, the maximum trailer weight for the Explorer checks in at 5,600 pounds, with Ford also offering a Class IV trailer package and the handy 7-and-4-pin wiring harness. Beyond maximum trailering capacity, a slightly longer wheel base on the Grand Cherokee L gives it an added edge in the towing department (121.7 inches vs. 119.1 inches). And even though we aren't comparing the Explorer ST to a V-6 model Grand Cherokee L, the latter version of the L still out-tows the Ford (6,200 pounds vs. the aforementioned 5,600 pounds).
Performance (Advantage Explorer)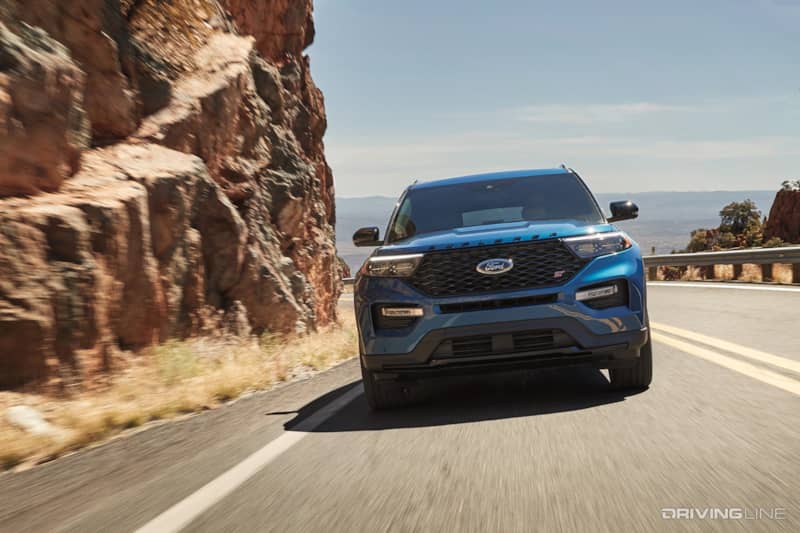 A heftier curb weight (roughly 5,300 pounds) coupled with a lower horsepower engine means the Grand Cherokee L isn't going to win any drag races against an Explorer ST. However, that doesn't mean the 5.7L Hemi doesn't motivate the "L" with authority. The three-row Jeep can sprint from 0-to-60 mph in 6.1 seconds and cover the quarter-mile in 14.6 seconds at 94 mph. Of course, you can knock virtually an entire second off of those elapsed times with the Explorer ST. In 0-to-60 mph testing, the ST can perform the feat in 5.2 seconds. As for the quarter-mile, an Explorer ST can turn out repeatable 13.8-second passes at more than 100 mph.
4x4 (Advantage Cherokee)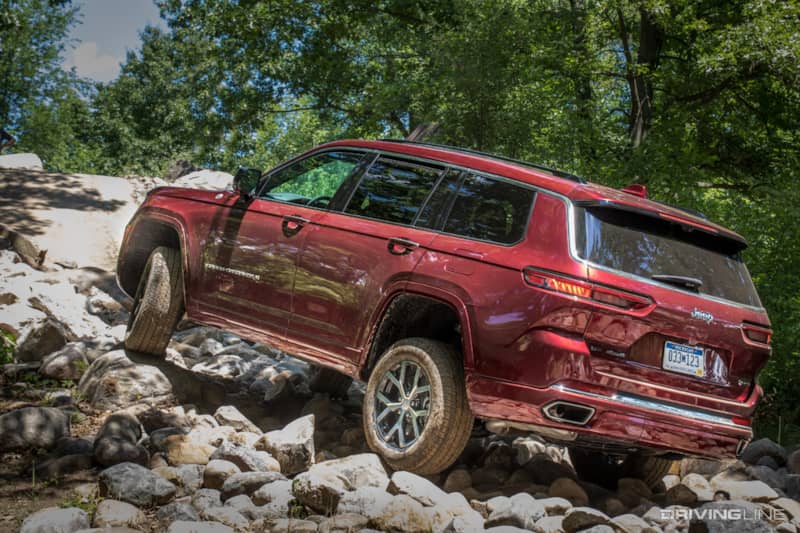 In case you were wondering which SUV is the better performer when the pavement ends we'll make it easy on you: it's the Jeep. Sure the Explorer ST—with its deep snow/sand and slippery drive modes—can get you out of some sketchy spots (provided you've got the right tires), but 7.9 inches of ground clearance isn't a lot. The Jeep Grand Cherokee L features 10.2 inches of ground clearance. But not only that, three different styles of four-wheel drive are on the table: single speed Quadra-Trac I, Quadra-Trac II with a two-speed transfer case and the Quadra-Drive II system with low range and an electronically controlled limited slip differential. The Explorer gets a one-size-fits-all Intelligent 4WD system.
Space & Comfort (Advantage Cherokee)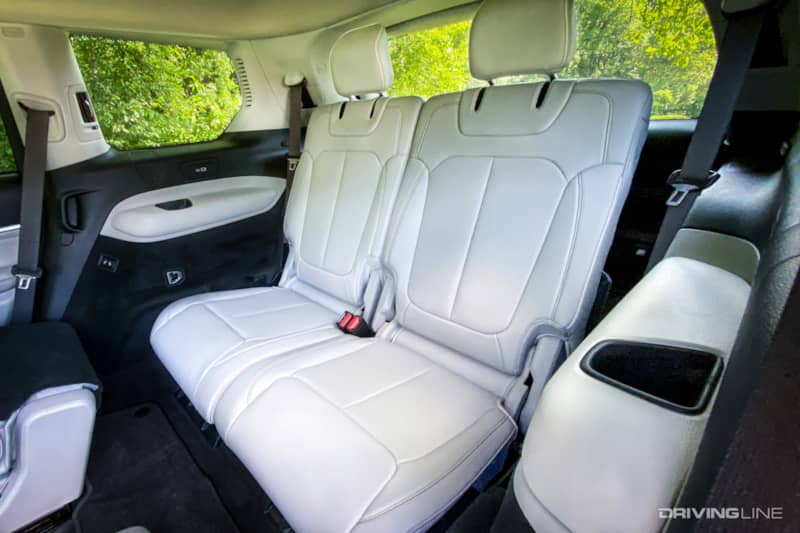 Depending on your second-row preference, either SUV can seat as many as seven, though we believe most buyers opt for second-row captain chairs. Cargo space is virtually identical between the two also. The big interior difference between the Explorer ST and Grand Cherokee L lies in the materials used. Here, the Jeep gets the big W, with upscale materials present in the seats and dash. And although space is similar in the third row, for whatever reason the L feels roomier. Ride quality is above average in the L thanks to its front and rear multi-link suspension. The Explorer boasts front strut suspension and multi-link suspension out back.
Price Point (Advantage Explorer)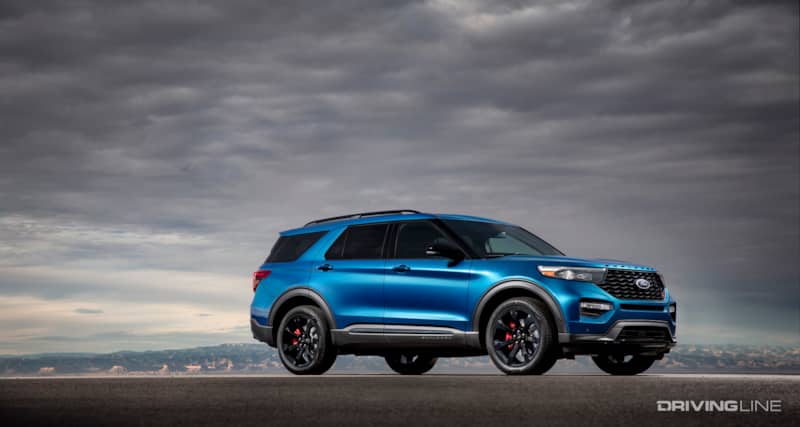 Getting your hands on Ford's 400hp EcoBoost is much less costly than outfitting a Grand Cherokee L with the Hemi V-8—not to mention you have to start with the higher-end Overland trim to even have the opportunity. Jeep's Grand Cherokee L Overland starts at $61,690 (currently) but, as we mentioned above, checking the box for the Hemi adds another $3,995 to the tally. Right away you're at $65,000-plus. In comparison, Ford's Explorer ST starts at $52,005, and that's with Intelligent 4WD selected. You can't get a 400hp, three-row SUV for anywhere close to the $50,000 mark anywhere else in the automotive world at the present time.
The Mod That Takes An SUV From Good To Great—Tires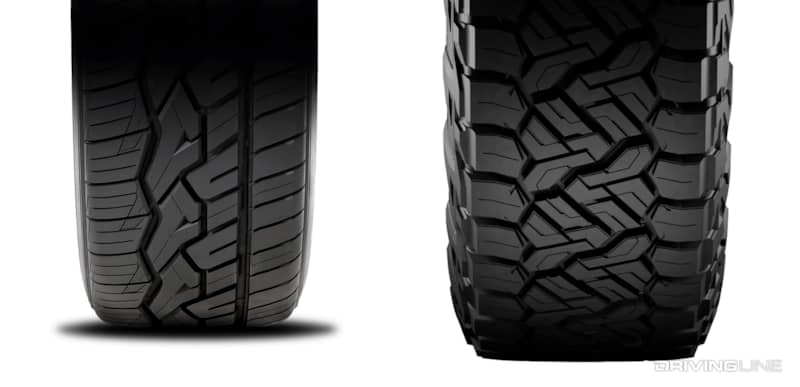 As we've tried to illustrate thus far, each SUV has its strong suits. And with any vehicle, one of the best ways to capitalize on its strengths is to install the right tire. While most Grand Cherokee L buyers aren't likely to dedicate them to off-road duty (after all, Jeep has a plethora of options that would be better suited to life on the trail), but for the weekend warrior or the soft-roader, an all-terrain tire such as Nitto's Recon Grappler or Nomad Grappler would complement the L's on-and-off-road versatility very well. As for the Explorer ST, an all-season NT420V (on a 20 or 22-inch wheel) would definitely help enrich its dominance on the street.
More From

Driving Line
Interested in a closer look at the Jeep Grand Cherokee L? We almost pulled the trigger on one during our search for the perfect three-row SUV.