5 AWD Hondas for Your Next Off-Road Adventure
First off, no, Honda does not make a competitor to the Land Cruiser, or the Raptor, or the Wrangler. If you want to tackle extra difficult terrain, or climb rocks, or make spirited drives across the desert, there's not going to be a solution here for you. With that caveat out of the way, off-road adventuring and overlanding is booming in popularity. More and more people can't get enough of the outdoors, but not everyone needs a full purpose-built 4WD rig. Throughout its history, Honda has offered AWD in many of its models that would be good contenders for adventuring. For owners coming out of long time Honda ownership, starting with one of these offers a familiarity with these platforms that could prove valuable for purchasing, modification and unexpected off-road repairs. 
1. Honda Acty
The Honda Acty is Honda's longtime contender in the kei truck market. For those that may need a refresher, kei trucks are tiny little cab-over trucks designed for the JDM market. They have, in the past few years, become abundantly available from importers in the US market under the 25 year rule, so it is easy to find a good Honda Acty for sale.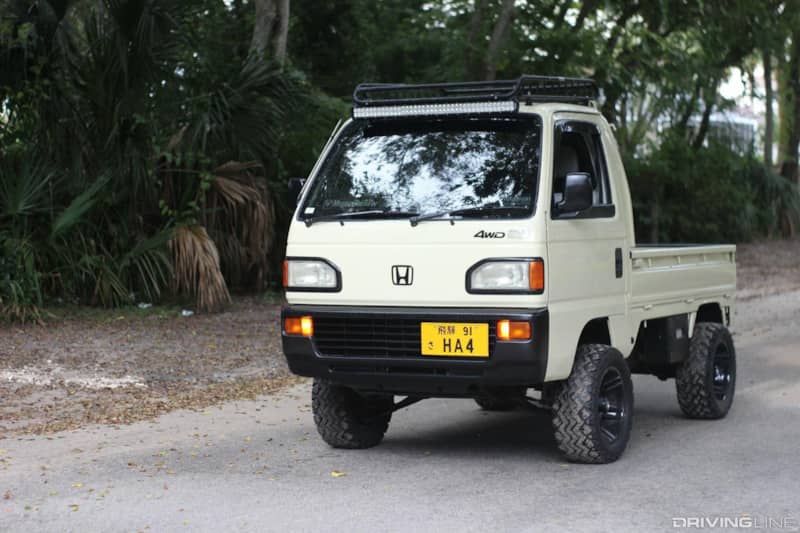 Available from roughly $5k to a little over $10k for a fully prepped model, these 3-cylinder pint size off-roaders make for a great alternative to a more expensive, off-road use only side-by-side. Importers have begun modifying them with lift kits, off-road wheels and tires (stolen from the side-by-side market), and LED lighting to increase capability and complete the look.
2. Honda Orthia
The Honda Orthia is the JDM-only wagon version of the fourth generation Honda Civic. Powered by either a B18 or B20 engine, this capable little wagon was available in FWD or AWD versions, with either an automatic or manual transmission. For a Honda owner that was considering a move to something like a Subaru Outback or Legacy, the Orthia offers a chance to stay with something more familiar.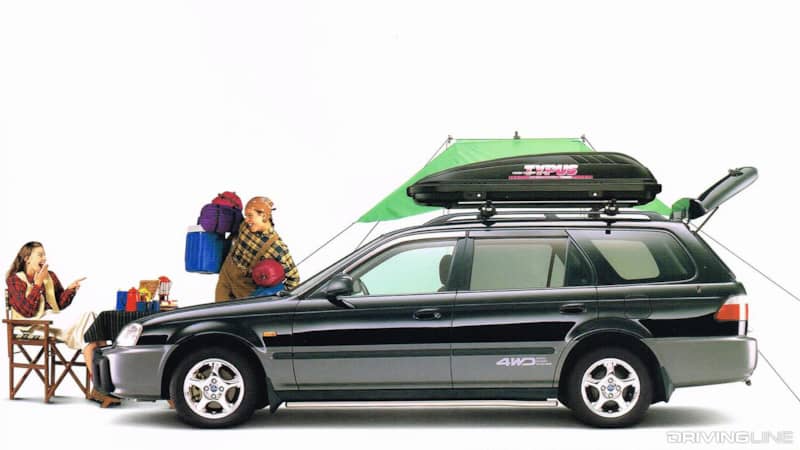 Released with a myriad of adventuring accessories, the Orthia's shared platform with the more popular CR-V means that the same solutions for increased off-road capability for that model could hypothetically work here as well. The Orthia was released as a 1996 model, so legal import could happen as soon this year.
3. Honda CR-V
The CR-V is undoubtedly the cheapest and easiest way to dip your toe into the Honda adventure community. Unlike other older Civic models, there isn't a large collector market for the CR-V, so sourcing an AWD, manual transmission example is never more than a couple hours on Craigslist or Facebook Marketplace away.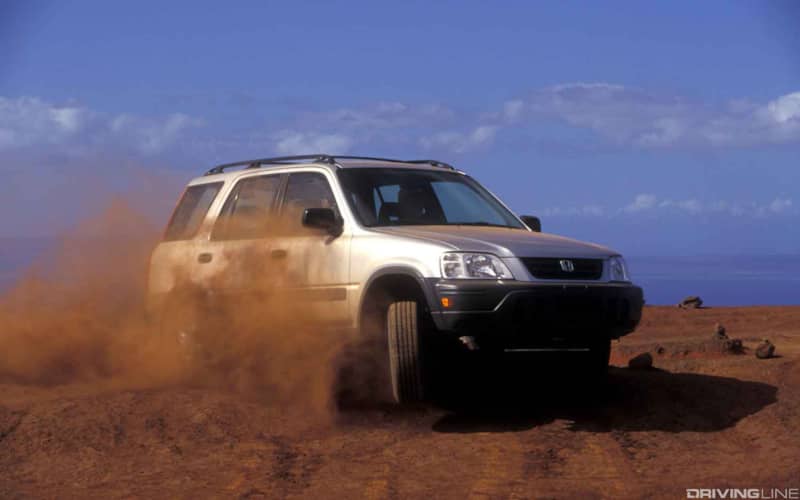 The aftermarket has multiple solutions for lift kits, from spacers, to lift springs, to coil-overs. A common 5-lug bolt pattern also means that aftermarket wheels are plentiful. If you want a manual 4WD model, plan to stick with either the first or second generation, but if you want newer, there are still companies making parts to turn this pedestrian crossover into something a little more capable. 
4. Honda Element
Think of the Element as the more rugged cousin to the CR-V. Sharing many of the same parts as the second generation CR-V, the all-plastic configurable interior of the Element makes for a better starting point for an off-road build. Although aftermarket lift parts are not interchangeable between the CRV and Element, many of the same solutions are readily available.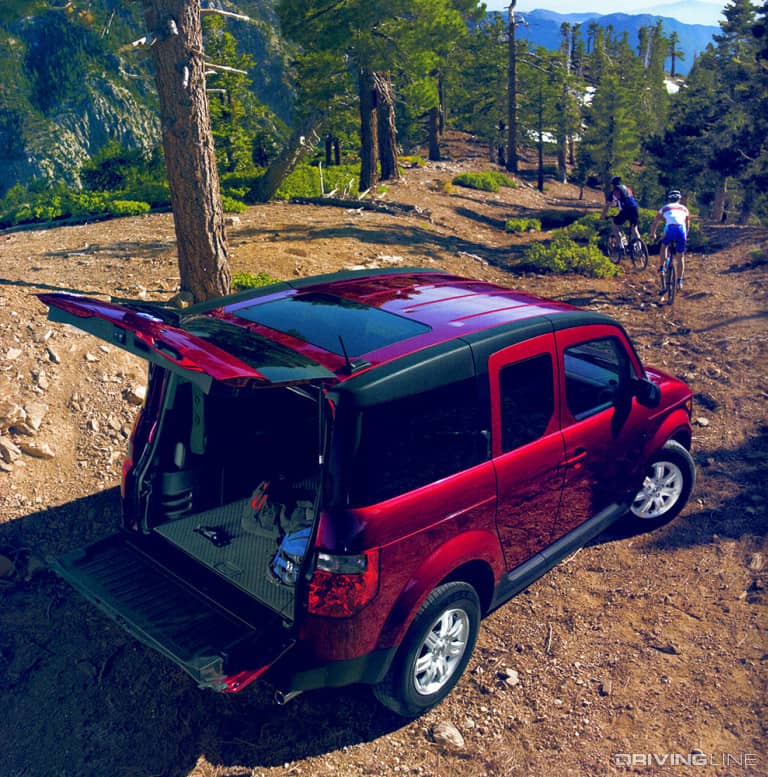 Finding a good Element will be a little tougher than sourcing a CR-V. Resale values have stayed higher than average, and cheap models are generally going to be VERY used. Manual models are available, but expect to have to travel a little further to find the exact combination you are looking for. 
5. Honda Pilot/Ridgeline/Passport
Honda's full-size crossover offerings include the Pilot, Ridgeline, and new-for-2019 Passport. Largely mechanically identical from the front door forward, they are offered with a 3.5L V6, automatic transmission, and Honda's latest AWD technology. The VTM-4 system utilizes a terrain select feature offering powertrain optimizations for snow, mud and sand in addition to the normal drive mode.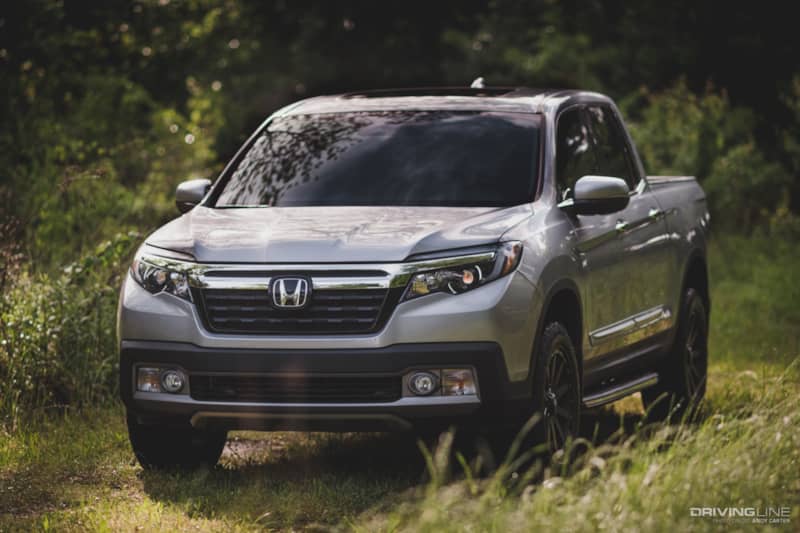 Although not extremely deep yet, aftermarket support is promising for the Honda triplets. Companies like J-Sport are working with dealers to offer Honda-supported off-road packages that pair their lift-kit and accessory offerings with more aggressive all-terrain tires like the Nitto Terra Grappler G2.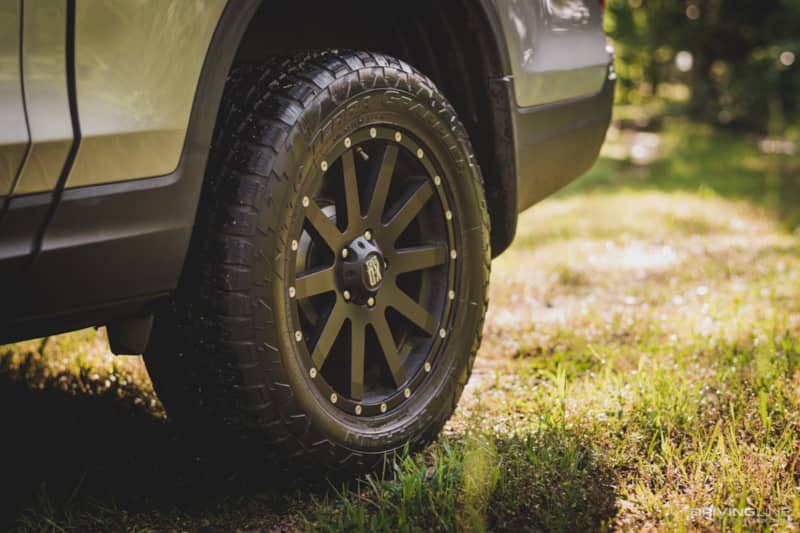 To state it again for the keyboard warriors, Honda is obviously not the first choice for an off-road rig. But there are an enormous amount of Honda enthusiasts in the community (even more if we consider the larger off-road power sports market), and for some, staying with a familiar brand is a priority. For some gatekeepers, a CRV will never belong, and that's fine. For others, these options just mean more friends for off-road adventures. 
Ready to make the move to a Honda? Don't miss our review of the second-generation Honda Ridgeline here.