Adam LZ's Ultimate JDM Driver's Car
Adam LZ has owned a lot of cars in a very short amount of time, but he's happy to admit that one of the best driving cars he has owned was a Porsche GT3RS. While many drivers consider the Porsche GT3RS to be one of the most amazing vehicles that you can buy from an OEM manufacturer today, Adam wanted to find a way to build a balanced Japanese tuner car that could produce a similar driving experience with some Japanese flare at a fraction of the cost.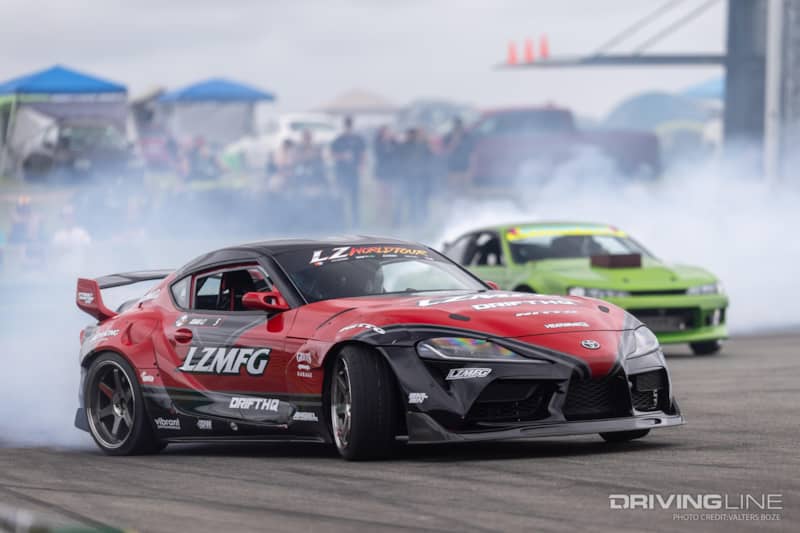 Originally, Adam set his sights on transplanting a 4-rotor engine into an FD RX7, and he had procured a few different RX7 vehicles over the years that seemed like a good canvas to start with. When the price of a pristine FD RX7 chassis was skyrocketed, Adam feared he wouldn't feel comfortable driving a 4-rotor powered FD RX7 at the proper 10/10's level that was deserved for the vehicle.  After a lot of thought, he decided to pivot towards a different chassis for his GT3RS-esque 4-rotor powered creation.
Supra Swapping
Enter famed Florida-based Supra tuning company Titan Motorsports. Titan has been tuning MK4 Toyota Supra's since the late 1990s, even competing in the NHRA Sport Compact Drag Racing series for several seasons, before that series faded away. More recently, Titan has been tuning a multitude of high horsepower cars for their customers, and as the A90 chassis Toyota Supra arrived on the scene, Titan applied their tuning magic to the car, with fantastic results. As their customer base for the chassis grew, they began to acquire various supporting parts.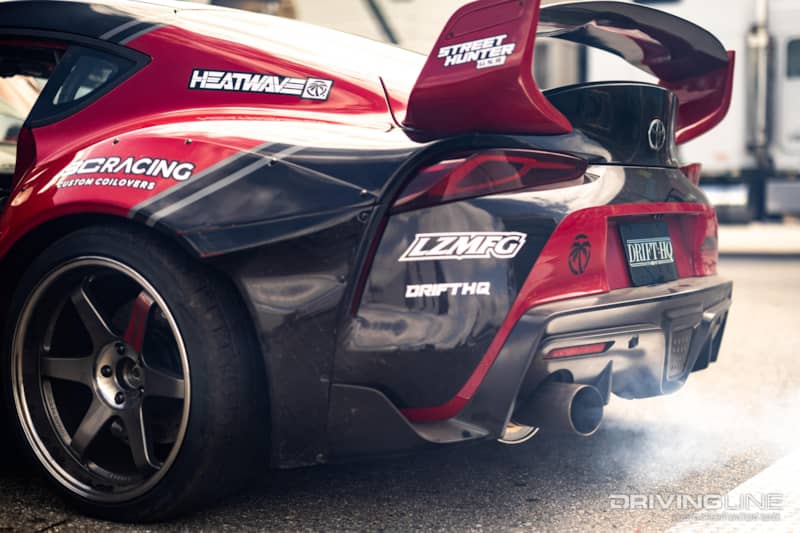 In an obscure twist of fate, the tuning company had a pair of extra A90 Toyota Supra chassis that had been involved in crashes, and had harvested the engines and various other parts, with no use for the rest of the chassis. In Adam's mind, dropping the 4-rotor engine into the A90 chassis was a great way to showcase the engine in a modern vehicle. And with the cars already wrecked and scavenged, there would be less concern about losing value if anything got hurt while driving the car on a track. After a few phone conversations, funds were sent to pay for the engineless vehicles, and soon a pair of formerly wrecked A90 Supra chassis were enroute to the LZHQ.
Within a few days, the first A90 chassis had been torn down to evaluate what it would take to turn the vehicle into Adam's "JDM Ultimate Driver's Car" vision. The first step in prepping a full vehicle build like this is often tearing the car down to a bare chassis. LZ and his team started on the interior, ripping out the seats, carpeting, wiring, dash, and all other elements to make way for a full rollcage.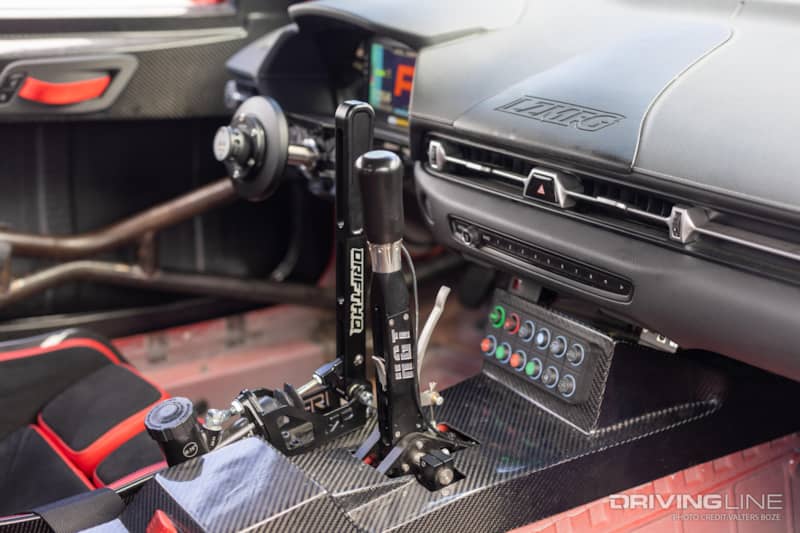 At the same time, the engine bay was cleared of all brackets and wiring, to prep for the new heart transplant. While the engine bay was empty, an E92 power steering rack was fabricated using a Wisefab conversion kit. Once the interior was stripped, a full roll cage from Cage Kits was tig welded into the chassis for safety and rigidity. Adam chose a set of lightweight Recaro Podium seats to keep him and his passenger comfortable while driving.
There are several aggressive body kits available for the A90 Supra, but Adam selected the Streetfighter widebody kit, which was designed by fellow Youtuber TJ Hunt. The multi-piece kit has elements that touch nearly every body panel on the car save for the doors, and Adam decided to source Carbon Kevlar doors from HGK. Careful effort was made to ensure the body kit and chassis were clearanced appropriately to prevent contact with the wheels while in drift. The exterior was rounded out with a custom set of Ganador mirrors, and a custom livery that was partially inspired by the Mazda 787B (which won Le Mans in 1991 with a 4-Rotor engine) and was designed by famed designer Jon Sibal.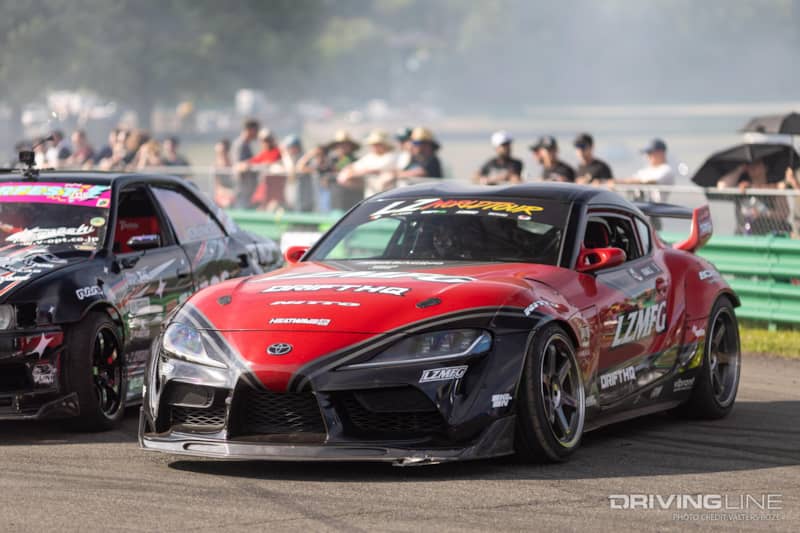 Big Power N/A 4-Rotor Engine
Under the hood of the Supra, the naturally aspirated 4-Rotor engine was built by well-known rotary tuner Mike Vargas at Angel Motorsports. Vargas built the engine using RX8 rotors, which are known to have higher compression than other rotor options and performed a full peripheral port to maximize performance. On the intake side, the engine features individual throttle bodies, while a custom exhaust header shoots exhaust (and occasionally flames) out of the custom Vibrant 4" stainless exhaust and muffler.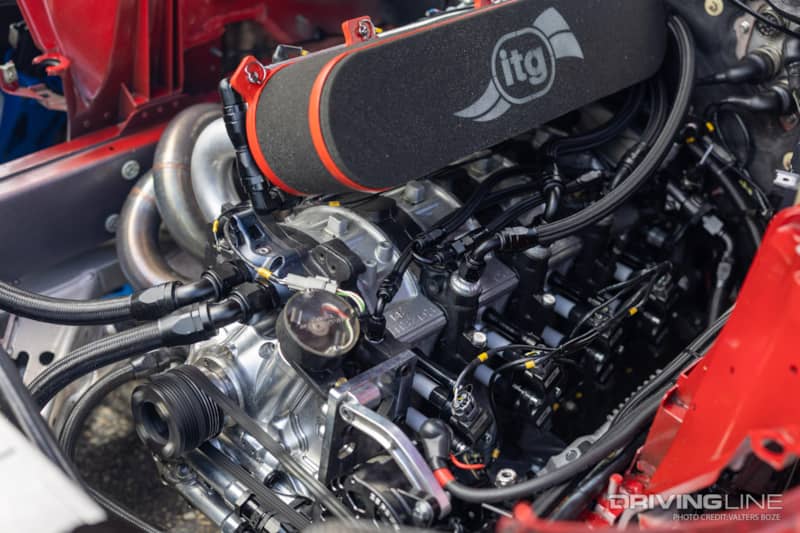 Wiring was handled by Angel Motorsports, with power being programmed through an ECUmaster EMU PDM, and engine management handled through a Haltech Elite ECU. Oiling utilizes a Chips Dry Sump setup and multiple PWR Oil Coolers, while spark is handled from a PRP Coil kit that uses Nissan GTR R35 coils for ignition. All the vital signs are monitored from the cockpit via an ECU Master digital display. The more than 500 naturally aspirated horsepower is transferred to the HGT Sequential six speed transmission by a Clutchmasters 850 clutch. Out back, a Winters quick change rear differential pushes the power out through a set of Wisefab axles.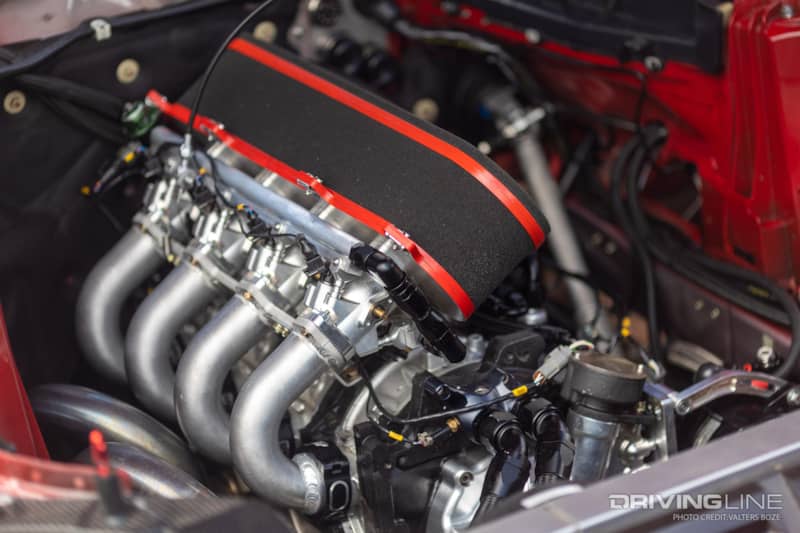 Upgraded Suspension & High-Performance Tires
Wisefab suspension arms also handle the additional steering angle, while a set of BC Racing DS Series coilovers handle the bumps and weight transfer at each corner.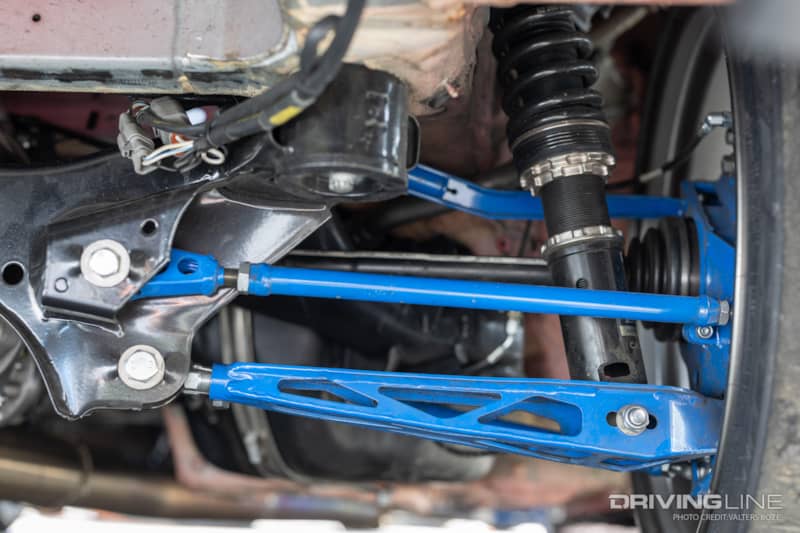 Braking is handled by upgraded Wilwood dual piston calipers at each corner, which should come in handy especially when the Supra is driving in grip situations. The grip meets the asphalt via Volk 19" TE37SL wheels, with ultra-high-performance Nitto NT555 G2 rubber: 235/25R19 front and 265/40R19 rear.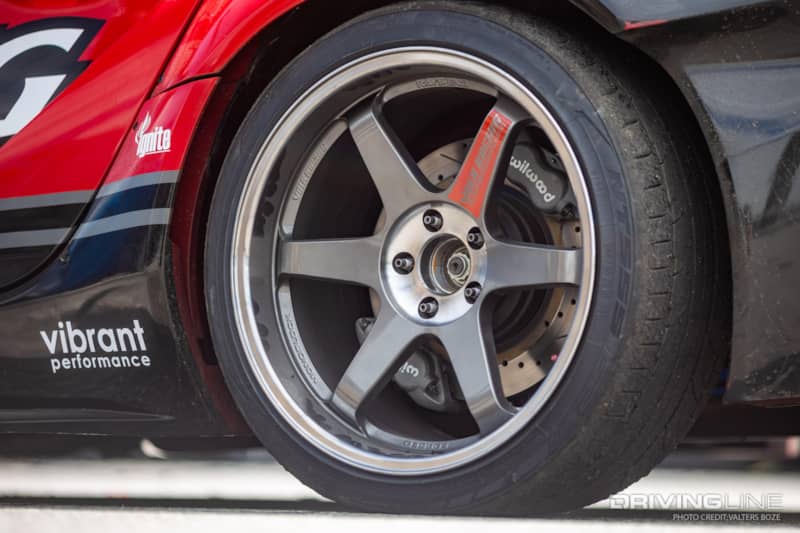 Overall, the build took nearly a year, partially due to the plethora of projects that are always being worked on at the LZ Compound. In the future, the car might see some additional weight reduction and tweaks to the intake and exhaust runner length to fine tune both horsepower and engine tone, and there are plans to try and play with alternative fuels and/or nitrous to see if they can improve driveability. Beyond that, Adam plans to drive the car in as many non-competitive events as he can add to his already-busy schedule.