History Of The 2019-Present HD Rams: 1,000 LB-FT Cummins, New Frame And Best-In-Class Towing (Again)
Automakers love to make a scene when it comes to product launches—and in the world of pickup trucks it usually involves big power and towing figures. For Ram, a very big statement was made in January of 2019. While revealing its all-new, fifth-generation heavy-duty trucks, Ram's biggest news was attached to its 3500 models. For '19 they were available with a high output version of a brand-new 6.7L Cummins—the first diesel engine to produce 1,000 lb-ft of torque. Packing a CGI block, a fresh cylinder head, a different valvetrain, lower compression pistons and a higher flowing turbo, the H.O. Cummins and its new, gargantuan torque figure provided the ultimate headline for automotive publications the world-over.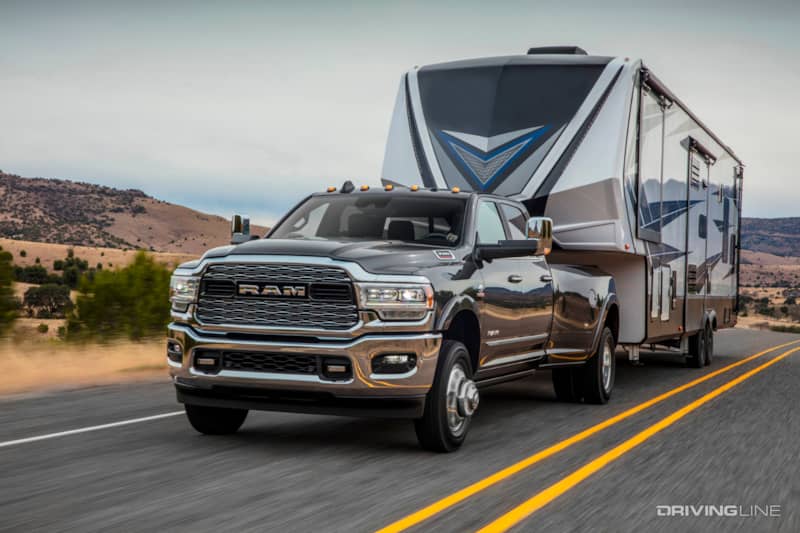 But there was more, much more. On top of offering four-digit torque numbers, Ram laid claim to best-in class fifth-wheel towing, conventional towing, payload, gasoline horsepower and even interior storage (Mega Cab). To achieve most of those accolades, a new, stronger frame was debuted, along with a larger rear axle and a host of suspension improvements. Just two years later, Ram would bump the H.O. Cummins up to a segment-leading 1,075 lb-ft of torque, which made properly-equipped 3500 models capable of lugging 37,100 pounds. Everything you need to know about the current crop of mountain-moving fifth-gen Rams is included here. As for the future, don't be surprised if the Auburn Hills truck maker delivers a Ram capable of towing a 40,000-pound trailer (or that packs a 1,250 lb-ft Cummins) for '24 or '25…
First To Offer Four-Digit Torque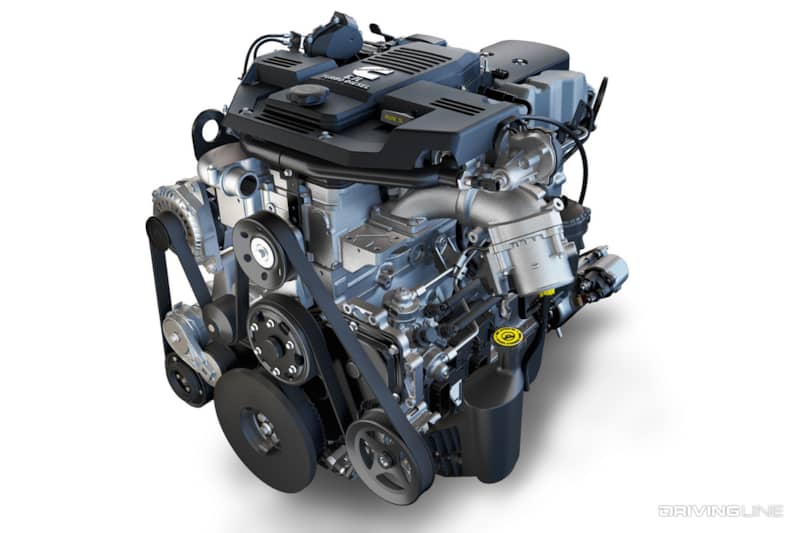 After more than a decade of loyal service, the cast-iron block 6.7L Cummins was retired in favor of a fresh version for '19. Though it still displaced 6.7L, the new I-6 featured a stronger (and lighter weight) compacted graphite iron (CGI) block, a redesigned cast-iron head and the valvetrain made use of hydraulic lifters rather than solid roller lifters. Compression checked in at 16.2:1 for the high output version (400 hp and 1,000 lb-ft at launch, but 420 hp and 1,075 lb-ft currently) and 19.0:1 for standard output engines (which currently produce 370 hp and 850 lb-ft). And although '19 and '20 model year engines were equipped with a Bosch CP4.2 high-pressure fuel pump, fuel system failure led Ram and Cummins to revert back to the tried and true Bosch CP3 beginning on '21 models.
Updated AS69RC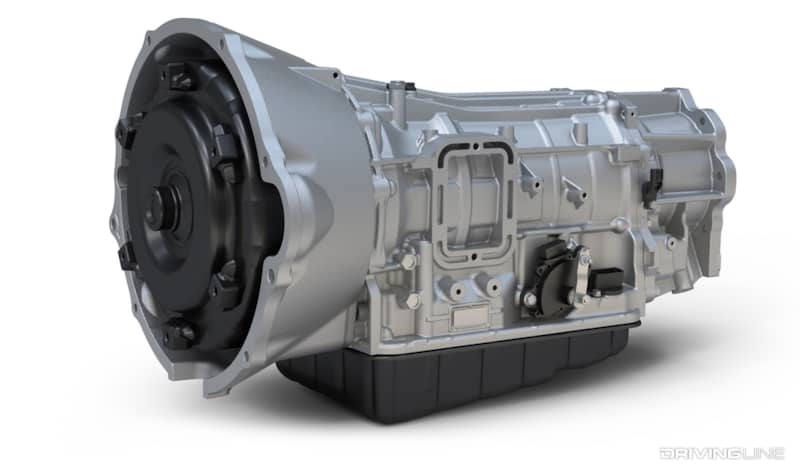 In order to cope with the new Cummins' 1,000 lb-ft of grunt, the Aisin AS69RC—the only transmission option available with the H.O. engine—received several updates, among them were stronger planetary gears. And although harsh shifting issues were present with early build date '19 trucks, dealer reflashes with shift strategy updates helped quell most of the Aisin's quirks. Ram's 68RFE automatic, also a six-speed, was offered behind the standard output 6.7L Cummins. No longer was the G56 manual, or any manual transmission for that matter, offered in Ram trucks.
12-Inch Rear Axle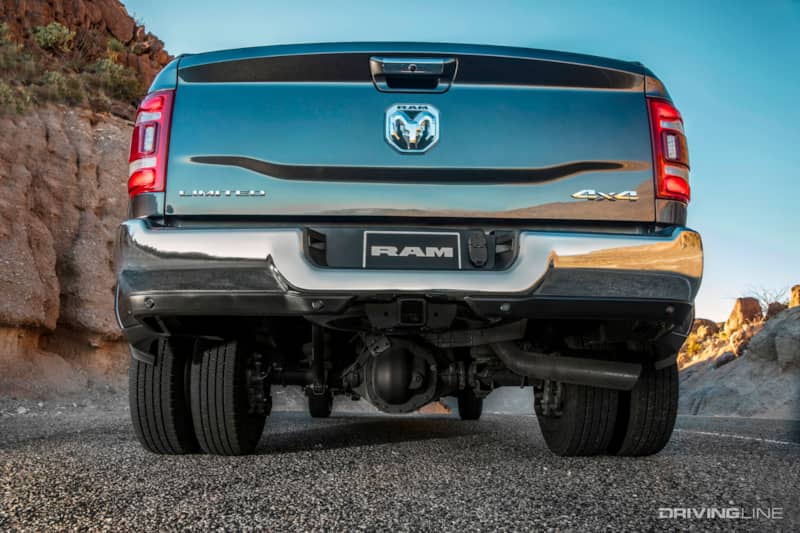 Part of Ram's available 35,000-plus pound towing capacity in 2019 revolved around the use of a larger, even more durable rear axle than the previous AAM 11.8. Also built by American Axle & Manufacturing, the new axle featured a 12-inch diameter ring gear, 4.250-inch axle tubes and a helical gear, clutchless-type limited slip differential. Larger hubs (142mm), new O-ring style axle shaft hub seals and a different lug pattern (8x200mm) was part of the deal as well. Single rear wheel 3500 model Rams retained the 8x165.1 mm bolt pattern.
Stronger Foundation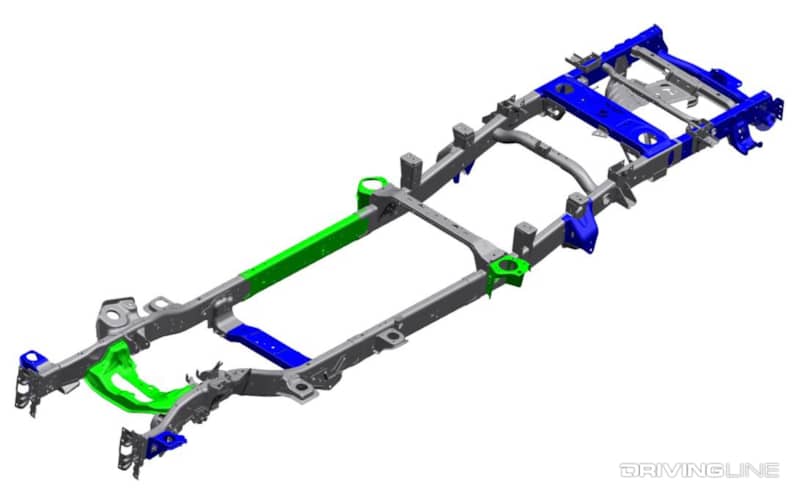 To keep its fifth-gen Rams from twisting with 35,000 pounds in tow, the frame was redesigned for 2019. Over 98.5-percent of the frame is made from "resilient high-strength steel" and several areas were treated to 63,000-psi high-strength steel. One of these areas is in the new engine crossmember visible in the photo above. A heavy-duty conventional receiver hitch was incorporated as well. On properly equipped Ram 3500 models, conventional towing capacity topped the class at 23,000 pounds.
Enhanced Suspension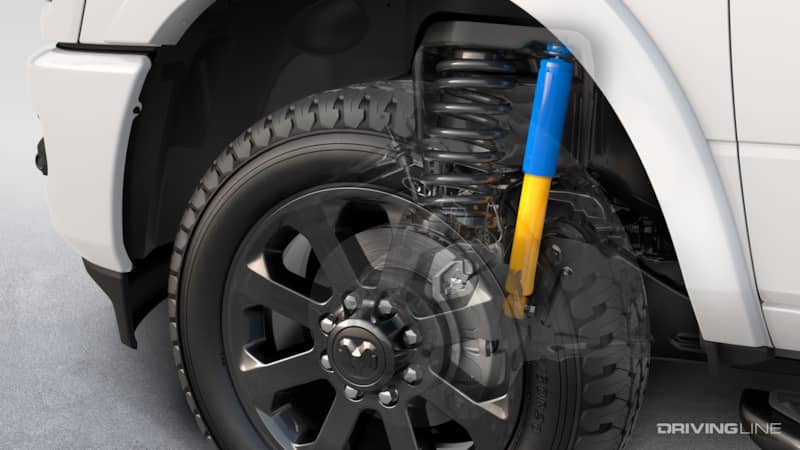 The suspension of the fifth-gen Rams didn't go untouched, for either 2500 or 3500 models. The former even received all-new frequency selective damping (FSD) shock absorbers said to be capable of adapting to loaded and unloaded inputs from both the truck and the road. Newly revised, progressive rate front coil springs were employed in both ¾-ton and 1-ton trucks. Then came Ram's class-exclusive, Auto-Level rear air spring suspension system, which provided automatic load-leveling capability with the touch of a button. The air spring system's bed-lowering mode was especially useful when hooking on to a trailer.
6.4L Hemi & ZF 8HP75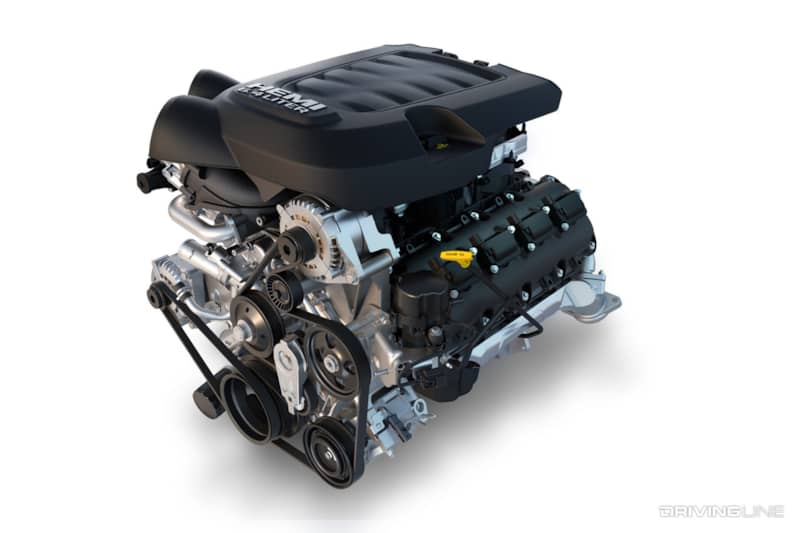 Despite the bombshell news that was the new, 1,000 lb-ft Cummins, gas lovers still had plenty to be happy with in the Ram camp. For 2019, the 6.4L Hemi V-8 was carried over from '18 but was paired with the fully electronic ZF 8HP75 eight-speed automatic transmission. This version of the ZF-built 8HP came with over 40 different shift schedule maps—and it has proven tough-as-nails to boot. The 6.4L Hemi/ZF 8HP75 combo earned Ram best-in-class gas conventional tow ratings, not to mention the Hemi ruled the gasoline roost in overall horsepower for '19.
Best-In-Class Towing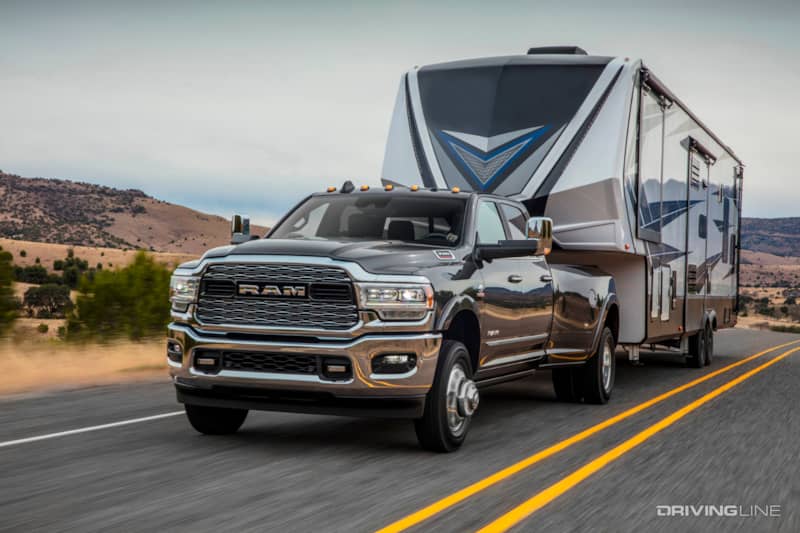 Ram knew that offering a 1,000 lb-ft diesel option would be worthless without segment-topping towing figures to back it up. In doing its homework, Ram was able to out-tow arguably the baddest tow beast (with a traditional pickup bed) in the land: Ford's F-450. A properly-spec'd, dual rear wheel 3500 model (regular cab, 4x2, 4.10 gears) could tow 35,100 pounds' worth of fifth-wheel trailer in 2019, 100 pounds more than the Ford. For 2021, and in conjunction with the aforementioned increase in horsepower and torque for the 6.7L Cummins (420 hp and 1,075 lb-ft), Ram's 3500 heavy-duty could tow as much as 37,100 pounds.
Best-In-Class Payload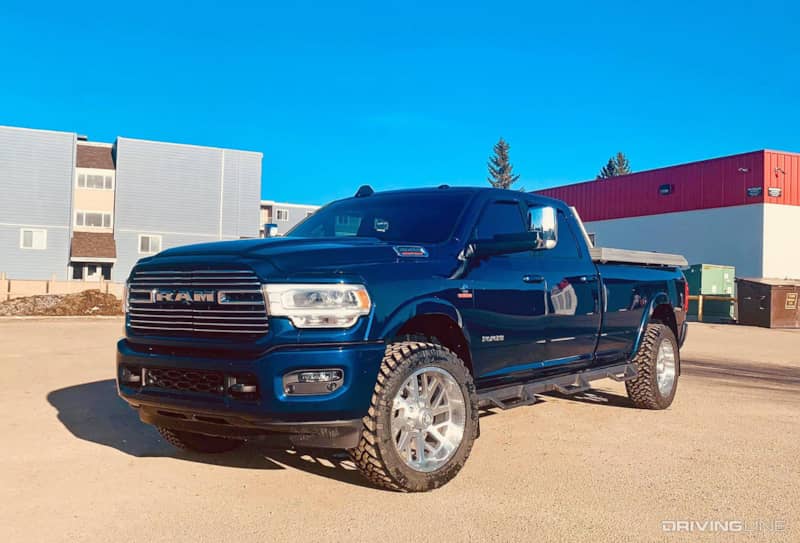 Thanks to the lighter curb weight the 6.4L Hemi and ZF 8HP75 combination provided, a gas-powered Ram could haul as much as 7,680 pounds in the bed for 2019, another First Place accolade for the fifth-gen heavy duties. That's nearly four tons of cargo hauling capacity for a regular cab, 4x2 work truck... The Ram shown above—a Cummins-powered, single rear wheel, 4x4 crew cab 3500 model with four-wheel drive and a 6-foot-4-inch bed—came with a payload capacity of 4,190 pounds.