Land Yacht: A Mind-Blowing One-off Crew Cab '67 C10 Truck
In the realm of classic Chevy trucks, it takes true ingenuity to captivate the audience, and even greater tenacity to sustain their fascination. But these audacious endeavors only fuel the demand for extraordinary, unparalleled projects. As the industry flourishes with boundary-pushing pickups, it's the entire truck community that revels in this unbridled creativity.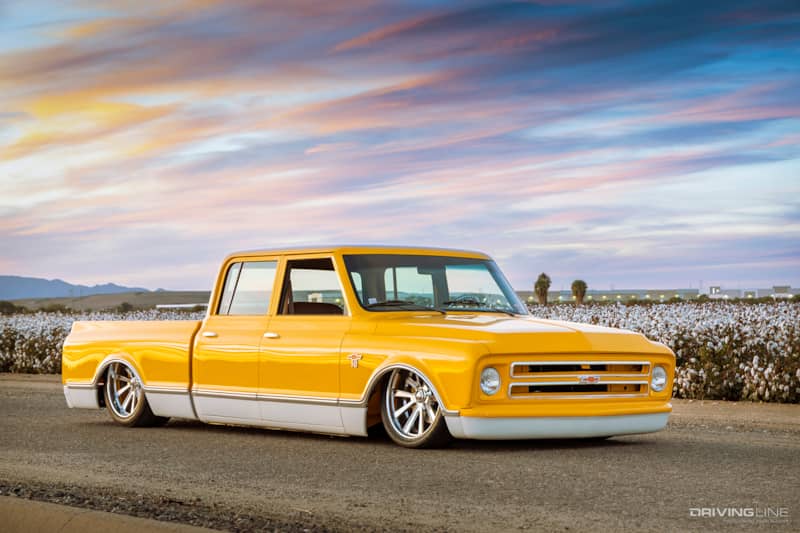 Enter this astonishing '67 C10 crew cab, an enigmatic creation owned by Bob Ward Jr. and Kelly Ward of Mansfield, Texas. Astute truck aficionados will instantly recognize that GM never produced a crew cab C10 during that era. This modern marvel without a single trace of disproportion or disorderly chaos is a testament to the exquisite skill wielded by Jason Hill and his team at Hill's Hot Rods, situated in Lubbock, Texas.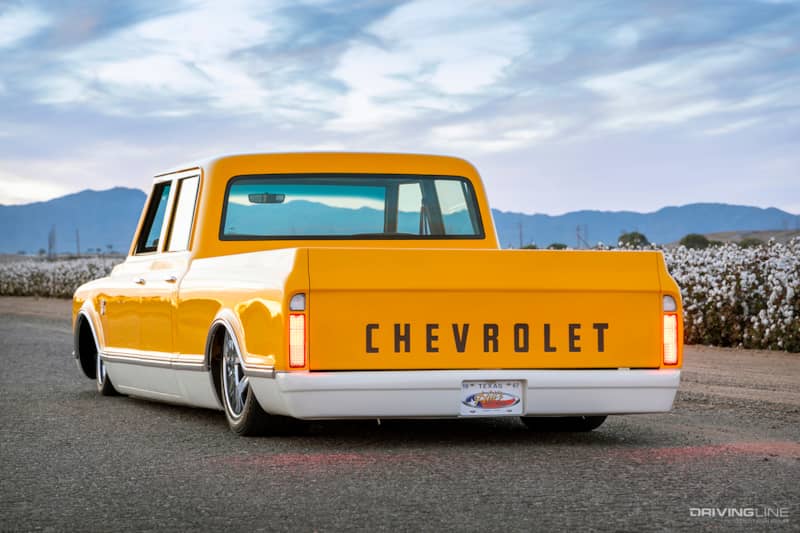 From Sport Utility to Super Crew
Unlike anything you've seen before, this crew cab C10 is a rare gem. To achieve this feat, the team started with a '72 three-door Suburban and ingeniously fused pickup parts to the rear of the cab. The result was a harmonious blend that preserved the C10 silhouette while boasting an unexpected four-door cabin.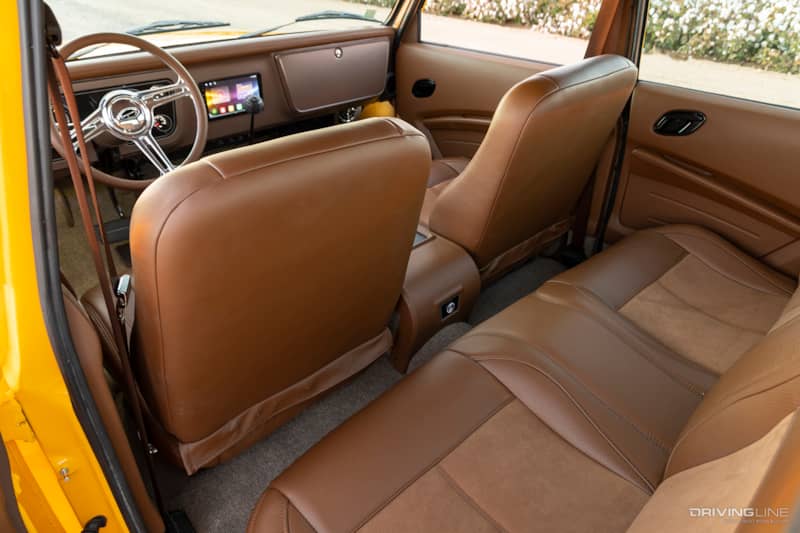 The dedication to perfection is evident in every painstaking detail. The reproduction bedsides were skillfully lengthened to align with the rockers seamlessly. The bed floor even has a section that opens up to reveal the full custom chassis.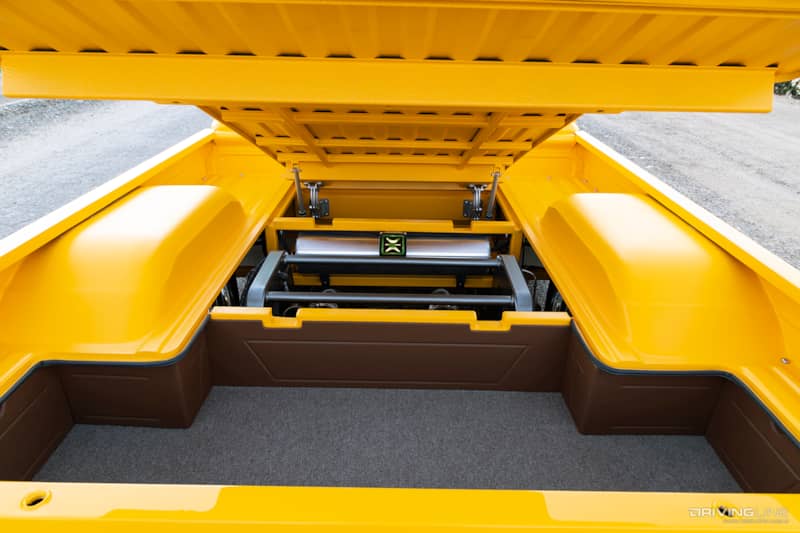 With an eye for aesthetics, the team tucked in the front and rear bumpers, adding a touch of finesse to the truck's overall profile. The real magic came to life when the truck was dressed in a breathtaking PPG orange-tinted yellow and cream paint combination, evoking timeless beauty.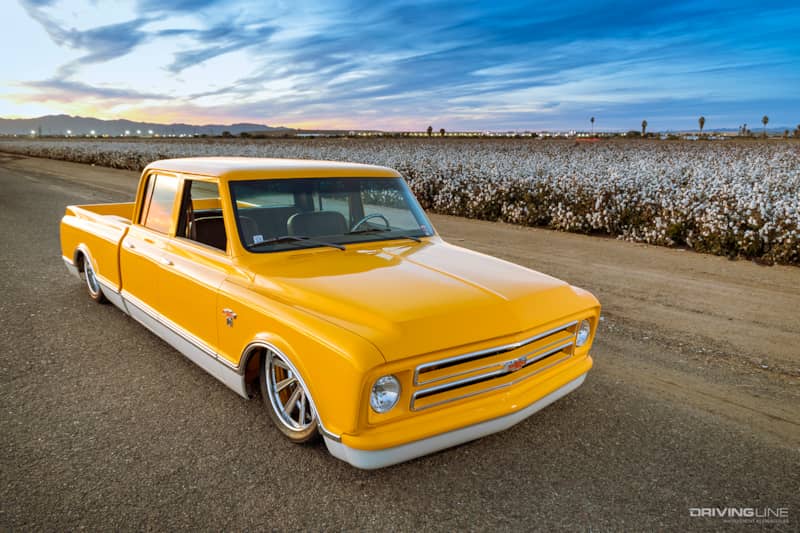 The Low Low
Underneath, the crew utilized a custom, slightly elongated SPEC chassis from Roadster Shop. They spared no expense in securing top-of-the-line air components like Firestone airbags, Ridetech HQ Series shocks, and AccuAir's ultimate air management kit, ensuring a smooth, low-rolling experience for Bob and Kelly.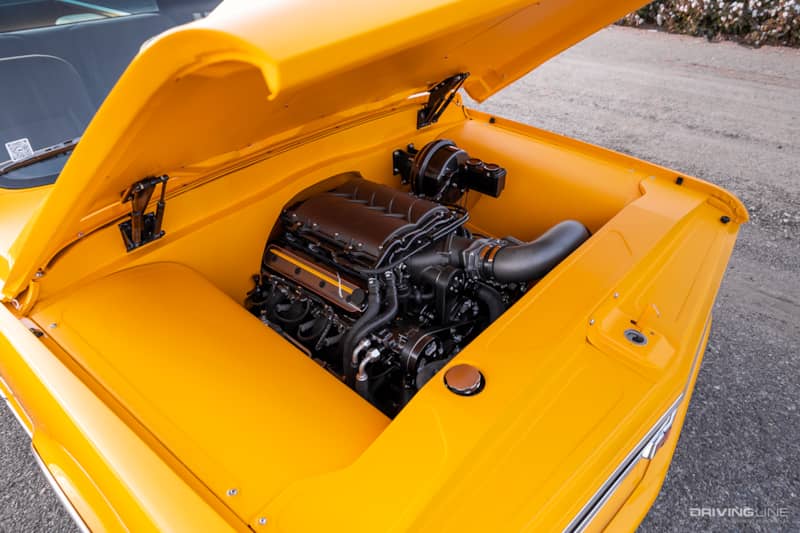 Up to Speed
To power this behemoth, a potent GM Performance LS 6.2L crate engine was chosen, but that wasn't enough. The team felt an irresistible urge to add the Magnuson HeartBeat 2.3L supercharger for an extra dose of adrenaline. Coupled with a Silver Sport Transmission Stage 3 A41 overdrive automatic trans, which offers both gas-saving and performance capabilities.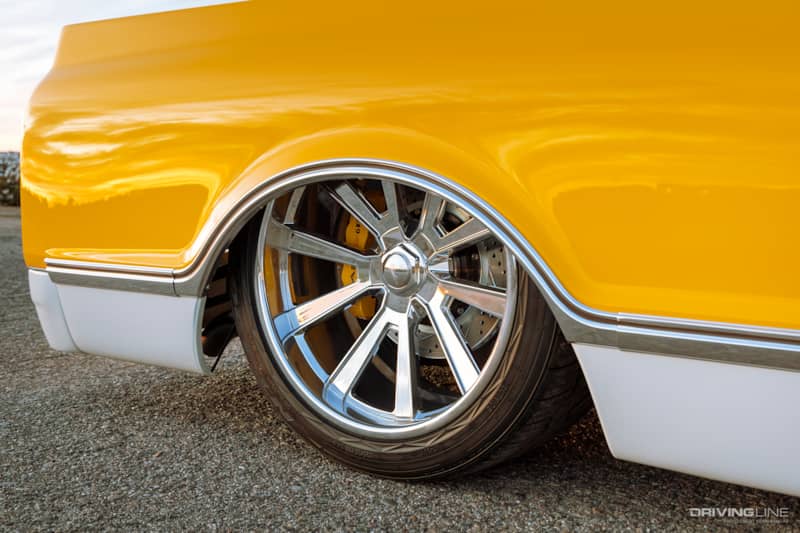 Tuckin' Double Deuces
To accent the stance of this killer ride, a set of 22-inch Raceline Alamo billet aluminum wheels with beautifully polished surfaces were attached to the truck. To help utilize the performance prowess of this behemoth, the wheels were wrapped with 265/35R22 and 325/35R22 Nitto NT420V rubber. The stylish asymmetrical tread design provides great dry weather handling capabilities and amazing performance in wet conditions, making it the perfect addition to this truck.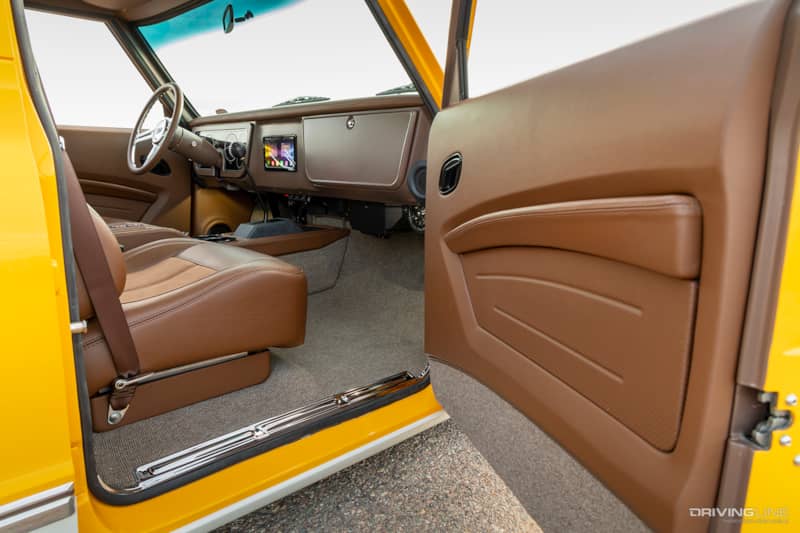 Cabin Space
The interior of this custom masterpiece was an oasis of comfort and style. Mario's Trim Shop and JD Glass Works worked their magic, outfitting the cabin with premium Apex leather and exquisite trim accents. Fesler USA stepped in, providing, flush mount front and rear glass, seating, door panels, gauge pods, and a sleek dash pad. The Dakota Digital gauges, Vintage Air climate control system, and Kicker audio components added the finishing touches, creating a symphony of luxury and technology.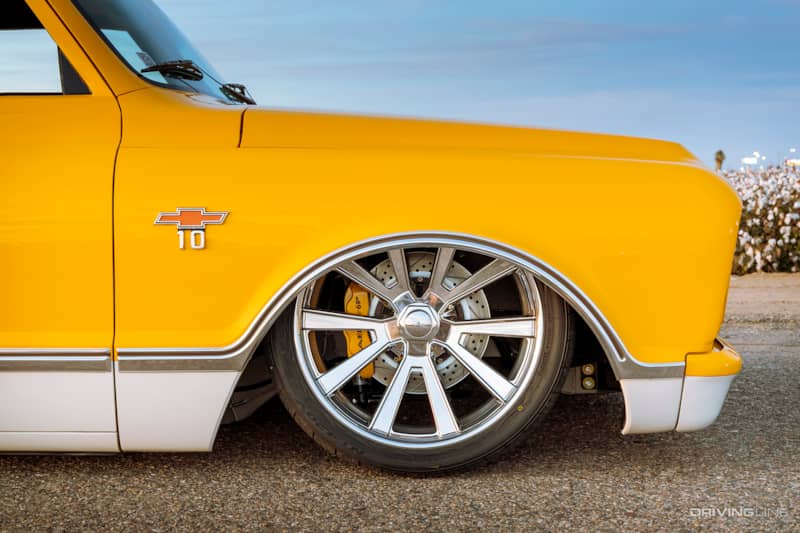 Lasting Impact
After ten months of meticulous craftsmanship, this truck now known as "Geoffrey" made its debut at the 2022 SEMA Show. Overwhelmed with joy, Bob and Kelly had the chance to witness their dream come true within the walls of Fesler's booth at Hot Rod Alley. Jason and his team had delivered beyond expectations, bringing to life every single desire the couple had for their one-of-a-kind truck.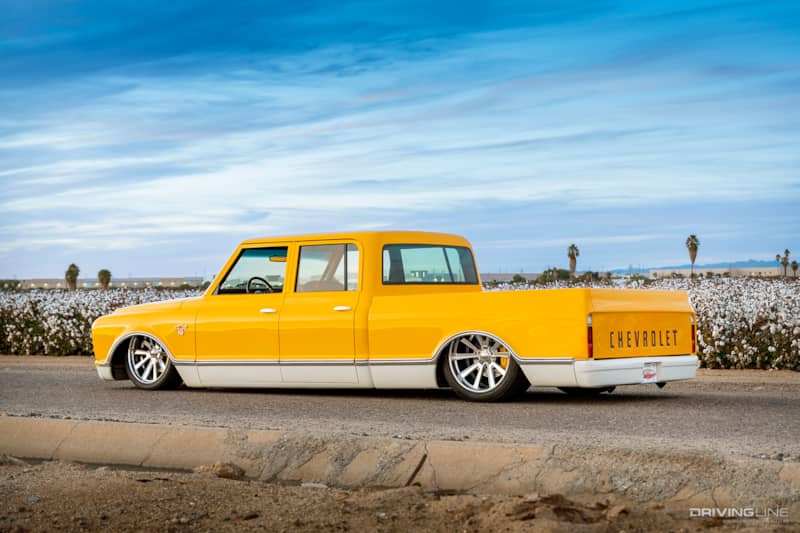 Geoffrey, the Crew Cab '67 C10, stands as a testament to pushing the boundaries of custom classic Chevy trucks. In a world where uniqueness reigns supreme, the collective truck community benefits from groundbreaking projects like this that forever change the landscape of automotive artistry.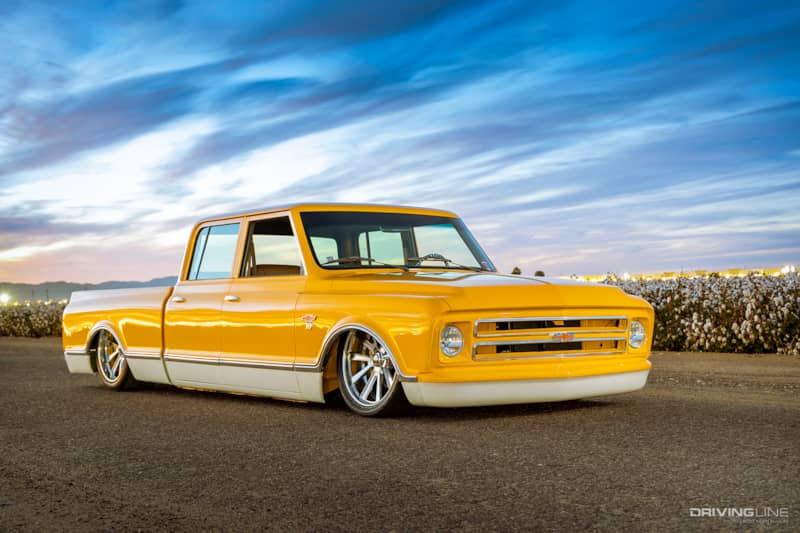 Hard Facts
| | |
| --- | --- |
| Vehicle: | 1967 Chevy C10 Crew Cab |
| Owner: | Bob Ward Jr. & Kelly Ward |
| Builder: | Hill's Hot Rods |
| Engine/Drivetrain: | GM Performance LS 6.2L with 430HP, Magnuson Heartbeat 2.3L supercharger from Texas Speed, Borla 3-inch stainless exhaust w/ Sportsman XR1 mufflers, Lokar, Billet Specialties and Wegner Automotive engine dress-up parts, A41 Stage 3 transmission by Silver Sport Transmissions, Rockford, TN |
| Suspension: | Stretched Roadster Shop SPEC chassis, Firestone 'bags, Ridetech HQ Series shocks, AccuAir ultimate air management kit, Baer brakes |
| Body: | Suburban body cut down to make Crew Cab, Fesler USA flush front and rear glass, Mr, C10 bed modified to fit cab, Sectioned and pancaked hood center bodyline, Pinched and sectioned front bumper, custom rear bumper, PPG orange-tinted yellow and cream paint |
| Wheels: | 22x8.5 and 22x12 Raceline Alamo billet wheels |
| Tires: | Nitto NT420V 265/35R22 and 325/35R22 rear |