Race Bred: This '72 Chevy C10 was Built to Inspire a Future Generation
Today, with more entertaining electronic devices available to kids, less of them are getting into hobbies that require manual labor. Heck, even trade-prep classes in public schools are getting replaced by tech-based learning facilities. Working on or enjoying cars and trucks has fallen to the side as the landscape to future generations evolves.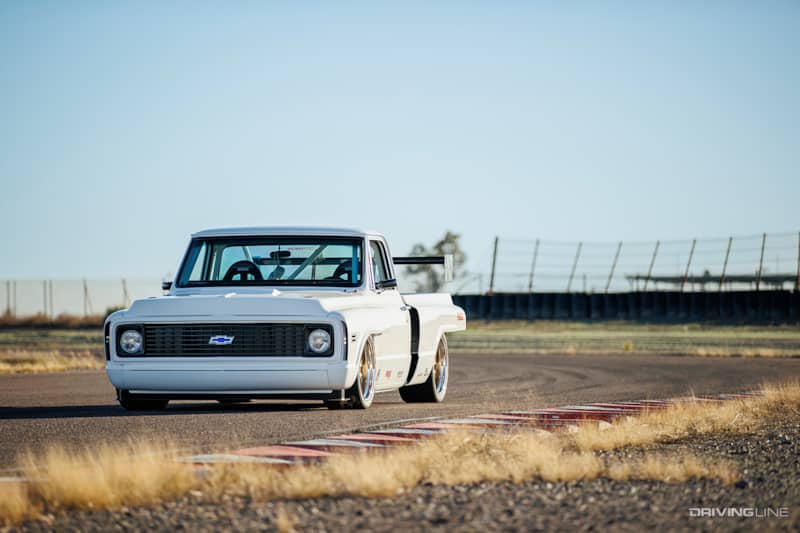 Well, Cameron Bishop, a true automotive enthusiast and owner of Cuttingedge Hotrods and Fabrication doesn't like the direction things are headed and wanted to inspire the next generation. To be more specific, he has a 5-year-old son, and he wanted him to know that there is more to life than TV and video games.
Vintage Racing Aspirations
Cameron is also a fan of various forms of racing and has an affinity for older Group 5 race cars that had high performance capabilities housed under wide-bodied shells. One of his curiosities about this series was what a truck would look like if it were made to go head-to-head with those historic race cars? After a long stint of building cars for other people, including a recent restoration of a one-off Holman Moody race car, Cameron had the itch to build a truck that was inspired by these vintage racers.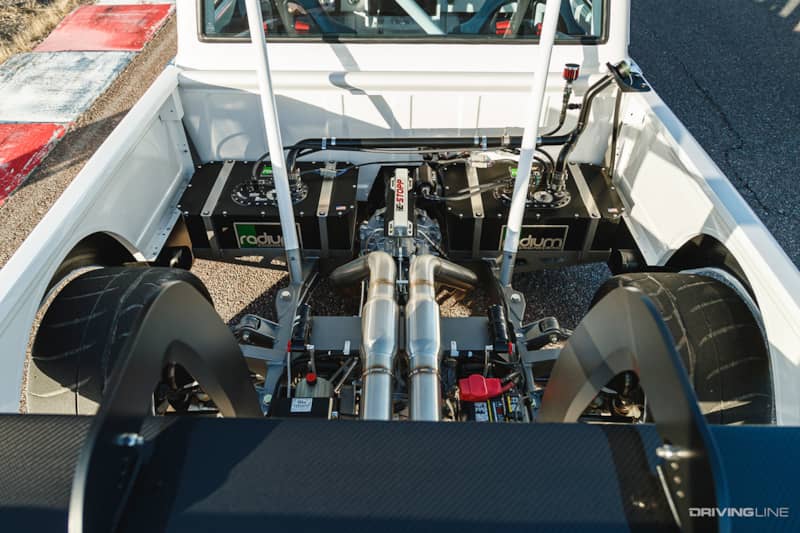 Two Become One
Now determined to start on this project, Cameron scoured the internet and found this '72 C10 on Facebook Market place. He also bought a gently used C6 Corvette Z06 for $10k on Copart.com to source components from. This would include the rear crossmember, control arms, and steering knuckles. Filling in the gaps on the foundation, Cameron created a full custom chassis that uses 2x4-inch mandrel bent tubing.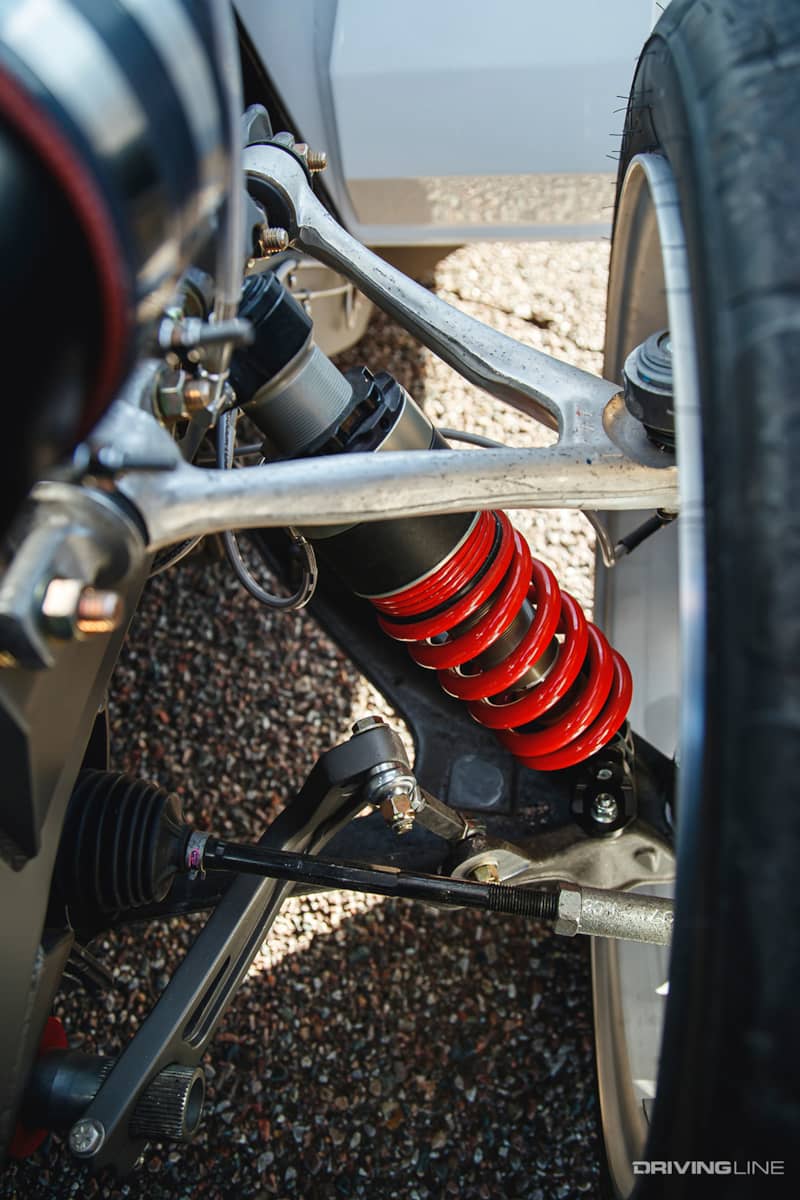 Finalizing the functionality of the new chassis is a set of KW Automotive / Belltech V4 3XR triple-adjustable coil-overs that have reservoirs to help prevent the shocks from getting overworked when racing. Bringing it all to a halt is a set of 14-inch Wilwood disc brakes with 6-piston calipers up front and 4-piston calipers in the rear. The brakes were then combined with Wilwood master cylinders and Tru-bar pedal system for maximum stopping power.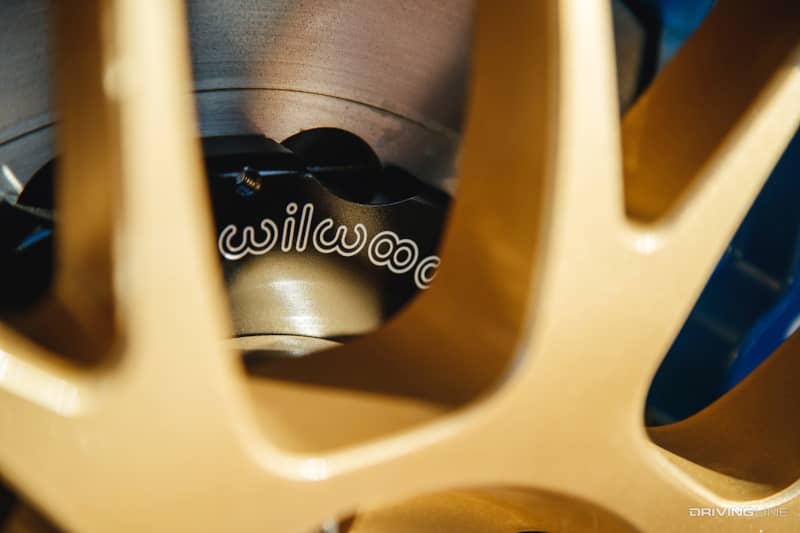 Modern Power
Making the best use of the donor Vette, the LS3 engine with dry sump oil system was pulled, upgraded with a Tick Performance stage 3 camshaft and planted on the chassis 6-inches back for better weight distribution. Incoming air is funneled in with a custom intake system that draws from both sides. On the other end is a pair of headers made from 1.875 stainless steel primary tubes that feed exhausted gases to the custom 3-inch exhaust with resonators, all made with Vibrant Performance stainless steel materials.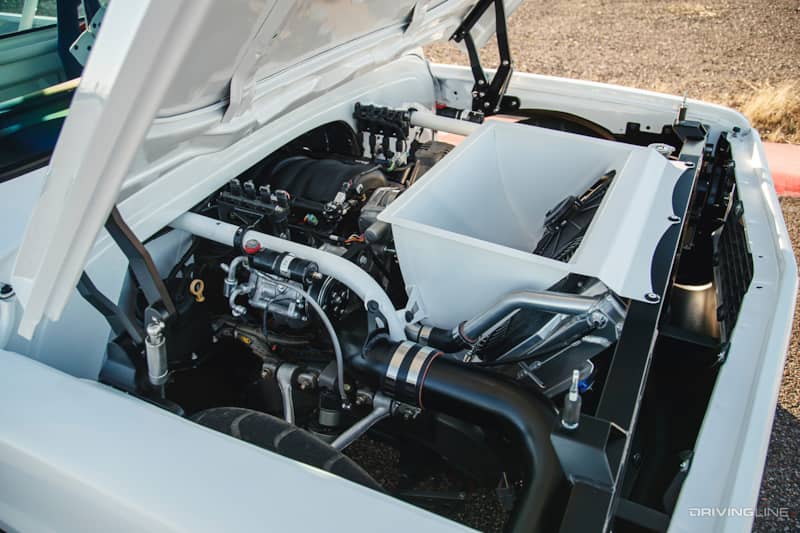 Keeping engine temps down is an angle mounted and modified Ron Davis radiator with Spal electric fans the that expel heat with the help of ducting through the hood. Feeding the power plant is two Radium 10-gallon fuel cells that are mounted on each side of the chassis to help keep onboard weight balanced. Once the fuel is burned and turned into rotational force, it is transferred to the rear mounted and Center Force twin disc equipped TR6060 transaxle via the 'Vette torque tube. Though this is an unconventional system for trucks, it eliminates power-rubbing axle wrap when heavy force is applied.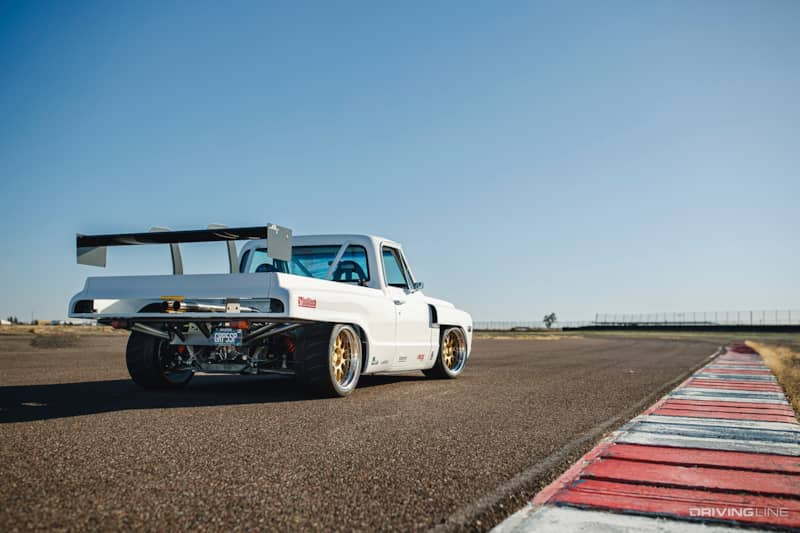 Body Mods
Once the foundation of this truck was complete, the body was highly modified into Cameron's vision. The cab itself was customized for the engine and drive train and then received a roll cage made from 1.75 DOM tubing. Then, the fenders and bedsides were widened and the rear was trimmed for a distinctive look.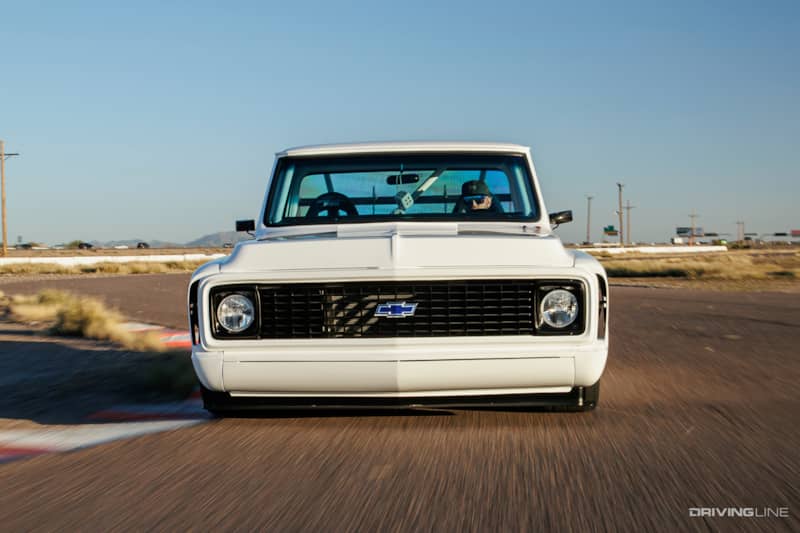 For better aerodynamics, a custom front pan was made and placed in with a splitter while an APR Chassis wing was mounted in the back. Once all the body panels were finalized, Dave Scotto for Deer Valley Autobody worked them smooth and covered them in Sikkens white paint.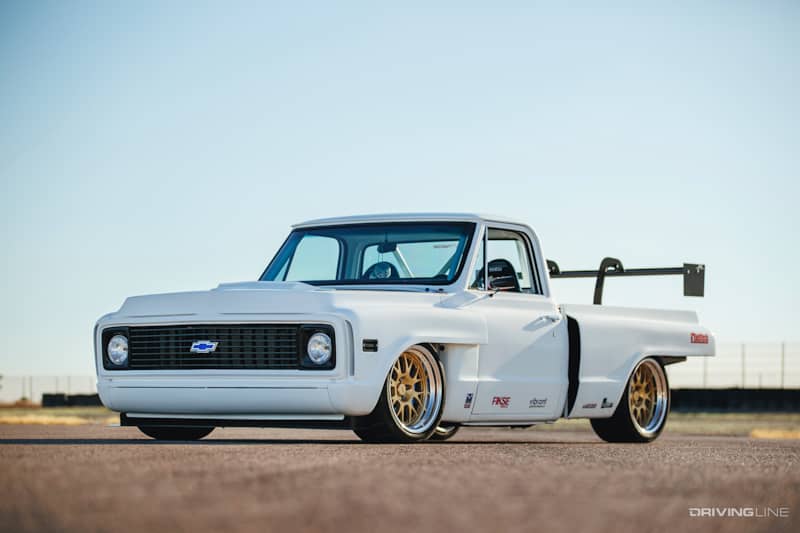 Extreme Grip
Combining form and function is a set of FIKSE 801 19x12 wheels that are covered in sticky Nitto NT01 tires. For vehicles like this that have a high demand for grip, these D.O.T.-compliant racing tires have huge tread blocks for superior grip. They are also made with a special race compound designed for dry traction, heat dissipation and longevity.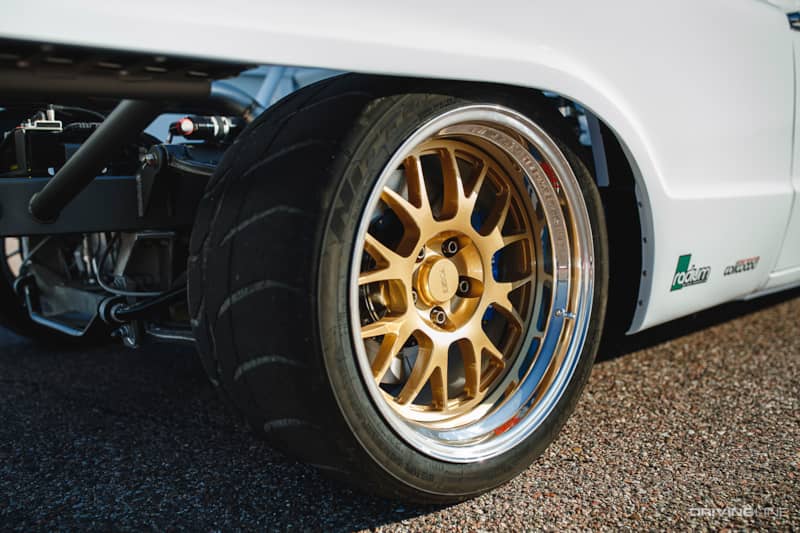 Skeleton Cab
Last thing on the list for this truck was the inside of the cab, which was taken down to bare bones. Up front is a custom aluminum dash that holds the 12-inch Holley EFI Pro-dash to monitor all the engine vitals. Steering is controlled by a collapsible Sweet Manufacuring column with quick release for a Sparco wheel equipped with Kartek controls. Securing the driver and any passenger is a pair of Sparco Pro-2000 seats with 6-point harnesses.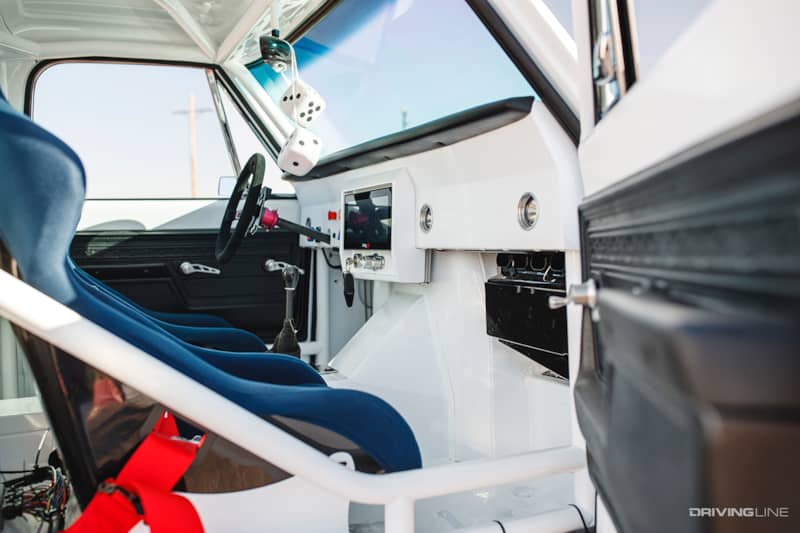 Passing the Torch
While creating this truck, Cameron shared the process with his son, Carson. Though his son did get his hands on the project, he admitted that he could only help out so much. Cameron was more concerned with his Carson seeing the build come together to inspire him to possibly do more wrenching in the future.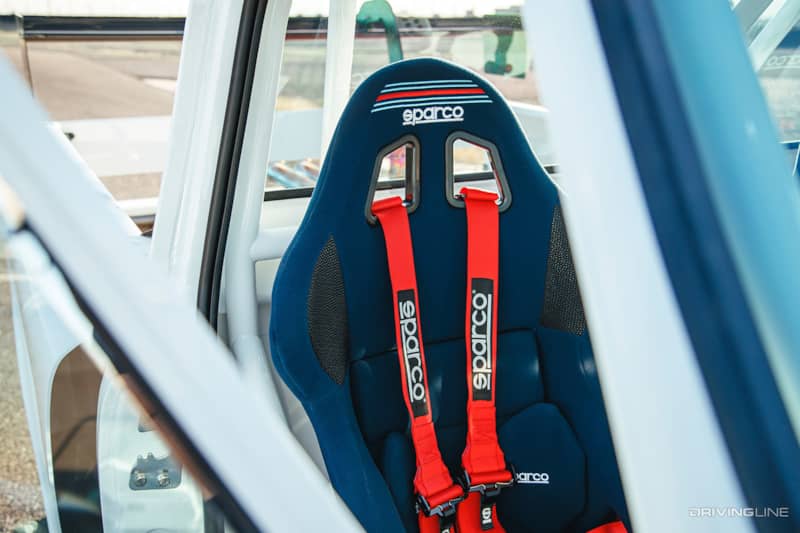 Having Carson involved also helped motivate Cameron to finish the truck for the '22 SEMA show, where it debuted in the KW / Belltech booth in Hot Rod Alley. The truck turned many heads with its unique configuration and style. Now that the show is over, Cameron hopes to further inspire his son by taking him out on some runs on a racetrack.