Redneck Science: Behind-the-Scenes with Westen Champlin
To say Westen Champlin is "trending" is putting it mildly. A more apt description would be that he's a bonafide car celebrity. Big, sometimes bumbling, and often inspired, he relies on generous doses of what he calls "Redneck Science" while building ridiculous cars and trucks that go fast and break often. His eye for awesomeness is unpredictable. One day it's an abandoned tractor that's been sinking into a field for decades, another day he focuses on a hulking military 6X6 that's been unused since the Vietnam war. His key deciding factor on anything he builds or drives is "Is it fun?!"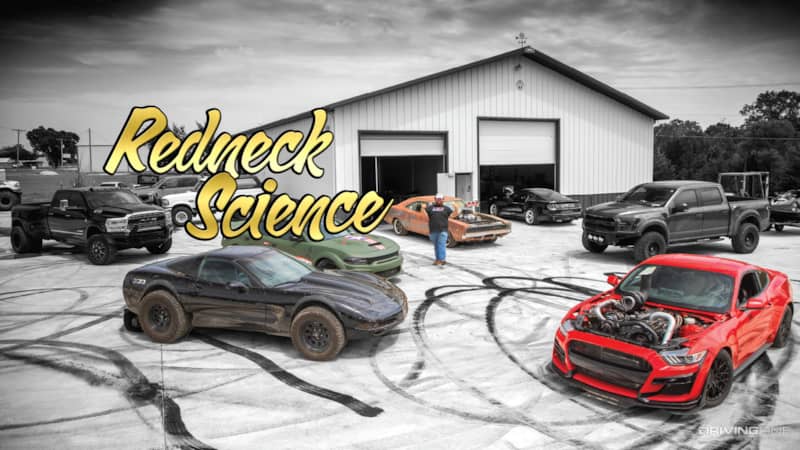 Weston started off doing anything he could to make a living and stay afloat. Hauling firewood in winter, fixing trucks. He had a knack for sniffing out good deals on cars, buying and selling and sometimes making bad choices. With his brother, Garrett, handling video capture and editing duties, they uploaded YouTube videos, documenting their strange and comical vehicular adventures. To their surprise, they started notching up some solid viewer numbers. Then, like an uncontrolled 4X4 rolling downhill, everything escalated.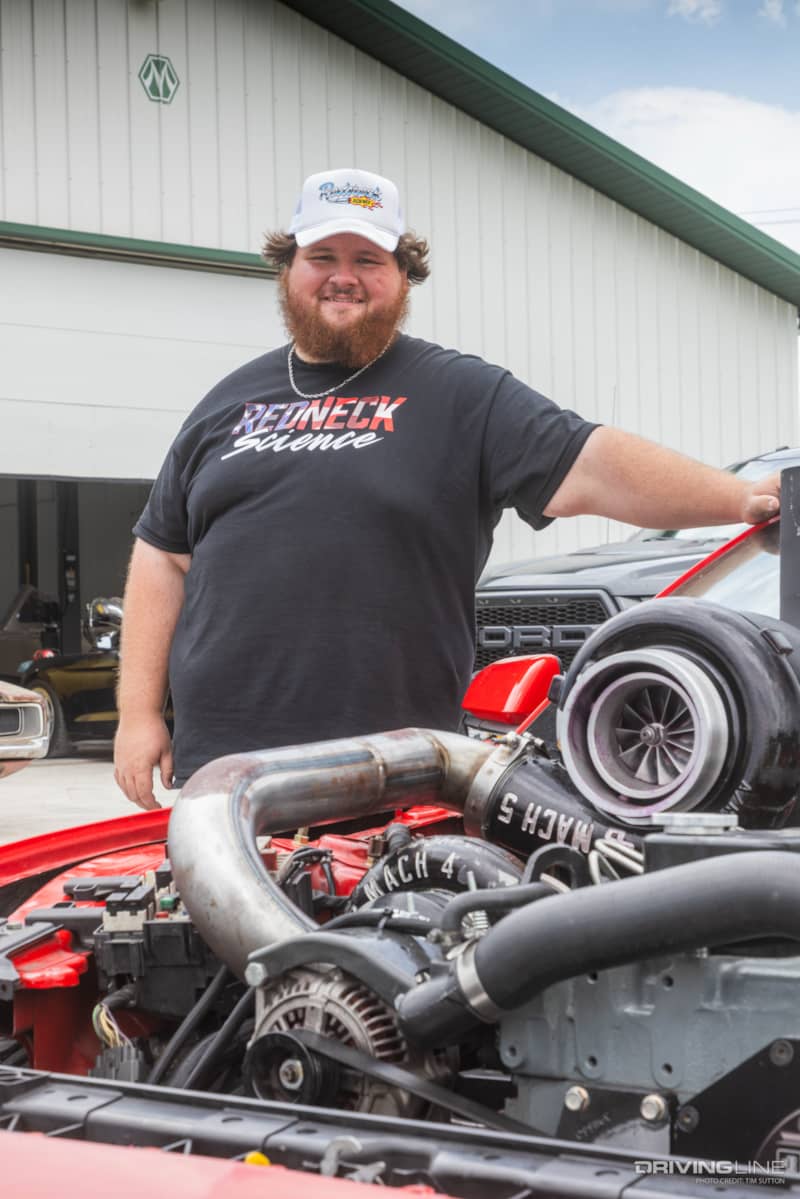 Weston, the stout Kansas car builder, went viral. One million subscribers, two million, three million, Westen and his Redneck Science experiments blew up into a certified YouTube celebrity. He's charming, with a good-ole-boy way of looking at things that seems eternally optimistic. He knows that what he's doing is ridiculous, and he pokes fun at himself and the absurdity, which makes us laugh with him, not at him.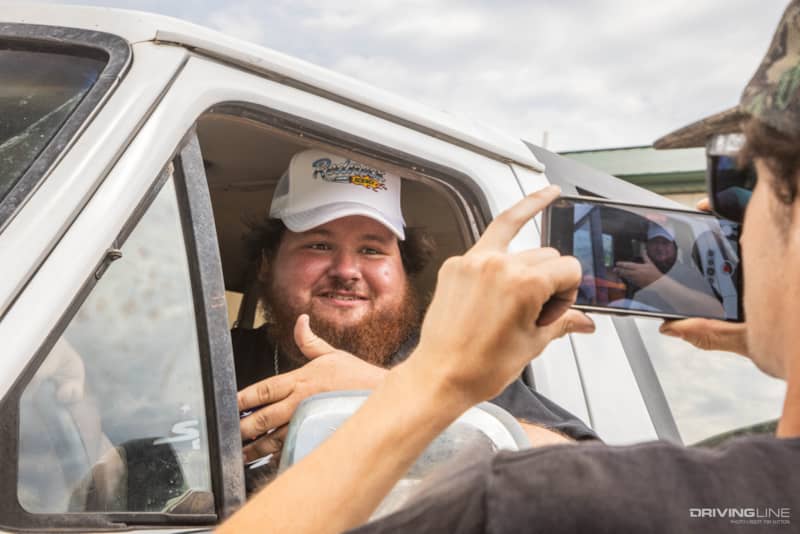 From humble beginnings working out of his grandma's backyard shed, he's recently moved into a cavernous headquarters on 52 acres of semi-forested Kansas land. Called Horsepower Labs, there's room for a permanent racetrack, plenty of rugged terrain to test off-road contraptions—and burn-out space, lots of burn-out space. It's a place to build over-powered and under-engineered vehicles, then pop open a cold Dr. Pepper and stomp on the gas for some unrestricted smoke and tire destruction. Usually, after a typical mechanical catastrophe, metal grinding, oil blown all over the Kansas dirt, Westen just grins, already working out a fix in his head, saying "No worries. We're professionals."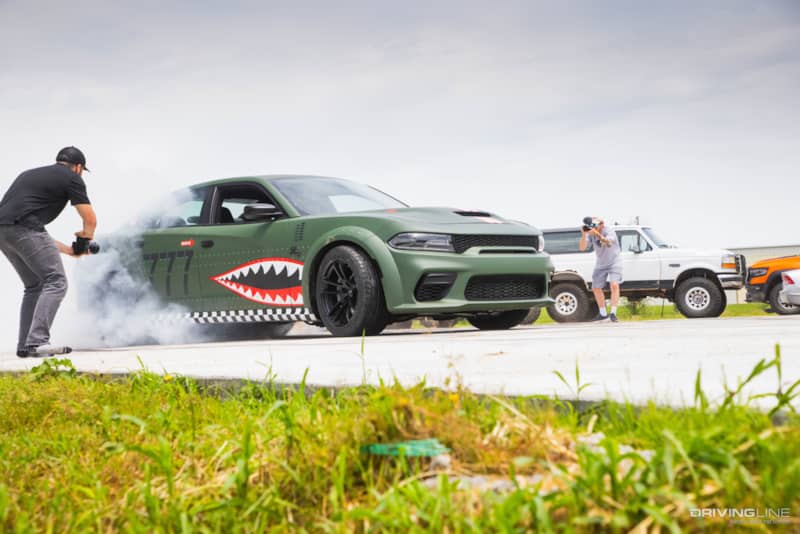 WHEN DODGE GIVES YOU A HELLCAT…
The only thing better than finding that abandoned gem rusting away in a field and seeing the potential when no one else does, is when Dodge calls you up and asks you if you'd be interested in building a Hellcat for a match race against three other YouTubers at Road Kill Nights, and oh yeah—we're giving you the Hellcat. Delivered. To your door. The only stipulation being that you have to keep the supercharged 727hp 6.1 Hemi under the hood.`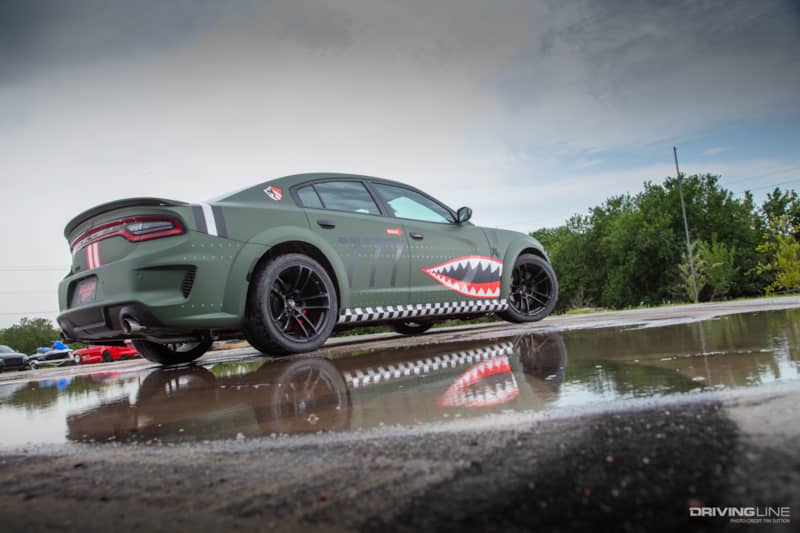 Prepping the already massively powered Hellcat was simple. This was a street racing event with no rules. Strip out the interior. Bolt in an AAD Suspension kit. Zip tie the loose wires. Install two giant Hellion turbos to boost the Hemi up to 1300 horsepower. Push throttle. Go fast. When the event was over, Dodge had to take the Hellcat back and feed it to the crusher. Because, laws.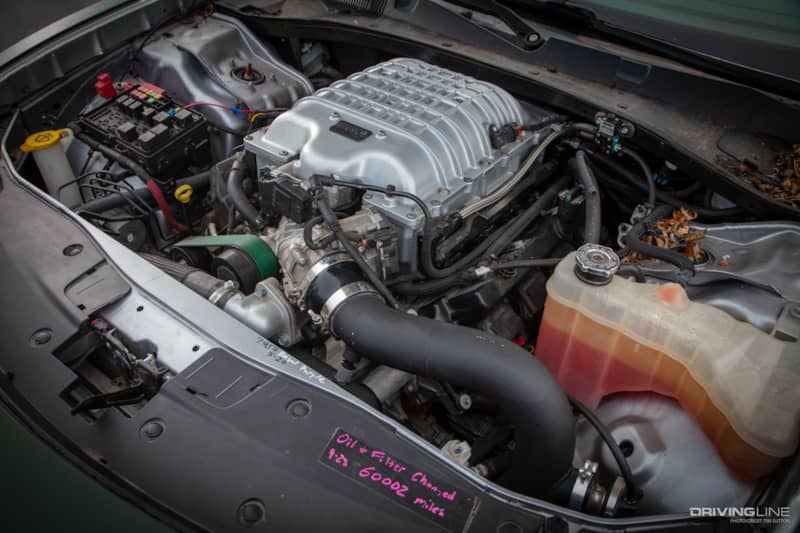 Westen and his crew got to strippin', keeping everything that wasn't welded in place and sent back a bare shell. There was an old police charger in an auction coming up and Westen knew he could get it cheap. The Hellcat pictured here is actually the V2 Helljet. Built on the police cruiser core and even more impressive than the original. Turbo-supercharged 1300 horsepower Hemi. Custom Hellcat wide-body conversion. Nitto NT555 G2 rubber all around for dominant daily street use.
Westen Champlin is an unlikely internet celebrity who was told by almost everyone that making little videos for YouTube was lame. A waste of time. "Everything I wanted to do—I remember someone telling me it was a stupid idea," he says. "At the end of the day, nobody really cares. What you do, this or that thing. So why not do whatever the hell you want anyway?"
SMOKESHOW MUSTANG
Of all the ridiculous power swaps, custom builds and bad ideas that Westen has come up with, the Smokestang is probably his signature car. It's everywhere online and there are tee shirts. The Mustang is arguably the most iconic American car you can get. Get in one and you can feel the history, the nostalgia, and of course, the horsepower. So, when Westen stumbled across a crashed 2017 Eco-Boost, everyone could see the gears turning—or maybe it was the oil leaking. Anyway, Westen started asking questions. "Would it even be possible to swap in a 12-valve Cummins?" Hillbilly Science demanded an answer.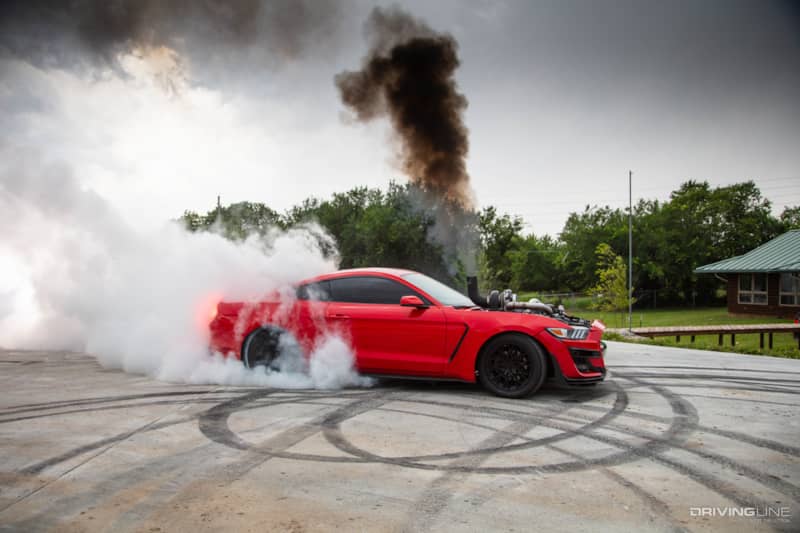 The original four-banger came out and measurements were made. There was a '79 Dodge pickup nearby with a slightly-used 300,000-mile diesel under the hood. All they needed was a couple of turbos and intercoolers, and a thousand other things. Westen looked at the hole where the EcoBoost used to be, rubbed his beard and reached for a Sawzall. "The greatest sound in the world is the Sawzall blade, because that either means you're doing something awesome or someone's stealing your catalytic converter."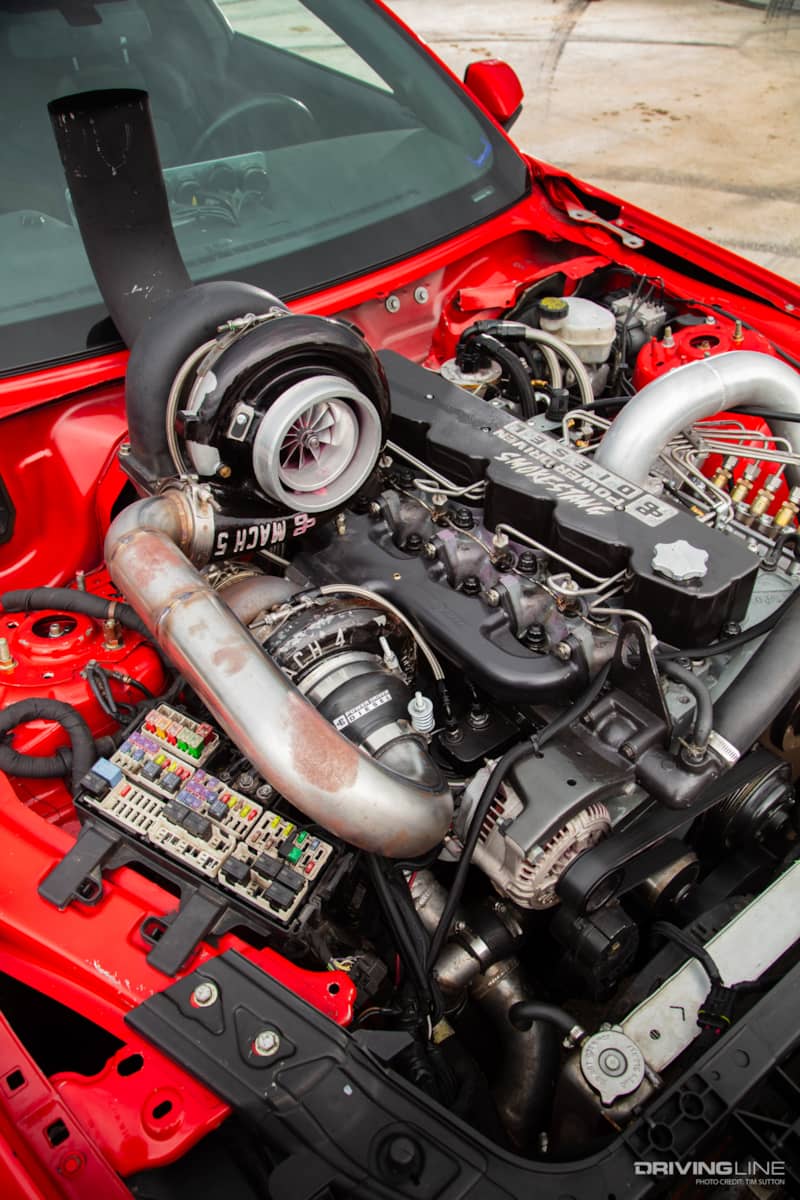 To everyone's amazement, the 12-valve Cummins slid easily into place. Even the new Shelby front bodywork slotted in with minimal headache. But the headaches were definitely lined up. They'd just added 1000lbs to the front end of the once-agile pony car. None of the electrics were compatible. Dashboard lights were distracting, anyway.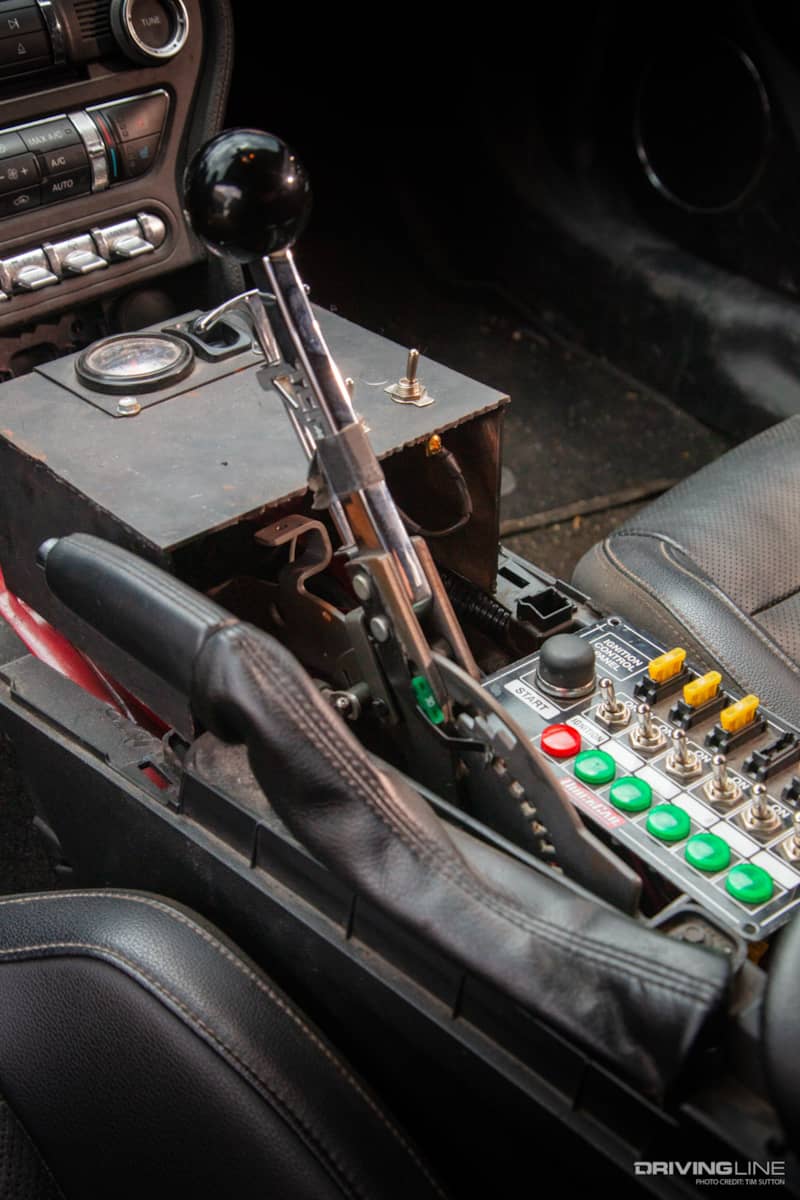 The internet is full of custom and performance influencers, some better than others. But none of them can match the frantic enthusiasm that Westen injects into every video. Even when things don't go according to plan, which is often, there is never any doubt about his joy for what he does. He is having fun and is pulling all of us into his fun zone. After weeks of brief burnouts and breakages, Smokestang's boosted 6-cyl Cummins rolled onto the Dyno and delivered a stout 650 horsepower. It leaked, but it worked. "If there ain't oil under 'em, there ain't oil in 'em," laughs Westin.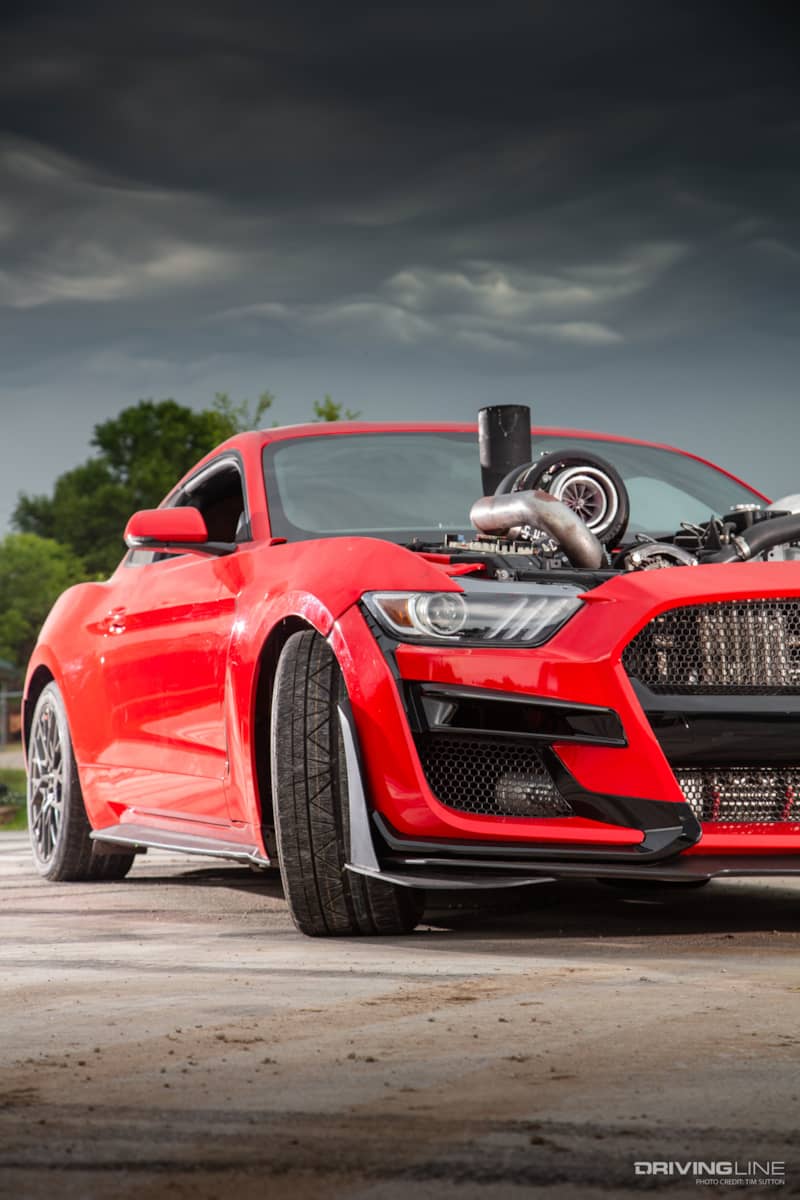 A lot of content creators stretch a project out over a long string of videos. Westen and Garrett are known for wrapping up a project quickly, sometimes with one video. Smokestang went viral, generating millions of views and followers. The Smokestang went racing, destroyed tires at countless car shows and gatherings and recently was treated to a huge power upgrade.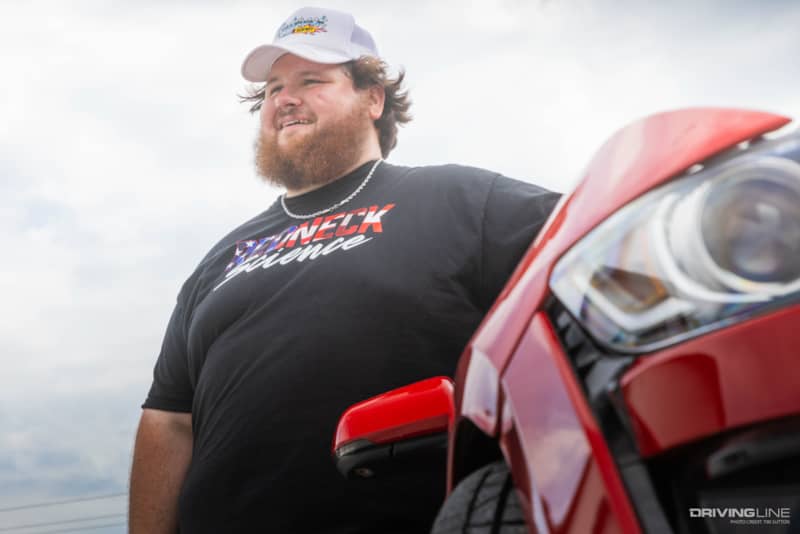 The old pickup Cummins has been retired and the guys at Power Driven Diesel shoehorned in a new 6.1L beast of a motor with turbochargers so large they had to be bolted in using an engine crane. Westen was promised double the power and once dialed in, the 6.1L compound turbo Cummins delivered 1,264hp and 2,273 lb-ft of torque at the rear Nitto Invo tires. An additional benefit is that fluid loss is no longer a problem. The Smokestang continues to be the perfect monster to capture Westen's chaotic energy.
EVERYBODY WANTS AN OFF-ROAD CORVETTE
Weston has always been a buying and selling wheeler-dealer. With millions of YouTube subscribers, he doesn't have to worry so much about making the monthly nut. But, he's still always on the lookout for that special, and possibly foolish, new toy. "I've always wanted a Corvette, but the problem is that I don't live in an area where Corvettes work very well," he laments. That is, until another YouTuber put this lifted '99 C5 up for sale. Weston messaged the seller, who was trying to finance a new C6 build, and headed to Illinois.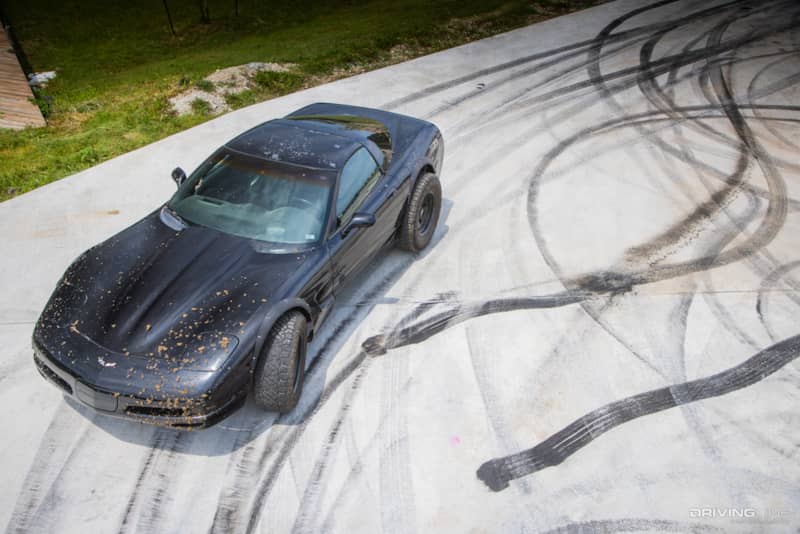 Recording his first reaction for his YouTube channel, it's obvious that Westen was smitten from the get-go. The Batman-black paint and the big Nitto Ridge Grapplers gave it just the right muscular stance. We can only guess at the thoughts flashing through his head. He wanted it— instantly, as soon as he saw it. Nonetheless, he had a few questions. "But how does it perform off-road? Can it cross a stream? Are there any chicks out there on the trails that might dig it? Is there room to stash a 12pack of Dr. Pepper somewhere in there??" Admit or not, everyone at some point has wanted a Corvette, especially once the C5 arrived. The C5 was a huge improvement over the C4 across the board—in styling, power, and ride performance. The seller could see that Westen was hooked.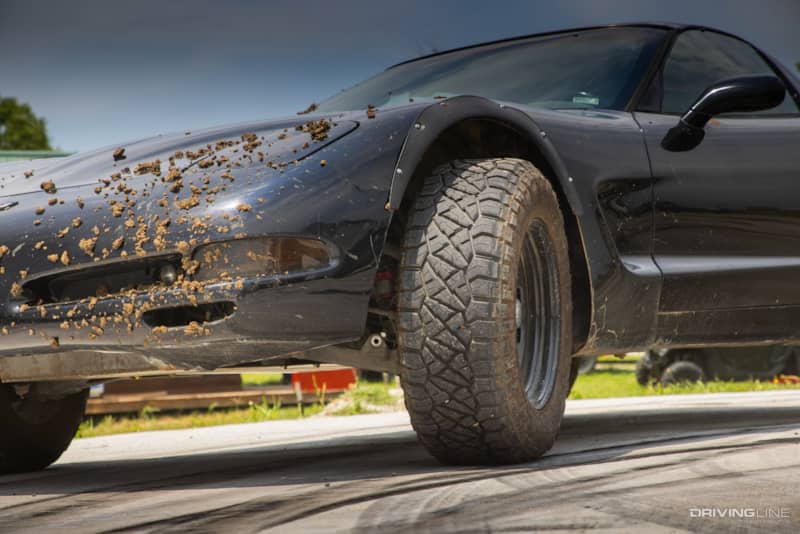 Originally equipped for off-road with a sketchy rubber-blocks-under-stock suspension setup that badly effected steering, the 'Vette now rides on adjustable coilovers. Ground clearance is up around 15". With Nitto 31-inch Ridge Grapplers up front and 33s in the back, there's a hint of that mean, muscle car rake. One of the funniest things about Westen's videos is when you look at the list and notice how many of the titles end with "…and it went terrible", or "…well, that didn't work out." He's an enthusiast at heart, not hesitating to buy a questionable build put together by someone else, choosing to focus only on playtime and Corvette glory.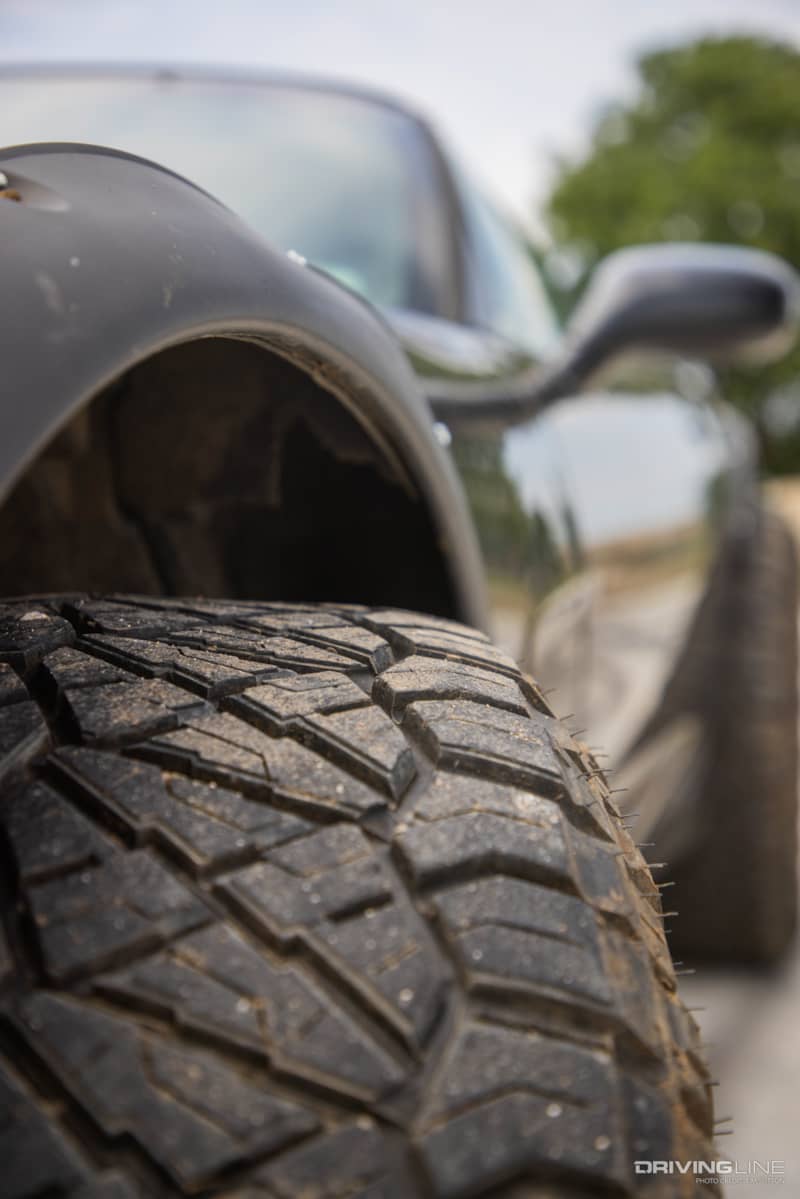 His gamble on this one paid off, with the car easily roaring through the rough Illinois backcountry roads, over uneven graveled stretches and at one point, crossing a shallow river. The 345hp stock V8 and six-speed manual has Westen howling with delight, especially as he passes other bewildered off-roaders in remote areas. Lost in adrenalin and backwoods hi-jinx, he yells out, "Ford has the Raptor, Ram has the TRX and Chevy's got this!" Racing with another off-roader along a riverbank, Westen blows a shift and then muses to the camera, "You just grab another gear and the Ridge Grapplers hunker down and we take off!"
BURN-OUTS, DONUTS, AND…DONUTS
Dodge Chargers have always been the King Kongs of muscle cars. The Mustangs and 'Cudas are a little more agile, but the Charger made the big statement, even rumbling along at legal speeds. So, when Westen got word of a '68 that hadn't been running since the bad old polyester 70s, he had to go have a look. It had recently changed hands and sat sadly, with no motor or transmission, rusted, Bondo'd and calling out for someone to give it love. To Weston's eyes, the car looked beautiful as-is, and he could see exactly what he needed to do with it. After a little back and forth, the big Mopar rolled onto his trailer and headed to its new home.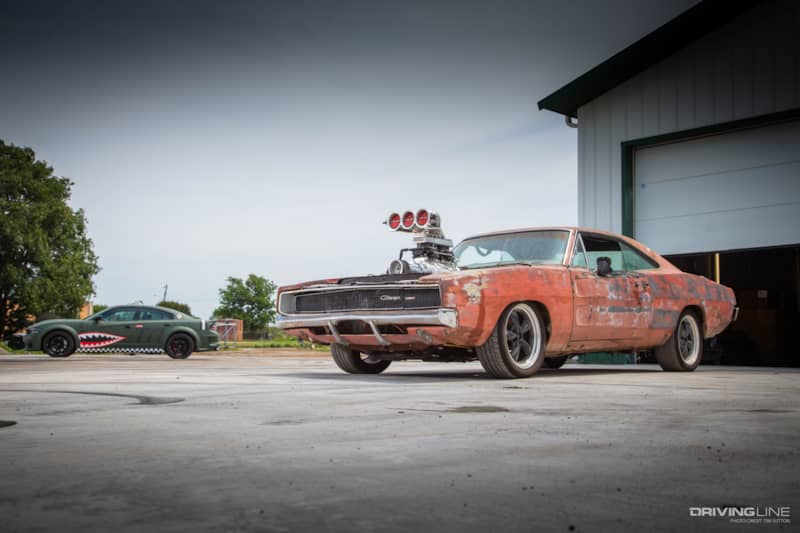 The thing about restoring old cars to showroom condition, is that once completed, you're afraid to drive or park them anywhere. Anything can happen out on the street. Retired schoolteachers can produce a massive door ding in the supermarket parking lot and not even know it. Kids drop their ice cream cones on perfectly reproduced upholstery, while peeking in through side windows. Even in its battered condition, Westen could see that the beauty of the car stood on its own. Plans were plotted to build a tire-shredding, burn-out and donut-laying outlaw.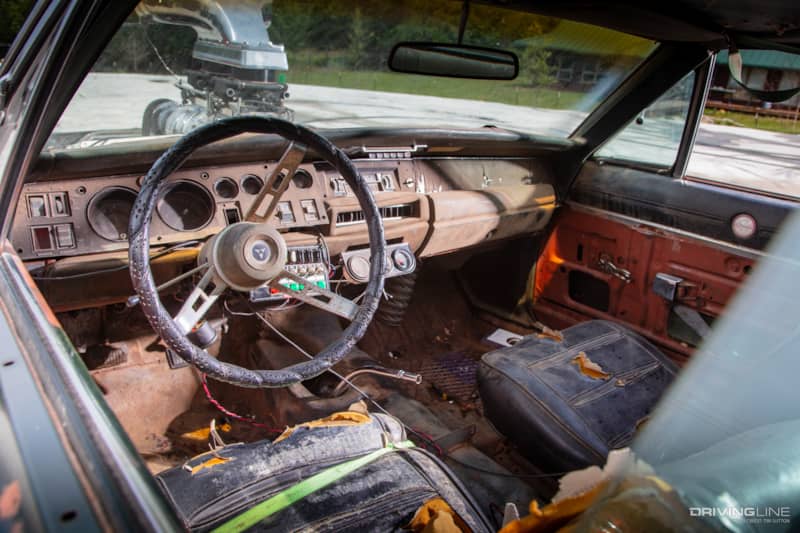 Horsepower was coming, but first thing on the list was giving her a name. In good-ole-boy style Westen exclaims, "She looks like a bad potato, so I'm callin' her 'Tater." Finding an engine was the second thing on the list— and it could be anything at all, as long as it was a Big Block 440. Luckily, he knew about a Walter White Winnebago nearby that hadn't run in 35 years. It was full of rats and possums and despair, but there was a big block Dodge buried in there somewhere under the Harvest Gold paint. Step three was to completely destroy the motorhome with a skid loader and pluck out its righteous and long-dormant 440 heart.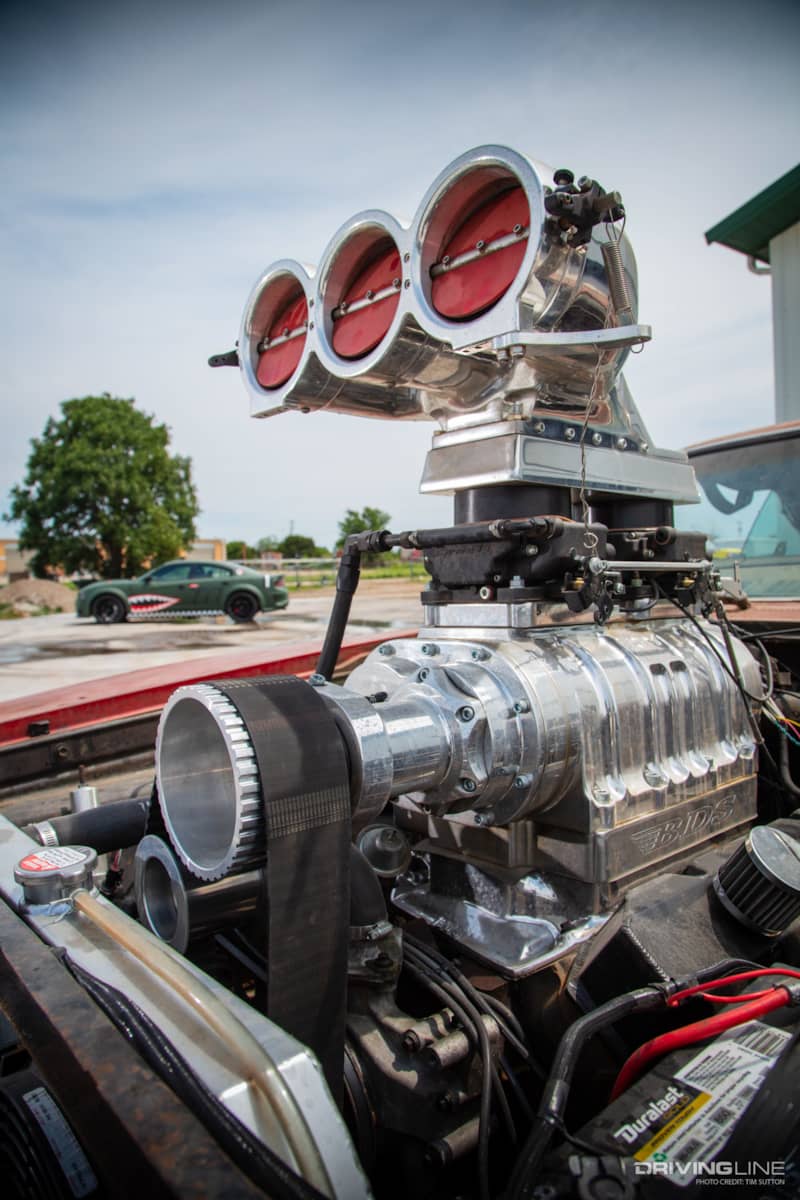 Next came hundreds of small tasks. 'Tater's body would stay rough, but brakes and suspension had to be rebuilt, and wiring and the old Big Block needed some finesse and high-performance upgrades. In the Redneck Science Lab, all experiments begin with the squeal and smoke of a burn-out. The Charger was finally ready to be rolled out with minimal functions needed to get up and go. Westen put it this way, "If you don't have no gauges, they can't give you bad news!"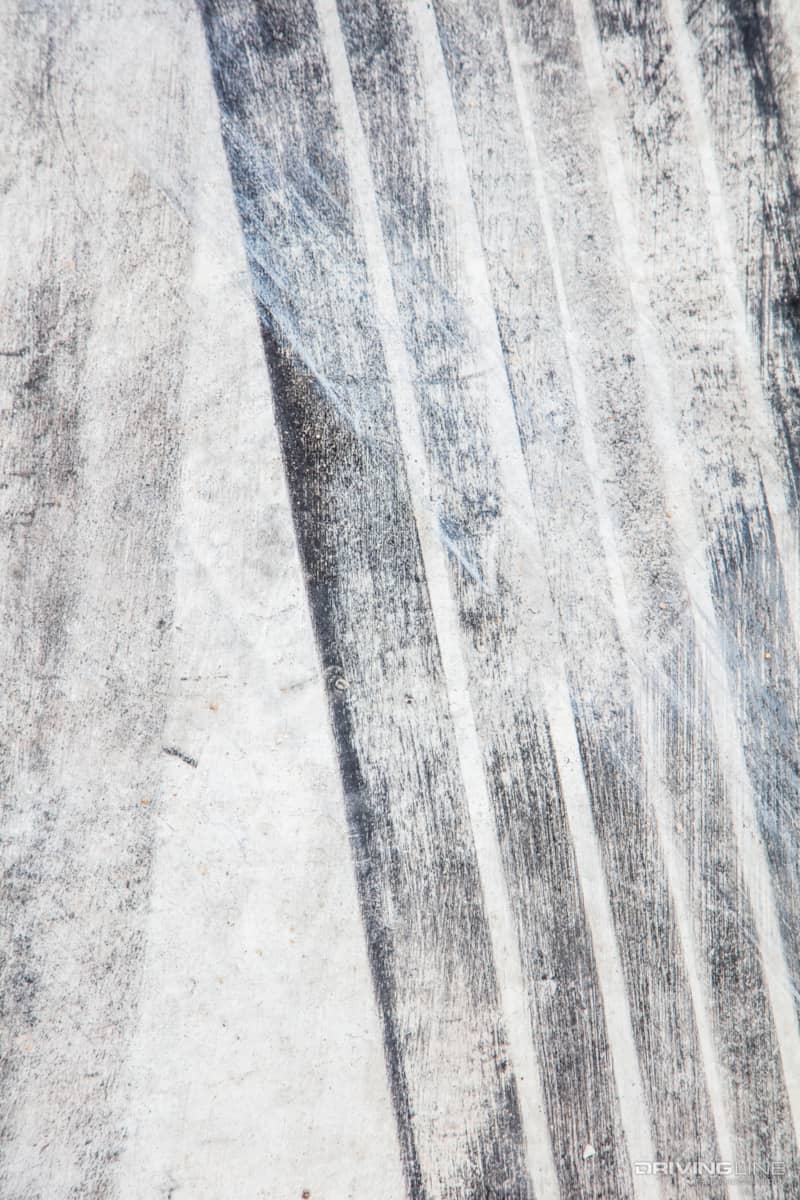 Westen punished 'Tater's new Nittos with a massive burn-out, and then cut out to some nearby Kansas country roads, safely beyond where the police usually patrol. He didn't want anyone asking him for a driver's license or registration sticker. Flying through the golden wheat on either side of the road, Westen whoops and hollers loud enough to hear over the 440 rumble. "I saw these cars all the time as a kid and I never thought that I would ever own one!"
RACE ANYTHING. BREAK EVERYTHING.
In what can seem like an overcrowded field of car customizers, all wanting fame and likes and viewership, Westen Champlain manages to stand apart. His creations are brilliant and idiotic and make for great videos, but it's his endless enthusiasm the pushes him in front of most of the others. He's a pure enthusiast, an undiluted mad scientist.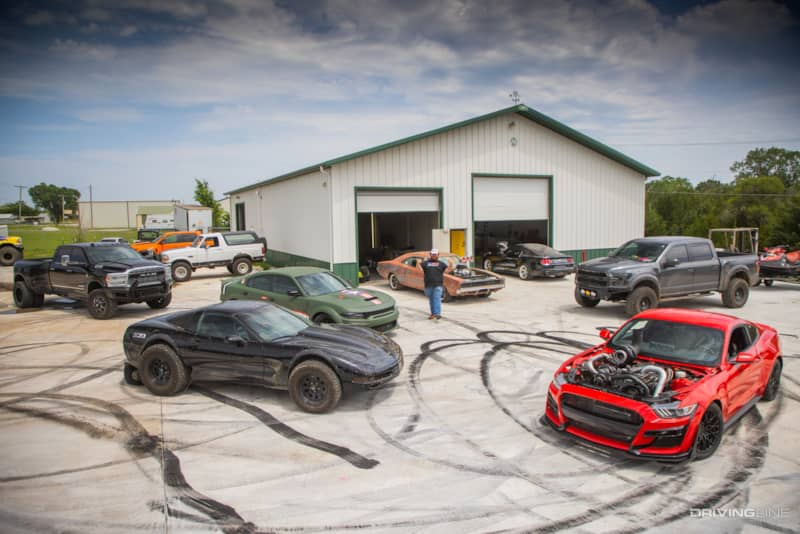 Every day, something new comes along. Knuckles will bleed. Fires will start. Fluids pump out in places they're not supposed to. Oil dumps and parts jettison. But once in a while, everything holds together, turbos scream, tires smoke and the ground shakes. It may only be in front of his brother with a camera rolling, or it may be in a stadium in front of a thousand cheering fans—it doesn't matter. Westen Champlain shrieks with joy and amazement, both when his machines work the way they're supposed to, and for what his life has become. In the end, Redneck Science will always win.