Anatomy of a Work Stock Diesel Truck
In the past, we've highlighted the nationally-sanctioned, mega-horsepower categories of truck pulling. But what about the more grassroots type classes that take place all over the country? One of these classes is known as "Work Stock," and while the trucks that pull in this field are close to resembling the one you drive to work every day, they're still very far from stock. In fact, in the Midwest it's become commonplace to find a built engine, a high-dollar turbo, a radical injection system and bulletproofed axles on a truck in order for it to even have a chance of being competitive. This class's front-runners are making 800 hp or more despite having to comply with their fairly restrictive turbocharger rule.
Speaking of rules, Work Stock regulations vary somewhat as you traverse the country, so for our purposes we're focusing on the guidelines being administered in Illinois—a hot-bed for this particular class (per the CITP and UPA organizations). Unlike the Cummins-dominated Super Stock, Pro Stock and Limited Pro Stock categories, in Work Stock you'll find a great mix of Duramax, Power Stroke and Cummins-powered trucks mixing things up. Even better yet, on any given night, a Chevy, Ford or Dodge can take the win. Much of this is due to Work Stock's unique rule system. For an up-close and personal look at what makes these trucks tick and how they adhere to class regulations, keep reading.
Work Stock Basics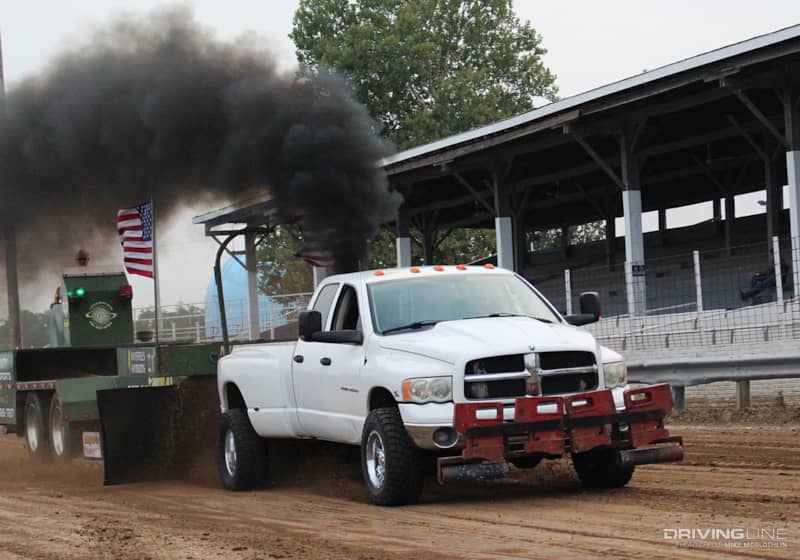 Due to the extent of their modifications (namely a lack of suspension travel, spooled or welded differentials and/or widened turning radius), very few Work Stock trucks are driven on the street anymore. However, being that the class was designed for daily driven, full-bodied, on-road pickups, a valid registration and license are still mandatory to compete. The rules we're exploring for the 8,500-pound Work Stock Diesel 4x4 Truck class come from the Central Illinois Truck Pullers and the United Pullers of America sanctioning bodies, whose rulebooks are very closely aligned.
Cummins, Duramax or Power Stroke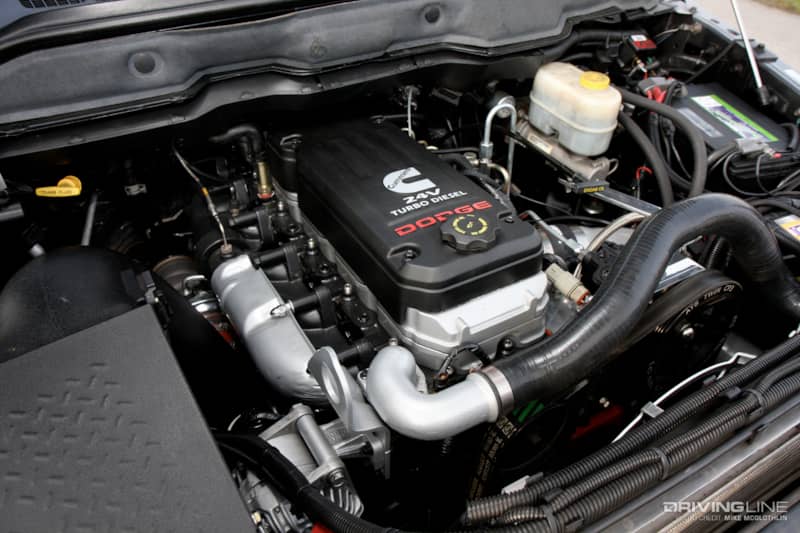 Engine selection boils down to an OEM-appearing Cummins, Duramax or Power Stroke, with the engine having been sourced from a 1-ton or smaller truck (no DT466 swaps or other medium duty engines). However, an engine out of a 1-ton or smaller pickup can be swapped into a truck and remain legal, such as in the common case of a Cummins being swapped into a Ford. Unlike some of truck pulling's higher-tier classes, deck plates, billet blocks, billet cylinder heads and concrete-filled blocks and/or heads are prohibited. On top of that, the radiator has to be located in the factory location (and be at least the same size as stock).
Yesterday's Turbo Rule: Stock-Appearing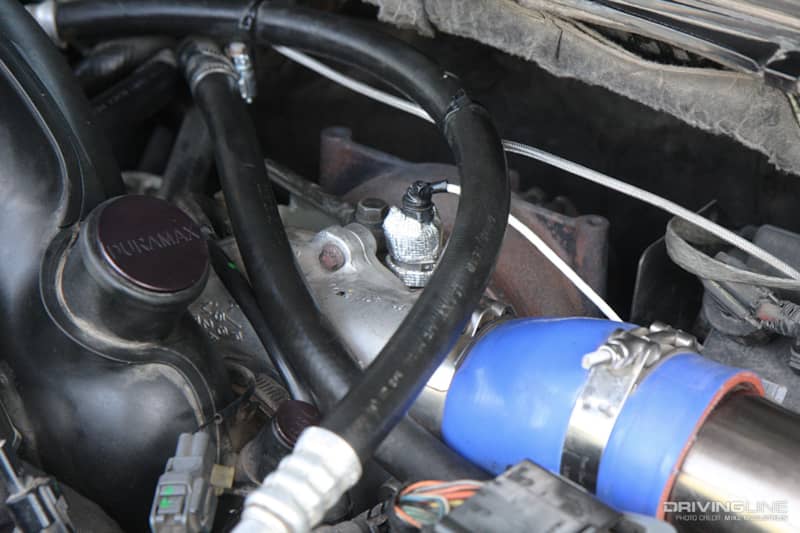 Years ago, the Work Stock class was limited to a stock-appearing turbocharger rule. Believe it or not, the regulation hindered the performance of the Cummins-powered competition more than it did any other brand. For example, the VGT's present on '04.5-newer Duramax trucks could be punched out to 72mm versions (vs. roughly 60mm stock) and 6.4L Power Stroke owners that upsized the compressor wheels in the factory compound arrangement (typically replacing the stock 52mm and 65mm wheels with 59mm and 71mm versions) could make some pretty serious power. Although some room for growth existed in the Holset platforms bolted to Cummins mills, wheel upgrades couldn't support the same horsepower the tweaked versions aboard the Duramax and Power Stroke engines could.
T4 S300 Rule: The Great Equalizer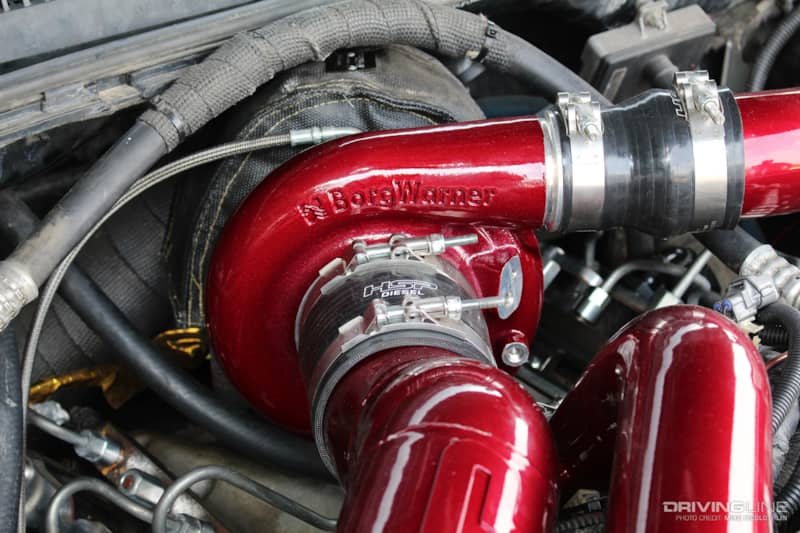 In an effort to bring Cummins owners back into the competitive fold in Work Stock, a more recent turbo rule change permitted the use of a fixed geometry, T4-flange S300-based BorgWarner charger. The final ruling on turbo size stipulates that an S300 unit's compressor inducer bore can measure no larger than 66mm (2.6 inches), which is inspected using a 2.65-inch plug. As far as an S300's map width enhancement groove is concerned, 0.250-inches is allowed. As a result of this rule change, many in the Duramax crowd have ditched their stock-based turbos for S300's—a series of turbo that's been proven to support just as much horsepower (if not more) than larger VGT's.
Dual Pumps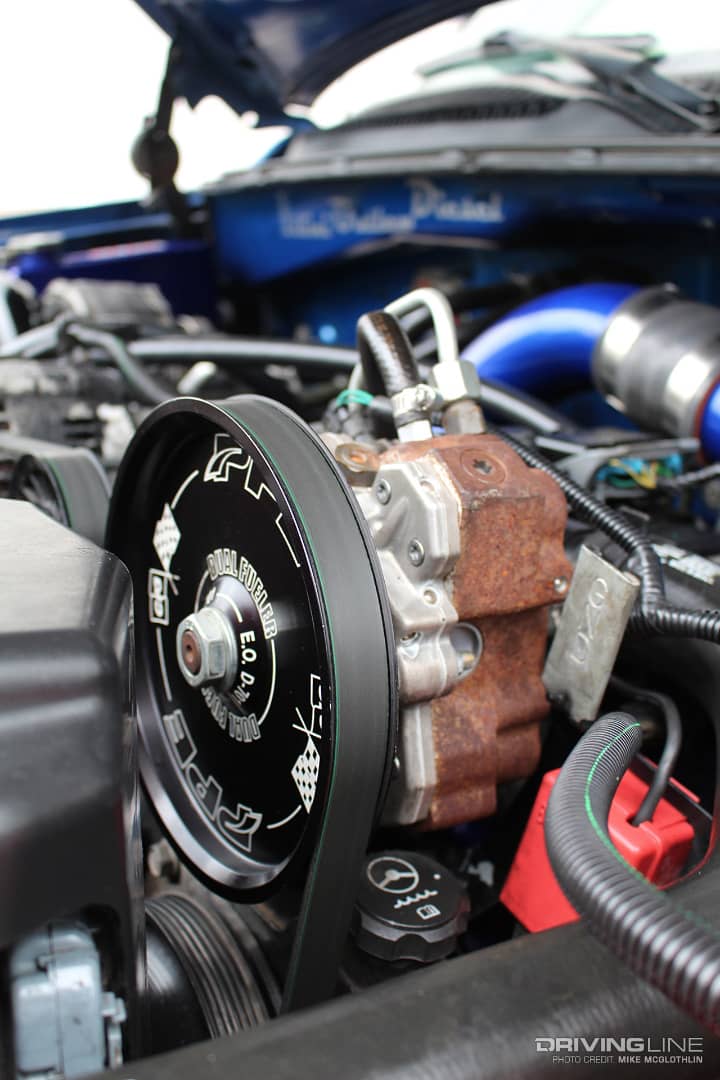 Although the release of 12mm and now 14mm stroker pumps has essentially ruled out the need to run dual CP3's, it's still legal to run multiple high-pressure pumps on a common-rail engine in Work Stock. The same type of rule applies for HEUI-fired Fords, where dual high-pressure oil pumps are permitted. However, due to the limitations associated with HEUI, most Work Stock competitors run common-rail diesels. Above, an LB7 Duramax has been fitted with a PPE Dual Fueler system, where a stock displacement CP3 off of an LBZ Duramax (belt-driven, shown) and an 85-percent over stroker pump (in the factory location) share the workload. We'll note that diesel number 2 is the lone fuel source allowed in the class. Nitrous oxide and water injection are both prohibited.
The Almighty Allison is Popular
Transmission (and transfer case) options are limited to what was offered in 1-ton or smaller trucks, but with such a robust aftermarket in the diesel industry modifying the factory automatic or manual to handle big power isn't a problem. Without a doubt, automatics are more common in the Work Stock field, but several competitors still run hand-shakers equipped with proven dual or triple disc clutches. However, with the Duramax being the preferred engine in the class at the present time, it stands to reason that the most popular transmission you'll find is the Allison 1000. Given the healthy 800 to 900 hp the Duramax power plants in Work Stock produce, some GM competitors can even pull in fourth gear with the transfer case locked in 4-Lo.
Front Suspension Tweaks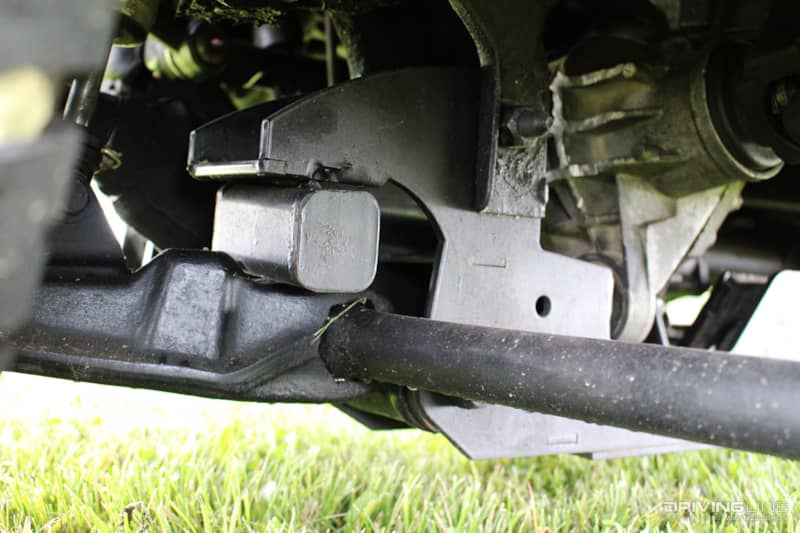 The extent of front suspension upgrades found on solid-axle Work Stock trucks (Fords and Rams) usually revolves around the use of limit straps. As for the GM's competing with IFS, rules permit them to make several alterations to improve the strength and performance of the factory suspension system. Among the allowable mods is the ability to eliminate downward suspension travel. In optimizing the factory AAM 9.25 IFS's upward travel, it's usually fine-tuned to where it will raise just enough so allow the CV axles to be parallel to the ground during the course of a pull.
Out Back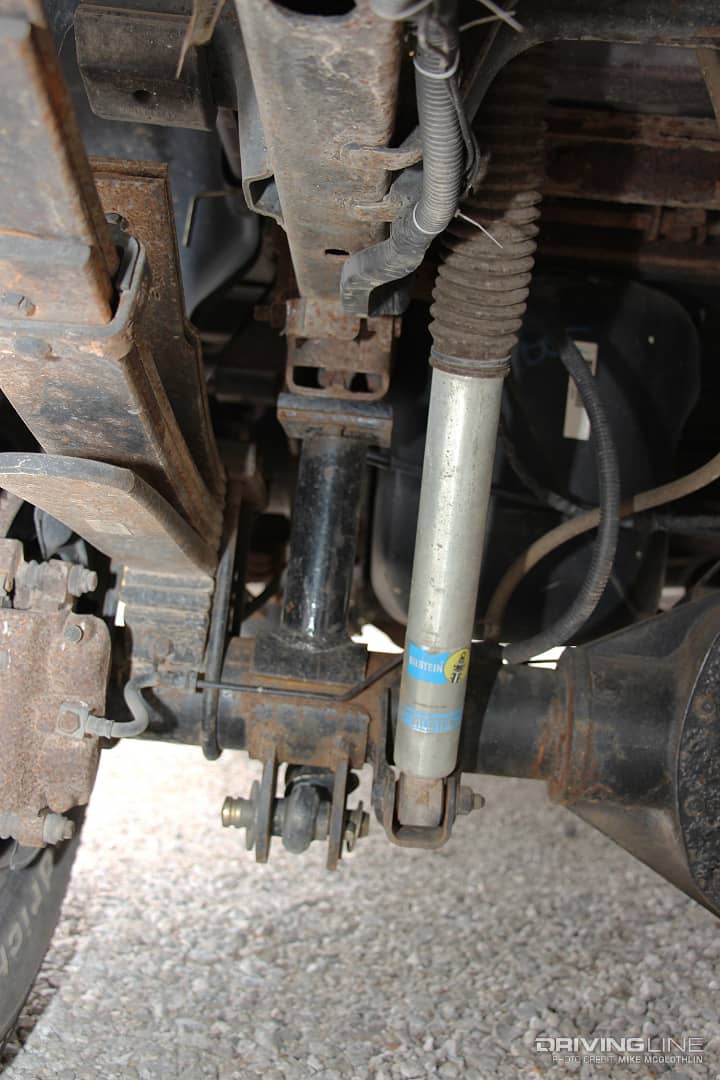 Rear suspension is often blocked to prevent any downward movement and to maintain optimum hitch height. To quell breakage and promote maximum traction, traction bars are also permitted. Despite the lack of travel in the rear suspension, each truck is required to have one working shock absorber per wheel. As for the rear axle, it too must have been an option on a 1-ton or smaller pickup. The AAM 1150 found under most Rams and GM trucks that compete in Work Stock (sometimes fitted with higher spline count axles and/or a locker) usually have no problem handling all the abuse they see.
Hitch Criterion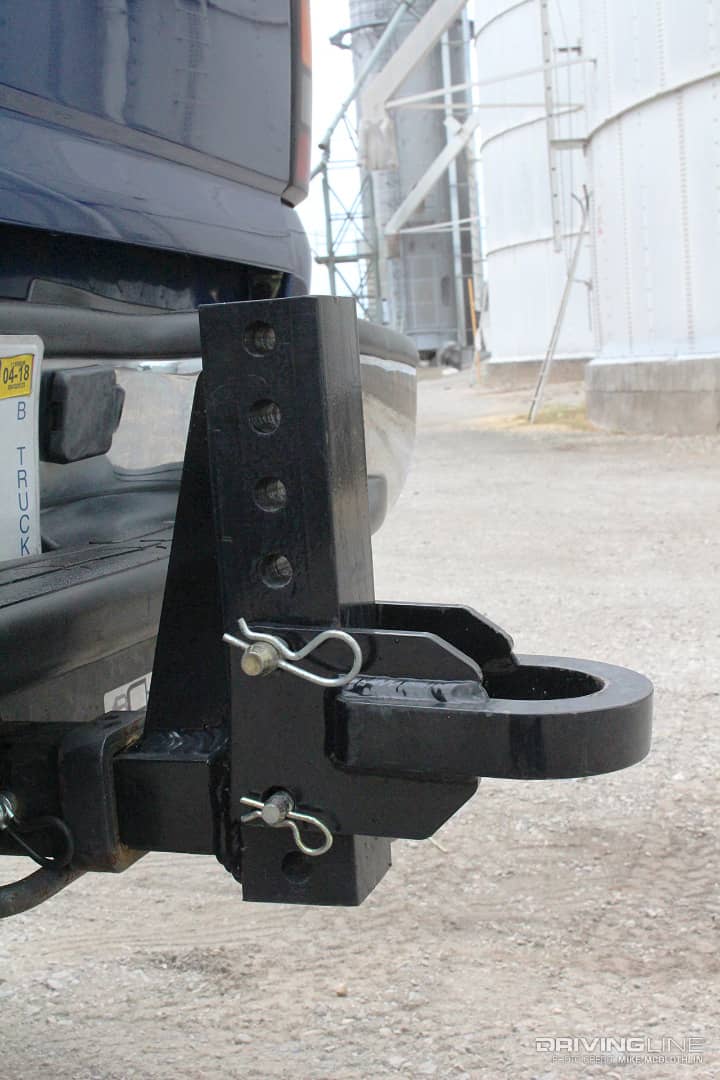 A traditional, receiver style hitch is mandatory in Work Stock, with the receiver's rear bracket mounted no more than 8-inches forward of the rear of the truck's frame. Reinforcements that tie into the frame and/or cross members are permitted (and recommended given the fact that hitch breakage warrants disqualification), but cannot extend forward of the centerline of the rear axle. No matter what, the hook point (to the sled) must be the rearmost point on the vehicle, the hitch has to be horizontal to the ground and the hitch's maximum height cannot exceed 26 inches.
Two Tire Rules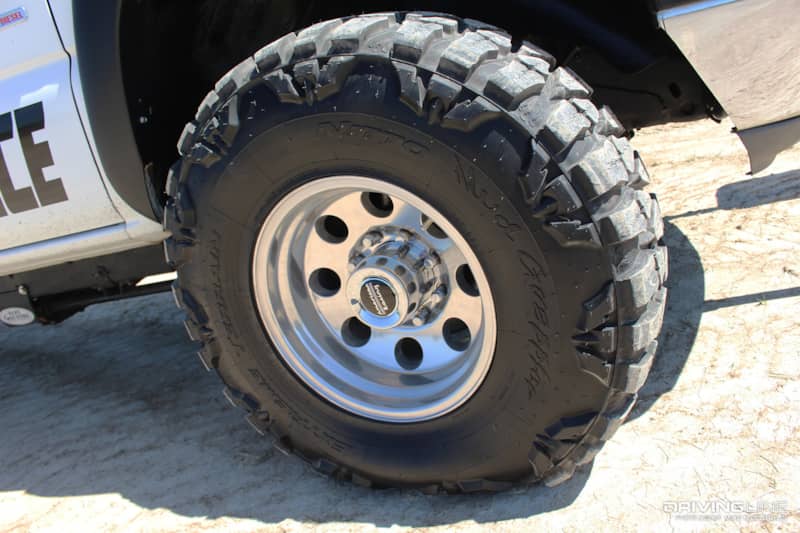 Two separate maximum tire size rules are on the books for Work Stock. On single rear wheel trucks, a 35-inch overall diameter can be run. For dual rear wheel trucks, the maximum is 33 inches. While six wheels digging usually trumps four, this tire size rule has proven to be another good equalizer for the class, as plenty of SRW trucks still take home First Place money. In fact, a single rear wheel truck won the United Pullers of America points chase in 2019. Regardless of whether or not the truck is a dually or not, all tread must be DOT-approved and street-legal. All terrains are most common, but more aggressive rubber, such as theNitto Mud Grappler shown above, has facilitated plenty of strong finishes on looser tracks.
Weighting Up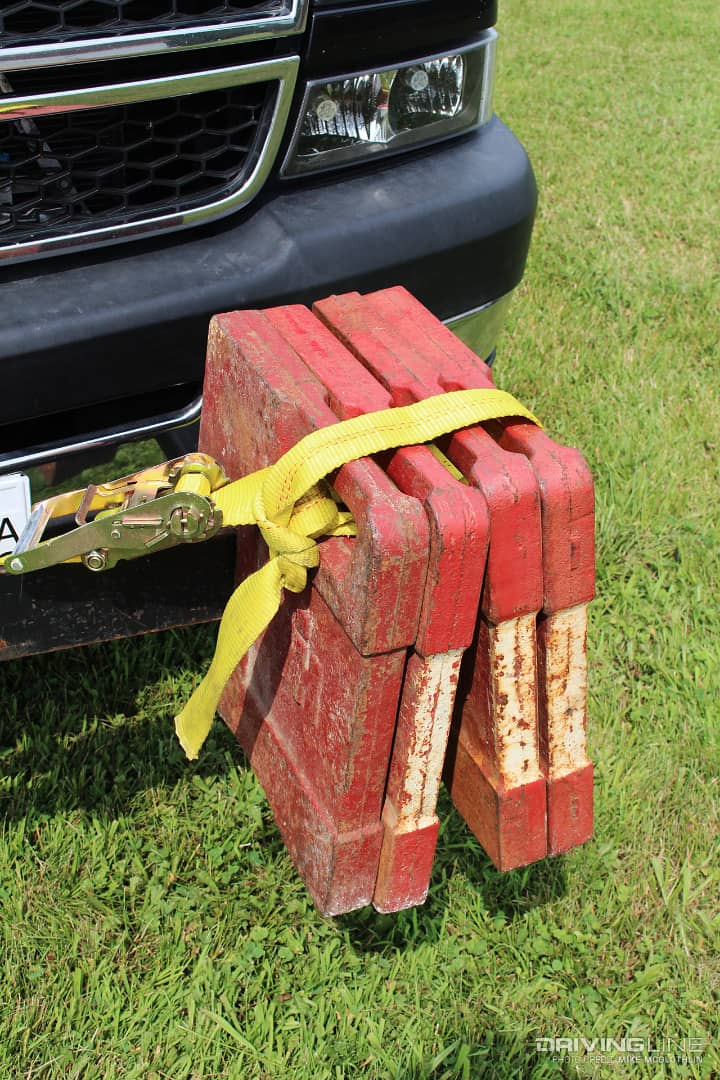 To reach the class maximum of 8,500 pounds, many trucks have to add considerable weight. Work Stock rules allow for hanging front weight, but the weights can be no more than 60-inches forward of the center line of the front axle. Ballast is permitted as well, but it must be mounted and secured in the truck's bed. As is the case in all of truck pulling, positioning weight forward of the front axle is the name of the game in battling the sled. Needless to say, most Work Stock rigs get their additional poundage by way of a frame-mounted, front weight bracket and suitcase style weights.
OEM Chassis and Body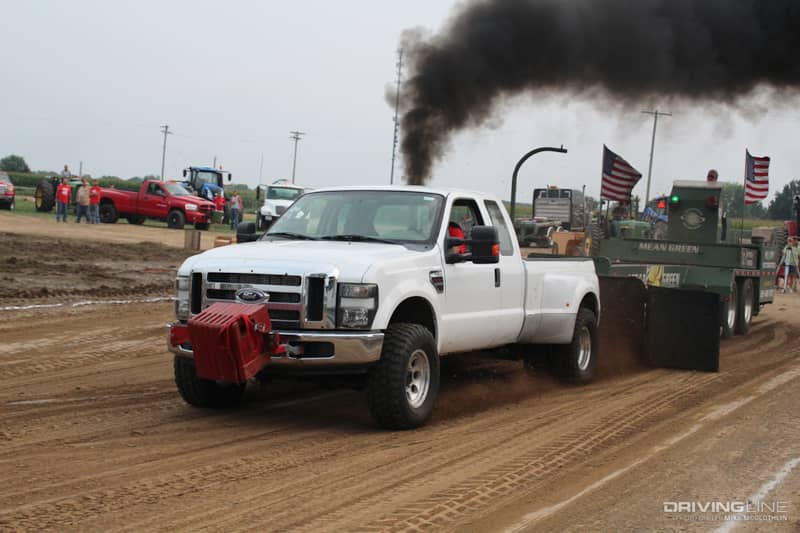 You won't find any tube chassis, back-half conversions or wheel tubs in Work Stock, nor will you see gutted beds or fiberglass. The truck's original frame is to remain, as is the factory wheelbase, track width and even the OEM engine location (there is no moving it forward to improve weight bias). Dual rear wheel conversions are permitted, so long as they're performed using all OEM parts.
Factory Interior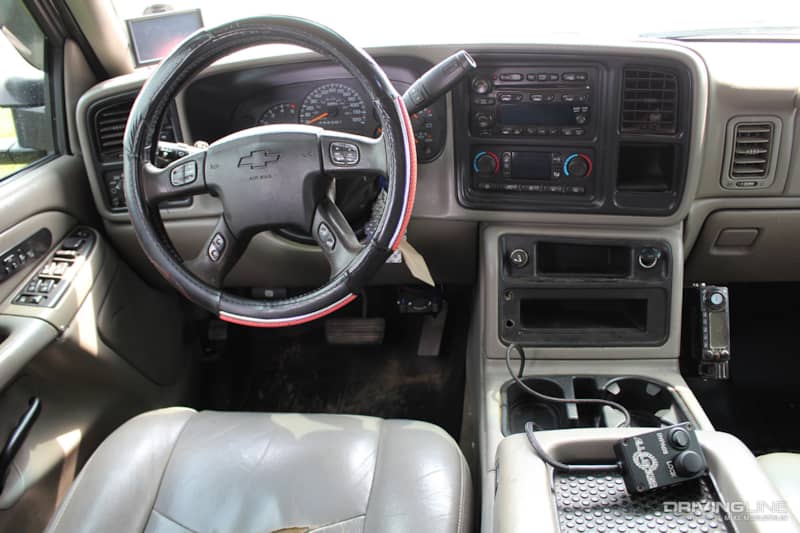 A full-on, factory-preserved interior is also mandatory. There can be no removal of the dash, door panels or headliner, and even the truck's lights, turn signals, horn and window controls must all be in working order. Like the chassis and body rules, the full interior regulation has been a hallmark in the Work Stock class, and even though most trucks in the category are no longer street-driven, with a few relatively simple changes most of them could be.
A Level Playing Field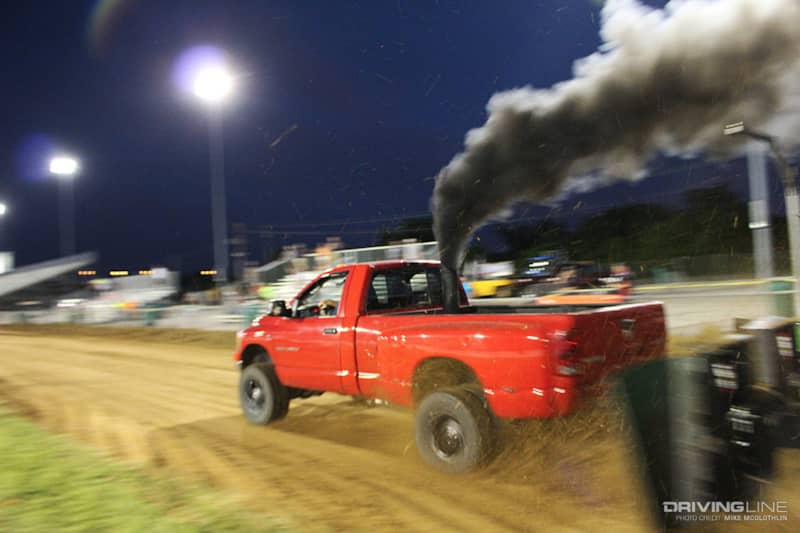 While Work Stock might not be as "entry-level" as it once was, a comprehensive, fair-as-it-gets list of rules helps keep the playing field as level as possible. At any given venue, a matter of inches can separate First Place from Second, and a few feet often separates the top five finishers. On top of that, with more than a dozen trucks turning out to compete at a lot of events (occasionally even more than 20), Work Stock is often one of the larger truck classes on display at an event.
Looking for something a little more serious? Check out the piece we did on the Anatomy of a Limited Pro Stock Diesel Truck.