Diesel Pulling: Dragging 40,000 LBS Through the Dirt
With Midwest truck and tractor pulling now in full swing, it's hard not to stumble upon the nightly dirt shredding that's taking place throughout the Heartland. Virtually no small community in Middle America goes untouched by the pulling bug once the weather warms up. Be it antiques, Pro Stock or modified tractors, or street-driven, Work Stock or purpose-built pulling trucks, fans of all ages come out in droves to watch the dirt fly. On the last Friday in June, we found ourselves among a sizeable crowd of fairgoers at the Macoupin County Fairgrounds in Carlinville, Illinois (pronounced Mah-koo-pen). Since the first tractor pull was held here in 1954, and with the fair itself dating back to 1852, it's become a staple attraction for spectators and competitors alike.
Despite the threat of scattered thunderstorms in the area (a far too common theme in central Illinois this year), not one drop of rain fell on the fairgrounds during our visit. As a result, three different pulling organizations—as well as several locally organized classes—were run, uninterrupted, for the duration of the five-hour affair. High points in the night's activities were the running of the ultra-competitive Pro Street Diesel Truck class, the 8,500-pound Work Stock Diesel Truck class, Limited Pro Stock tractors and two entertaining Pro Farm tractor categories. When the smoke cleared, Duramax and Cummins mills split the wins in the diesel truck fields, while John Deere and IH machines exchanged wins in the various tractor classes.
Macoupin County Tractor Pull (Est. 1954)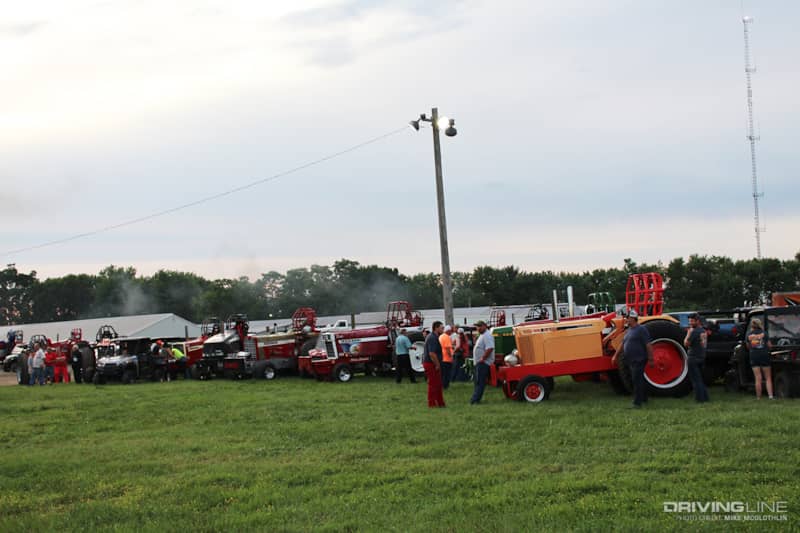 Having 65 years' worth of tractor pulling history on your side sure helps bring out a lot of tractors. Now well into its sixth decade of existence, the same section of racetrack that was used for the inaugural Macoupin County Fair tractor pull back in 1954 is still used today. Believe it or not, much of the parts, techniques and strategies employed in modern diesel performance have trickled down from the tractor pulling segment.
'79 Fummins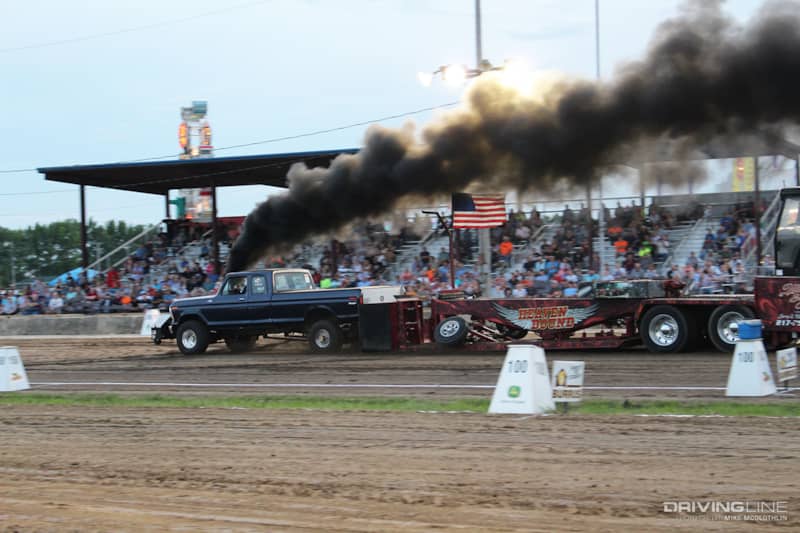 As far as purpose-built pulling trucks were concerned (i.e. trucks that rarely, if ever, see street-time anymore), the Pro Street Diesel Truck class was on display in front of the grandstand. In this field, the maximum weight is 8,000 pounds, only a single turbocharger with a smooth bore inducer no larger than 2.6 inches (66mm) can be run and no dual rear wheels are allowed. Here, Chad Durbin gives it a shot with the Cummins-powered '79 F-250 he calls "Dig a Little Deeper." He would end up third place overall with a distance of 328.63 feet.
Outgunned but Barely Beaten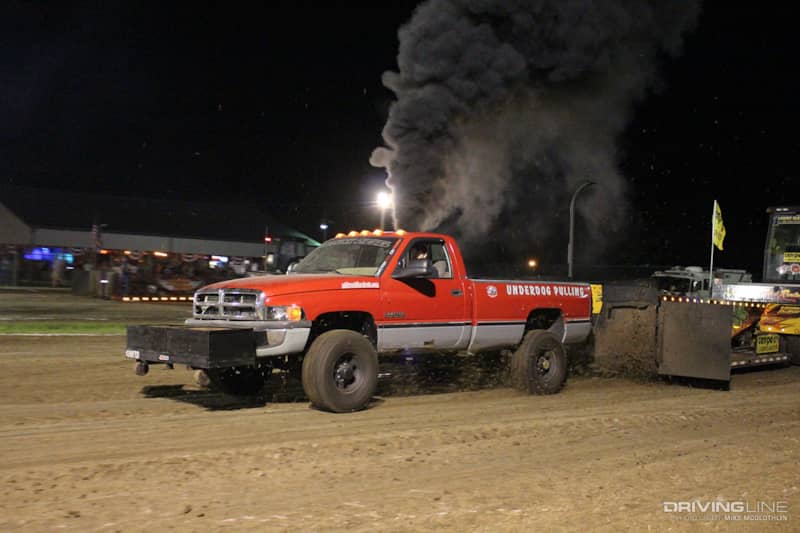 When he's not building competition-ready TorqShift transmissions at Midwest Diesel & Auto, Nick Strack likes to campaign this strong-running second-gen Cummins. Signed up in Work Stock, his old Dodge put in an impressive fourth place showing. Not only that, Nick did it while competing against four-door, long wheelbase trucks, many of which were taking full advantage of a rulebook that allows the use of dual rear wheels.
First Place in Pro Street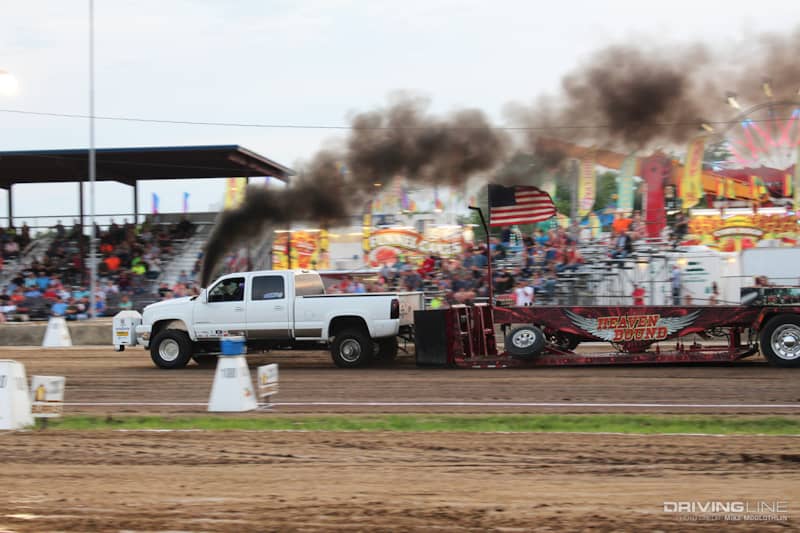 Having won the Pro Street Diesel Truck class points chase in 2018, Lee Stiltz is the man to beat in this highly-competitive category. His mid-class hook in Carlinville set the unreachable mark at 330.93 feet. The '05 Chevrolet Silverado 2500 HD he pilots sports a built LLY Duramax that belts out north of 800hp and all the reinforcement measures required to harness it (i.e. built Allison, custom suspension and hitch, Eaton E-Locker, rear spool). Though this was Lee's first win in 2019, we expect to see his Chevy up front several more times before it's all said and done.
Ground Shakers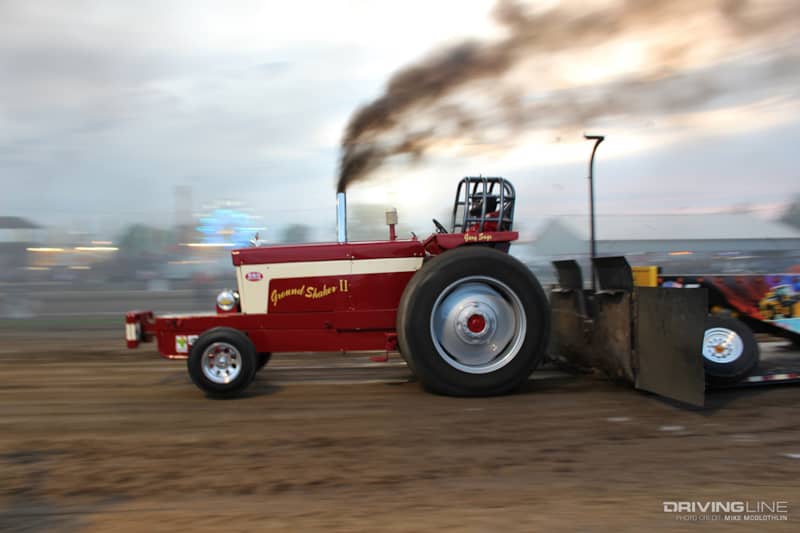 Early in the evening, Gary Sage covered 293 feet and change aboard his IH Farmall 560, a distance that was good enough for second place in the 6,850-pound Pro Farm class. Introduced by the Illinois Tractor Pulling Association in 2018, this new field of tractors mandates that a T4-based turbocharger with a 3.1-inch exhaust maximum be run, the turbo restriction being the key horsepower limiter in the class.
First Place in Work Stock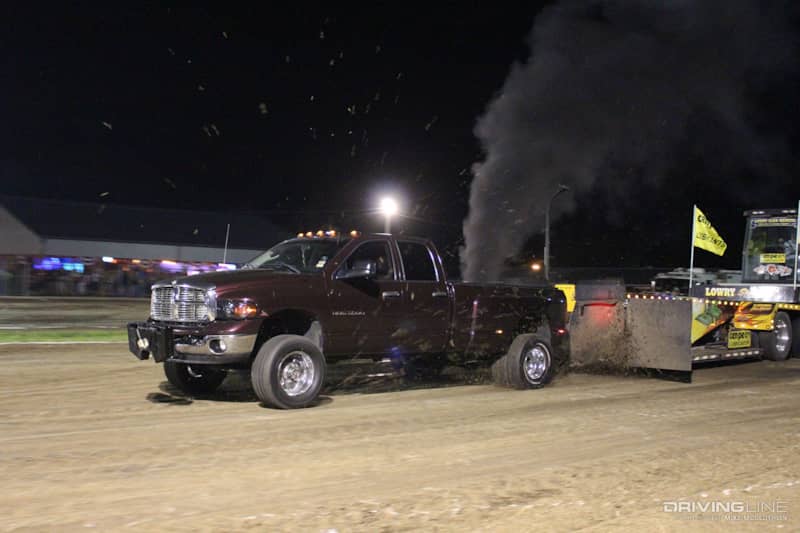 A veteran truck puller of more than 20 years, hooking his healthy '05 Dodge to the sled is nothing new for Eric Loy, and being local to Macoupin County, he's also no stranger to the track in Carlinville. After picking his line, Eric sent his NV5600-equipped, 5.9L Cummins-powered Ram 3500 some 319 feet down track to take the win in Work Stock.
Second Place in Work Stock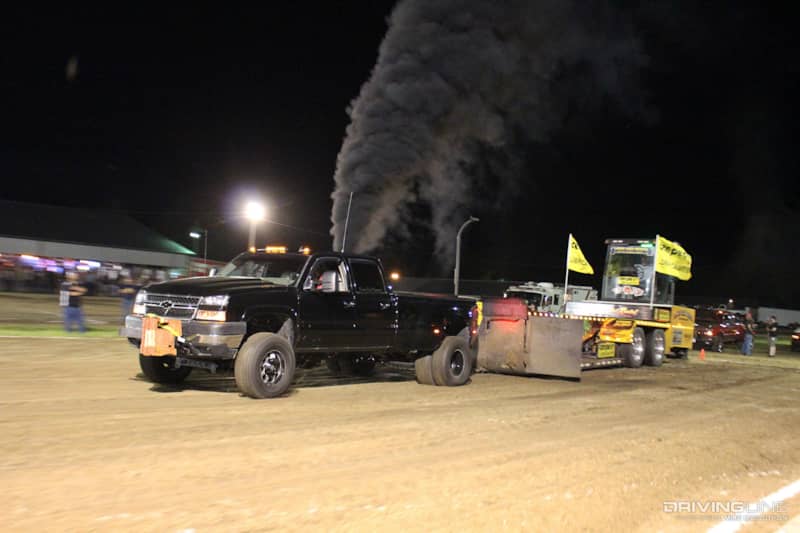 Building up some serious ground speed, Nathan Beard's LBZ Duramax was on a mission in Carlinville and nearly pulled out the win. We'd say it was a successful effort considering he was essentially debuting a fresh setup. Nathan's Bow Tie has the potential to win any event it shows up at, so we wouldn't be surprised if he collects a few first place payouts this summer.
Within Inches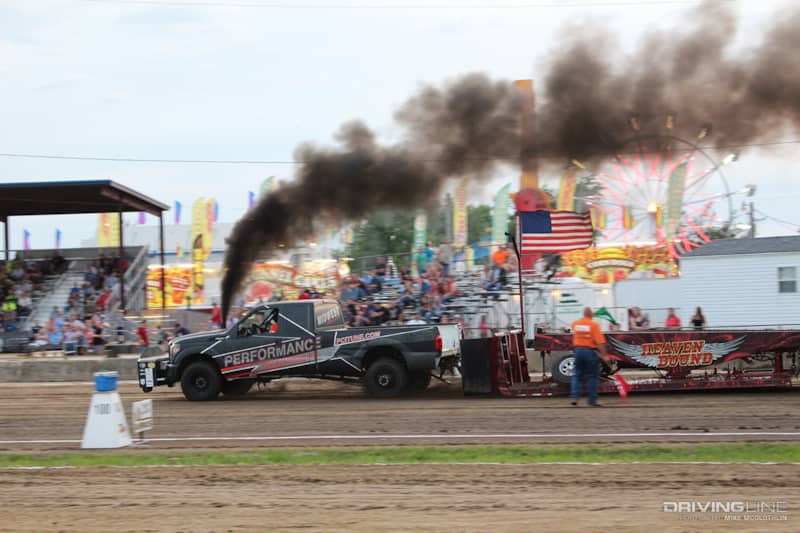 Something you don't see a lot of in truck pulling is a Ford leading the pack, but Patrick Marler of Midwest Diesel & Auto tries to buck that trend everywhere he takes this '11 F-350. Motivated by a 6.7L Power Stroke, it runs as strong as any other 800+ hp machine that competes in the Pro Street Diesel Truck class. In Carlinville, Patrick turned in a 330.58-foot effort, just inches behind first place finisher Lee Stiltz.
Right in the Thick of Things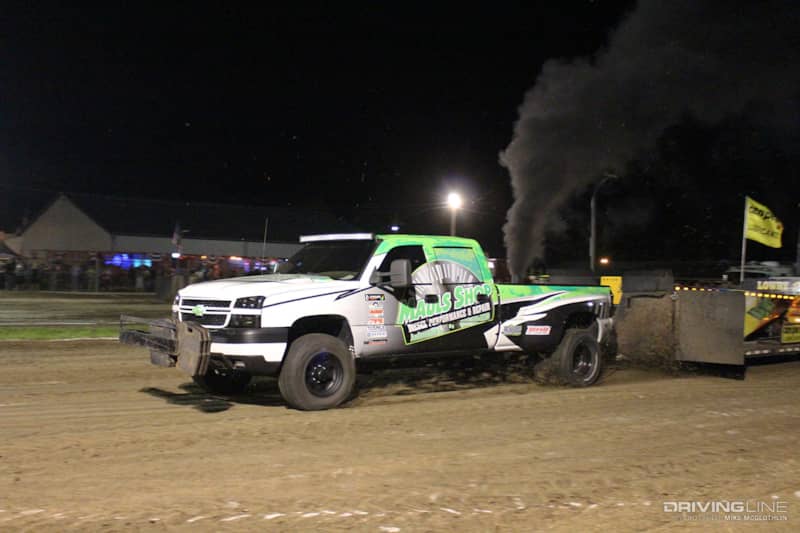 Like many competitors, Owen Maul relies on Nitto Mud Grapplers up front to help him claw his way past the full-pull mark. Nitto's aggressive, extreme mud terrain is favored by many truck pullers, from street truck classes all the way up to the Limited Pro Stock category. In Owen's case, they would carry him and his LBZ Duramax-powered Chevy all the way to third place in the Work Stock field.
Newly Addicted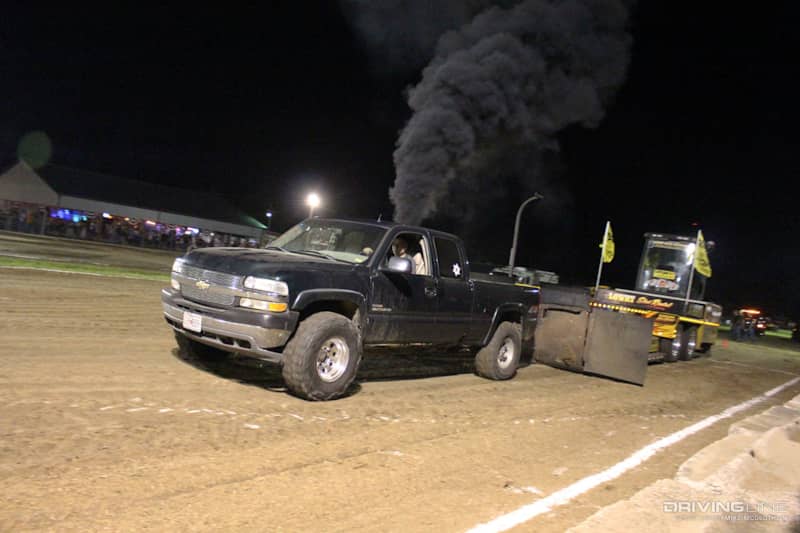 Twenty-one-year-old Kaleb Henebry made the short trek over from Missouri to hook his '01 Silverado to the sled in Work Stock. He's owned the truck since high school but just picked up the pulling addiction last year. His classic body Chevy makes use of a 310,000-mile stock bottom end LB7 Duramax.
The Other Flavor of Red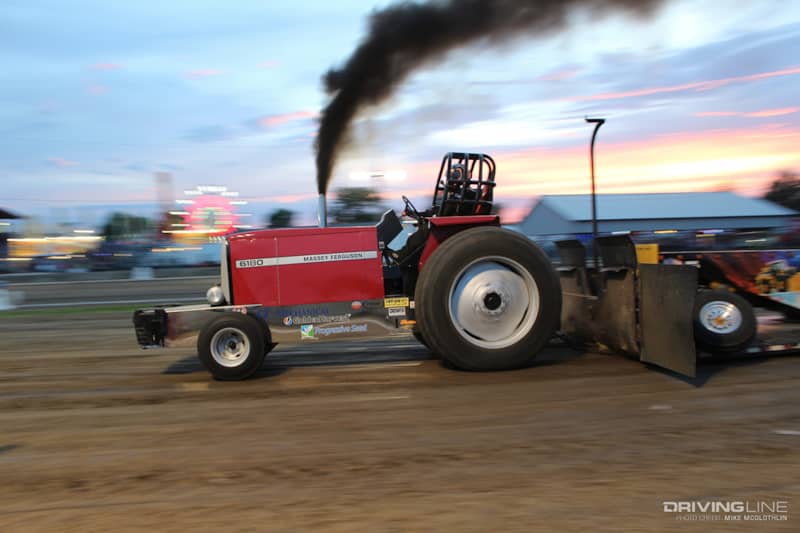 Sprinkling a little something different in with the notorious John Deere vs. IH rivalry was Corey Johnson's Massey Ferguson. Corey ended up placing fifth in 6,850 Pro Farm with his 6180 model Massey, called Big Chief.
Another Nasty Duramax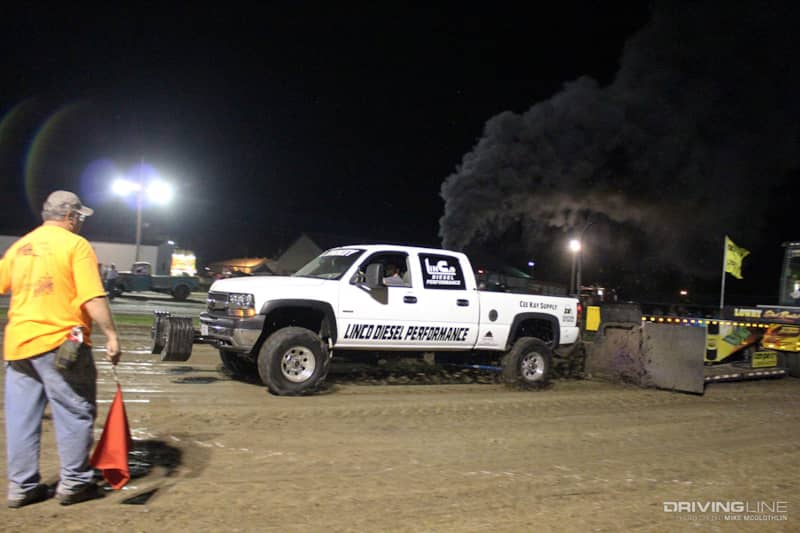 LinCo Diesel Performance also crossed the Mississippi to get in on the action in Carlinville. The Missouri-based company's dedicated Work Stock puller, an '02 Silverado 2500 HD that they've fittingly nicknamed Ol' Smokey, reportedly sends more than 800hp to the tires. A heavily-fueled SoCal Diesel-built LB7 Duramax resides under the hood, a custom five-blade, 66mm S300 turbo from Stainless Diesel feeds it the air it needs and Danville Performance tuning ties everything together. Driver Mark Dickmeyer went 285 feet before the sled caught up with him, which was good enough for fifth place.
Ever been to the Super Bowl of truck pulling? Check out the Scheid Diesel Extravaganza this August 23-24 in Terre Haute, Indiana.